576 Views
5 [Best Cheap] Argentina Medical VolunteerProgram Providers for 2021

Selecting a program provider for your volunteer abroad adventure can be tricky business. If you choose wrong, you might end up spending a lot of unnecessary money, having an unsatisfactory experience, or even worse, getting yourself into an unsafe situation without the guidance and support of a reliable company.
To avoid these pitfalls, Traveller's Quest has carefully combed through the countless providers offering Medical Volunteer Argentinaprograms and hand-picked the top 5 choices for you. We looked at price, reliability, years in business, past volunteer reviews, and everything the program will offer you. Keep reading to learn:
The top 5 affordable program providers for Argentina medical volunteering, and what each one has to offer.
Click the GET MORE INFO NOW button below to easily send an inquiry to all of the vetted providers on this list.
Easily compare programs with absolutely no obligation.
Download the Volunteer Abroad Guide and become an expert on the ins and out of making a difference overseas.
Table update Jan 11, 2020
Love Volunteers

In 2009, two siblings from New Zealand set out to start a program that didn't charge the super high rates they were seeing elsewhere for volunteering. After a 6-month journey around the world, they had found plenty of worthy organizations who need your help. Love Volunteers offer lots of planning help online, so great for first timers!
About the medical program in Argentina:
This Medical Volunteer Argentina program was designed to provide much needed medical care to the residents of Buenos Aires, Argentina. You will be paired with an experienced doctor or nurse who will mentor you, and you will shadow them on their daily rounds as they treat patients. A great behind the scenes look at daily life in the healthcare field.
Fees:
You will pay $299 as a registration fee. A 2 week program will cost you $779, which includes housing in a volunteer house with fellow volunteers, food provided in a shared kitchen you can prepare for yourself, airport pickup, 24/7 support, and access to a helpful online dashboard to help plan your trip.
Reviews:
One former medical volunteer in Argentina highly recommends Love Volunteers. "Hello future volunteers! If you are looking to gain more clinical experience while perfecting your Spanish, then this program is definitely for you!"
Why we selected Love Volunteers:
Reasonable rates and rave reviews earned this organization a spot on our list of top 5 providers for Argentina medical volunteering work opportunity. Their online dashboard is the perfect tool for busy or first-time volunteers to easily plan their trip step by step.
IFRE Volunteer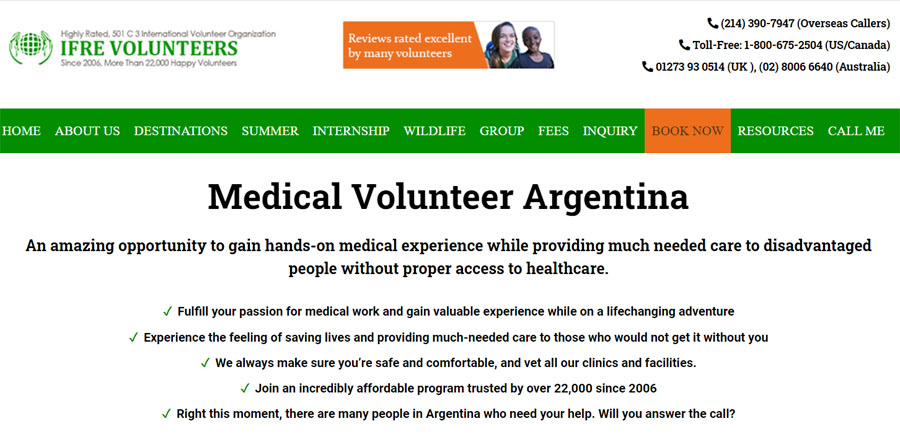 Offering some of the lowest prices in the volunteer abroad industry, this US-based non-profit has helped over 22,000 volunteers have affordable and meaningful experiences abroad since 2006. With a unique payment plan that allows you to pay your weekly fee to your host family, your money goes right where it's needed most.
About the Argentina medical program:
This is a wonderful chance for future doctors, nurses, and other medical professionals to gain experience working in the field. You will shadow and observe doctors and nurses in local hospitals and clinics, getting a behind the scenes look at what it takes to treat patients and pursue a career in the healthcare field.
Fees:
The registration fee is $299. Your fee will depend on which housing option you choose. Volunteers staying in a hostel and paying for their own meals will pay $588 for a two-week program. A homestay option is available for $700 for 2 weeks, which includes breakfast and dinner. You will also get airport pickup, and 24/7 support.
Reviews:
If past volunteers had a great time, this can be a good sign when searching for a provider for medical volunteer Argentina. One past IFRE volunteer said, "I loved this adventure so much that I'm planning to come back in a few years and visit."
Why we selected IFRE Volunteer:
Affordable rates, positive reviews, and life-changing programs are all great reasons to select IFRE as your Argentina medical volunteer experience provider. You'll also have the chance to stay with a local host family or with fellow volunteers, giving you two great options to explore.
Global Crossroad
Since 2003, Global Crossroad has helped over 20,000 volunteers join meaningful and impactful programs in 18 countries around the globe. They work in some of the poorest countries on Earth, offering affordable opportunities for volunteers and making a big difference in the communities their programs are designed to help.
About the medical program in Argentina
Global Crossroad offers a variety of exciting, educational, and impactful healthcare programs designed to benefit Argentinians in need of medical care. You'll work with local clinics, hospitals, and non-profits. They also offer a dental health care program for volunteers who are pursuing that as their future career.
Fees:
You'll pay a registration fee of $299. 1 week of volunteering starts at $454. This includes accommodations in a hostel you will share with fellow volunteers but does not include meals. You'll also get airport pickup, full support from the Global Crossroad team, and help fundraising for your trip.
Reviews:
Selecting a reliable provider to medical volunteer Argentina programs can help the experience go much more smoothly. One Global Crossroad volunteer attested to this. "Overall it was a great experience and everything went smoothly. It was nice to experience a different culture and to learn more from them."
Why we selected Global Crossroad:
Global Crossroad made our list of top Argentina medical volunteering trip providers thanks to their years of experience, reliability, and positive past reviews that attest to how well this organization will plan and carry out your volunteer abroad experience.
International Volunteer HQ
Established in 2007, IVHQ has gone on to become what is arguably the largest volunteer organization in the world. They've helped over 107,000 volunteers travel to their many programs all over the globe. For volunteers who have their hearts set on traveling and bonding with a lot of other volunteers, this is a great choice!
About the volunteer in Argentina medical program:
IVHQ offers programs in both Cordoba and Buenos Aires, Argentina. Buenos Aires volunteers will shadow and assist medical professionals in a large and well-known teaching hospital, the perfect place to hone your skills. Volunteers in Cordoba will shadow and assist in small local clinics in poor areas, offering aid to those in need.
Fees:
One-week programs start at $325 and have a registration fee of $299. This will include your accommodations, meals, airport pickup, online training before you travel, 24/7 support, and special discounts on other expenses you'll incur such as flights, travel insurance, and optional language lessons to practice Spanish.
Reviews:
The like-minded people you'll meet while volunteering in healthcare in Argentina with IVHQ will really enrich your experience, as evidenced by this review. "There is an amazing group of people working as well as volunteering in Argentina, and I am so happy I was able to meet and get to know them all during my stay!"
Why we selected International Volunteer HQ:
IVHQ was a no-brainer for our list of top medical volunteer Argentina program providers. With 100,000+ volunteers under their belt, low rates, and 15-30 like-minded volunteers headed to Argentina each and every month, IVHQ is a great choice for you.
Projects Abroad
This organization has been around for over 25 years offering affordable and impactful programs to international volunteers. Their staff is made up of experienced in-country locals, or past volunteers who've been in your shoes. They are dedicated to volunteer safety and making a big impact.
About the Argentina medical volunteering program:
This program is totally unique in that it accepts volunteers as young as 16 years old, making it a wonderful opportunity for younger volunteers who are exploring a future career in medicine. You will be placed in a hospital in Cordoba, shadowing doctors as they make their rounds in a variety of different departments.
Fees:
Projects Abroad does not charge a registration fee, but their prices are higher than some other organizations on this list. A one-week medical volunteer Argentina program will run you $2,520. This covers housing, three meals a day, 24/7 support, and lots of extras like your own fundraising website, travel insurance, local transport and airport pickup, and more.
Reviews:
Reviews are the best place to get a candid view on where to volunteer in Argentina medical programs.
This teenage volunteer said, "My favourite part of my medical placement was the ability to talk to the doctors; whether it was explaining a patient's situation, or helping me to figure out how to do the perfect stitch. This helped solidify my desire to pursue a medical degree."
Why we selected Projects Abroad:
Although a bit pricier than some other Argentina medical volunteering programs, Projects Abroad is our top pick for young volunteers considering a career in the healthcare field. They also offer a one-stop shop, including many extras like travel insurance, social outings with other volunteers, help fundraising, and more.
Conclusion:
Instead of drowning in a sea of endless program providers with no clue about which is reliable, which is the most affordable, or how they compare to one another, you're now armed with all the knowledge you need to pick the best provider for you and your unique situation. You can save yourself time, money, and heartache and feel secure while abroad.
Traveller's Quest adds new articles just like this one all the time, so be sure to come back and see what else you might like to learn about. To make the most of your volunteer adventure, download our Volunteer Abroad Guide now as our free gift to you, and get insider tips of making the most of your time overseas. Enjoy!
If you are interested to volunteer in any other beautiful country, check out these articles that explain best Medical volunteer program providers in Nepal , India , Thailand, Cambodia, Tanzania , Ghana , Kenya, South Africa , Peru , Guatemala and Uganda