621 Views
8 [Best Cheap] Medical Volunteer Thailand Providers for 2021

Volunteering in Thailand is an exciting and meaningful way to give back to people in need and jumpstart your medical career. A quick internet search for a provider will have you scratching your head as to which is the best option. Which providers are the most reliable, trustworthy, or affordable? How will you ever decide?
Never fear, Traveller's Quest is here to help! Making the wrong choice will cost you money and you may end up stranded overseas without the security or support you need to have a safe and successful volunteer experience. To avoid this, we carefully reviewed and compared countless programs, and compiled the top 8 providers for you here.
In this article you can:
Review the top 8 program providers of medical volunteering in Thailand and see at a glance what each program has to offer.
Click the GET MORE INFO NOW button below and send a quick and easy inquiry to every single trusted provider on this list.
Easily compare and save with no obligation, finding the provider that's just perfect for your own unique situation.
Download our free gift to you at the end of this article for insider tips on the volunteer abroad experience.
RCDP International
This hard-working non-profit was founded way back in 1998, and quickly became a leader in the volunteer abroad world. They have projects in 18 countries around the world and have over 18,000 satisfied volunteers under their belt. RCDP helps communities in need and immerses their volunteers in the local culture.
About the medical volunteer Thailand program:
The poor people living in rural areas around Surin, Thailand lack access to basic healthcare, and this project helps bring it to them. You will be assisting and observing local doctors as they provide these impoverished Thai citizens with the medical care they so desperately need.
Fees:
You'll pay a low registration fee of $279, and only $680 for a 2-week program. These fees will cover the full support of the experienced RCDP team before and during your travels, safe and comfortable accommodations, healthy local meals, and a safe airport pick-up when you land in Thailand.
Reviews:
When comparing Thailand medical volunteering trip providers, read through past reviews and look for evidence that volunteers felt supported. This past RCDP volunteer said, "The employees and other volunteers were so helpful and amazing!"
Why we selected RCDP International:
RCDP made our list of top 8 medical volunteer opportunity providers in Thailand thanks to their many years of experience in the field, extremely affordable rates, impactful programs, and the fantastic way they immerse volunteers in the local culture.
Love Volunteers
Back in 2009, a brother and sister duo from New Zealand, both former volunteers fed up with the high prices being charged to make a difference abroad, set out on a journey around the world to find non-profits that needed the help of volunteers. Since then, Love Volunteers won awards and worked with thousands of volunteers.
About the Thailand medical volunteering opportunity
Love Volunteers offers two exciting medical volunteer/internships in Thailand. One is based in Bangkok, and the other is based in Chiang Mai. Unless you already have your medical degree, you will be learning primarily through observation, a great chance to build skills! This program is designed to treat poor and disadvantaged people.
Fees:
You will begin by paying a registration fee of $299. A 2-week program costs $939, which works out to only $67 a day. This will cover your airport pickup, accommodations, meals, and 24/7 support from the Love Volunteers team. You will also gain access to a helpful online dashboard to help you prepare for your trip.
Reviews:
If you're looking for a life-changing experience as a medical volunteer Thailand, past reviews indicate Love Volunteers will deliver this for you. This former volunteer reported, "It was for me one of my best experience of my life from any point of view like humanly, emotionally, professionally, or culturally."
Why we selected Love Volunteers:
Love Volunteers was selected as a top provider for medical volunteering thanks to awards they have won, enthusiastic past reviews, reasonable rates, and their helpful online dashboard which helps you plan your trip in easy, manageable steps.
Gap 360
Gap 360 is a UK based organization that specializes in GAP year programs allowing young people to travel the world and explore what they might like to do before enrolling in college. In addition to volunteer programs, they offer their unique 360 around the world tours, paid work positions, language programs, and more.
About the healthcare volunteer program in Thailand
This program takes place in Surin, known as the rural heart of Thailand. In order to provide necessary medical care to these rural citizens, you will be joining experienced medical professionals as they enter people's homes, give them health checks, and provide necessary treatment and health-based education.
Fees:
A two-week program costs $954. This will include shared accommodations, airport pick-up, support from a translator, a Bangkok city tour along with a 2-night stay in the city, daily transport to and from the project, and 24-hour support from the Gap 360 team. Meals are not included.
Reviews:
A volunteer who plans to travel again with a company is a good sign when selecting a Thailand medical volunteer work. This Gap 360 veteran said, "A great company that makes planning trips really easy! Definitely will be using again!"
Why we selected Gap 360:
Gap 360 made our list of top 8 medical volunteer Thailand thanks to their unique program offerings, reasonable rates, and rave reviews.
GVI
GVI is short for Global Volunteer International, and this is a very well-known and trusted organization that was founded way back in 1998. They offer impactful programs in 13 countries around the world and maintain a high sense of ethics by adhering to the 17 United Nations Sustainable Development Goals.
About the Program
This program is designed to improve the overall public health of the southern PhangNga. You'll be helping carry out hygiene and health workshops in the local communityand working with local schools to implement physical education and recreational sports programs to improve the health of the local youth.
Fees:
GVI is one of the few organizations out there that offer scholarships, and a scholarship up to $2800 is available for this program. The weekly rate when you are staying for 2 weeks will be $1373, and this rate goes down the longer you stay. It includes shared accommodations, meals, airport pick-up, and 24/7 support.
Reviews:
Past GVI volunteers report satisfaction with both theprogram, staff, and fellow volunteers, a great sign when selecting a medical volunteer work in Thailand. "As soon as I met the other volunteers and staff when they picked us up, I instantly felt at home. The program itself is so rewarding."
Why we selected GVI:
GVI was a shoo-in for our list of top 8 providers for medical volunteer experiences in Thailand thanks to their long history in the volunteer abroad world, great past reviews, and strong sense of ethics thanks to their adherence to the UN's strict guidelines for sustainable development.
IFRE Volunteer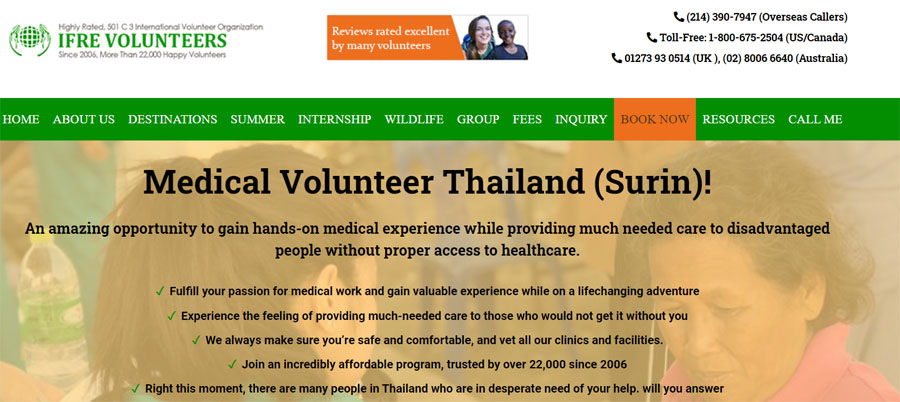 IFRE was founded in 2006 and has helped over 22,000 volunteers make a difference in 20 countries around the globe. They have extremely affordable rates allowing anyone to volunteer, and a unique payment model that ensures that the money you pay is going right back into the local community you are traveling to help.
About the medical volunteer Thailand program:
This program takes place in rural Surin, far off the well beaten tourist track. The remote location also means the people living there lack access to healthcare, so in this impactful program you will observe and assist local doctors as they provide much needed medical care to Thailand's disadvantaged citizens.
Fees:
IFRE offers very affordable rates that go down considerably the longer you volunteer, allowing you to save and make even more of a difference. You'll pay a registration fee of $299, and a 2-week program costs $680. This includes safe accommodations, meals, airport pickup, and 24/7 support from the IFRE team.
Reviews:
According to past reviews, you can count on feeling welcomed and supported volunteering in Thailand healthcare with IFRE. This past volunteer said, "The staff were knowledgeable, extremely friendly and loved to joke around! They also took their work very seriously. We felt welcome and learned so much from them!"
Why we selected IFRE Volunteer:
IFRE was a no-brainer to add to our list of top medical volunteering providers thanks to their low rates, years of experience, positive past reviews, impactful programs, and the unique way they funnel your program fees directly into the local community.
Friends For Asia
Founded in 2007, this organization is focused on bringing international volunteers to meaningful projects in the Asian countries of Bali, Thailand, Nepal and Vietnam. Thanks to their narrowed focus and smaller size, you'll get individualized attention and the group can really commit to important causes in the area they serve.
About the Thailand healthcare volunteer program:
Friends For Asia offers medical volunteer/internships in both Bangkok and Chiang Mai. You will be paired with an experienced doctor or nurse, and you will shadow and observe them as they make rounds, treat patients, and perform surgeries. Volunteers with the necessary experience may help more hands-on.
Fees:
The cost for a 2-week program is $1199, and each week after that is an additional $299. Your fee includes visa paperwork, volunteer insurance, accommodations, breakfast and lunch, airport pickup, 24-hour emergency assistance, and a 2-day orientation program.
Reviews:
Even if you won't be hands-on while volunteering opportunity in Thailand in medical program, you can be sure you'll get up close and gain valuable experience, as evidenced by this review, "I can still vividly remember seeing my first surgery ever – a hysterectomy. Standing only 2-3 feet away from where the operation was being performed was a dream that I had longed to come true for many years"
Why we selected Friends For Asia:
Friends For Asia was one of our top picks for medical volunteering due to their narrow focus on only Asian countries, and the up close opportunity to get a behind the scenes look at patient treatment and surgeries.
Cross-cultural Solutions
Cross Cultural Solutions was founded over 24 years ago. Since then, they've helped over 35,000 volunteers make a big difference in 7 countries around the world. They offer a variety of programs including volunteer abroad, internships, GAP year, high school options, and group travel.
About the medical volunteer Thailand program:
This program is focused on promoting healthy practices to children in need. Children from the Hill Tribe communities have to travel so far to school they end up staying in residential facilities, which sadly have a lack of hygiene. You'll help teach hygiene and basic health to improve the quality of life of these children.
Fees:
Quite a bit pricier than some other groups on this list, one week of volunteering will cost you $1990. The longer you stay, the less you'll pay per week. Cross Cultural Solutions encourages group travel, and if you travel with a group the price per volunteer goes down. Your fee covers accommodations and local meals.
Reviews:
You'll get a chance to experience the local culture as well as advancing your future medical career as a medical volunteer Thailand with CCS. This past volunteer said, "This trip was unique because I felt as if we got the best of both worlds, cultural immersion as well as volunteering."
Why we selected Cross-Cultural Solutions:
This company charges a bit more than others, but we still included them on our list of top Thailand medical volunteering work providers thanks to their nearly 25 years of experience, great reviews, and meaningful programs. A great choice for groups!
Volunteering Solutions
Nicknamed VolSol, this hardworking organization has been around for over 12 years. In that time, they've helped over 14,000 volunteers travel to over 155 projects in 26 countries all over the world. That's a staggering 782,000+ hours of volunteering logged!
About the medical program:
Volunteering Solutions offers a variety of medical programs in Surin, Bangkok, and Chiang Mai, so you can select which area of Thailand you prefer to travel to. The Surin project is aimed at providing much needed medical care to rural residents, sometimes in their own homes. The others will have you shadowing in a hospital.
Fees:
The cost for a two-week program is $995, and you'll also pay a registration fee of $250. Your fee includes your accommodations, two meals a day, airport pickup, 24/7 support, and lots of extras like a half-day city tour, and a cultural and dinner show during your orientation period.
Reviews:
Not only does VolSol offer a great volunteer experience, they encourage camaraderie with your fellow Thailand medical volunteers. This former volunteer said, "Everyone on the trip was great. The experience was even better. Came to the trip as a stranger and left with bonds strong enough to call each other family."
Why we selected Volunteering Solutions:
We selected VolSol to volunteer Thailand medical programs thanks to their reasonable rates, years of experience, 35,000 past volunteers, and positive reviews. We also love the extras they offer their volunteers!
Conclusion:
Now that we've gone over each program provider in detail, you should be well on your way to selecting the perfect medical volunteer experience in Thailand that's just right for you. By choosing one of our carefully vetted options, you'll save yourself time, money, and a lot of potential heartache and disappointment.
If you found this article helpful, keep checking back in at Traveller's Quest as we add new material all the time. Before you go, be sure to download our free Volunteer Abroad Guide, chockful of helpful hints and insider tips that will make your time in Thailand a rewarding and stress-free experience. Happy volunteering!
If you are interested to volunteer in any other beautiful country, check out these articles that explain best medical volunteer program providers in Argentina, Nepal, India, Cambodia, Tanzania, Ghana, Kenya, South Africa, Peru, Guatemala and Uganda