Are you curious about an escapade in Finland? Do you like the opportunity to experience the beautiful views and Finnish culture? Are you looking for an incredible trip with a top-rated Finland tour company?
Located in Europe's Eastern Frontiers, Finland is a spectacular travel destination that will take your breath away and make your jaws drop. Finland offers a thrilling adventure tour destination from the vibrant and art-filled Helsinki to the Boreal Forest and Archipelago. In this gorgeous Nordic country filled with expansive Taiga Forest, reindeer, pristine lakes, Moomins, and friendly locals, you will be spoilt for choice. Besides, Finland had a turbulent history, and many hallmarks of the colorful past remain from gorgeous ruins to towering fortresses and cobblestone meandering streets.
Taking a trip to Finland seems like an easy thing to do. Unfortunately, finding the best Finland tour operator is a daunting task. Luckily, TravellersQuest has done the legwork for you so that you can select the best company that suits your interest! Thousands of distinctive tour agencies operate in Finland, and they all offer different prices, tour packages, and customer service. We want your journey to Finland to be seamless by choosing the right company to guide you through this critical process. A tour in Finland includes time and your hard-earned money, so the last thing we want is for you to have a lackluster tour in Finland.
We intensely believe that if you do not invest the time into researching each company available, it is easy to choose the wrong operator. Your experience in Finland should be perfect, and your trip will be successful if you select these top 10 highly rated and best Finland tour companies below.
Here is an unbiased list of the Top 10 most reputable tour operators in Finland.
Providers
Package
Reviews
BearhillHusky
WILDERNESS SNOWSHOE HIKE
ICE FISHING EXCURSION
Trip Advisor – 1015 reviews
Nordic Unique Travels
Canoeing Trip in Lapland
Midnight Sun Photography Tour
Trip Advisor – 558 reviews
Explore Lapland
Rovaniemi Travel Consultancy
Copy of Northern Lights Tour
Trip Advisor – 113 reviews
Beyond Arctic
Northern Lights skiing adventure
Snowshoe adventure in the Wilderness
Trip Advisor – 219 reviews
Safartica
Picnic and day hike
Summer Floating – Day Or Nights
Trip Advisor – 667 reviews
Parpalandia
Snowmobile Tours
Husky experiences
Trip Advisor – 69 reviews
Lapland Safaris – Rovaniemi
Mountain Biking
Husky Rides
Trip Advisor – 815 reviews
Scandinavian Travel Group
Fishing tours
Winter Tour in Lapland
Trip Advisor – 101 reviews
Polar Lights Tours
Winter fun – Horse and Husky Experience
Hiking with a husky
Trip Advisor – 99 reviews
Table update Oct 8, 2021
BearhillHusky

Company's location and type: Helsinki, Local Tour Operator
Awards, Certification: Ranked #1 Trip Advisor
Reviews: 1,015 reviews on Trip Advisor 95% rated excellent and outstanding
About Company
BearhillHusky is a reputable and top-ranked adventure and Finland tour company founded in 2003 by Veronika and Valentijn. With over a decade of tour experience, they specialize in adventurous trips in the wilds of North Carelia and Lapland. The founders are passionate about dogs, train them, breed them and care for them to give the best experience in the country. The highly trained and local team at BearhillHusky provides and manages professional tours to choose from, and you will have a great time worth remembering.
Packages
BearhillHusky offers many unique tours in Finland. You will find the perfect tour package in Finland that fits your interest.
To Snowshoe in the Wilderness in the beautiful Winter, surroundings give your soul some peace with the company's husky kennel by your side. On an unforgettable two-kilometer husky ride, the company's Mushers will take you to Husky Ride at Santa Claus Village tour Finland. The adventure of black dog midnight madness is in its simplicity. In infinity and silence, it clears your mind effortlessly in quietness and peacefulness.
Reviews
BearhillHusky is an extremely popular Finland tour operator and has helped thousands of tourists fulfill their dreams. With a combination of professional guides and affordable prices, BearhillHusky has received glowing reviews on Trip Advisor and is ranked #1 of 81 Outdoor Activities in Rovaniemi. Here is a comment from a past client:
"The tour was really nice! The staff was so friendly, and our guide of the tour was proper, clear, and professional. The dogs were so cute and friendly 💕. Dogs looked healthy." – Saara Makinen: March 2021
Nordic Unique Travels
Company's location and type: Rovaniemi, Local Tour Operator
Awards, Certification: Ranked #8 Trip Advisor
Reviews: 558 reviews on Trip Advisor
About Company
Nordic Unique Travels is a Finland tour company specializing in custom tours, private tours, and group tours. Whether you are looking for a deluxe getaway, self-driving tour, honeymoon trip, or backpacking, they will customize an excursion that meets your desires and taste. This company's Finland package tours are led by a team of experienced professional guides to ensure that your precious time and money do not go to waste. Nordic Unique Travels customized tours will take you to some of the greatest hidden treasures for Lapland's exclusive and distinctive experience.
Packages
Nordic Unique Travels offers many fantastic Finland-guided tours. You will get exactly what you are looking for.
One of its best Finland tour packages is the Canoeing Trip in Lapland, through the Lappish rivers and the spectacular natural scenery of Rovaniemi. With an experienced guide, you will go Hunting the Northern Lights in the untouched nature with a traditional Lappish barbecue using organic and local ingredients. During Summer, you can take the Midnight Sun Finland Photography Tour and experience the natural phenomenon in the Arctic Circle.
Reviews
Nearly 550 satisfied tourists have given this Finland tour company glowing and outstanding reviews on Trip Advisor. The company is proudly ranked at #8 out of 79 tours in Rovaniemi, and they continue to advance with each year with better trip ideas. See a tremendously positive review here:
"The trip was great, snowmobiles are fun, the views are beautiful and had the best guide! Afterward, he gave us some great diner tips and showed us Santa park, and dropped us off at Santa village where he told the story of Roosevelt Cottage. Thank you for the great trip and the extra's!" – Tim S: April 2021
Explore Lapland
Company's location and type: Rovaniemi, Local Tour Operator
Awards, Certification: Ranked #3 Trip Advisor Certificate of Excellence 2020
Reviews: 113 reviews on Trip Advisor
About Company
Explore Lapland is one of the reputable Finland tour companies, providing diverse tour packages to promote the beauty of Rovaniemi. Founded by Ben, tourism and sports professional, the company provides programs that promote quality versus quantity. The number of tourists on each of their Finland tours is low as the company guarantees to provide personalized and tailor-made tours for small groups or couples. If you are looking to find a great small group experience in the Rovaniemi, then Explore Lapland is your go-to company.
Packages
Explore Lapland has multiple Finland tour packages that you can join and have a memorable trip.
As an award-winning company, their best tour is the Ice Fishing on Frozen Lakes. It is one of the experiences that will leave you relaxed as you hunt for your meal and cook with locally available ingredients. You can take the Northern Lights Guided Tour and search for the Aurore on your teepee, enjoying the Finnish grilling experience with warm drinks for four hours.
Reviews
With Explore Lapland, you can be guaranteed professional Finland Tours. They have astounding113 reviews on Trip Advisor, and over 95% of past travelers found the service to be specialized and excellent! See this review from a past client:
"Very good tour Ben. We enjoyed it very much. Good luck for your business in those special times and good health for you and your family!" – Norbert: March 2020
Beyond Arctic
Company's location and type: Rovaniemi, Local Tour Operator
Year of establishment: 2013
Awards, Certification: Ranked #6 Trip Advisor Certificate of Excellence 2019
Reviews: 219 reviews on Trip Advisor 97% rated excellent and great
About Company
Beyond Arctic is an award-winning and leading Finland tour company founded in2013 by Juho and Annika, who are tour professionals. With over a decade of tourism experience, the company started by specializing in unique photography tours and small group adventures. As a highly rated company, they curate unique and exciting opportunities with an explorer's mindset. More so, the company's ethos is exclusivity, teamwork, and authenticity. Join them to experience a genuine connection with the Lappish nature and the mind-blowing wonders of the Arctic circle.
Packages
Beyond Arctic is popular for its immersive and unique trips. With this company, you will experience an authentic Finland tour package that is affordable and professional.
On the Private Northern Light and Skiing Adventure, you will reach the best spots for Aurora photography, dive into the forest, and ski through gorgeous locations. Snowshoeing adventures are the best way to move in deep snow. Dating back over 3,500 years, this winter hiking is ideal for exploring the Lappish culture and nature. Driving your own dogs, you will take the Husky Adventure for a 20 km stretch into the Arctic Wilderness.
Reviews
Beyond Arctic is one of the best tour operators in Finland, with many tours led by professional and knowledgeable local guides with years of experience. The company is ranked #6 out of 79 outdoor companies in Finland, with nearly 220 reviews from past clients. You can see this review on Trip Advisor:
"If you have not tried any form of skiing and would like to have an idea of how it works – here's an activity for you. A fun activity and the views were great! Nadja was a very pleasant guide to have. Cheers!" – Martin: March 2020
Safartica
Company's location and type: Rovaniemi, Local Tour Operator
Awards, Certification: Ranked #9 Trip Advisor
Reviews: 667 reviews on Trip Advisor
About Company
Safartica is a privately-owned Finland tour company and incoming safari house based in Santa Claus hometown with Finland's best ski resort near the Swedish border in North-West Lapland. In both small and groups, they also offer glass igloo accommodation and camping sites. The company believes in personalized, meaningful experiences and ever-improving tour products in Rovaniemi and Ylläs. Founded in 2002, Safartica is unique from other operators because they have safari equipment, snowmobiles, and venues.
Packages
Safartica offers a variety of tour packages in Finland. Some of its most popular tours in Finland include:
A Picnic Hike during the day will get you to know the flora and fauna of the area, including the customs and lifestyle, while a night picnic allows you to dine in the calm over a campfire. This unique Summer Floating Tour in Finland enables you to float in the middle of an Arctic Lake while glazing in the sky and enjoying the silence of the wilderness. Discover the secrets of Santa by visiting the Husky and Reindeer Farms for a chance to take photos and relax for a cup of local coffee.
Reviews
Safartica has top-rated Finland winter tours. The reviews show that past clients ranked the company with 4.5-stars services. Of the 667 reviews made on Trip Advisor ,90% of the tourists attest to this company's excellent customer services and unique accommodation. See the comment below:
"Wonderful experience to float under the stars. We weren't lucky enough to see the Northern Lights, but we did have a clear sky and shooting stars. I would recommend wearing gloves under the suite, our hands got cold but other than that we were very comfortable and floated for about an hour." – Teresa H: March 2020
Parpalandia
Company's location and type: Rovaniemi, Local Tour Operator
Awards, Certification: Ranked #7 Trip Advisor
Reviews: 69 reviews on Trip Advisor 99% rated outstanding and exceptional
About Company
Parpalandia is a local family-owned Finland tour company founded by a local Rovaniemi resident living in the area. The company is conveniently located in Parpalandia, so our tourists can enjoy a serene atmosphere, pristine nature, and the Northern Lights during the night. With operations on a Husky farm, the company also offers safe and unique cottage accommodation for a fun holiday vacation in the Lapland area. If you are a dog lover, this is your opportunity to learn and spend time with friendly and well-trained dogs. Book an excursion with Parpalandia for a chance of a magical trip to Lapland.
Packages
Parpalandia brings the best packages for the Finland Northern Lights tour, and your options are limitless.
Thanks to the Snowmobile Experience, you can now explore Lapland easily by driving through stunning wintery scenery, perfect for great photos. You can also join the Husky Safari and Snowmobiling in the middle of Arctic nature in a small group and with a professional guide. The company's popular Northern Lights Spotting Sleigh Ride Finland Tour is perfectly designed for families to move uniformly as they try to locate the world phenomenon while taking pictures, making fires, and grilling local meats.
Reviews
With glowing reviews on Trip Advisor, Parpalandia is undeniably one of the top-rated tour companies in Finland that are audacious and inexpensive. For more than ten years, they have hosted thousands of visitors who have ranked them as the #7 tour company in Rovaniemi. You can read great a review below:
"We did a two-hour husky safari, and everything was great. Excellent attention from the staff and the lovely little dogs. A 10!" – Eva M: April 2019
Lapland Safaris- Rovaniemi
Company's location and type: Rovaniemi, Local Tour Operator
Year of establishment: 1982
Awards, Certification: Ranked #10 Trip Advisor
Reviews: 815 reviews on Trip Advisor
About Company
Since 1982, Lapland Safaris has been working with Finland tour companies and travel agencies worldwide to promote and share Lapland's unique winter and summer excursions. The company is part of the Lapland Region Voluntary Rescue Service (VAPEPA), responsible for helping the police and rescue experts trace missing or injured tourists. With almost 40 years of experience, Lapland Safaris adheres to the principles of sustainable development and tourism. Each local guide is nature mindful with respect for tourists to allow you to enjoy an authentic Lapland, Finland tour.
Packages
With so many years of experience, Lapland Safaris offers incredible package tours to Finland that will give you an amazing journey.
The Huskies in Lapland tour allows you an unforgettable dog sledding experience along snowy and frozen waterways. Reindeer are the most famous inhabitants of Lapland. Safaris With Reindeer enables you to meet these wonderful Arctic animals and find peace and tranquility in the Lappish nature during this exotic excursion. You will fall in love with the Sauna and Experience in Lapland, including the hot stones and the steam from the birch twigs.
Reviews
Lapland Safaris is a great Finland tour operator with outstanding reviews. Of the total of 815 reviews on Trip Advisor, 94% of past clients rated the company as professional and proficient. See the positive review below:
"I wanted to recommend this tour because there is a mix of everything. At The husky farm, The Canadian guide (Unfortunately I don't remember his name) made the difference and he Made everything smooth and perfect. Thank you so much." – Sarausa80: Feb 2020
Scandinavian Travel Group
Company's location and type: Levi, Local Tour Operator
Year of establishment: 1994
Awards, Certification: Ranked #6 Trip Advisor
Reviews:101 reviews on Trip Advisor 90% rated great and exceptional
About Company
Scandinavian Travel Group is a Finland tour the specializes in charter flight tickets, transfers and accommodation, excursions, and outdoor activities. With years of experience, the company guarantees hotels, popular apartments, and cottages in Levi during the winter season at affordable prices. Thru the Finland local offices, they provide tourists with information, resolve issues, book excursions, and arrange for ski school and services. In addition, Scandinavian Travel Group runs a tour operator department, FIT services in the Scandinavian countries.
Packages
Scandinavian Travel Group has specialized Finland tour packages in many different areas that will allow you to have an experience of a lifetime.
You can catch a fish anywhere in Finland during the Fishing Tours. The fish is available all year round as the sea is never frozen near the fjords, and you do not need a license. This company is famous for the best Lapland Tours full of family activities and photo opportunities. Take your taste buds to another level with the Food experience Tour. Enjoy Finnish flavors of the North Atlantic, which includes traditional yet modern gastronomy.
Reviews
Scandinavian Travel Group has many glowing reviews. With 101 reviews on Trip Advisor, a high percentage of 90% of the tourists rated this best Finland tour company as professional and exceptional. See the excellent review here:
"Many thanks to the STG team for organizing a memorable and unusual children's birthday party for my daughter, 7 years old, which was held in the Polarman's Camp igloo. Interesting contests, great organization. The birthday girl and the guests were delighted!" – Tatiana: Jan 2021
Polar Lights Tours
Company's location and type: Helsinki, Local Tour Operator
Year of establishment: 1994
Awards, Certification: Ranked #10 Trip Advisor
Reviews: 99 reviews on Trip Advisor 91% rated great
About Company
Polar Lights Tours is an authentic family-owned Finland Tours based in Lapland, close to Levi Travel resort. The company runs friendly and trained Alaskan husky dogs, original Finn horses, and reindeer. During your stay in Finland, you will learn how Polar Lights Tours trains and breeds their dogs. The company can also organize extended trips in Lapland and helps with accommodation, hotel and airport transfers, and winter outdoor activities. Besides, the company is highly rated on Trip Advisor as a top Finland tour company.
Packages
You can choose from various exciting package tours in Finland with Polar Lights Tours. Most of their excursions are in the popular area of Lapland.
Jump into a sleigh and enjoy the Husky Experience with gorgeous snow views on a second-to-none Safari in Finland. The company's friendly Finn Horses will take you to explore the Lapland on horseback. With a trained guide, you will take the unbeaten path for an experience of a lifetime. Finally, you can have Combined Experiences by taking a husky, a reindeer, and a horse to experience the wonderful winter wonderland of the Finnish Lapland.
Reviews
Polar Lights Tours has a four-star rating on Trip Advisor, with unique tours in Finland. The company is ranked #3 for outdoor tours in Sirkka. Look at this positive review:
"Just had an amazing husky ride through the trees. Both of us got to drive. Warming drink and biscuit after. Saw previous reviews about the conditions. The dogs are keen on it and absolutely love racing along as they get all the exercise their instincts need. Tales going madly and barking. The biggest tip is to wrap up warm especially your feet and hands. Blankets on the sledge for the passenger." – AnnieF: Dec 2019
Roll Outdoors- Bike Tours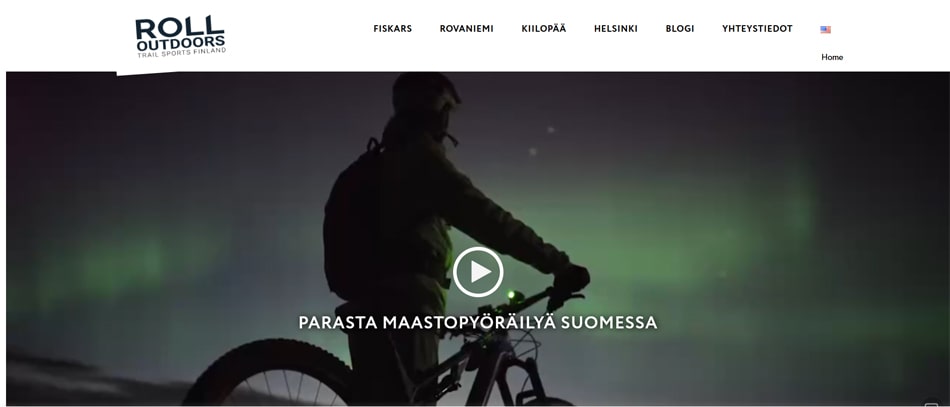 Company's location and type: Helsinki, Local Tour Operator
Awards, Certification: Ranked #2 Trip Advisor Certificate of Excellence 2018/2019
Reviews: 132 reviews on Trip Advisor 95% rated excellent and outstanding
About Company
Roll Outdoors-Bike Tours is a top-rated Finland tour company that organizes bike rentals and guided mountain bike tours in Helsinki, Kaliope Rovaniemi, and Fiskars. Each of their expedition offers special characteristics posing an adventure of a lifetime. You will take second to none expeditions with friends and family that you will never forget. The company offers unmatched tour packages and options in the industry and has hosted thousands of happy tourists, who ranked then number two on Trip Advisor. Read more to find out why Roll Outdoors remains is a top tour agency in Finland.
Packages
Roll Outdoors-Bike Tours has plenty of affordable Finland bike tours options for you to select from and enjoy.
Their best Guided Family Bike Mountain Tours is perfect for children and families looking for the best views around Kiilopa for a cycling experience. With a guide, you can get out for a day of adventure in a guided Ride and Courses in Helsinki. From the scenic Central Park, you will ride through gravel roads in Helsinki for six hours and marvel at the gorgeous beauty. During Winter, you can tailor-make a Private Guided Tour Finland for mountain bike coaching and photography while chasing the Northern Lights.
Reviews
Roll Outdoors-Bike Tours is one of the top Finland tour agencies with glowing and raving reviews. The feedback shows a high rate of client satisfaction with a total of 132 reviews on Trip Advisor. Over 95% of past tourists with this company have rated them outstanding and excellent. Read the positive review below:
"I highly recommended this amazing "into the wild" style experience to all young adults and adults. To fully enjoy the evening raid and get the feeling of being lost in space and time, consider asking for a guided tour." – ADN: Feb 2020
In Conclusion
This top 10 Finland tour companies list has been put together to inform and create awareness while assisting you in your quest for a highly rated and affordable tour agency in Finland. If you want to travel to Finland and immerse yourself in the culture for an unforgettable time, please use this resource to help you search for the top tour operator in Finland.
When you return from Finland, we would be excited to hear about your experiences. If you have gone on a tour with any of these Finland tour companies in the past, send us a message, and tell us how it went!
Honorable Mentions
Related Links