Are you planning on vacationing in Belgium? Do you need to find the safest and top tour company in Belgium? Are you looking for great tour packages with exciting activities to do in the country?
Traveling to Belgium is an incredible experience that will give you a lifetime of memories. The country may be small, but it is filled with UNESCO sites, from the 14th-century guildhalls to the fabulous Grand Palace and the modern Art Nouveau of Victor Horta. Bruges is a significant attraction with medieval streets, narrow canals, and excellent architecture from Middle Ages. Whether you love modern or ancient history or are an avid beer lover, Belgium provides plenty of tour options to choose from.
Even though many tour operators in Belgium can provide unique tour packages, each option will still differ in price, customer service, and quality. So, it can take many hours of research to get the right provider with all the necessities you are searching for. You also need to be very cautious in your search as you want to spend your hard-earned money with a reputable, affordable, and professional tour company in Belgium. Because your decision will greatly impact your tour to Belgium, Travellers Quest has put in the hard work to give you in-depth information on the top 10 highly rated Belgium tour operators.
After thousands of hours scouring the internet best tours in Belgium, TravellersQuest has carefully analyzed and selected the following companies that we believe in having the best reputation in Belgium. Using our resources, you can feel confident that this information will help you make an excellent decision.
Here you can find this easy-to-follow list of the top 10 tour operators Belgium.
Providers
Package
Reviews
SANDEMANs NEW Europe – Brussels
Day Trip to Bruges
Beer Tasting Tour
Trip Advisor – 13,405 reviews
Viva's Tour
Brussels Beer Experience
Bruges Day Trip from Brussels
Trip Advisor – 3,511 reviews
Flanders Battlefield Tours
Bespoke Tour
Daily Tour
Trip Advisor – 1,012 reviews
Guide in Ghent Anna Mochtchevitina
Bruges Highlights Guided Tour
Ghent Illuminated Guided Tour
Trip Advisor – 134 reviews
Groovy Brussels – Chocolate and Bike Tours
Brussels chocolate Tour
Brussels beer and Brewery Tour
Trip Advisor – 970 reviews
Ben's Ghent
Van Eyck Cycle Tour
Free Tours
Trip Advisor – 154 reviews
Photo Tour Brugge
Hidden Brugge
Private Photo Tour
Trip Advisor – 664 reviews
A Zonzo Tour
Private Tours of Brussels
Guide Tours of Marseille
Trip Advisor – 630 reviews
Brussels Running Tours
Historical Centre
Atomium – Laeken
Trip Advisor – 196 reviews
Go Belgium Tours
Belgian Beer Tour
Private Tour
Trip Advisor – 121 reviews
Table update Oct 3, 2021
SANDEMANs NEW Europe – Brussels
Company's location and type: Brussels, Local Tour Operator
Year of establishment: 2003
Awards, Certification: Ranked #1 Trip Advisor
Reviews: 13,405 reviews on Trip Advisor 98% rated very good and excellent
About Company
SANDEMANs NEW Europe network is one of the top walking tour companies in Belgium. Chris Sandeman, a Yale Student founded the company in 2003 when he realized that his guests appreciated history during the tours more than anything. Currently, SANDEMANs NEW Europe operates in more than 20 cities across Europe, the Middle East, and the US. With a network of over 600 friendly and professional guides, they are best known for their incredible walking tours, pub crawls, historical trips.
Packages
Join in on these top-rated tour packages in Belgium for a fulfilling vacation experience.
The Day Trip to Bruges will take you to the top attractions in the ancient city, such as the Belfry, Grote Market, and St. Salvador Cathedral. In Brussels, you can join in on a Beer Tasting Tour and visit the most incredible bars in town to sample the Trappist brews made by monks and Brussels' Lambic beers. You do not want to miss the opportunity to taste the world-famous Belgium Chocolates. On this tour, you will learn the secret to making delicious chocolates the Belgium way and discover how they became part of the country's identity.
Reviews
SANDEMANs NEW Europe is a top tour operator in Belgium for its high-quality excursions and has earned the #1 spot of 160 nightlife tours in Belgium. With a rating of five stars and 13,412 raving reviews on Trip Advisor, the company is loved by travelers in Belgium. You can read this review about the company here:
"Very complete and fun tour; My guide, Adelin, had a great sense of humor and was always willing to answer questions and share things about his city. Really great." – Theo A: Sep 2020
Viva Tours

Company's location and type: Brussels, Local Tour Operator
Awards, Certification: Ranked #8 Trip Advisor
Reviews: 3,506 reviews on Trip Advisor 95% rated Professional and excellent
About Company
If you are searching for the best tours companies in Belgium, look no further than Viva Tours. This provider operates many great tour packages in Belgium and other cities around Europe, including Rotterdam, London, and Athens. The company's tour guides are experienced and knowledgeable and able to speak English, German, and French. When you join Viva Tours, you will experience the culture, food, wines, history, and the most attractive highlights of the city.
Packages
With more than a decade of experience in the tourism industry, this Belgium tour is top-rated with fulfilling packages.
If you are a beer lover and have tried multiple that you did not like, then Brussels Beer Experience is designed just for you. In 60 minutes, you will cover the brewing tour for Belgium beers and taste up to five beers for free. You can take a Belgium Chocolate Making Workshop and learn how to make chocolate from scratch, which you can take home. Besides, the company's Brussels Waffle Workshop is also very popular because it allows you to prepare, cook, and enjoy waffles in a fun and easy way, even without previous cooking experience.
Reviews
Viva Tours is proudly rated as a five-star tour operator in Belgium on Trip Advisor. Past tourists have spoken highly of their tour guides and excellent tour packages. They are also ranked #8 of 186 tour companies in Brussels. A past tourist left this comment on Trip Advisor:
"We did the 11 am walking tour of Brussels with Daniella today. Highly recommend it. It's a great way to discover some of the hidden treasures that Brussels has to offer." – A Trip Advisor Member: Feb 2020.
Flanders Battlefield Tours
Company's location and type: Brussels, Local Tour Operator
Awards, Certification: Ranked #3 Trip Advisor Certificate of Excellence 2015
Reviews: 1,016 reviews on Trip Advisor
About Company
Flanders Battlefield Tours is a reputable and award-winning Belgium tour company founded by World War I veterans. The company specializes in guided daily tours, intending to help you discover the layers of Belgium's incredible history while enjoying fun excursions, including food and beer tastings in one of the most beautiful and friendly cities in the world. Battlefield Tours is run and operated by Jacques Ryckebosch and Genevra Charsley, passionate, knowledgeable, and multilingual with years of experience and members of the Guild of Battlefield Guides. The duo is always well informed and involved in the latest development and discoveries.
Packages
Find out what the country offers by taking the best battlefield tours in Belgium with Flanders Battlefield Tours.
The Ypres Salient and Western Front was an area that bulged in the front line during the war killing over a million men as they were trying to gain control. The Grand Belgium Tour shows the overview of several battlegrounds and memorials, including the Essex Farm, Langemarck German Cemetery, and the Hill 62 Museum with trenches. Following the 1915 battles, the Fromelles was converted into the first Commonwealth war graves cemetery. You will cover the Pheasant Wood Military Cemetery, Rue Petillon Cemetery, and the Cobbers Memorial on this tour.
Reviews
Flanders Battlefield Tours is a leading tour operator in Belgium with a high client satisfaction rate based on feedback from past tourists. Of the total 1,061 reviews on Trip Advisor, 98% of the past customers have rated the operator as excellent with professional tour guides. See the positive review below:
"I would truly recommend time with Jack on his tour. He has the most amazing knowledge of the area and loves to share it with all. Our day in December 2019 traveling our ancestor's war journey will always be remembered as a highlight of our travels. this tour is a special one and a must if in the area." – Jane W: Feb 2020
Guide in Ghent Anna Mochtchevitina
Company's location and type: Ghent, Local Tour Operator
Year of establishment: 1999
Awards, Certification: Ranked #3 Trip Advisor Certificate of Excellence 2018/2019
Reviews: 134 reviews on Trip Advisor
About Company
Guide in Ghent Anna Mochtchevitina is an award-winning tour agency based in Ghent. Started in 1999, the company is operated by a professional tour guide to help you discover the history, beautiful architecture, culinary craftsmanship, and authentic traditions and festivals. This Belgium tour company offers a wide range of personalized tour opportunities in Ghent and Bruges with professional guides at affordable prices so that anyone can get to join.
Packages
Guide in Ghent Anna Mochtchevitina has various immersive Belgium tour packages for you to join in for a life-changing experience.
During the Bruges Highlights Guided Tour, you will see the city's Golden Triangle and listen to tales about Venice of the North while also touring the Belfry Tower on the Market Square. The town of Ghent has earned international acclaim for its magical lights in the nighttime. When you take Ghent Illuminated Guided Tour, you will stroll the lit streets seeing the monuments and the city's authenticity under the lights. Taking the Ghent Highlight Tour is an ideal way for getting around the beautiful and peaceful town in an interactive experience. The tour covers the St. Michaels bridge through uptown to significant tourist attractions.
Reviews
This tour operator in Belgium has earned the Certificate of Excellence from Trip Advisor two years in a row in 2019 and 2018. With nearly 150 positive reviews, this provider has had a 95% rating of excellent customer service and excellent tours. You can confirm by reading this review here:
"Anna really loves her city – and it shows! Gave lots of very interesting information, also things you don't find in every travel book. Helped with restaurant recommendations as well as all kinds of useful information she sent around afterward. Highly recommended!" – KBW: Dec 2019
Groovy Brussels – Chocolate and Bike Tours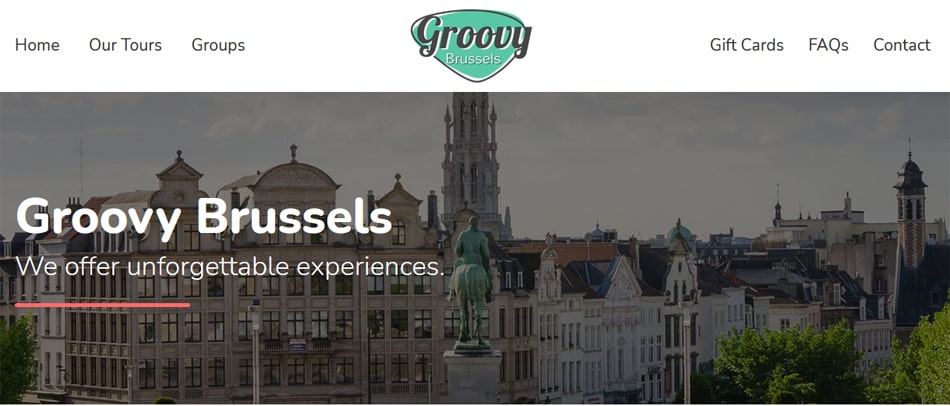 Company's location and type: Brussels, Local Tour Operator
Year of establishment: 2009
Awards, Certification: Ranked #3 Trip Advisor Certificate of Excellence 2012/2016
Reviews: 973 reviews on Trip Advisor 95% rated great and excellent
About Company
Groovy Brussels has been offering memorable tour experiences in Brussels since 2009. The company was founded to show the city to visitors like they are part of the family. They started by offering bike tours in Belgium, then a couple of years later, they launched the beer and chocolate tours. They have served thousands of happy tourists throughout for over a decade. Join Groovy Brussels to discover the beautiful city and all its hidden attractions.
Packages
If you are looking for a local tour operator in Belgium, Groovy Brussels will offer you plenty of tour packages at reasonable prices.
When you take the Chocolate Tour, you will stroll through the medieval center to the posh neighborhoods, famous galleries, romantic city views, and fabulous monuments. Not only will you taste the best chocolates in the world but also shop to take them back home. On the Bike Tour, you will ride through the streets of beautiful cities to the world-famous Maison Antoine. For a great experience, the company offers a combined bike and chocolate experience on a Day-Tour in Brussels.
Reviews
Groovy Brussels is an award-winning operator tour in Belgium with great raving reviews and a client satisfaction rating of five stars. With 973 reviews on Trip Advisor, over 95% of the past tourists rated the company outstanding. See a positive review below:
"Annelies gave us an in-depth view of the culture and history of Brussels. This was a great experience that makes us want to return to Brussels in the near future." – Sanae H: July 2020
Ben's Ghent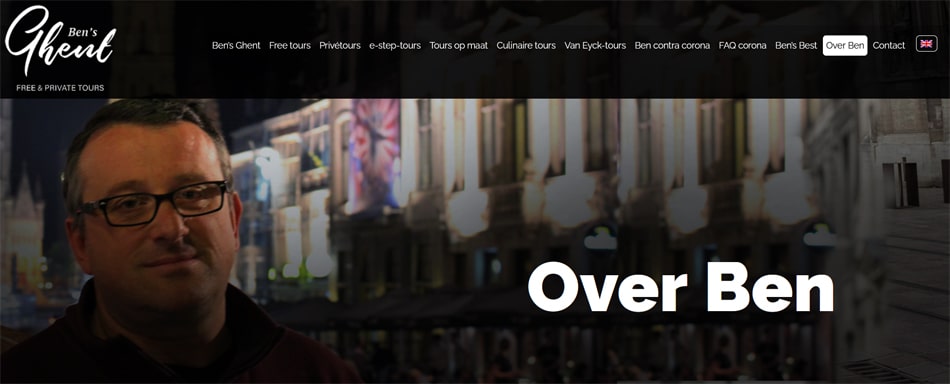 Company's location and type: Ghent Local Tour Operator
Awards, Certification: Ranked #5 Trip Advisor
Reviews: 154 reviews on Trip Advisor
About Company
Ben's Ghent is based in the beautiful city of Ghent and is an experienced Belgium tour company specializing in free and private tours. Ben has lived in Ghent for over 25 years, and his vision is to share the rich history, culture, and entertainment scene of the city with tourists. With more than ten years of experience in the tours in Ghent, you can feel confident that you are safe. Besides, the guides are highly trained, fun-loving, and friendly and speak multiple languages, including French, English, and German. Be ready to enjoy a vacation filled with comfort, fun, and safety,
Packages
Ben's Ghent offers a variety of tour packages in Belgium to choose from.
The Van Eyck Tour is a memorable visit to the Museum of fine arts in Ghent, where there is a statue of Hubert and the Mystic Lamb graffiti. The prince and princess of darkness throng the city by night on the Ghent by Night Tour. You will discover lit squares, streets, and architecture whilst having a beer on a fantastic 360 degrees panoramic view. If you are a foodie, do not miss out on the Food Tour for a culinary throwdown accompanied by premium brewed local beers.
Reviews
There are so many great things that have been said about Ben's Ghent on Trip Advisor. As a reputable tour operator in Belgium, the company has a five-star rating with almost 154 reviews, many of which speak highly of their customer service and packages. The company is also ranked #5 of 73 tours in Ghent. Read a lovely review left by a past traveler below:
"Ben offers a great experience of the city of Ghent. He shared many interesting tales about the city and its architecture. He shared every minute architectural fact about every place we visited. He is a nice guy, full of knowledge, and has a great sense of humor. I highly recommend Ben's tour." – Nishant G
Photo Tour Brugge
Company's location and type: Bruges, Local Tour Operator
Year of establishment: 2012
Awards, Certification: Ranked #7 Trip Advisor Reviews: 669 reviews on Trip Advisor 94% rated excellent
About Company
Photo Tour Brugge offers daily photo-focused city walking tours in Bruges, Belgium, as seen through the eye of the locals. Founded by Andy Mcsweeney in 2012, a professional photographer living in Bruges, the tours combine a photography workshop and a unique city excursion. Regardless of your camera skills or shooting style, each trip offered by Photo Tour Brugge will provide photo tips and customized tailored that you'll use to improve your picture qualities. Do not be afraid to take a tour with the best tour operator in Belgium, from beginner to pro.
Packages
This is a great Belgium tour operator that specializes in bringing you great photo opportunities in Bruges.
One daring tour option is the Hidden Brugge, where you will go to places less traveled and photograph the landscapes, side streets, and the stunning town center. The Shades of Brugge is an exclusive photo tour to take photos when the lights are turned down low. To entirely focus on your skills and flexible schedule, the company also offers a Private Photo Tour in Bruges.
Reviews
Photo Tour Brugge is a tour agency in Belgium. The company's five-star ranking is based on the client satisfaction rate achieved from excellent reviews on Trip Advisor. From 669 reviews, 94% of the customers rated the operator as reliable and professional. See a great review below.
"Ended up on a solo tour after a last-minute phone call, had such a great time! Andy is a great company and had awesome advice for the kinds of photos I like to take. Wish I could have taken the night tour with him, but he showed me some good spots for it and gave me recommendations anyway." – Shelby F: Dec 2019
A Zonzo Tours

Company's location and type: Brussels, Local Tour Operator
Awards, Certification: Ranked #3 Trip Advisor
Reviews: 630 reviews on Trip Advisor 98% rated great and excellent
About Company
Out of all your options for Belgium tour companies, A Zonzo Tours should be top of your list if you are looking for a unique way to tour the city at an affordable cost. No matter the tour package you are looking for, this company will customize and personalize a trip that fits your interest, budget, and time. With over five years of experience in the industry, A Zonzo Tours offers private and group tours exclusive to have a fulfilled trip in Belgium. Join them for a great vacation full of fun and life-changing moments.
Packages
You have so many Belgium tours to explore with, A Zonzo Tours, and you can go as a couple, family, or group!
For a unique and authentic experience through the streets of Brussels then you can join the Private Tour of Brussels, to learn the history, the legends and see the world-class art and monuments. During the Beer Tour Belgium, you will retrace the history of the ancient drink, focusing on the production dating back to the Middle Ages while tasting all the 11 beers produced by the Trappist Monks. On the Bruges Tour, you will discover the medieval city from Northern Venice to the Minnerwater and the romantic part of the city, Beguinage.
Reviews
With 98% of A Zonzo Tours reviews giving a great or excellent score, you can see why this tour operator in Belgium is on our top list. On Trip Advisor, they are ranked at #3 of 186 Tours in La Paz Brussels with 631 reviews. Since most people left a positive review, read this raving comment by a past traveler:
Brussels Running Tours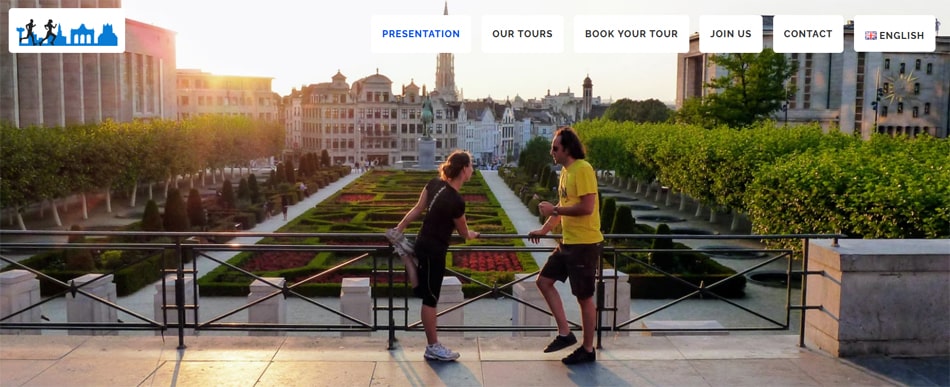 Company's location and type: Brussels, Local Tour Operator
Awards, Certification: Ranked #1 Trip Advisor
Reviews: 196 reviews on Trip Advisor 95% rated great and excellent
About Company
Brussels Running Tours is a Belgium tour company that combines sightseeing and jogging as a fun and active way of discovering the city. With a team of local and passionate guides, the company offers standard and tailor-made running tours, discovering the many surprising attractions in Brussels. They ensure that you run at a comfortable pace and even fully adapt to your pace when needed. You can make frequent stops in front of the highlights and attractions, so the 9km tours are hardly challenging. Join Brussels Running Tours and run through the city with a professional and friendly guide.
Packages
Brussels Running Tours, you will get Belgium tour packages that fit every interest you are looking for!
Join the Private Running Tour, available every day at your convenience. The tour is nine km and takes about two hours with frequent stops to learn and sightsee. For a Historical Center trip, you can join the company's most popular excursion through the stunning Grand Palace to the Palace of Justice and Marollen old district. The most vibrant tour is the Kanal Molenbeek, where you can expect to see a mix of modern art and street art along the canal to the town of Molenbeek.
Reviews
As a five-star rated company on Trip Advisor, Brussels Running Tours is a top tour operator in Belgium with nearly 200 glowing reviews. The company is also ranked #1 on Trip Advisor out of 53 outdoor companies in Belgium. Here is a review received recently:
"A great way to see the city from a different perspective. I would highly recommend this to anyone who enjoys running." – Missymoo 100: Dec 2019.
Go Belgium Tours

Company's location and type: Brussels, Local Tour Operator
Awards, Certification: Ranked #10 Trip Advisor
Reviews: 121 reviews on Trip Advisor
About Company
Go Belgium Tours is a reputable local Belgium tour agency founded in 2018 by professional guides from different countries with years of experience in private and free tours. The company aims to promote sustainable, ecological, inclusive, and local tourism to introduce authentic Belgium without tourist clichés and always with t humor. The tours are interactive and personalized with a mix of history, art, local culture and conducted by multilingual professional guides.
Packages
Get out and have some fun with one of the best tour operators in Belgium for an extraordinary and life-changing adventure.
With over 200 breweries in Belgium, the Beer Tour allows you to discover different nuances and the history of various beers. The UNESCO world heritage officially recognizes the beer-drinking culture, and some bars and breweries are over 100 years old. The Brussels Group Tour helps you visit and see the city through the eyes of the locals. When you take the Free Tour of the Unknown Brussels, you will visit the past and current city, its evolutions, and its future plans.
Reviews
This renowned Belgium Tours has a glowing and positive reputation on Trip Advisor. Go Belgium Tours is tanked #10 of 186 Tours in Brussels with a 97% approval rating. The company has also received over 120 reviews with a five-star rating. Read about their tours from a past traveler here:
"Pleasant tour. Warm and informative tour guide. A great way to explore Brussels upon visit. I definitely recommend it!" – Andreas M: July 2021
Conclusion
We hope that this top 10 list of Belgium tour companies offer you the information and data you need to make the most decisive decision for your vacation journey to this small but fabulous and beautiful country. If you decide to travel to Belgium, we encourage you to use this list as your reference during your research.
Once you complete your trip to Belgium, we would love to hear about your adventures. If you have taken a vacation with one of these tour operators in Belgium in the past, please send us a message and share your experience with us.
Honorable mention
Related Links