The latest wave of COVID-19 is wreaking havoc on the global economy — including the travel and tourism industry — as lockdowns and travel bans return. Mexico is among the travel destinations that are hit hardest by the restrictions as its rising number of infections has made it risky for visitors.
The cost is steep, as Mexico continues to grapple with as many as 20,000 new delta-variant infections daily. As of Aug. 18, Mexico recorded nearly 29,000 new COVID infections, bolstering the combined number of cases to 3,152,205. A recent tally counted 940 deaths, bringing the total number of COVID-related deaths in Mexico to more than 250,000.
Unfortunately, the spread continues as the number of daily cases rises. Fortunately, the distribution of vaccines is underway. Slightly under two-thirds of Mexico's adults have received at least the first jab.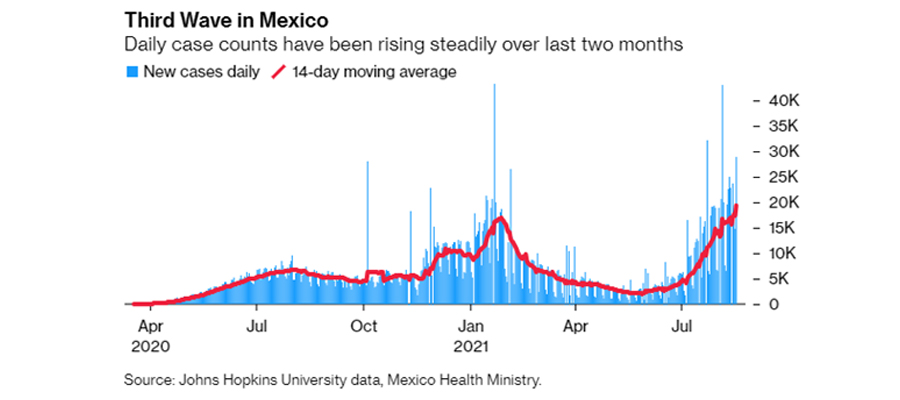 Source: Bloomberg
In addition to the health crisis, the country faces related economic trouble. Mexico's travel industry is bracing for losses of as much as USD 2 million per day, according to estimates by the World Travel & Tourism Council (WTTC).
The U.K. quickly sounded the alarm, changing its rating on Mexico-related travel from amber to red. This led to an exodus of British travelers from Mexico as tourists sought to avoid a looming quarantine requirement with a hefty price tag attached.
Residents who get caught in a U.K.-defined red zone would be forced to stay at an approved hotel for a 10-day stretch, a stay which would cost them approximately GBP 1,750 upon their return. These travelers from Mexico would have to book the hotel reservations ahead of time or face a fine of as much as GBP 4,000. Some 6,000 U.K. travelers are affected by these rules. Meanwhile, non-British citizens traveling from Mexico are not allowed to enter the U.K.
The U.K. rules are significant considering that Mexico is a highly sought-after tourist destination among British residents. The number of U.K. travelers to the North American nation climbed nearly 17% in the four years leading up to 2018, a total of close to 600,000 tourists.
U.S. Land Border Restrictions
Meanwhile, land port restrictions for the U.S. borders with Mexico and Canada — which target inbound crossings — were recently extended to Aug. 21. The bans have been in place since the spring of 2020, and businesses have been reeling from a loss of customers. According to reports, the non-essential travel ban has devastated small businesses, including those on the Texas/Mexico border. Many border businesses that were forced to close their doors are not expected to reopen.
The Wall Street Journal spotlighted El Paso-based small business owner Gregoria Flores. Flores owns a shop called Novedades Yeya's and the majority of her customers would spill over from Ciudad Juárez before the border ban was in place. Now Flores is desperately awaiting their return.
According to Hector Cerna, president and CEO of IBC Bank-Eagle Pass, cited by the Rio Grande Guardian, many of these businesses rely on consumers from the Mexican side of the border. These American businesses are in a unique position, as much of their money comes from neighboring Mexico. Cerna describes it as "one city, two countries" and he believes that the U.S.-Mexico border must reopen.
Mexico's Tourism Industry
Mexico's tourism sector has been on a wild roller coaster ride for the past few years. In April 2021, the country saw 2.3 million international travelers, which was up nearly 200% compared to a year prior, during the height of the pandemic-fueled lockdowns. Nonetheless, Mexico's April 2021 results fall below the 3.6 million visitors Mexico saw during April 2019. As a result, the country has yet to return to its pre-pandemic levels for international travel.
The data demonstrates the importance of Mexico's travel sector to the economy. According to the World Travel and Tourism Council , the travel and tourism sector contributed 15% of GDP to Mexico's economy in 2019. The industry's contribution was slashed to 8.5% during the pandemic year, which was a decline of close to 50%.
In addition, the travel and tourism sector is a big driver of employment in the country. In 2019, the travel industry generated more than 7 million jobs or close to 13% of total employment in the country. In 2020, the number of travel-related jobs fell to below 6 million or just over 11% of Mexico's total employment.
The travel bans take direct aim at the Latin American country's economy. For example, international travelers spent USD 23.7 billion in Mexico in 2019. Tourist's spending fell by 49% in 2020 to USD 12 billion. Mexico's domestic visitor spending was down by a similar percentage in 2020 vs. 2019 levels.
Most of the inbound flights to Mexico originate from the United States, at 81% and 89% in 2019 and 2020, respectively. The U.K. was the fourth most frequent jurisdiction for inbound arrivals to Mexico, preceded by Spain and Canada, in 2019, which jumped from position four in 2019 to position four in 2020.
Source: WTTC.org
Mexico's Economy
The spread of COVID-19 in Mexico has dampened the expectations for economic growth this year. Economic minister Tatiana Clouthier now predicts that GDP will grow less than 6.3% in 2021. Economic growth is still expected to reach a minimum of 5.5%, despite the new wave of Delta cases. Previously, the economy ministry forecasted that GDP would reach 6.5% this year. To achieve this growth, the government is prioritizing the following areas in the interim:
Mexico's internal market
Employment
Investment incentives
International trade
Regionalization
In the meantime, Mexico's Central Bank recently decided to increase interest rates to 4.5% in an attempt to keep inflation at bay. Until COVID-19 cases begin to trend lower, there is no real end in sight to the travel limitations, which in turn will stymie Mexico's economic growth.
By: Gerelyn Terzo of Sharemoney