Have you been imagining a dream adventure in Guatemala, one of the most looked over tourist destinations in the world? Is it in your interest to discover the best tour companies in Guatemala? Do you want to discover the highest rated and safest Guatemala tour companies to help you on your trip?
While you are on vacation in Guatemala, you will see many examples of the Mayan history in the country. Ancient ruins can be seen throughout the country and you can even meet indigenous mayan descendants. The country is also very well known for its picturesque views and volcanic landscape. Guatemala is covered in dense vegetation and beautiful jungle canopy's. Beaches in Guatemala are also rated as some of the prettiest in Central America. Regardless of where you decide to spend your time while exploring, participating in a tour in Guatemala is the perfect chance to see a beautiful country while staying safe and creating lifelong memories.
Once you decide to go on a tour while in Guatemala, you ill realize that there is a lot of research needed. You could be sifting through hundreds of results pages and scouring for reviews of the hundreds of tour companies available. Since you may not have the time to look into each option, we have gladly taken it upon ourselves to create this easy to follow guide of the best 10 tour operators in Guatemala. It is our mission to ensure that you end up having the time of your life with a trusted tour company.
We firmly believe that without proper research, you could inadvertently spend thousands of dollars on a lackluster tourist experience in Guatemala that will provide less than acceptable service at high rates. Due to these concerns, we have researched and put together the perfect guide that goes over the top 10 best Guatemala tour agencies out there!
Here is an unbiased list of the Top 10 most reputable Guatemala tour operators.
Providers
Package
Reviews
Old Town Outfitters
Acatenango Volcano
Tikal Tour
Trip advisor – 486 reviews
Guatemalan Adventure Day Tour
Tikal Tour
The Best of Guatemala
Trip Advisor – 406 review
Filadelfia Coffee Resort & Tours
Bike Tour
Bird Watching
Trip Advisor – 355 reviews
OX Outdoor Excursions – Day Tours
Submit to Surf
Kayak Hike
Trip Advisor -280 reviews
Simoon! Rentals & Tours
Book Antigua Mountain Tour
Lake Atitlan ATV Tour
Trip advisor – 241 reviews
Adrenalina Tours
Tours Antiqua Guatemala
Rafting in Cahabon
Trip advisor – 239 reviews
CATours
Lake Atitlan the Full Experience
Pacaya Volcano
Trip advisor – 151 reviews
Martsam Tour & Travel
Birdwatching Day Tours
Affordable Tours Guatemala
Luxury Tour Guatemala
Trip advisor – 155 reviews
CA Travelers
Street Food
Tikal Tour
Trip advisor – 142 reviews
Authentic Guatemala
Guatemala City tour
Green Caribbean
Trip advisor – 106 reviews
Table update Jan 23, 2021
Old Town Outfitters

Company's location and type: Antigua, Local Tour Operator
Year of establishment: 1998
Awards, Certification: #4 of 46 Outdoor Activities in Antigua
Reviews: 486 reviews on TripAdvisor 98% rated very good and excellent
About Company
Old Town Outfitters was founded over 20 years ago in 1998 and has provided the highest quality tours in Antigua since. Old Town is a full-service Guatemala tour company that specializes in adventure travel and management. If you would like one of the best and most authentic tours, catering to your desires, then don't miss out on a chance to take an unforgettable tour with Old Town Outfitters in Guatemala. Old Town strives to provide unique, high-quality trips which create rewarding and memorable experiences for each and every client that comes through the doors.
Packages
Old Town Outfitters has many years in the tourism industry. They are able to provide many unique tour opportunities all over Guatemala. You can find the perfect tour program to fit your needs.
One popular tour option that Old Town provides is the Acatenango Guatemala Volcano tour. This famous volcano has a plethora of flowers and fauna covering its sides and is a beautiful trip for the whole family. If you are interested in Mayan ruins, the Tikal tour is the perfect fit for you! Spend the day exploring burial grounds and ceremonial buildings of old. A great way to see a large amount of Guatemala in a short time is a once-in-a-lifetime Helicopter Tour in Guatemala with Old Town Outfitters. Fly over volcanoes, cities, and the glorious horizon. For the most adventurous tour-goers, there is the Cielo Grand Tour. You will find yourself on a challenging hike through the backcountry areas of Guatemala and explore indigenous towns in the valleys.
Reviews on Old Town Outfitters
Over 450 people have already provided amazing reviews on tripadvisor for Old Town Outfitters and it would be their pleasure to allow you a chance at a unique and exciting tourist experience in Guatemala. Here is a comment from a past client about their experience:
"We hiked Volcan Pacaya with Old Town Outfitters and it could not have been a better experience. The shop was well organized and the staff knowledgeable about the volcano and the area. – Aewolf915
Guatemalan Adventure Day Tours
Company's location and type: Guatemala City, Local Tour Operator
Year of establishment: 2005
Awards, Certification: #2 of 68 Tours in Guatemala City
Reviews: 406 reviews on TripAdvisor 97% rated very good and excellent
About Company
Guatemalan Adventure is a well-established Guatemala tour company that has dedicated years of top-quality travel products within Guatemala since 2005. The company specializes in providing packages for all types of clients. You could choose a standard or luxury tour, individual tours, private, couples, and even family tours! Guatemala Adventure's goal is to give you a feeling of safety and support for the entire length of your journey. Be ready to have the time of your life with a highly qualified tour company. One of the best tour providers in Guatemala. Our specific goals are that our guests feel and travel safely in Guatemala, enjoy their vacations, and learn about Guatemalan Culture, Nature, Archaeology, and Mayan Civilization.
Packages
Guatemala Adventure Tours is not short on package choices! You can find yourself on a beach getaway or halfway up a volcano.
Tikal Tour is your chance to discover nature and get in touch with the ways of the ancient Mayans in a place where they used to live. You can hear the monkeys and truly get a native experience. The Best of Guatemala tour will take you on an exciting and safe trip to all of the must-see spots in Guatemala City. This is perfect if you would like to see a wide range of sites while visiting. You could also participate in the Mayan Guatemala Expedition Tour and join in on a challenging hike up mountains and valleys while exploring Mayan ruins. Another good choice is the Pacaya volcano Tour. This is your chance to get up close to a real-life volcano and be told about its history from a trusted and wise tour guide.
Reviews on Guatemala Adventure Tours
Guatemala Adventure Tours has many great reviews on Tripadvisor. This Guatemala tour company also ranks #1 among all of outdoor tour operators. 97% of past clients rated their experience as excellent. See this review from a past client:
"Our Guide was very caring and make sure we were comfortable and had a good time. The lake is beautiful. We visited the village of Santiago. Stopped for breakfast and lunch. Both restaurants were great." – Mery
Filadelfia Coffee Resort and Tours
Company's location and type: Antigua, Local Tour Operator
Awards, Certification: Awards – 2015 certificate of Excellence By trip Advisor.
Reviews: 355 reviews on Trip Advisor 98% rated very good and excellent
About
Filadelfia was awarded the certificate of excellence by TripAdvisor in 2015 and continues to receive high praise from clients each day. They provide a large array of tours within a lusch and natural environment. The tours take place on a coffee estate with family traditions in mind. Filadelfia offers Guatemala coffee tours, latte art, chances to taste freshly brewed coffee, a quaint mule ride, bike riding, and so many other fun activities to choose from. You can quench your thirst for amazing coffee while having an incredible and indulgent experience.
Packages
Drink coffee and ride bikes through beautiful scenery on Filadelfia's Bike Tour in Guatemala. This is a fun and low-stress trip that is best suited for people of all ages and can be great fun for the whole family. The Bird Watching is a great opportunity to learn about the many colorful species of birds in Guatemala. A professional guide will educate you on different facts and information about the birds you see. Filadelfia also has a Trial Walking tour. The tour is held all the way throughout the coffee plantation and you will spend the day walking through the gorgeous landscapes and mountains. One option that many visitors opt for is the Cloudy Forest Guatemala package tour. You will be high up in the canopy and the humidity will be visible all around! Expect to see many native animals while exploring the forest.
Reviews on Filadelfia Coffee Resort and Tours
This Guatemala tour company has received hundreds of great reviews and has a long proven track record of being one of the best tour providers in Antigua. These reviews are well earned from clients of all kinds from all over the world. Tripadvisor ranks them high out of the other tour operators in the area. See the positive review below:
"We heard about Finca Filadelfia on the plane ride down. We were there the next day for breakfast, which was really well prepared along with their amazing coffee and service…- Eric
Ox Outdoor Excursions – Day Tours
Company's location and type: Antigua, Travel Agency
Year of establishment: 2004
Awards, Certification: #1 of 8 Boat Tours & Water Sports in Antigua
Reviews: 280 reviews on TripAdvisor with 97% rated very good or excellent
About
With OX Expeditions, you can guarantee a solid and professional tour experience in Guatemala. Ox prides itself on being one of the top tour operators within all of Antigua and they have a knack for details. Their attention to your needs will give you the chance to relax and feel confident that your tour will be everything you imagined. From the second you book a tour with Ox Expeditions, you will be treated like family and every effort will be made to give you the best possible experience during your time in Guatemala.
Packages
Ox Expeditions offers the best tour packages in Antigua and has plenty of options to choose from.
Ox offers the perfect tour opportunity to get you up on a surfboard and ride some waves! Summit to Surf will have trained surf pros teach you the basics and give you a real beach experience. There is also a massive 13000ft hike before you begin surfing. There is also a Kayak Hike tour. A great option for the adventurous tourist that would like to combine two fun activities into one action-packed tour. Ox Expeditions offers the Lost City Guatemala tour and it showcases a famous and historical site of the Mayans. Visiting these grounds will give you an appreciation for their intelligent architecture. You could also summit a mountain during the Acatenango Day Hike and see views that you can remember for the rest of your life.
Reviews on Ox Expeditions
As the #1 rated Tour Company in Antigua, this Guatemala tour company has a proven track record of superior quality Guatemala Tours. Over 280 great reviews on tripadvisor and a 98% approval rating. We encourage you to take a tour with them. Read this review left by a past tourist:
"Our family recently did the Pacaya Overnight experience with Zach of Ox Expeditions and it was probably one of the most incredible experiences of our lives…- nunu
Simoon! Rentals and Tours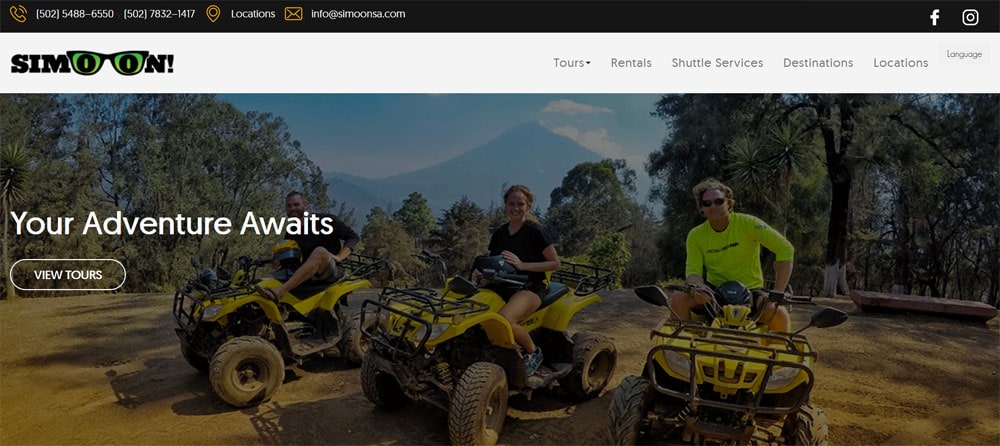 Company's location and type: Antigua, Local Tour Operator
Awards, Certification: #2 out of 46 outdoor activities in Antigua
Reviews: 241 reviews on Trip Advisor 99% rated very good and excellent
About
Simoon is the only tour operator in Antigua that is able to offer tours on motorcycles, scooters, and ATVs around the more rural village areas in the surrounding areas of Antigua. They offer a large range of distinctive tours for your choosing and they promise to give you an experience that takes you off the beaten trail and into the more indigenous areas of Guatemala. Explore mountains and villages with one of the best Guatemala tour companies.
Packages
The Antigua Mountain Tour package is a fun experience where you can explore an avocado plantation and learn about the process of how the vegetables make their way to your plate. Simoon's Antigua Motorcycle Adventure will have you driving your own motorbike through interesting places within Antigua and will be an amazing experience for the whole family. You also have the Lake Atitlan ATV tour option and it consists of a full day motorized tour of the pristine Lake Atitlan. Lunch is also included in this tour! Simoon offers an Antigua Villages Tour and it gives you the unique chance to see how many indigenous people live within the rural areas of Antigua.
Reviews on Simoon!
With over 240 reviews on Tripadvisor, a tour with Simoon! is sure to be a great time at an affordable cost to you. These tour operators in Guatemala have served many customers from around the world to unique tours and they take care of each client as an individual. You can see proof of this by reviews on tripadvisor such as this one:
"We were picked up on time and our tour began quickly. Our guide gave us a quick tutorial on the safety and use of the ATVs. after just a few minutes we were comfortably following our guide on some roads and paths to our first village of several that we visited…- Blindman
Adrenalina Tours
Company's location and type: Quetzaltenango, Local Tour Operator
Year of establishment: 2001
Awards, Certification: #2 tour operator in Quetzaltenango
Reviews: 239 reviews on TripAdvisor 96% rated very good and excellent
About
Adrenalina Tours has been operating some of the best available tours within Queztaltenango for almost 20 years. They are a highly reliable and reputable tour agency within Guatemala that organizes many different types of tours and services for visitors. They are able to organize daily shuttles to the Fuentes Georginas hot springs in the town of Zunil, or to areas for hiking and trekking, cultural tours in indigenous villages, walking city tours, or to the tours of the cemetery and beer factory. You will find the tour and service you need with Adrenalina Tours and they will prove to be a Guatemala tour company.
Packages
Adrenalina offers dozens of highly customizable Tours within Antigua, Guatemala and with a little bit of time, you are sure to find exactly what you are looking for. The company also offers shuttle services to many locations in Guatemala. There is a popular Shuttle from Antigua to Guatemala City that you can make use of. A more exciting tour option is Rafting in the Cahabon. A trained and seasoned guide will take you on a fun trip down the river in a raft! You could also join a Horseback Riding tour package in Guatemala and get a very natural tour experience. Explore meadows and mountains on the back of a beautiful animal.
Reviews on Adrenalina Tours
Adrenalina is highly ranked in Xela and holds the spot of number 2 in the whole city on TripAdvisor. They are able to serve many types of clients and they operate in other cities as well. Adrenalina is easily one of the top tour agencies in Guatemala. Here is a review that the company received recently on tripadvisor:
"We ended buying private transport from GC to Lake Atitlan and from Atitlan to Antigua. Patrick was super fast in answering emails, drivers were at the time, cars super nice…- Pernille
CATours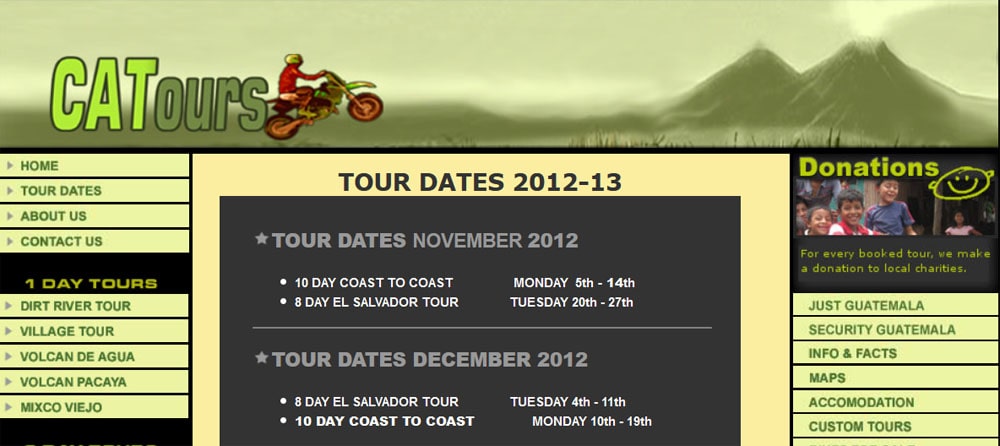 Company's location and type: Antigua, Local Tour Operator
Reviews: 151 reviews on TripAdvisor 99% rated very good and excellent
About
Catours is the top provider in bringing you the best motorcycle tour adventures in all of Guatemala. You could be ripping through the jungle on a Yamaha 175 DT, Honda 200 CTX, and a long list of other fun motorcycles. The owners of Catours are from British, and proud of the fact, but this doesn't stop them from knowing Guatemala like it is their own backyard. According to them, that's because it is! Catours knows Guatemala. Their word is that no one is able to find the same spots as they are and they have the best team to give you a unique experience. Let a great Guatemala tour company give you the two-wheeled adventure you have been dreaming of.
Packages
In only a matter of time, you could be on a motorcycle riding through the trails in Lake Atitlan while getting the Guatemala Full Experience tour. Let loose and have a great adventure in paradise. The Pacaya Volcano tour is another great option if you want to get your adrenaline pumping while having the once-in-a-lifetime experience of riding a motorcycle on a volcano! Tikal Tours is perfect if you are interested in seeing the remains of a lost civilization that lived thousands of years ago. You could make your way on a motorbike through a quaint rural village during the Village Tour package in Guatemala and see how the rural locals of Guatemala live their lives.
Reviews of CATours
CATours is a newer Guatemala tour company but that has not stopped them from garnering many positive reviews. With a five-star rating on tripadvisor and hundreds of positive reviews, they are a qualifier for the best tours in Guatemala. Look at this positive review:
"We had a phenomenal experience with CA Travelers. From the start to the very end, they were extremely professional…- Monique
Martsam Tour & Travel Birdwatching Day Tours

Company's location and type: Cuiaba, Travel Agency
Year of establishment: 1995
Awards, Certification: #5 of 46 Outdoor Activities in Antigua
Reviews: 155 reviews on Trip Advisor 99% rated very good and excellent
About
Martsam Tour and Travel is one of the most established companies on this list of best Guatemala tour companies and has been in operation since 1995. With over 25 years of experience, you can rest assured that going with this company is a great choice for a good experience. They offer custom trips for each client for private Guatemala tours. This gives you unique experiences, creative activities, and happy moments. Another great factor is that they are affordable, extremely flexible, and eco-friendly. There are no hidden charges to cover at your arrival and Martsam strongly believes in transparency.
Packages
Martsam Tour and Travel offers a large range of Affordable Tours in Guatemala and you can follow the link to visit the different options. There is bound to be one that fits your budget while still giving you an amazing experience. On the other side, there are also many Luxury Tour options in Guatemala and you can have a lot of control over the tour itself. The Guatemalan Adventure Tour is perfect for nature lovers. You will take a trip to a biological reserve and see hundreds of different native animals and also see a beautiful lake. Martsam offers a Guatemala Highlights Tour and it will provide you with a trained guide to bring you to all of the best and most noteworthy locations in Guatemala.
Reviews on Martsam Tour and Travel
As a company rated 5 stars on tripadvisor, it is no wonder they are one of the top tour operators in Guatemala. They have been in the business for many years and would love the chance to give you an unforgettable Guatemala experience. You can read what one person said about their tour:
"Lily and Martsam organized a 3 week trip for us around Guatemala including some of the less-visited places we wanted to explore. The whole process was really smooth and we got some great advice- and we saved quite a bit of money by going direct…- Elizabeth
CA Travelers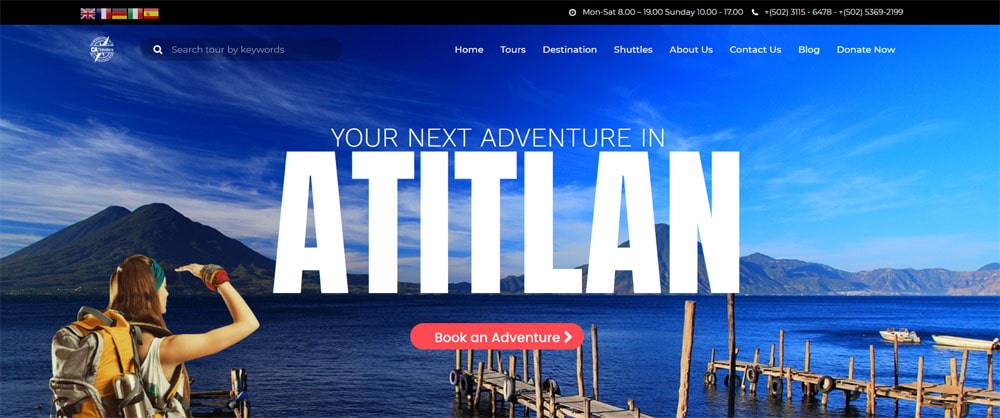 Company's location and type: Antigua, Local Tour Operator
Awards, Certification: Rated number 1 out of 111 tours in Antigua
Reviews: 5-star rating and over 142 reviews on TripAdvisor
About
CA Travelers is an avant-garde agency that has a different take on what a tourist experience should be. The company wants to give a truly unique tour experience that gives clients the absolute best service and highest quality while remaining a high level of reliability and safety. Affordable tour prices are also a staple of their company. Their goals as a company are to promote and encourage positive social change while working with the local community to give back financially where it is needed most. They are a stand-up company that puts the community first and have earned a spot as one of the best Guatemala Tour Companies.
Packages
You can find yourself indulging in many Guatemalan delights and spending quality time exploring a beautiful foreign country with a tour package from CA Travelers.
Save your appetite for the delicious Guatemala Street Food tour! Start the day being catered around by a professional guide while you try some of the most delicious food in Guatemala. CA Travelers also has a Tikal Tour and if you would like an affordable and reliable experience seeing the ancient Mayan ruins, join this tour today. You also have a fun option of climbing the Pacaya Volcano tour in Guatemala. You can be escorted on this beautiful day trip any time of year. You could choose the Antigua Guatemala Package 2 and be given a large range of tour options to pick from. This leaves you with food, sightseeing, nature, and more.
Reviews on CA Travelers
You can count on CA Travelers to give you an unmatched experience in Guatemala. This Guatemala tour company is ranked as the #1 tour company in all of Antigua and their reviews speak for themselves. You can see what a past client has said on tripadvisor:
"I was absolutely blown away by CA Travelers level or organization and social/eco thoughtfulness. They provide camelbacks for all hikers to reduce plastic, work with ALL local tour guides…- Karen
Authentic Guatemala
Company's location and type: Guatemala City, Tour Company
Awards, Certification: Awards – 2019 certificate of Excellence By trip Advisor.
Reviews: 106 reviews ranked #1 in Guatemala City
About
The company Authentic Guatemala was created as a shuttle service and private tour operator. Its founders are absolute experts within the tourism industry and have high knowledge of what a client expects in a Guatemala Tour Experience. They have a focus on client privacy for private tours while giving the utmost attention to safety and comfort. They are relationship-oriented and enjoy communicating, interacting, and advising clients in order to give the best possible trip. Their job is to make a difference in your life and offer you a real adventure with the local people and community.
Packages
If you want an all-access pass to the best parts of Guatemala City then look no further and book a tour with Authentic Guatemala today. You could also try out their Maya Highlights Tour in Guatemala and see all of the most important historical sites of the Mayans. Authentic Guatemala's Green Caribbean tour is a must-see. As you tour, you will explore rivers, jungles, ancient indigenous sites, mangrove areas, and rarely seen areas of Guatemala. This company also offers a Tikal tour, much like the previous tour companies and it is a great choice if you would like an affordable tour with knowledgeable guides.
Reviews on Authentic Guatemala
Authentic Guatemalan has received high praise for their exceptionally run tours in Guatemala City. Tripadvisor ranks them at #1 in all tours within Guatemala city and they also have a 99% approval rating. You are in good hands and a fun-filled Guatemala tour is yours to book. Here is a recent review left on their tripadvisor page:
"We were two couples touring Guatamla for 3 weeks, age 60 y/o approximately.
The trip was extraordinarily organized, interesting, and had lots of different attractions. Fabio quickly fulfilled all our requests as best as we could wish for. Drivers and the rest of caregivers he ordered were friendly and professional." – Schlomet
In Conclusion
This top 10 list has been compiled with the intention of educating and assisting you in your search for the best tour company in Guatemala. If you would like to make a trip to Guatemala and immerse yourself in the culture through tour experiences, please use this list to help you in your search.
Once you return from Guatemala, we would be thrilled to hear back about your journey. If you have gone on a tour with one of these companies in the past, send us a message and let us know how it went!
Honorable Mention
Related Links