Would you like to travel and explore Nicaragua? Do you need assistance to find the safest and best Nicaragua tour company?
Travelling and touring in Nicaragua can be an incredible experience that will give you lifelong memories. Many travellers also do not realize that the country is a hidden gem and contains an immense amount of natural beauty. You can visit the country and find crystal blue lakes, massive volcanoes, and calming beaches to enjoy. This Central American nation is well known for its Spanish architecture due to colonialism and also boasts an archipelago that you can explore on the west side of the country. You can experience all of these amazing places by choosing one of the many high quality Nicaragua tour packages available.
Although many of the tour companies provide an amazing service, they still differ in quality, price, and customer service so it can often take hours upon hours of research in order to find the right provider for you. You should be careful to only give your money to a well-established, professional tour company that will give you the most out of your trip. Since this decision can have a large impact on your experience on a tour in Nicaragua, Travellers Quest wants to give you the help you need by providing in-depth information on 10 of the best tour operators in Nicaragua.
We at TravellersQuest have carefully selected the following tour companies by researching hundreds of options, scouring reviews, and comparing their tour package options. By using our informative article to assist you in your decision, you can feel confident that you will have all of the information you need to choose the right one.
Below you can find this easy to follow list of the top 10 tour providers in Nicaragua:
Providers
Package
Reviews
Volcano Day
TELICA OVERNIGHT
MOMOTOMBO Tour
Trip Advisor -848 reviews
Quetzaltrekkers – Hike
Volcanoes Help Kids
1 Day – Volcano Boarding
3 Day – Northern Highlands
Trip Advisor – 667 reviews
Bigfoot Hostel and
Volcano Boarding
somoto canyon
san cristobal
Trip Advisor – 340 reviews
Julio Tours Nicaragua –
Day Tours
Hike the active Telica Volcano
León Colonial and Historical City Tour
TrTrip Advisor – 252 reviews

Welcome to Nicaragua
Nicaragua Day Trip
Granada Islets
Trip Advisor – 132 reviews

Matagalpa Tours
Northern Mountain Tour
Laid back – Nicaragua –
14 day Nicaragua Tour
Trip Advisor – 258 reviews
Macua Tours & Travel
THREE DAYS TOUR
2 NIGHTS / 3 DAYS TOUR
Trip Advisor – 136 reviews
Duran Tours Nicaragua
Hikes and Adventure in Nicaragua
Classic Tour in Nicaragua
Trip Advisor – 97 reviews
Gueguense Tours Nicaragua
Get away to the beach
Managua Historic City Tour
Trip Advisor – 76 reviews
International Tours Alliance
Nicaragua Surf Vacation
Nicaragua Granada – Ometepe
– San Juan del Sur
Trip Advisor – 67 reviews
Table update Jan 7, 2021
Volcano Day
Company's location and type: Leon, Local Tour Operator
Year of establishment: 2017
Awards, Certification: #1 of 39 Outdoor Activities in Leon
Reviews: 848 reviews on TripAdvisor 5 star rating
About Company
Volcano Day is one of the leading Nicaragua tour companies within the city of Leon and they are confident that the experience you will have with them will be totally different from any vacation you have ever taken. This company is completely owned by locals and they boast the best hiking tours available in the whole country while also providing exemplary customer service. Volcano Day is one of the newer companies on our list but has quickly gained a great reputation in the industry.
Packages
Volcano Day primarily focuses on providing immersive tours of volcanoes in Nicaragua and you can get involved in one of their many tours. One great travel tour package in Nicaragua is the Telica overnight tour. You will be camping near the mouth of an active volcano and the tour also includes breakfast, dinner, camping gear, beer, and more.
In their Momotombo tour, you will be paired with a professional tour guide who will lead you up the side of a beautiful volcano with your safety in mind. Their Volcano boarding tour is a great 1 Nicaragua day tour that includes your transportation, tour guide, as well as a free shuttle to the beach once the tour has concluded.
If it has been a dream of yours to experience a sunset from atop a volcano, the Telica sunset tour is the best option for you and will provide you with the perfect opportunity for pictures.
Reviews on Volcano Day
This tour operator in Nicaragua is a great choice for high-quality Volcano tour opportunities and they have earned the rank of #1 of 39 Outdoor Activities in Leon. Volcano Day has also been given a 5-star rating with almost 900 unique reviews on their tripadvisor page. You can read this review that was left by someone who used their services recently:
"All the staff were absolutely amazing, and kept the group in high spirits along the way whilst providing us with lots of info and taking amazing pictures at the same time! " – Simone T
Quetzaltrekkers – Hike Volcanoes Help Kids
Company's location and type: Leon, Local Tour Operator
Year of establishment: 1995
Awards, Certification: #2 of 39 Tours in Leon
Reviews: Travellers Choice 2020 on TripAdvisor
About Company
Quetzaltrekkers is one of the top Nicaragua tour companies available and you can expect high-quality service no matter what package you decide to participate in. This provider is also one of the most experienced on our list and they have been providing great tour experiences out of Leon since 1995! Their business model is also created specifically to assist underprivileged children in getting resources to better their lives.
Packages
There is a large list of amazing Nicaragua tour packages available when looking into Quetzaltrekkers. Volcano boarding is one great travel tour in Nicaragua option that will provide an immersive experience where you will be sliding down the side of a massive volcano at high speeds with a highly trained guide.
You can also explore the Northern Highlands with Quetzaltrekkers and see many locations that have you ascending three hours into beautiful green hills and mountains. For an unforgettable Nicaragua tour package, there is the Volcan Telica Sunset tour where you can watch the sun go down at the top of a massive volcano.
For a longer experience, you can join in on the fun in the Volcan El Hoyo tours to Nicaragua. This is a two-day tour that brings you to three separate volcanoes and also allows you to swim in a crater lake!
Reviews on Quetzaltrekkers
Quetzaltrekkers is ranked #2 of 39 Tours in Leon and they have almost 700 amazing reviews on tripadvisor. This Nicaragua tour operator has also been given the 2020 travelers choice award because of their exemplary service. Here is a 5-star review left by a past client:
"The sunset and sunrise are magical and the dip in the vulcano lagoon was the best motivation in the heat. I definitely recommend quetzaltrekkers as an organization especially because you, with the hike, are contributing to the kids. " Charlotta S
Bigfoot Hostel and Volcano Boarding
Company's location and type: Leon, Local Tour Operator
Awards, Certification: #4 of 39 Outdoor Activities in Leon
Reviews: 340 reviews on Trip Advisor with a 4.5-star rating
About the company
Bigfoot is a hostel out of the beautiful city of Leon that also provides incredible Nicaragua tour experiences. As one of the leading Nicaragua tour companies in Leon, this provider has been reviewed by CNN and is a highly trusted option. With Bigfoot, you can feel safe and secure with their full team of professional guides that are sure to give you a memorable experience in Nicaragua.
Packages
Get involved in one of Bigfoot Hostel's many Nicaragua tour packages and receive an experience that will give you lasting memories. Telica volcano is one of the most popular Nicaragua tour attractions and you can watch the sun go down from the top with Bigfoot Hostel.
San Cristobal is Nicaragua's tallest volcano and you can hike up the side with an experienced tour guide. The San Cristobal tour is best suited for experienced hikers. With their El Hoyo Nicaragua Volcano tour, you will be on the top of momotombo volcano with an incredible view of Lake Managua.
Bigfoot also offers a volcano boarding tour in Nicaragua that can give you an unforgettable adrenaline rush as you slide quickly down the side over volcanic rock. Concern for your safety in any of these tours is paramount and Bigfoot Hostel will ensure you are well taken care of.
Reviews on Bigfoot Hostel and Volcano Boarding
This high-quality Nicaragua tour operator has earned a lot of positive attention on Tripadvisor over their years of quality tours. Bigfoot has earned the rank of #4 of 39 Outdoor Activities in Leon while maintaining a commendable 4.5-star rating with close to 350 reviews. If you are still skeptical, you can also take a look at this wonderful review left by a past traveler:
"Today we had a tour Cero Negro Volcano Boarding in Leon, Nicaragua. It was an amazing tour, and guide Lester made it even more amazing. He was very attentive, helpful, has a good sense of humor. Thank You,Lester." -Gintaras M
Julio Tours Nicaragua
Company's location and type: Leon, Local Tour Operator
Awards, Certification: #6 of 44 Tours in Leon
Reviews: 5 star rating with 253 reviews on TripAdvisor
About the company
Julio Tours is a Nicaragua tour company that specializes in providing family-friendly tours that are professionally operated and run. You can find this tour provider within the city of Leon and see for yourself the incredible quality they offer. Julio is an extremely trustworthy and humble guide that can give you the perfect experience while you travel in Nicaragua.
Packages
If you want to spend your money wisely while seeing the beauty of Nicaragua, you should consider a Nicaragua tour package with Julio. Hike up the side of the most popular volcanic destination in the country in the Active Telica Volcano tour for a memorable trip with friends or family.
If you would like to see and explore the ancient city of Leon and learn about Spanish colonialism throughout the historical sites around the city, you can with this Julio Nicaragua tour. You can also have the rare chance to slide down the side of an active volcano at high speed on top of a quality board.
This is a safe and exhilarating tour in Nicaragua that you will never forget. There is a burning lava lake on the Masaya Volcano that you can tour as well. In this tour, you can learn about volcanoes and how they work with the help of a knowledgeable guide and end the day with a delicious typical lunch.
Reviews on Julio Tours
This is a family-oriented Nicaragua tour company with excellent tour opportunities and on Tripadvisor, they have been given the highest possible rating of 5 stars while receiving 99% positive feedback from 253 reviews. Julio tours have also earned the #6 of 44 Tours in Leon and here is a review from a past client of theirs that recently went on a tour:
"Julio is the most conscientious and trustworthy guide you could ever wish for. If you want to enjoy seeing a beautiful country the right way, please contact him. He has been a terrific help to me exploring Nicaragua" – Nick C
Welcome to Nicaragua
Company's location and type: Granada, Local Tour Operator
Awards, Certification: #1 of 57 Tours in Granada
Reviews: Rated 5 stars with 132 reviews on TripAdvisor
About the company
Welcome to Nicaragua operates its services out of the colorful and welcoming city of Granada. This Nicaragua tour company is a full-service provider that offers a wide range of fun opportunities throughout the country and they provide amazing tours at affordable prices so everyone can get involved! Another unique aspect of this provider is that they offer a service that allows foreign-speaking people to understand the guides without having to know English.
Packages
You will be welcomed with open arms in any of the tours offered by this provider and you will not regret choosing them. Find yourself on a Nicaragua travel tour that will bring you to a plethora of beaches and attractions in a comfortable, air-conditioned minivan.
This day tour will also take you to Costa Rica. You can also tour the Granada Islets, an area of 365 islands all across a beautiful lake surrounded by lush vegetation. Another good tour for this tour company is the Granada Combo Tour Nicaragua.
Enjoy the green scenery as you explore the Miravelle canopy, the mombacho volcano, and the apoyo lagoon natural reserve. For an unparalleled exciting tour, try out the zipline at Mombacho Volcano and soar over the skies across the canopy at high speeds with plenty of safety and oversight.
Reviews on Welcome to Nicaragua
This tour operator in Nicaragua has proudly earned a spot as the #1 of 57 Tours in Granada and has also been given 132 reviews on Tripadvisor. Out of all of their reviews, each and everyone rated them as excellent and only had positive things to say about Welcome to Nicaragua. With a 100% approval rating and plenty of happy clients, you can count on them to provide amazing tours. You can read about a great experience by a former tour participant that:
"They made all the arrangements, communicated clear (in English), on time, friendly, and made our lives much more relaxed. Recommend 100%." – Iris
Matagalpa Tours
Company's location and type: Matagalpa, Local Tour Operator
Awards, Certification: #1 of 8 Tours in Matagalpa in San Pedro
Reviews: 5-star rating out of 258 reviews on Tripadvisor.
About the company
Out of all of the Nicaragua tour companies on our list, Matagalpa has the most focus on the environment. This tour provider is dedicated to bringing sustainable tour opportunities to you while having you connect with nature during a customized, quality tour. They are experts in the tourism industry and are fully aware of the best areas to take you in order to bring you authentic and culturally immersive experiences.
Packages
With Matagalpa, you can feel good knowing that your tour goes towards helping the environment while also giving back to the locals. In the northern mountains, there are a vast number of activities to get involved in and you can climb volcanoes, explore waterfalls, and trek through the dense jungle with an experienced Nicaragua tour guide.
If you have an extended vacation and would like to join an incredible tour package in Nicaragua with Matagalpa, the laid-back 14 day tour is your best bet. See islands, the city, volcanos, and more.
Exploring the country from top to bottom is also an option and in the North to South tour, you will get to see the cloud forest, volcanos, and explore two gorgeous cities. If you would rather go from coast to coast, that is also an option and you will be snorkeling, seeing beautiful cities, camping on secluded beaches, and so much more.
Reviews on Matagalpa
This Nicaragua tour operator offers some of the best options out of the quaint city of Matagalpa and they are well known for bringing adventures and fun to anyone involved in their tours. Matagalpa also holds the number one spot out of eight different tour companies in the area as noted by tripadvisor. Out of their respectable 258 reviews, this provider has had a 99% rating of good or excellent and you can see why by reading this recent review:
" It was a special experience because our guide Marlon knew a lot about growing coffee, the local communities, nature, and wildlife. After visiting the farm, we had a hike to a river and a waterfall" – Susan J
Macua Tours & Travel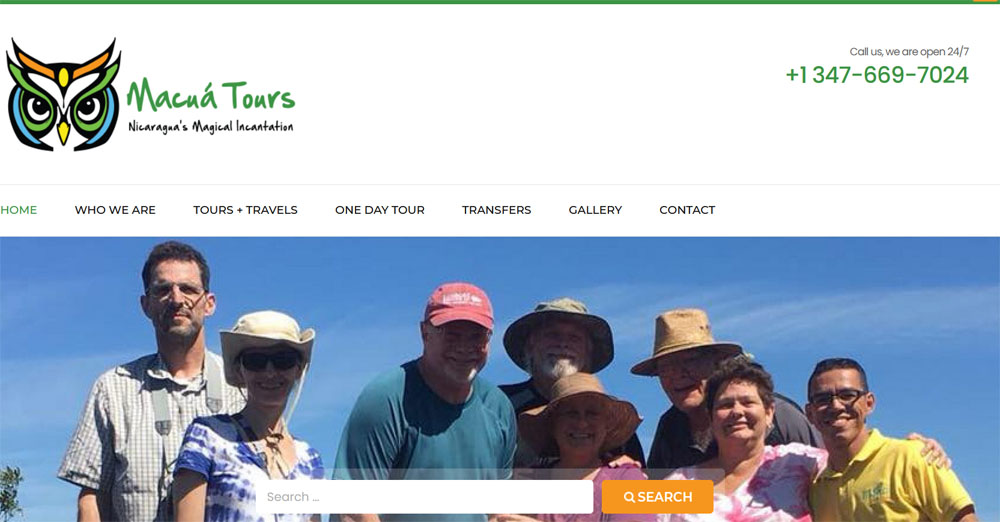 Company's location and type: San Juan Del Sur, Local Tour Operator
Awards, Certification: #4 of 42 Boat Tours & Water Sports in San Juan del Sur
Reviews: 136 reviews on Tripadvisor with a 5-star rating
About the company
If you are looking for a dedicated team of professionals to provide you with an excellent, affordable tour in Nicaragua then look no further because Macua tours & travel is exactly what you need. This Nicaragua tour company is known for being the best possible option in Nicaragua and Costa Rica for tours, transportation, hotel bookings, and real estate out of the city of San Juan Del Sur.
Packages
Regardless of the travel tour package in Nicaragua, you decide on with Macau, you can feel comfortable knowing that it will be an unforgettable experience. Join their three day tour and get involved in seeing the sights around San Juan and visit volcanoes as well while dining on incredible food throughout the journey.
There is also a 2 night, 3 day tour and visit Masaya volcano as well as a fun boat ride on a river through the rainforest. Make sure to look out for the monkeys in the trees! Their one day Nicaragua tour should be your first choice if you are low on time but still want to have an immersive experience within this beautiful country by eating the local food and going on a boat trip.
You can also enjoy your vacation by visiting some of the most popular and fun locations around Nicaragua in the overnight tour experience.
Reviews of Macua Tours and Travel
Out of the 42 different Nicaragua tour operators in the city of San Juan Del Sur, Macau ranks highly at number 4 and this is due to their focus on quality and professionalism. Macau's Nicaragua tours have also been given an extremely high rating of 5 stars out of their 136 reviews on tripadvisor as well as a 99% approval rating from their past clients who reviewed them. Here you can read a nice review that was left by a past traveler who used their service:
"Our guide David and Julio were amazing. They shared their knowledge of the culture, took us to places that were unbelievable and off the regular tourist places. We requested this and we could not have been more moved by what got to see." – RMBDavidson
Gueguense Tours Nicaragua
Company's location and type: Managua, Local Tour Operator
Awards, Certification: 2016 / 2017 certificate of Excellence By Tripadvisor.
Reviews: 5-star rating and 77 reviews on TripAdvisor
About the company
For many years, Gueguense tours have been a top-performing Nicaragua tour company out of Managua, which also happens to be the capital of the country. You can enjoy authentic experiences with yourself, with friends, or with family and get involved in adventurous trips at an extremely affordable price. You can also feel safe knowing you have the security and professionalism of a highly experienced team of passionate tour guides that want you to have an unforgettable time.
Packages
Professional tours and quality service are things you should expect from this Nicaragua tour provider. Get away to the beach on the pacific coast of Nicaragua and enjoy one of the best resorts in the entire country right in the middle of a local fishing community. Managua is an ancient city with a rich history of colonialism and culture and if you have ever wanted to learn more about it, you can with the Nicaragua City tour!
An interesting tour package in Nicaragua is the night tour of Laval lake in the Masaya Volcano and as the name suggests, you will be spending your night with the ambiance of an active volcano. Granada is another great city in Nicaragua that should definitely be explored if you have time. Gueguense Tours offers a city tour there that also gives you a boat ride.
Reviews on Gueguense Tours Nicaragua
This tour company in Nicaragua is an experienced operator who has proudly earned a 5-star rating on tripadvisor with close to 80 different reviews. Out of all of their reviews, 99% of them rated Gueguense as good or excellent and no one gave them negative feedback. They have also been awarded the certificate of excellence in 2016 and 2017 while holding the #3 of 26 Outdoor Activities in Managua. You can see the high praise from a past tour participant here:
"I highly recommend booking a tour with Gueguense Tours. They take their to organize so you can enjoy the day to the max." – Chucho F
International Tours Alliance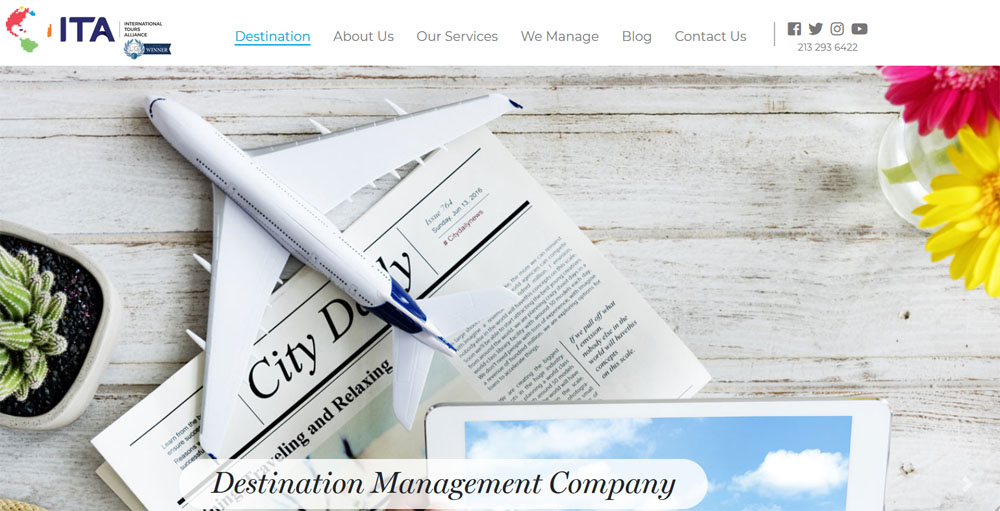 Company's location and type: Managua, Local Tour Operator
Awards, Certification: Travellers Choice 2020 on TripAdvisor
Reviews: 5 stars and 68 reviews TripAdvisor
About the company
Even though this Nicaragua tour company is towards the bottom of our list, International Tour Alliance is a provider that serves up hundreds of great tours all over Central America. They also fully understand the importance of implementing better tourism practices by pushing for more sustainable tourism. You can entrust in them to give you an authentic experience in Nicaragua while not sacrificing quality as the customer service is based on US standards.
Packages
Nicaragua is a country beaming with opportunities for fun and adventure and you can get involved in one of ITA's great packages for a memorable experience. Their Surf tour in Nicaragua is everything a surfer could ever ask for.
You will be provided with food, surfing, drinks, accommodation, and more on a 7 day 6 night week of fun in the sun. Another Nicaragua tour in San Juan Del Sur will have you on a beach island experience that will also include a trip to a volcano as well as the majestic island of Ometepe.
You can even join the beach living tour and enjoy relaxing days by the ocean as well as time to see waterfalls and volcanoes. You could also find yourself hiking the dense jungles, boarding down steep volcanoes, enjoying the beach, and two historic colonial cities within the Nicaragua Adventure tour week.
Reviews on International Tours Alliance
On Tripadvisor, ITA has been given a high rank of #4 of 26 Outdoor Activities in Managua and has also earned a 5-star rating with almost 70 reviews on TripAdvisor. The reviews they have received have been 100% in approval of their service and quality. Tripadvisor has also recognized them by awarding them the 2019 certificate of excellence. You can see what someone has said about their service by reading this review from tripadvisor:
"Mario was our tour guide, he was excellent at sharing not only great food stops but some of the history and introducing us to the people of the city. We definitely got our money's worth in food, we couldn't finish it all, and the quality was outstanding." – Winslow82
In Conclusion
We hope that this top 10 list of Nicaragua tour companies provide you with everything you need in order to make the best decision for your future travels in this tropical paradise of a country. If you do decide that you would like to travel abroad to visit Nicaragua and all of its natural beauty and immerse yourself in the unique culture by joining an immersive, adventurous tour, we encourage you to reference our list to help you in your search.
Once you arrive home from Nicaragua, we would be happy to hear back about your adventures abroad. If you have gone on a tour with one of these companies in the past, send us a message and let us know how it went!
Honorable Mention
Related Links