Would you like to relax and learn about Cuba? Do you need help in your search of a trusted, affordable Cuba tour companies ? Do you know about the hundreds of options to choose from?
Around the world, there are so many different popular tourist destinations that are jam packed filled with people! Cuba is different. Due to their long term political isolation, this island country is very untouched by outsiders so this is the perfect opportunity for you if you want to relax and enjoy a beautiful place as a local. The locals that fill the streets and shops are also very happy to welcome tourists so you will be comfortable and welcomed during your travels. Other than welcoming locals, the colorful architecture and timeless museum-like feel are even more great reasons to travel and tour in Cuba.
Even though a trip to Cuba is a fun and exciting adventure, you can find yourself regretting your decision when you see how many hours it can take to find the right tour provider for you. In order to save you time and help you invest your money wisely, you need to know the different variables between companies. They will all have varying prices, quality, and experience in the industry.
We at TravellersQuest have carefully researched hundreds of great options available in Cuba by comparing reviews, prices, and quality of service to help you choose the best one. By using this article to assist you in your decision, you can feel confident knowing that you have all of the information you need to choose the most memorable one for you.
Below you can find this easy to follow list of the top 10 tour providers in Cuba:
Providers
Package
Reviews
Cubaoutings
HAVANA DAY TOUR
VIÑALES AND SOROA
Trip Advisor – 2,405 reviews

Cuban Connection Tour
Hemingway Tour
Vinales Tour
Trip advisor – 1,485 reviews

Cuban Compass Tours
Havana Highlights City Tour
3 cities over two days
Trip advisor – 1,311 reviews

Havana Journeys – Day Tours
Havana city tour
Hemingway, Art and religion tour
Trip advisor – 1,330 reviews

Fertours 2 Havana
Havana Premium Tour
The Jewish Tour
Trip advisor – 1,506 reviews

OldCarTours
Tour The Jewish presence in Havana
Havana special city tour 6 hours
Trip advisor – 772 reviews

Havana 60 Classic Cars Tours
Zapata Swamp Tour
Havana Hemingway
Trip advisor – 621 reviews

Nosotros Cubaneamos
Hemingway Tour
Zapata swamp tour
Trip advisor – 772 reviews

Bike Rental & Tours Havana
1 Day Excursion to Viñales
The Real Havana Tour
Trip advisor – 394 reviews

Havaname
Tour Old Havana
Tour Viñales
Trip Advisor – 105 reviews

Table update Jan 6, 2021
Cuba Outings
Company's location and type: Havana Local Tour Operator
Awards, Certification: 2011 – 2019 Hall frame Certificate of Excellence By Trip Advisor.
Reviews: 2407 reviews on TripAdvisor 5 star rating
About Company
Going on one of Cuba Outing's popular transportation options will be a decision you never regret. This Cuba tour company operating out of Havana has many years of experience so you are in safe hands. Another great aspect of this provider is that all of the drivers speak English so communication is easy! In any option you choose, you will enjoy a ride to any city in Western Cuba in a classic convertible.
Packages
Explore this truly unique country in style and comfort with one of Cuba Outing's Cuba tour packages. Havana is a city that is lost in time and with the help of a professional driver, you can explore this interesting place on this Havana day tour. Travel the Vinales valley as you step back in time and see small farm plots where the world's best tobacco is grown in the Vinales and Soroa tour!
You can find yourself exploring Treasure lake in the Matanzas province and even a crocodile farm in the Bay of Pigs and Guama Cuba tour. If you are itching for the club scene and want to dance all night long, the three cities tour is everything you need! Spend the day sightseeing in three different cities and then party all night in a famous dance club.
Reviews on Cuba Outings
Cuba Outings is a very well-known and established city tour company in Cuba and they have accumulated over 2400 reviews on tripadvisor. Even with all of these reviews, they have maintained a perfect 5-star rating while also earning the certificate of excellence from 2011 all the way to 2019! You can read this review that was left by someone who used their services recently:
"We spent the day touring Havana with Ida and it was simply the best tour I have ever been on!! She was so knowledgeable and fun! I love you, Ida! Thank you for making my birthday special and teaching me so much about your very beautiful and fascinating country!" – Kelsinator
Cuban Connection Tour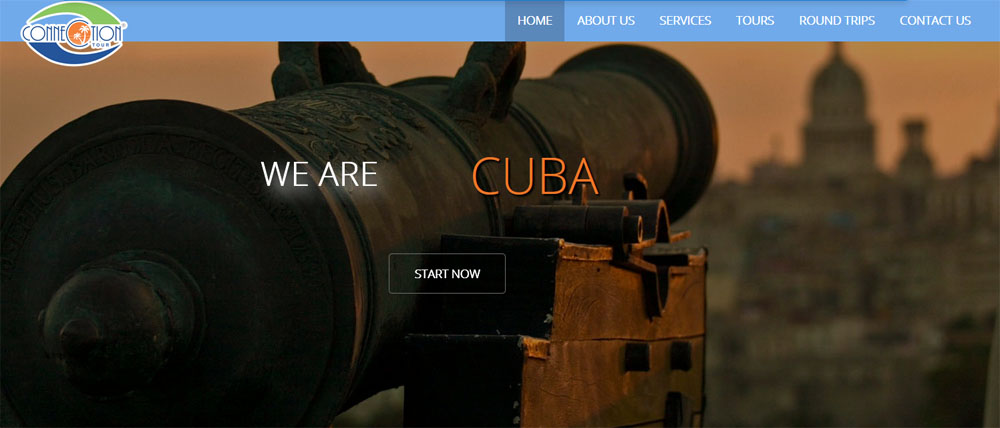 Company's location and type: Varadero, Local Tour Operator
Awards, Certification: 2018 certificate of Excellence by trip Advisor.
Reviews: 1486 reviews and 5 stars on TripAdvisor
About Company
Cuban Connections Tour is a small, family-owned company consisting of all locals. They are an extremely considerate Cuba tour company that wants to meet your expectations and make you happy. You will be supporting the community of Varadero while enjoying your beautiful and vibrant surroundings
Packages
With Cuban connection being a locally owned company, your tours are sure to be an immersive experience. They have the Hemingway Tour that explores the famous life of this renowned author and lover of Cuba. Hemingway wrote many of his books about Cuba and also wrote multiple titles while in the country. You can see the massive mogotas in the western part of Cuba along with other breathtaking flora and fauna while with Cuban Connection in the Vinales tour. Tours in Cuba involving music are very popular Cuba and you can have the rare opportunity to see Buena Vista Social Club, a Grammy award-winning music group perform at the Cuban art factory in the Havana lights Cuba tour. Embrace the culture of The Athens of Cuba & Varadero and find yourself snorkeling, cave exploring, or just roaming around the city.
Reviews on Cuba Connection Tour
This Cuba tour operator has been given a lot of positive attention from past clients on tripadvisor. They have been given almost 1500 reviews and their rating is 5 out of 5 while holding the rank of #3 of 73 Tours in Varadero. In 2018, Cuba Connection even earned the certificate of excellence award for its stellar service. Here is a glowing 5-star review left by a satisfied customer:
"Our trip was perfect! Jose was an incredibly knowledgeable guide who had answers to every question we could think of. " Crystal
Cuban Compass Tours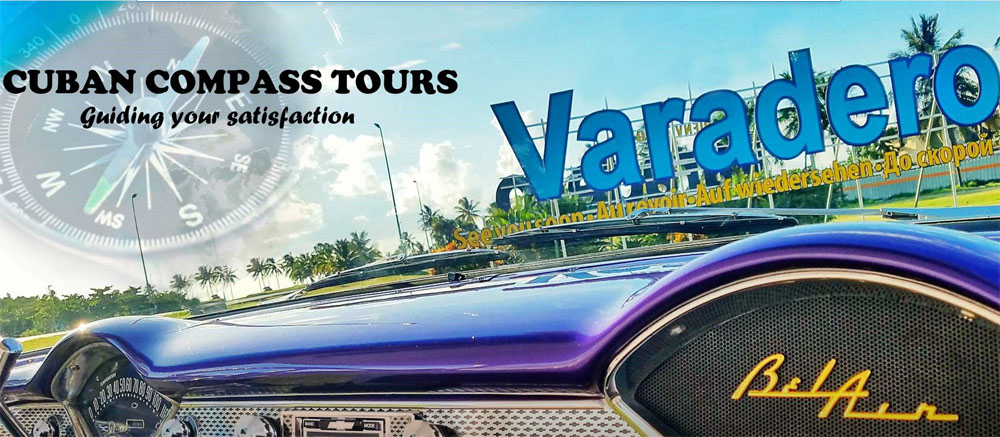 Company's location and type: Varadero, Local Tour Operator
Awards, Certification: Travellers Choice award 2020 TripAdvisor
Reviews: 1313 reviews on Trip Advisor with a 5-star rating
About the company
Cuban Compass Tours are different from many of the other Cuba tour companies that operate out of Varadero because of how personable they are. When you go on a unique and immersive tour with any of their friendly tour guides, you will feel safe and comfortable the entire time.
Packages
Jump on into one of Cuban Compass's cool classic cars and get immersed into one of their unique Cuba tours. There are so many great things to see and experience around the cultural hub of Havana and you can see all of the Highlights in the Havana City Tour in Cuba. You can also get the most out of your time and money by joining the 3 cities in 2 days tour. See and learn all about Santa Clara and Trinidad via Manaca Iznaga so you can also see the waterfall.
Their Varadero-Matanzas Cuba travel tour takes you to the city known as Cuban Athens. All over this unique location lies bridges and other beautiful features. Much like the first-mentioned tour, this Havana tour will have you seeing all of the most popular sites of the city. The difference in this option is that it lasts two days and you can expect to see many more sights and try great local food.
Reviews on Cuban Compass Tour
There is a reason why Cuban Compass has earned the #2 spot out of 73 Tours in Varadero. This can be attributed to their attention to detail and care for customer satisfaction! Cuban Compass Tour has also been given a 5-star rating on tripadvisor with over 1300 reviews on their page. One of these 5-star reviews can be seen here:
"This trip was totally amazing. We saw so much and a Frank is so knowledgeable. I don't even know how he keeps it all in his head" -Brenspen62
Havana Journeys Day Tours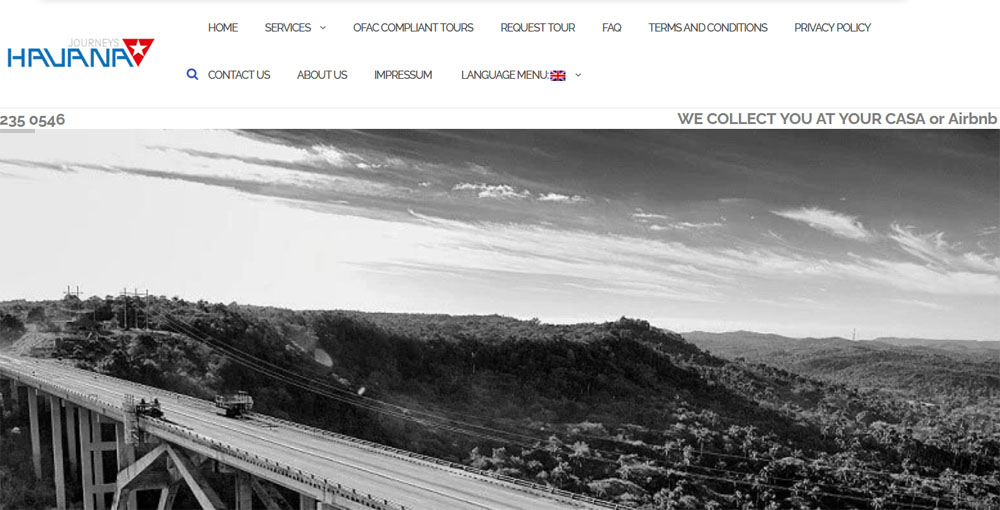 Company's location and type: Havana, Local Tour Operator
Awards, Certification: #6 of 241 Tours in Havana
Reviews: 5-star rating with 1330 reviews on TripAdvisor
About the company
If you have an expectation of perfection with a professional Cuba tour company, you should try looking into Havana Journeys Day tours. As their name suggests, they operate their quality tours out of Havana and want to bring you a tour with a team filled with experience, responsibility, and professionalism. You deserve a memorable Cuban adventure so don't hesitate to go with them!
Packages
Havana Journeys has a great selection of action-packed best tour packages in Cuba for you to choose from. They have an awesome Havana city tour that takes you deep inside the capital of Cuba while riding in style through the elegant streets. If you are a fan of art and history, you can become a tourist in the Hemingway, Art and religion tour with a professional Cuba tour guide who has a vast amount of knowledge on the famous author and the art of the city.
Vinales is one of the most popular destinations in Cuba for its astonishing natural land formations. The other thing this part of the country is known for is the tobacco fields and you will get the chance to learn the process up close. The Matanzas plus Jibacoa Beach tour is a combo tour to Cuba that takes you to the Athens of Cuba to explore as well as the beautiful Jibacoa Beach.
Reviews on Havana Journeys Day Tours
In the years that Havana Journeys has been in operation, they have given thousands of people from around the world unique experiences. Because of this, they have been highly rated on review pages like tripadvisor. On their TripAdvisor page, this Cuba tour operator has a 5-star rating with 1330 reviews! One of these great reviews can be read here:
"Our guide was extremely knowledgeable and spoke great English. He was able to show us the city through the eyes of the locals. They took us to a wonderful restaurant and showed us all Cubas nature and historical sites." – Jessica
Fertours 2 Havana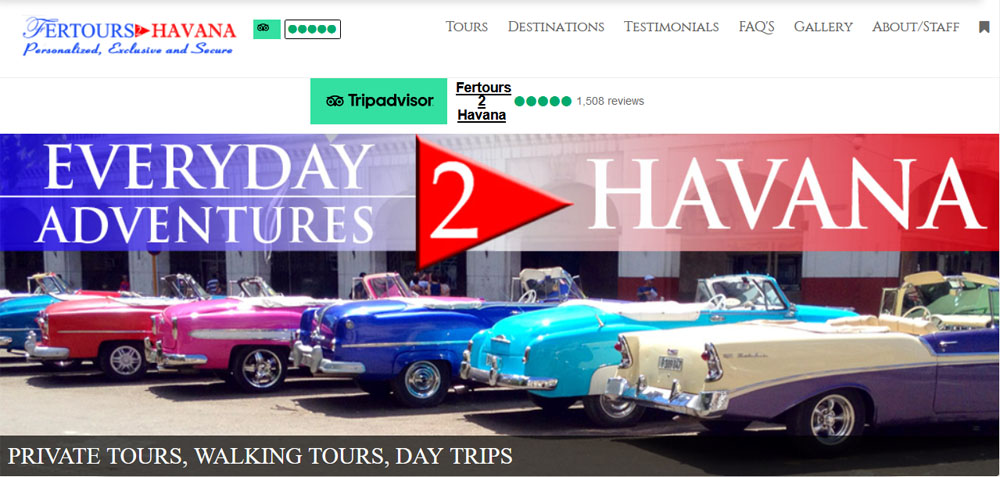 Company's location and type: Havana, Local Tour Operator
Awards, Certification: 2017 certificate of Excellence by TripAdvisor.
Reviews: Rated 5 stars with 1508 reviews on TripAdvisor
About the company
Based out of Havana, Fertours 2 Havana is one of the best Cuba tour companies. They specialize in providing high-quality private tours and day tours in Havana. This provider also aims to make your tour perfect by offering a high level of personalization into the tours provided. You can expect all of this from friendly tour guides who want to give you a good time.
Packages
Join any of Fertours Cuba private tours for a memorable adventure by yourself or with those close to you. The Havana Premium Tour is the perfect trip around Havana's most popular sights and this package ends in a romantic night with that special someone in your life. You can also join the highly educational Jewish tour.
The tour will be a chance to learn about the Jewish population of Cuba and how WW2 helped shape the country into what it is today. Get picked up at your hotel or airbnb and get ready to explore Vinales in this Cuba day tour. See Ruta Del Tobaco, enjoy vinales Valley, and more in this outdoor excursion. You also have the option of joining the Photo tour of Havana. This tour is unique because your tour guide in Cuba is also a professional photographer that will take your pictures at every stop!
Reviews on Fertours 2 Havana
This tour provider has earned the rank of #2 of 241 Tours in Cuba, Havana and this is because of how many past customers have left great reviews. They have been given 1508 reviews and 99% of those rated them as great or excellent. You can even read what one of their past customers has earned 717 reviews on TripAdvisor with 99% of them providing positive feedback. You can read about a great experience by a former tour participant that used their service:
"The guides were professional and knowledgeable, and the drivers were prompt and safe. We would absolutely use Fertours again the next time we are in Cuba. " – tourist815709.
Havana 60 Classic Cars Tours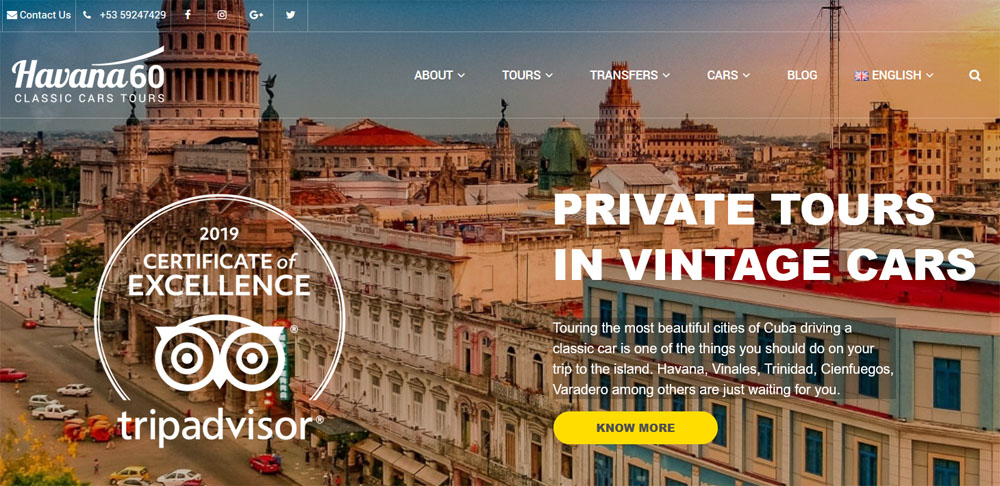 Company's location and type: Varadero, Local Tour Operator
Awards, Certification: 2018/19 certificate of Excellence By trip Advisor.
Reviews: 621 reviews on Tripadvisor with a 4.5-star rating and no negative reviews
About the company
Havana 60 Classic Cars Tours is a provider that operates out of Varadero, Cuba. This Cuba tour company has a full line of beautiful, classic cars from the '60s and with their team of young professionals, you can cruise around the city in style. They have a set goal in mind and that is for you to be completely satisfied and happy while learning about the culture and history of Cuba.
Packages
No matter which Cuba tour package you choose, you can be sure that you will be riding around in style. Try out the Zapata Swamp Tour where you will visit the largest swamp in the Caribbean and even swim at the war of pigs beach. Havana Hemingway is a classic Cuba tour that takes you to all of the significant locations related to the infamous Ernest Hemingway.
The Vinales is a beautiful location and with their private tour to Cuba, you can explore the area, learn how to smoke a cigar, take a boat ride through a cave, and so much more! The capital city of Havana is very old and has many colonial aspects in the architecture of the city. In the Havana Colonial tour, you will get to see and learn about the history of colonial and modern sites around the city.
Reviews of Havana 60 Classic Cars Tours
This tour operator in Cuba is one of the newer companies on our list but they have earned high praise in their short lifetime. Tripadvisor has them ranked at the #1 of 4 Transportation in Varadero because of the feedback they have received from customers. Out of 621 reviews, 95% of them said Havana 60 was great or excellent. To top it all off, they have also earned the certificate of excellence in 2018 and 2019! Here is a review that a client left recently:
"Good day. Lots of information from the guide. He had great knowledge of Havana and its incredible history." -Bri & Deb
Nosotros Cubaneomos
Company's location and type: Havana, Tour Operator
Awards, Certification: 2018 certificate of Excellence By trip Advisor.
Reviews: 5 stars and 772 reviews on Tripadvisor
About the company
Nosotros Cubaneomos is a coordination agency that operates out of Havana and helps sort tours around Cuba. As one of the leading Cuba tour companies in Havana, they aim to keep their customers happy while sharing with you the essence of the country during your travels. All of their guides are local and speak fluent English so communication is a breeze. If you want to be sure your tour is well managed and professionally handled, Nosotros Cubaneomos is a great choice.
Packages
Explore the land of Cuba and learn about its vast culture with a knowledgeable Cuba tour guide from Nosotros. The Hemingway Tour is a great choice for history buffs and writers. You get to see where the author most frequented and even where he lived while on this tour. Visit one of the best-preserved areas of Cuba and see lush green ecosystems throughout the Zapata swamp on this tour of an area that is 300,000 hectares! For a more personalized option, there is the tour that gives you the choice of visiting Vinales, Soroa, or even Las Terrazas.
There are chances to see waterfalls, beautiful lakes, and small towns where tobacco is grown. Old City Havana has been named as a UNESCO world heritage site and it is a must-see while touring in Cuba. Visit the four colonial squares, central park, and many other historically important locations around the colonial-aged area of Havana.
Reviews on Nosotros Cubaneamos
This is a top-rated tour provider that has so much to offer tourists and visitors. On tripadvisor, you can see why so many people trust Cubaneamos for their tours! They have earned a full 5-star rating and this is out of 771 unique reviews. Other than the great feedback they have received, TripAdvisor has also given them the certificate of excellence and the traveler's choice award. Here is a review that you can read about a recent experience someone had with this Cuba tour operator:
"Exceptionally good experience with this company. We are 5 friends traveling from the US. We are inquisitive and have traveled all over the world, so our standards are high. " – chikyskids
Havaname
Company's location and type: Havana, Local Tour Operator
Awards, Certification: #5 of 78 Outdoor Activities in Havana
Reviews: 5 stars and 105 reviews TripAdvisor
About the company
If your goal while traveling in Cuba is to have a unique experience where you can truly see the real beauty of Cuba and all it has to offer, you should join one of Havaname's great tours. This Cuba tour company will give you everything you need to enjoy your well-deserved vacation in the sun and the best way to do this is with Havaname's professional tour guides.
Packages
Experience the real side of Cuba in an unforgettable tour package with Havaname. Tour Old Havana with a guide that can speak Spanish, French, English, and Italian while eating local food and learning so much history. You can also enjoy the valley in your Vinales Cuba tour and also visit the tobacco drying house to see how Cuba produces the best cigars in the world.
There is also the Varadero excursion Cuba tour where you will visit the green oasis of Josone Park, see amusement parks, and spend quality time soaking up the sun on one of many great beaches. If you want to see fierce wildlife, you can visit the Zapata swamp and see the alligators! Following that, your tour will bring you to the bay of pigs.
Reviews on Havaname
On Tripadvisor, this tour operator in Cuba has proudly earned the rank of #5 of 78 Outdoor Activities in Havana because of their high-quality service. They have earned a 99% approval rating with a five-star rating from over 100 different reviews. So many customers have left nice comments about their experience with Havaname and you can see what they had to say here:
"Excellent service of the Yasmín guide. It offers many options for excursions with very good prices and the attention is wonderful. Yasmin has a lot of knowledge. Thank you Yasmín for making some wonderful days for me and my family" – Renson P
In Conclusion
We hope that this top 10 list of Cuba tour companies provides you with everything you need to make the best decision for your future travels into this untouched island paradise in the Caribbean. If you do decide that you would like to travel abroad to visit Cuba and all of its natural beauty and immerse yourself in the timeless and unique culture by joining an immersive tour, we encourage you to reference this list to help you in your search.
Once you arrive home from Cuba, we would be happy to hear back about your adventures abroad. If you have gone on a tour with one of these companies in the past, send us a message and let us know how it went!
Honorable Mention
Related Links