Have you been wanting to explore the mountainous, rocky terrain of Argentina that you have been dreaming of? Do you want to have the experience of a lifetime while staying safe, and in the know with the guidance of a top rated Argentina tour operators?
Argentina is most famous for its dance, Tango in particular. The country is the birthplace of the world famous tango and is a coveted tourist destination for people who love the arts. You can also find one of the 7 wonders of the world, Iguazu falls and all of its glory. Your time spent touring the beautiful country of Argentina will be filled with unforgettable memories and amazing sights to see throughout your trip. There are many opportunities to join in on the nightlife, experience city tours, and other fun excursions while touring Argentina.
Deciding to have a great tourist experience in Argentina is not as straightforward as you may hope. Once you begin to really research your options on tourist companies within Argentina, you will soon realize that there are hundreds of options to sift through. Giving your hard earned money to a company without having the proper information can lead to you over paying and stranded as a tourist in Argentina.
You may end up paying thousands of dollars to a company who wil provide you with measly service and could potentially ruin your entire tourist experience. For the above reasons, we have created this all in one guide to the top 10 tour companies in Argentina. Everything you need to know is found below!
Here is an unbiased list of the Top 10 most reputable Argentina tour operators.
Providers
Package
Reviews
Buenos Aires Free Walks
FREE TOUR CITY CENTER
GRAFFITI TOUR BUENOS AIRES
Trip Advisor – 4,704 reviews
BA Bikes
SOUTH CIRCUIT
FOOD BIKE TOUR
Trip Advisor – 2,409 reviews
Biking Buenos Aires
THE ULTIMATE CITY TOUR
TIGRE BIKE & KAYAK DAY TOUR
Trip Advisor – 2,049 reviews
Tangol
Buenos Aires Jewish Heritage Tour
Isla Victoria And Arrayanes Forest
Trip Advisor – 1,958 reviews
Parrilla Tour Buenos Aires
Recoleta Tour
Mataderos
Trip Advisor – 1,119 reviews
Signature Tours
Buenos Aires City Tour
Highlights of Buenos Aires
Trip Advisor – 1,086 reviews
Red Globe Tours
Uco Valley
Luján de Cuyo
Trip Advisor – 872 reviews
Potrerillos Explorer Rafting
HALF DAY-RAFTING
Fly Fishing
Trip Advisor – 661 reviews
Mendoza Andes / The Tintos
VIVA CATENA
HIKE THE ANDES
Trip Advisor – 492 reviews
Mendoza Holidays
Organic Wine Tour
Aconcagua Trekking
Trip Advisor – 399 reviews
Table update Feb 1, 2021
Buenos Aires Free Walks
Company's location and type: Argentina, Local Tour Operator
Year of establishment: 2008
Awards, Certification: 2020 Certificate of Excellence by Trip Advisor
Reviews: 5,306 reviews on Trip Advisor 98% rated very good and excellent
About Company
Argentina Free Walk tours is an Argentina tour operator designed to offer you a great experience over everything else. The company gives free walking tours each morning, all you have to do is show up! There are no reservations, no payment obligations, and the tours are top-notch. At the conclusion of each tour, have the option of choosing a tip. The tip should be decided on how much you thought the experience was worth. Argentina Free Walk Tours has over 4500 positive reviews on trip advisors and deserves your attendance.
Packages
Argentina Free Walk Tours offers multiple locations of start around Argentina. You can start from La Boca, the birthplace of Tango and a perfect encompassing of Argentine culture. The history and colors of La Boca will have you eager to return again. You could also begin your Argentina walking tour at the Recoleta cemetery and experience the most visited location in all of Argentina. Within the cemetery lies many of the most notable figures in Argentine history and having a tour through this location will take you on a historical ride. Last but not least is the Graffiti Tour in Buenos Aires. Your guide will lead you through the trendiest location in all of the city. Palermo is an area of Buenos Aires where artists are given the chance to express themselves through street art.
Reviews on Buenos Aires Free Walks
Due to the way that Buenos Aires Free Walks tours are operated, reviews are raving. 4.9 stars out of over 1200 reviews on google and a whopping 98% of 4600 reviews being positive. Every source you find on the Free Walks operators in Argentina will be positive and you can be sure to have an amazing trip experience in Argentina. You can read the review on tripadvisor posted below while considering this tour operator:
"We did the City Tour with Martin and the tour was great! Martin is a great guide because besides information about the classic sights he also told us a lot about life in Buenos Aires and also about the historical development. Highly recommended!" – Schnelli
BA Bikes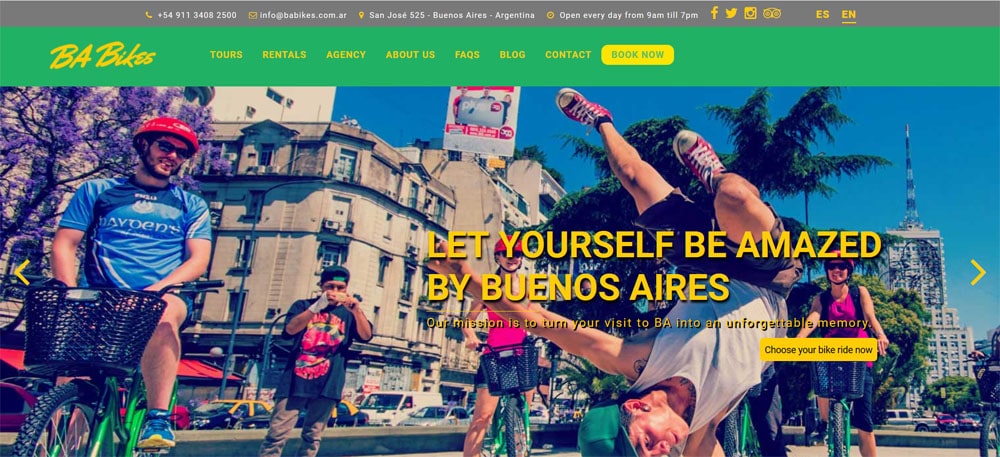 Company's location and type: Buenos Aires, Local Tour Operator
Year of establishment: 2010
Awards, Certification: Certificate of Excellence by Trip Advisor
Reviews: 2,400 reviews on Tripadvisor 97% rated very good and excellent
About Company
BA Bikes is an Argentina tour operator that aims to make the use of bicycles more widespread throughout the city. This is in an attempt to reduce carbon emissions and help the environment while also providing you with the top tourist experience in Argentina. Providing a tour that is on a bicycle means you will get to see so much more of the city than an ordinary walking tour and this will give you a better, more complete experience overall. Your guides will be locals of Buenos Aires and they assure you that your experience will be safe, affordable, and fun. Be sure to check them out when booking your trip to Argentina.
Packages
When you join in on a BA bike tour, you have many exciting travel routes and travel combination packages to choose from. One of these packages is the food bike tour in Argentina. It is one of the most popular circuit packages that the company offers and just by reading the name, I am sure you can see why. The tour is 5 hours long and will make multiple stops throughout the ride at great-tasting restaurants. You could also follow the South Circuit with BA bike tours in Argentina. This circuit allows you the chance to explore the birthplace of Tango as well as where the city got its start. The tour guide will be taking you to specific spots to stop and take pictures. No matter which package you go with, the tour with BA bike tours will be an unforgettable experience.
Reviews on BA Bike Tours
BA Bikes has been in operation for over 10 years and has thousands of positive reviews from international and local tour-goers in Argentina. Customer satisfaction is over 98% and your experience will more than likely reflect these numbers. Read this review on tripadvisor from a past client:
"It was my first bike tour ever and I wish all the ones I will take in the future will be of the same level as this one. I took the South tour through La Boca, Puerto Madero, Plaza de Mayo and another place with…" – Diego538
Biking Buenos Aires
Company's location and type: Buenos Aires, Local Tour Operator
Reviews: Over 2000 reviews on Trip Advisor 99% rated very good and excellent
About
Biking Buenos Aires is the best Argentina tour, operator. The owners of the travel company believe that their tours reflect a positive impact on the local community, recycling, pushing sustainable ideas, and advocating for diversity.
Packages
Biking Buenos Aires offers a variety of different routes you can ride your tour through. One of these is The Ultimate City Tour in Argentina, a 20km long bike ride through every major point of the city. You can even go on a bike/kayak day tour and experience a truly unique opportunity of floating through the river in Buenos Aires. The tour operators even offer a private routes option where you can have a tour guide to yourself. The heart of Argentina city tour will have you stopping by all of the centric, historical, and honorable locations. There are plenty of other options and you can find out more by visiting their website.
Reviews on Biking Buenos Aires
As one of the larger tour operators in Argentina, Biking Buenos Aires holds its own and maintains stellar reviews on multiple trustworthy platforms. The company has positive feedback on google, tripadvisor, and others. See the positive review below:
"My husband and I took a private tour with Raymond and feel that he gave us a great perspective of the history of Buenos Aires. And in the process, we experienced the city in a closer, more intimate way. " – Voyage821507
Tangol

Company's location and type: Argentina, Travel Agency
Reviews: Tangol has almost 2000 reviews and a 4.5-star rating on Tripadvisor
About
Tangol is a top Argentina tour operator that operates tours all across Argentina and is able to serve your needs in many capacities. No matter if you are looking for an amazing experience paragliding high up in the air, or a historical journey through the old city squares, Tangol has something for you. You can use this service for the best service at a good price!
Packages
As noted before, you have many different options to choose from when touring with Tangol. The company does have a very unique tour called the Buenos Aires Jewish Heritage Tour. This tour will show you historical buildings, art, and traditions in Jewish areas of the city. You can also tour Isla Victoria and Arrayanes Forest. You can explore these two beautiful locations while being told about their fascinating existence. There is also the option to tour the city and end it inside the mysterious Walichu caves tour in Argentina! If that isn't exciting enough, your feet can move on the underground rivers and mini trekking in the Salta tour.
Reviews on Tangol
Tangol is a great tour company in Argentina that offers fantastic tourist services in many different countries and each country they operate in runs a highly efficient and professional tour experience. They have thousands of positive reviews on trip advisors and have been in operation for many years. Read this review on trip advisor left by a past tourist:
"This tour was part of our pre-cruise Celebrity package. We were picked up at the hotel by bus and guide and taken to falls. We spent the day there seeing spectacular falls and walking trails…" – CBon57
Parrilla Tour Buenos Aires
Company's location and type: Buenos Aires, Local Tour Operator
Year of establishment: 2011
Awards, Certification: Certificate of Excellence by Tripadvisor
Reviews: 1,098 reviews on Trip Advisor 99.7% rated very good and excellent
About
The owners of Parrilla tour in Buenos Aires are food and wine-loving people who want others to be able to share in the delights that the city has to offer. The guides of this Argentina tour operator encourage friendly conversations and fun times while exploring all the food and drinks in various different routes.
Packages
The word Parrilla is Spanish for the grill, and the tours available reflect that translation. You can send your taste buds into outer space on the recoleta tour in Argentina while visiting the area that is known as the Paris of South America. The Palermo Tour & milonga night is also a great option for you. Soccer fans, empanadas, and one-of-a-kind ice cream are all highlights of this Parrilla tour. In the Mataderos tour, you or you and a group of people will be shown to the market where there are local attractions, food booths, and street performers. Last but not least is the Argentina San Telmo tour, where you can watch butchers inaction followed by visiting one of the oldest and best parrillas (grills) in the city.
Reviews on Parrilla tour in Argentina
As a unique and professional experience, Parrilla Tour Company in Argentina is known for its high-quality tours. The methodically thought out routes and restaurants, in addition to the great staff, make for an excellent combination of stellar service. It is rated 5 stars on tripadvisor with over 1100 reviews. Read this comment made by a past tourist:
"Fabulous time with German. Very knowledgeable and fun to be with. Enjoyed the variety of food and drink. Very worthwhile." – Gregory Luke
Signature Tours

Company's location and type: Buenos Aires, Local Tour Operator
Awards, Certification: Certificate by excellence by Trip Advisor
Reviews: 914 reviews on Trip Advisor 99.6% rated very good and excellent
About
Signature Tours was founded on the principle of providing the utmost professionalism and superior experience possible for its customers. This Argentina tour operator is made up of extremely experienced and knowledgeable professionals who know all of the ins and outs of Buenos Aires, Argentina. You can create customized tours and have the unique experience of a lifetime while creating memories with the family, friends, or people met along the way. No matter where you would like to discover, Signature Tours has just the thing for you.
Packages
Drink wine and relax on a casual walking tour through artistic urban sections of Buenos Aires with a professional tour guide on the Urban art and Wine tour in Argentina. Or be seen exploring the old city buildings of the central parts of Buenos Aires while being guided by a knowledgeable guide. If you are interested in learning about different religions and cultures, consider discovering the History of the Argentinean-Jewish Community while on a Jewish Day Tour Argentina. You have the option of booking a private highlight Argentina tour where you can be taken to the prettiest and most significantly historical sights around the city. The options don't end there and you can find even more tour package options by visiting their website!
Reviews on Signature tours
With a 4.5 rating on trip advisor and over 1000 reviews, it is apparent that Signature tours hold its own when it comes to offering competitive prices and unbeatable service. Clients are very satisfied when going through Signature Tours. Here is a review that the company received recently on tripadvisor:
"We went to the show with dinner included. It was great, the food was very good and the dancer was very professional." – Rueprefecture78
Red Globe Tours
Company's location and type: Mendoza, Argentina, Local Tour Operator
Reviews: 873 reviews on Trip Advisor 99% rated very good and excellent
About
Red Globe Tours caters to the more luxurious tour-goers and provides luxury wine tours around Mendoza, Argentina. The destinations in this Argentina tour operator will be the best wine locations in all of Argentina and you can expect an unforgettable experience. Your tour will allow you to see the beautiful Andes in person while sipping on fine wine and being catered to by professional and knowledgeable Red Globe Tours staff.
Packages
You can book multiple package types when going on a tour with red globe tours. One option is the Argentina Uco Valley tour. Surrounded by the Andes, this location has breathtaking views and delicious wine for you to enjoy. Lujan de Cuyo is another great location and tour package option with Red Globe tours. The rocky and fruitless soil in Cuyo is actually the perfect soil for the production of high-quality wine. You will explore 3 different wineries while learning about your surroundings. Your final option is Maipu tour in Argentina, a city that is world-renowned for its fine wine and olive trees. There are museums, vineyards, and wineries that you can explore.
Reviews of Red Globe Tours
Red Globe Tours serves high-quality service and is driven by professionalism and high scrutiny to ensure your experience is unparalleled. With over 853 reviews and a 5.0 rating on Tripadvisor, you can trust that this tour provider will have you on an unforgettable adventure. Look at this positive review:
"I reached out to Red Globe to plan a wine tour to Uco valley based on other reviews. They were very efficient in responding and made the reservations at 2 wineries plus lunch at Andeluna…!" – Laura Grace
Potrerillos Explorer Rafting
Company's location and type: Mendoza, Travel Agency
Awards, Certification: #1 Boat tour out of 19 in Mendoza, Argentina
Reviews: 661 reviews on Trip Advisor 99% rated very good and excellent
About
Potrerillos is one of the leading adventure tour companies in Argentina and offers many different thrilling adventures for you to join! The company was created for the sole purpose of teaching respect for the environment while at the same time giving guests a remarkable experience. At great prices, you can do anything from rafting to wine tasting and with professional service, you are sure to have a good time while knowing everything is taken care of. You also have options to zipline, horseback riding, trekking, and more. This Argentina tour operator also prides itself in always having the newest gear around to keep clients safe and sharp.
Packages
The awesome benefit to booking a tour with Potrerillos Explorers is your large selection of adrenaline-filled activities. You can choose from many different packages and tours. One of the most popular tours is the half day rafting tour in Argentina that follows the Mendoza river for a thrilling ride. If you would like a more relaxing outdoor adventure, you can join the fly fishing tour and relax while wading in the water, hoping for a bite. Potrerillos Explorers also offers the perfect program for horse lovers. You can ride on the back of a horse on an Argentina horseback riding tour with the guidance of a professional and walk through scenic views of the mountains. Another option you have is an exciting zip line!
Reviews on Potrerillos Explorers
This tour company has an exemplary track record for great service, proven by over 600 positive reviews. Potrerillos proudly has earned a five-star rating on tripadvisor and continues to provide great tours every day.
"This company is very professional, laid-back, and tons of fun. All of their equipment and gear are very clean and in great condition. I hate putting on damp, mildewy life vests and wetsuits and we saw none of that here…" – Earthtrekkers
Mendoza Andes, The Tintos

Company's location and type: Mendoza, Local Tour Operator
Year of establishment: 2011
Awards, Certification: Rated number out of 138 outdoor attractions in Mendoza
Reviews: 5-star rating and over 450 reviews on TripAdvisor
About
The Tintos wine tours were designed with French and Argentine ideas. What started as a simple wine tour agency, the company has grown to offer Andes mountain tours as well as 4×4 road trips. You can settle down for a glass of wine or make a run in the mountains on a thrilling 4×4 ride. This Argentina tour operator is centered around the idea that a serious job is serious, but shouldn't be taken too seriously. This makes for fun and professional experiences with good staff who you can trust.
Packages
The tints offer a wide selection of fun activities and if you would like to know of a few options available, keep on reading. Viva Catena is a tour where you will visit a truly important location in the world of wine. The story of Catena is the story of wine. Your next option is a bit more adventurous and it involves hiking in the Andes mountains, Argentina. This is an experience of a lifetime and you will soon realize that pictures do not do this mountain range justice. You can also experience Gaucho day, a unique tour that will face you with the equivalent of the American Cowboy. Gauchos are very skilled horse riders and have a traditional way of life that you will learn about. The Andes are covered in volcanoes and you can go on an Argentina Volcano adventure tour with the Tintos.
Reviews on The Tintos, Mendoza
Even though this tour operator is one of the newer companies, it has hundreds of 5-star reviews and is known to provide excellent service to all of its clientele. Trip advisor has its reviews very highly with over 99% positive feedback from past clients. Here is one comment left by a satisfied customer:
"Very nice day in the mountains. Highly recommend. Great staff, awesome parilla, beautiful views. A great day." – Didier V
Mendoza Holidays
Company's location and type: Mendoza, Local Tour Operator
Year of establishment: 1998
Awards, Certification: Number 6 out of 138 outdoor attractions in Mendoza
Reviews: 399 reviews on TripAdvisor with a 5-star rating
About
Mendoza holidays is a boutique that has been steadily growing and expanding to new locations each year. This Argentina tour operator specializes in luxury wine tours around beautiful parts of Argentina. Mendoza Holidays puts an emphasis on customer needs and they are a very hands-on team. Every person you speak with that is involved with Mendoza will be in the know of each tour program and will help you every step of the way. The team strongly believes that travel is one of life's ultimate joys and they hope you can have an amazing experience in one of their tours.
Packages
Mendoza Holidays offers some of the highest-rated wine tours in all of Argentina. Unbeknownst to many, the company also offers exciting mountain adventures. No matter what your interests are, the Mendoza holidays have the right opportunity for you. They offer an organic wine tour in Argentina, a full-day private tour of an organic wine vineyard where you will learn the process of organic wine from seed to bottle. Another tour you can find yourself on is the Aconcagua trekking tour in Argentina! This is an exciting guided journey through the beautiful Andes. You could even go rafting and end the day eating at the delicious Ruca Malen restaurant. Another trip into the Andes is available, this time on a bike. Your bilingual guide will take you through a fascinating trail up and through the mountains.
Reviews on Mendoza Holidays
With nearly 400 positive reviews on tripadvisor, Mendoza Holidays is a strong competitor for being one of the top travel tour companies in Argentina. It can provide stellar service at competitive prices and this can be argued by the consistently positive reviews. You can see what someone has said about the company here:
"They know their vineyards. We basically had 2 custom-made tours of 6 very good vineyards. All were great, some fascinating: Piedra Infinita, Susana Balbo, Super Uco…- SImon B
Visitors traveling to Argentina must have a visa to get into the country. Visit natvisa.com to get a complete guide on a visa to Argentina.
In Conclusion
This top 10 list has been compiled with the intention of educating and assisting you in your search for the best tour company in Argentina. If you would like to make a trip to Argentina and immerse yourself in the culture through tour experiences, please use this list to help you in your search.
Once you travel to Argentina, we would be thrilled to hear back about your journey. If you have gone on a tour with one of these companies in the past, send us a message and let us know how it went!
Honorable Mention
Related Links