Has a fun and exciting trip to Brazil been something of desire to you recently? Would you like to have the opportunity of a lifetime while living your dreams in the home of the amazon? Do you want an amazing experience under professional supervision and guidance of a top rated Brazil tour operators?
As a country, Brazil is world famous for many things. It is the perfect location for soccer fans, beach goers, and explorers of all kinds. In Brazil, you can spend the day at the beach soaking up the sun, and the next morning be whisked away to the Christ Redeemer. Regardless of where you decide to spend your time, participating in a tour in Brazil will be a great way to see a beautiful country while staying safe and creating lifelong memories.
Your choice to tour Brazil is not as simple as it may seem. After you start to make concrete travel plans, your options will be very vast and having the time to pick through every review and information source on different companies can be taxing. You have hundreds of tour companies in Brazil to choose from and your money should be going to an experience that you will be satisfied with. We would hate for you to overpay and come back home with regrets!
We firmly believe that without proper research, you could inadvertently spend thousands of dollars on a lackluster tourist experience in Brazil that will provide less than acceptable service at high rates. Due to these concerns, we have researched and put together the perfect guide that goes over the top 10 best Brazil tour agencies out there!
Here is an unbiased list of the Top 10 most reputable Brazil tour operators.
Providers
Package
Reviews
Turismo Privativo Foz
Budhist Temple
Bird Park
Trip Advisor – 433 reviews
Macuco safari
Macuco Safári
Macuco Só Selva
Trip Advisor – 245 reviews
Gasparetour Pantanal Tours
Pantanal Tour 2 days / 1 night
Pantanal Jaguar Tour 4 days / 3 nights
Trip Advisor – 218 reviews
Pantanal Nature
SERRA DO AMOLAR PANTANAL
4D/3N JAGUAR EXTREME TOUR
Trip Advisor – 209 reviews
MMC Turismo
Macuco Selva
Macuco Safari
Trip Advisor – 163 reviews
Iguassu Falls Urban Adventures
Jungle bike tour
Beaches, Views & Bays Bike Tour
Trip advisor – 133 reviews
Pratik Turismo
Parque das Aves
Macuco Safari
Trip Advisor – 103 reviews
Ecoverde Tours
Nature Tour Plus – 4d/3n
Jaguar Tour – 4d/3n
Trip Advisor – 98 reviews
Silva Tour Pantanal
Pantanal tour 3 nights / 4 days
Pantanal tour 2 nights / 3 days
Trip Advisor – 79 reviews
Jabiru Tour
PANTANAL 3 DAYS / 2 NIGHTS
PANTANAL 4 DAYS / 3 NIGHTS
Trip Advisor – 46 reviews
Table update Jan 23, 2021
Turismo Privativo Foz
Company's location and type: Parana, Local Tour Operator
Awards, Certification: 2019/2017 certificate of Excellence by trip Advisor.
Reviews: 433 reviews on Trip Advisor 98% rated very good and excellent
About Company
Turismo Privativo Foz specializes in flexibility and comfort through its services. This Brazil tour operator proudly offers clients high levels of comfort through private cars and professional guides. Turismo Privativo is truly on the high end of tours in Brazil and offers packages that suit any type of client. The company is proud to have over 430 5 star reviews on TripAdvisor and this high number of satisfied customers will only grow each day. Find out why Turismo Privativo Foz is the Top tour company in Brazil.
Packages
Turismo Privativo offers many unique tour opportunities around locations in Brazil. You can find the perfect tour program to fit your needs. Safari Park tours, Buddhist Temple tours, and more await you in Brazil.
You could possibly be spending your Saturday on a Panoramic Flight tour over the falls! This tour will have you on a thrilling helicopter ride, overlooking the marvelous Iguassu Falls. There is also an option to Visit a Budhist Temple tour package in Brazil and have a spiritual tour. Find out what the inside of a massive Buddhist temple looks like on this fun-filled tour. As a tourist with Turismo Privativo tours, you can even go to a colorful bird park tour filled with exotic birds like Toucans, Parrots, and eagles. Another option for you is an amazing Brazil Macuco Safari tour. You will see waterfalls, exotic animals native to Brazil, and beautiful lush jungles.
Reviews on Turismo Privativo Foz
Turismo Privativo has the ability to serve a vast array of different clientele as it has many fun tour options. They are also able to provide these services in a professional and efficient way; which is why Turismo has earned a 5-star rating with over 430 reviews on Tripadvisor. Here is a comment from a past client about their experience with Turismo Privativo Foz:
"Luiz and Neide are exceptional tour guides, and helped arrange EVERYTHING from airport pickup, to business meeting transfers, and full 2-day tour of foz from both sides, parks, Paraguay shopping, best restaurants, and doing it all with a smile."
Macuco Safari
Company's location and type: Macuco, Local Tour Operator
Year of establishment: 1987
Reviews: 245 reviews on Trip advisor 99% rated very good and excellent
About Company
The operator of Macuco Safari tours has a very firm stance on the reason they operate. The team is committed to educating the public and supporting sustainable ideas in order to protect the environment at all costs. Macuco has been working with the local government to help with environmental efforts and this also has made the park much more handicap accessible. You can visit TripAdvisor to read reviews and see why they have such a great track record for stellar quality service.
Packages
Macuco Safari tours have plenty of top-rated options for you to make memories in. From rafting to a safari, they have something for you. Would you like to row your way through the beautiful Iguazu National Park? If you want to go on a Macuco Safari Brazil rafting tour, with a sustainably conscious company while receiving a top-notch experience, look no further. Or you can go on a Macuco Safari and see a wide array of different animals that you have never seen before. You will also be up close to the falls! Another option for you is the Macuco So Selva safari, an intriguing route through historical sites and great views. This is a good option for families and groups. Macuco offers many other additional Brazil travel packages and you can visit their website to learn more.
Reviews on Macuco Safari Tours
You are guaranteed a great experience with Macuco Safari Tours and their stellar reviews will reassure you of that. As you can see on tripadvisor, this Brazil tour operator has a 5-star average review at 99%, and the service you receive will reflect what others have already stated. this review from a past client:
"Always loved fast boats & waterfalls & this is the perfect combination, riding rapids at speed & getting wet under huge waterfall spray- Selwyn
Gasparetour Pantanal Tours
Company's location and type: Cuiaba, Local Tour Operator
Awards, Certification: Ranked #1 out of 32 attractions in Cuiaba
Reviews: Over 210 reviews on Trip Advisor 99% rated very good and excellent
About
Gasparetour Pantanal tours were created as a very unique opportunity for visitors to see the indigenous people in the Amazon as well as to get up close and personal with exotic big cats. With very nice vehicles and spectacular staff members, your experience with Pantanal tours will be one to remember. This Brazil tour operator is the top provider of Pantanal tours in all of Brazil.
Packages
Gasparetour Pantanal Tours offers plenty of different package options for all types of customer needs. You can participate in a 5 day/ 4 night Brazil Pantanal Jaguar tour and experience the beauty of these magnificent beings up close. For the two day / one night Pantanal tour, you can expect to participate in a land photo safari as well as an exhilarating motorboat ride through the city of Pocone! You could also join in on the 4 day / 3 night Pantanal Jaguar Tour package in Brazil and is sure to be the perfect trip for photographers and nature lovers. In this tour you will also get to see Jaguars and otters in their natural habitats. One of the longer tours available is the 8 day / 7 night tour and it is considered the full experience. You will participate in many of the previously mentioned activities plus a few more!
Reviews on Gasparetour Pantanal Tours
This tour company in Brazil has received hundreds of great reviews. These reviews are hard-earned from clients of all kinds from all over the world. Tripadvisor ranks them #1 on the list of Pantanal tour providers and you can join a program yourself to get a great tour experience at a great price. See the positive review below:
"I took a 4 day/3 night tour of the Pantanal with Gasparetour and it was fantastic in every way. All involved parties were friendly and professional, the lodges were good and the Pantanal is just a spectacular piece of nature"- Mads H
Pantanal Nature
Company's location and type: Cuiaba, Travel Agency
Year of establishment: Over one Decade
Reviews: Over 200 5 star reviews on TripAdvisor
About
Pantanal Nature Tours is a company that strives for perfection. Their genuine enthusiasm for the job and deep understanding of the region make for a once-in-a-lifetime experience. They are specialists at knowing the perfect trails and routes to find animals and beautiful views around the Pantanal. This Brazil tour operator is the true example of how a well-run operation can be a terrifically fun experience.
Packages
Pantanal Nature tours offer the best Nature tour programs and have plenty of options to choose from.
A great tour option and most popular is the Pantanal 4d/3n Brazil Wildlife Tour. You will see many native Brazilian animals like the Tapir, Toucans, Jaguars, and more. Another choice you could make is the 6d/5n Jaguar & Wildlife Safari Plus. This tour option is perfect to spot Jaguars as you will have many opportunities to go to common Jaguar spots to view them in their natural habitat. Your next package choice is the Serra do Amolar Pantanal. This experience is great if you have always wanted to go scuba diving. You will go through the beautiful hills, swim in crystal clear waters, and search for Jaguars. Among many other choices is the 4d/3n Jaguar extreme tour package in Brazil. This tour is different from the others due to the likelihood of spotting Jaguars. You will be taken much further upriver into the jungle areas!
Reviews on Pantanal Nature Tours
Pantanal Nature Tours isn't rated number two in Cuiaba for nothing. This is undoubtedly one of the top nature tour providers in Brazil and their exemplary service will back that up. Over 200 5 star reviews on TripAdvisor and a 99% approval rating is no joke and we encourage you to take a tour. Read this review left by a past tourist:
"I took a one-day safari. Safari was decided on to parts. The first part was kind of safari on Transpantaneira road…" – Alex Kravchenko
MMC Tourismo

Company's location and type: Buenos Aires, Local Tour Operator
Awards, Certification: Served over 2 million customers
Reviews: 163 reviews on Trip Advisor 99.7% rated very good and excellent
About
The owners of MMC Tourismo cater to clients to over 80 different locations throughout the region on any given day of the week. This Brazil tour operator has 150 different professional tour guides scattered across the many different locations it offers tours in. Each client is treated as a very important person and your experience will be amazing.
Packages
You can participate in rafting tour with MMC Tourismo in Brazil and experience seeing one of the Seven Wonders of the World while floating in a beautiful place. You could also join in on the fun with the Macuco Selva Brazil tour package. You will travel in an electric vehicle through massive lush green flora and take a medium-level hike through the jungle. Many clients rave about MMC Tourismo's Macuco Safari. This special tour will take you in specially designed boats that are capable of reaching extremely close to the waterfalls. One other great option is the City tour package in Iguazu, Brazil. This tour is a favorite of many as it takes you to three very important historical locations within Brazil. Including religious sites and the borders of three countries.
Reviews on MMC Turismo
With over 150 reviews on Tripadvisor, a tour with MMC Turismo is sure to be a great time at an affordable cost to you. This tour agency in Brazil has served over 20 million customers to great tours and they take care of each client very well. You can see proof of this by reviews such as this one:
"It was a great experience with the MMC tour, we have done it with @ MILENE and SALONGE (her mother)who were really nice, punctual, and provide good information.
We had the safari tour as well which was one the most impressive experience you might try as an adventure. " – Sarvi5
Iguazu Falls Urban Adventures

Company's location and type: Iguazu, Local Tour Operator
Year of establishment: 2009
Awards, Certification: Certificate by excellence 2015 by Tripadvisor
Reviews: 133 reviews on TripAdvisor 99.6% rated very good and excellent
About
Urban Adventures operates all over the world and is steadfast in providing great tours at great prices. Urban adventures Brazil caters to clients who would like to see the Iguazu falls in a different way. You can adventure with this Brazil tour operator starting in Brazil and ending up in Argentina while seeing the beautiful Pantanal area. The owners of Urban Adventures have been in the tourism business for over 80 collective years so they know their stuff and you can trust them to provide an amazing trip.
Packages
You have many options when it comes to taking an adventure tour with Urban Adventures. A Jungle bike tour in Brazil is a great choice to get your blood flowing and see many beautiful sights in the region. This next tour is a private Carioca Sunset Bike Tour in Brazil where you will travel right along the prettiest beaches in Rio de Janeiro. Your next option is the Beaches, Views, & Bays bike tour. The name mainly speaks for itself and will take you to beautiful Urban areas of Rio. This last one is a combination of the first two options and is called the Total Rio Bike Tour- Beaches, Bays, & Carioca Sunset. Learn about the other great packages by visiting the Urban Adventures website.
Reviews on Signature tours
With over a 5-star rating and 133 reviews on Tripadvisor, you are going to be pleased with your tour. Urban Adventures serves clients around the world and their location in Brazil is one of the top Brazil tour operators. It is ranked #5 out of 62 in Brazil outdoor activities. Here is a review that the company received recently on TripAdvisor:
"Did the day tour that goes to both sides of the falls. An incredible day thanks to Lilian! Loved every minute of the day. Highly recommended!!" – Paul
Pratik Turismo
Company's location and type: Foz do Iguaçu, Local Tour Operator
Awards, Certification: #8 out of 62 in Foz do Iguaçu outdoor activities
Reviews: 103 reviews on TripAdvisor 99% rated very good and excellent
About
Pratik Turismo is a company proudly offering ecological and exotic tours. They especially cater to luxury clients and honeymoons. They truly believe that their attention to detail and deep knowledge of the locations and areas you will be visiting makes them a great choice to tour with. Patik also has a great option where you can build your own tours in Brazil. This company is truly one of the top tour companies due to its good reviews and honest business practices.
Packages
Come to Brazil and join the Pratik Turismos Parque das Aves tour in Brazil and experience over 1500 birds in a massive manmade habitat while learning about the 150 different species being cared for. Pratik also offers a Macuco Safari where you can learn about exotic animals in the Pantanal and on the same day, see the Iguazu falls up close. You have the alternative to join the Three Frontiers Landmark tour. This Brazil tour package takes you to a historical place where Uruguay, Argentina, and Brazil meet. There are many attractions and experiences to be had. One unique tour program option with Pratik is the floating tour at Iguazu Falls. In this experience, tourists and guides are silent and do not paddle during the majority of the trip in order to hear and be engulfed in nature.
Reviews of Red Globe Tours
Pratik has served many clients in the past and its diverse tour packages in Brazil selection is definitely a benefit to touring with them. You can see for yourself the many stellar reviews the company has received on tripadvisor. Look at this positive review:
"Praktik Turismo brought me to Iguacu falls. They arranged everything at the border. That was very nice. it was a nice experience" – Patrick
Ecoverde tours
Company's location and type: Cuiaba, Travel Agency
Awards, Certification: 2017 Certificate of Excellence
Reviews: 98 reviews on Trip Advisor 95% rated very good and excellent
About
Ecoverde tours have a philosophy of dedication, respect, and friendship for the visitors, the local people, the wildlife, and the entire environment. He likes to keep things simple and has been running this small tourist operation in Pantanal for many years. Due to the owner Joel being the honest and credible man he is, he keeps costs very affordable while providing an amazing service that respects nature and local communities. You can go on the boat, jaguar, and other types of tours and have an amazing time with this amazing Brazil tour operator!
Packages
Ecoverde offers a range of different tour opportunities and you are welcome to join any of them. The Nature Tour Plus is a 4d/3n tour that involves horseback riding across the Savannah, boat rides through the canals, and much more. You could also opt for the 4d/3n Jaguar Boat Hotel Tour in Brazil. During this tour, you will stay in nice accommodations and receive great food throughout your stay while seeing Jaguars everywhere you go. Another possibility for you is a Brazil Nature Tour with Ecoverde. You will also have a horseback riding tour in Brazil and seeing exotic animals like the howler monkey and more. Your time touring with Ecoverde will be exciting and adventure-packed from start to finish.
Reviews on Ecoverde Tours
Ecoverde keeps the flashiness to a minimum and relies more on top-quality service to show off their tours. This Brazil tour operator truly believes in helping nature and keeping things as nature intended. The past clients have a lot of kind words to say and you can read what one person said on tripadvisor:
"f you are looking for an authentic and down-to-earth Panatal experience look no further. Even in the shoulder season (November) we saw two jaguars, giant otters…" – Grace
Silva Tour Pantanal
Company's location and type: Mendoza, Local Tour Operator
Year of establishment: Over 10 years
Awards, Certification: Rated number 4 out of 32 outdoor attractions in Cuiaba
Reviews: 5-star rating and over 80 reviews on TripAdvisor
About
Silva Tour Pantanal offers specialist tour guides for their nature and wildlife tours in Brazil. Each and every exclusive tour is catered to the tourist's needs and you have options of bird tours, photography, and nature tours. Accommodations, meals, guides, and other aspects of the tour are arranged by Silva so you only have your time to enjoy. Choosing the right tour provider is an important choice and going with Silva Tour Pantanal is a safe bet for an excellent trip.
Packages
Silva Pantanal tours offer multiple packages of the same tour set up with added things in between. You can stay for as little as 2 nights and 3 days, all the way up to 5 nights and three days in a Pantanal Brazil Tour. The activities you can participate in during the tour will be many. You will find yourself horseback riding, boating, and hiking while seeing rare animals. You may even experience a Jaguar sighting while on your tour! No matter how long you choose to stay and tour the Pantanal with Silva, your trip is sure to be the highlight of your year and Silca tours will be sure of that.3 nights / 4 days
Reviews on Silva Pantanal tours
This Brazil tour operator has received very high reviews and is ranked #4 out of 32 in outdoor Cuiaba activities. Your money and tourist time are both in good hands with this company and you can read more reviews to convince yourself by going to their website. You can also see a review left by a satisfied customer:
"My tour in the Pantanal with Rizardo Silva (Silva Pantanal) was great. Very serious and professional since the first contact and fulfilled everything that was in the contracted package…" – Paradise
Jabiru Tours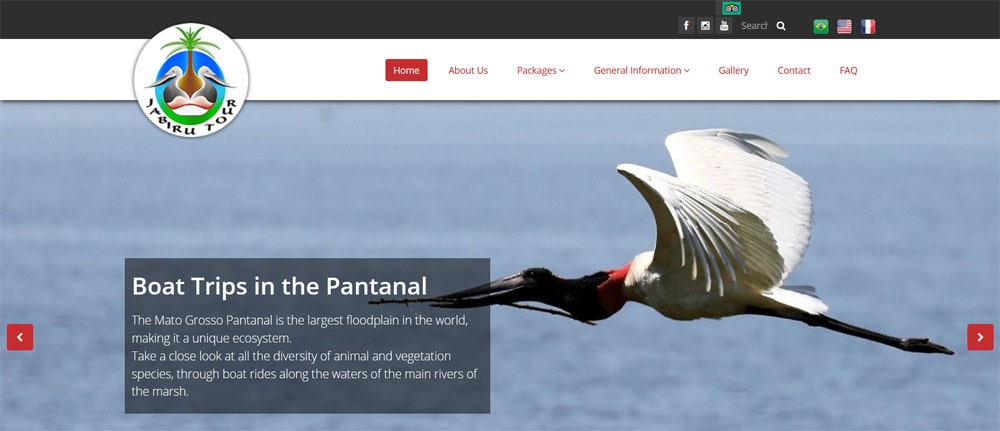 Company's location and type: Mendoza, Travel Agency
Awards, Certification: #3 out of 32 outdoor activities in Cuiaba
Reviews: 46 reviews on TripAdvisor with a 5-star rating
About
Jabiru tours is a newer Brazil tour company but it does come backed with experience. The owner himself worked as a private tour guide for years before creating his own agency. His philosophy as a guide is to turn your simple trip into an enjoyable and memorable moment that will last a lifetime. It is a husband and wife duo. Yoann Lebrum is the owner and guide of the operation while his wife Alinne is the correspondent. Even though the company is fairly new, they have received much positive praise and are extremely affordable so don't forget to consider them as a top contender for your choice at the best tour company in Brazil.
Packages
Jabiru tours offer a 5 day/4 night Jaguar tour where you can expect to be on horseback through the jungle or taking a boat up the river and searching for beautiful jaguars in the lush jungle vegetation. There is also a Brazil travel package that includes a jaguar tour, chapada, and nobres for 8 days and 7 nights. This special tour gives you the opportunity to scuba dive in crystal clear water and unparalleled hiking trails along with the Jaguar spots. Your other option with Jabiru is either the 4 day/3 night or the 3day/2 night tour in the Pantanal. On either tour in Brazil, you will explore the falls by raft and even get close enough for a bath from the great Iguazu falls.
Reviews on Jibaru Tours
Although the company is very new, the reviews posted by past clients really go to show that they have everything running professionally and efficiently. With over 60 5 star reviews on TripAdvisor and many well-put-together tours at solid price points, Jibaru is a great contender for Brazil tour operators. Here is a recent review left on their TripAdvisor page:
"…we enjoyed a 4 day trip to Pantanal and highly recommend the Jabiru Tour ! Yoan our guide has a great experience and deep knowledge of the Pantanal area…" – Mary
In Conclusion
This top 10 list has been compiled with the intention of educating and assisting you in your search for the best tour company in Brazil. If you would like to make a tour to Brazil and immerse yourself in the culture through tour experiences, please use this list to help you in your search.
Once you return from Brazil, we would be thrilled to hear back about your journey. If you have gone on a tour with one of these companies in the past, send us a message and let us know how it went!
Honorable Mention
Related Link