Have you been wanting to explore the lush jungles, cryptic archaeological ruins and soft sandy beaches of Colombia? Is having a safe and cost efficient trip in Colombia important to you?
The beautiful country of Colombia is most known for its love of coffee, diverse landscapes, extraordinary culture, historical architecture as well as a high level of natural beauty. Colombia also boasts many serene beaches and tropical rainforests as well as tall snow-capped mountains and you can find a range of attractions, sites, and tours from Medellin all the way to Bogota to get involved in. No matter what your interests are, you can find an experience that will give you lasting memories during your trip to Colombia and if you want to stay safe and in the know, a great thing to consider is using a trusted tour provider.
Your next step is choosing which Colombia tour operator and this can be a complicated, sometimes frustrating process. As you begin to sort through the different available providers and tours, you will realize quickly that there are hundreds of options out there, all with varying levels of quality, cost, and history in the industry. Giving your hard earned money to a company without having all of the right details can lead to you overpaying for a lackluster tour of Colombia.
In order to save you from spending unnecessary money and time on a measly provider that could ruin your trip, we have invested many hours into thorough research of the background, reviews, and prices of hundreds of different companies. With the information we gathered, we have created this all in one guide to the Top 10 Colombia tour companies and everything you need to know can be found below.
Providers
Package
Reviews
Beyond Colombia Free
Walking Tour Bogota
Lost City Trek
FREE WAR AND PEACE TOUR
Trip Advisor – 2,386 reviews
Expotur
Tour Ciudad Perdida 4 dias
Tour al Cabo de la Vela
Trip Advisor – 3,300 reviews
Magic Tour Colombia
Lost City Colombia
Cabo San Juan – Parque Tayrona
Trip Advisor – 956 reviews
Hansa Tours
Colombian Coffee Tours
Bogota Night Tour
Trip Advisor – 769 reviews
Baquianos Travel & Adventure
Nuqui whale watching Tour
Lost city trek for 4 days
Trip Advisor – 683 reviews
LandVenture Travel
Jardín Coffee Region Tour
Medellín Old Railway Bike Tour
Trip Advisor – 449 reviews
Boats4U
Romantic Sunset Tour
Sunset on The Bay
Trip Advisor – 552 reviews
Sibarita Del Mar
Sibarita Sport Private Cruise
Sunset Cruise Sibarita Express
Trip Advisor – 474 reviews
Duran Duran Tours
Walking Tour
Bike Tour
Trip Advisor – 486 reviews
Cartagena Boat Charters
Island tour
Sunset tour
Trip Advisor – 93 reviews
Table update Jan 11, 2021
Beyond Colombia Free Walking Tour Bogota
Company's location and type: Bogota, Local Tour Operator
Awards, Certification: 2019 certificate of Excellence by Tripadvisor.
Reviews: 2386 reviews on Trip Advisor with a 5-star rating
About Company
As their name suggests, Beyond Colombia Free Walking Tour is a tour provider that prides itself in offering free tours around Bogota. This provider has many highly educated and experienced guides that will show you around the city of Bogota where you can discover its deep culture and history. This Colombia tour operator is completely operated on the graciousness of its clients and is paid with tips.
Packages
Since Beyond Colombia has a knack for walking tours, you can expect their packages to be highly specialized and educational. The Lost City Trek is a tour in Bogota Colombia that will allow you to discover the sacred temple of the Lost City in Ciudad Perdida. You also have a set of three popular Bogota walking tours with Beyond Colombia and they consist of a free Colombia walking tour in Cartagena, free food tour, and a free war and peace tour.
The free walking tour takes you to all of the historical and cultural areas of Bogota. In the war and peace tour, you will focus on the historical areas that speak about war, conflict, and resolution in the city and country. In the food tour, you may already know but you can enjoy free food while being educated on your surroundings!
Reviews on Beyond Colombia Free Walking Tours
This tour provider out of Bogota has an exceptional track record of providing high-quality, educational Colombia tours. They have earned a 5-star review on TripAdvisor with 2386 reviews and here you can read a positive review posted by a past client:
"We had a great time learning about Colombian history and famous landmarks in La Candelaria with our lovely guide, Carlos! " – Lucy
Expotur
Company's location and type: Santa Marta, Local Tour Operator
Year of establishment: 2003
Awards, Certification: Certificate of Excellence by Tripadvisor
Reviews: 3305 reviews on Tripadvisor 99% rated very good and excellent
About Company
Expotur is a Colombia tour operator that has many years of professional service under its belt. This provider operates out of the city of Santa Marta and has been with excellence since the year 2003. Offering many different experiences, Expotur has very professional guides that will make you feel comfortable and authentic while having an incredible experience in one of their many tours available.
Packages
With highly trained guides, you are sure to have a great experience in one of their many grand Colombia tour packages. They have a Ciudad Perdida Tour that lasts four full days and will take you to the Lost City. This tour is best suited for tourists with a high level of physical ability. You have the option of joining the Tour al Cabo de la Vela with Expotur.
This option takes you to indigenous areas of Cabo de la Vela for a truly authentic experience and is an immersive Colombia travel tour. Another fun choice is the Tour Parque Tayrona Cabo San Juan and it is made especially for avid hikers and people who enjoy nature. With Expotur, you can even have an intimate experience in the small coffee-producing town of Minca Sierra Nevada and get lost in the dense, lush vegetation.
Reviews on Expotur
Expotur has garnered thousands of positive reviews from international and local tour-goers with their authentic adventure tours in Colombia. Customer satisfaction is over 99% and they have earned a 5-star rating on TripAdvisor. Read this review from a past client:
"My wife and I undertook the 4-day trek to Crusaders Perdida with Expotur. Long story short- We had a wonderful time on this professionally led and physically exhausting hike." – Notdeadyet1
Magic Tour Colombia
Company's location and type: Santa Marta, Local Tour Operator
Awards, Certification: #10 of 140 Tours in Santa Marta
Reviews: 957 reviews on TripAdvisor 95% rated very good and excellent
About
Magic Tour Colombia is a contemporary Colombia tour operator that has its operations based in Santa Marta. This provider is dedicated to giving meaningful and enlightening, traditional tours that shed light on the deep culture and sacrality of the territories involved. They have an excellent assortment of knowledgeable guides that are ready to take you on the best adventure in terms of information Ethnocultural, Botanical, Archaeological and Ecological Walks.
Packages
You have many great opportunities to join one of Magic Tours tour packages to Colombia. They have a Lost City tour that allows you to discover some of the great secrets in the Sierra Nevada in the midst of the jungle. For an educational tour in Cartagena, there is the Historic City tour from Santa Marta.
You will learn about the history of the city from an experienced guide. For an experience in paradise, consider the Cabo San Juan tour and find yourself spending your time surrounded by the beautiful blue waters of the Caribbean sea. Another fun option is the Santa Marta City tour and sees the countless ecosystems around the oldest city in South America.
Reviews on Magic Tour Colombia
As one of the best package tours to Colombia providers out there, Magic Tour has earned almost 1000 reviews on TripAdvisor and has been given a respectable rating of 4.5 stars with 95% of reviews rating them as good or excellent. The company has positive feedback on Google, TripAdvisor, and others. See the positive review below:
"Wow. The trek was very well organized and the guides, Andrea, Sergo, and Rodrigo were excellent. They were knowledgeable about the plants, history, culture, people, and the lost city itself. The "talks" were not dry but full of humor and fun." – Lets_Go_Now91
Hansa Tours
Company's location and type: Bogota, Travel Agency
Awards, Certification: Certificate of Excellence on TripAdvisor
Reviews: 769 reviews and a 5-star rating on Tripadvisor
About
Hansa Tours is a Colombia tour operator that provides high-quality, exclusive tours out of the city of Bogota and elsewhere in the country. They pride themselves in using the best tour guides available that can guarantee your experience will be filled with learning and fun while keeping you safe and secure. They are dedicated to providing an authentic tour with your satisfaction being extremely important.
Packages
Have an unforgettable time in one of the Hansa Tours. One great option is their Colombian Coffee tour where you can visit a coffee farm and learn about how some of the best coffee in the world is produced. They also have a sightseeing tour in Bogota, Colombia that takes place at night in order to give you a different perspective of the city while enjoying the nightlife.
You can also invest your time into exploring one of the most interesting cities in Colombia, Santa Marta! This city was the first Spanish settlement in the country. The street food tour in Bogota is the perfect option for anyone who loves to eat amazing food and enjoy learning about a new culture.
Reviews on Hansa Tours
Hansa Tours offers great tourist services in many different areas of Colombia and each area they operate in is professionally run and highly acclaimed by past clients. On TripAdvisor, this Colombia tour operator has earned a 5-star rating with 769 reviews. Read this nice review left by a tourist who used their services:
"Had an excellent walking tour of Bogota with our tour guide, Maria. She had a lot of helpful information for first-time visitors and gave a personalized tour of La Candelaria and the nearby neighborhoods." – zpete725
Baquianos Travel & Adventures
Company's location and type: Santa Marta, Local Tour Operator
Year of establishment: 1989
Awards, Certification: 2017/18/19 certificate of Excellence By trip Advisor.
Reviews: 685 reviews on TripAdvisor 99% rated very good and excellent
About
Baquianos Travel & Adventures is a trusted Colombia tour company that offers a wide range of great experiences for you and your family and friends to enjoy. They have also been in the tourism industry for longer than any other option on our list and began their journey in 1989. The reason this provider has been in business for so long is because of the dedication they have to the satisfaction of their clients.
Packages
There are a number of authentic travel tour packages to Colombia available when choosing Baquianos as your provider. You can set out on the water and join the Nuqui Whale Watching tour and see one of the largest animals on earth in person. Their Colombia Lost City tour is a short 4-day trek that is perfect for avid adventurous and physically fit individuals.
Cocora Valley is the home of the largest palm tree in Colombia and the world and you can have the chance to see it as well as the rest of the beautiful Cocora Valley on a tour with Baquianos. There is also the option of visiting the northernmost portion of South America to see mountainous regions, salt flats, rainbow beaches, and more in the Punta Gallinas with Cabo de la Vela tour.
Reviews on Baquianos Travel & Adventure
This Colombia tour company has earned a lot of respect from people who have used them in the past, On TripAdvisor, they are #8 of 126 Outdoor Activities in Santa Marta and they also have earned a perfect 5-star rating with 99% of clients rating them as good or excellent. Read this comment made by a past adventurer who trusted them with their business:
"Hiking La Ciudad Perdida with Baquianos was such a great experience! The guide, Miller, took such excellent care of everybody in the group…" – Kenna T
LandVenture Travel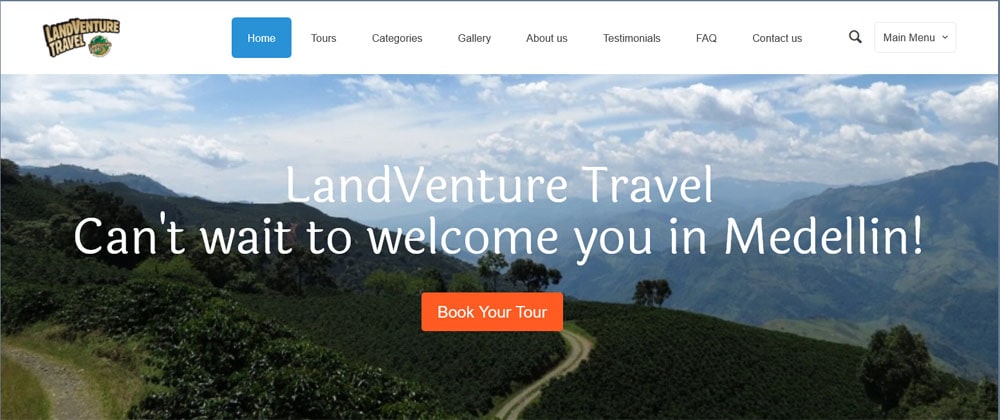 Company's location and type: Medellin, Local Tour Operator
Year of establishment: 2010
Awards, Certification: 2014/15/16 certificate of Excellence By trip Advisor.
Reviews: 449 reviews on TripAdvisor with a 5-star rating
About
LandVenture Travel is a tour provider that operates from Medellin. They have been a leader in authentic private tours and are much more reliable than many other Colombia tour operators out there. Since they specialize in private tours, you also have the option to completely personalize your adventure and they can guarantee you will not find more exclusive tours with anyone else in Colombia.
We specialize in private tours of Medellin and surrounding areas. From city tours (not just Downtown) to nature, cultural, coffee tours, and adventure tours, we offer fully customizable options that will suit your most personal preferences. LandVenture Travel offers exclusive tours that you won't find with any other tour operator in Medellin or Colombia.
Packages
One of the many reasons LandVenture Travel is one of the best Colombia tour companies is due to their extensive customizable tour package options. You could join the Colombia coffee tour in the Jardin region and learn about how and where they make one of Colombia's main exports. For another educational option, there is the Medellin Colombia tour on the Old Railway on bikes.
You will visit many historical sites while riding a bike by the tracks of the old Railway. The Rio Claro Adventure tour can have you white water rafting, ziplining, or exploring caves with the safety and guidance of a travel guide. There is a luxury tour to Colombia that is an overnight experience in Finca. Stay in a charming cottage in the west Andes and enjoy great food and Colombian culture.
Reviews on LandVenture Travel
With a 5 rating on trip advisor and over 1000 440 reviews, it is apparent that this Colombia tour operator is a high-quality operator that provides amazing service. LandVenture Travel also earned the certificate of excellence on TripAdvisor for three years in a row. Here you can see a review left from a recent customer:
"Highlight of our Colombia trip, beautiful region. Our guide Alejandro was an excellent conversationalist. Learned so much about the history of Medellin/Guatape. We got a real appreciation for the culture of the people" – jcramer88
Boats4U
Company's location and type: Cartegena, Local Tour Operator
Year of establishment: 2013
Awards, Certification: #14 of 205 Boat Tours & Water Sports in Cartagena
Reviews: 552 reviews on Trip Advisor 99% rated very good and excellent
About
Boats4U is a leading Boat tour provider out of Cartagena. They offer Colombia Luxury tours on the best yachts and luxury boats in Cartagena. With this company, you can expect to receive a truly unique experience. Its mission is to give clients an unforgettable experience in a gorgeous area of South America. You can turn your trip into a moment that will last forever.
Packages
Enjoy a vacation in style and luxury with one of Boats4U's exclusive tour packages in Cartagena. The Romantic Sunset Tour is your chance to enjoy a beautiful sunset on the water with your partner, friends, or family. Another Sunset tour is Sunset on The Bay where you can have a peaceful evening experience in front of Tierra Boba island as the sun goes down.
For a more action-filled tour, you can also do water sports and snorkeling tours in Cartagena Colombia. You can also enjoy a fishing experience tour in the Caribbean sea on one of their luxury boats. While fishing, you can expect to catch anything from Sawfish, Snapper, and Marlin.
Reviews of Boats4U
Boats4U has earned high praise from hundreds of past clients. Out of 552 reviews on TripAdvisor, 99% rated them as good or excellent. They also have been awarded the certificate of excellence and you can read what a recent customer had to say about this Colombia tour operator:
"I couldn't recommend this private boat trip any higher. Our crew (Edin & Luis) and guide (Andres) were first-class from start to finish. The islands are beautiful and the lunch spot was excellent." – Paul
Sibarita Del Mar
Company's location and type: Cartagena, Local Tour Provider
Awards, Certification: #11 of 205 Boat Tours & Water Sports in Cartagena
Reviews: 476 reviews on TripAdvisor 99% rated very good and excellent
About
Sibarita Del Mar is a Colombia tour operator offering luxury tours on the peaceful waters of Cartagena. This provider offers a high level of quality service and you can enjoy a beautiful sunset or the midday views with your loved ones or friends while also indulging in a delicious meal. They offer daily tours and are accepting of many party sizes.
Packages
If you would like a one-of-a-kind experience on the water with a trustworthy Cartagena Colombia tour company, try Sibarita and you will not regret it. Try out their Dinner Cruise on the Sibarita Express and spend the evening watching the sun go down with a nice meal and drink. The Sibarita Sport cruise is an amazing Cartagena Colombia private tour and you can book it for a work event, wedding, your family, or with friends.
Another luxurious option is the Sunset Cruise and is meant to give you a chance to fully appreciate the sunset over Cartagena de Indias' Bay. For a short, enjoyable option you can drive around the bay on a quick ride in the Sibarita Express with a small group of family or friends.
Reviews on Sibarita Express
This tour company in Colombia has an exemplary track record for great service, proven by a 99% rating of good or great on tripadvisor. with 00 positive reviews. They have earned a 5-star rating and are also ranked #11 of 205 Boat Tours & Water Sports in Cartagena and you can see from this review that they provide a high level of service:
"Wow! Wow! Wow!! The sunset cruise was amazing from beginning to end!!!!! Not only were there beautiful views and sunsets…… – NiaBlack
Duran Duran Tours
Company's location and type: Cartagena, Local Tour Operator
Year of establishment: 2011
Awards, Certification: #2 of 123 Transportation in Cartagena
Reviews: 5-star rating and over 486 reviews on TripAdvisor
About
If you want a guaranteed great experience during your Cartagena tour, you can count on Duran Duran Tours. They have been in the tourism industry for over 20 years and have a very knowledgeable staff who are fun and want you to have an amazing time with a trusted Colombia tour operator. One of their primary concerns is your full satisfaction.
Packages
You will have an incredible time laughing, learning, and enjoying a new culture with one of Duran Duran's Colombia tour packages. If you want to get your hands dirty and try some new foods, look into the Cooking Class & Bazurto tour in Cartagena. In Duran Duran's in-depth walking tour of Cartagena Colombia, you will see old churches, temples, and shrines around the beautiful city.
If you would like to see more of the city in a quicker amount of time, you can join the Bike Tour for a three-hour adventure in Cartagena. This provider also has Private tours in Cartagena Colombia or a more personalized experience filled with lasting memories.
Reviews on Duran Duran Tours
Duran Duran Tours proudly possesses a 5-star rating on TripAdvisor. Out of the 486 reviews they have received. 99% rated them as good or excellent and they have also earned the rank of #2 out of 123 Transportation in Cartagena. Here is one comment left by a satisfied customer:
"I booked Duran Duran for my group of 14 and it was an AMAZING day. We did the City Tour and also a walking tour of Getsemani…- stacy662
Cartagena Boat Charters
Company's location and type: Cartagena, Local Tour Operator
Awards, Certification: #1 of 375 Tours in Cartagena
Reviews: 93 reviews on TripAdvisor with 5-star rating
About
Cartagena Boat Charters is the best Colombia tour operator offering boat tours on our list. When you are booking with Cartagena Boat Charters, you do not have to worry about taking care of anything, they have you covered. They specialize in offering private boat tours and a rate comfortable for any budget and you can take a chance with them to see why every review of them is positive.
Packages
Being out on the water in a Colombia tour is an incredible experience that will last a lifetime and Cartagena Boat Charters has the package that's right for you. On the island tour, you will plan an 8 hour day where you will be traveling to different islands in the sea. The sunset Cartagena Colombia tour is an evening of serenity filled with great wine, cheese, and sailing around the bay on a luxury boat.
Avid fishermen can also get their fill and join the fishing excursion. Cartagena boat Charters have paired with experts in the industry so you can have the best chances of breaking your fishing records! You can also dive deep and see coral reefs and hundreds of beautiful species of fish with the guidance of a professional diver in the Scuba Diving Colombia tour package.
Reviews on Cartagena Boat Charters
On Tripadvisor, this tour company in Colombia has never received a negative review and this is impressive with almost 100 different submissions. They also have proudly earned the #1 spot of 375 Tours in Cartagena. You can see what someone has said about the company here:
"Easily the best choice for boat tours in Cartagena! The booking was easy and accessible, they came to our Airbnb to set it up and plan it out, and then the day of we was taken care of wonderfully. " – Aiken0
In Conclusion
This top 10 Colombia tour operators list has been compiled with the intention of educating and assisting you in your search for the best tour provider in Colombia. If you would like to make a trip to Colombia and immerse yourself in the culture through an authentic tour experience, please use this list to help you in your search.
Once you have traveled to Colombia, we would be thrilled to hear back about your journey. If you have gone on a tour with one of these companies in the past, send us a message and let us know how it went!
Honorable Mention
Related Links