Have you been dreaming about a fun filled tour in Ecuador? Would you like to have the opportunity to live the island life and see beautiful sights along the way in the Galapagos? Would you like to have an Ecuador tour experience while being guided by a professional and honest tour agency guide?
When you visit Ecuador, you will be taken aback by its beauty and friendliness. The country is mostly famous for the Galapagos Islands and the high quality goods that they export. While travelling in Ecuador, you can have the chance to visit the Galapagos by boat and explore all that it has to offer. You could also visit the capital city of Quito and learn vast amounts about the indigenous people of Ecuador. No matter where you decide to have an amazing tour, your trip will be well spent and you can expect to be taken on the adventure of a lifetime
After you decide on a tour in Ecuador, your next step is finding the best tour guide possible and this is not an easy task. Once you begin to look into different Ecuador tour companies, you will find out that you have a large list of options to choose from. Vetting and researching all of these choices is a large investment of your time and in the end, you may select a bad company and lose out on your time and money. We want your tour to be filled with adventure, fun, and no regrets!
We firmly believe that without proper research, you could inadvertently spend thousands of dollars on a lackluster tourist experience in Ecuador that will provide less than acceptable service at high rates. Due to these concerns, we have researched and put together the perfect guide that goes over the top 10 best tour operators in Ecuador out there!
Here is an unbiased list of the Top 10 most reputable Ecuador tour operators.
Providers
Package
Reviews
Biking Dutchman
One day bike tour
Two day Bike Tour
Trip Advisor – 571 reviews
Happy Gringo Travel
DISCOVER THE ENCHANTED ISLANDS
BAÑOS HIGHLIGHTS Tour
Trip Advisor – 566 reviews
CarpeDM Adventures – Day Tours
Quilotoa 1 day Hike
Quito Free Walking Tour
Trip Advisor – 533 reviews
Ecuador Freedom
Andes, Amazon & Pacific Guided Tour
Inca Royal Roads Guided Tour
Trip Advisor – 492 reviews
Rebecca Adventure Travel
HALF DAY QUITO CITY TOUR
3 DAY MASHPI CLOUD FOREST
Trip Advisor – 469 reviews
Ecuatraveling
QUILOTOA CRATER LAKE DAY TOUR
CHIMBORAZO BIKING DAY TOUR
Trip Advisor – 433 reviews
Community Adventures
Galápagos Islands
Floreana Island Day Tour
Trip Advisor – 410 reviews
Guiding Galapagos Expeditions
Galapagos Ocean breeze
Discovery Galapagos
Trip Advisor – 365 reviews
Galapagos Alternative
Galapagos Hiking
Galapagos Snorkeling
Trip Advisor – 349 reviews
Eagleray Tours
Bay Tour
South Plaza
Trip Advisor – 335 reviews
Table update Jan 22, 2021
Biking Dutchman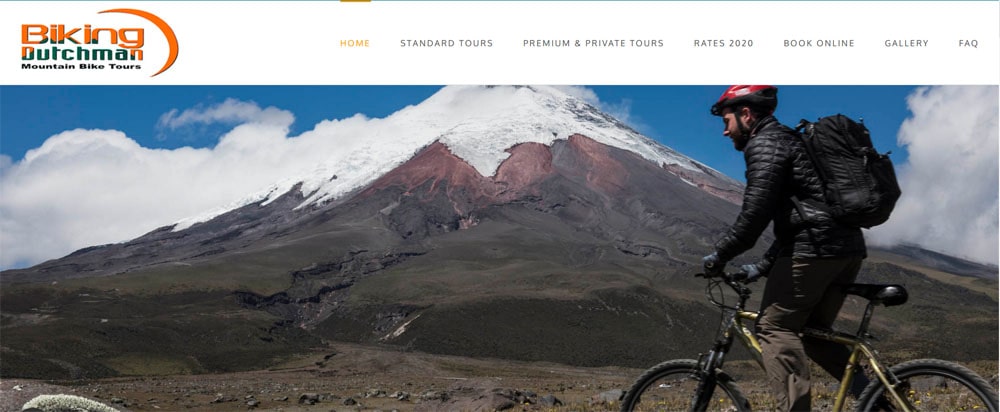 Company's location and type: Quito, Local Tour Operator
Year of establishment: 1991
Awards, Certification: Ranked #12 out of 194 in Outdoor Ecuador Activities
Reviews: 571 reviews on Trip Advisor 99% rated very good and excellent
About Company
The Ecuador tour company, Biking Dutchman offers the top quality in mountain biking tours and has done so for almost 30 years! They have a huge track record of great service and outstanding tour options, making Biking Dutchman the top tour company on our list. Biking Dutchman are dedicated to providing you with a memorable experience during your time in Ecuador.
Packages
Due to the long length of time the company has been in operation, their tour packages are very well designed and they have the perfect option for you.
The One day bike tour is a great way to spend your Friday or Saturday while in Ecuador. You can choose from a wide selection of trails and bike up and down mountains, valleys, and other amazing places. Biking Dutchman also offers two-day mountain bike tours in Ecuador. In the two-day tour, you can bike through the Cotopaxi-Quilotoa, Cotopaxi-Chimborazo, or Mindo-Mashpi as you carve the dusty trails. Your third option is a private biking hiking tour in one. This is the perfect opportunity to have a fast-paced tour and end it slowly while taking in the nature around you. You also have the option to extend your Bike and Hike tour to three days and two nights as well as other customizable options for private tour packages in Costa Rica.
Reviews on Biking Dutchman
Biking Dutchman has been around for a long time and over the years, they have provided top-notch Ecuador tours in a professional, affordable, and fun way. The reviews on Tripadvisor speak for themselves. Here you can see what someone else has said about going on a tour with Biking Dutchman:
"The biking was super fun on Cotopaxi, but we lucked out with getting the Biking Dutchman himself. The drive to Cotopaxi listening to his stories would have been worth it for me alone. One of the most interesting people I've ever met." – Peench
Happy Gringo Travel
Company's location and type: Quito, Local Tour Operator
Awards, Certification: Rated #1 out of 194 Outdoor Activities in Quito
Reviews: 566 reviews on Tripadvisor 99% rated very good and excellent
About Company
Happy Gringo Travel is a large tour company that has stellar reviews and is highly recommended on several trusted review platforms. They pride themselves on their wealth of experience with providing Ecuador tours, private tours, and custom tours. Happy Gringo also provides these tours at an extremely high value. They do their best to keep costs at an affordable level while providing the best quality service that they are most known for.
Packages
Touring with Happy Gringo Travel will not leave you short of package options. You can have private tours, customized tours, last-minute deals, and so much more.
You can start your Ecuador adventure by going on the Enchanted Lands discovery tour. In this unique Ecuador tour package, you can pick your ship, your time, and route as you visit and sail by the beautiful Galapagos Islands. Another option for you is the Amazon Rainforest Experience. On this exciting tour through the Amazon, you will explore the dense jungle on the river in a trusty kayak. On the Banos highlights tour, you will be doing many exciting activities. Horseback riding through the jungle, hotsprings, spectacular waterfalls, and more. You could even go on an Ecuador trekking tour and be taken up the famous Quilotoa trail while seeing the highest volcano in the world.
Reviews on Happy Gringo Travel
You are guaranteed a great experience with this top Ecuador tour company and as you can see by their great reviews on tripadvisor, this company knows the business and how to provide great tours. They have five-star ratings on lonely planet, and Tripadvisor. See this review from a past client:
"Priscilla with Happy Gringo was very helpful in planning our recent trip to Ecuador. My son and I visited Huasquila Lodge in the Tena region of the Amazon, and also went on a cruise in the Galapagos on the Eco Galaxy II (Galagents Galapagos Cruises)…" – RGDseattle
Carpe Diem Adventures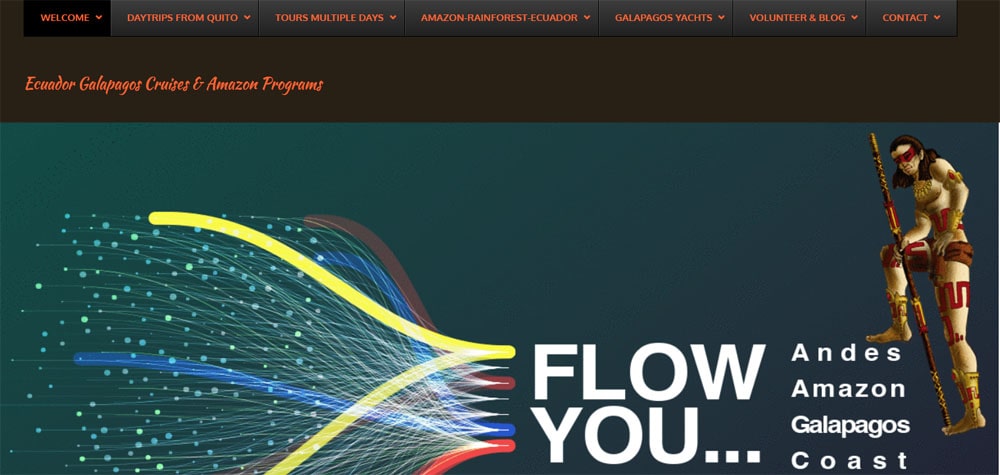 Company's location and type: Quito, Local Tour Operator
Year of establishment: 2007
Awards, Certification: Ranked #4 out of 32 attractions in Cuiaba
Reviews: Over 210 reviews on TripAdvisor 99% rated very good and excellent
About
Carpe Diem Adventures is a top Ecuador tour company and proud of its commitment to the environment, community, and great tours. Every person that books with them will be treated like family and your time spent touring with Carpe Diem will be relaxed, fun, and stress-free. This company is full of pros in the tourism industry and has a knack for providing great services. 3% of all profits go directly into local community programs.
Packages
Carpe Diem Adventure tours specialize in Galapagos cruises and jungle tours. They have a program suitable for anyone's desires and you can find information on several packages below:
The Quilotoa 1 day hike is a day filled with exciting activities to enjoy. For only $50, you can visit the indigenous market, Emerald lake, a volcano, and more! You could also opt for an even cheaper option within Quito. The Quito, Ecuador Free Walking tour is tip-based and the knowledgeable guides will take you around the city, showing you all the great sites. The Banos 1 day tour is another fantastic option in Ecuador. This tour takes you on a drive through ancient waterfalls and rides beside the foothills of a massive volcano. You also have a wildlife option with Carpe Diem Adventure tours. The Napo Wildlife Ecuador tour center package accommodates you deep within the Amazon and you can enjoy the sounds of nature while you relax in paradise.
Reviews on Carpe Diem Adventure Tours
Tripadvisor has over 540 stellar reviews on Carpe Diem and each day they continue to provide 5-star quality tours to many satisfied travelers. See the positive review below:
"We did the Quilotoa Crater tour with CarpeDM and we highly recommend it. A great guide, driver, and our experience exceeded expectations…CarpeDM" – Megan M
Ecuador Freedom
Company's location and type: Quito, Travel Agency
Year of establishment: 2009
Awards, Certification: 2014- 2018 certificate of Excellence by trip Advisor.
Reviews: Over 492 5 TripAdvisor reviews, 99% great or excellent.
About
Ecuador Freedom is a unique company that offers a wide range selection of motorized tours. The company has designed its tours to give tourists the chance at getting off the beaten path to explore beautiful areas of Ecuador. They cater to patrons of all backgrounds and will gladly work with all price points so that you can have the South American Experience of a lifetime. Their track record of great service through over a decade is enough in itself to convince you that Ecuador Freedom is a top Ecuador tour company.
Packages
Ecuador Freedom offers the best-motorized tour programs and has plenty of options to choose from.
The first package option will take you through a tour of the Andes, Amazon & Pacific! You will be seeing so many amazing sights including waterfalls, mountains, animals, and volcanos. Your second route is the Inca Royal Roads. These roads were built in the times of the Incas and are an incredible experience to explore where the Incas once ruled. Another cool tour opportunity in Ecuador is a Self Guided Ecuaduro Enduro Adventure tour. For this tour, you will be on your own with rented vehicles and you will have the freedom to explore Ecuador on your terms while respecting the laws. Another self-guided option is the Dirt Deluxe Self-Guided Tour in Ecuador. This tour will take you on a gorgeous journey through the Andes in locations very isolated and away from many tourists.
Reviews on Ecuador Freedom
Ecuador Freedom is #3 out of 194 different tour operators in Ecuador providing great tours in Ecuador. Your money will be well invested in a tour that will last you for a lifetime. Tripadvisor has over 492 reviews for them and 5 stars. Read this review left by a past tourist:
"The trip was awesome! The Hotel's were great. The bikes are very nice. The only complaint is the gps system is very outdated which made navigation difficult at times" – Steven
Rebecca Adventure Travel
Company's location and type: Quito, Local Tour Operator
Reviews: 469 reviews on TripAdvisor 99% rated very good and excellent
About
Rebecca Adventure Travel has a philosophy and it is to create authentic & adventurous experiences for every world-minded traveler. All tours are hand-selected by the owner and each trip is catered to your needs and preferences, making for an ultimately unique and authentic tour experience. This Ecuador tour company guarantees will be available 24/7 during the entirety of your tour. Staff for this company is very well trained and knowledgeable and you are in good hands. Their spectacular reviews on TripAdvisor speak volumes about this.
Packages
Rebecca Adventure Travel offers programs throughout Ecuador and also in Colombia and Peru. You can find exactly what you have been dreaming of with this great tour operator.
The 16 day Ecuador Adventure tour is one of many options with Rebecca adventure Travel and will have you climbing the andes, exploring the Amazon, and island hopping in the Galapagos. A much shorter and still very fulfilling tour is the half day Quito city Tour. A seasoned guide will take you to the best tourist spots around Quito. You could also spend your time on a 3 day Mashpi Cloud Forest tour! You can spot exotic animals and explore the dense jungles of the Amazon while on a very informative tour with a great guide. Another great tour provided by Rebecca Adventure Travel is the 6 day Hiking tour in the Ecuadorian Andes. This Ecuador tour package is perfect if you would like to explore the Andes on foot. You will also hike to the highest volcano in Ecuador on this tour!
Reviews
With over 450 great reviews on Tripadvisor, touring with Rebecca Adventure Travel is a great investment into an amazing trip in Ecuador. Here you can see proof of this by reviews such as this one:
"Quito is a great start to your trip to Ecuador. And even better when doing this with an amazing guide who explains you everything about the city…- Miran
Ecuatraveling
Company's location and type: Quito, Local Tour Operator
Awards, Certification: #7 out of 194
Reviews: 432 reviews on TripAdvisor 99.6% rated very good and excellent
About
Ecuatraveling is a well-organized Ecuador tour company. They offer great tours of the Galapagos, Colombia, and Peru. One of their main selling points is the affordability of their packages. Ecuatraveling has opportunities for you to explore the Amazon on a paddleboard, dive with sea turtles, and so much more. Tripadvisor has them rated as #7 out of 194 in all of Quito for outdoor activities.
Packages
Ecuatraveling offers one of the top tour package choice selections in all of Ecuador and you have more than enough to choose from.
Your first tour option is the Quilotoa, Ecuador Crater Lake Day Tour. It is a one-day tour that will take you to the most popular and aesthetic lakes in Ecuador. You will also visit the surrounding villages. You could also go on the 10 day Galapagos and Amazon adventure tour! It combines a ship ride cruise through the Galapagos and a guided tour through the Amazon. The next option for you is the Chimborazo Biking Day tour in Ecuador. This tour is great if you would like to spend a day seeing many different sites in a short time. You will explore the fascinating area of Chimborazo. For a unique and diverse experience, Ecuatraveling also offers a program where you can tour Machu Picchu and the Galapagos! An incredible chance to see a world-renowned site and ecological wonders in one go.
Reviews
As a five-star rated company on Tripadvisor, Ecuatravelers is an upstanding Ecuador tour company with many great programs to offer. Here is a review that the company received recently on TripAdvisor:
"I highly recommend Ecuatraveling! They were so kind and professional and their customer service went above and beyond. I took their day tour to Mindo from Quito and had a great time." – Elaine M
Community Adventures
Company's location and type: Quito, Local Tour Operator
Awards, Certification: #2 out of 37 for food and Drink in Quito
Reviews: 410 reviews on TripAdvisor 95% rated very good and excellent
About
Community Adventures wants you to know that they are constantly striving to bring you top-notch adventures! With over 20 years of combined experience in providing tours in Ecuador, they want you to make unforgettable memories while having a great time. Community Adventures has many reviews on Tripadvisor that praise their prices and quality tours.
Packages
Community Adventures specializes in bringing you the best tours at the highest quality and they have many options to choose from.
The Galapagos Islands tour, organized by Community Adventures, is one of their most popular choices and is a great choice for budget-conscious tourists. Floreana Island Day tour is a beautiful tour package that will bring you on a speedboat to spend the day on a paradise island. You could even have a great frugal day on a free walking tour in Quito. A professional guide will take you all around the most historical parts of the city! For the more outdoorsy tourists, Community Adventures has the Ecuador Cuyabeno Jungle Tour. This tour will give you the chance of swimming in a lake in the middle of the Amazon rainforest.
Reviews
The number of satisfied clients that have experienced tours with Community Adventures speaks volumes for the quality you will receive. You can see for yourself the many stellar reviews this tour operator in Ecuador has received on tripadvisor. Look at this positive review:
"This is an incredible tour, the 3+ hours just flew by. Antonio our guide was very connected to the community and did a great job imparting his knowledge, insights, and pride in the community and its history…- Emily and Paul
Guiding Galapagos Tour

Company's location and type: Puerto Ayora, Travel Agency
Awards, Certification: Ranked #1 out of 66 in Puerto Ayora for tours
Reviews: 365 reviews on TripAdvisor 95% rated very good and excellent
About
Discover one of the most important and rich marine ecosystems in the world with Guiding Galapagos Expeditions! Swim with thousands of fish, see new animals, and have the ultimate adventure in trusted hands. This Ecuador tour company has helped hundreds of happy customers to explore some of the prettiest areas of the Galapagos. The company is merely a year old and has successfully established itself as a go-to for people visiting the town of Puerto Ayora. Their goal is to offer comprehensive travel plans at any budget point. Book with Galapagos Expeditions for a guaranteed great time in the Galapagos.
Packages
Guiding Galapagos Expeditions exclusively operates within the Galapagos so you can trust that your trip to the Islands will be guided to perfection.
Galapagos Ocean breeze tour will take you on a boat through to Sante Fe Island, other beautiful areas, and a hidden beach! This is an exciting opportunity for anyone. You could also try the Galapagos Discovery tour. This lengthy 10-day tour creates an opportunity for you to see all that the Islands have to offer. Scuba diving, secret locations, and great food are all a part of this tour package. There is also a Galapagos Experience tour that you can book with Guiding Galapagos. A part of this tour is a kayak portion, seeing a volcano, and even witnessing lava tunnels. The best of Galapagos tour is a great option for you if you would like to hit all the most popular spots for a well-rounded adventure in the Islands.
Reviews on Guiding Galapagos Expeditions
You can see on tripadvisor that this travel agency in Ecuador is very new and yet already has claimed the #1 spot in all of Puerto Ayora. They have great ratings and promise to provide you with an unbeatable experience. Past clients have a lot of kind words to say and you can read what one person said:
"We loved every part of our experience with Guiding Galapagos. Our flight from London got canceled so our itinerary had to be rearranged, but the GG team were very helpful and flexible in making everything work for us…- Craig
Galapagos Alternative
Company's location and type: Puerto Ayora, Local Tour Operator
Awards, Certification: Rated number 2 out of 66 tour operators in Puerto Ayora
Reviews: 5-star average rating and over 350 reviews on TripAdvisor
About
Galapagos Alternative offers a different kind of Galapagos tour. They rely on a land-based island-hopping strategy to get their clients up close and personal with the locals, animals, and nature throughout the islands. You can have the power to choose your destinations and activities based on your preferences. Each tour is highly customized and offers many options like snorkeling. They treat all of their guests like family and you can depend on their great service based on reviews. This Ecuador tour company is one of the best Galapagos exclusive tour operators in Ecuador.
Packages
Galapagos Alternative tours offer you many package choices and highly adaptable programs to fit your needs.
There is a very unique tour named the Slow Food Galapagos Conscience Travel tour and it involves learning the traditional ways that the new Galapagos settlers are using to grow food. This Ecuador tour package encourages local projects! You could join a Galapagos Hiking tour too. Galapagos alternative will bring you to multiple uninhabited islands of your choosing and guide you along hiking routes. Galapagos Snorkeling is another fun-filled option that will let you see thousands of fish and coral under the blue sea. You can even hike Machu Picchu or get there by train on a full guided Ecuador tour with Galapagos Alternative.
Reviews on Galapagos Alternative
Ranking number #2 out of 66 in all tour operators in Ecuador within Puerto Ayora is an amazing achievement and it represents the commitment the company has to provide great service while creating a comfortable atmosphere with clients. You can also see a review on tripadvisor left by a satisfied customer:
"As others stated, this was a trip of a lifetime for us. Every day added a new adventure on top of the previous days. Highlights for us were snorkeling the tunnels, Kicker Rock, North Seymour, and Bartolome…- Cheryl
Eagleray Tours

Company's location and type: Mendoza, Travel Agency
Awards, Certification: Awards – 2014/15/17/18/19 certificate of Excellence by Trip Advisor.
Reviews: 335 reviews on TripAdvisor with4.5 star rating
About
Eagleray tours specialize in providing diving tours and diving courses to tourists and locals. They offer other tour packages as well including Daily trips, island hopping tours, and cruises. Touring with Eagleray is a chance at swimming with hammerhead sharks! The company is also well established and holds high reviews on websites like trip advisor. They are highly ranked in Puerto Ayora and hold the #7 positions out of all 66 tour operators in that location. You can have a unique and exciting adventure while touring with Eagleray and we encourage you to give them a try. Eagle ray tours is one of the Ecuador tour companies.
Packages
Eagleray tours Golondrina Yacht 8 days / 7 nights tour is a great option for the more luxurious client. If you would like to sleep like royalty while exploring the islands, this is a great tour. You could also opt for the 8 day and 7 night Ecuador island hopping tour. This option will take you to multiple islands and allow a chance to explore each individual location you dock on. The South Plaza Ecuador package tour takes you to an island formed by molten magma that has cooled. It is one of the most wildlife-dense areas and also one of the smallest in the Galapagos.
Reviews on Eagleray Tours
The company has proved itself as a top contender for the best tour operator in Ecuador. They even won the certificate of Excellence by Trip Advisor for 5 years in a row! Here is a recent review left on their tripadvisor page:
"I took my diving certificate at Eagleray Tours. The instructors and staff are super professional and they are fun…" – Mathius
In Conclusion
This top 10 list has been compiled with the intention of educating and assisting you in your search for the best tour company in Ecuador If you would like to make a trip to Ecuador and immerse yourself in the culture through tour experiences, please use this list to help you in your search.
Once you return from Ecuador, we would be thrilled to hear back about your journey. If you have gone on a tour with one of these companies in the past, send us a message and let us know how it went!
Honorable mention
Related Links