Would you like to spend some quality time in Chile, dining on all of the famously tasty foods the country has to offer? You could even explore the diverse landscapes throughout the country and even see penguins! Do you want to have the experience of a lifetime while staying safe, and in the know with the guidance of a top rated Chile tour companies?
One of the best reasons to visit the beautiful country of Chile is its excellent food and drink. You can also find a multitude of amazing vistas like the Atacama desert. The country is also home to penguins and is the only South American country where this naturally occurs. Your time spent touring the beautiful country of Chile will bring you memories that will last you a lifetime. The people you meet and experiences you have will create a unique trip for you. There are many opportunities to join in on the nightlife, experience city tours, and other fun excursions while touring Chile.
Investing your time and hard earned money into a fun tour in Chile can be a complicated matter without the right information. As you start your search for companies offering tour services, you will see hundreds of options. This is an important investment and the company you choose to give your business to should be able to provide you with a top notch experience. The last thing we want is for you to go with the wrong company and be stuck with a lack luster experience and a feeling of wasted time.
You may end up paying thousands of dollars to a company who is unable to provide you with a unique and authentic tourist experience in Chile. For the above reasons, we have created this all in one guide to the top 10 tour companies in Chile. Everything you need to know is found below!
Here is an unbiased list of the Top 10 most reputable Chile tour operators.
Providers
Package
Reviews
Stamp's Tour
City Tour of Santiago de Chile
Casablanca Valley, Wine Tasting Tour
Trip Advisor – 1,394 reviews

La Bicicleta Verde
Santiago Highlights City Bike Tour
Private Santiago Human Rights Tour
Trip Advisor – 1,681 reviews

AndoAndes – Day Tours
ANDES DAY VOLCANO 8K
Condor Canyon Hike 10K
Trip Advisor – 1,013 reviews

Indo Pro Chile
Santiago City Tour
Viña Undurraga – Tour Tradicional
Trip Advisor – 973 reviews

Destino Chile
Embalse & Cascata el Yeso
3 Dias – Wine Lovers Basic (verão)
Trip Advisor – 961 reviews
Spicy Chile Tours
Free Walking Tours
Private Tours
Trip Advisor – 679 reviews
Gray Line Chile
Santiago City Tour &
Metropolitan Cathedral
Concha y Toro Wine Experience
Trip Advisor – 405 reviews
Chile Dream Tours
Santiago City Landmarks walking tour
Ski The Andes
Trip Advisor – 249 reviews
Chile Off Track
Horseback Riding
Andes Day Hike
Trip Advisor – 287 reviews
Chile Explorer
City Explorer Tour
Combo Wine Lover
Trip Advisor – 705 reviews
Table update Jan 20, 2021
Stamps Tour
Company's location and type: Santiago, Local Tour Operator
Awards, Certification: #26 of 375 Outdoor Activities in Santiago
Reviews: 1395 reviews on Trip Advisor 96% rated very good and excellent
About Company
Stamps tour is a company offering detailed and fun tours within Chile. They are located in Santiago and you can expect a great deal of privacy and dedication to you as a customer. Stamps have a proven track record of being flexible with your schedule and needs as well as giving the highest level of authenticity possible. At the end of the day, their goal is for you to have an unforgettable time with one of the best Chile tour companies.
Packages
Stamps Tours offers popular and interesting tours across the country and you can have the chance to participate in one of their famous tours.
Their San Antonio Port Cruise Tour to Valparaiso and Casablanca Valley is a great option if you would like to wine and dine in luxury while seeing the sights in style. You could also join the Full-Day Tour of Valparaiso Port and Viña del Mar from Santiago to see a lot of ships and learn about the historical background of the area with a knowledgeable guide. Another fun option that is fitting for the whole family is the City Tour of Santiago de Chile. Get ready to see the most popular sites in the city and eat great food. For adult tourists who want a truly authentic Chilean experience, there is the Casablanca Valley, Chile Wine Tasting Tour. Visit a vineyard and try many great-tasting wines and learn a lot of history about wine culture.
Reviews on Stamps Tours
Stamps is one of the best tour companies in Santiago and they have a large number of positive reviews on tripadvisor. You can feel at ease when deciding on a company that has helped thousands of tourists have an incredible experience while touring in Chile. You can read the review posted below while considering this tour operator:
"I would recommend anyone taking this tour to book an official tour rather than attempting to travel from Santiago by normal bus…- DerekSim
La Bicicleta Verde
Company's location and type: Santiago, Local Tour Operator
Awards, Certification: #20 out of 231 food and drink tours in Santiago
Reviews: 1681 reviews on Tripadvisor 99% rated very good and excellent
About Company
The main reason that La Bicicleta was established has always been to become the #1 green tourism company in all of Chile. They want to connect tourists like you to memories that will last a lifetime. La Bicicleta wants you to help save the world and experience Chile, one bike ride at a time. Another part of their mission is to change the way that other people view the country and cities that Chileans call home. As of now, Santiago is more of a passing-through city and Bicicleta wants it to become a popular tourist destination.
Packages
You have many choices in location and packages when you book a fun-filled tour with La Bicicleta Verde in Santiago.
The Santiago, Chile Highlights City Bike Tour is the perfect tour choice if you are interested in learning more about the beautiful city of Santiago and see historical parts of the city. You could book a Private Santiago Human Rights Tour and be catered to during your full-day tour of Santiago. A private guide will show you the best parts of Santiago. For a unique adventure through the city, you can join in on a Private Santiago Chile Night Bike Tour and experience the city in a different view while seeing the nightlife. If you are interested in a relaxing day of sipping on wine and exploring the beautiful Maipo Valley, consider booking a Wine Tour with La Bicicleta.
Reviews on La Bicicleta Verde
La Bicicleta is a top-rated Chile Tour Company. It is very confident in its service and gladly provides 100% satisfaction as well as a 100% refund policy. They have 1681 reviews on tripadvisor and have a 99% approval rating. Read this review given by a past client:
"We had a wonderful bike tour with Stefano and it was the highlight of our stay in Santiago. Really enjoyable, safe, and informative…- Tashanatasha
Andy's Day Tours
Company's location and type: Santiago, Local Tour Operator
Year of establishment: 2004
Awards, Certification: Awards – 2015 certificate of Excellence By trip Advisor.
Reviews: 1013 reviews on Trip Advisor 99% rated very good and excellent
About
For over 10 years in Chile, Andy's day tours have been providing the highest quality nature experiences for tourists in the Maipo Valley area. They operate year-round and are proud to be ranked #7 out of 375 outdoor activity options within Santiago. If you want an unforgettable Chile Tour experience with one of the best companies available, look no further.
Packages
If you are searching for an adventure-filled tour with a top-rated tour operator in Chile, then you have come to the right place.
You could be climbing up the Andes mountains on a magnificent day-long tour on the volcano. It is an 8-kilometer hike so come prepared to move around for a long time. Another adventurous tour option with Andy's tours is the Condor Canyon Hike 10K. This is a grueling expedition led by highly trained and experienced guides. Within Chile, there is a beautiful national park and it is known all across the world. You can hike La Campana national park on a 12k private Chile tour and receive a once in lifetimes opportunity. There is also an ocean-side tour option where you can find yourself hiking alongside the pacific ocean.
Reviews on Andy's Day Tours
As one of the most popular Chile tour companies, Andy's Day Tours holds its own and maintains stellar reviews on multiple trustworthy platforms. The company has positive feedback on Google, TripAdvisor, and others. They are ranked #7 out of 375 and have been awarded the certificate of excellence by tripadvisor. See the positive review below:
"We took the Volcano hike and hot springs guided tour. We were picked up at our hotel and stopped on our way to the volcanic area to get breakfast. Afterwards…" – Drbeth2015
Indopro Chile

Company's location and type: Santiago, Travel Agency
Awards, Certification: #6 out of 375 in Santiago Tour Companies
Reviews: 973 reviews and a 5-star rating on Tripadvisor
About
Indo pro-Chile is a tour operator in Chile that provides exclusive travel packages to travelers from all across the world. Their company is passionate about the country they live in and are excited to share the geography of Chile with you. Each and every tour they embark on is treated as if it is the first time they have visited the location and you will always get a memorable experience. The goal is to provide a tour that transforms the tourist into a partner and that you are a part of the challenge. With over 950 reviews on TripAdvisor, Indo pro is an amazing Chile tour company.
Packages
No matter what you are interested in or when you would like to explore, Indo Pro Tours has the perfect travel package for you.
The Santiago Chile City Tour package is a great way to safely explore the quaint city of Santiago while learning about its history from a trustworthy guide. Your trip can be adjusted to fit your needs. If you are interested in learning about Chilean wine culture then look no further and book your Chile tour package in the Viña Undurraga – Tour Tradicional. You will spend the day exploring the vineyard and tasting fine wines. Have the Andes been calling your name? You could be spending the day trekking to a rural house within the Andes and explore a beautiful area of Chile in the Casa en los Andes tour.
Reviews on Indo Pro Chile
Indo Pro Chile offers top-of-the-line tourist services in many different areas of Chile and there are plenty of fun options to choose from that other customers have raved about. Indo Pro has been ranked #6 out of 375 different tour operators in all of Santiago and you can read this review on tripadvisor left by a past tourist:
"Being a small group in every excursion, the attention, the information and the experience make it the time richest than another enterprise…" – Arsenalroy
Destino Chile
Company's location and type: Santiago, Local Tour Operator
Awards, Certification: 2018 /2019 certificate of Excellence by Trip Advisor.
Reviews: 961 reviews on Trip Advisor 99% rated very good and excellent
About
Destino Chile was created and founded by two adventurous ladies from Chile and their mission is to bring you the highest quality tours available. Their long background of adventuring and exploring gives them a unique ability to create remarkable tour experiences for people like you. They have received the certificate of excellence on TripAdvisor two years in a row and deserve to be one of the best Chilean tour companies.
Packages
One tour package you can embark on is the Embalse & Cascata el Yeso tour. This massive water reservoir is filled with turquoise water and is the perfect destination year-round. There is a three day Chile wine lover's basic tour and you could join this tour with some friends for the perfect vacation. Drinking wine and enjoying the views is the perfect way to spend your time. You could even participate in the City Tour of Contemporâneo and learn about the ancient history of its people and buildings with the assistance of an intelligent and experienced guide. One exclusive, Chile luxury tour option is the Happy in the Sky experience. You can join a date or a group to the perfect view, hundreds of meters in the sky, and enjoy a fantastic meal.
Reviews on Destino Chile
As a unique and professional experience, Destino Chile is known for its high-quality tour packages in Chile. The methodically thought out routes and restaurants, in addition to the great staff, make for an excellent combination of stellar service and memorable experiences. It is rated 5 stars on tripadvisor with 961 reviews. Read this comment made by a past tourist:
"Good choice in Chile! Guides with large skills and threat the customer as a King! Special recognition to Victor and Andres! They were very careful, friendly and attentive!!" – Celo
Spicy Chile Tours

Company's location and type: Santiago, Local Tour Operator
Awards, Certification: 2019 certificate of Excellence By trip Advisor.
Reviews: 679 reviews on Trip Advisor 97% rated very good and excellent
About
If you want to experience the country of Chile like a local, then joining a tour with Spicy Chile Tours is the way to go. They have various tour options across the city of Santiago and they have a dedicated team of great staff ready to give you an amazing Chile tour experience. This Chile tour company was founded on the principle of providing the utmost professionalism and superior experience possible for its customers.
Packages
One of the stapes of Spicy Chile Tours is their Free Walking Tours in Chile. This no-cost option is perfect if you are on a tight budget but would still like a guided tour through the city. You can choose to pay a donation at the conclusion of the tour! You could also book one of Spicy Chile's Private Tours and have a personalized tour filled with all of the things you want to see and learn about while on your tour in Chile. For wine lovers, there are also Vineyard Tours. The tour will take you on a trip through a beautiful vineyard and give you many chances to sample wine. For a picturesque journey, try out the Cajon del Maipo tour. On this tour, you will pass through the Tinoco Tunnel, San José Volcano Lookout, Punta del Viento Viewpoint, and Parador del Maipo, as well as enjoying a picnic and a glass of fine wine.
Reviews on Spicy Chile Tours
With a 4.5 rating on trip advisor and almost 700 positive reviews, Spicy Chile tours is clearly a great company offering top tour packages in Chile. Clients are very satisfied when booking tours with Spicy Chile. Here is a review that the company received recently on tripadvisor:
"We were lucky enough to have a private tour with Kai. In the three hours we had, we learned some much about the history and culture of Santiago and Chile…!" – Alicia
Grayline Tours
Company's location and type: Santiago, Local Tour Operator
Year of establishment: Over 100 years
Reviews: 405 reviews on Trip Advisor 90% rated very good and excellent
About
When you decide to tour with Grayline, you are choosing to discover new people, learn about different ways of life, and explore a culture you know little about. While in Chile, you have so many things to see and do! When you tour with Gray Line, they make you feel like a local no matter where you go. This Chile tour company has been serving Santiago for over 100 years!
Packages
You can choose from multiple exciting package types when going on a tour with Gray Line!
Enjoy an entire day of fun as you explore a national park and see wild animals, mountains, and flowers with a delicious lunch included! Look into the Full Day to Torres del Paine National Park tour today. If you want to learn about the capital city of Chile, the Santiago City Tour & Metropolitan Cathedral tour may be the right Chile tour experience for you and it is a very affordable option. The Magdalena Island Penguin Tour By Boat From Punta Arenas is a rare opportunity to experience the penguins of Chile and ride along the southern coast of the country on a boat. There is also a great chance to explore one of the famous Chilean vineyards while touring in Chile! The Concha y Toro Wine Experience will bring you to a beautiful vineyard for a tour and wine.
Reviews of Gray Line Chile
Gray Line Chile's high-quality service is driven by professionalism and an incredibly long history of great tours in Chile. They assure you that your experience will be unparalleled. With over 400 reviews and a 4.0 rating on Tripadvisor, you can trust that this tour provider will have you on an unforgettable adventure. Look at this positive review:
"A long but lovely trip from Puerto Varas to Bariloche. We were blessed with great weather so the views were fabulous…" – James
Chile Dream Tours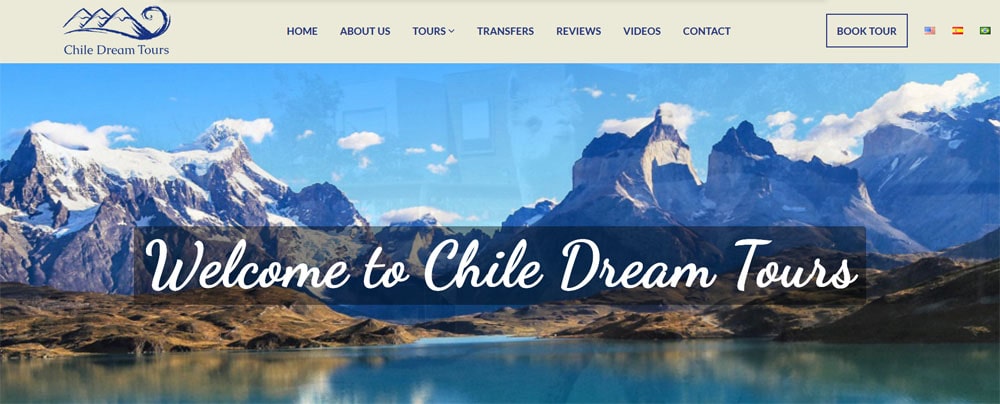 Company's location and type: Santiago, Travel Agency
Awards, Certification: #1 Boat tour out of 42 in Santiago, Chile
Reviews: 249 reviews on Trip Advisor 99% rated very good and excellent
About
Chile Dream Tours is a boutique tour operator offering a wide selection of exciting private adventures from the Andes to the Pacific. They are passionate about Chile and want their guests to have the most amazing time during their stay. Their professional and experienced guides will take you to see the most beautiful scenery, try delicious traditional food and drink, and learn about Chile's history and culture. They visit the best sites at your own pace. Their tours are designed so that their guests have the ultimate tour experience and dream vacation in Chile.
Packages
If you would like a deep rundown of the most popular attraction areas in Santiago, consider participating in one of their Private Day Tours departing from Santiago, Valparaiso, Viña del Mar, and San Antonio. Explore Chile Multi-Day Private Tours to Patagonia (Torres del Paine), The Lakes Region and Chiloe Island, La Serena and the Elqui Valley, Easter Island (Rapa Nui) and the Atacama, Pre- and Post-Cruise Private Tours to and from the Ports of Valparaiso and San Antonio, Private Cruise Shore Excursions from the Ports of San Antonio, Valparaiso, Puerto Montt, and Punta Arenas, or Custom Group Tours for Special Events, Schools and Businesses.
They can tailor their tours to match your specific interests and schedule. They have 24-hour Customer Service to assist you plan your trip to Chile and answer any questions you may have about them and their tours.
Reviews on Chile Dream Tours
This Chile tour company has a long track record of great service, proven by 249 positive reviews on tripadvisor. They are also ranked #1 out of 42 in Boat tours. Here is a review left by a past client:
If you are going to book tours during a trip to Santiago, look no further than Chile Dream Tours. They are better than any other tour company I have ever used in any of my travels. Their guides are prompt and courteous. They went above and beyond to make sure our experience in Chile was top notch." – John Andrews / United States
Chile Off Track
Company's location and type: Santiago, Local Tour Operator
Awards, Certification: Rated number 16 out of 231 food and drink in Santiago
Reviews: 5-star rating and over 280 reviews on TripAdvisor
About
When you tour with Chile Off Track, you will find that each of their Chile tours is handcrafted and perfectly suited to you, the most important person. They proudly offer fully customizable tours to the Lake District & Patagonia. Their tailored tour experiences in Chile will take you off the beaten path and give you an unbeatable experience. It is their specialty to create unique experiences and lasting memories in this beautiful country.
Packages
You can choose from a wide selection of tour possibilities with Chile Off Track Tours. No matter what package you choose, your experience will be one to remember.
You have a special opportunity to explore the region on Horseback Chile tour. It doesn't matter if you are a beginner-level rider or have been riding for years, their guides will have you up on the horse and enjoying the ride in no time. You can explore all that the Andes has to offer on a Day Hike. Your lunch is included and a seasoned guide will escort you through fun trails. The Wine Lovers Tour is perfect if it has always been your dream to explore and learn about how wine is created while sampling wine straight from Chile. The Santiago City Highlights Tour pinpoints all of the must-see spots and gives you an educated and thought-provoking tour across the bustling city of Santiago.
Reviews on Chile Off Track Tours
Chile Off Track is very highly ranked with over 99% positive feedback from past clients. Here is one comment left by a satisfied customer o tripadvisor:
"We selected this tour based on the positive reviews and the tour turned out to be better than we had anticipated…" – Pam C
Chile Explorer
Company's location and type: Santiago, Local Tour Operator
Reviews: 705 reviews on TripAdvisor
About
Chile Explorer was once a very small company that started in the living room of the owner's house and it has now blossomed into one of the top-rated companies on Tripadvisor in Chile. Chile Explorer was created by a small group of devoted friends from various countries who came together after a vacation and realized how enchanted they were by the beautiful landscapes of this beautiful country. This Chile Tour Company is one of the best in Santiago.
Packages
Over the years, Chile Explorer has been able to add many great experiences and has perfected the art of authentic tours.
They believe their City Explorer Tour is so good that it is a guaranteed refund if you get bored. Chile Explorer has created the perfect balance of knowledge and fun. Chile Combo Wine Lover tour will take you to so many different vineyards across Santiago. You will visit Cajón del Maipo + Embalse el Yeso + Valle Nevado and Farellones + Vina del Mar and Valparaíso + Vinícola Undurraga + Vinicola Concha y Toro. Valle Nevado e Farellones tour will take you to a wonderful ski resort. Many call the resort an amusement park on a mountain and this also includes an unbeatable view of the snow and mountains. In the Vinícola Undurraga wine tour in Chile, you will have the chance to taste over 40 wines! Prepare in advance for a lot of fun and laughter.
Reviews on Chile Explorer
With 705 great reviews on tripadvisor, Chile Explorer has a 5-star rating and is a strong competitor for being one of the top travel tour operators in Chile. It can provide stellar service at competitive prices and this can be argued by the consistently positive reviews. You can see what someone has said about the company here:
"We had a great time rafting in the river on Saturday and with the guidance, Mauri provided the entire trip! Thanks!" – Eric P
In Conclusion
This top 10 list has been compiled with the intention of educating and assisting you in your search for the best Chile tour companies. If you would like to make a trip to Chile and immerse yourself in the local culture through a tour experience, please use this list to help you in your search.
Once you travel to Chile, we would be thrilled to hear back about your journey. If you have gone on a tour with one of these companies in the past, send us a message and let us know how it went!
Honorable Mention
Related Links