Has an exciting trip to the beautiful port country of Panama been a dream of yours? Would a memorable tourist experience in South America be something of interest to you? Does the idea of a Panamanian tourist experience with a great company sound good to you?
Once you arrive in Panama, your eyes will be filled with wonder as you experience the amazing rainforests, hidden waterfalls, and clean beaches covering the country. You will be absorbed into the local culture while having a unique tourist experience with some of the top rated guides in the entire country. Another great adventure is simply roaming through the world renowned Panama city and seeing the remnants of old while enjoying many examples of modern technology and industry. No matter where or what you decide to spend your time doing, there is a tour company in Panama that has the perfect package for you.
Once you make the choice, the next thing to check off your list is deciding on the best tour provider so that you can have a relaxing, successful trip. This is no easy task and as you begin your search, you will be swamped with a large number of different companies providing services in Panama. Choosing the right Panama tour company can make or break your trip and each available option will have varying prices, experience in the industry, as well as tour packages. Many times, a tour can be a large financial investment as well as an investment of your time. It is imperative that you make the right choice and end up with a satisfactory tour in Panama.
We at TravellersQuest strongly believe that without investing the proper amount of time into the background of each available option, it is possible to spend money on a company that does not have your best interest at heart. Since we have taken the time to compare and contrast the variables of hundreds of tour operators, you can rest easy knowing that this top 10 list contains all of the information you need to make an educated decision.
Here is an unbiased list of the Top 10 most reputable Panama tour operators.
Providers
Package
Reviews
Barefoot Panama
Panama City & Canal Tour
Snorkeling Adventure
Trip Advisor – 1,361 reviews

Panama Day Trips-
Canal Eco Tours
Ocean to Ocean Panama
Canal & Panama Jungle Tour
3-Day, 2-Night Sea Turtle Nesting Expedition
Trip Advisor – 660 reviews

PBA Holding Group
Private Tours
City Tour and visit
the Panama Canal Day Trip to San Blas Islands
Trip Advisor – 492 reviews

Jungle Land Panama
Panama Canal Kayaking
Fishing Tour
Trip Advisor – 329 reviews
Xplora Panama Tours
Panama Canal Tour
Caribbean Island Experience
Trip Advisor – 317 reviews
Easy Travel Panama
Casco Antiguo Insider Tour
Embera Village Tours
Trip Advisor – 301 reviews
Panama Yacht Adventures
Day Tours
Whale watching Tours
Snorkeling Tours
Trip Advisor –282 reviews
San Blas Dreams
PANAMA CITY BIKE TOUR
MONKEY ISLAND TOUR
Trip Advisor -267 reviews
Kats Tours
KAYAKING ON THE
PANAMA CANAL
THE PANAMA CANAL TOUR
Trip Advisor – 117 reviews
Almiza Tours by
My friend Mario
Best Panama City tour
Embera Village Tours
Trip Advisor – 464 reviews
Table update Jan 10, 2021
Barefoot Panama
Company's location and type: Panama City, Local Tour Operator
Awards, Certification: 2014-2018 certificate of Excellence By trip Advisor.
Reviews: 1361 reviews and 4.5 stars on Tripadvisor
About Company
Barefoot Panama is a trusted tour provider that operates out of Panama City. This Panama tour company has a strong passion for providing top-notch experiences that can give you a memorable tour to take home with you once your trip comes to an end. Barefoot Panama prides itself on the quality they are able to offer while also keeping the price at an affordable level so anyone can have an incredible time in Panama.
Packages
Barefoot Panama has a diversified selection of amazing Panama tour packages for you, your friends, and your family to get involved in. You could find yourself exploring the historical sights of Panama City with a trusted guide and end the day with a tour of the famous canal!
For the ocean lovers, they have a Snorkeling tour Adventure in Panama where you can get out in the water to experience thousands of colorful fish and beautiful coral reefs. If you have always wanted to experience monkeys up close, you can with Barefoot Panama. The Monkey island, Indian Village & Lake Gatun combo tour is a Panama day tour that gives you an incredibly rounded tour experience. You could also see wildlife, enjoy Lake Bayano, hike through trails filled with flora, and go spelunking in a cave in the Lake Bayano Cave tour.
Reviews on Barefoot Panama
If you visit the Panama tours reviews on tripadvisor you will discover that 95% of clients found Barefoot Panama to be an excellent tour company. They have served thousands of happy tourists and are rated #20 of 339 Tours in Panama City. This Panama tour provider has also been given the 2014-2018 certificate of Excellence. Here is an uplifting review of what someone has said about going on a tour with them:
"Our guide was fantastic! Knew the history well, the architecture and the restaurants. We chose to go to a different restaurant for lunch and he got us a ride there and back and made sure we were taken care of." – Hebster
Panama Day Trips- Canal Eco Tours
Company's location and type: Panama City, Local Tour Operator
Awards, Certification: Travellers choice 2020 by Tripadvisor.
Reviews: 660 reviews and a 5-star rating on TripAdvisor
About Company
If what you are searching for is a trusted, reliable Panama tour company, look no further than Panama Day Trips! This is a smaller tour company that offers very unique tours. Expect to learn much about the rainforest and the country while touring with their experienced guides and find hidden gems across the country while having the experience of a lifetime.
Packages
No matter what you decide to spend your time doing in Panama, this tour provider will take your trip to the next level. The Ocean to Ocean Panama Canal and Panama Jungle Tour is an incredible option that will give you the chance to see the ocean on either side of the country with a tour of the jungle included.
You can also join in on an overnight Panama tour of 3 days, 2 nights in order to see the once-in-a-lifetime event of nesting sea turtles while enjoying the beach and great food. There is a Panama tour package where you will take an Eco-cruise to visit the Embera village and get to know the people there while learning much about their culture and ways of life. For their Panama Canal and Gatun Lake Jungle Eco Cruise tour, you can expect to see an abundance of wildlife while visiting Monkey island and going through the canal.
Reviews on Panama Day Trips
You are guaranteed a great experience with this tour operator in Panama and as you can see by their 660 reviews on TripAdvisor, this company knows the business and how to provide great tours as well as how to treat clients. They have a five-star rating on tripadvisor and have also earned the travelers choice award for 2020. Here is a glowing review from a past client:
"From the beginning the communication was perfect. We were picked up early, and the second we got in the car we were already laughing. The tour guides are hilarious and are so educated on everything. " – Elramos
PBA Holding Group Private Tours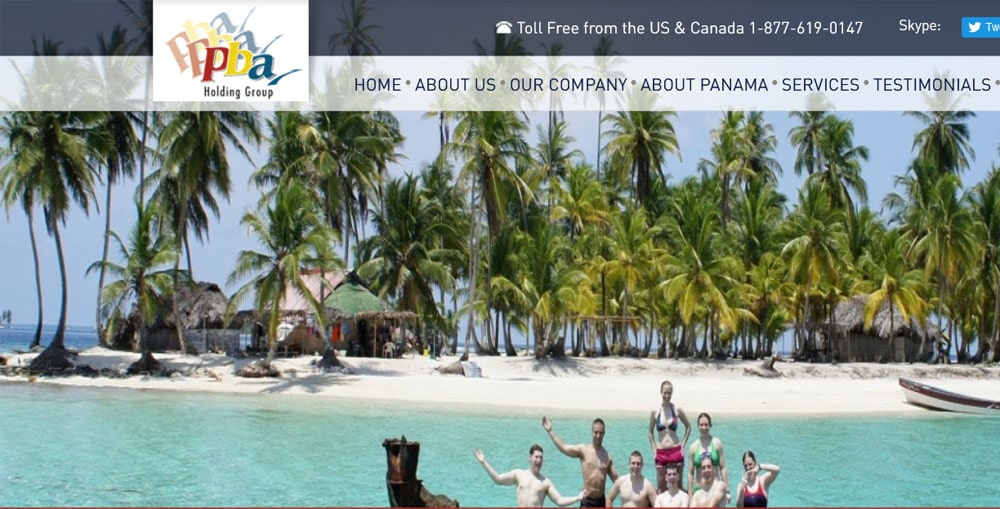 Company's location and type: Panama City, Local Tour Operator
Year of establishment: 2002
Awards, Certification: #8 of 121 Boat Tours & Water Sports in Panama City
Reviews: 600 reviews on TripAdvisor 99% rated very good and excellent
About
PBA Holding Group is one of the most trusted Panama tour companies in the country and has a long track record of offering dependable services to satisfied clients from around the world. PBA has also had many years of experience in the industry and established itself in 2002. This tour operator is excited about the opportunity to provide you with an unforgettable experience while you are traveling in Panama.
Packages
PBA specializes in providing private tours around the beautiful country of Panama and you can expect to create memories with your close friends and family while staying safe and having fun. Their Panama City Tour gives you the chance to see the city like never before while being entertained and educated by a professional guide while also adding a canal tour.
For another tour option, there is the San Blas Islands experience. Spend your day in a tropical paradise and soak up the sun while enjoying amazon food and drinks. The day trip to Isla Grande & Portobelo is a fun-filled adventure that brings you to two separate locations so you can get the most out of your time in a PBA tour. You could even soar over the skies and get an incredible aerial view of Panama on the tram followed by a visit to the famous monkey island tour in Panama!
Reviews on PBA Holding Group
Tripadvisor has given PBA the honor of #8 of 121 Boat Tours & Water Sports in Panama City due to them receiving nearly 500. This Panama tour company also has earned a 5-star rating with 99% of past clients rating them as good or excellent. You can read about this customer's positive experience with PBA here:
"We loved the half-day Panama Canal tour thanks to the personal handling of the owner, Omar Ching. Every detail was managed to perfection. Omar is incredibly well connected, so you will get special treatment not available to everyone." – Jeff C
Jungle Land Panama
Company's location and type: Gamboa, Local Tour Provider
Awards, Certification: 2014-2018 certificate of Excellence By trip Advisor.
Reviews: 329 TripAdvisor reviews with a 4.5-star rating on Tripadvisor
About
Jungle Land experience is an award-winning Panama tour company that has an unbeatable service. If you want a complete adventure that is leagues beyond other tour providers in the city of Gamboa, this is your best bet. With over 14 years of deep knowledge of the industry and area, this provider is sure to give you an experience in Panama that you will never forget. Join them in their all-inclusive jungle oasis and get ready for fun!
Packages
Experience true tranquility in a relaxing tour package in Panama with Jungle Land Panama. Most providers offer a boat ride through the canal but not this company. You can have the unique chance to paddle yourself through the waters in a kayak! Avid fishermen can also have an opportunity for fun on the Panama fishing tour.
You would be guided by a professional who knows all the right spots to get the best catches. As with the other tour operator, Jungle Land Panama also offers a Monkey Island experience that you can enjoy. For an unrivaled tour, you should consider the Jungle Land Panama Experience where you take a boat ride into the canal to see diverse flora and fauna as well as history in the making as workers look to expand the canal.
Reviews on Jungle Land Panama
Jungle Land Panama tours are the highest-rated tour provider in the area and TripAdvisor has them ranked as the #1 of 21 Tour providers in Gamboa. They have a proven track record of high-quality tours at an affordable rate and you can discover what all the commotion is about by booking with them today. With 4.5 stars and 99% positive Panama Canal tour reviews, you can understand why Jungle Land is on our list. Read this review left by a past tourist:
"Let me first say that I have traveled all over the world, and NEVER have I met a host who goes to the effort that Carl does. Despite his dry wit, you can see that he is passionate about the guest experience." – Dmishesq
Xplora Panama Tours
Company's location and type: Panama City, Local Tour Operator
Awards, Certification: 2012 – 2018 Hall frame certificate of Excellence By trip Advisor.
Reviews: 317 reviews on TripAdvisor 99% rated very good and excellent and 5 stars
About
Offering small and large group tours, Xplora Panama Tours is one of the top-tier Panama tour companies available. Operating out of Panama City, this provider is fully operated and guided by local Panamaneins who know the area and are passionate about giving you an unforgettable experience. As a company with over 10 years of gaining professional knowledge of the tourism industry, Xplora is guaranteed to offer you a top-quality tour experience during your stay.
Packages
Join one of Xplora's many safe and educational Panama group tours and be blown away by the knowledge and fun you encounter. You can appreciate incredible wildlife diversity and an abundance of natural flora along the coast of the Panama canal in their canal tour. For a unique and privileged Panama tour, you can have the Caribbean Island Experience and live in luxury on the Isla Grande.
Another great opportunity to see wildlife and explore the depths of Panama is the rainforest tour. In this jungle tour of Panama, you will also see a hidden waterfall so bring your camera and prepare to get a little wet. If you would like to learn about the history and culture of this famous port city, you have the perfect opportunity to do so on the Panama city day tour.
Reviews on Xplora Panama
With over 300 stellar reviews on Tripadvisor, taking a tour with Xplora Tours is a great investment of your time and money. They have also been given the 2012 – 2018 Hall frame certificate of Excellence award by the trip Advisor and for good reason. Here you can see an example of this by reviews such as this one:
"The guides she arranged were great. Especially Alex was very passionate and is a great birder. He had worked over 10 hrs a day to take care of us. " – NJA
Easy Travel Panama
Company's location and type: Panama City, Local Tour Operator
Year of establishment: 2002
Awards, Certification: 2014 – 2018 certificate of Excellence By trip Advisor.
Reviews: 301 reviews on TripAdvisor 99% rated very good and excellent
About
As specialists in providing personalized tours and transport all over Panama, Easy Travel Panama is one of the leading Panama Tour Companies. Each guide working for Easy Travel is Bilingual and highly knowledgeable which makes learning the history and culture a fun and exciting adventure! They are service-oriented and are ready to give you a professional experience in Panama.
Packages
You have so many tour packages in Panama options to explore with Easy Travel and you can go by yourself or with a group! The Casco Antiguo Insider tour is the perfect option for trendy tourists who want to see the old part of the city that is still alive and fun to enjoy on the back of a toktok. There is also the day tour opportunity of seeing and getting to know the culture of the Embera village.
This is a chance to see the real Panama and an insight into the tribal lifestyle. If you are an active person who always wants to be on the move, Easy Travel has a great Panama day tour for you. There are running and walking tours that take you around the wonderful Panama City. For beach lovers, you could join in on the Pacific Beach tour in Panama and enjoy the sand while you soak up the sun and relax in paradise.
Reviews on Easy Travel Panama
As a five-star rated company on Tripadvisor, Easy Travel is an outstanding tour operator in Panama with over 300 great reviews. This provider has also earned the 2014 – 2018 certificate of Excellence By trip Advisor. Here is a review that the company received recently on TripAdvisor:
"We were very happy that my wife and I had the personal service of a guide for just the two of us rather than being part of a tour group. Our guide, Johnny, did a first-class job on both our Panama City tour and our tour to Gorgona and Coronado." – David S
Panama Yacht Adventures Day Tours
Company's location and type: Panama City, Local Tour Operator
Awards, Certification: Travellers Choice 2020 Tripadvisor
Reviews: 282 reviews on TripAdvisor with a 5-star rating
About
Panama Yacht Adventures Day Tours is one of the most highly experienced Panama tour companies on our list and for good reason. With over 20 years in the tourism industry, they bring a long lineage of passion and knowledge into their tours to give you an unparalleled experience during your travels. You are in safe hands and Panama Yacht Adventures can't wait to have you on board.
Packages
Get out on the water for some Maritime fun in one of the many Panama tour packages provided by Panama Yacht Adventures. Whale watching Tours are available and they are an incredible opportunity to see up close the powerful size of one of the most intelligent creatures on earth. Instead of being on top of the boat, you also have the option to dive under the boat on a Panama snorkeling tour.
On the opposite end of the spectrum is their helicopter tours that will take you over the country at high speeds for an unmatched view of the beautiful country of Panama. Visit many historical areas, eat great local food, and learn about the rich culture of the city and country while on a city tour with Panama Yacht Adventures.
Reviews of Panama Yacht Adventures
This tour operator in Panama has been given the travelers choice award for 2020 by tripadvisor and has an amazing 5-star rating with a 99% positive feedback section. There is a high number of satisfied clients that have experienced tours with Panama Yacht Adventure and have left reviews on TripAdvisor. Look at this positive review that was recently left by a tourist:
"The guide very knowledgeable shared tons of info about the place and the whales. DJ was on point kept us singing and dancing. I definently recommend it. Can not wait to visit Panama again and take another adventure with Panama Yacht Adventures" – Mariah R
San Blas Dreams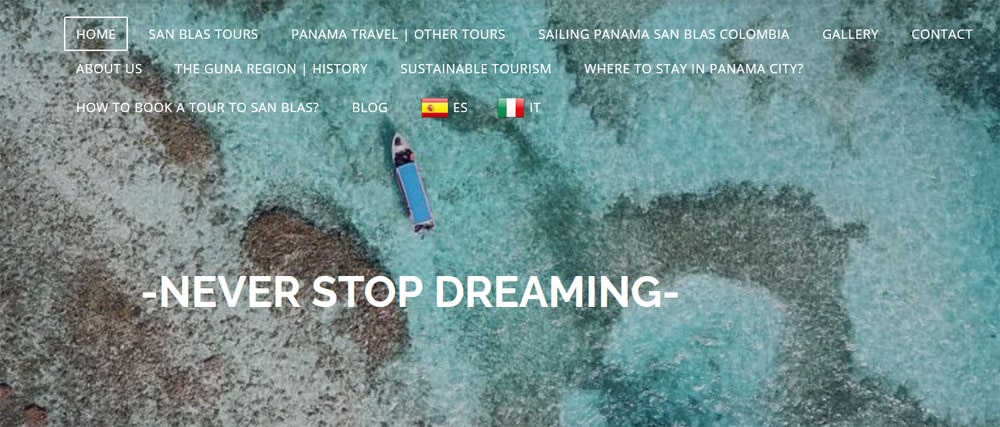 Company's location and type: Panama City, Travel Agency and tours guides
Year of establishment: 2014
Awards, Certification: #9 of 121 Boat Tours & Water Sports in Panama City
Reviews: 4.5 ratings with 268 reviews reviews
About the company
San Blas Dreams is a Panama tour company that operates out of the famous port of Panama City. They are leaders in the industry and each day, the company grows larger. Due to their size and connections, they have abilities and allowances that other providers simply do not have and with their network, you can expect to experience Panama like a true local while still being given an affordable price.
Packages
You can see Panama in so many different ways but only a few companies can show you the country in a safe, fun, and knowledgeable way. San Blas Dreams offers a quick way to see the city on a Panama Bike Tour. You can eat great food and see a large portion of the city much faster than on foot!
For an unforgettable tour opportunity, you can visit the tribal indigenous village of Embrera and learn about an ancient culture on this day trip. Another fun adventure is the Monkey Island Panama Tour. You will see hundreds of monkeys and even have the opportunity to get up close and feed them. One of this provider's most notable tours is the San Blas tour from Panama City. Enjoy multiple islands off the coast on a relaxing getaway.
Reviews on San Blas Dreams
San Blas has proudly earned the award for being a travelers choice in 2020 by tripadvisor and this can be attributed to their high commitment to service. They have also been rated as the #9 of 121 Boat Tours & Water Sports tours in Panama. Past clients have a lot of kind words to say and you can read what one person said:
"Staff are so friendly, helpful even if I cannot speak Spanish well. BUT there are mosquitoes. Don't forget to bring Antimosquitoes to spray with you." – Ann
Kats Tours
Company's location and type: Panama City, Local Tour Operator
Awards, Certification: #11 of 121 Boat Tours & Water Sports in Panama City
Reviews: 5-star average rating and 117 reviews on TripAdvisor
About
Out of all of our Panama tour companies on this top 10 list, Kat tours is one of the smallest. This is a good thing as they put a lot of effort into the tours that they give. With a Kat tour, you can expect excellent attention to quality, detail, and customer service while you create your own customized tour to enjoy. Their goal is to take care of all of your requests to the best of their abilities while making you feel like you are in your home away from home.
Packages
Fulfill and exceed your expectations in one of Kat tours exciting tour packages. You have probably heard so many things about the Panama Canal in your lifetime and now you have the chance to explore it in a Panama City Kayak tour. Kat also has a great whale watching Panama tour off of the Island of Contadora and they know the best times and places to spot these magnificent beasts.
There is also the option of skipping the kayak and exploring the canal from the safety of a boat. See massive shipping containers, fish, and wildlife all in one day on the canal tour in Panama. With Kats tours, you can also get in a helicopter with a trusted, highly experienced pilot that will give you an unbeatable view of the city of Panama and the lush, green surrounding area.
Reviews on Kats Tours
Ranking number #11 of 121 Boat Tours & Water Sports in Panama City, Kat tours brings you some of the best, personalized Panama tours available. On tripadvisor, they have also earned a solid 5-star review with 99% of the 117 responses being great or excellent feedback. You can also see a review left by a satisfied customer that recently went on a Kat tour:
"She (Kat) has contacts throughout the travel industry and used them to help me. Katia also knows Panama thoroughly and will help you plan and enjoy the perfect Panama experience." – c4lovell
Almiza Tours by My friend Mario

Company's location and type: Panama, Local Tour Operator
Year of establishment: 1994
Awards, Certification: #10 of 121 Boat Tours & Water Sports in Panama City. 2014/15/16 certificate of Excellence By Trip Advisor.
Reviews: 464 reviews on TripAdvisor with a 4.5-star rating.
About
If you are looking for a boring Panama tour company, Almiza tours by My Friend Mario is not your best choice. Now if you are looking for one of the most affordable, locally owned, and operated providers, look no further than Aliza. They have been operating since 1994 and with almost 30 years of experience, you can count on them and their highly trained, knowledgeable guides to deliver a memorable experience for you while in Panama.
Packages
If you want a truly local Panama tour experience, Almiza can provide it to you and their prices are half of the competitors! The Best Panama travel tour is an immersive cultural experience that will bring you to the most popular areas of the city and give you chances to dine on amazing local food with the help of experienced guides.
The Embera village is a group of people whose ways of life have not changed for centuries and visiting their village on an adventure tour will give you a chance to learn the culture and eat traditional Panamanian food. You can have it all in one as well if you choose to join the Boat Ride, whale watching, beach, and island Panama tour
See whales, smash through the waves in style, relax on the beach and watch the waves go by, and explore one of the Archipelago islands on the coast in one go. Cross the entirety of the canal and experience it in all of its glory in the Panama canal full transit tour.
Reviews on Almiza Tours by My Friend Mario
Almiza tours have been given the respectable rank of #10 of 121 Boat Tours & Water Sports in Panama City while also holding a rating of 4.5 stars out of 464 reviews on tripadvisor. On top of these accolades, the Panama tour operator out of Panama City has also received the certificate of Excellence By Tripadvisor in the years 2014/15/16. Here is a recent review left on their TripAdvisor page:
"Mario did an excellent job as a guide. We saw several kinds of wildlife which were wonderful and made it well worth the price of the tour." – Megan
In Conclusion
This top 10 list has been compiled with the intention of educating and assisting you in your search for the best Panama tour company. If you would like to make a trip to this coastal country and immerse yourself in the culture through tour experiences, please use this list to help you in your search.
Once you return from Panama, we would be thrilled to hear back about your journey. If you have gone on a tour with one of these companies in the past, send us a message and let us know how it went!
Honorable Mention
Related Links