165 Views
10 Cheap Best International Volunteer Opportunities 2020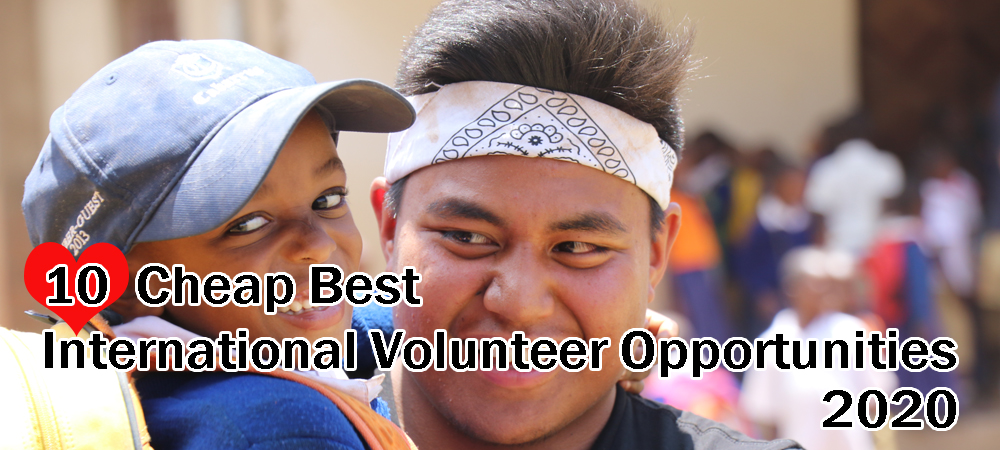 Are you struggling to find the right provider for your international volunteer opportunities? With so many companies online, choosing the wrong one can cost you time and money, jeopardize your safety and shatter your dream of an amazing volunteer experience.
For this reason, we've researched many companies and created this list of the best cheap international volunteer opportunities. It's our hope that this will save you time, effort and money as well as ensure that you have the most rewarding and impactful volunteer experience possible. In this article, you will get to:
Know who the best 10 cheap volunteer providers for international volunteer opportunities are.
Click the "Get More Info" button below and send an inquiry to all the listed providers.
Compare prices and programs and choose the best one for you with no obligations.
Download our free volunteer abroad guide at the bottom of this article which will tell you everything you need to know for a safe and lifechanging volunteer experience.
Table Updated: Dec 11, 2019
International Volunteer HQ (IVHQ)
About the Organization
Being inspired by his amazing journey taking part in international volunteer opportunities, Daniel Radcliffe decided he wanted to offer others the same chance. Thus, he founded IVHQ in New Zealand in 2007, and since then they have committed themselves to supplying volunteers with sustainable and environmentally responsible volunteer programs.
Best International Volunteer Opportunities with IVHQ
We think that IVHQ's programs in Costa Rica, Ghana, Thailand and Nepal are the most interesting. Here they offer a wide range of programs like teaching, construction agriculture and more.
The Fees
Taking into account the highly prolific nature of IVHQ, they are an incredibly affordable organization for volunteer opportunities internationally. They charge an industry standard registration fee of $299USD followed by low project fees, for example $250USD for Nepal or $270USD in Ghana.
The Reviews
Having good reviews is an absolute must to find a place on this list, and IVHQ fulfills this requirement with flying colors. They have a 9.5 on Go Overseas, 9.6 on Trust Pilot, 9.53 on Go Abroad and finally a 4.8/5 on Volunteer Forever. There are also a huge number of reviews, with more than 3500 people leaving their experience.
Why We Chose International Volunteer HQ
The sheer amount of positive reviews found online for IVHQ's international volunteer programs is enough to earn them a place on this list. Couple that with very reasonable prices and some fantastic-looking programs and you have a winner.
Love Volunteers
About the Organization
Love Volunteers was founded in 2009 in New Zealand by the siblings Julian and Kelly. Their utmost focus is making sure that their international volunteer programmesare all fully transparent when it comes to the fees paid and where they go.
Best International Volunteer Opportunities with Love Volunteers
While you can't really go wrong with any of the great international volunteer destinations offered by Love Volunteers, we think the countries of Guatemala, Nepal, Jamaica and South Africa are worth your special attention. In these countries you can take part in projects ranging from environmental conservation to childcare and development.
The Fees
Being affordable is an important priority for Love Volunteers, and after paying a standard $299USD registration fee, prices for individual international volunteer tripscan be as low as $250USD, though certain destinations can be more expensive.
The Reviews
Over 450 past volunteers have registered their experience with Go Overseas, Go Abroad and Volunteer Forever, where Love Volunteers enjoys 9.1, 9.7 and 4.6/5 scores.
Why We Chose Love Volunteers
The thing we love most about Love Volunteers is how they've made their fees and process incredibly transparent, all with low prices and great reviews across multiple websites for their international volunteer opportunities to boot.
Cross-Cultural Solutions (CCS)
About the Organization
Founded in the US all the way back in 1995, Cross-Cultural Solutions has a long track-record of providing great international volunteering to more than 35,000 volunteers. While many organizations only handle the volunteering side of things and leave you to figure out the rest, CCS makes sure that all their travelers are deeply immersed and engaged with the culture of their destination.
Best International Volunteer Opportunities with CCS
We particularly like Cross-Cultural Solutions' international volunteer opportunities in Peru, Thailand, Ghana and Morocco. CCS doesn't go for a "jack of all trades" approach, and rather focuses all its effort on the two interconnected areas of children's health and children's education.
The Fees
There's no getting around the fact that the fees charged by CCS for volunteer opportunities internationally are significantly higher than most other organizations on this list. However, when you take into account the extra cultural immersion and activities you're paying for as well as the lack of a registration fee, the projects starting at $1990USD start to seem quite reasonable.
The Reviews
As always, CCS receives excellent reviews across the board. On Go Overseas they have a 9.2 score, and an even better score of 9.67 on Go Abroad. There's fewer reviews than some other entries on this list though, but roughly 200 individual reviews isn't bad either.
Why We Chose Cross-Cultural Solutions
We chose Cross-Cultural Solutions despite their slightly higher price due to their uniqueness in that they complement their international volunteer programs with cultural activities as well as their laser-focus on child welfare.
Plan My Gap Year (PMGY)
About the Organization
Plan My Gap Year is based around a philosophy of offering international volunteer work for a reasonable price and also place an emphasis on socially connecting their volunteers. To do this, they put you in touch as soon as you've confirmed your booking, ensuring that you form incredible friendships during your international volunteering.
Best International Volunteer Opportunities with PMGY
Once again, we want to highlight Plan My Gap Year's international volunteer programs in Nepal, Ghana, Ecuador and Cambodia. Of particular note are their initiatives involving teaching English to Buddhist monks in Nepal, and their international medical volunteer opportunities countries like Ecuador.
The Fees
As you'd expect with an organization focused on affordable prices, fees with PMGY are low. Their registration fee is just $190USD, which paired with program fees as low as $300USD-$400USD for 2 weeks makes for eminently affordable international volunteer trips.
The Reviews
Like everyone on this list, Plan My Gap Year has excellent reviews across the board. With more than 600 former volunteers sharing their experience with the organization, they score 96% on Go Overseas and 4.8/5 on Review Center, both fantastic scores.
Why We Chose Plan My Gap Year
The most important thing Plan My Gap Year has going for it are the incredible fees. Combined with great reviews and special attention paid to ensuring great social relationships among their volunteers makes for a great option when looking for opportunities to become an international volunteer.
RCDP International Volunteers

About the Organization
With more than 20 years' experience offering international volunteer opportunities, RCDP was founded in 1998 in Colorado. They distinguished themselves early on by pioneering the field of volunteering in Nepal, something no other organization had offered previously. Since then they have increased their reach globally, now including destinations across Asia, Africa and Latin America.
Best International Volunteer Opportunities with RCDP
RCDP features strong Volunteer opportunities internationally across the continents of Africa, Asia and Latin America. To highlight this, we think it's worth looking extra hard at their programs in Costa Rica, Nepal, Uganda and Kenya. With RCDP you can travel to these beautiful countries and lend your hand in HIV prevention, environmental conservation and more.
The Fees
RCDP is very affordable, starting with a $279USD registration fee for their international volunteer programs. Project fees range from as low as $200USD, for example in Nepal, to $445 in Costa Rica.
The Reviews
As always, we checked the reviews for RCDP at the major volunteer review sites like Go Overseas and Abroad Reviews, where they have scores of 94% and 9.2. More than 300 volunteers have left reviews, and while this is isn't the highest on this list, it's not bad.
Why We Chose RCDP
We chose RCDP for this list of the best international volunteer organizations due to their very low prices, great reviews, and incredible length of experience, especially in countries like Nepal.
IFRE International Volunteers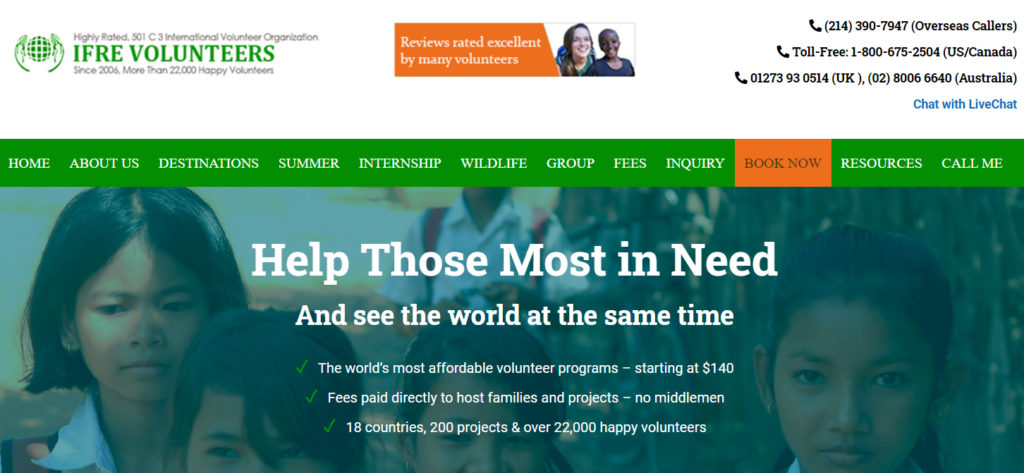 About the Organization
With its origins in Dallas, Texas, IFRE has since its foundation in 2006 placed a special emphasis on offering personal and in-depth support to international volunteers, going to great lengths to ensure that everyone is happy and comfortable as they make a difference.
Best International Volunteer Opportunities with IFRE
Countries of note when looking at volunteer opportunities internationally with IFRE are in our opinion South Africa, India, and Brazil. This gives you an option on three separate continents, presenting a wide variety of things to see and do, as well as projects. Working with disadvantaged women in India or helping conserve the wildlife of South Africa are look especially good.
The Fees
IFRE International Volunteers is one of the most affordable entries on this list of international volunteer organizations. With project fees as low as $300USD for 2 weeks of volunteering after a standard $299USD registration fee, IFRE is a great choice for volunteers on a budget.
The Reviews
Once again, reviews are top-notch. Coming in at 9.1 on Abroad reviews and 8.9 on Go Overseas, feedback is overwhelmingly positive from the about 400 past participants leaving their thoughts and experiences on these sites.
Why We Chose IFRE International Volunteers
When you put together IFRE's commitment to providing their international volunteers with in-depth support with great reviews and affordable prices, you get an excellent choice for volunteering internationally, and a worthy selection for this list.
Global Crossroad International Volunteers
About the Organization
Global Crossroad has been employinggrassrootsapproaches to international volunteering since its early days of 2003 when it was founded in Dallas, Texas. They've built plenty of experience since then, and feature some great destinations married with very reasonable prices.
Best International Volunteer Opportunities with GCR
We recommend GCR's international volunteer programs in Sri Lanka, Argentina, Tanzania and Mexico. All these countries present you with excellent opportunities for volunteering abroad as well as experiences you will remember for a lifetime. Working with elephants in Sri Lanka or with women's empowerment in Tanzania are among their most exciting programs.
The Fees
Global Crossroad is definitely on the affordable side of things, even on this list. Their registration fee is the now-familiar $299USD but their projects in the above countries can run you as little as $300USD-$488USD for 2 weeks of international volunteering.
The Reviews
You won't be surprised that Global Crossroad also has excellent reviews. Enjoying a 9.2 on Go Overseas an 8.8 on Abroad Reviews from a respectable 400 former participants happy to share their largely positive experiences with the organization.
Why We Chose Global Crossroad International Volunteers
The best part of Global Crossroad International Volunteers is their grassroots approach to volunteering, as well as their incredibly reasonable prices, exciting programs and great reviews online. With all this in mind, we had to give them a spot on this list of the best international volunteer organizations.
African Impact
About the Organization
African Impact was founded on the continent that it derives its name from, specifically South Africa. A group of international volunteers sat down around a table in Cape Town and decided that their calling was to introduce others to the Africa that they had just experienced and loved.
Best International Volunteer Opportunities with African Impact
While for most international volunteer organizations on this list we like to pick a spectrum of programs across different continents, it should come as no surprise that African Impact is the clear exception to this rule. It's this precise focus on African issues that help make African Impact so great, and we especially recommend their programs in South Africa, Malawi and Tanzania.
The Fees
While project fees with African Impact run a bit higher than others on this list, they make up for that with no registration fees, great transparency and unparalleled expertise and connections throughout Africa. International volunteer programs in the countries featured above will cost you between $1229USD and $1740USD.
The Reviews
African Impact has an incredible number of reviews, with 2500+ people leaving amazing feedback resulting in a 9.2 score on Go Abroad and 9.4 on Go Overseas.
Why We Chose African Impact
We were impressed with African Impact's dedication and focus to Africa, choosing to rather be the best of the best at international volunteeringin one part of the world instead of branching out. We also liked that they had excellent reviews and good prices considering the expertise they bring to the table.
GoEco
About the Organization
As you can tell from its name, GoEco's core cause is the protection of the environment, but this noble cause can take many other forms, and GoEco offers a varied range of programs that are always sustainable and responsible. Founded in 2006 by two Israeli international volunteers went on a volunteer adventure to Southeast Asia, they have since helped thousands of travelers do the same.
Best International Volunteer Opportunities with GoEco
We were very much impressed with GoEco's selection of international volunteer programs in Guatemala, Sri Lanka and Madagascar, and especially so with the programs involving wildlife research in Madagascar and dog care in Sri Lanka.
The Fees
GoEco is a bit more expensive than usual but has no registration fees. Programs featured above will run you anywhere between $990USD and $1650USD for one week of volunteering.
The Reviews
Committing themselves to sustainability and the environment has greatly benefited GoEco in terms of reviews. More than 550 pieces of feedback can be found on Go Abroad and Go Overseas, where they rank in at a 9.76 and 9.4.
Why We Chose GoEco
GoEco earned itself a spot on this list of the best international volunteer organizations through their commitment to the environment, stellar reviews and lack of any kind of registration fee.
Global Vision International
About the Organization
Global Vision International is perhaps the most recognizable name on this list, and for good reason. Founded in 1998 in the US, they have been talked about a lot, including in world-famous publications like National Geographic or by universities like NYU and Stanford for their impressive work facilitating international volunteering.
Best International Volunteer Opportunities with GVI
We really like the look of GVI's international volunteer programs in Fiji, Mexico, Nepal and Greece. Whether you want to surround yourself with mountains, beaches, dense jungle or cities, there's a project with GVI you'll probably be interested in such as marine conservation in Mexico.
The Fees
There's no registration fee with Global Vision International, and while their project fees are higher than many others on this list, they're not considerably so given that you're saving a few hundred dollars on registering. Mexico for example has programs with GVI for as little as $918USD, while places like Greece will cost you a bit more.
The Reviews
GVI ranks among the top organizations on this list when it comes to reviews. The number of former volunteers heaping praise on them online is significant, with more than 3000 checking in across Go Overseas and Go Abroad, where they have a 9.5 and 9.55 score respectively.
Why We Chose Global Vision International
It's not hard to see why we'd choose Global Vision International for this list. Considering their universal praise from experts, researchers and journalists, coupled with a stunning number of positive reviews online, we'd be crazy not to give them a spot here for the international volunteer work they help arrange.
Other Best Cheap International Volunteer Opportunities
While the above 10 organizations are the ones we think are the best for international volunteering, there are others that we also want to shine a brief spotlight on. The five companies listed below are still great volunteering organizations, and we absolutely recommend that you give them a thorough look as well if you want to be particularly thorough.
Conclusion
And that's it, our list of the 10 best cheap international volunteer opportunities. Now that you've gotten all these ideas to start with, you're ready to start delving into the offerings of the individual organizations and make up your mind on what volunteer trip, program, destination and provider seems like the right fit for you. There's plenty to choose from, so even with this list in hand, you have your work cut out for you!