Table of Contents
Nepal Hiking Team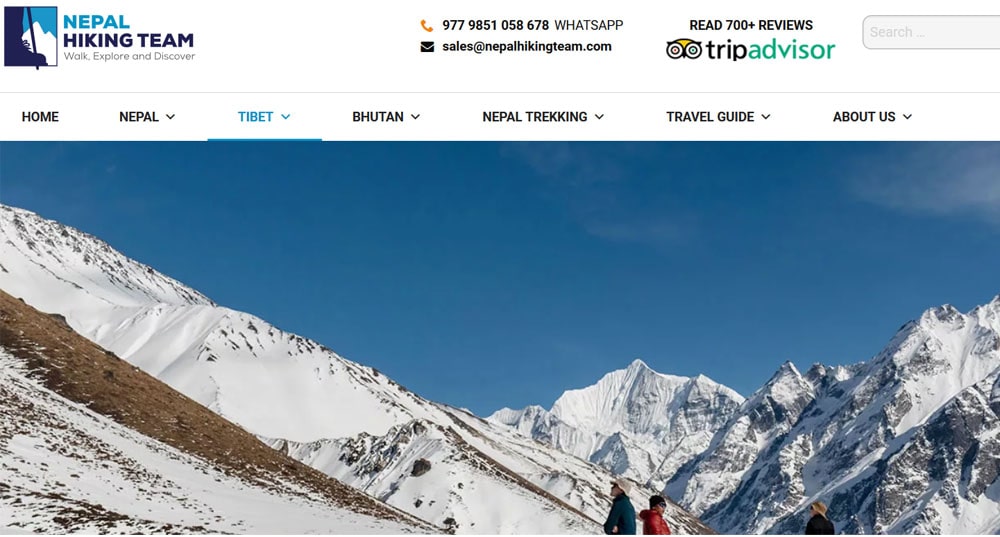 The Nepal Hiking Team is a registered and reputable travel agency operating with the help of passionate and hardworking people since 2008. It is known for providing quality service to its customers who believe the company is dependable, reliable, and trustworthy. With nearly a decade of experience in creating, organizing, and guiding one-of-a-kind trekking experiences, the Nepal Hiking Team has helped thousands of travelers achieve their dream.
The company offers multiple trip packages, including trekking in the Langtang region. Each trek is carefully designed, taking customers' time and budget into consideration. They do not compromise on the quality of services, from transportation, trip advice, and accommodation to customer care.
Popular Langtang Trek Packages
The valley of Langtang that sits 19 miles from Kathmandu is also known as the "The Valley of Glaciers". The trek takes you past wild and rocky terrain embellished with gorgeous snow-clad mountains and beautiful glaciers. This trek is considered easy and is perfect for a vacation.
The Langtang Valley trek expedition Nepal takes you to flow rivers, exuberant streams, and flourishing meadows decorated with colorful rhododendrons, white daisies, yellow snapdragons, and purple foxgloves. The topography of Langtang Valley is complemented with impressive landscapes, verdant grasslands, and chartreuse pastures for horses and yaks.
Trekking to Gosaikunda Lake is not just about exploring the natural treasures, but also a religious deed. Gosaikunda Lake is a famous site for many Buddhist and Hindu Pilgrims. Every year, many people with religious beliefs visit this place and worship their god.
The Langtang Gosaikunda Trek is also known for its spellbinding views of the mountains and lakes and takes you to the ethnic villages and Langtang National Park. You may even encounter the rare Red panda and a variety of other animals the live here.
The Nepal Hiking team offers other quality trekking packages in the Langtang Region:
Reviews
The Nepal Hiking Team, which is one of the most reputable trekking agencies in Nepal, has received an overall rating of 99% and 100% for client satisfaction on Trip Advisor. Everyone who has embarked on a Nepal trekking adventure to Langtang valley with this travel company has good things to say:
"Thank you Nepal Hiking Team for an unforgettable experience! If you are looking for a trekking company in Nepal go with NHT and you will be in good hands. "
If you want to have a look at more reviews for Nepal Hiking Team's services then you can visit the Nepal Hiking Team's review page or Trip Advisor.
Himalayan Social Journey

Himalayan Social Journey is a renowned Trekking and Tour Company established to offer exclusively luxurious and memorable trekking programs in Nepal. The company has been in operation for over fifteen years and their well-established team makes them one of the leading Langtang trekking companies in Nepal. Himalayan Social Journey conducts mostly exclusive, deluxe, and luxury trips in Nepal, India, Tibet, and Bhutan.
In Nepal, they provide affordable treks in the Langtang region along with a variety of trekking packages. All their treks and travel packages offer unique, culturally vibrant, and adventurous experiences. The Himalayan Social Journey's team members are committed to helping you gather unforgettable memories to make your trip exceptional.
Popular Langtang Trek Packages
The Tamang heritage trek is a community-based trip between the Ganesh Himal and Langtang Range with a trail that leads you to the culturally rich communities of the Tamang people. It also offers you the opportunity to experience spectacular views of the mountains, antique villages, and picturesque landscapes.
Other appealing factors of going on a trekking tour to the Langtang region of Nepal are the hospitality of the locals, visiting forts and monasteries, and observing the delicate and artistic design of the Tamang Village.
This classic trek combines three major areas; Langtang, Gosaikunda, and Helambu, which are individually famous and attract many tourists. Langtang is a narrow valley sandwiched between the beautiful Himalayan range to the north and other snow-clad peaks to the south. Gosaikunda has a tremendous religious value. Helambu, on the other hand, is all about nature and has a wonderful climate.
This Nepal trekking route to the Langtang valley offers you an opportunity to visit glaciers without worrying about altitude sickness. Also, you can explore many beautiful villages and learn about the religion and traditions of the people residing there.
The Himalayan Social Journey also offers
Reviews
Himalayan Social Journey is considered to be one of the top trekking agencies. There are over 1000 reviews on Trip Advisor, which have given an overall rating of 86%. Their professionalism, expertise, support, and commitment to helping clients have been the highlights for many past trekkers:
"Had an amazing trek with Santosh. He was very warm and friendly and kindly took the time to explain the culture and history of each place we visited. "
If you want to have a look at more reviews on the Himalayan Social Journey, then you can head to Trip Advisor.
Green Valley Nepal Treks & Research Hub
Green Valley Nepal Treks & Research Hub (GVNTRH) is a highly reviewed trekking company in Nepal. The company has a team of passionate people who deliver Langtang valley trekking opportunities. The (GVNTRH) team's goal is to enjoy what they do while making your trip to Nepal as unforgettable an experience as possible.
The company has been working hard to deliver the best trips to their clients; from beginning to end. The company's guides are trained and highly specialized, with advanced levels of adventure knowledge, communication skills, and qualifications.
Popular Langtang Trek Packages
The Gonja La Pass Trek in Langtang is a trip into the wilderness that is a short distance from Kathmandu. Gonja La Pass has multiple viewpoints that offer exquisite and picturesque views. You will also find Buddhist monasteries and settlements along the route, which possess unique traditional practices and mystical stories.
Helambu is suitable for all age groups and backgrounds. This trek is a perfect combination of cultural riches and natural beauty.
This particular trek tour in the Langtang Region Nepal offers you an opportunity to learn about the local culture and religions, explore beautiful places and be a part of an amazing adventure. There are comparatively fewer visitors trekking the Helambu Circuit, which is an added bonus for people who love having the track to themselves.
Green Valley Nepal Treks offer 4 other rewarding packages in the Langtang region:
Reviews
With almost 400 positive reviews on Trip advisor, Green Valley Nepal boasts a client satisfaction rate of 97%. The helpful and friendly guides, organization of the Langtang valley trekking tour, and overall effort of the company have been praised by previous trekkers. The past clients mostly claim to have had an outstanding experience:
"This is our second trek with green valley and Arjun, Raj and the team did not disappoint. We were a group of 7 friends and Raj made sure to give us as much flexibility as possible."
Above the Himalaya Trekking
Above the Himalaya Trekking was established in 2007. From the very beginning, the company has had a good reputation for its contribution to the tourism industry of Nepal. The team is comprised of a young group of energetic and experienced professionals who specialize in the Everest Base Camp treks, Annapurna Base Camp treks, Nepal Langtang Valley treks, and various other adventure tours in Nepal.
The company offers a wide variety of trekking and tour packages, such as hiking, climbing, mountaineering, jungle safaris, historical tours, and cultural tours. Trekking Above the Himalayas, you will explore beautiful and exciting places of natural and cultural wonders. They will also create a customized trip and a personalized itinerary for you.
Popular Langtang Trek Packages
The valley of glaciers, known formally as Langtang Valley, is one of the closest trekking regions to Kathmandu. Langtang is a narrow valley lying between the main Himalayan range with beautiful mountains bordering Tibet to the North and a lower range of snow-capped peaks to the south. It is one of the most popular trekking regions.
This trek gives you an opportunity to check out glaciers, explore typical villages and witness the abundant local beauty. The Langtang route will lead you to some of the most fascinating places off-the-beaten-track. The remote areas are what make this trek so special.
The high mountain lakes at Gosaikunda are the main attraction, however, the trek is also famous for its culture, religion, and local inhabitants.
This place possesses strong religious importance among the Hindu and Buddhist pilgrims and promises captivating views of the Himalayas. The trekking route of the Gosaikunda Trek is very steep and challenging. Also, you get to explore sub-alpine deep forests decorated with epiphytic orchids, sky blue gentians, and primroses.
Other than the above-mentioned packages, Above the Himalaya offers 3 different trekking trips in the Langtang region of Nepal:
Reviews
Above the Himalaya Trekking is one of the travelers' favorite companies in Nepal. They have received a rating of 98% on Trip Advisor. Prior travelers who went trekking to the Langtang region with Above the Himalaya, have spoken highly of the organization. See below review:
"Had the most wonderful trekking experience, fully organized by Above the Himalaya Trekking. I have absolutely no complaints regarding my trip that was planned by Above the Himalayas Trekking, and will definitely book with them again for any future treks in Nepal." – JoviKoh from Singapore
Exciting Nepal Treks and Expedition
Exciting Nepal Treks and Expedition is a reputable travel agency that was established in the year 2006. The company offers the widest range of exciting and adventurous outdoor activities, in Nepal, Tibet, and Bhutan. It claims to offer incredible and unmatched assistance to its guests at a guaranteed cheap price. The company is managed by a group of travel experts and specialists who work together to arrange responsible travel programs.
Popular Langtang Trek Packages
Helambu is one of the most famous trekking destinations located within a short distance from the Kathmandu Valley. The Helambu trek extends from north of Tramarang to the Gosaikunda Lake. This region is home to beautiful Sherpa, Tamang, and Hyolmo settlements on both sides of the Melamchi River.
It is also famed for its aged-old culture, ancient monasteries, traditions of the Hyolmo people, and stunning mountain views. Helambu trekking is popular for the abundant greenery, slow-moving rivers, swift mountain streams, and enchanting snow-capped mountains.
Langtang Kyanjing Gompa Trekking – 8 days
Langtang Kyanjing Gompa is one of the least trekked regions but undoubtedly stands out as one of the best treks. The Nepal Langtang Kyanjing Gompa trekking route takes you into the heart of the Langtang Region. Once in the valley, the alpine forests and stunning views of the glaciers captivate you.
The major highlight of the trek includes visiting the traditional Tibetan village, amazing views of Ganesh Himal, Lang Sisa, LangtangRi, and the breathtaking scenery of Langtang, DorjeLakpa ranges, and the rhododendron forest.
Exciting Nepal Treks and Expedition also has 3 other Nepal Langtang valley trek packages that you can choose from:
Reviews
Based on their online reviews, Exciting Nepal Treks and Expedition has been awarded TripAdvisor's certificate of excellence in 3 consecutive years; 2015, 2016, and 2017. That itself speaks volumes about the quality of the trekking trip to Langtang valley they offer. Also, they boast a staggering 100% client satisfaction rate.
See below review from a satisfied client:
"We booked our 7 days trek to Langtang with this company. The trek was memorable and we really appreciate the effort of the Exciting Nepal team. Thanks to our guide Ram and our porters Maila and Shiva. Great job guys! "
If you want to check out more of Exciting Nepal Treks and Expedition reviews, then visit Trip Advisor.
Actual Adventure Trekking and Expedition
Actual Adventure Trekking and Expedition was established in 2009, with the vision of promoting sustainable development in the tourism sector of Nepal. This travel company is comprised of a team of proactive, enthusiastic, and experienced individuals. The team is highly motivated to serve its clients and operate exciting treks to the natural wonders of Nepal in a sustainable manner.
Actual Adventure Trekking and Expedition has a wide variety of services to offer, including trekking, mountaineering, white water rafting, peak climbing, paragliding, jungle safari, bungee jumping, cultural tours, and more.
Popular Langtang Trek Packages
This is a holy trek that takes you to the sacred mountain lakes of Gosaikunda, Bhairabkunda, and Saraswatikunda. The lakes hold a greater religious significance for Hindus, which is why every year during the full moon day of July, many Hindu pilgrims visit Gosaikunda to take a ritual bath. Since the lake is considered holy, there is a belief that taking a bath in this lake purifies the soul and the body.
This trek in the Langtang region goes through a less trodden trekking trail, blessed with unique cultural experiences and wonderful scenic beauty. This is a newly formed trekking trail and is relatively devoid of the usual crowds. You will make your way through a dense forest of Rhododendron and Oak. The walk goes through high passes with a mesmerizing Himalayan view. The trip is ideal for trekkers who are searching for spirituality and serenity in the wilderness.
This is one of the classic treks in the region. The Langtang and Laribina trekking route takes you to the pristine Gosaikunda Lake via Lauribina Pass. The journey is filled with natural treasures. You will traverse through the rich dense forests of Oak and Rhododendron, which is also a habitat for the endangered Himalayan black bears, Red Pandas, and Musk deer.
The Langtang valley opens to an alpine plateau that is famous for the amazing view of Langtang and Ganesh Himal. You can also explore the glaciated upper valley from KyanjingGompa, which is surrounded by the snowcapped Himalayas. The route to Langtang and Lauribina leads you to Gosaikunda through the high-altitude alpine meadows before crossing Lauribina La pass. After making it to the pass the trail descends to Helambu valley with a spellbinding view of mountains to the north and forested hills in the south.
Actual Adventure Trekking and Expedition offers 6 more trekking packages in the Langtang region of Nepal that might interest you:
Reviews
Actual Adventure Trekking and Expedition has achieved a 95% rating on TripAdvisor, with people praising the company and their overall Langtang valley trekking services.
Review from satisfied trekker:
"From the first interaction to the planning and organizing of the trip, the actual adventure team, made us feel welcome to Nepal and understood what I was looking for. "
If you want to see more reviews on Actual Adventure Trekking and Expedition treks, then click this link – Trip Advisor.
Trekking Guide Team Adventure (TGTA)

Trekking Guide Team and Adventure was founded in the year 2007 by Mr. Kabiraj Nepali, who has contributed to the tourism industry for more than a decade now. First a porter, then a guide, and now the proud owner of this reputed trekking company, Kabiraj Nepali has all the experience required to ensure the best possible travel and trekking service. He knows exactly what makes any trip a safe and rewarding experience.
All the staff of TGTA are government certified, have extensive experience, and are trained on crucial matters, like safety, and emergency medical evacuation. TGTA offers personalized packages at cost-effective prices. Their tours include trekking, jungle safaris, helicopter tours, adventure activities, peak climbing, and rafting.
Popular Langtang Trek Packages
The Langtang region as a whole is the third most popular trekking area of Nepal after the Annapurna and Everest regions. Langtang is a short drive from Kathmandu. You can be in the mountains within just a couple of days, experiencing breathtaking scenery.
The Nepal Langtang trekking route includes astonishing views of alpine landscape, various snow-capped peaks, and lush rhododendron forests. Also, you will be given an opportunity to explore the national park renowned for the stories of the mysterious Yeti. The park now includes many animals, like Red Pandas, Black bears, Rhesus monkeys, and many more. Other than the natural wonders, you will also get to explore the unique traditional villages.
Langtang Ganesh Himal Trek – 15 days
Trekking to Ganesh Himal is an outstanding trip designed to cover the isolated and remote high hills of Nepal. You will begin trekking from Trisuli Bazar located northwest of Kathmandu and make your way through the villages, farm fields, and forests of rhododendron, oak, and pine.
The route of the Langtang Ganesh Himal Trek will lead you to different villages that are densely populated by the Tamang people. This amazing journey takes you from arctic zones to alpine woods, which offers an enthralling scenery of the Ganesh Himal range and surrounding mountains. People with time and energy can continue trekking to Tsum Valley as an extension trip.
Trekking Guide Team Adventure offers 4 other packages that allow you to explore the cultural and natural riches of the Langtang region:
Reviews
Trekking Guide Team Adventure is one of the top travel agencies in Nepal. 86% of clients have rated the company excellent on TripAdvisor. Previous Nepal Langtang valley trekkers praise their professionalism and organizational skills.
See below review from a previous trekker:
"Brilliant trip with the excellent organization from the collection at the airport to safe delivery at each destination of our trek. Thank you, Kabi for organizing this, and a huge thank you to Sujan Sharma for your patience and kindness. "
Please click here to visit Trip Advisor if you want more reviews on Trekking Guide Team Adventure.
Prime Himalayas
Prime Himalayas, formerly known as Google Treks Nepal, is one of the best reliable and government-licensed trekking and tour operating agencies in Nepal. Their team has been involved in this business for several years, possessing comprehensive experience. They work to provide enjoyable, rewarding, and hassle-free trips and expeditions for people willing to travel from around the world.
Prime Himalayas Specializes in, jungle safaris, peak climbing, white water rafting, treks, and a range of tours in India, Tibet, and Bhutan. Their main mission is to provide the best adventure travel programs while generating income for the local community and promoting Nepalese tourism. Their knowledge and networks in this field allow them to focus on every detail of the journey.
Popular Langtang Trek Packages
The valley of glaciers, also known as Langtang Valley, is one of the closest regions to Kathmandu. Langtang is a narrow valley that sits between the beautiful mountains bordering Tibet to the North and a lower range of snow-capped peaks to the south.
A trekking tour following the Langtang region route gives you the opportunity to visit glaciers at a very low elevation, explore local villages and discover abundant natural beauty. It is also one of the most popular trekking regions for people looking to embark on a short trek from Kathmandu.
Langtang Tamang Heritage Trail Trek – 10 days
The Tamang Heritage Trek is a popular trek in Nepal's Langtang region. The main attraction of this trek is the opportunity to explore the ancient lifestyle of the Tamang people. Their unique culture and traditions make them truly unique.
The trek offers a beautiful view of Langtang and Kerung (Tibetan Border). You can enjoy a hot shower in the famous natural hot spring of Tatopani.
Review
Prime Himalayas has maintained a reputable and reliable reputation. Previous clients have praised them for their organizational and management skills while admiring the knowledge of the guides. This company boasts a 100% satisfaction rate on TripAdvisor.
Happy client review:
"This trek was amazing; my wife and I enjoyed this trek from the beginning to the end. Soon before the trek Prakash, the owner of the company, wrote mails to make sure that everything was fine. "
If you are interested in reading more reviews, then visit TripAdvisor by clicking here – Trip Advisor.
Nepal Social Treks and Expedition
With a mission of bringing you sustainable travel at a budget-friendly price, Nepal Social Treks and Expedition was established in 2006. With over a decade of experience in the field of tourism, they have garnered the knowledge and expertise required to help travelers have the experience of a lifetime.
Materializing their knowledge, they have crafted exciting trips for groups and individuals in many regions of Nepal, Tibet, Bhutan, and India. Their staff provides quick and professional service at an affordable cost. The company has focused on offering activities, such as Trekking, mountaineering expeditions, peak climbing, mountain flights, mountain biking, rafting, jungle safaris, and more.
Popular Langtang Trek Packages
Langtang valley sits just north of Kathmandu and is known as one of the more famous trekking destinations in Nepal. Trekking here allows you to climb small peaks, explore local Tamang villages and witness the beauty of glaciers without having to trek to higher elevations. Much of the Nepal Langtang trekking route leads you through semi-tropical forests covered with orchids and lush ferns.
You also get to traverse through traditional ethnic villages and learn about the religion and culture of the local people. Other highlights of the Langtang expedition include a visit to the Langtang Gompa, Kyangin Gompa, Langtang Lirung Glacier, and the unmatched scenic view of the mountains.
Langtang Gosaikunda Trek – 15 days
The Langtang Gosaikunda Treks and expedition provide captivating landscapes, and an opportunity to get up close and personal with the local Nepali culture. The Gosai Kunda Lake is a holy lake with religious significance. Many Buddhist and Hindu pilgrims visit the lake during July, each year and worship their respective gods. It is also believed that taking a dip in the lake washes away all your sins.
The trek is equally famous for its culturally rich and naturally beautiful places that will make your journey memorable. You will pass through rivers, along the glacial moraine, and across beautiful oak and rhododendron forests on your way to the Tamang village.
Nepal social treks and expedition offers 2 additional trekking packages. You have the option to choose from two of the following:
Review
Nepal Social Treks and Expedition is one of the best and most highly reviewed Langtang trekking companies in Nepal. Previous clients have praised them for qualitative and exceptional customer service and their passionate and friendly staff. The company has a spectacular rating of 91% on Trip Advisor and great reviews on Book Mundi.
Satisfied client review:
"This is the fourth time we trek with Nepal Social Treks. We return to them because they are customer-focused, safety-conscious, and provide a consistently high level of service. "
LangtangRi Trekking and Expedition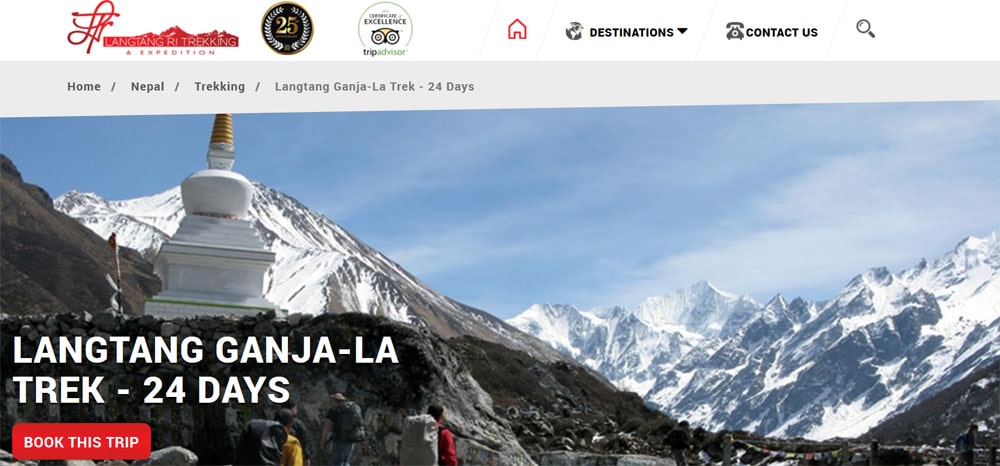 Founded in 1991, LangtangRi Trekking and Expedition is a highly reputed travel company with over 27 years of experience. It runs tour packages to the Himalayas region of Nepal, Bhutan, Tibet, and Sikkim. The company has already served thousands of happy customers.
At Langtang Ri, they accommodate every interest and desire of the clients. Langtang Ri Trekking and Expedition run mountain summit expeditions, home-stay and temple tours, jungle wildlife safaris, mountain biking, white-water rafting, and paragliding along with snow-clad mountain ranges. The company also offers custom-designed packages for every traveler with every budget.
Popular Langtang Trek Packages
The Langtang Valley sits within the Langtang National Park, which is also the first Himalayan National Park in Nepal. Trekking to the Langtang valley in Nepal offers some of the most spectacular mountain trails available. Langtang valley's trekking route hasn't been traversed much as the Annapurna and Everest regions.
In just a few days you will get to traverse the lower Himalayan foothills and the active glaciers in the high Himalayas. There are many opportunities for circuit treks, side treks, and peak climbing all within the Langtang Valley.
Langtang Tamang Heritage Trail – 11 days
The Tamang heritage trek in the Langtang valley is a community-based trekking trip between the Ganesh Himal and Langtang Range. The route leads you to the culturally rich villages of the Tamang people. It also offers an off-the-beaten-path trekking experience with a spectacular view. You will also get the opportunity to explore the nomadic lifestyle of the local inhabitants, visit local forts, monasteries and observe the delicate and artistic designs of the Tamang people. The hospitality here is unmatched.
Langtang Ri Trekking and Expedition has other trekking packages designed for people willing to explore more of the Langtang region. You can choose from the programs listed below:
Reviews
"Langtang Ri Trekking did an amazing job organizing a trek for my family into the Langtang Valley. 2 Adults and 2 Kids (ages 11 and 15). "
For more reviews, you can visit Inspirock and Trip Advisor.
Best Trekking Tours in Nepal
Nepal offers some of the best trekking routes in the world. This is the reason every year thousands of trekkers from across the globe come to Nepal to enjoy trekking in the Himalayas. Some of the most popular treks and their best operators in Nepal are:
Best Adventure Activities in Nepal
Every year, thousands of tourists from around the world visit Nepal due to its charismatic culture, wildlife, mountains, hills, forests, etc. Thus, despite being small in size, Nepal is invincible for any kinds of adventures. Here are some of the most popular adventures available in Nepal.
Best Tours in Nepal
Nepal is also a country of magnificent ancient temples, shrines, gompas, landmarks, national parks, ancient cities, and much more.
Volunteer Travel
Nepal is a beautiful country to spend your vacation. However, the majority of Nepalese citizens are living under the line of poverty. Therefore, giving back to the needy communities in Nepal while also exploring this amazing country is an ideal way to make your trip once in a lifetime. No matter what experience and passion you have, Nepal volunteer programs can accommodate you. You can volunteer in Nepal in different projects like teaching, childcare, monastery, medical and more.
Top Things to do in Nepal
If you have decided to travel to Nepal or are already in the country, knowing about the most popular things to do will certainly provide some great insight into your trip. Learn about hundreds of amazing things to do you should not miss out in Nepal.
FAQs
Conclusion
This article has clearly summarized the 10 best Lantang trekking companies in Nepal. If you are planning on taking a trip to Nepal and experiencing one of the most popular tourist experiences by going on a trek to Langtang Valley, please consider this list and contact the company that you feel best suits you and your requirements. We would love to hear about your experiences, so if you have already been to the Langtang Valley with one of these trekking companies, then please get in touch and tell us all about it!