Table of Contents
Nepal Hiking Team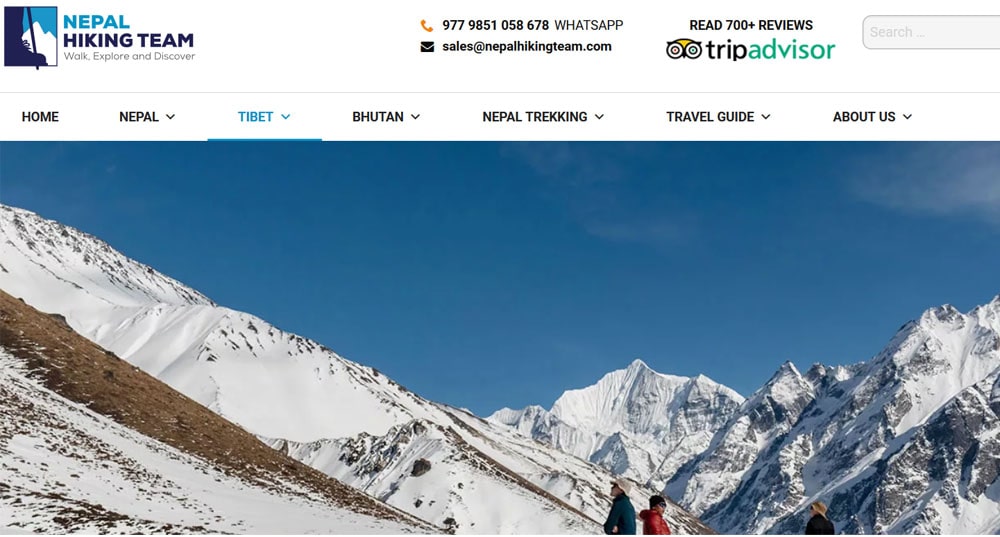 The Nepal Hiking Team is the most highly rated Langtang trek operators in Nepal. The company is established and run by a team of passionate and hardworking people since 2008. Nepal Hiking Team is known for its dependability, reliability, and trustworthiness, providing top-notch services to its customers.
Nepal Hiking Team offers multiple tour, trek, raft and adventure packages in Nepal. Each trek is carefully designed, taking customers' time and budget into consideration. They do not compromise on the quality of services, from transportation, trip advice, and accommodation to customer care.
Nepal Hiking Team's Popular Langtang Trek Packages
The valley of Langtang that sits 19 miles from Kathmandu is also known as the "The Valley of Glaciers". The trek takes you past wild and rocky terrain embellished with gorgeous snow-clad mountains and beautiful glaciers. This trek is considered easy and is perfect for a vacation.
The Nepal Hiking Team's Langtang Valley trek expedition takes you to the amazing Langtang valley allowing you to explore rivers, exuberant streams, and flourishing meadows. You will also get to see colorful rhododendrons, white daisies, yellow snapdragons, and purple foxgloves. The topography of Langtang Valley is complemented with impressive landscapes, verdant grasslands, and chartreuse pastures for horses and yaks.
Trekking to Gosaikunda Lake is not just about exploring the natural treasures, but also a religious deed. Gosaikunda Lake is a famous site for many Buddhist and Hindu Pilgrims. Every year, many people with religious beliefs visit this place and worship their god.
The Langtang Gosaikunda Trek is also known for its spellbinding views of the mountains and lakes and takes you to the ethnic villages and Langtang National Park. You may even encounter the rare Red panda and a variety of other animals the live here.
Reviews
The Nepal Hiking Team, which is one of the most reputable trekking agencies in Nepal, has received an exceptional 5 star rating on Trip Advisor. Everyone who has embarked on a Nepal trekking adventure with this travel company has good things to say:
"Thank you Nepal Hiking Team for an unforgettable experience! If you are looking for a trekking company in Nepal go with NHT and you will be in good hands. "
Read all reviews of Nepal Hiking Team on Trip Advisor.
Ethical Trekking Nepal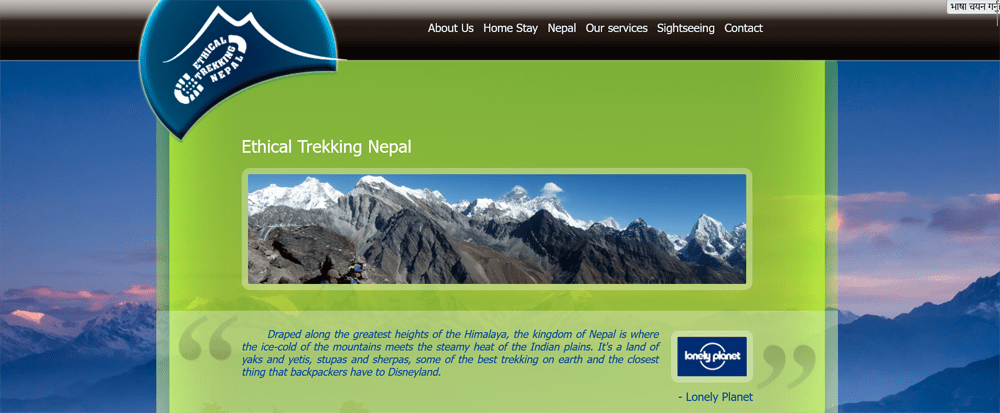 Ethical Trekking Nepal is a responsible tourism company that offers amazing Langtang trekking experiences while taking care of nature and local communities. Their experienced guides lead you through beautiful trails, sharing Nepal's culture along the way. They focus on eco-friendly practices, support local livelihoods, and ensure trekkers' safety. Choosing Ethical Trekking Nepal means having an unforgettable journey that helps protect Nepal's environment and benefits its people.
Ethical Trekking Nepal's Popular Langtang Packages
Ganesh Himal, Langtang, Shivapuri 17 Days
Joining Ethical Trekking's 17-day Ganesh Himal, Langtang, and Shivapuri trek is the best way to experience Nepal's stunning nature and rich culture. You'll walk through Nepal's towering mountains, lush forests, and peaceful villages, taking in breathtaking views and meeting friendly local people.
From the high peaks of Ganesh Himal to the beautiful Langtang Valley and the calm hills of Shivapuri, this trek is a journey you won't forget. Along the way, you'll learn about the customs of the Tamang and Gurung communities. You will indeed enjoy the company of fellow trekkers. It's not just an adventure – it's a way to connect with Nepal's beauty and make lasting memories.
Langtang Valley Trek 9 Days
Ethical Trekking Nepal's Langtang trek offers you an amazing opportunity to explore a captivating world of nature and culture. Throughout your trek, you will walk through thick forests, crossing clear streams, and visiting cozy villages. The splendor of the surrounding mountains and the captivating landscape will be your companions.
You will also get to interact with the welcoming Tamang community, learn about their way of life, and share in their warmth. From the serene Langtang village to the panoramic views at Kyanjin Gompa, each day of this trek holds a new adventure.
Ethical Trekking Nepal Reviews
Ethical Trekking Nepal has achieved a five-star rating on TripAdvisor, with people praising the company and their overall Langtang valley trekking services.
We are two travelers from Spain who spent our 2 week honeymoon in Nepal. Krishna and his team organized most of our time there and recommended the best tours and trekking for us, given our time and preference… Joan Sentis
Read all reviews of Ethical Trekking Nepal on TripAdvisor.
Eastern Light Trek

Eastern Light Trek is a dedicated Langtang trekking trip operator that invites you to explore the awe-inspiring beauty of Nepal. With a focus on providing exceptional trekking experiences, they are passionate about sharing the natural wonders and cultural heritage of this remarkable country.
Their experienced guides not only lead you on unforgettable journeys but also offer insights into Nepal's diverse cultures and traditions. Committed to responsible and sustainable tourism, they prioritize environmental conservation and community well-being. By choosing Eastern Light Trek, you're embarking on a journey that not only lets you discover Nepal's breathtaking landscapes but also supports the preservation of its unique heritage.
Eastern Light Trek's Popular Langtang Treks
The Gosaikunda Trek, also known as the Frozen Lake trek, is a captivating journey offered by Eastern Light Trek. This trek is your path to a frozen wonderland nestled within the Gosaikunda region, easily reachable from Kathmandu.
Over the course of 8 days, this trek takes you on a journey through diverse landscapes and altitudes. Starting with a drive to Dhunche, the trek passes through Chandanbari, Lauribina, and Gosikunda. The trail then leads to Luribinayak Pass and Tharepati before descending to Kutumsang and Khutumasang. The final leg involves reaching Chisapani, followed by a trek to Sundarijal and a drive back to Kathmandu.
The Langtang Trek by Eastern Light Trek offers an amazing escape into the Langtang Valley. The valley is located to the north of Kathmandu and greets you with fascinating vistas, flora and fauna, local cultures and more. You will also get to see Langtang Lirung peak, Langshisha Glacier, Kyanjin Monastery and government cheese factory.
This trek takes you on an eight-day journey starting with a drive from Kathmandu to Sybrubesi. Then you will trek daily to reach Chongong, Langtnag village, Kyanjin Gompa, and Kyjin Gompa, Langshisha and Yala. The route then returns through Kyanjin Gompa, Lamahotel, and back to Sybrubesi, concluding with a return drive to Kathmandu.
Eastern Light Trek Reviews
Eastern Light Trek is a top-rated trekking company to operate Langtang valley trek pacakges in Nepal. They've received many positive reviews on platforms like Trip Advisor, where clients express gratitude and admiration. With amazing 5 star rating, clients have shared their amazing experiences and encourage others to book with them.
From the very start the company was fantastic. Helpful, professional and understanding. On short notice they paired me up with their guide Tabraj for a 4-day trek. Tabraj has an ability to connect with everyone he meets and made me instantly comfortable…Would highly recommend! Anicia A
Read all reviews of Eastern Light treks on Trip Advisor.
Nepal Eco Adventure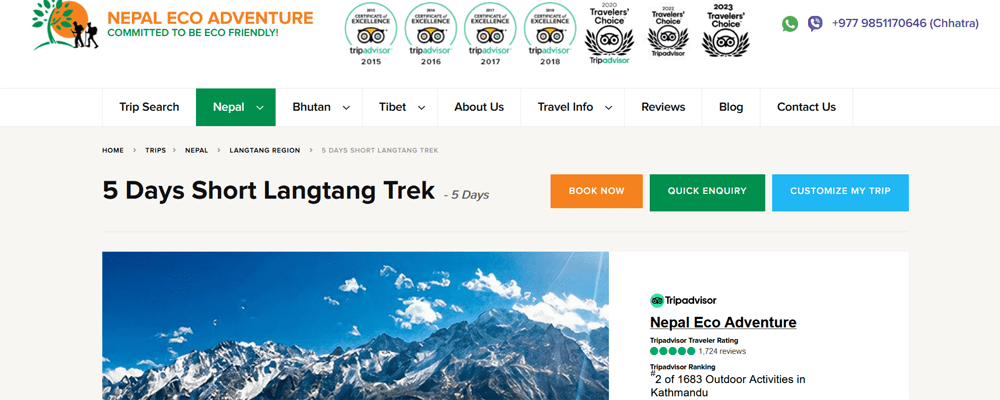 Nepal Eco Adventure, located in the heart of Kathmandu's bustling Thamel area, is established and operated by a team of dedicated and experienced experts. Their sole aim is to ensure you have the utmost satisfaction by providing the best available services in Nepal. Your safety is a top priority for them, as they want you to enjoy the stunning views of Nepal's iconic Langtang valley.
As a local trekking and tour operator with a rich history in Nepal's tourism, they have extend their services to Tibet, India, and Bhutan. Nepal Eco Adventure's strong trekking and tour guide expertise, along with affiliations with reputable institutions like TAAN, Nepal Tourism Board, and more, ensures your journey is not only safe but also a source of incredible joy and lasting memories.
Nepal Eco Adventure's Popular Langtang Trek Packages
This short trek by Nepal Eco Adventure is a quick way to experience the amazing Langtang region's beauty. Even though longer treks last 7 to 15 days, this one is for people who want to explore the Himalayas in just a short time. You'll see Langtang Valley's old trade path, visit Kyanjin Gompa at 3,830 meters, and climb Kyanjin Ri peak at 4,300 meters for stunning mountain views.
During the trek, you'll walk through Langtang National Park, a home to special plants and animals. You'll also learn about the Himalayan culture and visit a place where they make yak cheese. In just 5 days, this adventure offers a glimpse into Langtang's beauty, traditions and history, making it a perfect choice for a quick Himalayan getaway.
This special trek helps you learn about the Tamang people's way of life. It's like a window into their world between Mount Langtang and Ganesh Himal. You'll visit Nagathali's viewpoint (3165m), explore old Buddhist monasteries, and enjoy the beauty of Bamboo and Rhododendron forests.
On the journey, you'll see spectacular views of peaks like Ganesh Himal, Jugal Himal Lirung, Langtang Kerung and more. The trek takes you by big waterfalls, snow-covered Himalayas, and special lakes.
Nepal Eco Adventure Reviews
Nepal Eco Adventure stands as a premier Langtang trekking trip operator in Nepal with a stellar reputation. Countless reviews laud the company's affordability and reliability. Garnering insights from 1711 reviews on Trip Advisor, Nepal Eco Adventure boasts an impressive 5 star satisfaction rate. Here's a glimpse into a review:
Excellent Eco-Adventure Company. Emails promptly answered with all questions answered. Our guide Bijay was excellent- knowledgeable, good-natured, motivating, and kind. – Paula B
Read more reviews of Nepal Eco Adventure on Trip Advisor.
Ace the Himalaya

Ace the Himalaya is your gateway to an exceptional Langtang valley trekking adventure in Nepal. They are dedicated to curating an unforgettable experience that is tailored to your preferences and prioritizes your safety. Their personalized approach sets them apart, ensuring that every step of your journey is uniquely designed to match your needs.
They believe in flexibility, recognizing that the best adventures are those that can adapt to your desires. You have the freedom to modify your itinerary even while you're in Nepal. Their team is always ready to accommodate last-minute changes, making sure your experience remains as you envision it.
Ace the Himalaya's Popular Langtang Trek Packages
The Langtang Valley Ganja La Pass trek by Ace the Himalaya offers a thrilling adventure with scenic drives to and from Kathmandu. You'll explore Langtang village, Kyangjin Gompa, and enjoy stunning views from Kyangjin Ri. The main highlight is conquering the challenging Ganja La Pass at 5,200 meters. This trek takes you through a narrow valley north of Kathmandu, where you'll discover Tamang villages, small peaks and glaciers.
The Ganja La Pass trek is an exciting journey but needs good preparation and experience. If you trek during spring, you'll see colorful rhododendrons forests. It's a challenging adventure, but the stunning landscapes and the accomplishment of crossing Ganja La Pass make it an unforgettable Himalayan experience.
Ace The Himalaya's Langtang Helambu Trek, lasting 17 days, is packed with exciting experiences. You'll explore Langtang valley, hike to Kyanjin Ri, visit sacred Gosainkunda lakes, and cross Laurebinayak Pass. The journey also includes the charming Helambu Valley.
This trek combines Langtang, Gosainkunda, and Helambu areas north of Kathmandu. Langtang valley is snug between big mountains and offers village visits and glacier sights. Gosainkunda lakes are holy for Hindus and Buddhists. Helambu Valley is known for beauty, nice weather, and mountain views. It's a diverse trek full of culture and nature in the north of Kathmandu.
Ace the Himalaya Reviews
Ace the Himalaya has stood out with remarkable online reviews, earning TripAdvisor's prestigious Travellers' Choice Award in 2023. This achievement underscores the excellence of their Langtang valley trekking trips. Additionally, the company proudly holds an outstanding 5 star client satisfaction rate.
A GREAT EXPERIENCE our guide Aamod Nepal and Poter kumar were wonderful, kind and patient with us. We had a good experience Amod went at our pace which was great…Shenai B
Read all reviews of Ace the Himalaya on TripAdvsior.
Alpine Ramble Treks

Alpine Ramble Treks is a distinguished choice for exceptional Langtang valley trekking adventures in Nepal. With a decade of experience and government certifications, they offer personalized and secure treks, prioritizing your satisfaction and safety.
Their flexible itineraries cater to your preferences, backed by a dedicated team with a passion for crafting unique experiences. Financial protection and security, along with ethical tourism practices are at the core of their services. As a respected leader in the industry, Alpine Ramble Treks ensures your trip to Nepal, exceeds expectations, leaving you with cherished memories.
Alpine Ramble Treks Popular Langtang Trek Packages
The Helambu Circuit Trek by Alpine Ramble is acaptivating trek that begins near Kathmandu. This trek is known for its simplicity and scenic beauty. The Helambu trek offers a glimpse into the remote mountain life of the Helambu region, accompanied by breathtaking mountain vistas.
During the trek, you'll enjoy a short and picturesque drive to Sundarijal from Kathmandu, followed by stunning views of Langtang, Helambu, and Ganesh Mountain ranges. As you walk through charming local villages, you'll have the chance to understand the cultures of Tamang and Sherpa communities. Starting from Sundarijal and passing through Shivapuri National Park, the journey unfolds through Chisopani, Kutumsang, Thadepati, and Sermathang, concluding in Melamchi Pul Bazar.
Alpine Ramble's The Gosaikunda Lake Trek is a short and thrilling journey through Nepal's picturesque Langtang region. Starting from Kathmandu, this adventure leads to the revered Gosaikunda Lake at 4,380 meters. This sacred lake holds great significance for both Hindus and Buddhists.
The itinerary involves a drive from Kathmandu to Dhunche on Day 1, followed by a trek from Dhunche to Sing Gompa on Day 2. Day 3 takes you to the pinnacle of the trek, reaching Gosaikunda. The journey then retraces back to Sing Gompa on Day 4. The trek concludes with a return to Dhunche on Day 5 and a drive back to Kathmandu on Day 6.
Alpine Ramble Treks Reviews
Alpine Ramble Treks has garnered the admiration of many travelers, much like a favorite choice among Langtang trekking agencies in Nepal. With a remarkable rating of 5 star on platforms like Trip Advisor, Alpine Ramble Treks has left a lasting impression on past trekkers. Those who have embarked on journeys with Alpine Ramble Treks have expressed their satisfaction and positive experiences, reflecting the company's dedication to providing exceptional trekking adventures.
The trip was truly a once in a lifetime experience. From the beginning of the planning I was perfectly supported by alpine Ramble…Livia
Read all reviews of Alpine Ramble Treks on TripAdvisor.
Himalayan Social Journey

Himalayan Social Journey is a renowned Langtang Trek Company in Nepal. The company has been operating high quality trek packages for over 2 decades, making them one of the top companies in Nepal. Himalayan Social Journey conducts mostly exclusive, deluxe, and luxury trips in Nepal, India, Tibet, and Bhutan.
In Nepal, they provide affordable treks in the Langtang region along with a variety of trekking packages. All their treks and travel packages offer unique, culturally vibrant, and adventurous experiences. The Himalayan Social Journey's team members are committed to helping you gather unforgettable memories to make your trip exceptional.
Himalayan Social Journey's Popular Langtang Trek Packages
The Tamang heritage trek by HSJ is a community-based trip between the Ganesh Himal and Langtang Range. The trail leads you to the culturally rich communities of the Tamang people. It also offers you the opportunity to experience spectacular views of the mountains, antique villages, and picturesque landscapes.
Other appealing factors of going on a trekking tour to the Langtang region of Nepal are the hospitality of the locals, visiting forts and monasteries, and observing the delicate and artistic design of the Tamang Village.
Himalayan Social Journey's this classic trek combines three major areas; Langtang, Gosaikunda, and Helambu. These places are individually famous and attract several trekkers from different corners of the world. Gosaikunda has tremendous religious values. Helambu, on the other hand, is all about nature and has a wonderful climate.
This Nepal trekking route to the Langtang valley offers you an opportunity to visit glaciers without worrying about altitude sickness. Also, you can explore many beautiful villages and learn about the religion and traditions of the people residing there.
Reviews
Himalayan Social Journey is considered to be one of the top trekking agencies. There are over 1600 reviews on Trip Advisor, which have given an overall 5-star rating. Their professionalism, expertise, support, and commitment to helping clients have been the highlights for many past trekkers:
"Had an amazing trek with Santosh. He was very warm and friendly and kindly took the time to explain the culture and history of each place we visited. "
Read all reviews of Himalayan Social Journey on Trip Advisor.
Green Valley Nepal Treks & Research Hub
Green Valley Nepal Treks & Research Hub (GVNTRH) is a top-rated Langtang trekking trip operator in Nepal. The company has a team of passionate people who are dedicated to providing you with unforgettable adventure in Nepal. The company's guides are trained and highly specialized, with advanced levels of adventure knowledge, communication skills, and qualifications.
Green Valley Nepal's Popular Langtang Trek Packages
The Gonja La Pass Trek in Langtang is an amazing trip into the wilderness. This is the perfect trip if you are looking for a trekking trip that is a short distance from Kathmandu. Gonja La Pass has multiple viewpoints that offer exquisite and picturesque views. You will also find Buddhist monasteries and settlements along the route, which possess unique traditional practices and mystical stories.
Helambu is suitable for all age groups and backgrounds. This trek is a perfect combination of cultural riches and natural beauty.
This particular trek tour in the Langtang Region Nepal offers you an opportunity to learn about the local culture and religions, explore beautiful places and be a part of an amazing adventure. There are comparatively fewer visitors trekking the Helambu Circuit, which is an added bonus for people who love having the track to themselves.
Reviews
With over 750 positive reviews on Trip advisor, Green Valley Nepal boasts 5 star client satisfaction rate. The helpful and friendly guides, quality accommodation, high standard of safety have been praised by previous trekkers. The past clients mostly claim to have had an outstanding experience:
"This is our second trek with green valley and Arjun, Raj and the team did not disappoint. We were a group of 7 friends and Raj made sure to give us as much flexibility as possible."
Read all reviews of Green Valley Nepal on TripAdvisor.
Nepal Social Treks and Expedition
With a mission of bringing you sustainable travel at a budget-friendly price, Nepal Social Treks and Expedition was established in 2006. With over a decade of experience in the field of tourism, they are indeed one of the best companies to trek in the Nepal's Langtang valley.
Materializing their expertise, they have crafted exciting trips for groups and individuals in many regions of Nepal, Tibet, Bhutan, and India. Their staff provides quick and professional service at an affordable cost. The company has focused on offering activities, such as Trekking, mountaineering expeditions, peak climbing, mountain flights, mountain biking, rafting, jungle safaris, and more.
Popular Langtang Trek Packages
Langtang valley sits just north of Kathmandu and is known as one of the more famous trekking destinations in Nepal. Trekking here allows you to climb small peaks, explore local Tamang villages and witness the beauty of glaciers without having to trek to higher elevations. Much of the Nepal Langtang trekking route leads you through semi-tropical forests covered with orchids and lush ferns.
You also get to traverse through traditional ethnic villages and learn about the religion and culture of the local people. Other highlights of the Langtang expedition include a visit to the Langtang Gompa, Kyangin Gompa, Langtang Lirung Glacier, and the unmatched scenic view of the mountains.
The Langtang Gosaikunda Trek you with an opportunity to immerse yourself in the fascinating Tamang cultures and traditions. The Gosaikunda Lake is a holy lake with religious significance. Many Buddhist and Hindu pilgrims visit the lake during July, each year and worship their respective gods. It is also believed that taking a dip in the lake washes away all your sins.
The trek is equally famous for its culturally rich and naturally beautiful places that will make your journey memorable. You will pass through rivers, along the glacial moraine, and across beautiful oak and rhododendron forests on your way to the Tamang village.
Review
Nepal Social Treks and Expedition is one of the best Langtang trekking tour operators in Nepal. Previous clients have praised them for qualitative and exceptional customer service and their passionate and friendly staff. The company has a spectacular 5 star rating on Trip Advisor.
"This is the fourth time we trek with Nepal Social Treks. We return to them because they are customer-focused, safety-conscious, and provide a consistently high level of service. "
Read all reviews of Nepal Social Treks and Expedition on TripAdvisor.
Prime Himalayas

Prime Himalayas is one of the best reliable Langtang trekking agencies in Nepal. With a decade long experience and expertise in the field, the company offers enjoyable, rewarding, and hassle-free Langtang trekking trips in Nepal.
Prime Himalayas' main mission is to provide the memorable adventure travel programs in Nepal. What sets them apart from others is they use certain percentage of their profit to uplift the life of underprivileged communities and children.
Prime Himalayas' Popular Langtang Trek Packages
The valley of glaciers, also known as Langtang Valley, is one of the closest regions to Kathmandu. Langtang is a narrow valley that sits between the beautiful mountains bordering Tibet to the North and a lower range of snow-capped peaks to the south.
A trekking tour following the Langtang region route gives you the opportunity to visit glaciers at a very low elevation, explore local villages and discover abundant natural beauty. It is also one of the most popular trekking regions for people looking to embark on a short trek from Kathmandu.
The Tamang Heritage Trek is a popular trek in Nepal's Langtang region. The main attraction of this trek is the opportunity to explore the ancient lifestyle of the Tamang people. Their unique culture and traditions make them truly unique.
The trek offers a beautiful view of Langtang and Kerung (Tibetan Border). You can enjoy a hot shower in the famous natural hot spring of Tatopani.
Review
Prime Himalayas has maintained a reputable and reliable reputation. Previous clients have praised them for their organizational and management skills while admiring the knowledge of the guides. This company boasts a 5 star rating on TripAdvisor.
"This trek was amazing; my wife and I enjoyed this trek from the beginning to the end. Soon before the trek Prakash, the owner of the company, wrote mails to make sure that everything was fine. "
Read all reviews of Prime Himalayas on Trip Advisor.
Best Trekking Tours in Nepal
Nepal offers some of the best trekking routes in the world. This is the reason every year thousands of trekkers from across the globe come to Nepal to enjoy trekking in the Himalayas. Some of the most popular treks and their best operators in Nepal are:
Best Adventure Activities in Nepal
Every year, thousands of tourists from around the world visit Nepal due to its charismatic culture, wildlife, mountains, hills, forests, etc. Thus, despite being small in size, Nepal is invincible for any kinds of adventures. Here are some of the most popular adventures available in Nepal.
Best Tours in Nepal
Nepal is also a country of magnificent ancient temples, shrines, gompas, landmarks, national parks, ancient cities, and much more.
Volunteer Travel
Nepal is a beautiful country to spend your vacation. However, the majority of Nepalese citizens are living under the line of poverty. Therefore, giving back to the needy communities in Nepal while also exploring this amazing country is an ideal way to make your trip once in a lifetime. No matter what experience and passion you have, Nepal volunteer programs can accommodate you. You can volunteer in Nepal in different projects like teaching, childcare, monastery, medical and more
Top Things to do in Nepal
If you have decided to travel to Nepal or are already in the country, knowing about the most popular things to do will certainly provide some great insight into your trip. Learn about hundreds of amazing things to do you should not miss out in Nepal.
Learn More About Langtang:
Langtang Village
Located in Nepal's Langtang region, Langtang village provides a trekking adventure that stands out from the rest. While exploring its picturesque trails, you'll have the delightful opportunity to meet friendly locals who are enthusiastic about sharing their lifestyles with you. This presents a unique chance to observe the traditions of the Tamang communities and fully engage with the region's diverse cultural heritage. For a more comprehensive understanding, we encourage you to delve into our detailed article on Langtang Village
Langtang Trekking
The Langtang Trek is an unforgettable journey through the breathtaking landscapes of Nepal's Langtang region. As you embark on this trekking adventure, you'll be captivated by the stunning natural beauty that surrounds you. The trail takes you through lush forests, serene alpine meadows, and offers awe-inspiring views of snow-capped peaks. Read our article "Langtang Trekking" to learn in detail about this trek.
Langtang National Park
Langtang National Park, nestled in the heart of the Nepalese Himalayas, stands as a natural treasure trove. Encompassing approximately 1,710 square kilometers, this protected area is renowned for its stunning landscapes, abundant biodiversity, and cultural significance. In addition, the park is a sanctuary for diverse wildlife, including the elusive red panda, making it a must-visit destination. For a more in-depth exploration, we encourage you to read our comprehensive article on the Langtang National Park.
Langtang Valley Elevation
Are you thinking about going to Nepal for your next vacation? Have you considered doing the Langtang Valley trek while you're there? If you're curious, would you like to learn more about how long the trek is and how the altitude changes during the trek? Read our comprehensive article on Langtang Valley Elevation.
Langtang Lirung
Langtang Lirung is a prominent mountain located in the Langtang region of Nepal. It is part of the Himalayan mountain range and is known for its majestic beauty. Langtang Lirung stands tall at an elevation of 7,234 meters (23,734 feet) above sea level, making it one of the notable peaks in the area. This mountain, along with the surrounding Langtang range, offers breathtaking views and attracts trekkers and mountaineers from around the world who seek adventure and natural beauty in the Himalayas.
Langtang Valley Earthquake
The Langtang Valley Earthquake refers to a tragic natural disaster that occurred in Nepal on April 25, 2015. This devastating event was a result of a powerful earthquake with a magnitude of 7.8 on the Richter scale, which struck various parts of Nepal, including the Langtang Valley region.The earthquake triggered massive avalanches and landslides in the Langtang Valley, causing widespread destruction. The Langtang Village, in particular, was severely affected, with many buildings and homes buried under debris and snow. Read our comprehensive article on the effect of earthquake on the Langtang Valley.
FAQs
Conclusion
This article has clearly summarized the 10 best Lantang trekking companies in Nepal. If you are planning on taking a trip to Nepal and experiencing one of the most popular tourist experiences by going on a trek to Langtang Valley, please consider this list and contact the company that you feel best suits you and your requirements. We would love to hear about your experiences, so if you have already been to the Langtang Valley with one of these trekking companies, then please get in touch and tell us all about it!