Do you love mountain biking? Have you always dreamed of cycling through the most scenic routes of Nepal? Are you looking for a reliable travel company that can help organize the perfect mountain biking tour of Nepal?
Joining a mountain biking tour in Nepal is a great way to experience the unique cultures and natural splendors of Nepal. You will get the perfect opportunity to observe the scenic views of the Kathmandu valley and the highest mountains of the world such as Dhaulagiri and Annapurna. Mountain biking in Nepal also allows you to view different cultural and religious sites and gives you a unique insight into the wondrous heritage of the ancient civilization and its indigenous people.
There are hundreds of travel companies in Nepal that offer a wide variety of mountain biking opportunities in Nepal, with a mixed spread of prices, safety procedures, service quality offerings and effectiveness. The various cycling packages take different routes and vary depending upon each company's policy. Thus, how do you ensure you choose the right company to organize your cycling holiday, especially if it's your first time to Nepal?
At TravellersQuest, we don't want to see you cycling with a poorly-rated company or worse, making the wrong choice. We want to see you cycling with a reputable and safe company that will organize a wonderful mountain biking experience in Nepal for you.
So, we did the hard work for you. We spent hundreds of hours researching and finding the best and safest mountain biking companies in Nepal.
Here we present an unbiased selection of the 10 best mountain biking companies in Nepal.
Table of Contents
Providers
Package
Reviews
Nepal Eco Adventure
Cycling Tour – 1 day
Trip Advisor: 701 reviews, 95/100
Book Mundi :264 reviews
Ace the Himalaya
One day biking
trip – 1 day
Trip Advisor: 673 reviews,95/100
Book Mundi: 105 reviews
Mosaic Adventure
Bike Hike Paddle
holiday – 15 days
Trip Advisor: 344 reviews, 98/100
Google review: 11 reviews
Himalayan Glacier Trekking
Private Day Tours
Kathmandu Cycling
Tour – 1 day
Trip Advisor: 400 reviews, 95/100
Tour Radar: 5 reviews
Adventure Himalaya Circuit Treks and
Tours
Private Day Tours
Mountain biking in Nepal
Trip Advisor: 264 reviews, 95/100
Facebook: 25 reviews
Mountain Delights
Treks & Expedition
Kathmandu Valley Rim
Mountain Biking – 10 days
Trip Advisor: 91 reviews, 100/100
Facebook: 7 reviews
Odea Services
Nepal Mountain Bike Tour
Trip Advisor: 123 reviews, 99/100
Facebook: 42 reviews
Trekking Team Pvt. Ltd
– Day Tours
Kathmandu Valley Mountain
Biking – 5 days
Trip Advisor: 123 reviews, 99/100
Facebook: 42 reviews
Info Nepal
Treks and Expedition
Muktinath Mountain Bike
tour – 10 days
Trip Advisor: 137 reviews, 97/100
Facebook: 213 reviews
Access Nepal
Tour and Trekking
Biking in and around
Kathmandu – 7 days
Trip Advisor: 200 reviews, 97/100
Facebook: 61 reviews
Table update March 29, 2022
Nepal Eco Adventure
Nepal Eco Adventure is one of the best travel companies in Nepal with over 15 years of experience in the travel industry. They are a team of experts working together to satisfy all their clients by offering the best possible services. Along with delivering satisfaction, the company emphasizes massively the safety of their customers as well.
Nepal Eco Adventure provides a variety of adventurous activities like Nepal Mountain biking, trekking, rock climbing, peak climbing, kayaking, paragliding, rafting, and a few others. They are very good at personalizing the trips according to your interest and specifications. Mostly, they design the tours considering the time and monetary value of the customers. For their praiseworthy contribution to the industry, they have been awarded Trip Advisor's Certificate of excellence award from 2015 to 2018.
Mountain Biking in Nepal Packages
Cycling Tour
The cycling tour with Nepal Eco Adventure is an opportunity to visit some of the unexplored and extremely beautiful places in Nepal. You will get to experience the serene wilderness of biking in the mountains as you make your way through tough climbs, fast-flying single track, technical descents, and the remote exotic village life of Nepal. You can go mountain biking to the popular Annapurna Circuit, Jomsom, Muktinath, lower and upper Mustang, and to a few other rewarding regions.
Other than the high altitude mustang Nepal mountain biking, Eco-adventure also has packages that allow you to cycle in the Kathmandu Valley, Nagarkot, Kakani, Namobuddha, Dhulikhel, Pokhara, and some other hidden trails that lead you to less frequently visited rural villages. Cycling is a perfect way to enjoy the beautiful and serene natural surroundings of Nepal.
Reviews
Nepal Eco Adventure is one of the most highly reviewed travel companies and it has built an outstanding reputation by providing excellent services. Most of their clients praise their unmatched professionalism, transparency, friendliness, cooperativeness, and a great sense of understanding of what would be the best for the clients.
Nepal Eco Adventure is a great local trekking agency. They know their business and they have built a great reputation for it. They also have very reasonable fees. Their communication is always cordial, professional, and transparent..–Amelie A
For more reviews, you can visit Trip Advisor, Book Mundi, and Nepal Eco Adventure's Facebook Page.
Ace the Himalaya – Private Day Tours

Prem K Khatri, a prior freelance tour and trekking leader, founded Ace the Himalaya in 2006. Since its establishment, Ace has been proudly helping people from around the world to explore the breathtaking beauty of the glorious Himalayas. The company is based in Nepal; however, they have sales representatives in the UK, USA, Switzerland, and Indonesia. The representatives are there to help their global clients to book and promote the trips in an easy and convenient manner.
Having served 1000 happy and satisfied travelers, Ace is a highly renowned adventurous mountain biking tour in Nepal. The company operates with the help of 110 qualified, dedicated, and experienced staff members who strive towards delivering the best services. For their impressive contribution to the industry, they have earned a lot of appreciation and won multiple and accolades, including Trip Advisor's certificate of excellence award from 2012 to 2017. Ace specializes in many activities such as trekking, hiking, mountain biking adventure, mountaineering, rafting, cultural tours, wildlife safaris, and other special itineraries. They offer both custom travel packages as well as prior planned itineraries.
Mountain Biking in Nepal Packages
One-day biking trip
Kathmandu Valley is one of the best places for obtaining an amazing day tourbiking experience. Riders of all levels get to enjoy cycling in the Kathmandu valley, as there will be mountain climbing, single-track exploration, and many other adventurous activities. You will reach an elevation of 2,200m as you ride past quaint Newari villages and farms during the Nepal mountain bike tours in Kathmandu.
You will also get to enjoy the prepossessing view of the mountains, ride through wild forests, and long winding single tracks. There are four different routes. You can go on Mudkhu – Tokha trail, which is in easy reach from the famous tourist hub in Kathmandu, Thamel. You can complete cycling on this trial in around three to four hours, and it is a perfect trail for beginners.
The other cycling route in the Kathmandu valley is The Scar Road, also considered the most challenging cycling trial. You will need five to six hours to complete the cycling here. Next is the Budhanilkantha – Kapan Trail, which takes five to six hours to complete and is considered a technical ride. The last one is Jamacho Route, which is a moderate ride that will also take five to six hours to complete
Himalaya Downhill Mountain Biking – 10 days
Himalaya Downhill Mountain Biking begins from Kathmandu. You will explore the valley riding through the best single track, sharp turns, steep climbs, and perfect descents. The next day, you will drive to Pokhara and take a flight to Jomsom, where the cycling continues. You will start from an altitude of 2700m with a perfect view of Mt Dhaulagiri and head downhill traversing many beautiful places.
The significant highlights of this tour are visiting one of the holiest pilgrimage sites, Muktinath Temple, exploring Pokhara, the city of lakes; visiting historical, cultural, and religious sites in Kathmandu, cycling through the beautiful Kagbeni village, witnessing the stunning views of Dhaulagiri and Annapurna ranges, taking a dip in the natural hot springs in Tatopani, and most importantly, enjoying the adventure of cycling in different routes of Nepal.
Reviews
Ace the Himalaya is one of the best and most trusted travel companies in Nepal, and it has helped thousands of avid travelers. The reviews from their previous clients clearly vouch for the excellence in the service that the company offers. People mostly praise the knowledgeable and courteous guides, the arrangement of the trips, reasonable price, and a satisfactory return on their time and money invested.
Went on a 7-day mountain biking expedition around the Kathmandu Valley. It was one of the most intense and beautiful things I have ever experienced. Our guide, Santos, was amazingly knowledgeable and extremely helpful.– Bob D
Interested to read more reviews? Please go to Trip Advisor, Book Mundi, and Facebook Page.
Mosaic Adventure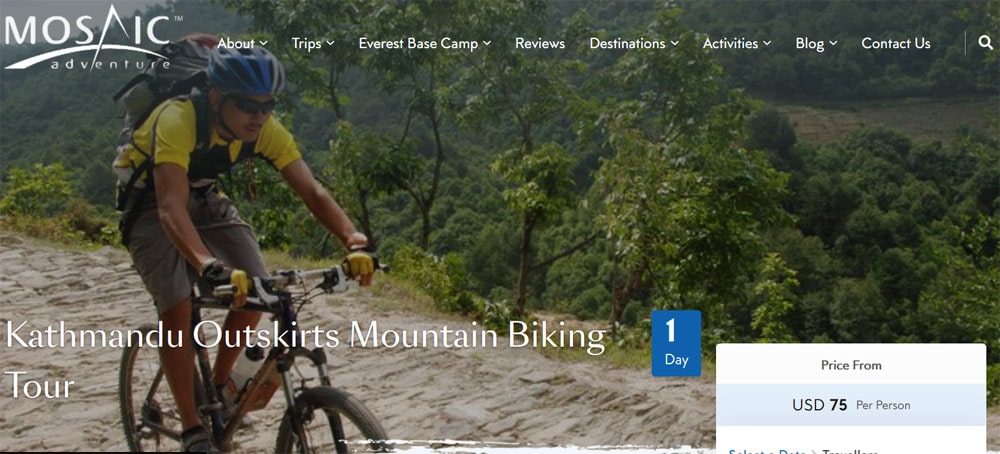 Mosaic Adventure is a highly-regarded tour company founded in 2009 by Mr. Rajendra Sapkota. The company has fully specialized and experienced staff who offer outstanding cultural trips, trekking itineraries, and adventure tours like Nepal Mountain biking, peak climbing, and summiting a peak in Nepal, Tibet, and Bhutan.
The team always listens to what the customer wants, and they share some of their expertise, experience, and suggestions to help travelers to attain an impressive travel experience. They offer friendly, personalized, and impeccable services for their travel trips to South Asia!
The company is also a member of environmental organizations like Youth Effort for Society (YES), The International Ecotourism Society, Kathmandu Environmental Education Program (KEEP), and Youth Campaign for Development (YCD), which promotes responsible tourism.
Mountain Biking in Nepal Packages
Bike Hike Paddle holiday – 15 days
Bike Hike Paddle holiday is a mixture of every adventurous activity that a thrill-seeker could desire. Hiking, paddling, and biking through Nepal's magnificent landscapes on this 15-day tour is arguably the most adventurous expedition taking place in the eye-pleasing natural environment of this wonderful country.
This trip is not for timid travelers, as you will begin the trip by tackling the thrilling whitewater rapids of the Bhote Koshi River. The adventurous rapids with steep falls and spectacular scenery will give you a heavenly feeling from the get-go.
The next adventure is to Bungee Jump and plunge 160 meters into a tropical gorge of Bhote Koshi. After a night in Kathmandu, you will then go on a Nepal mountain biking expedition to explore the Kathmandu Valley before heading to Pokhara.
After completing the cycling journey, you will hike for five days into the heart of the Annapurna. Next, you will paraglide over Phewa Lake and witness the astounding Annapurna mountain range while floating in the sky over the magnificent landscape.
Reviews
Mosaic Adventure is regarded as a reputable travel company and it boasts an impressive client satisfaction rate. Their previous customers appreciate every single effort made by the company to help them to attain a perfect travel experience in Nepal. People have mostly praised the professionalism and responsiveness of the company and the friendly and reliable guides, all of which are key factors to properly carry out a trip.
We went cycling and hiking between forests, villages, and rice fields. Most treks are action-packed but one can choose their level of adventure with Mosaic. No hidden costs and they show you Nepal's culture and heritage beautifully! – From New Delhi, India
If you are interested in going through additional reviews, kindly visit Trip Advisor, Google Review, and Tour Radar.
Himalayan Glacier Trekking – Private Day Tours
Himalayan Glacier is a leading adventure and tour operator established in 1992. Their team comprises of highly experienced and knowledgeable professionals who are ready to serve you the best of treks, tours, and adventurous activities, like peak climbing and cycling in Nepal, Tibet, India, and Bhutan. Their guides are selected on the basis of their technical competence, proven safety records, ability to help travelers with knowledgeable instructions, and also their friendly demeanor.
They aspire to offer the perfect choice of holidays, unrivaled adventure thrills, cordial customer assistance, and responsible tourism. Also, your safety is their primary concern, which is why, despite offering travel packages at a reasonable and inexpensive cost, they will not compromise your safety. For the outstanding services that they have been offering for 26 years, they have been recognized and rewarded with multiple certificates of excellence awards by different renowned organizations.
Mountain Biking in Nepal- Package
Kathmandu Cycling Tour – 1 day
A one-day cycling tour is an opportunity to get to know the rich culture of the region and explore ancient temples, shrines, historic sites, and unique villages. During the cycling tour, you will rejoice in the splendorous scenery and you will also get to mingle with the local inhabitants. The tour will begin from Kathmandu at 9:00 am after having early morning breakfast. You will first head towards Chobhar gorge, located 9km southwest of the Kathmandu Valley.
Here, you will get to learn about the myth and the legend related to the making of the valley. You will also visit a famous temple named Adinath, situated on top of the hill. The view of the valley from this hill is simply magnificent. Then, you will continue your Nepal Kathmandu cycling tour and head to Kirtipur, an ancient town famous for the view of traditional houses, old shrines, and temples. You will also explore the traditional lifestyle of the locals and enjoy their local delicacies that are extremely popular.
Reviews
Himalayan Glacier Trekking is recognized as one of the best Nepal Mountain biking tour operators. Their way of dealing with the customer is highly praised by their previous clients. Also, people have admired the quality of food, accommodation, and guides that this company provides.
The Himalayan Glacier Trekking Company was in constant contact with me and if I send an email they responded to me almost immediately. -Trudi
Please go to Trip Advisor, Tour Radar, and the company's Facebook Page to read more reviews.
Adventure Himalaya Circuit Treks and Tours – Private Day Tours
Adventure Himalaya Circuit Treks and Tours is a reputed travel company in Nepal. The company was founded in late 2011 and has served many happy customers since then. The company is authorized by the Nepal government and is also a member of the Trekking Agencies Association of Nepal (TAAN). Their company is composed of hardworking, passionate, and experienced staff members whose dedication towards delivering optimum satisfaction to their clients has resulted in making them a leading travel agency.
Every employee is perfectly trained for their job and they possess impeccable knowledge regarding the terrains, different religions, cultures, and traditions of the region. Their main aim is to provide you with the best, most comfortable, and most satisfactory travel packages. These packages include trekking, jungle safari, rafting, bungee jumping, mountain biking, and a few others.
Mountain Biking Packages
Mountain biking in Nepal
Nepal is a tremendous place for mountain bikers, as it has some of the finest bike trails that offer unparalleled and extraordinary sights of nature. Cycling is slowly becoming popular in Nepal because this sport is one of the best ways to travel around this beautiful country and explore the natural wonders. Fortunately, the Adventure Himalaya circuit has packages that allow you to go on a Nepal mountain biking tour in the Kathmandu Valley as well as in the outer regions.
Nepal is popular for its beautiful mountains with diverse and spellbinding landscapes. There are plenty of dirt roads and trails that take you to exhilarating destinations. If you particularly wish to explore remote regions as you experience the wilderness, biking in Nepal can be very rewarding. Also, Nepal forms a perfect gateway for people wanting to go on a biking tour to other Asian countries like Tibet, Bhutan, Myanmar, and Northern Thailand.
Reviews
Adventure Himalaya is a highly reviewed Mountain biking tour in Nepal operator that has been continuously praised by many travelers. People who have managed to embark on a trip with them are not short of words when it comes to praising them for their honest, reliable, and transparent services at a reasonable cost.
I came across this company unexpectedly and they have been very helpful, honest, and reliable. They give a good price too compared to other companies. – Ruth K
If you are interested in reading more reviews, please go through the reviews on Trip Advisor and Adventure Himalayas' Facebook page.
Mountain Delights Treks & Expedition
Established in 2004, Mountain Delights Treks &Expedition is a travel agency that has maintained an impressive reputation in Nepal and abroad. Their team comprises enthusiastic, well-trained, and experienced members who work together to deliver the best to their clients. Meanwhile, the company is culturally and environmentally aware, and thus, they maintain sustainable business practices.
With Mountain Delights you can acquire efficient and personal services participating in various activities like trekking, jungle safari, mountain climbing, whitewater rafting, mountain biking expeditions, bungee jumping, and a few others. They also offer a tailored program for individuals or groups that will fit perfectly with anyone's requirements.
Mountain Biking in Nepal Packages
Upper Mustang Mountain Biking – 17 days
If the landscapes are aesthetically appealing, you will be more likely to make the most out of your mountain biking trip. To your benefit, the Himalayan regions in Nepal are blessed with this feature. One of such amazing places with a perfect landscape is the Upper Mustang region, famous for the surreal mountain biking experiences in Nepal. The trails are challenging for the adventure lover and the scenic beauty of this region will leave you awestruck.
Some of the significant highlights of this expedition are the cultural heritage tours in Kathmandu, the amazing biking experience in one of the incredible landscapes, the adventurous high mountain passes, the exploration of the rural lifestyle of the people in Upper Mustang, and the opportunity to spiritually immerse in the Tibetan Buddhist culture.
Kathmandu Valley Rim Mountain Biking – 10 days
Mountain Biking in Nepal is a perfect opportunity to explore the valley's wonders. The natural surrounding and the various cultural and religious heritages make this an exotic trip for bikers. Biking in the Kathmandu Valley Rim also allows you to explore absolutely beautiful places such as Mulkharka, Nagarkot, Chisapani, Dhulikhel, and Namo Buddha.
The professionally guided 10-day biking trip takes you to remote areas with a peaceful and serene atmosphere and an eye-pleasing view of the Himalayan Range. You will also visit Boudhanath, the world's biggest Buddhist stupa, and a Hindu Temple called Pashupatinath, which holds great significance among the Hindus. Similarly, Nagarkot is famous for the fascinating view of the sunrise, whereas Dhulikhel is famous for local delicacies.
Reviews
Mountain Delights' exceptional services are praised continuously by their previous customers and the company boasts an impressive client satisfaction rate. The proper arrangement and organization of Nepal Mountain biking trips, the service-oriented staff, and the knowledgeable guides have been the most admired. Many have highly recommended Mountain Delights to those looking for a rewarding travel experience.
Mr. Ram, the Founder, and Director of this company provide exceptional services. His hospitality and attention to detail exceeded our expectations. I strongly recommend this tour operator to everyone! – From TP12388
To check out more reviews you can go to Trip Advisor and Mountain Delights' Facebook Page
Odea Services
Founded by a team of dynamic, young, and energetic people, Odea Services Pvt. Ltd is a reputed tour operator and holiday planner in the Himalayan region of Nepal, Bhutan, India, Tibet, and other parts of the world. The members of their team have been working in the field of travel and tourism since 1999. Therefore, they are highly experienced. The company caters to travel and tour activities and they are committed to providing qualitative and cost-effective services.
People are attracted to certain travel companies depending on their creative itineraries and the quality of their services. Odea Services is great at both of those determinant factors. They take care of people with different interests and manage full-service travel packages for clients traveling for business or vacation purposes. The prices they charge for travel tours or adventurous activities, like mountain biking, are all-inclusive with no hidden costs attached.
Mountain Biking Package
Mountain Biking in Nepal
The diverse geography of Nepal provides a perfectly challenging trail for avid mountain bikers. The trail meanders through remote villages and dense forests. The biking tours in the mountains offer a perfect opportunity to explore this wonderful country, its landscape, little-known villages, monuments, temples, and heritage. In Nepal, there are abundant drift roads and trails that are the fantasy of every mountain biker.
The Mountain biking expedition in Nepal surely will be a once-in-a-lifetime experience. During the two-to-three-day biking tour, you can visit places like Nagarkot, Dhulikhel, and Daman. But in longer trips, you can head to places like Pokhara, Chitwan, Langtang Valley, Jomsom, Muktinath, and the adventurous Annapurna Circuit.
Reviews
Odea Services is a highly reviewed travel agency that boasts an impressive client satisfaction rate. Almost every one of their previous customers admires the overall service they received from Odea. They have mainly emphasized the hardworking, supportive, and professional staff, who were the prime reason for the overall service being remarkable.
Thank you very much to Odea Services for making our experience in Nepal unforgettable. Devi, Kancha, and Anup treated us like family. -Isaias H
If you are interested in reading more reviews, please go to Trip Advisor and Odea Services' Facebook page.
Trekking Team Pvt. Ltd. – Day Tours
Trekking Team Pvt. Ltd. is a renowned mountain biking holiday in Nepal operator, and it has several years of experience in operating trek and adventure tours. They have used their expertise to select outstanding areas of various countries as perfect travel and tour destinations. With them, you won't just visit a country; you will be personally involved with its people, wildlife, culture, religion, and tradition. This will allow you to acquire one of the most rewarding experiences of traveling to a new country.
The company considers itself as a specialized tour operator, which is why they provide only a small number of holiday destinations. But you can still perform a number of activities such as hiking, trekking, biking in the mountains, rafting, peak climbing, and a few more. Also, their safety record is unsurpassed, as they ensure to take care of every single detail, thus enabling you to enjoy traveling without worrying about anything else.
Mountain Biking in Nepal Packages
Kathmandu Valley Biking – 5 days
Nepal has the potential to be called a mountain biker's paradise because of the astounding landscapes which are perfect for adventure and for witnessing natural treasures. There are options available for people with different interests, as there are arduous trails with a high difficulty level and also, easy ones. Kathmandu Valley Mountain biking falls in the latter category.
From the city, you will set off on a four-day trip, pedaling along the ridge-top trails that encircle the valley's rim. Only a short bike ride away from Kathmandu, there lies a different yet wonderful world of small villages, wooded slopes, and hidden temples. You will traverse through the ancient roads by jeep before arriving at a place with an astounding backdrop of Himalayan peaks.
Pokhara and Kathmandu are popular tourist destinations. Pokhara is famous for its nature and its unmatched beauty, whereas Kathmandu is rich in cultural and religious heritage. Embarking on a Pokhara cycling tour to Kathmandu in Nepal allows you to explore both the wonderful cities and attain a rewarding experience.
You will get to ride on the wild and challenging terrain as the magnificent landscapes leave you in awe. With the scenic sight of the snowcapped mountains in the backdrop along with the extreme valleys, rugged middle hills, dense forests, and timeless villages, you will enjoy every bit of this challenging yet worthwhile mountain biking experience!
Reviews
Trekking Team is considered one of the best travel companies in Nepal. It has served many satisfied and happy customers, who highly commend them for their outstanding service. Previous clients admire the proper arrangement of trips, flexibility, hospitality, and mostly the friendly and caring staff.
The first thing you'll experience is being welcomed, ODEA made my time there feel comfortable in the arrangements, not to mention also the flexibility they have. – Kuala Lumpur, Malaysia.
If you want to take a look at more reviews, please go to Trip Advisor and the company's Facebook Page.
Info Nepal Treks and Expedition
Info Nepal Treks and Expedition is a reputable and one of the leading providers for a cycling trip in Nepal. They are a government-registered travel company, and they are also affiliated with TAAN (Trekking Agencies Association of Nepal). The company was formed to accommodate a world-class service for travel enthusiasts across the world at a competitive and reasonable price. Their team comprises experts who work with passion and dedication to make your holiday trip a once-in-a-lifetime experience.
They are basically specialized in planning and organizing memorable treks, tours, mountain biking, paragliding, peak climbing, Zip Flyer, etc. Also, their primary focus is vested in discovering new trekking trails that help their client explore the unspoiled and hidden mysteries of the Himalayas Regions. With over 15 years of experience in the tourism sector, they have also been contributing to the sustainable tourism development in Nepal.
Mountain Biking in Nepal Packages
Muktinath Mountain Bike tour – 10 days
The Biking tour to Muktinath temple begins after a sightseeing tour of Kathmandu. During the tour, you will observe some of the UNESCO world heritage sites that hold significant cultural and religious values. After that, you will drive to Pokhara and explore this extremely beautiful city of lakes. Later, you will relax in peaceful surroundings.
The following day, you will fly to Jomsom, from where the Nepal mountain biking trail begins. Once you land at Jomsom, you will be given a bike with which you will pedal for 14 km through exciting landscapes to arrive at Kagbeni. The next day requires you to head to Muktinath cycling uphill, the journey will be difficult but fun at the same time. The following two days are dedicated to cycling downhill on an easier but slightly bumpy trail. You will head towards Tatopani through Tukuche and finally, drive to Pokhara before returning to Kathmandu.
Reviews
Info Nepal Treks and Expedition is one of the best and most highly reviewed travel companies in Nepal. Almost all the prior clients of Info Nepal Treks and Expedition have cherished their travel experience with this company. They admire the services that they were offered and they compliment the company for their professionalism, customer care service, and honest and friendly staff members, who were always ready to help.
Such a fantastic company that will design and create a trip that is individually tailored for you. Brilliant atmosphere and friendly staff.– Angelia J
To read more reviews please go to Trip Advisor and Info Nepal Treks' Facebook Page.
Access Nepal Tour and Trekking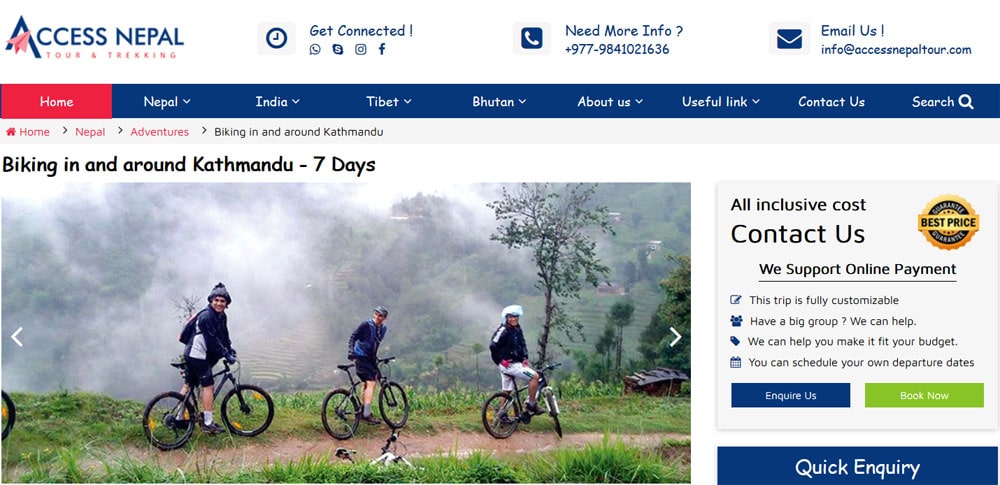 Access Nepal is one of the best providers for mountain biking expeditions in Nepal. The company is operated by a team of skilled professionals in the tourism sector, who have acquired expertise in organizing different tours, mountain biking expeditions, and holiday programs in Nepal, Bhutan, and Tibet. The company is certified by and registered with the Government of Nepal. Similarly, they are recognized by the Nepal Tourism Board (NTB) and the Foreign Exchange Department of Nepal. They also have an affiliation with organizations like Nepal Tour Agency (NTA), Trekking Agency Association of Nepal (TAAN), and Nepal Mountaineering Association (NMA).
Access Nepal's policy is to help you as if they were your friends, not just your agents because this strengthens the bond between the customer and the company. They have their primary focus on exploring new places and activities to help the travelers experience something fresh and new. Their main intention is to ensure that their customers fully enjoy their holidays and take with them exciting and adventurous stories and memories to share.
Mountain Biking in Nepal Packages
Biking in and around Kathmandu – 7 days
Biking in and around the Kathmandu Valley is a perfect way to pedal along beautiful trails and traverse to exotic hilltops, like Dhulikhel and Nagarkot. It is an exceptional opportunity to savor the beauty of various mountains from Kathmandu's periphery and explore the old deities. The beauty of the terrains is enhanced by various landscapes that are home to different quaint villages and cultural heritage. You will also get to enjoy the wilderness and serenity away from the busy streets of Kathmandu.
Similarly, a cycling tour in Kathmandu allows you to explore the ancient monasteries and temples with impressive artwork. The sightseeing tour in Kathmandu will give you a proper insight into the culture and tradition of the locals. You will also come across a few UNESCO's world heritage sites before moving far from the hustle and bustle of the capital city.
Biking in Jomsom-Muktinath Trail – 10 days
Biking in the Jomsom- Muktinath Trail in Nepal is an opportunity to Pedal along with one of the adventurous terrains situated above the Kali Gandaki Gorge, which is the deepest gorge on Erath. You will further get to enjoy the prepossessing views of the Himalayas and witness the communities residing nearby the river's bank. You will move ahead on an amazing mountain bike to Jomsom, known as Nepal's apple orchard, which is located in the rain-shadow of two wonderful peaks named Nilgiri and Dhaulagiri. This place is also the home of the Thakali people, and it possesses a significant touristic as well as religious importance.
Jomsom is also popular for the Muktinath temple, which holds importance in both the Hindu and Buddhist communities. The biking expedition to the mountains of Jomsom and Muktinath will give you the most amazing experience, as it is considered one of the best routes for cycling in Nepal. The panoramic view of the majestic Dhaulagiri and Nilgiri peaks in the backdrop as you pedal further in the route adds beauty to the trip.
Review
Access Nepal has built a very good impression of themselves in the travel and tour and Nepal cycling tour business. Many people have chosen this company to embark on different trips and expeditions, and they are satisfied with the commendable service that they received. Previous clients have mostly praised the company's prompt response to queries, the high-quality accommodation and food, the helpful and caring staff members, and their overall professionalism.
Couldn't recommend Access Nepal more! Never have I been on such a well-run tour. From the moment we landed at the airport until the day we flew out, the staff at Access Nepal made the trip seamless. – 606 Kate123 from Melbourne, Australia
Are you interested in reading more reviews? Please visit Trip Advisor and Access Nepal's Facebook Page.
Best Trekking Tours in Nepal Himalayas
Nepal attracts hundreds and thousands of trekkers from around the world every year as this beautiful country is known as the heaven for trekkers. No matter whether you want long or short treks, Nepal offers several amazing treks in the breathtaking mountains. You can choose to trek to Mount Everest, Mount Annapurna, Circuit of Annapurna, Annapurna Sanctuary, Makalu, Manaslu, and many more amazing trekking regions. There are several local trek company in Nepal who operates these treks.
Best Adventure Activities in Nepal
Are you fond of adventure activities? Nepal offers some of the best and heart pumping adventure activities. Don't miss out thrilling river rafting, Bungee Jumping, Zip Lining, Mountain biking paragliding and so on.
Best Tour Packages in Nepal
Apart from trekking and other adventures, Nepal also offers life-enriching tour opportunities for families, honeymooners, and other types of travelers. You can participate in cultural tours, national park tours, religious tours, city tour, Mount Kailash tour and Helicopter tours above the Himalayas and so on. You can check out this article to see some of the best-rated travel companies in Nepal.
Volunteer Travel in Nepal
Visiting and volunteering in Nepal is an exceptional way to give back to needy communities. You will not only explore the exquisite of Nepal but also gain hands-on experience, make new friends, learn the Nepali language, and most importantly, gain a sense of attainment that you can cherish all your life. You can take part in Nepal volunteer programs like teaching , childcare, medical and monastery teaching program.
Top Things to do in Nepal
If you are planning, have decided or already reached Nepal, knowing the best things to explore and experience in Nepal is the best way to make your trip an exceptional one. You would love to explore the most beautiful cities in Nepal, so read here the best things to do in Pokhara, Lumbini, Chitwan and Kathmandu.
FAQs
Which country is best for mountain biking?
With some of the greatest bicycle trials, icy hilltops views, diverse cultures and beautiful sceneries, Nepal is arguably the best mountain biking destination. You can enjoy flexible itinerary yet exhilarating mountain biking tour in and around Kathmandu valley, Pokhara, Annapurna region, Mustang, Lower Everest Region and other exciting destinations in Nepal.
What is the price of mountain Cycle in Nepal?
Mountain biking tour in Nepal is indeed the best way to explore Nepal's beautiful beaten trails, serene wilderness, alluring vistas, and diverse cultures. You can simply rent a mountain bike from professional bike shops in Kathmandu and Pokhara at an extremely affordable price. The costs vary from US $10 for an older hard-tail bike to US $20 for a newer one with dual suspension per day. You can leave your passport or something of value as security deposit and must compensate in case of damage.
Who is the best cycle rider in Nepal?
Biking is one of the most popular adventure activities in Nepal. There are some surprisingly gifted bikers in Nepal and thus we can see Nepalese cyclists participating in international cycling competitions. Arguably, some of the best bikers in Nepal are Bikram Thapa, Suraj Da, Ajay Pandit, Roan Tamang and so on.
Conclusion
All the companies listed above are highly reputable and trusted by many travelers from around the world. No matter which company you choose, you will be able to enjoy your stay in Nepal to the fullest. So go through the provided information, tally the services, and select the company that looks more promising to you.