Would you like to travel to Nepal and trek through some of the world's highest mountains? Are you planning to embark on a trek to the Annapurna region, one of the country's most popular treks? Are you in search of a safe company that offers the best Annapurna trekking packages in Nepal?
Trekking in Nepal is a great way to experience Nepalese nature and culture. Nepal, with some of the most beautiful mountain ranges in the world, is the perfect place for outdoor adventure activities that will leave you with treasured memories that will last a lifetime. A trek to the Annapurna region is a must-do activity for all travelers to Nepal, slated as being one of the top activities visitors to the country choose to do. On this once-in-a-lifetime trek, you can explore awe-inspiring natural landscapes within the iconic Himalayas and learn about the unique heritage of the Nepali people.
Yet, a quick search on the internet will reveal that there are thousands of companies in existence that provide Annapurna region trekking packages in Nepal. Not all were created equal as and they'll differ in ratings, company history, trekking options and prices. It makes things confusing. How do you make the right choice?
At TravellersQuest, we don't want see you trekking with a poorly-rated company. We want to see you joining a reputable and safe company that will organize a wonderful Annapurna region trekking experience for you.
So, we did the hard work for you. We spent hundreds of hours researching, and finding the best and safest Annapurna trekking companies in Nepal.
Here we present an unbiased selection of the 10 Best Annapurna trekking companies in Nepal.
Table of Contents
Table update March 17, 2022
Nepal Hiking Team
Nepal Hiking Team is a registered and reputable travel agency run by a passionate and hardworking group of people since its founding in 2009. The company is known for providing high-quality services to its customers and is also widely regarded as dependable, reliable, and trustworthy. After nearly a decade of creating, organizing, and guiding trekking and hiking trips through the gorgeous terrain of Nepal, the Nepal Hiking Team has helped thousands of travelers to live their dreams.
The company has many trip packages – including the trek in the Annapurna region in Nepal – that are carefully designed; taking the customer's time and budget into consideration without compromising on the quality of its services. Nepal Hiking Team focuses on providing you with the very best, including transportation, trip advice, accommodation, customer care service, and guides to various destinations across Nepal. The company, for your convenience and to a high standard, even customizes its packages as per your specifications.
Famous Annapurna Trekking Packages
Annapurna Panorama trek 10 days
The 10-day-long Annapurna panorama trek is all about exploring the ethnic villages by traversing through the rhododendron forests, enjoying the scenic beauty of the surrounding Nepalese landscapes, and hiking to the famous Poon Hill, a major highlight of the trek. From Poon Hill, the stunning scenes of a golden sunrise amidst the snow-glazed peaks of Annapurna will be a feast for your eyes and embedded in your memory forever.
You will be warmly welcomed by the locals in the Annapurna region and exposed to their unique culture and lifestyle throughout the trip. The trek is moderately difficult, with the possibility of altitude sickness fairly minimal. Considering this, you should definitely be able to fully enjoy trekking through the lush forests and magnificent views of the quaint mountains of the Annapurna region.
Annapurna Base Camp Short Trek-11 days
This particular package which features11 days for the Annapurna Base Camp Trek is designed for people with time constraints. It is one of the quicker ways of reaching base camp or, as it is also known, the Annapurna Sanctuary. But, although this is a shorter trek package, you will still be able to get enough time to immerse yourself in the beauty that this region is famous for.
You will begin your trek starting from the villages inhabited by the Gurung, Magar, and Thakali people; you'll find yourself walking through the rhododendron and oak forests, lush landscapes, terraced farmland, and alpine vegetation before finally arriving at base camp. You will then take the Annapurna trekking expedition that leads you to the highest point of this trek, an astounding4210m. From here, you will be rewarded with panoramic views of the Annapurna mountain range and other neighboring peaks.
Nepal Hiking Team also offers various other trek packages in the Annapurna Region:
Nepal Hiking Team- Reviews
NepalHiking Team has received positive ratings for the packages that it offers customers. Almost everyone has praised and thanked the Nepal Hiking team for their exceptional service. Past travelers have strongly recommended Nepal Hiking Team to other travelers willing to go on a trek to the Annapurna region in Nepal.
"Nepal Hiking Team is an agency that I had the pleasure of working with for my Annapurna Base Camp Trek. They have one of the best and most enthusiastic teams I have ever come across. All of my queries and questions that I had were answered very promptly and that helped me arrange my trip. The people I dealt with at the agency were all very kind and super helpful who always seemed eager to let me be comfortable." – Veronica Jimenez from the UK, 31 May 2017
If you want to have a look at more reviews on Nepal Hiking Team, you can check out the review section of Trip Advisor, Tour Radar, and Book Mundi.
Himalayan Recreation Treks & Expedition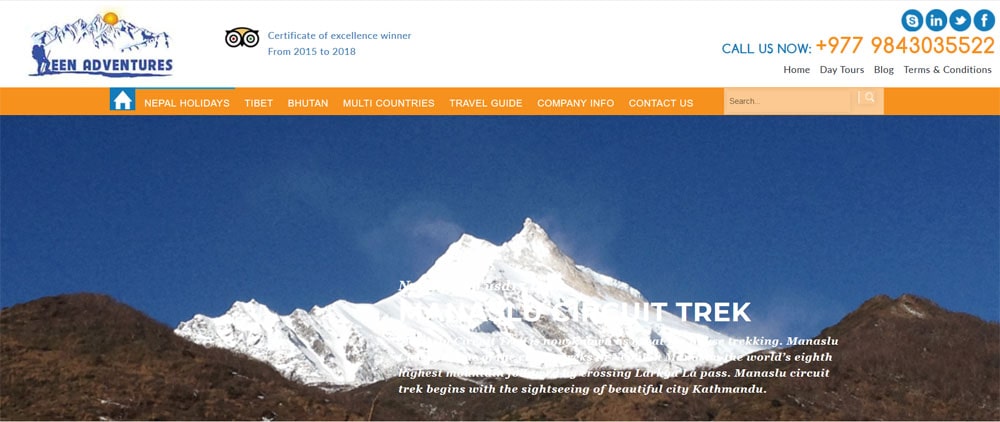 Himalayan Recreation Treks & Expedition is a licensed trekking company established with a mission and commitment to providing a seamless and high-quality service to travelers. The company has grown steadily since its inception and has been successful in ensuring customer satisfaction all-round. Himalayan Recreation's strong experience in the field and its team's professionalism have made it one of the best travel companies that offer Annapurna trekking tour packages.
The company's trekking team is experienced in organizing challenging trips in Nepal, Tibet, and India. Similarly, with its growing business, the Himalayan Recreation team is providing unique and new station routes which are more suitable for its clients. The company is also dedicated to making each trip it organizes as safe and enjoyable as possible.
Popular Packages
Ghorepani Poonhill trek- 9 days
Ghorepani Poon Hill trek covers an abundant area of the Annapurna circuit while at the same time is not comprised of long trekking routes. It is a colorful and vibrant trekking destination suitable for all age groups. The Annapurna trekking route that leads to Ghorepani Poon Hill has also been listed as one of the best trekking routes in the world.
A large number of domestic and international tourists come to visit this place and can't get enough of its beauty. The towering snow-capped mountains, stunning landscape, and high hills make this a perfect destination for nature lovers. Also, the Annapurna GhorepaniPoon Hill trekking route is considered one of the easiest treks that offer you spell-binding views of the Annapurna Range from a much lesser altitude.
Panchase Hill Trek-10 days
Panchase Hill trek is among the best short trekking routes that help you explore some parts of the Annapurna region around Pokhara. It offers you an enthralling closer view of the mountains, the fantastic wilderness, and an opportunity to explore the ethnic groups and natural heritage of Nepal. It is also known as a distinctive photographic destination so be sure to bring your camera with you!
The trek expedition in the Panchase Hill of the Annapurna region in Nepal begins after a refreshing boat trip across the beautiful Phewa Lake, which takes you to the starting point of the trek. You will ascend through the route that leads you to the World Peace Pagoda, where an abundance of flora and fauna brightens your views. Moving further, the trail takes you to the farthest elevation of this trek, 2500m, which is famous for the stunning vistas of sunrise over mountain peaks.
Himalayan Recreation offers other trek expedition programs in the Annapurna Region, including:
Himalayan Recreation Treks & Expedition – Reviews
The reviews section for Himalayan Recreation Treks and Expedition is flooded with positive comments from their clients. Most of them have praised the unrivaled service that the company offered them to ensure that they attained the best ever trekking experience in Nepal's Annapurna Region. Many have even traveled multiple times with Himalayan Recreation Treks and Expedition and declare their experience was always of high quality.
I have done my first trekking at EBC with this agency in 2014, my second trekking ABC in 2018 still accompanied by Himalayan Recreation, feel like an old friend more than a tour service. Thanks, Bishnu for treating us well 😉 – Thuy N.
You can check further reviews on Trip Advisor, Himalayan Recreation Treks and Expedition's Facebook page, and Inspirock.
Udaya Subedi, who goes by the nickname Mr. Happy, is the founder of Happy Treks Nepal. This company is considered to be one of the best trekking companies that organize trekking tours in the Annapurna region of Nepal. Udaya is an independent trekking guide and tour organizer in Pokhara, Nepal, and he has trekked with many people from around the world. But since he got elected as an executive member of the Trekking Agencies Association of Nepal in 2016, he hasn't been able to lead the entire trek by himself.
He has expanded his business and has welcomed a few professional guides to form the Happy Treks Nepal Team. Everyone on the team has extensive knowledge about environmental and cultural issues in the areas where they lead treks. The Happy Treks Nepal Team creates a challenging and memorable trekking experience that you will treasure for the rest of your life.
Best Annapurna Trekking Packages
Poon Hill Trek 4-7 days
The Ghorepani Poon Hill trek is one of the most remarkable and popular short-duration treks in the Annapurna Region. It is a perfect trekking destination for nature lovers who have time constraints but don't want to miss out on an opportunity to embrace the spectacular views and vistas of the Himalayas in the Annapurna region.
The main attraction of this trek expedition in the beautiful Annapurna region is the visit to Poon Hill. This place is particularly famous for its spectacular views at sunrise overlooking the whole Himalayan range. In addition, the panoramic views of Annapurna, Dhaulagiri, Manaslu, Machhapuchhre, and other mountains along the world's deepest Kali Gandaki gorge make this place appear almost heavenly.
Annapurna Base Camp Trek 7-12 days
If your dream is to experience what it feels like to be in an ethereal wonderland, you should definitely embark on the Annapurna Base Camp Trek trip. Beautiful mountains, natural landscapes, lush green fields of endless vegetation and thick forests lure visitors to this place. The joy of being in one of the most serene and beautiful places on earth cannot be described with mere words.
Similarly, the nine species of colorful rhododendron, over 100 species of mammals, more than 450 species of birds and around 60 species of reptiles and amphibians adds more beauty and value to this region. You will surely take home everlasting memories from this exotic trip.
Happy Treks Nepal offers other exciting trek packages in the Annapurna region of Nepal such as:
Happy Treks Nepal- Reviews
Happy Treks Nepal's review section is overflowing with positive and overwhelming comments from past travelers who are more than pleased they Happy Treks for which gave them the best Nepal Annapurna region trekking tour. Almost every one of them claims to have had an excellent trekking experience and have thanked the team, who ensured that they received the best and most satisfactory service.
We trekked for the first time in Nepal and were a bit nervous about our different ability levels. We were traveling as a family of 5 adults with a range of ages from 19 to 63 years. All age groups were considerately catered for and there was flexibility regarding the different ability levels of our group. The views were varied and spectacular! A wonderful experience of trekking, place, and people. – Poh789 from Melbourne, Australia.
You can check more reviews on Trip Advisor.
Outfitter Nepal
Outfitter Nepal Treks and Expedition P. Ltd. is a trekking, travel, and tour company with more than a decade's worth of substantial experience in Nepal's tourism industry. The company is fully owned and operated by Nepalese professionals who have assisted thousands of domestic as well as international tourist visitors on adventure holidays, including the trekking expedition in the Himalayas, the Annapurna Region.
The company offers exhilarating tours in some of the most rugged and remote mountainous regions of the Himalayan country of Nepal, as well as in India, Tibet, and Bhutan. Their programs across the three countries are led by talented and experienced professional trekking and tour guides who execute the job to perfection and genuinely love what they do. Each guide is highly trained and possesses extensive knowledge regarding the different destinations Outfitter Nepal travels to.
Popular Annapurna Trekking Packages
Annapurna Base Camp Trekking- 14 days
Trekking to the Annapurna Base Camp, which is located in the lap of the Annapurna Himalayas, sets itself up to be one of the best trekking experiences you will ever have. The trek begins in the lush lowlands and ascends higher as you make your way to the foot of the Annapurna Himalayas. Meanwhile, the unforgettable views of the mesmerizing snowcapped peaks will leave you spellbound.
The Annapurna Base Camp Trek in Nepal offers scenes of natural diversity with lovely mountain views, waterfalls, Himalayan landscapes, and a wide range of flora and fauna, which are the main attraction of the trek. You will also have an opportunity to traverse a stunning route through the many villages belonging to different ethnic communities and you'll furthermore get to learn about their fascinating culture and lifestyle.
Mardi Himal Trek- 12 days
Nepal Mardi Himal Trek, located to the east of the Nepal Annapurna Base Camp Trek expedition, is an ideal trekking destination for people who wish to gain experience trekking in off the beaten paths and trails. It is perhaps the lowest and least visited peak for trekking in Nepal.
The most significant attraction of trekking in Annapurna Region's Mardi Himal is the solitary trail that traverses through different villages, valleys, beautiful rivers, and verdant forests. Throughout the expedition, trekkers are offered the picturesque view of the Machhapuchhre, Annapurna, and Himchuli mountains as well. Visitors can also get familiar with the culture and religion of the local people.
Outfitter Nepal also provides trekking adventure packages to other beautiful destinations in the Annapurna Region:
Outfitter Nepal – Reviews
Outfitter Nepal's client satisfaction rate obtained on the basis of reviews is quite high and impressive. The majority of previous travelers who had the opportunity to participate in the Nepal trekking trip to Annapurna have praised the overall service provided by Outfitter Nepal. Many have even expressed their desire to go on a trekking trip again with them.
I couldn't have wished for more hospitality or professionalism from each of the guys at Outfitter. They really respect the traveler and are receptive to our feedback. The Best of Nepal Tour was a great mixture of Kathmandu sites, hiking throughout of the way and amazing scenery, very acceptable hotel stays, and plenty of time left to explore our destinations at our own leisure. Can't recommend this tour highly enough! – 24 PhilP.
If you want to have a look at more reviews, please visit Trip Advisor, review section of Outfitter Nepal, or Tour Radar.
Eastern Light Trek
Eastern Light Trek is a government-certified trekking company founded in 1998 with the aim of helping people live their dream of Nepal touring and trekking in the Annapurna region. They are specialized in trekking, mountaineering, rafting, cycling, canoeing, kayaking, para trek, jungle safari, village tours, religious tours, cultural tours, and a few others. The company is dedicated to bringing you closer to the beauty of nature!
Every guide employed by this company possesses over 20 years of experience in mountaineering and trekking, with individuals and groups of all sizes as well as nationalities. Most of the guides come from the Annapurna regions and are specialized in mountain adventures. They are trained in mountain rescue, first aid, high altitudes, mountain environments, etc. In short, they are there to make sure you will enjoy a safe and satisfactory experience with their team.
Rewarding Annapurna Trekking Packages
Round Annapurna Trek-15 days
Round Annapurna Trek, also famously known as the Annapurna Circuit Trek, is regarded as one of the best treks that will deliver everything a passionate trekker would want and need. The company organizes tours that give you ample opportunity to witness the wonderfully mesmerizing scenery of Nepali and experience the challenges and highs of trekking through the country. You can observe the rich cultural and religious lifestyle of many ethnic groups, which is another exciting thing to do during the Annapurna trek tour.
The 15-day round Annapurna Trek is moderately difficult, as it requires trekking through periods of extremely high altitude. Therefore, you need to possess good physical fitness and be of sound health in order to embark upon this trip. Also, you might find the circuit tiresome, but moving further along the Annapurna trekking route slowly and steadily is the key to completing a trek successfully.
Mardi Himal Trek -5 to 7days
The Mardi Himal trek is one of the most popular of the moderately difficult treks in the Annapurna Region. It is considered an ideal trek for people with limited time to explore the beauty of Annapurna. The trek offers promises mountain views of the Annapurna Range, Dhaulagiri, Fishtail, and Himchuli. Apart from the alluring scenes of the sacred mountains, the lush valleys, beautiful landscapes, dense rhododendron forest, and raging rivers also add even more beauty to this place.
The Mardi Himal Trek journey is also perfect for trekkers who wish to acquire off-the-beaten-path trekking experiences. It is one of the least visited trails in Nepal and you can explore places unknown to many. Similarly, you will also be able to enjoy peace, solitude, and serenity, as this place will not be crowded in comparison to the other trekking routes.
Eastern Light Trek provides other different Annapurna trekking trip packages to its clients.
Eastern Light Trek- Reviews
Thanks to a 95% rate of positive reviews from previous clients, Eastern Light Trek has built a reputation of excellence in the market. Most of its clients have appreciated and praised the company's helpful guides who assisted them in having an exceptional trekking trip experience in Annapurna. Also, all the other services that Eastern Light Trek offers have been admired by many.
Just superb all around! Dev, the owner, is such a kind, welcoming and knowledgeable guy. He listened carefully to our thoughts and the three treks that he organized for us (a total of 50 days!) fitted our requirements perfectly. All the guides seemed to have a real love of the mountains, certainly knew their stuff, and spoke good English (amongst other languages). We spent much time at high altitudes (4000m to over 5000m) and had complete faith in the guides. Highly recommend and hope to use it again if we make it back to Nepal. – Caroline A.
You can also check out more reviews at Trip Advisor.
Green Valley Nepal Treks and Research Hub
Green Valley Nepal is a Trekking Company founded by active hikers who have been involved in the trekking and climbing industry for more than a decade. The company has a team of passionate people who deliver a superior trekking and climbing service to happy trekkers from all around the world. Ultimately, the team's goal is to enjoy what they do while making your trip to Nepal as unforgettable an experience as possible.
The team has been working hard to deliver the utmost satisfaction to its clients from the very initial safety briefing on the first day to the moment they bid farewell to their clients. All the company's guides are trained and specialized in their field. A lot of efforts constantly go into ensuring that the staff possesses the right qualifications, communication skills, and adventure knowledge. If you are to join Green Valley Nepal for your first or next Nepal Annapurna trekking adventure, the team will help make sure you have a life-changing and memorable expedition.
Top Packages
Narphu Valley Kang La Pass Trekking- 16 days
Nar Phu Valley trekking is a unique opportunity to traverse through exotic rock formations, canyons, monasteries, enchanting forests, amazing landscapes, Tibetan inhabitants, and the unique Himalayan culture. Not many travelers have made it to this region, which is why the beauty of this place is reserved for people planning to trek expedition in the Nepal Annapurna Region.
The difficulty levels of this trek are considered high; however, those who complete it find it to be an equally rewarding experience. You will have to make your way across high passes like Kang La (5315m) and Thorung La, where you can experience the wilderness of the remote Annapurna. Furthermore, you can also get an insight into the old preserved tradition of Narphu's inhabitants.
Annapurna Circuit with Tilicho and Ghorepani trek- 22 days
The main attraction of Nepal Annapurna Circuit with Tilicho and Ghorepani Trek is the world's highest lake, Tilicho, and one of the highest passes in the world, Thorung La Pass. Tilicho Lake is situated at an altitude of 4919m, whereas Thorung La Pass is at 5416m. Also, did you know Thorung La Pass is the highest pass in the world in which a trekker can reach the summit without having to climb a mountain? It is an absolutely delightful piece of news for adventure lovers!
The trek's trail passes through different communities belonging to diverse ethnic groups and provides panoramic mountain views from the far northern Himalayas to the Tibetan Plateau. Also, Ghorepani is popular for the spectacular view of the sunrise. Tatopani, on the other hand, is famous for its natural hot springs, which are believed to heal multiple diseases and provide utmost relaxation. In short, this trek is a treasure trove for nature and adventure lovers.
Green Valley also has other trek packages in the Annapurna Region of Nepal:
Green Valley Nepal Treks and Research Hub- Reviews
Almost 400 reviews on Trip advisor received by Green Valley Nepal boast a client satisfaction rate of 97%. The company's prompt response to queries, helpful and friendly guides, porters, proper arrangement of accommodation, and overall efforts toward ensuring client's satisfaction has been appreciated by the trekkers who previously embarked on a Nepal trekking trip to Annapurna with Green Valley Nepal.
Great package including airport pick up and drop off, food and selected drinks along with the trek, accommodation, and farewell dinner back in Kathmandu. Highly recommend both the trek as well as the agency to start exploring beautiful Nepal! – Drebmann from Shanghai, China
If you are interested to look into additional reviews, visit Trip Advisor or Book Mundi.
Gokyo Treks and Expedition
Gokyo Treks and Expedition is a government-registered trek tour operator trusted by thousands of clients worldwide. With over seventeen years of experience in the travel industry, this agency has led the way in creating and offering the very best trekking experiences throughout Nepal to people from around the globe. The company values the investment of your hard-earned money when visiting an unfamiliar country and ensures that if you choose them, there will be no risks involved.
Gokyo Treks and Expedition also claims to provide you with the best deal for any tour package including a trekking trip in the Annapurna Region. In everything, starting from the planning of your trip to the execution and your departure from Nepal, Gokyo Treks makes sure to deliver the best services possible. All the team members are specialized in their respective work responsibilities and are trained to perfection.
Affordable Annapurna Trekking Package
Annapurna Base Camp Short Trek-10days
Annapurna Base Camp Short Trek is a package designed for travelers who do not have enough time to trek along the most demanding trails of the Annapurna region. This short trek offers the most exquisite scenery of the snow-capped mountains and provides a fascinating insight into the life of local inhabitants. You will also get to immerse yourself in the spellbinding beauty of the surroundings, enhanced by the abundance of rhododendron, oak trees, and lush landscapes.
Trekking to Annapurna Base Camp requires you to go through the traditional Gurung ethnic communities. The locals are very welcoming and will greet you with smiles and warm Nepalese hospitality. You can make the most of this trek by participating in this adventure during the spring season, a time when the whole forest and the trail become peppered with red, white, and pink rhododendron flowers. Also, the weather tends to remain perfect during this time so you can experience the very best views.
Gokyo Trek and Expeditions also offer many other trekking expedition opportunities in the Annapurna Region:
Gokyo Treks and Expedition- Reviews
Gokyo Treks & Expedition won a certificate of excellence from the world's largest trusted travel site, Trip Advisor, in 2015, 2016, and 2017. The reward is the result of their team's constant hard work in delivering the best to their clients. All the reviews on the company's site are positive with people praising their overall services. People have clearly mentioned that the trekking trip to Annapurna Nepal organized by the company was a huge success and they give all the credit to Gokyo Treks & Expedition.
Organized by the company we had one guide, a guide/porter, and an additional 2 porters between 5 of us. Really great bunch to help us along the trek making sure we had everything we needed, calling ahead to book accommodation, organizing our food, and also internal flights. They can pretty much accommodate anything you ask and are all very knowledgeable about the trek and Nepal. In addition, they were all great to just hang out with and have a laugh. – C L from London
To see more reviews, please visit Gokyo Trek Nepal's review page or Trip Advisor.
Above the Himalaya Trekking
Above the Himalaya Trekking, one of the leading trekking companies in Nepal was established in the year 2007. Ever since its establishment, it has earned and maintained a good reputation for its constant dedication and contribution to the tourism industry of Nepal. The team is comprised of a young group of energetic and experienced professionals who specialize in the Everest Base Camp Trek, Nepal Annapurna Base Camp Trek expedition, and numerous other adventure tours and services.
It offers trekking and tour packages of a diverse nature, such as hiking, climbing, mountaineering, jungle safari, historical tours, overland adventures, scenic and cultural tours, wilderness expedition, family adventures, or group holidays, and a few others. Embarking on a journey with this company helps you explore the beautiful and exciting natural and cultural wonders of Nepal. The company is also good at customizing the trip and creating a personalized itinerary so that it is tailor-made to your every need.
Recommended Annapurna Trekking Packages
Jomsom Muktinath Trek – 14 Days
Jomsom Muktinath trek offers a spectacular view of the incredible Himalayas, the beautiful Kali Gandaki valley, and stunning landscapes. You will even get an opportunity to undergo the dry, wasteland-like Tibetan plateau. The physical beauty that you will witness alongside the Jomsom – Muktinath trek in the Annapurna region of Nepalis simply entrancing. The trail takes you through forests of fresh and vibrant red rhododendrons, rocky cliffs, and the barren region of Mustang.
The path also follows the Kali Gandaki River, which forms the biggest gorge in the world. The river is dry during the summer but is filled with rainwater and melting snow during the monsoon season. But the main attraction of this trek is the panoramic views of the snow-glazed mountains. On one facet lie the mountains of the Annapurna Range and on the other, Dhaulagiri. You can witness eight of the 20 highest mountains in the world during this trial.
Annapurna Royal Trek – 4 Days
Situated to the north of Pokhara Valley, the Annapurna Royal Trek is one of the shortest holiday treks in the Annapurna region of Nepal. The trek got its name after Prince Charles and his entourage of 90 people, who traversed this place in 1980. Another renowned personality who has visited this place is the vocalist of the band The Rolling Stones, Mick Jagger.
Renowned for the views of tranquil lakes such as Phewa, Begnas, and Rupa, Annapurna Royal Trek offers an opportunity to explore the diverse mix of the culture and religion of the local inhabitants. The colorful flora and fauna, beautiful ridges, landscapes, and the magnificent view of the mountains are also the main attraction of this enthralling trek.
Above the Himalaya Trekking have trekking packages in some of the other beautiful places in the Annapurna Region:
Above the Himalaya Trekking- Reviews
As a winner of the certificate of excellence award from 2012-2018, Above the Himalaya Trekking is without a doubt one of the travelers' favorite companies. The reviews on Trip Advisor for this company show 98% of people referring to their services as excellent and the remaining 2% have reviewed the company as very good. The exceptional reviews from their previous clients who have trekked to the Annapurna region Nepal with their team vouch for the reliability of this company.
The best trek we ever did, and with professional, good company. Have to give high praise to the guide Suresh and the young porter Dinesh. We were able to adapt the itinerary to our needs and speed as we progressed, and honestly, the trip wouldn't have been the same without them. Suresh guided us to the most beautiful tea houses, which included some nice surprises not commonly used on the trek. The owner and manager Puru was helpful from the start. Practical advice and very quick to respond to our email inquiries. All in all an amazing experience, we will recommend, and we are definitely coming back to Nepal for more trekking! – Havard J. H.
You can also take a look at more reviews by visiting Above the Himalaya Trekking's Facebook page or Trip Advisor.
Nepal Trekking Experts Pvt. Ltd.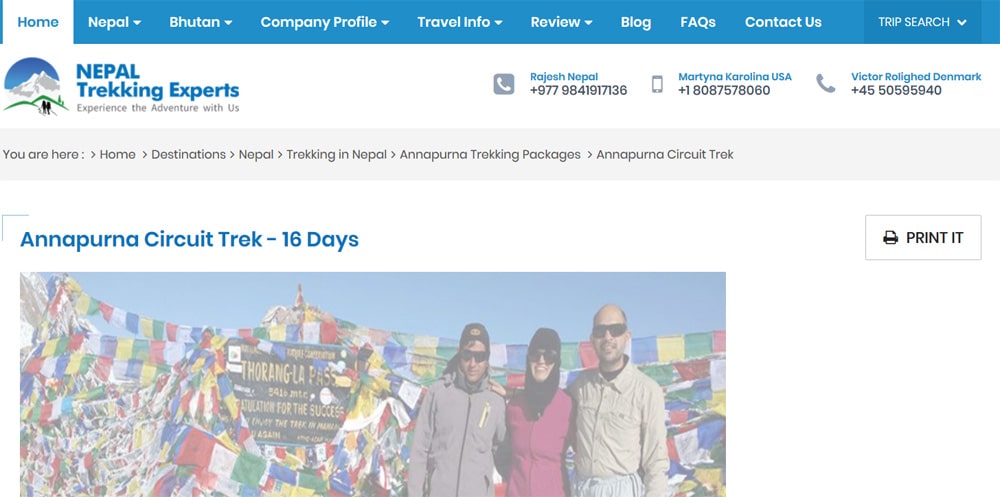 Nepal Trekking Experts is one of the best companies that provide top Annapurna trekking packages to Nepal and help passionate adventure enthusiasts explore the cultural and natural treasures of Nepal. They are specialized in offering different activities such as mountaineering, trekking, hiking, wilderness expedition, rafting, bungee, jungle safari, research tours, volunteering tours, etc.
They offer all their services at a competitive price and are open to customizing tours to suit the needs of their potential trekkers. The company's team is comprised of experienced mountain specialists who help to maintain the high level of standards that this company strives to deliver to its clients. They live up to the name of their company and work as true experts in offering the best tour and trek packages.
Famous Annapurna Trekking Packages
Ghorepani Trek – 11 days
The Ghorepani Poon Hill trek is considered the best short trek in Nepal by avid trekkers. It allows you to trek for a week in the foothills of the Annapurna mountain range and experience the mesmerizing views of the majestic Himalayas. You get to do this before making it to the top of Poon Hill (3210m), one of Nepal's most popular hills that offers a one-of-a-kind and most memorable viewpoint.
In a short amount of time, the Ghorepani Trek in the beautiful Annapurna region takes you through lush rhododendron forests, local Gurung villages, and communities, and possibly some of the best scenic vistas of the Himalayan mountains, including Dhaulagiri (8167 m), Annapurna I (8091 m), Nilgiri (7061 m), and Annapurna South (7219 m). This trek is one of the best opportunities to explore and experience the beautiful nature and culture of Nepal in a very short period of time. Similarly, it is an excellent destination for solo trekkers, families, and larger groups as well.
Khopra Trek – 15 days
Khopra is a recently opened trekking destination that is less crowded, less explored, and it has off the beaten trekking routes of the Annapurna region of Nepal. The short yet delightful KhopraDanda Trek, also famously known as the Khopra Ridge trek, starts from Nayapul, Pokhara. If you enjoy trekking in less crowded places and take pleasure in solitude, Khopra Trek is for you. It helps you explore the beauty of the Annapurna region while avoiding the crowded parts, such as the Annapurna circuit, Annapurna Base Camp, and others.
Trekking to Khopra allows you to witness undisturbed views of the spectacular sunrise at Poon Hill, traverse through the dense jungle and paths lined with rhododendron flowers, and furthermore to explore the lifestyle and culture of local inhabitants. You will also get the opportunity to stand at Khopra Danda (3360m) and observe the stunning view of the beautiful mountains from a close distance.
Nepal Trekking Experts also offers other trek expedition opportunities in Annapurna Region:
Nepal Trekking Experts- Reviews
In regards to all of the positive reviews received by Nepal Trekking Experts, it is clearly one of the best trekking companies in Nepal. The reviews boast 98% of Excellency and previous trekkers have a lot of good things to say about the company's services.
My Trekking trip with Nepal Trekking Experts was awesome! The Agency is very professional and reliable. They offer excellent personalized service and the communication and booking in advance was easy and quick. I am really happy to have found this trekking agency and will go trekking with them again for sure! – Flora K
If you want to read other reviews on Nepal Trekking Experts, please visit their Facebook page or Trip Advisor.
Mountain Monarch
Mountain Monarch Adventure is a local company registered in Nepal with its own distinguished reputation. It is a respectable company that has made a name for itself thanks to its numerous adventure holiday packages and other travel and tour ventures. Mountain Monarch stands out from thousands of other trekking companies in terms of reliability and authenticity. It also claims to be one of the most unfailing companies, holding a top-five ranking amongst local and internationally established travel agencies.
All of the team members are exceptionally specialized and have extensive experience of working within their related fields. The team works towards ensuring your safety and utmost satisfaction in return for the money and time you vest in your trekking tour.
Best Annapurna Trekking Packages
Annapurna Sanctuary Trek – 15 Days
Annapurna Sanctuary is one of the finest and best tea house treks in the Annapurna region. This trek takes you to the tremendous high mountain amphitheater known as Annapurna Base Camp. The route of this trek passes through different climatic conditions, from sub-tropical to alpine. Thanks to this, the vegetation changes accordingly and the trekkers get to witness a wide and beautiful array of astounding flora and fauna.
The beautiful landscapes of the terraced fields, forests of magnolia, oak, and rhododendron trees as well as the panoramic sunrise from Poon Hill, outstanding views of the snow-glazed mountains, sparkling waterfalls, and the fascinating glaciers continue to attract many tourists to this region. Apart from exploring the region's natural beauty, you will also get to meet different ethnic groups and learn more about their diverse culture and religion.
Annapurna Circuit Trek – 17 Day
Annapurna circuit trek Nepal exists in the Himalayas. You can witness for yourself the fascinating ethnic groups with diverse languages, cultures, religions, and traditions. The authentic views of some of the picturesque peaks, including the Annapurna and Dhaulagiri ranges, are simply magical and will leave lasting impressions forever. Walking through the naturally rich terrain of the diverse topography, trekkers shave a chance to explore not only the diverse beauty of nature itself but also the beauty of different people and their communities.
Mountain Monarch has specially designed the trekking itinerary of Annapurna circuit trekking to make the trek shorter. You will start at Bulbule and end at another fascinatingly beautiful place called Jomsom. The route is crafted so as to cover all the major highlights of this trek while helping trekkers attain the utmost satisfaction.
Mountain Monarch provides other different trekking tour programs:
Mountain Monarch – Review
Mountain Monarch is considered the best company to go on an adventurous trekking trip to Annapurna with. It has been enlisted by Lonely Planet on its travel book for Nepal as a recommended organizer of outdoor adventure activities for standard treks and peak climbing in Nepal since 2006. Similarly, as a result of the trekker's satisfaction with the company's ability to organize the best adventure travel and tour programs, Trip Advisor has rated Mountain Monarch with the Certificate of EXCELLENCE – a Testament to High Standards – since 2008.
Had a great trekking holiday with Access Nepal Tours all thanks to our knowledge and encouraging guide Kumar and the 2 hardworking Porters Sudip and Sarog.-year-I recommend this trip as it's something different with adventure and if you like peace, tranquility with astonishing views and good company (with Abit of exercise). Nepal and the Himalayas is a memorable and humbling place to visit. – jdawg2016 from the United Kingdom
You can check out more reviews on Trip Advisor and Glass Door.
Annapurna Base Camp Trekking Guide
If you are planning or already decided to trek in the Annapurna base camp of Nepal, you should know certain things to make your trekking trip safe and sound. Learn about Trek Routes and Maps, Best Time to Trek, Best Companies, Trek Cost, Trek Permit and Visa, Packing List, Accommodation and Food, Ground Transportation, Internet and Telephone, Guides and Porters and Trek Difficulty and make your trek to the Annapurna Base Camp Amazing.
Annapurna Circuit Trekking Guide
You should know certain things prior you trek to the Annapurna Circuit. Knowing about Trek Routes and Maps , Best Time , Trekking Companies, The Cost, Visa and Permit, Packing List, Lodging and food, Transportation, Internet and Telephone Network, Guides and Porters and Trek Difficulty makes your trip special and amazing.
Best Trekking Tours in Nepal Himalayas
Nepal offers several thrilling long and short trekking opportunities in the foothills of the mighty Himalayas. Some of the most popular treks in Nepal are Everest trekking, Everest Base camp trek, Annapurna base camp, Annapurna circuit, Annapurna Sanctuary, Langtang trekking, Makalu base camp and Manaslu Trekking. There are several local trekking companies in Nepal that operate these treks.
Best Adventure Activities in Nepal
You can enjoy many types of amazing adventures in Nepal such as white-water farting, Bungee Jumping, Zip Lining, Mountain biking in the hills, river rafting, paragliding, and so on.
Best Tour Packages in Nepal
Apart from trekking, there are several other mesmerizing tour opportunities in Nepal. You can explore and experience the Nepalese cultures, traditions, nature, wildlife, spirituality, vibrant cities, Mount Kailsh and Heli tours with some of the best-rated tours and travel companies in Nepal.
Volunteer Travel in Nepal
Do you want to help disadvantaged children and communities while also exploring the beauty of Nepal? If so, there are ample opportunities to make a difference in the life of destitute Nepalese. You can take part in volunteer in Nepal programs like volunteer teaching English, orphanage volunteer program, medical volunteer program, and monastery teaching volunteer program.
Top Things to do in Nepal
There are several amazing things to do in Nepal you should not miss out while traveling in Nepal. Knowing about highlights of the Pokhara city, Best of Lumbini, what to do in Chitwan, and cool things to do in Kathmandu make your trip amazing.
FAQs
How long does Annapurna trek take?
There are many routes to trek in the Annapurna trekking regions and the duration depends on your chosen Annapurna trekking route. Annapurna poon hill trek is a shot trek and can be completed in just 6 days whereas Annapurna circuit trek requires 22 days to complete. Similarly, Annapurna sanctuary trek 9/10 days and Annapurna base camp trek takes 15 days. Therefore, trekking to Annapurna generally takes 6 days to 22 days depending on your trekking route and package.
How difficult is Annapurna trek?
Trekking to Annapurna in Nepal is indeed an exhilarating experience as you get to witness breathtaking mountain views, captivating sceneries and fascinating flora and fauna. The difficulty level of the Annapurna trek is not strenuous and even the first-time trekkers can complete the trek easily. However, you must be physically fit and mentally stable as the trails are steep and rough in certain areas and takes long duration.
How much does the Annapurna trek cost?
The cost of Annapurna trek is not fix as there are many trekking routes in the region. The cost varies according to the trek routes and your trekking needs and wishes. The cost of the trek mostly depends on trekking route, season, duration, type of accommodation, guide and porter charge and more. Generally, a 6-day Annapurna poon hill trek costs up to US $600- and 22-days Annapurna circuit trek costs up to US $2200 depending on your trekking type and preferences.
How long does it take to climb Annapurna 1?
Mt. Annapurna 1 is the tenth highest peak in the world with 8091-meter height. It takes around 39 days for Annapurna 1 expedition, leaving from Kathmandu before returning to the capital. The Annapurna is regarded as one of the most difficult peaks to climb since the mountain prone to avalanches and the extreme rate of accident.
Conclusion
This article has clearly summarized the 10 Best Annapurna Trekking Companies in Nepal. If you are planning on taking a trip to Nepal and experiencing one of the most popular tourist experiences by going on an Annapurna Trek, please consider this list and contact the company that you feel best suits you and your requirements. We would love to hear about your experiences, so if you have already been to an Annapurna Trek with one of these trekking companies, then please get in touch and tell us all about it!