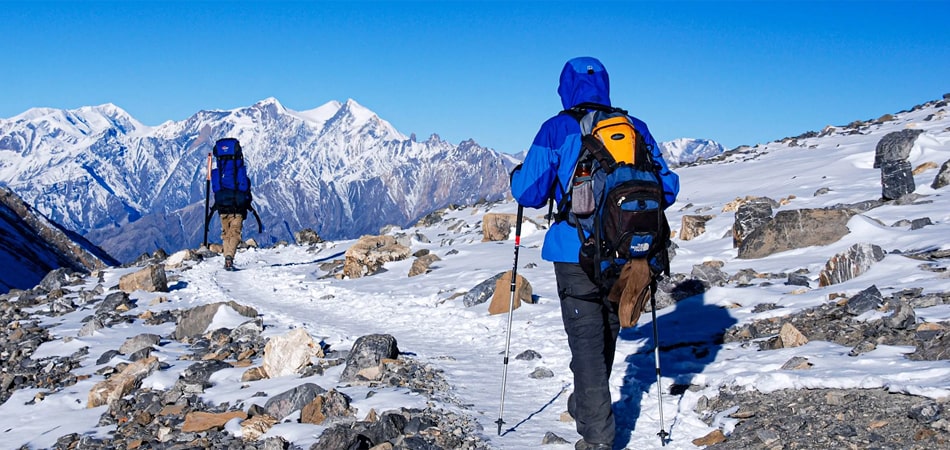 Image Credit: https://www.apexasiaholidays.com/trips/annapurna-circuit-trek/
The Annapurna Trekking Circuit is a classic Nepal trek. Amidst all the scenic delights, it traverses from lush lowlands to the high-altitude Thorong Pass, around the esteemed Himalayan range of Annapurna. Clearly marked trails and the availability of trekking lodges make this trek easily accessible for both independent hikers and guided treks.
This spectacular trek leads you to diverse villages in the mountains, dramatic deep gorges, jungles, and the lap of snow-covered peaks. It was first opened to foreign trekkers in 1977. Taking you to the homes of the Thakali and Gurung communities it shows you the intact ancient culture.
Trekkers have an opportunity to witness the lifestyle, culture, and traditions of different tribes. Their way of living, their hospitality, and their cheerful nature are inspiring. Along with this, they can explore Hindu Temple Muktinath, delightful farming villages, a natural hot water pond at Tatopani, a deserted Tibetan plateau, waterfalls, and a broad variation of flora and fauna.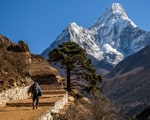 Get Free Quotes, Compare and Save on Your Ultimate Nepal Trekking Experience
Effortlessly connect with multiple Nepal trek providers to find the perfect adventure at the best price.
Where is Annapurna Circuit Trek Located?
This Circuit Trek is circumambulating the massif — 160–260km (100-161mi) in central Nepal. It's in the Annapurna Region (Annapurna Conservation Area) of Gandaki Province, covering an area of 7,629 Sq. Km of five districts (Kaski, Lamjung, Manang, Mustang and Myagdi). It's been bordered by Marsyangdi Valley in the East, Kali Gandaki River to the West, and Pokhara in the South.
The total length of the route varies between 160–230 km (100-145 mi), depending on the starting point and end of the trail. Round AnnapurnaTrekking starts at the elevation of 760 meters (2,493 feet) at Besishaharsahar up to 3,450 meters (11,319 feet) at Manang. This trek crosses two different river valleys and encircles the Annapurna Massif. The path reaches its highest point at Thorong La Pass (5416m/17769 ft), reaching the edge of the Tibetan plateau.
There are four regions that are passed through on the trek; Lamjung, Manang, Mustang, and Myagdi. You will experience a wide variety of climate zones from the tropics at 600 m asl to the arctic at 5416 m asl at the Thorong La pass. Along with this, you will encounter a cultural variety from Hindu villages at the low foothills to the Tibetan culture of Manang Valley and lower Mustang.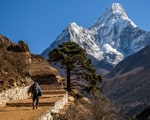 Get Free Quotes, Compare and Save on Your Ultimate Nepal Trekking Experience
Effortlessly connect with multiple Nepal trek providers to find the perfect adventure at the best price.
Chapter 1: Annapurna Circuit Trek Routes and Maps
Trekking to this region begins at Besishaharsahar or Bhulbhule in the Marshyangdi river valley and concludes in the Kali Gandaki Gorge. Besishaharsahar, Dharapani, or other trekking starting points can be reached after a 7-8 hours bus drive from Kathmandu. The trail passes through altitudes ranging from 800m to 5,416m along paddy fields and into subtropical forests, rural farmland, several waterfalls, gigantic cliffs, and glacial zones.
Chapter 2: Best Time to Hike Annapurna Circuit
The best time in to go on this trek is Spring or Autumn, as these seasons offer more moderate weather and better hiking conditions. October through November and mid-March to mid-April are the best months. A trekker needs to consider it in terms of weather conditions, vegetation, clear skies, and ease of walking.
Chapter 3: Annapurna Circuit Trekking Companies
Are you planning to embark on a trek to the Annapurna region, one of the country's most popular treks? Are you in search of a company that offers the best and the safest trek in the region? Don't worry. This chapter reveals the best companies in existence that provide the best trekking packages based on the ratings they received, company history, trekking options, and prices.
Chapter 4: Annapurna Circuit Trek Cost
The cost of trekking in this region depends on the services you prefer. Most of the trek package offered by agencies covers the cost of accommodation, meals, transportation, porter, and guide. Besishahardes, travel insurance, and other personal expenses like bar bills, hot shower, telephone & internet access may increase. However, cutting down luxury travel can help you save a ton of capital. So, this chapter will discuss a breakdown of prices.
Chapter 5: Annapurna Circuit Trek Visa and Permit
Most of the trekking destinations in the Annapurna Region, including the famous Annapurna Circuit Trek, fall under the Annapurna Conservation area. For entering this region, you need two permits for this trek – Annapurna Conservation Area Permit (ACAP), and TIMS Permit. However, special permits are required to explore the restricted areas of the Annapurna region which includes the Upper Mustang and the Nar Phu Valley.
Chapter 6: Annapurna Circuit Trek Packing List
Preparing what gear to take for a trek is definitely a tricky act. It's about finding the balance between packing as light as possible, while still maximizing the gear. Before getting into the specifics of what to pack, learn what to decide. This chapter discusses considering weather conditions, season, itinerary, tour operator, porter, and guide's service.
Chapter 7: Annapurna Circuit Trek Accommodation and Food
During the trek, mid-range guest houses to exorbitant resorts and hotels are available in Kathmandu and Pokhara. Teahouses or lodges are the only options throughout the trail outside city areas. Single supplement will be served on request and will cost extra. Meanwhile, a trekker will get authentic Nepalese food as well as the more common international cuisine in cities. They will cater to common Nepalese food and snacks in the trail area.
Chapter 8: Annapurna Circuit Trek Ground Transportation
Tourist bus or local bus leaves for Besishaharsahar (the starting point of the circuit) from Kathmandu or Pokhara. You reach there after a seven-hour drive from Kathmandu. Trekkers may use a jeep or any other vehicle suitable for an off-beat ride to the trekking starting spot.
Chapter 9: Annapurna Circuit Trek Internet and Telephone Network
Most of the teahouses provide WIFI facilities, however, it's not reliable as the trails get higher during the trek. Alternatively, NCELL and NTC Sim Card, offer several internet data plans as well as phone networks that suit your preference. Purchasing sim cards are easy and inexpensive in airports or phone shops. This chapter gives you the details about accessibility, network availability in the location, and requirements.
Chapter 10: Annapurna Circuit Trek Guides and Porters
Having an experienced and dedicated guide and a porter at your side is the best way to ensure your safety. Their local knowledge is a great help in recommending the best places to stay and eat, to assist you in an accident or emergency. You can hire a guide or a porter (or both), which will be cheaper, or a tour agency will arrange it.
Chapter 11: Annapurna Circuit Trek Difficulty
Trekking this circuit is a moderate and one of the longest trekking routes in the region. Prior information will prepare you to handle the challenges. So, before you go for the Annapurna Circuit trek, research well about trek location, condition, and time. It will help you make better decisions, and keep you safe.
FAQs
How long does it take to trek the Annapurna Circuit?
Trekking in this circuit takes around 12 – 22 days depending on what route you choose.
Is the Annapurna Circuit still worth doing?
Yes, it's one of the classic treks in the world offering a panoramic view of Annapurna massif and other great Himalayas.
Can you hike the Annapurna Circuit on your own?
Yes, you can. Though tour agencies offered itineraries come on less budget, you are free to trek on your own and can have a porter or porter cum guide for support on the trail.
How difficult is Annapurna Circuit?
As this trek comprises the Thorong La Pass cross, it's considered not so easy because of its' high altitude and unpredictable weather condition.
How much does it cost to trek Annapurna Circuit?
The cost of trekking in this region depends on your itinerary, tour operator, trekking alone or group, season, and preferences. Generally, you're expected to do this trek for around $700 – $1000.
Which is better Annapurna or Everest?
Both Annapurna trekking and Everest trekking regions are distinctly significant on their own terms. For comparison, contributed factors include adventure, duration, season, weather condition, altitude, difficulty, accessibility, scenery, culture, heritage, previous experience, and cost. Hence, Annapurna is shorter, cheaper, moderate, and safe whereas inexperienced trekkers can also go trekking here.
Can you see Everest from the Annapurna Circuit?
You cannot see Everest from the Annapurna region as they belong to two different directions – Annapurna lies in the western part of Nepal whereas Everest is in the eastern part of Nepal.
How long does it take to climb Annapurna 1?
It takes 36 days for core climbing to Annapurna 1, and another 12 – 18 days to reach and return from Kathmandu.
Where do you start the Annapurna Circuit?
You start trekking at Besishaharsahar or Bhulbhule in the Marshyangdi river valley in western Nepal.
Which trek is more recommended: the Annapurna circuit or the Everest Base Camp?
If would like to take a more challenging trek, go to the Everest Base Camp. If you are a novice but want to enjoy the natural scenery, and panoramic mountain views, you can make a trip to the Annapurna circuit.
What are the highlights of an Annapurna Circuit trek?
The major highlights of this trek are:
Thorong La Pass
Poon Hill
Annapurna Peaks
Marshyangdi and Kali Gandaki River Valley
Muktinath Temple
Marpha Village
Jomsom
Do I need a guide for Annapurna Circuit?
No, you don't. Unlike other restricted regions, trekking to this region without a guide is possible.