Image Credit: https://peregrinetreks.com/annapurna-circuit-trek-permit-cost
Anyone interested in trekking the Annapurna circuit in Nepal needs to apply for a tourist visa. For this, Immigration Office, at Tribhuvan International Airport (TIA) facilitates incoming tourists by providing visas upon Arrival. You can obtain a tourist visa at:
Immigration Office at TIA
Nepalese Diplomatic Missions stationed abroad prior to your arrival
Tourist Visa 'On Arrival' is the only entry visa to Nepal. This visa bears multiple Re-entry facilities. People who visit Nepal are issued tourist visas though they are not for tourism. However, you must change the category of visa as per your purpose and length of stay in Nepal from the Department of Immigration.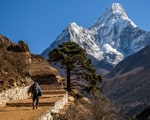 Get Free Quotes, Compare and Save on Your Ultimate Nepal Trekking Experience
Effortlessly connect with multiple Nepal trek providers to find the perfect adventure at the best price.
Procedures for Tourist Visa
On arrival at the airport (TIA) is below if you have not got one:
First step:
Fill in 'Arrival Card'
Fill in the online 'Tourist Visa 'form. If you fill it in from the website, you will get a submission Receipt with a barcode, which you're supposed to bring printed to acquire a visa. It works for fifteen days and becomes invalid then after. Trekking the Annapurna Circuit in Nepal becomes challenging within this timeframe. If the time passes already, you need to refill it.
Second step:
Make payment for visa fees at the bank (you can pay for 15/30/90 days as per your requirement)
Get the receipt
On Arrival Visa Fee at Entry Points is as follows:
Third Step
Visit Immigration Desk and proceed with your online form, payment receipts, and your passport
Hand in your documents to the immigration officer for visa processing. They will issue visas upon the satisfaction
Visa Extension Fee
Tourist visa extension is done for a minimum of 15 days with $45 and $3 per day as the delay charge
In the case of a delay of fewer than 150 days additional $5 per day as a late fine
Besides Tourist Visa there is another type of visa known as Gratis Visa. This visa is issued free of cost in case of the following categories of Visa applicants:
Children below 10 years except for US citizens
Up to 30 days for SAARC citizens (except Afghanistan)
Afghan citizens are eligible for Gratis Visa on Arrival only upon the recommendation of the Department of Immigration.
Non Residential Nepalese(NRN) card holder ( issued by MoFA /Nepalese diplomatic missions abroad)
Chinese Nationals
Requirements for Tourist Visa in order to carry Annapurna circuit trek:
Two passport-size photographs
Visa fees in $ dollars or bank receipt
a passport that is valid for at least 6 months before the trip
Trekking Permits
Trekking Annapurna Circuit can be done independently as well as in groups. You can either join a travel agency to manage the trip or trek on your own.
While trekking solo, some places are restricted and not allowed. You must be at least in a group of two or more at such a destination. However, there is no restricted area in the Annapurna circuit.
For Annapurna trekking, you require two passes:
Annapurna Conservation Area Project (ACAP)
TIMS
ACAP
Announced in 1992, Annapurna Conservation Area is the largest protected area, located across the Manang, Myagdi, Lamjung, and Mustang districts of Nepal. For the Annapurna circuit trekking permit, one needs Annapurna Conservation Area Entry Permit (ANCAP).
TIMS
Trekkers Information Management System (TIMS) is a must for every trekker wishing to trek the Annapurna circuit of Nepal. This permit is implemented to ensure the safety and security of every trekker wishing to trek in Nepal.
Group Trekkers through Agency:
Independent Trekkers:
SAARC Nationals:
TIMS Advantages:
For the safety of trekkers in Nepal – You're required to show your TIMS card at the checkpoints along the trails of the Annapurna round trek to get registered on the system
This is extremely vital if you go missing or have an accident while trekking
Both permits are for a single entry.
Once issued permits are non-refundable and non-transferable.
The permit holder can enter all the designated areas within the Conservation Area.
Any person entering the Conservation Area must abide by the National Park and Wildlife Conservation Act, 1973 and all the regulations made under this Act.
This entry permit must be with the permit holder at all times of the trek and must be presented to concerned personnel of the Conservation Area when asked to.
You can't obtain permits on check posts. However, under special circumstances, it may be issued from the check posts. You need to pay a 100% additional charge.
The validity of your permit is based on your application.
It is required to enter the permit details at all counters along the trail
Availability
Trekkers trekking with agency need:
One photograph and do not need to be present in person at the permit counter
Trekkers trekking the Annapurna circuit individually need:
Two photographs and each person in the group needs to be present at the permit counter
One cannot apply on behalf of other friends
Following are the offices where you get your ACAP and TIMS card permits issued:
The most convenient and reliable place to get your trekking permits among all mentioned is Nepal Tourism Board, Bhrikutimandap, Kathmandu, Nepal.
Things required before applying for the Annapurna circuit trekking permits (TIMS, ACAP)
Entry Permit Application Form: There are two forms – one is the TIMS form and the other is the permit form. You can download from online and fill it out before you reach Nepal.
Two photocopies of your passport, one each for TIMS and ANCAP
Four passport size photos, two for TIMS and two for ANCAP
Itinerary that shows the start and end dates
Travel Insurance
Entry and exit point in your trekking destination
Emergency Contact info in Nepal (the guest house you stay in or Agency)
Emergency Contact info of Home Country
Fees for the form
FAQs
Can I get a Nepal visa online?
You can find an online form for a Nepal visa which you can download and bring along filled up.
How much does it cost for a Nepal visa?
For a Nepal visa you need to pay according to the duration you required:
15 Days – $30
30 Days – $50
90 Days – $125
How to get a permit for the Annapurna trek?
Before applying for the Annapurna circuit trek permit (ACAP and TIMS), you require the following:
Trekking permit filled-up forms
Four passport-size photographs,
Two photocopies of your recent passport,
Fees for the format
With these, visit Nepal Tourism Board at Kathmandu or at Pokhara, and apply for the permit. You will be issued permits thereafter.
Do you need a permit for Annapurna Circuit?
Yes, of course. You need Annapurna Conservation Area Project (ACAP) permit, and TIMS Cards permit for this circuit.
How do I get Annapurna trekking permit?
By visiting Nepal Tourism Board in Kathmandu or at Pokhara with the required documents and fee, you can get the permit.
Can I do Annapurna Circuit on my own?
You can go on this trek without a travel agency, but it's wise to hire a guide or porter.
Where can I buy trekking permits in Nepal?
You can purchase an Annapurna circuit trek permit at the following places:
Nepal Tourism Board (NTB), Exhibition Road, Bhrikuti Mandap, Kathmandu
Nepal Tourism Board (NTB), Dam Side, Pokhara
TAAN, Maligaun, Ganesthan, Kathmandu
ACAP entry permit counter in Besishahar, Lamjung
How much is a trekking permit in Nepal?
The cost varies whether you are in a group traveling with a trekking company or a free individual traveler. Along with this, travelers from SAARC countries and other countries have to pay a different fees. On the basis of this, the Annapurna circuit permit cost is:
Annapurna Conservation Area Project (ACAP) permit:
Other Nationals: NPR 3,000 per person (approx. $30)
SAARC Nationals: NPR 200 per person for (approx. $2)
Children below 10 years do not require an ACAP permit
TIMS Card
Group Trekkers through Agency:
NPR 1,000 per person (approx. $10)
Independent Trekkers:
NPR 2,000 per person (approx. $20)
SAARC Nationals:
NPR 600 per person (approx. $6)
If you are looking for information regarding the routes of the Annapurna Circuit trek read Routes and Maps of the Annapurna Circuit Trek chapter. The best Annapurna Circuit Trek Time chapter explains in detail the best time to trek in Annapurna Circuit region.
If you are wondering how to choose the best trek operator, find detailed information from this How to Choose the best Annapurna Circuit Trek Operator chapter. The cost chapter Cost of Annapurna Circuit Trek explains all types of cost and fees of Annapurna Circuit trek.
The Annapurna circuit packing list chapter explains the main items to Packing for Annapurna Circuit trekking. Learn in detail about the food and lodging during trekking Annapurna Circuit in the Accommodation and Food during Annapurna Circuit Trek chapter. If you want information about Annapurna Circuit trek ground transportation read the chapter Annapurna Circuit Ground Transportation.
In other chapters of this Annapurna Circuit Trek guide, we have explained in detail of Internet Facility in the Annapurna Circuit region, how and where to find the AnnapurnaTrek Guides and Porters, and how dangerous and safe is Annapurna Circuit Trek. Moreover, you can explore our Nepal tours and treks package page to find several amazing Annapurna circuit trekking deals.