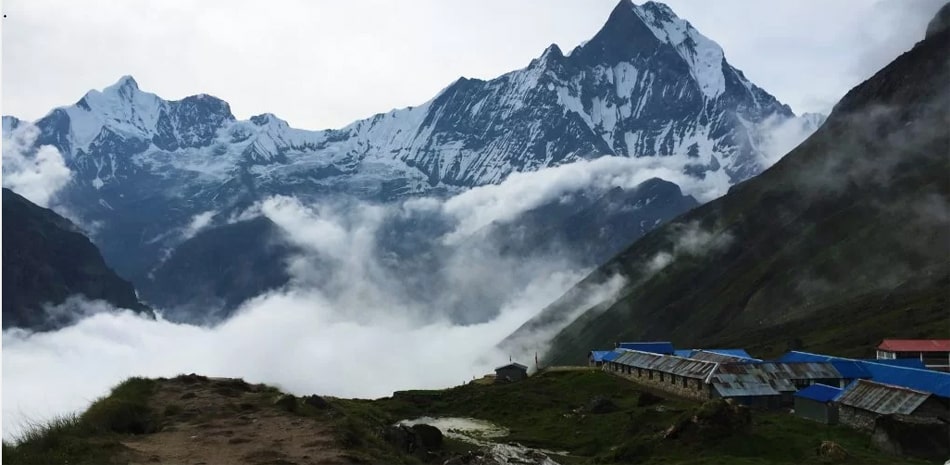 Image Credit: https://pristinenepal.com/trip/annapurna-base-camp-trek/
Before leaving out for the Annapurna trek, a proper future expenses plan comes into play. Many travelers get temptation during the trek and run out of cash to make the end of the circuit. Trekking Annapurna requires some budget planning ahead of time.
The question might obviously arise – how much will this adventure cost you? This chapter discusses a breakdown of prices for required documents, gears, transport, food and accommodation, a guide or a porter, traveling alone (with a guide and/or porter) or with a tour operator.
Unless you are from India or China, a traveler requires a visa for Nepal. For your convenience, the Nepal government has launched an e-visa or visa on arrival. You can get a visa on arrival at the Kathmandu International Airport.
When paying for your visa on arrival, payments are required to be made in convertible currency. USD is preferred, and it is advised not to rely on credit cards to pay the fee there is no change given. The costs for visas are given below:
15 days: $15
30 days: $40
90 days: $100
If these visas aren't long enough, you can extend them all the way up to 4 months. The immigration office at Kathmandu or Pokhara will issue the visa extension.
Annapurna Circuit Trekking Permit Cost
Trekkers to trek in the region require two permits – Annapurna Conservation Area Permit (ACAP) and Trekking Information Management System (TIMS). TIMS helps to ensure your safety (because your entry and exit are recorded at the various checkpoints along the trail) using it.
The costs of these permits are as follows:
ACAP: NPR 3,000 (approx. $30)
TIMS: NPR 2,000(approx. $20)
Trekking Gears & Equipment Cost
Setting off on this trek, a trekker needs proper trekking gears and equipment for trekking the Annapurna circuit. Choice and quality come along with the ability to pay for it. If you have already one, you can adjust with it, or buy a new one, or can hire too. Budgeting on this ahead will make you reap the best out of your trekking.
Necessary trekking gears & equipment for this trek:
Down jacket
Warm jacket
Trekking trousers
Thermal trouser
Thermal socks
Warm gloves
Trekking shirts and t-shirts
Waterproof jacket
Trekking boots
Trekking half-pants
Sleeping bag
Sleeping mattress
Trekking poles
Two Bag packs: Day pack and Bag pack for extra items
Sunglasses
Hat
Sunscreen
These mentioned items for trekking the Annapurna circuit cost around $700 – $1500 depending on the choice and quality. If you are planning to rent, then it cost around $3 – $6 per day.
The majority of trekking companies offer an itinerary of $ 750 – $1500 per person. The best part of trekking with tour operators can save you a lot of hassle and make your journey safe and reliable. They arrange your permits, hotel booking, experienced guides, and porters which contribute to making your trip as effortless as possible!
There are generally two types of tour operators – local or western agencies. In a comparison of cost, the western tour agency for the Annapurna circuit Nepal trek is more expensive. They cost you around $1,400 – $4,000. Whereas, local tour operators are somewhat cheaper and charge you around $800 – $3,000.
Sometimes you have to compromise on the services if you trek with a cheaper tour organizer. However, the bright side is local agencies generally have a more experienced crew of guides and porters who are more knowledgeable about the trekking region and culture.
Trekking to the mountain regions is challenging and not risk-free. Sometimes one has to face unpredictable situations – it may be natural hazards or physical conditions. It's not uncommon to suffer from acute mountain sickness, muscle sprain, and general fatigue.
For this having travel insurance is way better to be on the safe side during the Annapurna circuit trek. Look whether the prospective travel policy covers the following:
All the expenditure for various injuries, health issues, or accidents
Cost of a helicopter rescue
Treatment cost
Repatriation cost – theft and liability, cancellation, and misplaced luggage
With all of these, the average cost for trekking insurance is $ 150 a month. But mountaineering is different.
Guide & Porter Cost
Trekking the Annapurna circuit separately without joining a travel agency needs a guide and porter. In case you travel with a tour operator, they will arrange all. Otherwise, you need to do little research on the guide's background and the reviews from past clients. So, when hiring a guide look for an authorized and professional one. You're expected to pay for
Guide: $ 22 – $35 / day
Porter: $ 15 – $20 /day
It's wise to decide to hire a guide and porter from Kathmandu or Pokhara. If you happen on the trail to hire someone, the cost will be much higher.
Transportation Cost
Transportation costs comprise the most popular starting and stopping points on the trail of Annapurna region. Cost varies according to what you prefer. If you travel using a local bus, it's the cheapest option than riding a private vehicle or flying. The cost of your transportation depends on how you want to go there, and it is as follows:
Kathmandu – Besishaharsahar
Local bus: $10 per person (6 – 7 hrs)
Private car: $110 per car (5 -6 hrs)
Kathmandu to Pokhara
Private vehicle: $120 per car
If you are short of time and willing to trek the Annapurna circuit from Pokhara then there are two flights available. You can take a flight from Kathmandu to Pokhara and from Pokhara to Jomsom. It's also your alternative to trek in the region.
Plane flight: $110 (one-way flight fare) per person, 25 minutes
Plane flight: $110 (one-way flight fare) per person, 20 minutes
However, if you are planning to travel from Kathmandu to Besishahar, you have to go by road. Local transport is much cheaper for solo trekkers or one who is traveling on a budget.
Accommodation and Food Cost
Trekkers on the Annapurna round trek will spend $ 30 – 40 per day on average for basic accommodation, breakfast, lunch, and dinner. Within this price do not expect to have a luxurious bed, desserts, or drinks. Price increases as the trail pass in the higher region.
Additional Cost:
You're expected to prepare for the additional expenses apart from the basic ones. The list is as below:
Hot shower: $ 2 – $3 per shower
Electricity: $1 – $2 for charging the phone in some places, but it's free in some places
Local Sim Card: $1
Data Package using Sim Card: $5 – $10 (enough during your trek)
Water (Mineral/Drinking): $1 per liter
FAQs
How much does it cost to trek Annapurna Circuit?
It costs around $750 – $1500, ranging for the services you preferred.
Is the Annapurna circuit trek expensive?
Trekking in this region depends on the itinerary and your preferences. So, it's solely up to you whether you are on a budget trekking or on luxury trekking.
What will be the total duration and cost of the Annapurna circuit trek?
It takes around 14 days long and costs $ 1300 on average. As there are different trekking routes and options, cost varies largely, and the same goes for the duration.
If you are looking for information regarding routes of Annapurna Circuit trek read Routes and Maps of the Annapurna Circuit Trek chapter.  Best Annapurna Circuit Trek Time chapter explain in detail about the best time to trek in Annapurna Circuit region.
If you are wondering how to choose the best trek operator, find detailed information from this How to Choose the best Annapurna Circuit Trek Operator chapter. If you need information regarding visa and permit for Annapurna Circuit trek read Visa and Permit for Annapurna Circuit Trek chapter.
The Annapurna circuit packing list chapter explains the main items to Packing for Annapurna Circuit trekking.  Learn in detail about the food and lodging during trekking Annapurna Circuit in the Accommodation and Food during Annapurna Circuit Trek chapter. If you want information about Annapurna Circuit trek ground transportation read the chapter Annapurna Circuit Ground Transportation.
In other chapters of this Annapurna Circuit Trek guide, we have explained in detail of Internet Facilities in the Annapurna Circuit region, how and where to find the AnnapurnaTrek Guides and Porters and how much dangerous and safe is Annapurna Circuit Trek. Moreover, you can explore our Nepal tours and treks package page to find several amazing Annapurna circuit trekking deals.