Tour operator companies are evaluated through service quality, package options, company history, and offered price. If you research online, almost all companies' profiles pop up claiming themselves as the best. It's a bit of confusion, right? How do you select the right company to arrange for your trek in the Annapurna circuit?
Choosing a poorly-rated tour agency will make you end up with a bad trekking experience. This chapter solely leads on how to look at companies whether they a reputable and safe trekking companies for the destined region. What are the contributory factors of a company to make your journey the most memorable one? Read ahead; it discusses in detail referencing some popular companies along with their services, ratings, and reviews in Nepal.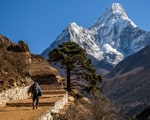 Get Free Quotes, Compare and Save on Your Ultimate Nepal Trekking Experience
Effortlessly connect with multiple Nepal trek providers to find the perfect adventure at the best price.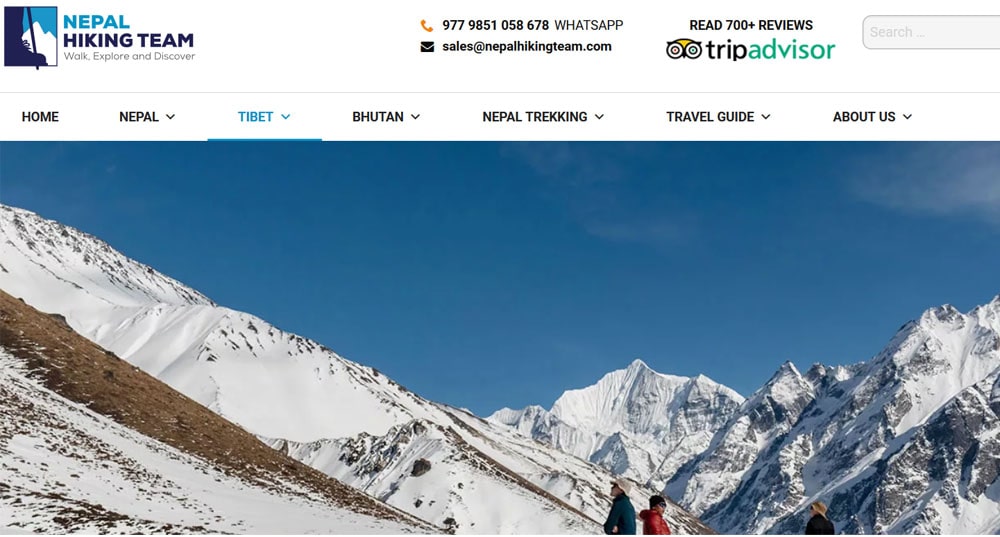 Nepal Hiking Team is a registered and reputable travel agency based in Kathmandu. With a team of passionate and hardworking people established in 2009, it provides high-quality services to its customers. After nearly a decade of reliable, and trustworthy services, it has built its reputation in creating, organizing, hiking trips, and conducting Annapurna circuit-guided treks.
Services it provides:
Carefully designed itinerary considering the customer's time and budget
The top priority of the quality of services
Suitable transportation
Good trip advice
Safe accommodation
Reliable customer care service
Helpful guides and porters for various trekking destinations across Nepal
Customizes packages as per your specifications
Nepal Hiking Team- Reviews
This trekking agency has received positive ratings from customers for the packages that it offers for the round Annapurna trek. People don't only praise it; they strongly recommend it for its' exceptional service to other fellow travelers as well.
Reviews from renowned sites:
Trip Advisor (377 reviews 99/100)
Book Mundi (69 reviews 5/5)
Reviews from client:
"The Annapurna circuit trek was one of the best treks I've ever experienced. I completed it with my sister (we are both in our early sixties) on a private tour in April 2022. It was very well organized by Nepal Hiking Team, a very professional organization. Nina provided wonderful advice on the trip initially …
I highly recommend this company, our guide, and porter if you are considering trekking in Nepal. This country offers real adventure, beauty, and cultural experiences to those who venture here." – Nicola Ross, Australia, Reviewed on Tripadvisor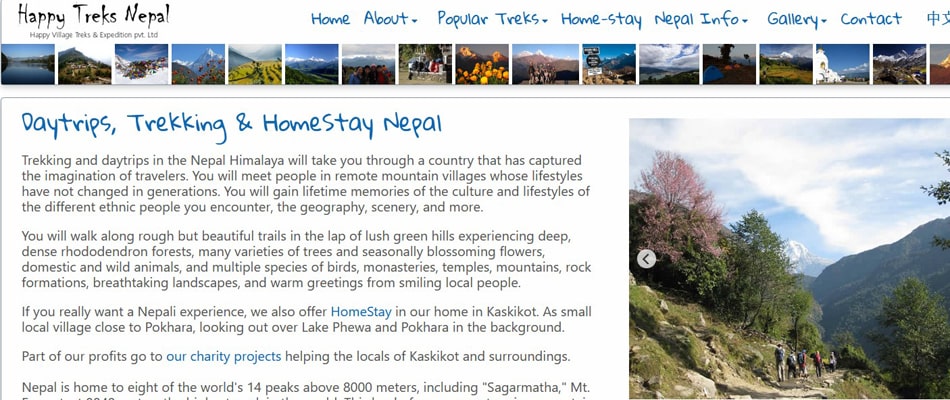 This trekking agency is considered to be one of the best Annapurna circuit trekking companies that organize tours in the region. Formed by a few professional guides this company caters following services:
Professional and experienced guides and porters
Experts in environmental and cultural issues
Creates a challenging and memorable trekking experience
Customizable itinerary
Happy Treks Nepal- Reviews
This company has received overflowed positive comments from past travelers. They are pleased with its great services and thanked the Happy team for providing an excellent trekking experience in the Annapurna circuit region.
Reviews from renowned sites:
Trip Advisor (490 reviews 98/100)
Reviews from client:
"I contacted Mr. Happy from Australia to see if he could custom a trek for our family 6 including a 72-year-old with severed Achilles. Mr. Happy was a great communicator and quickly had a trek organized before we left… They were excellent both with the young and the old and it was the absolute highlight of our trip to Nepal. I only wish we could have trekked for longer! …They know their stuff, are reasonably priced, employ locals and also take some of their profits to give back to their community." – Lisa K, Hamilton, Australia, Reviewed on Tripadvisor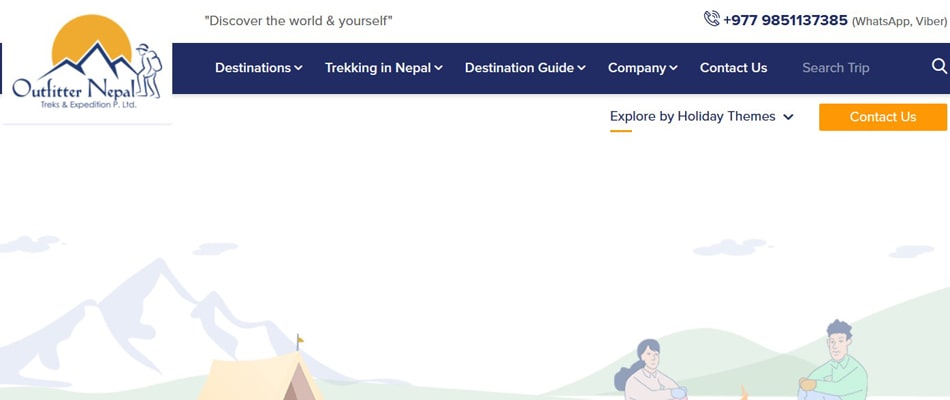 This trekking company is fully owned and operated by Nepalese professionals. Assisting thousands of tourist visitors on adventure holidays including the Annapurna circuit trek, it has established itself as one of the reputed companies.
Services it provides:
Tours to the most rugged and remote mountainous regions
Experienced professional trekking and tour guides
Extensive knowledge regarding the different destinations
Helpful staffs
Customizable itinerary
Outfitter Nepal – Reviews
It's one of the best Annapurna circuit trekking companies, highly reviewed by past travelers who already trekked. The majority of the previous travelers praised and thanked it for its outstanding service. Again, they have expressed their willingness to go on trekking with this company.
Reviews from renowned sites:
Reviews from client:
"I had an excellent trip with Outfitter Nepal! Arjun was amazing at organizing the trek. There were no hidden costs or extra fees, and all was ready when I arrived in Nepal (airport pickup, documentation for the trek, bus tickets, etc). I traveled as a single female and felt completely safe with them for the whole time that I was in Nepal. I would highly recommend Outfitter Nepal to anyone looking for a safe, well-planned, professional trekking company in Nepal!" – Peak Bagger, Australia, Reviewed on Tripadvisor
With over seventeen years of experience this, tour operator outreaches its clients by offering the very best Annapurna circuit trekking experiences. The company ensures quality service by providing:
Best deal for any tour package including the Annapurna circuit
Experienced professionals in their respective work
Customizable itinerary
Values for the customers' hard-earned money
Gokyo Treks and Expedition- Reviews
This company has rewarded the certificate of excellence from Trip Advisor, in 2015, 2016, and 2017. They have received all the positive reviews and praises from past travelers.
Reviews from renowned sites:
Trip Advisor (218 reviews 98/100)
Reviews from client:
"We hired a porter through Gokyo for our Annapurna Circuit trek in April and had a great experience. Ammar was very responsive throughout the booking process and also helped us secure permits – it all went very smoothly. The price was good too.
Our porter Devi was a super nice guy and very flexible, we were able to set up the itinerary exactly as we wanted. Not only did Devi help carry a bag for us, but he was also great company and we enjoyed getting to know him and learning more about Nepalese culture." – David, Reviewed on Tripadvisor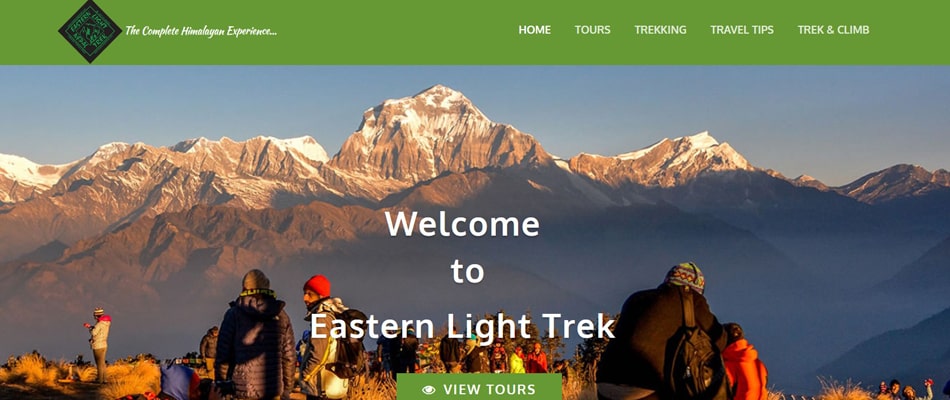 Founded in 1998, this company has a great team of specialists in trekking the Annapurna Circuit in Nepal. It has helped thousands of tourists to successfully complete the trek without compromising the quality. It provides:
Well-experienced guides in mountaineering and trekking for the group or individual
Trained guides for mountain rescue, first aid, and high altitudes
Safe and satisfactory experience with their team
Customizable itinerary
Eastern Light Trek- Reviews
Achieving a 95% rate of positive reviews, it becomes one of the best Annapurna trek companies. Most of the previous clients have thanked for its' helpful guides who assisted them in having an exceptional trekking trip experience.
Reviews from renowned sites:
Trip Advisor (381 reviews 95/100)
Reviews from client:
"Whilst doing the Annapurna Circuit solo I happened to run into a couple being guided by Eastern Light Trek. I ended up tagging along for several days, and as a result ended up spending a substantial amount of time with Deepak, their guide, and Bahadur, their porter. Both are extremely kind human beings, but also incredibly helpful, attentive, and always willing to go out of their way to ensure a great hiking experience for everyone. In particular, was very impressed by (a) how mindful they were of providing the right amount of support whilst giving hikers the flexibility and independence to make their experience unique and (b) how thoughtful Deepak was about health and well-being at high altitudes. Will 100% recommend to friends and family." – Pedro J., Reviewed on Tripadvisor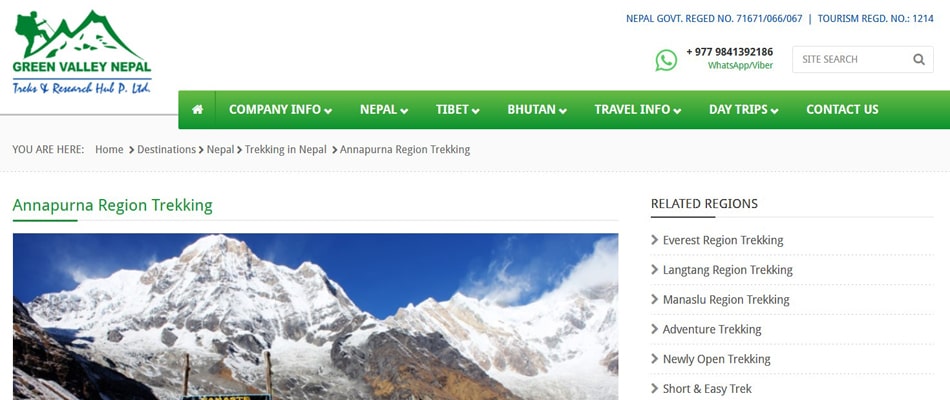 The company is formed by a team of passionate and active trekkers. It focuses on delivering a superior trekking service during the Annapurna circuit trek Nepal. Services it provides:
Delivers the utmost satisfaction from beginning to the end of the trekking
Well-trained and specialized guides in their field
Proper staff with the right qualifications, and adventure knowledge
Ensures a life-changing and memorable expedition
Customizable itinerary
Green Valley Nepal Treks and Research Hub- Reviews
It has a client satisfaction rate of 97% on the basis of 400 reviews. Almost all previous trekkers have praised and thanked it for its' prompt response, helpful guides, porters, and other facilities.
Reviews from renowned sites:
Reviews from client:
"We were recommended to green valley treks by a friend when thinking about planning a trip to Nepal to do a portion of the Annapurna Circuit trekking. I highly recommend their team … we had the itinerary we wanted. Once on the mountain, they provided us with an all-star team of a guide and 2 porters for myself and my friend during the hike. Uttar, Pardeshi, and Raj were awesome. They were knowledgeable and really looked out for us to make sure we were having the best experience possible at all times." – Alexander B, Reviewed on Tripadvisor
Established in 2007, this trekking company has earned and maintained a good reputation for its dedicated service as an Annapurna trekking company. Services it provides:
Tour packages of a diverse nature
Helps explore the beautiful, natural, and cultural wonders
Customizes the trip and creates a personalized itinerary
Above the Himalaya Trekking- Reviews
This trekking company was awarded the certificate of excellence from 2012-2018. Receiving 98% positive reviews for excellent and the remaining, it boasts of reliability.
Reviews from renowned sites:
Reviews from client:
"From the first moment I arrived in Kathmandu, everything was very well organized and taken care of by Ramhari,… I can absolutely recommend this company to anybody interested in spending a wonderful trekking holiday organized by a highly professional tour operator." – Michael, Reviewed on Tripadvisor
Formed by a specialized team, this company offers trekking, hiking, mountaineering, wilderness expedition, and many more. Services it provides:
Services at a competitive price
Customizable tours package to suit the trekkers' need
Experts in offering the best tour and trek packages
Nepal Trekking Experts- Reviews
This company has received 98% of excellency reviews. Almost all previous clients praise and thank its' services provided for Annapurna circuit trekking Nepal.
Reviews from renowned sites:
Reviews from client:
"We had a really good time at the Annapurna circuit. We had good weather and nice views. Also, our guide Raj was very good! He knows a lot of the area and helped us when we had a problem or didn't feel well. He arranged good guesthouses and knew good places to eat. Our porter Maikel was also really happy to help us!" – Jouke, Balk, The Netherland, Reviewed on Tripadvisor.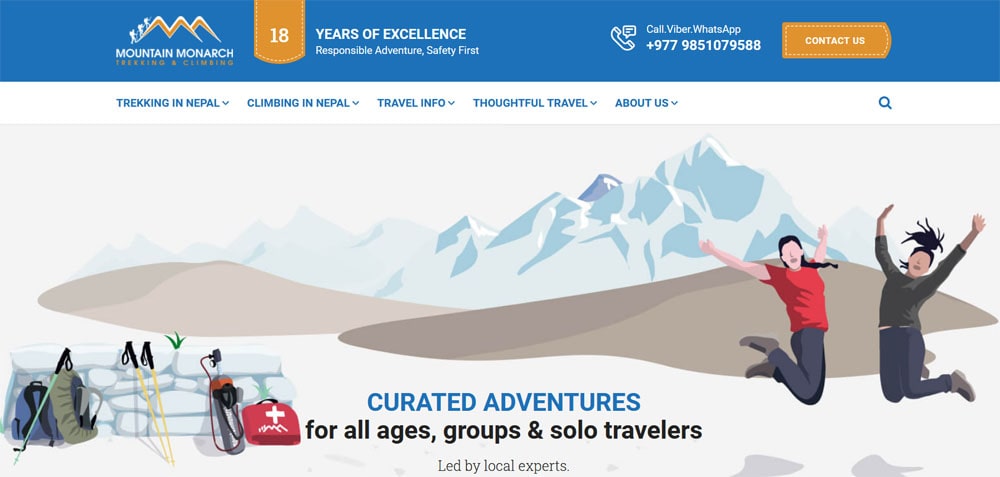 This local company is one of the best Annapurna circuit trek companies, renowned for its' numerous adventure holiday packages and tour ventures. For reliability and authenticity, its previous travelers have praised and thanked it. Services it provides:
Experienced professional team
Ensures your safety and utmost satisfaction
Customizable itinerary
Mountain Monarch – Review
Earning a reputation, this company has been enlisted by Lonely Planet as its travel book. All the previous trekkers have expressed their positive thought regarding its' best adventure travel and tour programs.
Reviews from renowned sites:
Reviews from client:
"Great service with very helpful organizers and trekking staff. Even though the trek didn't go as planned due to bad weather, was very helpful in putting together an alternative itinerary and still made it a fantastic trip. Particularly recommend Devaraj and Deepak, and couldn't have asked for a better guide and porter!" – Noah Schutz, Reviewed on Tripadvisor
If you are looking for information regarding routes of Annapurna Circuit trek read Routes and Maps of the Annapurna Circuit Trek chapter. Best Annapurna Circuit Trek Time chapter explains in detail the best time to trek in the Annapurna Circuit region.
The cost chapter Cost of Annapurna Circuit Trek explains all types of costs and fees of Annapurna Circuit trek. If you need information regarding the visa and permit for Annapurna Circuit trek read Visa and Permit for Annapurna Circuit Trek chapter.
The Annapurna circuit packing list chapter explains the main items to Packing for Annapurna Circuit trekking. Learn in detail about the food and lodging during trekking Annapurna Circuit in the Accommodation and Food during Annapurna Circuit Trek chapter. If you want information about Annapurna Circuit trek ground transportation read the chapter Annapurna Circuit Ground Transportation.
In other chapters of this Annapurna Circuit Trek guide, we have explained in detail of Internet Facility in the Annapurna Circuit region, how and where to find the AnnapurnaTrek Guides and Porters and how much dangerous and safe is Annapurna Circuit Trek. Moreover, you can explore our Nepal tours and treks package page to find several amazing Annapurna circuit trekking deals.