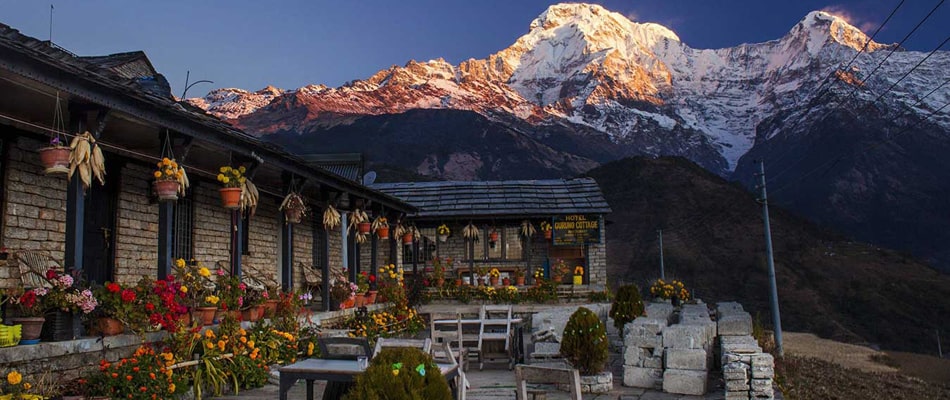 Image Credit: https://www.holymountaintreks.com/blog/tea-house-trekking-in-nepal/
Planning to trek in an unfamiliar region always worries you for what would be the accommodation and food there. These obviously mark your trek and how you experience it. From landing at the airport to the end, this chapter gives the details of accommodation and food available during the Annapurna circuit.
From the most common form of accommodation, lodges to luxurious hotels are options available in Kathmandu and Pokhara. The price abruptly varies based on your preferences and affordability.
When hiking Annapurna Circuit, the price for accommodation is usually lower in the lower elevations, and it increases in the higher regions. However, the choice of accommodation and food in the trail areas are limited.
Let's break down it place-wise where you might stay. Remember, there are multiple trails for this circuit. This sample almost gives overall ideas regarding the availability.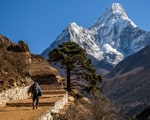 Get Free Quotes, Compare and Save on Your Ultimate Nepal Trekking Experience
Effortlessly connect with multiple Nepal trek providers to find the perfect adventure at the best price.
In Kathmandu and in Pokhara
Accommodation
Inexhaustible options whether to rent in a private resort or reservations in super lavish hotels
Generally, trekkers book a decent place to stay before their trip
Budget hotels to swanky luxurious lodges are available for budget
Thamel in Kathmandu is the most common area for Annapurna circuit trek backpackers
Lakeside in Pokhara is the most popular place for tourist
Food and Drink
Wider option – from traditional local to continental and international dishes
Price varies according to services and places
Breakfast is Rs. 250 – Rs. 400 (approx. $2 – $4)
Lunch, and dinner Rs. 500 – Rs. 700 (approx. $5 – $7)
Local vegetarian food is cheaper than western food or meals with meat
Teahouse Accommodation in Circuit Area
Annapurna circuit teahouses are very popular among the trekkers exploring the region. They can simply relate to the service as it's the most prevalent in the region. They provide:
Basic and seems just a way to survive
Furnished wooden bed with pillow, mattress, and a blanket
Hot shower out of the electric heater or solar during freezing cold.
En suites with both hot and cold baths (only in some teahouses)
Family-friendly
Low-cost facilities, no-cost deal
Setting off for the Annapurna Circuit adventure, now you start from Kathmandu where you catch a bus to Besishahar to Bhulbhule or Ngadi.
In Besishahar
Accommodation
If you want to stopover Besishahar for the night in this round Annapurna trek, there are some good guest houses at service:
Gateway Himalaya Resort, located in Ghanpokhara, Besishahar
Bar, garden, and terrace
Restaurant, a 24-hour front desk, and room service
Free WiFi throughout the property
Heaven Hill Homestay, located at Gaunshahar-1, Besishahar
Common bathroom with hot shower and European washroom
Cost per night: $10 (included three meals), $3 (without food)
Free wifi
In Ngadi at 930m altitude (10 Km from Besishahar, where Besishahar itself is 176 Km from Kathmandu)
Accommodation for your trekking Annapurna circuit at this place:
Good Luck Hotel & Restaurant at Ngadi, Lamjung
Guesthouses with very clean
Outside shower, but some rooms have attached bathrooms
Price Rs. 200 (approx. 2) for a night
Roshani Guest House & Restaurant at NGADI
Private rooms, with 24 hours hot showers
Beautiful garden
Free wifi
Nearby river swimming
Organic food, laundry service
Run by family
In Ghermu, situated at 1140 m altitude (12 Km from Ngadi)
Accommodation
Great view- huge waterfall on one side and green rice fields on the other
Maintained
Price: Rs. 200 ($ 2 USD) per night
A room with the attached bathroom is also available at a cost of Rs. 500(approx. $5)
In Tal, situated at 1,700 m altitude (14 Km from Ghermu)
Accommodation during Annapurna Trekking Circuit at this place:
Large and clean room with its own bathroom with a hot shower
Price: Rs. 200 (approx. $2)
Hotel New Mountain River View and Restaurant
Sunny terrace and a friendly owner
Room equipped with flat TV
In Chame, situated at 2,670 m altitude (21 Km from Tal)
Accommodation for Trek Annapurna Circuit Nepal at this place:
Basic room with some compromise
In Upper Pisang, situated at 3,300 m altitude (14 Km from Chame)
Accommodation
Heated rooms with private bathrooms,
Dining room with a fireplace and sauna
Cheaper dormitory
Mandala Hotel & Restaurant in Upper Pisang
Cozy room
Great hot shower and the water pressure
Free accommodation if you eat a meal here
In Ngawal, situated at 3,660 m altitude (11Km from Upper Pisang)
Available Accommodation for Trekking Annapurna Circuit Nepal at this place:
Comfy bed with a very thick mattress
Nicely furnished room, if you eat at the lodge, it's free of charge
Interesting Tibetan dishes
Braka, situated at 3,440 m altitude (8 Km from Ngawal)
Accommodation
Beautifully decorated room
Tiled bathroom with hot shower
Impressive modern toilet
Yak Kharka, situated at 4,050 m altitude (12 Km from Braka) on the trail of Annapurna trekking circuit Nepal
Accommodation
Dream Home Hotel
Nicely decorated clean room with an attached toilet
Warm dining room, delicious food
Friendly owner
In Thorong High Camp, situated at 4,850 m altitude (8 Km from Yak Kharka)
Accommodation
Thorong Base Camp Lodge
Basic rooms as well as en suite rooms
Traditional with modern comforts
In Muktinath, situated at 3,760m altitude (12 Km from Thorong High Camp, way through Thorong La Pass 5,416m), on the trail of round Annapurna trek
Accommodation
Bob Marley Hotel
Friendly atmosphere
Good food
Buddha Hotel
Comfortable room with a private hot shower
Tasty momo
In Kagbeni, situated at 2,850 m altitude (13 Km from Muktinath), on the trail of the Annapurna circuit trek
Accommodation
Shangri La Hotel
Room with attached bathroom with a hot shower
Nice dining rooms
Price: Rs. 500 (approx. $5) per night
In Jomsom, situated at 2,720 m altitude (10 Km from Kagbeni), on the trail around the Annapurna trekking circuit
Accommodation
Hotel Tilicho
Clean and tidy hotel
Well maintained
elegant owner
Price: Rs 1000 (approx. $10) per night
In Tukuche, situated at 2,590 m altitude (13 Km from Jomsom), on the trail of Annapurna round trek
Accommodation
High Plains Inn & Dutch Bakery
Wooden decorated cozy room
Attached bathroom and hot shower
Dining room
Bread and apple pie
Price: Rs. 500 (approx. $5)
In Tatopani, situated at 1,190 m altitude (35 Km from Tukuche), on the trail of trekking Annapurna circuit
Accommodation
You can consider returning directly from Tatopani to Pokhara instead. There are many transportation options in Tatopani.
In Ghorepani, situated at 2,860 m altitude (15 Km from Tatopani)
Accommodation
Hotel Snow Land
Room with attached bathroom
Good food
Close to the Poon Hill track
Asha Hotel & Restaurant
Nice bedrooms
Meals served with fresh organic vegetables grown in the garden
Free wifi
In Nayapul, situated at 1,070 m altitude (18 Km from Ghorepani), on the trail of the Annapurna circuit Nepal trekking
Accommodation
Tourists travel to the nearby city Pokhara. You don't necessarily stopover Nayapul unless some circumstances
FAQs
Can you stay overnight at Annapurna Base Camp?
Yes, of course, but you will stay at teahouses overnight instead.
What food is available during the Annapurna trek?
Nepali food Dal Bhat is easily available throughout the trail. However, verities of food are limited as you trek the upper part of the region.
What types of accommodations are available during the Annapurna trek?
Teahouse accommodations are popular on the trails, where they just provide basic rooms with some facilities. Only a few lodges can offer some modern facilities in the trekking region.
If you are looking for information regarding routes of Annapurna Circuit trek read Routes and Maps of the Annapurna Circuit Trek chapter. Best Annapurna Circuit Trek Time chapter explain in detail about the best time to trek in Annapurna Circuit region. If you are wondering how to choose the best trek operator, find detail information from this How to Choose the best Annapurna Circuit Trek Operator chapter.
The cost chapter Cost of Annapurna Circuit Trek explains all types of cost and fees of Annapurna Circuit trek. If you need information regarding visa and permit of Annapurna Circuit trek read Visa and Permit for Annapurna Circuit Trek chapter.
The Annapurna circuit packing list chapter explains the main items to Packing for Annapurna Circuit trekking. If you want information about Annapurna Circuit trek ground transportation read the chapter Annapurna Circuit Ground Transportation.
In other chapters of this Annapurna Circuit Trek guide, we have explained in detail of Internet Facility in the Annapurna Circuit region, how and where to find the AnnapurnaTrek Guides and Porters and how much dangerous and safe is Annapurna Circuit Trek. Moreover, you can explore our Nepal tours and treks package page to find several amazing Annapurna circuit trekking deals.