A skilled, honest, credible, and enthusiastic guide and porter is immense help during the trek. Such qualified guides and porters can be a great treasure for the successful trekking experience.
Similarly, porters help you carry your backpacks and luggage. They incredibly ease and unburden the trek. You need to trek with a licensed guide and better if you trek in a group of at least two members excluding the guide.
There are a lot of benefits to hiring a local guide rather than going for the Annapurna circuit solo trek. It gives you a local experience and straightforwardly gets into any side trip destination if you wish.
While trekking with a guide, the following qualifications of his/should be considered:
Government licensed professional
Experienced in trekking locality
Knowledgeable about the route, local culture, and costumes
Knowledgeable about history and myth or story of local places, villages
Well experienced in the seasonal Annapurna circuit trekking route
Properly navigate the trails during the trek
Well-trained about the uses of the First-Aid Kit
Trained in handling any emergency or unprecedented situations
With these, if you travel with a qualified professional guide, it will significantly enhance your trekking experience. Hence, a licensed trekking guide is an essential part of this trek. However, they don't carry your luggage. Only in case, you got high altitude sickness they will help you.
A quality Annapurna circuit trek guide can be very helpful. They know all the shortcuts, and the best places to eat and can help you negotiate with lodging, etc.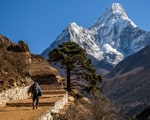 Get Free Quotes, Compare and Save on Your Ultimate Nepal Trekking Experience
Effortlessly connect with multiple Nepal trek providers to find the perfect adventure at the best price.
Porter
Carry around 20 – 25 kgs of your luggage which may consist of backpacks or other equipment.
Carry luggage of two clients maximum
Don't speak much English but they are helpful and sincere
Strong people handling carry heavy loads
Facilitate communication with locals
Furthermore, you can hire a porter-guide instead for the following reasons:
More economical option that saves you from extra expenses
Capacity to handle two people's jobs – a porter and a guide
Lead trekking paths and check TIMS and entry permit pass
Speak English but not fluently and carry your luggage
Experienced in trails and its periphery and with Basic English guide you in your chosen destinations
Provide basic knowledge of the history, culture, and lifestyle of the people residing in the Annapurna circuit trekking region.
Facilitate communication with the local people
Carry luggage around 12Kg – 18Kg
Annapurna Circuit Guide, Porter, and Porter-Guide Cost:
Guide: USD 20 – USD 25 per day including includes food, accommodation, insurance, equipment
Porter: USD 18 per day including food, accommodations, insurance, equipment
Porter cum guide: USD 22 per day including food, accommodation, insurance, equipment
They also assist you in finding the best possible place for food and accommodation facilities on the trekking Annapurna circuit. And, this is a rough estimation, and these guides, porters' services may vary to some extent.
FAQs
Can you hike the Annapurna Circuit on your own?
Yes, of course. However, an experienced guide or porter guide adds value to your trekking experience in the region.
Do you need a guide for Annapurna Circuit?
Not necessarily, but their knowledge about the local place, culture, history, and things found around becomes a treasure.
Where to find guides and porters to trek Annapurna?
You can find them through these two methods:
1. Contacting in person (getting contact details online or upon friends' recommendation who already visited with them)
2. Visiting tour companies in Kathmandu or in Pokhara
How much does it cost in a day to hire a guide and a porter while trekking to Annapurna?
Hiring an Annapurna circuit guide or a porter cost varies according to their skills, experience, and travel companies. Generally, in average charge is:
Guide: USD 20 – USD 25/day
Porter: USD 15 – USD 20/day
How much do you tip a porter?
You're expected to tip anywhere between USD 1 – USD 5 per day.
If you are looking for information regarding routes of the Annapurna Circuit trek read Routes and Maps of the Annapurna Circuit Trek chapter. Best Annapurna Circuit Trek Time chapter explains in detail about the best time to trek in Annapurna Circuit region. If you are wondering how to choose the best trek operator, find detailed information from this How to Choose the best Annapurna Circuit Trek Operator chapter.
The cost chapter Cost of Annapurna Circuit Trek explains all types of cost and fees of Annapurna Circuit trek. If you need information regarding visa and permit of Annapurna Circuit trek read Visa and Permit for Annapurna Circuit Trek chapter.
The Annapurna circuit packing list chapter explains the main items to Packing for Annapurna Circuit trekking. Learn in detail about the food and lodging during trekking Annapurna Circuit in the Accommodation and Food during Annapurna Circuit Trek chapter. If you want information about Annapurna Circuit trek ground transportation read the chapter Annapurna Circuit Ground Transportation.
In other chapters of this Annapurna Circuit Trek guide, we have explained in detail of Internet Facility in the Annapurna Circuit region and how much dangerous and safe is Annapurna Circuit Trek. Moreover, you can explore our Nepal tours and treks package page to find several amazing Annapurna circuit trekking deals.