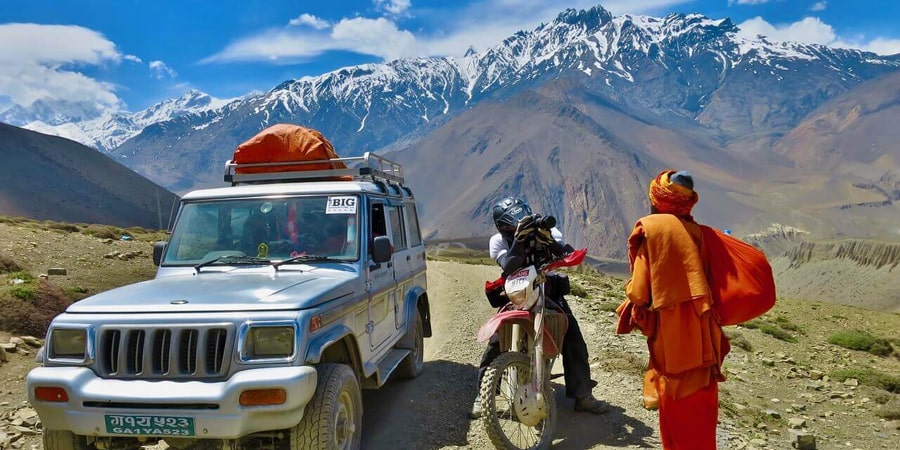 Image Credit: https://nepalcallsyou.com/pages/transportation-in-nepal
Arrival at Tribhuvan International Airport
Upon arrival at Kathmandu airport, trekkers have the choice to get transferred to their respective hotels:
Airport cabs: Available in the airport taxi park
Private car/van: Available upon request, or managed by a tour agency
Public bus: Available out of the airport entrance gate
If planned your Annapurna circuit trekking in Nepal with a tour agency, it will arrange for you, else you do it on your own. For sightseeing in Kathmandu, taxis are easily accessible both on main roads and inner roads. You also can use local buses or micro-buses that run mostly on the main road.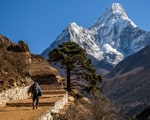 Get Free Quotes, Compare and Save on Your Ultimate Nepal Trekking Experience
Effortlessly connect with multiple Nepal trek providers to find the perfect adventure at the best price.
Kathmandu to Besishahar, 172 Km west of Kathmandu (6-7hrs):
Now, you leave Kathmandu for a trekking destination. Annapurna trekkers need to take the direct bus to Besishahar. Some facts about these destinations concerning transportation:
Bus commutes: Daily from Kathmandu
Travel time: 6-7 hours
Departure time: 08:30 AM in the morning
Departure from: Gangabu Bus Park
Distance: 190 kilometers
Vehicle type: Public bus, private car, jeep, local bus, local microvan, no tourist bus
Bus fare: Rs. 900 (approx. USD 9)
After 6-7 hours of scenic bus drive, you reach Besishahar. During the trek Annapurna circuit, you will be greeted by mountainous places along the road. Upon arrival at Besishahar (760m) nearby Marshyangdi River, you will see the eye-catching mountain landscape.
En-route will encounter the countryside of Nepal with its green hills, winding rivers, terraced farms, and, of course, the mighty Himalayas. Driving via Trishuli river it follows a bridge across river Marshyangdi and then along Prithvi highway. Then you reach the beautiful place Besishahar.
Besishahar (825m) – Jagat or Chame (2,710m) – 3 to 4 hours
Witnessing rather stunning scenery of snow-capped mountains, green hills, rivers, and villages, the bus reaches Besishahar, then Jagat. Jagat is an ancient town and was once a tax collection point for travelers heading to Tibet.
Besishahar – Jagat (1,300m/4,264ft)
Vehicle type: Local/public bus, car, jeep, van, or the same bus you used from Kathmandu
Travel time: 8 – 9 hours
Distance: 210 Km
Besishahar – Pisang (3190m, 5-6 hrs drive):
Travelers for the Annapurna circuit trekking Nepal take a 5-6 hours off-road drive using a local jeep and reach Pisang. This jeep ride passes through the major stopping places (Bhulbhule, Syange, Jagat, Dharapani, Chame) after the Marshyangdi River. Then you arrive in Pisang and stay overnight at a lodge.
Jagat – Lower Pisang (3,200m/10,498ft) Via Chame (2,670m/8,759ft)
Through rough driving track, the bus reaches Lower Pisan. Drive past the lunar landscape full of pine trees on brown hills.
Vehicle type: Local bus, private jeep, van
Travel time: 5-6 hours
Distance: 50 Km
Muktinath – Jomsom Via Kagbeni (2,804m/9,197ft)
Continue your journey of the Annapurna circuit trek with a drive along the banks of Kali Gandaki River and in a couple of hours, you will arrive in Jomsom. Many facilities in the market of Jomsom including restaurants, bars, and internet cafes are available.
Vehicle type: Local bus, private jeep
Travel time: 3-4 hours
Distance: 26 Km
Muktinath (3,760m / 12,623ft) – Jomsom and Tatopani (1,200m / 3,940ft)
Vehicle type: Local bus, local/private jeep
Travel time: 6-7 hrs
Birethanti (1,039m / 3,250ft) – Drive to Nayapul, Pokhara
After ascending to Poon Hill (3,210m), a part of Annapurna Poon Hill trekking, you hike to Birethanti then take a bus to Pokhara (2 hours bus drive).
Jomsom – Pokhara (823m/ 8-9 hrs drive):
Now, you head to Pokhara from Jomsom. After a short distance of walking you get to the bus station. You will enjoy scenic off-road driving from Jomsom to Beni. Passing through Marpha, Kalopani, Ghasa, and Tatopani you encounter a beautiful Rupse Waterfall on the way. From Beni to Pokhara it becomes easy to drive as it is blacktopped road.
Pokhara – Kathmandu (7-8 hrs drive):
After this adventurous Annapurna circuit trek, you take a bus from Pokhara bus starvation and head back to Kathmandu. After 7-8 hours of bus drive, you reach Kathmandu and you can do last-minute souvenirs shopping for your family and friends.
Vehicle type: Tourist bus, Public/local bus, Micro-van, Car, Jeep
Travel time: 7-8 hours
Distance: 200 Km
Bus fare: Rs. 1000 (approx. $10)
The following table shows the destination, cost, and type of vehicle during the Annapurna trekking circuit. Remember, there are many routes, so, take it as a sample example.
| | | | | |
| --- | --- | --- | --- | --- |
| From | To | Cost (NPR) | Cost (USD) | Type |
| | | | | |
| Dumre | Besishaharsahar (start) | 200 | $1.70 | Local bus |
| Muktinath (end) | Pokhara | 20,000 (for up to 7 people) | $172 (for up to 7 people) | Jeep |
| Kagbeni (end) | Pokhara | 1,250 | $10.70 | Local bus |
| Jomsom (end) | Pokhara | 13,400 | $115 | Plane (one-way) |
| Tatopani (end) | Pokhara | 550 | $4.70 | Local bus |
| Tatopani (end) | Pokhara | 10,000 (for up to 7 people) | $86 (for up to 7 people) | Jeep |
| Pokhara | Kathmandu | 800 | $6.85 | Tourist bus |
| Pokhara | Kathmandu | 11,600 | $100 | Plane (one-way) |
If you are looking for information regarding routes of Annapurna Circuit trek read Routes and Maps of the Annapurna Circuit Trek chapter. Best Annapurna Circuit Trek Time chapter explain in detail about the best time to trek in Annapurna Circuit region.
If you are wondering how to choose the best trek operator, find detail information from this How to Choose the best Annapurna Circuit Trek Operator chapter. The cost chapter Cost of Annapurna Circuit Trek explains all types of cost and fees of Annapurna Circuit trek. If you need information regarding visa and permit of Annapurna Circuit trek read Visa and Permit for Annapurna Circuit Trek chapter.
The Annapurna circuit packing list chapter explains the main items to Packing for Annapurna Circuit trekking. Learn in detail about the food and lodging during trekking Annapurna Circuit in the Accommodation and Food during Annapurna Circuit Trek chapter.
In other chapters of this Annapurna Circuit Trek guide, we have explained in detail of Internet Facility in the Annapurna Circuit region, how and where to find the AnnapurnaTrek Guides and Porters and how much dangerous and safe is Annapurna Circuit Trek. Moreover, you can explore our Nepal tours and treks package page to find several amazing Annapurna circuit trekking deals.