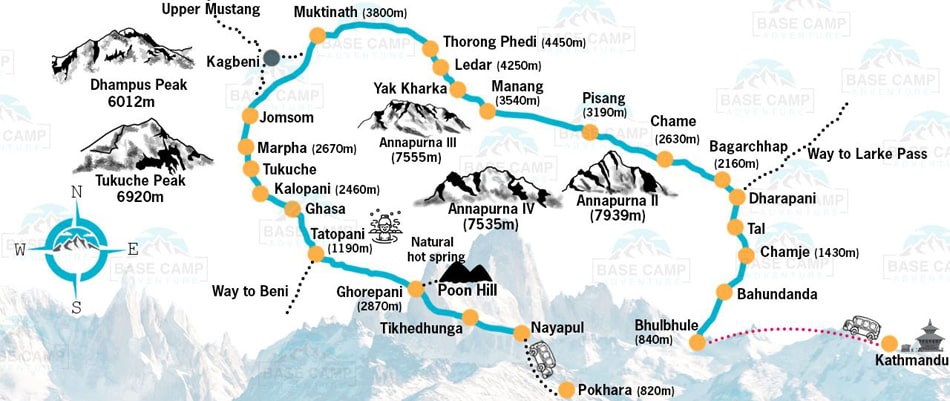 Image Credit: https://basecampadventure.com/annapurna-circuit-trek-map/
Follow these map details and enjoy your trek in the Annapurna circuit region. This map shows an accurate overview of the trail route you have to follow to get rid of the motor road. With this trail route, you easily navigate the main trekking route, side trip, main road, peaks, temple, airport, mountains, and many more.
Trek Routes
This circuit trek encircles the Annapurna Massif taking you on a scenic and cultural journey through the Annapurna Region. This region is protected by the Annapurna Conservation Area which houses Mt. Annapurna (8091 m), the world's tenth highest mountain. It lies in the north-central part of Nepal.
In this one of the classic and diverse treks, the Annapurna circuit trekking routes were opened for foreign trekkers only in the year 1977. It is a 12-22 days long trip within the mountain ranges located in the central part of Nepal.
You set out your journey by driving out of Kathmandu to Bhulbhule (your real trek begins here). Then start your trek and encircle the route ending it in Pokhara. From there drive back to the starting point.
During your journey, you will land at Tribhuvan International airport in Kathmandu. Then get transferred to the booked hotel room. The next day, you will be riding a tourist bus or local bus for 6-7 hours to reach Bhulbhule via Besishaharsahar.
Now your real trek begins at Chamje passing through many villages and forest areas. Then from Chamje, you make a 3 to 4 hours walk to get Chame through Dharapani. After this, you will be at Pisang crossing bridges and forest trails. Your journey takes you to Manang via Ngawal. Here, you acclimatize at Manang and move ahead to Ledar.
And another day you reach High Camp via Thorung Phedi and move to Muktinath. After Muktinath, you reach Marpha. You continue your trip to Kalopani, then to Tatopani. From Tatopani, you trek to Ghorepani and then to Pokhara through Nayapul. Now, you drive back to Kathmandu.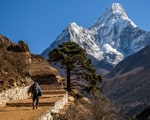 Get Free Quotes, Compare and Save on Your Ultimate Nepal Trekking Experience
Effortlessly connect with multiple Nepal trek providers to find the perfect adventure at the best price.
Annapurna Trek Circuit Routes Details
Home country – Kathmandu
After your arrival at Tribhuvan Tribhuvan International Airport in Kathmandu, you take an airport taxi or your tour agency's vehicle to the booked hotel. Now you can do trekking preparation for the destination.
Kathmandu to Bhulbhule (Driving distance – 187 Km)
After 8-9 hours of bus drive from Kathmandu, you reach Bhulbhule via Prithvi Highway passing through Besishaharsahar. On the way out of the city, you get the opportunity to see valleys surrounded by lush green hills. You reach Besishaharsahar (situated at 760 m) having the chance to see picturesque villages and snowy peaks along the sides of Marsyangdi river, you ride for 2 hours bus drive to reach Bhulbhule (situated at 840 m).
Bhulbhule – Chamje (Trek distance – 22.5 Km)
After a night in Bhulbhule, you head towards Chamje. Here your real trek begins making a steep climb. From there you descend in the trails till you reach Jagat (situated at 1000m). Continue the trail to reach Marsayangdi valley and make a slight climb into the forest path. You reach Chamje (situated at 1430m) at a distance of 22.5km from Bhulbhule after 5-6 hours.
Chamje – Bagarchhap (Trek distance – 15 Km)
The next day, you head to Bagarchhap (situated at 2160) during this Annapurna circuit trekking, which lies at 15km away from Chamje. Ascending the paths that witness and pass the stunning terraced field, make way through the amazing rhododendron forest. You crosse various small streams and bridges to reach Bagarchhap after 5 – 6 hours of walking.
Bagarchhap – Chame (Trek distance – 14 Km)
A trekker needs to walk 5 – 6 hours covering 14 km to reach Chame (situated at 2630m) from Bagarchhap. Walking upward trails through the dense forest of pines and oaks, you encounter the Tamang community settlement. You move ahead in flat land along the sides of Marsyangdi River moving past the villages of Thanchowk and Koto.
Chame – Pisang (Trek distance – 14 Km)
After about 5 – 6 hours of walking, you reach Pisang (situated at 3190) from Chame at a distance of 14 km. On the way, you pass the Marsyangdi river and walk through the green pine forest. As you reach Bhratang you need to ascend to Dhikur Pokhari. From there you have magnificent views of Annapurna massif and Pisang Peak, a magical scene around the Annapurna trek region.
Pisang – Manang (Trek distance – 17.4 Km)
After walking for 5 – 6 hours, you reach Manang (3450) at a distance of 17.4 Km from Pisang. You make your trek through Braga village where you will have the opportunity to visit 900 years old monastery. As you continue to walk, you cross the Marsyangdi river bridge and reach Ghyaru.
Ascend uphill to Ngawal and then descend to Mungji which leads to the lower routes, then it leads to Manang. From this place, you can observe a panoramic view of Marsyangdi valley, Gangapurna, and Tilicho peak.
Manang – Ledar (Trek distance – 9 Km)
To reach Ledar (situated at 4250 m) from Manang, it takes 4-5 hours of walk which is a distance of 9 Km. During this Annapurna trekking trail, you feel lucky to witness the mesmerizing Annapurna ranges and Gangapurna. This path leads to Yak Kharka, pastoral land, pass this place, some lush green forest to reach Ledar.
Ledar- Thorung Phedi (Trek distance – 7.5 Km)
As you walk 6 -7 hours, you reach Thorung Phedi (situated at 4450 m) at a 7.5 Km distance away from Ledar. When you are at High Camp (situated at 4925 m) passing through Thorung Phedi, you will get an amazing view of Annapurna, Manaslu, and Lamjung.
High Camp – Muktinath (Trek distance – 16.4 Km)
At the distance of 16.5 Km, after 7-8 hours of walking, you reach Muktinath (situated at 3800 m). When you ascend from High Camp, you cross Thorong La Pass (situated at 5416 m), the highest trail pass in the region. From this spot, you witness the captivating sight of the Kali Gandaki Valley, Mt. Dhaulagiri, and Annapurna massif. Then you descend to arrive at Muktinath temple (one of the highest temples) on the foot of Thorong La Pass, 5416m.
Muktinath – Marpha (Trek distance – 20.8 Km)
Walking from Muktinath to Marpha (situated 2670 m) takes 6 -7 hours. After worshipping at Muktinath temple you descend to Khingar through Jharkot. Now, you continue to reach Kagbeni (situated at 2804 m). Your trek Annapurna circuit leads you downhill to river beds alongside Kali Gandaki River to get Jomsom (situated 2743 m). Through this place, you reach Marpha which is regarded as apple brandy and apple gardens.
Marpha – Kalopani (Trek distance – 19.7 Km)
Trekking for 5 – 6 hours from Marpha, you reach Kalopani at a distance of 20 Km. Passing along the Kali Gandaki River and you reach the beautiful villages of Tukuce and Larjung. You'll be amazed by the view of Dhaulagiri massif on the way, then reach Kalopani. In this place, you explore a famous cultural Thakali Museum and witness the majesty of Annapurna massif and Dhaulagiri.
Kalopani – Tatopani (Trek distance – 22.7 Km)
You need to walk 22.7 Km for about 6 – 7 hours from Tatopani to Kalopani. On the way to this trekking Annapurna circuit, you witness Rupse Chhahara then cross a suspension bridge over the Kali Gandaki River and reach Tatopani (1190 m).
Tatopani – Ghorepani (Trek distance – 13.2 Km)
Heading from Tatopani to Ghorepani at a distance of 13.2 Km consumes 8 hours of walking. You pass Ghara and Sikha villages viewing fascinating Machhapuchhre and Annapurna south, then you reach Ghorepani.
Ghorepani – Pokhara (35 Km)
From Ghorepani, you head to Nayapul and drive back to Pokhara which takes 7 – 8 hours including 1.5 hours drive from Nayapul to Pokhara. During this Annapurna circuit trek of Nepal, you pass Ulleri, and Hille to reach Nayapul. Then you take a bus to Pokhara through Baglung highway.
Pokhara – Kathmandu
Now, you return back to Kathmandu from Pokhara via a 7 – 8 hours bus ride. You will travel 204 Km distance between these two places. With beautiful memories that you gathered along the trekking route, you bade farewell and leave for your home country from Kathmandu.
Sample Annapurna circuit trek 12 days
Day 1 – Arrival at Kathmandu International Airport:
After landing at Kathmandu airport, you get transferred to a hotel. If planning your tour with a tour agency, it will arrange for you, else you do it on your own. Trekkers traveling with the agency will get an orientation about the trip, and collect required documents and other trekking accessories on this day. You may roam around for sightseeing in Kathmandu and return to your respective hotel for the night.
Day 2 – Drive from Kathmandu to Besishahar, 172 Km west of Kathmandu (6-7hrs):
Now, you leave Kathmandu for a trekking destination. After 6-7 hours of scenic bus drive, you reach Besishahar. During this Annapurna round trek, you will be greeted with mountainous places along the road. Upon arrival at Besishahar (760m) nearby Marshyangdi River, you will see the eye-catching mountain landscape. There, you will take a rest at the lodge for the night.
Day 3 – Drive from Besishahar to Pisang (3190m, 5-6 hrs drive):
On this third day of your travel, you take a 5-6 hours off-road drive using a local jeep and reach Pisang. This jeep ride passes through the major stopping places (Bhulbhule, Syange, Jagat, Dharapani, Chame) after the Marshyangdi River. Then you arrive in Pisang and stay overnight at a lodge.
Day 4 – Trek from Pisang to Manang (3500m, 5-6 hrs walk):
Now, your real trekking begins where you take the upper Manang route as it has an upper and lower route. The lower route via Hongde involves less climbing upper route through Ghyaru. On this trail of Annapurna trekking Nepal, you will enjoy panoramic views of Annapurna, Pisang Peak, and other mountains. Visiting the Barge monastery added significance to this trek. Then you will stop by a lodge for an overnight stay.
Day 5 – Acclimatization day in Manang:
Take this day as the rest day and acclimatize yourself in the preparation for the upcoming challenging and tiring trek. You may visit Bhojo Gompa, Gangapurna Lake, and Vraga village on this day. Drop a visit at the aid post of the Himalayan Rescue Association. It's a worth visit for getting counsel about Mountain Sickness. And, you will take a rest at the lodge overnight.
Day 6 – Trek from Manang to Yak Kharka (4090m, 4-5 hrs walk):
As part of this trekking Annapurna Nepal, you ascend to Tenki village above Manang. The trail continues to climb out of the Marshyangdi Valley. Turning northwest up the Jarsang Khola valley it passes a few pastures and goes through Ghunsa village. Then you get a beautiful pasturing view of horses and yaks grazing on the way. Reaching Mani wall in a pleasant meadow leads you to Yak Kharka village. You will stay overnight at the lodge there.
Day 7 – Trekking from Yak Kharka to Thorung Phedi / High Camp(4441m/4925m, 4-5 hrs walk):
Trekking after 2-3 hours where you ascend along with crossing the river, you arrive at Thorung Phedi. As you reach Thorung Phedi, your next destination is High Camp. You reach High Camp after 1.30 – 2 hours of walk. There you take a rest at the lodge for the overnight.
Day 8 – Trek from Thorung Phedi/High Camp to Muktinath through Thorung La Pass (5316m, 7-8 hrs walk):
It's a wise decision to leave early for Thoroung La pass to avoid harsh weather conditions in this Annapurna round circuit trail. If you start trekking at 4 – 5 am early then you will make your way to Thorung at 9 – 10 am. As soon as crossing Thorong La Pass, you descend to Muktinath, where you visit Muktinath temple. This is regarded as the highest aboded temple for Lord Vishnu and several Buddhist monasteries. You will stay at Muktinath overnight.
Day 9 – Trek from Muktinath to Jomsom (2715m, 5-6 hrs walk):
On this 9th day of your trekking, you head to Jomsom. The trail passes down to the Eklebhatti. You will get fascinating views of Mt. Dhaulagiri during the trek. After crossing meadows, streams, and hills, you reach Kagbeni. Continuing to pass villages, Buddhist monastery, and Kaligandaki River, you head to Jomsom. There you stay overnight at a teahouse.
Day 10 – Drive from Jomsom to Pokhara (823m, 8-9 hrs drive):
Now, you head to Pokhara from Jomsom. After a short distance of walking you get to the bus station. You will enjoy scenic off-road driving from Jomsom to Beni. Passing through Marpha, Kalopani, Ghasa, and Tatopani you encounter a beautiful Rupse Waterfall on the way. From Beni to Pokhara it becomes an easy drive as it is blacktopped road. After reaching Pokhara, you roam around for sightseeing, a part of your best Annapurna trek. You will take a rest at the lodge for the overnight.
Day 11 – Drive to Kathmandu from Pokhara (7-8 hrs drive):
After this trek, you take a bus from Pokhara bus station and head back to Kathmandu. After 7-8 hours of bus drive, you reach Kathmandu and you can do last-minute souvenirs shopping for your family and friends. If you are trekking the Annapurna circuit with the agency, you will probably have a farewell party with a cultural performance on this day. Then you stay at your respective hotel overnight.
Day 12 – Departure to home country from Nepal:
Your overall trekking journey ends here. Now, you head to Tribhuvan International Airport in Kathmandu for your flight departure from Nepal.
FAQs
How long does the Annapurna circuit trek take?
Trekking in this circuit usually takes about 15–20 days.
How long is the Annapurna circuit trek?
The length of this trek covers 131 Km (81 miles).
How long is the Poon Hill trek?
This short trek stretches about 45 Km.
How can I go to Annapurna?
Take a 7-8 hours bus drive to Besishaharsahar and start trekking from there. Climbing all the way to Thorong La Pass with a short detour to Tilicho Lake, and end your hike in Jomsom. This way you trek around the Annapurna circuit, and back to Kathmandu via a stopover at Pokhara.
How difficult is the Annapurna Circuit trek?
This trek is a moderately difficult one on the high-altitude terrains of the Annapurna region. It includes varied trails rocky, steep or slippery.
Can you hike the Annapurna Circuit on your own?
You can go on this trek on your own; however, taking help from a guide and porter is advisable.
If you are looking for information regarding the best time to trek to the Circuit of Annapurna, read Best Annapurna Circuit Trek Time chapter. If you are wondering how to choose the best trek operator, find detailed information from this How to Choose the best Annapurna Circuit Trek Operator chapter.
The cost chapter Cost of Annapurna Circuit Trek explains all types of costs and fees of Annapurna Circuit trek. If you need information regarding the visa and permit for Annapurna Circuit trek read Visa and Permit for Annapurna Circuit Trek chapter.
The Annapurna circuit packing list chapter explains the main items to Packing for Annapurna Circuit trekking. Learn in detail about the food and lodging during trekking Annapurna Circuit in the Accommodation and Food during Annapurna Circuit Trek chapter. If you want information about Annapurna Circuit trek ground transportation read the chapter Annapurna Circuit Ground Transportation.
In other chapters of this Annapurna Circuit Trek guide, we have explained in detail of Internet Facility in the Annapurna Circuit region, how and where to find the AnnapurnaTrek Guides and Porters and how much dangerous and safe is Annapurna Circuit Trek. Moreover, you can explore our Nepal tours and treks package page to find several amazing Annapurna circuit trekking deals.