Image Credit: https://www.wildernessexcursion.com/annapurna-circuit-trek
High-altitude trekking around the Annapurna massif takes a lot of physical and mental strength. This trekking trip goes over 5000 meters altitude which obviously is a challenging trip to accomplish.
Difficulty level increases as the elevation lead you up. At the higher altitudes and rough landscapes of mountains, trekking the Annapurna circuit becomes tough or moderate because of the following reasons:
Longest trekking routes in the region
Beginner trekker or an experienced one
Physical and mental preparation
Available trail routes
Altitude and terrain
Seasons and time
Weather condition
Services and facilities on the trail of the Annapurna trek circuit
Solo trekker or in a group
Trekking through an agency or on your own
Since several aspects contribute to making a trek simple or difficult, here is a breakdown along with some tips for safety or preparation: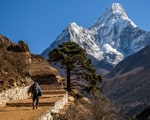 Get Free Quotes, Compare and Save on Your Ultimate Nepal Trekking Experience
Effortlessly connect with multiple Nepal trek providers to find the perfect adventure at the best price.
Time and Distance
Usually takes 18 days to complete this trek
Walk for 6 to 8 hours every day
Walk 15 to 20 kilometers every day to cover the distance
Hiking at a higher elevation (Thorong La Pass) might be challenging
Hiking distance is 160 – 230 kilometers long depending on the route where you start and end
Probable Impacts on Physical Condition
Fatigue, backache, body soreness, muscle pain, and leg cramps
Safety Measures
Take breaks and relax regularly
Be active and have some hiking expertise
Eat a lot of proteins and calories-related fruits to make you feel more energized
Undertake some trekking-related workouts and practice rising to greater altitudes
Create hiking regimens that include both uphill and downhill hikes
When talking about the difficulty in trekking the Annapurna circuit is altitude sickness. Walking plain areas in lower elevation is incomparably different once you walk over 4,000m. Anyone might have low-level oxygen and temperature pressure in the upper region which probably results in altitude sickness.
Symptoms of Altitude Sickness
Nausea and vomiting
Dizziness and poor sleep
Effects similar to a hangover
Difficulty in catching a breath
A High rate of heartbeat
Difficulty in stopping cough
Foam in saliva
Saliva might contain blood
Your lips, nails, and tongue might slowly turn blue
Unclear vision
Confusion in simple things
Difficult to walk heel-in-toe on a straight path
Diarrhea, headaches, loss of appetite, insomnia
Strengthening your body with appropriate training before this trek
Maintain a high level of hydration during the trek
Avoid alcohol while trekking the Annapurna circuit
Go slow during your trek
Have low altitude gains
Maintain cleanliness
In case you observe the symptoms, make a descent to lower altitudes
Should not ignore health problems because the symptoms can sometimes be severe
Eat liquid substances while walking in high altitude
Get some altitude sickness medications as prescribed by a physician
Weather condition is significant for trekking the Annapurna circuit region varies a lot. One should be aware of weather patterns and climatic shifts. Some of the influencing factors to weather are:
Altitude
Season
Environment
Autumn and Spring Season:
Autumn and spring are the Annapurna circuit trek's best seasons. In this season, you can have a panoramic view of breathtaking mountain landscapes though you may face:
Huge traffic makes it difficult as it obstructs enjoying trekking comfortably
The tea shops, hotels, and even the trail will be overcrowded
Imagine going on a trek for peace, and you never get it
Hotels are filled with travelers
Food and accommodation are slightly expensive
If you don't go without an agency, you might be in mess. The rooms must be pre-booked and the services will be served late due to more guests in the hotel.
Summer Season:
This is one of the challenging times hiking the Annapurna circuit. During this time:
Hottest and the high rainfall effect
The lower altitude regions are of high temperature and humidity
Due to regular rainfall, the trails are slippery and have more chances for a landslide
Trekking in the scorching sun isn't fun at all
The risk of landslides and uncertain rainfall may interrupt your itinerary for a day or two
Dark clouds appear often in the summer in the upper region
However, besides the uncertainties and risks, food and accommodation become a little cheaper at that time of year. Greenery and peace are everywhere. Not too many people do the trek in the Summer season. So, you and your squad enjoying the whole route.
Winter Season
The winter season in this region starts at the beginning of December and lasts till the month of February. Although it's the best time to watch mountains being snowcapped and shining like a diamond, you can have:
Trials might be covered with the falling snow which can give hard time
Freezing weather can knock you down
Snow in the upper altitudes might make trekking difficult
Sunshine is quite low this season
Temperature can get as low as -20 degrees
Heavy snowfall and temperatures below 0° are conceivable
Trekking may also result in avalanches and other natural calamities
Temperature goes down to – 17 degrees Celsius at night
Temperature is usual and moderate during the day
Get off-season discounts in different hotels and homestays
Trail Condition
Trekking Annapurna circuit trail goes through uphill and downhill, and through jungles and barren lands. Crossing the Thorong La Pass is one of the highest passes in the world. Because of heavy snow piles and cold, the trail here is blocked in the Winter season.
Road Condition
To get to the trail and in the mid of the trail you will be riding a vehicle – so let's look at the road conditions.
From Kathmandu to Beisahar the road is relatively good, and the road becomes quite smooth till Mugling followed by Trishuli River. Sometimes, you might experience landslides in the monsoon season that causes you to stall if it blocks the road. After Mugling the road is good all the way to Beisahar.
When you cross the Thorong La Pass, to Muktinath, you can now catch a local bus to Jomson or Kagbeni. It's a choice whether to ride the bus or hike. Better go by road in the wet season – whether on foot or by vehicle whereas in the dry season it's an easy walk.
It is now possible to drive all the way from Muktinath to Pokhara, but you might miss your adventurous Annapurna trekking circuit in Nepal.
Training and Experience
In this adventurous trek, as one needs to go through higher elevations, training along with experience will be a great support. For this, one needs to:
Finish appropriate training before beginning this delightful stroll
Physically and mentally ready for hiking for at least 6 hours to complete
Keep up with your companions to make your journey more enjoyable
You must be at least an average hiker to deal with the difficulties
Take a hiking class or a professional training program
Type of Trekkers
An experienced trekker already has built endurance capability and faced strenuous trekking activities. So, he/she might be accustomed to most of the situations involved in it. But for a newbie, it's the most difficult trek Annapurna circuit because of its' journey distance.
Lodging, Food, and Beverages
Teahouses are popular in the trekking area. As the trek goes to higher regions, the price for lodges is expensive but limited choice. At lower elevations, the cost comes with what you preferred. And, the same goes for the food – expensive in the upper region.
For accommodation, trekkers get rooms with share restrooms and other limited facilities. It's not easy to find rooms in the high season as guesthouses/lodges are crowded.
Budgeting
One needs to consider the following before leaving for trekking and prepare budget accordingly:
Required trekking stuff
Additional items
Transportation
Accommodation & food
Guides and porters
Unpredicted events or probable accidents/injuries
Extended period
Upon giving wise judgment and thought, one is able to plan enough budget. If you purchase the required things at the proper place on the Annapurna round trek, you will cut down unnecessary expenses.
Guide and Porter
Without a porter or guide, it adds difficulty to the trek. And, it becomes impossible to carry all the possessions while hiking to Annapurna.
In the time of difficult or emergency situations, Annapurna circuit guides become invaluable. He/she navigates the trail properly and finds the best place for rest and food. Along with this, he/she becomes your lifeline if anything goes wrong.
Routes
There are several ups and downs during the Annapurna trekking. Trails condition, location, weather, accessibility, and alone or in the group, make you enjoy or face harshness.
As many trails come under the frame of the circuit, you must select the most appropriate one for you. During the rainy season, the trails might get muddy; and in winter it's snow around.
Trekking Gears
Well-packed clothes make your trekking not only easy but also lets you experience scenery or adventure in your comfort. From sleeping/resting to wearing stuff needs to be arranged wisely for the trek.
Thus, one needs to trek carefully to overcome the Annapurna circuit trek difficulties. Trek consciously and actively to avoid any pitfalls.
FAQs
---
How difficult is the Annapurna trek?
This trek is considered moderately difficult.
How crowded is the Annapurna circuit?
Generally, it's crowded in the high season (Autumn & Spring).
Is Annapurna trek safe?
Yes, trekking in the Annapurna circuit is safe.
How hard is trekking in Nepal?
The trekking in Nepal ranges from moderate to difficult as this country houses diverse terrains and low to high altitude areas. Trekking to 4,500 m elevation is moderate, whereas trekking at a higher elevation is often challenging and daunting one.
Which is harder Everest base camp or Annapurna?
As high-altitude trekking is a challenging one; obviously Everest base camp trek is harder over Annapurna.
Conclusion
Annapurna circuit trek Nepal is the longest, and one of the most searched trekking destinations. Fascinating trekkers with its natural beauty, and diverse terrains, it's home to the highest trail pass – Thorong La Pass, and the highest aboded temple, Muktinath Temple.
With the detailed features and complete requirements, this guide unfolds trekking trails to trekkers' needs. This gives a glimpse of what you need to accomplish from beginning to end of the journey. All essential equipment & gear, accommodation, food, transportation, and all features that one needed during the trek are illustrated.
If you are looking for information regarding routes of the Annapurna Circuit trek read the Routes and Maps of the Annapurna Circuit Trek chapter. The best Annapurna Circuit Trek Time chapter explains in detail the best time to trek in the Annapurna Circuit region.
If you are wondering how to choose the best trek operator, find detailed information from this How to Choose the best Annapurna Circuit Trek Operator chapter. The cost chapter Cost of Annapurna Circuit Trek explains all types of costs and fees of Annapurna Circuit trek.
If you need information regarding visa and permit of Annapurna Circuit trek read Visa and Permit for Annapurna Circuit Trek chapter. The Annapurna circuit packing list chapter explains the main items to Packing for Annapurna Circuit trekking. Learn in detail about the food and lodging during trekking Annapurna Circuit in the Accommodation and Food during Annapurna Circuit Trek chapter. If you want information about Annapurna Circuit trek ground transportation read the chapter Annapurna Circuit Ground Transportation.
In other chapters of this Annapurna Circuit Trek guide, we have explained in detail of Internet Facility in the Annapurna Circuit region and how and where to find the AnnapurnaTrek Guides and Porters. Moreover, you can explore our Nepal tours and treks package page to find several amazing Annapurna circuit trekking deals.