Are you thinking of travelling to Nepal anytime soon? Looking for fast and fun tours to help you see the country's capital in a day? Are you searching for the best Kathmandu tour companies in Nepal?
A day-tour of Kathmandu is the best way to view ancient shrines, monuments, palaces and to experience the unique Nepalese culture and its traditions. Kathmandu is best known for its UNESCO listed cultural heritage sites, hidden temples, courtyards and an alluring yet hectic city life. You will also experience awe-inspiring sights of the Himalayan Mountain ranges in the distance.
There are hundreds of companies that offer private one-day tours in Kathmandu. Each company differs in terms of reliability, affordability, safety, and their reviews. This makes finding the right company for you a very time consuming and difficult task.
At TravellersQuest, we don't want to see you choosing a poorly-rated company to organize your tour of Kathmandu. We want to see you join a reputable and safe company that will help you organize a successful and memorable tour in one of the most fascinating cities of the world!
So, we did the hard work for you. We spent hundreds of hours researching and finding the best Kathmandu tour companies in Nepal.
Here we present an unbiased selection of the 10 best Kathmandu day tour companies in Nepal.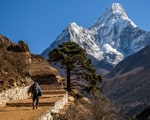 Get Free Quotes, Compare and Save on Your Ultimate Nepal Trekking Experience
Effortlessly connect with multiple Nepal trek providers to find the perfect adventure at the best price.
Table of Contents
| Providers | Package | Reviews |
| --- | --- | --- |
| Ace the Himalaya | Kathmandu Luxury Tour – 3 Days | Trip Advisor: 1,812 reviews |
| Nepal Eco Adventure | Kathmandu Nagarkot Tour 3 Days | Trip Advisor – 1,716 reviews |
| Nepal Hiking Team | Kathmandu Tour with Day Hike 5 Days | Trip Advisor: 1,336 reviews |
| Himalayan Glacier | Kathmandu Tour – 4 Days | Trip-Advisor: 537 reviews |
| Discovery World Trekking | Kathmandu Valley Tour – 1 Day | Trip Advisor: 904 reviews |
| Breakfree Adventures | Kathmandu and Pokhara Tour 5 Days | Trip Advisor: 679 reviews |
| Alpine Club Of Himalaya | Kathmandu Transit Tour – 3 Days | Trip Advisor: 490 reviews |
| Himalayan Social Journey | Full-Day Sightseeing Tour of Kathmandu valley | Trip Advisor: 1,613 Reviews |
| Third Rock Adventures | Secret Food Tour In Kathmandu – 1 Day | Trip Advisor: 444 reviews |
| Nepal Mountain Adventure | Kathmandu Pokhara Tour 5 Days | Trip Advisor: 493 reviews |
| Prime Himalayas | Kathmandu and Chitwan Tour with Wildlife Safari 6 Days | Trip Advisor: 637 reviews |
Table update Sept 4, 2023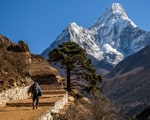 Get Free Quotes, Compare and Save on Your Ultimate Nepal Trekking Experience
Effortlessly connect with multiple Nepal trek providers to find the perfect adventure at the best price.
Ace the Himalaya

Established in 2006, Ace the Himalaya stands as a visionary travel company, committed to delivering both meticulously crafted pre-planned itineraries and personalized travel services. This local enterprise operates exclusively in Nepal, Bhutan, Tibet, and India, offering a comprehensive range of travel experiences. Among their offerings, they excel in providing exceptional one-day private tours in Kathmandu, allowing travelers to immerse themselves in the city's treasures.
As a locally-owned venture, Ace the Himalaya carries a profound connection to the regions they operate in. Their commitment to excellence is underlined by affiliations and accreditations from esteemed organizations including the Trekking Agencies Association of Nepal, Nepal Mountaineering Association, Nepal Tourism Board, Kathmandu Environmental Education Project (KEEP) and Adventure Travel Trade Association (ATTA).
Ace The Himalaya's Popular Kathmandu Tour Packages
Kathmandu is an incredibly diverse city. It is the largest metropolis in Nepal and is home to a mix of ancient traditions and modern life. It showcases fabulous Newari architecture, age-old Hindu and Buddhist religious sites, and enriching spiritual celebrations.
Your one-day tour near Kathmandu begins with a visit to Kathmandu Durbar Square, a domain of the ancient Malla Kings. Next, you move on to Swayambhunath (The monkey temple), a religious center for both Hindus and Buddhist followers. You will also be visiting the sacred Hindu shrine of Pashupatinath and the local market area of Ason, where you will experience life and culture.
One Day Biking Tour in Kathmandu
Kathmandu biking day tour is the best way to explore the Kathmandu Valley in a day. The Kathmandu Valley day tour has some of the world's best cycling trails. The valley offers a day tour for all levels of riders. Kathmandu's diverse terrain is a dream adventure for all-mountain bike lovers.
This cycling Kathmandu tour takes you past the picturesque Newari villages and traditional farms. You will experience stunning views of the Himalayan mountain ranges, rice fields, and local villages.
Other popular packages offered by this company:
Reviews
Ace the Himalayas is a highly rated Kathmandu tour operator in Nepal. There are hundreds of reviews that praise the companies affordability safety and support. They have earned numerous reviews that represent a 100% trusted rate.
"Everything from the pre-trip email exchange to the last trip to the airport was well prepared and perfectly executed. It is obvious that they know what they are doing and the great reviews are well deserved."
Read all reviews of Ace The Himalaya on TripAdvisor.
Nepal Eco Adventure
Nepal Eco Adventure (NEA) is one of the best tour operators in Nepal and is situated at the heart of Kathmandu city. NEA has more than 15 years of experience in providing safe and trustworthy tour and trekking services in Nepal. The company is registered with the Government of Nepal, the Ministry of Tourism, and various other regulatory bodies.
NEA has more than 2 decades of experience with tour operations throughout Nepal, Bhutan, and India. Reliable services, honesty, and passion for tours are what NEA thrives on.
Nepal Eco Adventure's Popular Kathmandu Tour Packages
Kathmandu Day Tour
Kathmandu is Nepal's sprawling capital city. It is known for its fast-paced lifestyle, jammed alleyways, ancient temples, historical heritage, and much more. It has a glorious history and a refined culture unlike anywhere else in the world. This tour is one of the best ways to explore the cultural and traditional places of significance.
While visiting the Kathmandu valley with Nepal Eco Adventure, you will come across various archeological monuments which were built during ancient times. During this trip, you will be paying a visit to the different historical places on the UNESCO world heritage list, including Pashupatinath temple, Swayambhunath temple, and Kathmandu durbar square, Bhaktapurdurbar square, Patan durbar square, and others. It is a great opportunity for you to go back in time.
Kathmandu Nagarkot Tour
The Nagarkot tour is all about natural views of both the Kathmandu valley and Nagarkot. It is a fantastic destination to get important views of the snow-capped mountains. One can get incredible views of Mt Everest, Cho Oyu, Khumbu ranges, Manaslu, Cho Oyu, Gauri Shankar, Langtang ranges, and DorjeLakpa. This particular tour is for those who want to enjoy sparkling views and the natural beauty, but have limited time.
Your Kathmandu Nagarkot valley day tour is set on high hills, with splendid views of the local settlements. You will be taking a mountain flight from Kathmandu and will soar higher into the region of Nagarkot. From here, you will get exhilarating views of Annapurna, Manaslu, Ganesh Himal, Langtang Lirung, and other several peaks. Getting a bird's eye view from above is special and rare. This journey will thrill your senses live in your memory forever.
Other popular Kathmandu tour packages offered by this company:
Reviews
Nepal Eco Adventure is one of the top-reviewed and most highly rated day tour companies in Nepal. Previous tourists and trekkers praise their reliability and mode of operations.
"Grateful for our tour guides, for making our trek memorable! Funny, approachable, knowledgeable, and easy to get along with, never heard them complain, always smiling." –Jeanore89
Read all reviews of Nepal Eco Adventure on TripAdvisor.
Nepal Hiking Team
Nepal Hiking team is one of the most trusted and leading Kathamndu tour companies in Nepal. It has more than 7 years of experience and has served more than 12,000 clients worldwide. It is affiliated and registered with various governments and other regulatory bodies. All these factors have led to creating the very best and one of the most trusted travel companies.
The Nepal Hiking team offers an expansive range of adventure and tour activities. They offer comprehensive well-rounded travel packages in Nepal, Tibet, and Bhutan. The Nepal Hiking Team believes in responsible tourism. Its practices promote sustainable and ethical tourism and organize private Kathmandu tour packages. With a professional and experienced team, there is no better traveling companion than the Nepal Hiking Team.
Kathmandu is one of the most thrilling and spectacular adventure-bound places in the world. For adventure lovers and adrenaline junkies, Bungee Jumping is the ultimate sport to do in Nepal. This is a nerve-wracking adventure sport that can be done in both Kathmandu and in the city of Pokhara.
You can attempt a Bungee jump over the Bhote Koshi river gorge. A three-hour drive from Kathmandu will take you to The Last Resort. Here, you will be free falling from an altitude of approx 160m from the bridge above. If you want to try something different, then Pokhara is the place to be. You will be diving from a bungee jump tower, which is 70 meters high. The Nepal Hiking Team's bungee jumping 1-day tour in Kathmandu is exclusively designed to give you the best ultimate rush experience.
Kathmandu is a holy, spectacular, and culturally unique place on this earth. Every nook and corner of the city is adorned with a temple or a stupa. This charmingly chaotic city is home to 10 UNESCO-listed heritage sites in Kathmandu. This one-day tour in Kathmandu is all about observing the architectural, spiritual, and historical marvels of the city.
This trip takes you closer to the ancient palaces, religious sites, and distinct communities. The temples like the Pashupatinath temple and Changu Narayan temple are sacred, spiritual, and revered. Similarly, the Boudhanath and Swayambhunathstupa give you insight into the Buddhist religion. This is not all, you will also go around the streets of Kathmandu to get acquainted with the people's values and lifestyle. All these memorable experiences will allow you to understand the city better.
Kathmandu Nagarkot hiking is an ideal way to get amongst the sheer astounding beauty of nature. This Nagarkot Kathmandu tour provides one of the best vantage points outside the Kathmandu valley, with a fantastic combination of natural beauty and excellent mountain views like nowhere else in the world.
On the way to Nagarkot you will get amazing views of rice fields, forests, and meadows. Once you are in Nagarkot, you will be greeted by the gorgeous mountains and rolling hills. In the evening, you will bask in the sunset views from a  tower. This tour experience will provide you with memories of a lifetime.
Other popular packages offered by this company:
Nepal Hiking Team Review
The Nepal Hiking Team is one of the best-reviewed and top-rated day tour companies in Nepal. Past tourists and trekkers have praised them for their safety, prices, and mode of operations. The statement made by them justifies the Kathmandu valley day trip to be one of the best and most affordable.
"Really can't fault this amazing company, from their excellent email communication to their incredible professional service. Just absolutely everything you need on." – Fabbosiger, Australia
Please visit Trip-Advisor to read all the reviews of Nepal Hiking Team.
Discovery World Trekking
Discovery World Trekking, founded in 2000, is the best-rated Kathmandu tour operating agency based in Nepal. Having grown up in these regions, the DWT team possess an intimate understanding of the terrain, making them experts in curating exceptional journeys. Their mission is to provide life-changing experiences, not only showcasing Nepal's captivating geography but also winning hearts through their hospitality. They consider clients as part of their family, always ready to assist, resulting in over two decades of satisfied clients numbering more than 50,000.
The commitment of Discovery World Trekking has garnered numerous accolades, certificates, and recognition. They have received the Certificate of Excellence from TripAdvisor for 10 consecutive years, a testament to their exceptional service and client satisfaction. Additionally, they have been honored by the Ganesh Himal Tourism Development Committee for leading the highest number of tourists to the Ruby Valley region. This dedicated team's passion, experience, and dedication to both their clients and the local communities make Discovery World Trekking a standout choice for your unforgettable Kathmandu vacation.
Discovery World Trekking's Popular Kathmandu Tour Packages
Discover the essence of Kathmandu Valley in a single day tour crafted by Discovery World Trekking. Unveil the historical treasures of Kathmandu, Bhaktapur, and Patan while basking in the luxury of a private car or jeep. This immersive experience features renowned World Heritage Sites, including Boudhanath Stupa, Swyambhunath (Monkey Temple), Kopan Monastery, Kathmandu Durbar Square, Pashupatinath Temple, and Patan Durbar Square.
Expert guides accompany you, providing insights into the cultural and spiritual significance of each site. Your journey begins at Boudhanath Stupa, followed by visits to revered temples, monasteries, and architectural wonders. This tour offers a comprehensive glimpse into Nepal's vibrant heritage, all within the embrace of exceptional comfort and guidance.
Experience the enchanting Nagarkot Sunrise Tour in just one day, thoughtfully crafted by Discovery World Trekking. Embarking at 7:00 am from Discovery World Trekking's base in Kwabhal, Thamel, the adventure begins with a 2-hour drive to Nagarkot, situated at 2,200 meters above sea level. Witness the breathtaking sunrise over the Langtang range, Everest, Dorjelakpa, and Gaurishankar, painting the sky with vibrant hues. A 3 to 4-hour hike follows to Changunarayan, leading through the captivating landscapes of rural Nepal. The journey concludes with a 1-hour drive back to the hotel in Thamel, Kathmandu, wrapping up the 10-hour odyssey.
The Nagarkot Sunrise Tour encapsulates the splendor of Nepal's natural beauty and cultural richness. This short yet rewarding trek unveils the captivating Langtang range and Everest panorama from Nagarkot, allowing you to immerse yourself in the majestic allure of the mountains. The trail passes through the serene Shivapuri National Park, granting a glimpse of the local settlements and a tranquil forest environment.
Other packages:
Discovery World Trekking Reviews
Discovery World Trekking (DWT) stands as a well-respected Kathmandu tour company, prioritizing the holistic well-being of its clients. The company's distinguished reputation owes much to the contentment of its clients, with a significant 60% of them either returning customers or referred by past clients. Renowned platform Tripadvisor has bestowed DWT with a remarkable 5.0 out of 5 ratings, reflecting the exceptional quality of their services. This acclaim is underscored by the consistent recognition from Tripadvisor in the form of Certificates of Excellence for an impressive span of ten years, from 2013 to 2022.
DWT team was incredible and very helpful in assisting my trip. The guides were experienced and really kind… Even they made sure that I arrived at the hospital safely and were treated appropriately. Novi
Read all reviews of Discovery World Trekking on TripAdvisor.
Breakfree Adventures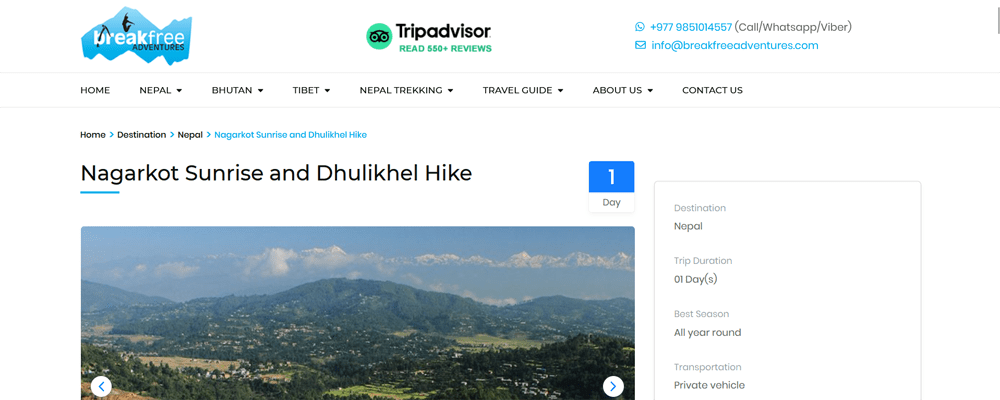 Breakfree Adventures is a well-established travel and trekking agency based in Kathmandu, Nepal. Their services cover a wide spectrum, including Kathmandu city tours, cultural tours, trekking, mountaineering, and more. With a team of trained guides and experts, they prioritize delivering excellent services and ensuring customer satisfaction.
They've gained recognition within a short span, proving their reliability in the industry. Registered with the Nepal Government, Breakfree Adventures is affiliated with major travel associations and offers diverse packages, tailored to meet different travel preferences.
Breakfree Adventures Popular Kathmandu Tour Packages
The Kathmandu and Pokhara Tour offers an enriching six-day journey to discover the captivating essence of two prominent cities in Nepal – the vibrant capital, Kathmandu, and the serene lakeside haven of Pokhara. This thoughtfully designed itinerary encapsulates the cultural, historical, and natural wonders of both destinations, promising an immersive experience.
In Kathmandu, the tour unfolds across four significant sites of historical, cultural, and spiritual significance: Kathmandu Durbar Square, the revered Pashupatinath Temple, the iconic Swayambhunath Temple, and the majestic Boudhanath Stupa. A scenic journey – either by road or air – transports you to Pokhara, revealing Nepal's picturesque landscapes and charming villages en route. In Pokhara, a new set of adventures awaits, including witnessing the mesmerizing sunrise over the Annapurna and Machhapuchhare peaks, exploring temple caves and waterfalls, and taking a tranquil boat ride on the serene Fewa Lake.
The Kathmandu Sunrise/Sunset tour by Breakfree Adventures seamlessly blends cultural exploration with natural beauty. This meticulously planned journey includes visits to UNESCO World Heritage Sites in Kathmandu, such as Kathmandu Durbar Square and Pashupatinath Temple.
Exploring the historical cities of Patan and Bhaktapur, adorned with traditional architecture, is a highlight. The tour culminates in Nagarkot, offering tranquil hillside vistas and breathtaking sunrise and sunset views over the Himalayan range. This tour captures Nepal's rich heritage and scenic allure, delivering an immersive experience that resonates long after the journey ends.
Other Packages:
Breakfree Adventures Reviews
Breakfree Adventures is a highly rated travel agency in Nepal, with a strong reputation for providing excellent service. Its reviews suggest that the company is one of the best in the market for providing travel packages in Nepal. Customers praise the company for its knowledgeable team, customized private tours, small group tours, and eco-friendly trekking programs.
Amazing historical tour of Bhaktapur. Dipesh was very knowledgeable of the history and gave us an in depth tour of Bhaktapur with explanations of all the temples. Weather wasn't good but we still made an effort to see the view from Nagarkot. Drive was something else! Highly recommend this tour. Kimberly K
Read all reviews of Breakfree Adventures on TripAdvisor.
Alpine Club of Himalaya
Alpine Club of Himalaya stands as a prominent Kathmandu-based tour operator in Nepal, crafted and guided by a team of experienced adventure professionals. Their extensive expertise and profound regional knowledge help them lead extraordinary journeys across the majestic Himalayas. From the awe-inspiring landscapes of Annapurna and Everest Base Camps to the discovery of authentic cultural treasures in Kathmandu, Alpine Club of Himalaya promises remarkable experiences. Not limited to the Himalayas, they extend their reach to captivating destinations like Bhutan, Tibet, Sri Lanka and Myanmar.
The Alpine Club of Himalaya's mission centers around curating unique travel experiences that reveal the world's wonders. Catering to various preferences, whether seeking adrenaline-packed adventures, challenging mountain conquests, or unforgettable trips, their meticulously designed itineraries offer diverse experiences. Strolls through medieval villages, exploration of cultural gems, visits to sacred sites, and even forays into tropical jungles are on offer. Your once-in-a-lifetime journey is just a step away!
Alpine Club of Himalaya's Popular Kathmandu Tour Packages
The Alpine Club of Himalaya offers an enriching journey to "Explore Kathmandu Valley," a captivating blend of ancient wonders and modern vibrancy. With a history dating back to the 1st Century B.C.E., this valley is a treasure trove of diverse cultures, adorned with historic temples, monasteries, and lively markets. This guided tour unfolds the essence of the region, from the cultural heart at Kathmandu Durbar Square to the sacred pilgrimage site of Swayambhunath Stupa, and the revered Pashupatinath Temple. The exploration extends to Patan Durbar Square, showcasing intricate architecture and heritage.
The adventure continues as you venture to Nagarkot, a renowned hill station, for panoramic views of the valley and the majestic Himalayas. The ancient Changunarayan temple awaits, steeped in history as one of Nepal's oldest. Bhaktapur Durbar Square unveils its own array of temples and markets, offering an immersive experience. "Explore Kathmandu Valley" by the Alpine Club of Himalaya is an expedition that unveils the layers of Nepal's past and present, providing travelers with a profound connection to the culture, history, and unique traditions of the region.
Experience the essence of Kathmandu in a 3-day transit tour curated by the Alpine Club of Himalaya. This captivating journey offers a blend of natural beauty and cultural immersion. Revel in the splendor of breathtaking mountain vistas and engage with local communities en route. The itinerary encapsulates the rich tapestry of Kathmandu Valley through its historical and world heritage sites.
Commence your adventure by exploring Kathmandu Durbar Square and Swayambhunath on the first day. These landmarks unravel the city's history and spirituality. Day 2 unfolds with visits to Pashupatinath, a revered Hindu temple, along with the captivating towns of Bhaktapur and Patan, each laden with their unique cultural significance. Concluding the tour on Day 3, delve into the spiritual ambiance of Bouddhanath before bidding adieu at the airport. Immerse yourself in the cultural, historical, and panoramic delights this Kathmandu Transit Tour has to offer.
Other Packages:
Alpine Club of Himalaya Reviews
The Alpine Club of Himalaya has received glowing reviews from their past clients. With many positive reviews on Trip Advisor, they boast a remarkable 5-star rating and even earned the Travellers' Choice Awards in 2023. A happy customer shared their testimonial, praising the exceptional Annapurna trek experience provided by Alpine.
I don't even know where to start. This 3 trekking were more than perfect. From beginning to end. They pick up, and from that moment on is an amazing experience. Sujan goes beyond the extra mile to make sure we have a great time. Sorangel L
Read all reviews of Alpine Club of Himalaya on TripAdvisor.
Himalayan Social Journey
Himalayan Social Journey, a renowned Kathmandu-based travel and tour company, holds a prominent position in the global tourism landscape. With more than 15 years of experience, this family-owned enterprise has curated exceptional luxury trips, earning accolades from travelers worldwide. Their team of experienced local guides and porters accompanies over 150 travel packages, offering outstanding services to adventure enthusiasts and travelers alike.
Beyond its tour and travel endeavors, Himalayan Social Journey stands out as a proactive social organization. Its mission goes beyond profit, actively engaging in uplifting underprivileged communities through educational initiatives in remote parts of Nepal. With a strong focus on both unparalleled travel experiences and meaningful social change, Himalayan Social Journey creates a unique blend of adventure and impact, making it a compelling choice for travelers seeking both extraordinary journeys and positive contributions to society.
Himalayan Social Journey 's Popular Kathmandu Tour Packages
Immerse yourself in the rich cultural tapestry of Nepal with the Full-Day Sightseeing Tour of Kathmandu Valley. This meticulously designed tour encapsulates the essence of Nepal's culture, art, architecture, and traditions, making it perfect for those with limited time but a strong desire to experience the country's beauty. Led by expert guides, this tour showcases the historical and cultural treasures of Kathmandu Valley.
The tour's focal points include iconic locations such as Swoyambhunath, Boudhanath, Pashupatinath, and Patan Durbar Square. These sites not only offer a glimpse into Nepal's past but also provide insight into its vibrant present. The tour invites you to explore the intricate architectural marvels of palaces and indulge in authentic art and craft. As you wander through these sites, you'll also have the chance to interact with the prominent Newar community, a key ethnic group in Nepal.
Experience the wonders of Chandragiri Hill through the Cable Car Ride, presented by Himalayan Social Journey. Resting in the southwest region of Kathmandu Valley, this destination offers an idyllic day retreat from the urban clamor. Immerse yourself in the serene aura of the Holy Valeshwor Temple complex, where intricate architecture blends seamlessly with a spiritual ambiance.
Chandragiri Hill's vantage point unveils a captivating tapestry of sights, encompassing not just the sprawling Kathmandu Valley but also granting panoramic views of Ganesh Himal, Mt. Manaslu, and the Langtang range. Merely 7km away from Thankot, the hill's summit became accessible through a cable car system established in August 2016, providing a swift and convenient route. Tailored for families, couples, and friends seeking memorable experiences, it stands as the nearest cable car attraction to Kathmandu.
Other Packages:
Himalayan Social Journey Reviews
Himalayan Social Journey is a highly acclaimed Kathmandu tour company based in Kathmandu, Nepal. This family-owned travel agency has received numerous positive reviews on Trip Advisor.
Great tour, we had the chance to see many Kathmandu attractions in one single day. Our driver and guide were very professional and friendly. The tour was also flexible with our preferences and the time we wanted to expend at each site. Regina C, Mexico City,
Read all reviews of Himalayan Social Journey on TripAdvisor.
Third Rock Adventures
Founded by seasoned professionals, Third Rock Adventures stands as a reputable local Kathmandu tour operating agency. The brainchild of visionary entrepreneur Naba Raj Amgai, the company specializes in crafting customized holiday experiences that cater to each client's preferences and financial considerations. The team comprises diverse talents including tourism and destination experts, avid travelers, and IT specialists, all unified by their unwavering commitment to ensuring client contentment.
Third Rock Adventures excels in tailoring private, small group, and tailor-made tours that offer distinctive and unparalleled adventures. With a profound understanding of adventure getaways, family retreats, and cultural immersions across the Himalayan region, they guarantee seamless and uncomplicated journeys across Nepal, Tibet, Bhutan, and India.
Third Rock Adventures Popular Kathmandu Tour Packages
Discover the heart of Kathmandu's cuisine with Third Rock Adventure's Secret Food Tour in Kathmandu. Uncover hidden local eateries, relishing traditional Newari food on eco-friendly leaf plates. Tailored for foodies and families, this one-day tour combines authentic flavors with city exploration.
Immerse yourself in a remarkable experience with the Khukuri Making Workshop in Kathmandu – a full-day adventure. Learn the art of crafting the iconic Khukuri knife, a symbol of Gurkha pride, in the heart of Nepal. Guided by skilled local blacksmiths, this workshop offers a unique opportunity to delve into the historical significance of the Khukuri.
Forge unforgettable memories as you wield a hammer against iron, witnessing sparks dance through the air, and culminate in the meticulous polishing of your own Khukuri knife. This workshop caters to all skill levels, ensuring you gain hands-on knowledge in creating this culturally revered masterpiece – a symbol of both honor and Nepal's historic warfare.
Other Packages:
Third Rock Adventures Reviews
Third Rock Adventures is widely recognized for their exceptional Kathmandu tour services. Their remarkable 5-star rating and #7 rank on TripAdvisor reflect the heartfelt appreciation from participants.
Our guide, Jaya, was excellent. He had a vast knowledge of national and local history. He was kind, helpful, entertaining, intelligent, and provided us with excellent service and a positive experience. Charles B
Read all reviews of Third Rock Adventures on TripAdvisor.
Nepal Mountain Adventure

Founded in 2002 and headquartered in Pokhara, Nepal Mountain Adventure stands as a prominent Kathmandu tour company within Nepal. Their primary objective is to offer secure and delightful journeys that cater to the unique needs and interests of travelers from all walks of life.
With a team of highly skilled and experienced guides, the company excels in arranging a variety of expeditions, including treks, tours, climbing ventures, adventure activities, safaris, and more. Every aspect of your vacation is intricately planned and executed to ensure a seamless and unforgettable experience. Let Nepal Mountain Adventure be your trusted companion in crafting indelible memories through an immersive Kathmandu city tour in Nepal, fostering a profound appreciation for the world around us.
Nepal Mountain Adventure Popular Kathmandu Tour Packages      
Experience the allure of Kathmandu and Pokhara in just 5 days with Nepal Mountain Adventure's curated tour. Immerse yourself in a journey that blends cultural exploration, natural wonders, and thrilling activities. Discover heritage sites and serene lakes in both cities, gaining insights into Nepal's diverse culture. Witness breathtaking sunrises from Sarangkot and find solace at the Peace Pagoda. For adventure enthusiasts, there's an array of options like paragliding and zip-lining, while the panoramic views of Dhaulagiri, Annapurna, and Manaslu ranges will leave you spellbound. The tour also lets you experience Pokhara's vibrant nightlife.
The day-by-day itinerary guides you seamlessly: from arrival and the journey to Pokhara, to boating on Phewa, Begnas, and Rupa lakes, and the awe-inspiring moments of sunrise at Sarangkot and the tranquility of the Peace Pagoda. Explore the intriguing Mahendra and Chamero caves, and witness the captivating Devi's Fall. The journey culminates with a visit to the International Mountain Museum, offering insights into mountaineering history, before returning to Kathmandu.
Other Packages:
Nepal Mountain Adventure Reviews      
With an impressive 5.0 rating, Nepal Mountain Adventure is indeed one of the best Kathmandu tour operators. Their dedication to excellence shines through the esteemed Travelers' Choice Award of 2023.
Very kind and professional staff, everything was as planned and to my liking. The guide was amazing and got refund for the days i didn't use. Ori R
Read all reviews of Nepal Mountain Adventure on TripAdvisor.
Prime Himalayas
Renowned as one of the finest Kathmandu city tour operators in Nepal, Prime Himalayas stands out for its meticulous selection of travel destinations that promise ultimate thrill and excitement. With years of dedicated experience, the team at Prime Himalayas possesses profound expertise in navigating the intricate travel adventures in various captivating locations across Nepal.
Prime Himalayas Popular Kathmandu Tour Packages
Experience a captivating 6-day journey through the Kathmandu and Chitwan Tour offered by Prime Himalayas. This adventure seamlessly blends cultural exploration with a thrilling wildlife safari, promising an unforgettable experience. Begin by uncovering the treasures of Kathmandu's World Heritage Sites, including iconic landmarks like the Monkey Temple, Kathmandu Durbar Square, and Pashupatinath Temple.
Transitioning to the enchanting wilderness of Chitwan National Park, the tour offers an immersive 2-night, 3-day jungle package. Delve into an array of activities, from the Tharu Cultural show to village tours, and even an Elephant Back Safari. Discover the Elephant Breeding Center, savor sunset views, glide on a serene canoe ride, witness elephants at their bath, and delight in birdwatching.
Other Packages:
Prime Himalayas: Reviews
Prime Himalayas is a highly reviewed Kathmandu city tour company in Nepal. In the reviews on Trip Advisor, past travelers have highly praised the level of service offered by Prime Himalayas. 99% of past clients have given the company a 5-star review.
Kudos to Prime Himalayas agency…u deserved a medal for doing an excellent job by organizing r tour, providing efficient staff and assigning us hotels that were clean n tidy-makes us feel like home. Raul R
Read all reviews of Prime Himalayas on TripAdvisor.
Best Trekking Tours in Nepal
Nepal is a trekking paradise as it is home to several incredible treks in the world. Ranging from the tallest peak of the world Everest to the deadliest killer mountain Manaslu, you can have a life-changing experience trekking in Nepal. As per your passion, physical strength and availability of time, you can enjoy Everest base camp trek, Annapurna circuit, Manaslu trek and short trek to poon hill.
Best Adventure Activities in Nepal
If you are an adventure lover and looking for some exhilarating adventures in Nepal, you can try zip lining, bungee jumping, mountain biking, paragliding, white water rafting, mountain tour from the helicopter and so on.
Best Tour Packages in Nepal
Nepal is an incredibly beautiful country with several mesmerizing mountains, national parks, ancient monuments, temples, monasteries, and so on. So if you are looking for extra tours in Nepal except trekking, you can enjoy  cultural tours, wildlife tours, spiritual tours, Mount Kailah tour and many others with some of the best rated  travel agencies in Nepal.
Volunteer Travel in Nepal
Despite being rich in culture and natural resources, Nepal is one of the poorest countries in the world. Majority of its population are leading a miserable life. Thus, if you want to make a difference in these destitute people's lives, volunteering in Nepal would be an ideal option. The best volunteering opportunities in Nepal are English teaching, orphan care, healthcare and Buddhist monk teaching programs.
Top Things to do in Nepal
Nepal offers several awesome things to see. We recommend you to explore these articles before heading to Nepal so that you can make your trip memorable.
FAQs
How much does it cost to go to Kathmandu?
Kathmandu, the capital city of Nepal, is one of the most popular yet highly affordable travel destinations in the world. Accommodation, food, public transportation, and other facilities are inexpensive and easily accessible everywhere. Generally, a 3-day Kathmandu tour package costs around USD 200 and the trip includes basic accommodation, private vehicle transfers, and visits to the most popular destinations in Kathmandu.
How can I spend 3 days in Kathmandu?
A 3-day tour to the capital city of Nepal, Kathmandu is sufficient duration to explore the city's popular attractions. The three days trip to Kathmandu allows you to explore the city's UESCO World Heritage Sites, sacred Hindu and Buddhist temples, and a small hilly town-Nagarkot from where you can experience the sunrise over the tallest mountains, and much more. Normally, you can spend your 3 days by:
Roaming around the streets of Kathmandu, observing the people's daily life
Exploring historical/religious shrines and landmarks
Venturing on a hiking tour nearby the city like Nagarkot, Balthali village
How many days are enough in Kathmandu?
Three days are generally comfy duration to explore and experience the best of Kathmandu. In these three days, you can visit the UNESCO World Heritage Sites, historical and religious landmarks that date back to 4th / 5th century, popular tourist hub-Thamel and much more. You can also go on a day hike to nearby hilly towns like Kirtipur or Nagarkot if you manage your Nepal Kathmandu tour time wisely.
How to do sightseeing in Kathmandu?
Begin your day by touring the revered Pashupatinath Temple and Boudhanath Stupa. Next, explore the historic central Durbar Square and the captivating Swayambhunath Stupa. If time allows, you can also venture into Thamel, the local market. Conclude the day with an overnight stay at your hotel in Kathmandu.
Can you see Mt Everest from Kathmandu?
Certain vantage points within the Kathmandu Valley provide the opportunity to catch a glimpse of Mount Everest and other notable peaks. During clear weather conditions in the Spring and Autumn seasons, Mount Everest becomes visible from Kathmandu and its surrounding viewpoints.
How far is Nagarkot from KTM?
The distance between Kathmandu and Nagarkot is approximately 30 kilometers to the east. The journey to Nagarkot is notably secure, as the route passes through villages. Opting for a bus ride, which takes around 1 hour and 30 minutes, is the more economical choice.
Conclusion
Each company has been thoroughly researched and selected by our dedicated team. We have provided these companies to help you find the best company and tours for your needs. Feel free to contact each company directly.