785 Views
10 Best Cheap Nepal Medical Volunteer Companies 2021

Are you dreaming of traveling to Nepal and volunteering in the medical field? If so, you've probably discovered the huge number of program providers that offer this service. It can be difficult to know what the best option for you is. To decide, you need to review cost, reliability, past volunteer reviews, and what each program has to offer.
To simplify things for you, Traveller's Quest has compiled a list of the top ten providers and given you all the details you need to know in one easy place. After reading this article, you'll be able to:
Identify the top 10 providers offering Nepal medical volunteer opportunities and what sets each one apart.
Click the GET MORE INFO NOW button below to quickly and easily send an inquiry to each provider on this list.
Easily compare prices and programs with no obligation, making choosing the perfect provider for you a breeze.
Download our free Volunteer Abroad Guide at the end of the article to help you make the most of your time as a medical volunteer in Nepal.
RCDP International
Founded back in 1998, RCDP has helped over 18,000 volunteers make a difference abroad with their affordable and life-changing programs. We love their culturally immersive homestay program, low rates, and commitment to helping struggling and poor communities around the globe.
About the Healthcare
You will be shadowing, observing, and assisting local medical professionals in hospitals in Chitwan or Kathmandu. Tell RCDP what medical specialty you are pursuing, and they will help you to find the perfect placement for you. This medical volunteering opportunity in Nepal is a great way to learn while also giving back.
Fees:
RCDP offers some of the lowest fees in the industry, and as a non-profit, they make sure that money goes back into the local community and to support the impactful program you are there to help. For Nepal medical volunteer, you'll pay a $279 registration fee, and $185 a week, which includes housing, food, airport pickup, and the support of the RCDP team.
Reviews:
Prospective Nepal medical mission volunteers should pay close attention to what other medical students who have volunteered with RCDP have to say, like, "As a medical student passionate about OBGYN, this program helped to fill my cup as far as involvement and fulfillment goes."
Why we selected RCDP International:
With so many years of experience and such low rates, RCDP is one of the leading volunteer organizations, and definitely deserves a closer look as you select your provider for your healthcare volunteer opportunity in Nepal.
IFRE Volunteers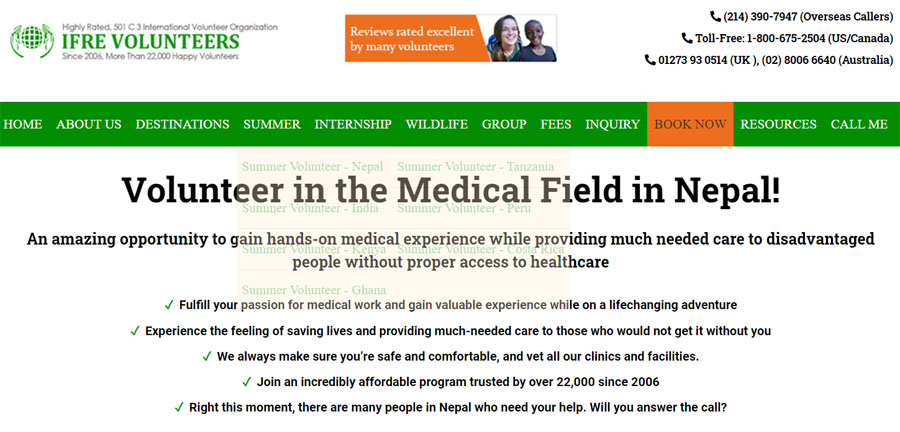 IFRE tops our list for having extremely affordable rates while still maintaining a quality and life-changing program. Founded in 2006, this non-profit has a strong track record and a culturally immersive program through their local homestay experience. Your weekly program fees go directly into the local community!
About the Nepal Medical Volunteer
This program is a wonderful chance for you to advance your medical career while traveling to exciting Nepal. You'll be shadowing and observing local doctors and medical professionals in public and community hospitals. This will give you great insight into medical procedures, treating patients, and your future profession!
Fees:
The cost for this Nepal medical mission trip is extremely affordable, and you'll only pay $185 per week to volunteer. This will also include your accommodations, meals, airport pickup, help fundraising, discounted rates on travel insurance, and the full support of the Nepal in-country team. You'll also pay a standard $299 registration fee.
Reviews:
Prospective medical volunteers should take some time reading past volunteer reviews when selecting a provider. IFRE has some great reviews. One past volunteer said, "As my first ever volunteering experience abroad it surpassed all of my expectation"
Why we selected IFRE Volunteers:
IFRE has helped over 20,000 volunteers have meaningful and affordable experiences abroad. With their great reviews, low prices, and transparent payment model that directs money right back into struggling communities, we think IFRE is a great choice for your Nepal medical volunteer work.
International Volunteer HQ
This company, founded in 2007, offers affordable rates and is arguably the largest volunteer organization in the world. IVHQ has helped over 100,000 volunteers make a difference worldwide. Since so many volunteers travel each month with IVHQ, this is your best bet if bonding with a lot of fellow volunteers is a priority for you.
About Volunteer in Medical Program in Nepal
This is a wonderful opportunity for medical students to shadow doctors and nurses in hospitals in Chitwan, Pokhara, or Kathmandu. You may observe surgeries, emergency room rounds, physical therapy, etc. If you stay for 2 months+, you will work more hands-on, and may assist in a rural clinic treating local villagers.
Fees:
The costs for this Nepal medical volunteerprogram are quite affordable, particularly for a medical program. You will pay a registration fee of $299, and $250 per week. This will cover your accommodations and meals, airport pickup, and the full support of the IVHQ team before and during your travels, including online training before your departure.
Reviews:
The reviews for IVHQ rate the company quite highly, with past volunteers raving about their experience, a great sign when selecting a provider for yourmedical volunteering opportunity in Nepal.
Why we selected International Volunteer HQ:
IVHQ is a highly trusted organization with tremendous experience sending healthcare volunteers abroad. Between 30-60 volunteers start each month in Nepal, meaning you'll be in great company if you select this provider for your Nepal medical program..
Friends For Asia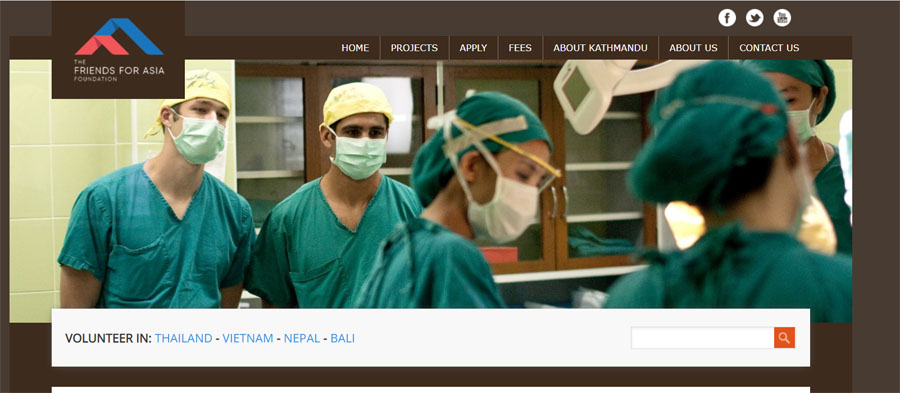 Founded in 2007, this volunteer organization focuses solely on humanitarian projects that are located in Asian countries. They've helped just over 2,500 volunteers make a difference, enough to prove their chops, but also few enough that you'll receive specialized one-on-one attention from their helpful team.
About the Health Volunteer Project
This uniqueNepal medical volunteer program will have you making a true difference, as well as developing valuable medical skills. You'll be visiting homes, schools, and orphanages to help provide much-needed care and education to people in need. Depending on your background, you may also help disabled kids or in others area you specialize in.
Fees:
The cost for this program is $799 for two weeks. That includes accommodations, meals, airport pickup, and 24/7 support from the Friends for Asia team. The fee also covers 10 hours of Nepalese language classes, a great bonus that will enrich your time abroad considerably.
Reviews:
When looking at reviews to help you decide which provider to select for yourNepal medical volunteer, you will be blown away by the positivity past volunteers are exuding about this small company.
" I can honestly say that this experience has renewed my faith in international volunteer programs. In the past I have volunteered through other organizations in India, Haiti and Peru; all valuable experiences however short of the now high precedent that Friends for Asia has ranked in my heart."
Why we selected Friends For Asia:
This boutique agency is focused solely on Asia, allowing them to give their projects and volunteers extra time and attention. Their past Nepal medical doctor volunteer reviews are a testament to the special experience they provide, and we love that Friends For Asia includes a Nepalese language class to help further immerse you in the local culture.
Love Volunteers
Love Volunteers is a great choice if you need extra help planning your trip, or are a first time volunteer, thanks to their handy online dashboard that will walk you through the process step by step. Founded by a brother and sister duo from New Zealand back in 2009, this award winning organization is a great option for you.
About the Healthcare Program in Nepal
You will be shadowing and observing local doctors and nurses in a busy hospital in Pokhara, Nepal after joining this volunteer Nepal medical program. This will help you build important career skills, as well as providing insight into the healthcare systems in developing countries. Depending on the timing, you may also help run health camps in poor rural areas of Nepal.
Fees:
A $299 registration fee is required upfront, and you will then $329 per week. This will include full support from the Love Volunteers team, accommodations with a local host family, three meals a day, airport pickup, and access to that handy online dashboard that will help you plan your trip abroad with ease.
Reviews:
Before selecting a provider for your medical volunteertrip, look at past reviews. One former Love Volunteer in Nepal said, "You made me feel very safe and supported all the way…This is for sure a good and quality program."
Why we selected Love Volunteers:
Love Volunteers made our list of top 10 providers for your volunteer in medical program in Nepal based on their reasonable rates, great reviews, and the convenient trip planning dashboard they offer online, making your preparation a breeze.
A Broader View
This company stands out thanks to their focus on low-income communities and orphans, and their commitment to really making a big impact for the causes they care about and support. So far, A Broader View has donated over $3 million to partner non-profits! They offer a unique dental program in Nepal.
About the Nepal medical program
If the medical specialty you're pursuing is dentistry, this is the project for you! You'll work under the supervision of an experienced dentist, scaling, fillings, RCT, crowns, dentures, orthodontic, periodontal, surgical extraction, etc. You'll also head out to local schools, orphanages, and monasteries educating locals on dental hygiene.
Fees:
A bit pricier than some of the other options on this list, A Broader View doesn't charge a registration fee, so be sure to keep that in mind when comparing providers. The Nepal medical volunteer cost for 1 week is $1050, and you get a better deal the longer you stay. That includes housing, food, airport pickup and drop-off, and a few more extras.
Reviews:
While A Broader View reviews are highly rated and generally positive in nature, be sure to look at the Nepal volunteers specifically to really get a feel for what you might experience as a Nepal medical mission volunteer.
Why we selected A Broader View:
Dental students are medical professionals, as well, and we wanted to be sure to include a high-quality program that could suit your needs. Another great point for A Broader View is their highly rated reviews, reflecting volunteers have a great experience when traveling with them.
Working Abroad
Founded back in 1997, Working Abroad was one of the pioneers in the volunteer abroad world. Their motto is "Take Action for Nature and Society", and they are dedicated to helping promote conservation and community development. We love their high ethical standards, and commitment to helping advance careers.
About the Nepal medical volunteering program
This project is unique in that you will be helping struggling Nepali communities in a variety of ways. You'll help provide healthcare to poor citizens in local health camps and in public hospitals. You'll also do things like help out on a rural and traditional farm and trek out to aid rural communities who have no access to healthcare.
Fees:
The cost for two weeks in this impactful program is $656. They do not charge an additional registration fee, though you will pay $180 up front to hold your space. This will cover airport pickup and drop off, local transport, guided sightseeing in Kathmandu, accommodations with a local host family, meals, and full support.
Reviews:
Not only do Working Abroad past volunteers have great things to say about the organization and their experience, they're hoping you'll join them as a Nepal Medical Volunteer. "There is a lot of work to be done in Nepal, and I hope more volunteers can get out there and make a difference. "
Why we selected Working Abroad:
This company made our list of top 10 providers for Nepal medical volunteering opportunity thanks to their low rates, rave reviews, long and reliable track record, and the unique program that will allow you to make a difference in Nepal in a variety of ways.
Projects Abroad
Projects abroad has been around for a long time, founded over 25 years ago, when there weren't nearly as many options out there in terms of providers for healthcare volunteer abroad experiences. They not only have tremendous experience, we love their focus on volunteer safety, hassle free travel, and projects that truly make a big impact.
About the Medical Program Nepal
You will be shadowing and learning from a generous mentor, an experienced medical professional who can show you the ropes and instruct you on how to treat and diagnose patients. Medical outreach days allow you to help the local community. A Broader View even offers a medical volunteer option for teenagers!
Fees:
A Broader View is a bit pricier than some, but they have a lot more to offer their volunteers. Things you might end up paying for anyway are included, like insurance. You'll pay $1770 for one week, with no additional registration fee. You'll get housing, food, transport, and a whole host of extra options you'll find nowhere else.
Reviews:
If a Broader View sounds like a provider you're interested in, this glowing testimonial from a past Nepal Medical Volunteermight sway your decision.
"I found that we were given great privileges. What we witnessed could not be seen in your local hospital at home. Nepalese doctors and surgeons go out of their way to educate you, to listen to you, to speak to you and inspire you."
Why we selected Projects Abroad:
We selected Projects Abroad based on their many years of experience, and the tremendous Nepal medical mission opportunities they offer, as is clearly evidenced in their rave reviews.
GVI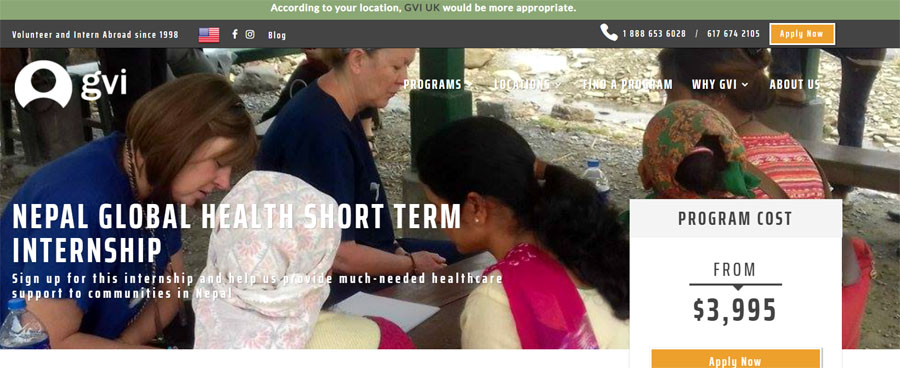 Founded in 1998, this well-known organization offers 150 projects in 13 countries around the world. They have high ethical standards and adhere to the 17 UN Sustainable Development Goals and a strict Child Safety Policy. GVI is one of the few options out there that offer scholarships, so you might be able to save some cash!
About volunteer in medical program in Nepal
This unique program will have you contributing to the overall quality of life and good health practices in local communities. You will educate kids in schools and other local citizens about hygiene, important health issues, give first-aid workshops, etc. You'll also carry out your own project to help offer aid to Nepali people in need.
Fees:
For four-week volunteers, the weekly fee will be $3032. The longer you stay, the less you end up paying for each week. This will include safe and basic accommodations, meals, 24/7 support from the GVI team, and an airport pickup. GVI does not charge a registration fee, so be sure to factor that in when considering costs.
Reviews:
GVI is highly rated by past volunteers, a great sign when selecting a provider for medical volunteering opportunity in Nepal.
Why we selected GVI:
We selected this well-known organization because they have a great reputation, high review ratings, and because of the unique healthcare volunteer opportunity abroad to make a real difference their medical volunteer program will afford you.
Conclusion
When selecting a program provider for your Nepal Medical Volunteer, you want to be sure you look at all your options and from many angles. We've highlighted the top 10 providers and compared them when it comes to price, reliability, reviews, and what each program has to offer.
We hope this article has helped you to select the provider that is just right for you, and you are ready to move forward with your meaningful adventure in Nepal. Traveller's Quest adds articles like this all the time, so keep checking back to learn more!
If you are interested to volunteer in any other beautiful country, check out these articles that explain best Medical volunteer program providers in Argentina, India, Thailand, Cambodia, Tanzania, Ghana, Kenya, South Africa, Peru, Guatemala and Uganda