858 Views
9 [Best Cheap] Volunteer Nepal Monastery Providers For 2021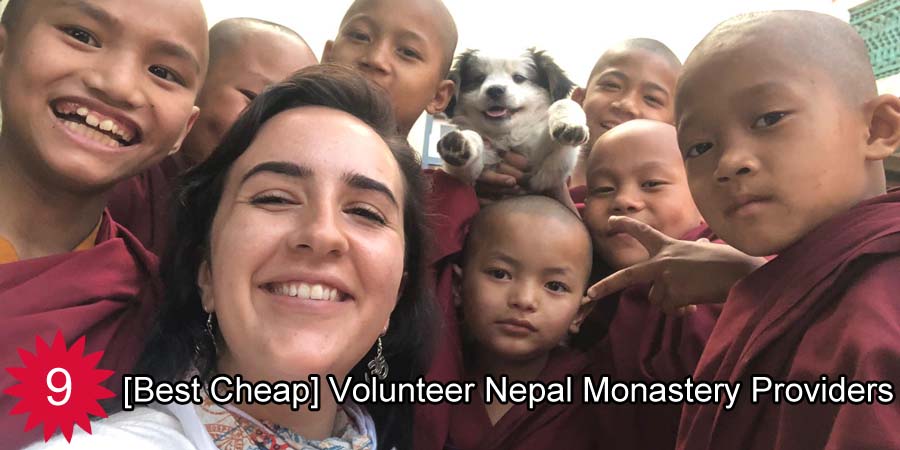 Are you ready to startup your teaching volunteer and travel experience to Nepal, but you are having a hard time to select the best program provider? When you try to search the Internet you'll find hundreds of hits, with each company promoting their own programs. It can be a time wasting activity, and easily leave you a bad experience.
Out of hundreds of volunteer Nepal monastery providers, we have selected 9 of the most highly reviewed, impactful and inexpensive for you to select from. You'll be able to save time, money and energy in your pursuit to find the perfect volunteer experience in Nepal. In this article, you will:
Learn which companies are the top 9 providers for volunteering teaching monastery in Nepal.
Click the "Get More Info Now" button at the bottom to send request to all the providers on this guide.
Compare prices and programs to see the right one for you.
Get our Free Volunteer Abroad Guide at the end of this article to ensure you have the best possible experience abroad.
Plan My Gap Year
For over 12 years, Plan My Gap Year (PMGY) offers life-changing experiences and opportunities to volunteers across 17 countries in the world. Focusing on Social development programs in Nepal, PMGY have over 100 projects to suit all different skills and talents. If you have knowledge to share in teaching, childcare, film and photography, then PMGY is the best organization for you.
About Plan My Gap Year Nepal English Teaching To Monks Volunteers Program
PMGY's great English teaching to Monks volunteers program is a unique opportunity to live in a Nepalese Buddhist monastery teaching monks English and learning about their way of life. In this program you will mainly be teaching English but you can also help to teach Maths and Science. You will follow a flexible curriculum syllabus offered by the government.
The Fee
This affordable volunteering in Nepal monastery work projects has a minimum of two weeks stay. You'll pay a registration fee of $190 in addition to $381 for two-week stay at the project. The fee pays for food and accommodation, airport pickup orientation and full safety briefing, 24/7 local support network and project placement and onsite supervision.
Reviews
Very positive and impressive online reviews about PMGY include testimonies like "best experience in Nepal" "very affordable program" and "best interactions with young monks." Past volunteers rave about the transparency of PMGY and how affordable they are.
Why We Selected Plan My Gap Year:
We selected PMGY because they offer the most affordable volunteer Nepal monastery opportunities and a great high value program. The best and most unique thing about this organization is that they target young and first timers. It is a unique opportunity to meet and make new professional contacts with like-minded volunteers like you!
Love Volunteers
Since 2009, New Zealand based Love Volunteers has been making dream come to for volunteers travelling abroad to change the world and make it a better place. If you are looking to travel on a budget then this non-profit is the right fit for you. And the best thing is that only 10% of program fees are used to cover your meals, accommodation and security, the rest goes to the local charities and organizations hosting you.
About Love Volunteers Monastery English Volunteering Program in Nepal
This wonderful project was created with the goal of helping to improve the education of Nepal's Buddhist monks. In this diverse program you will not only fulfill Monks desire to learn English, but also have the ability to impart knowledge and insights of first aid, environmental issues, health and hygiene, as well as political issues and human rights. You will generally have the opportunity to teach a range of age groups, from children through to adults, and have the ability to open up a whole new world.
The Fee
Love Volunteers offers the best affordable volunteer monastery program. You will pay a one-time registration fee of $ 290 with a minimum stay of four weeks at the project for $769. Program fee, covers food, accommodation, airport pickup and transfer and in-country support.
Reviews
Previous participants with Love Volunteers teaching in monastery in Nepal volunteer opportunity rave about the life-changing experience in the interacting with young monks, and learning new culture and religion. Reviews include comments like "highly recommended" " Compared to none." Read all 418 comments here!
Why We Selected Love Volunteers:
We were highly impressed by this organization for being so affordable and giving back 90 percent of your program fee to the community without compromising the quality of the program. They are in the top 9 selected because high value and an affordable program guarantees you the best volunteering experience abroad.
A Broader View
Community development is the best way for the world to change and grow. A Broader View (ABV) is a US based non-profit working with local communities in 25 countries to promote change and support local communities to grow themselves. Since inception in 2007, ABV has grown to provider over 200 programs and raised more than $4 million for local communities in developing countries.
About A Broader View Teaching Monks Volunteering Program in Nepal
ABV's great program in Nepal teaches about 130 monks in Monastery ranging between 4 years and 18 years old. In this program you'll get opportunity to teach English to the Monks/Nuns. You will work under the supervision of monastery teacher to give you a memorable experience. In addition you have the opportunity to participate in various activities within the Monastery.
The Fee
You will find that ABV works at keeping the program fee for Nepal volunteer monastery very affordable. You will not be paying a registration fee however, $1,030 is the cost for a two-week stay. The fee covers for pre-trip coordination, fundraising assistance, airport pickup, safe accommodations and healthy meals in Nepal.
Reviews
ABV has highly become popular for offering cheap and safe projects that directly benefit the program in Nepal. So they have been reviewed 400 times online boosting the rating at 9.9/10-satisfaction rate on Go Overseas. Former volunteers highly appreciate the program's invaluable cultural immersion and community based approach.
Why We Selected A Broader View:
Many volunteers goal is to work with the communities to bring positive change in the world, therefore this organization is highly rated because they work directly with the community finding programs that are more essential and sustainable. This is one of the major reason we selected ABV as top 9 best volunteer Nepal monastery program providers.
Global Crossroad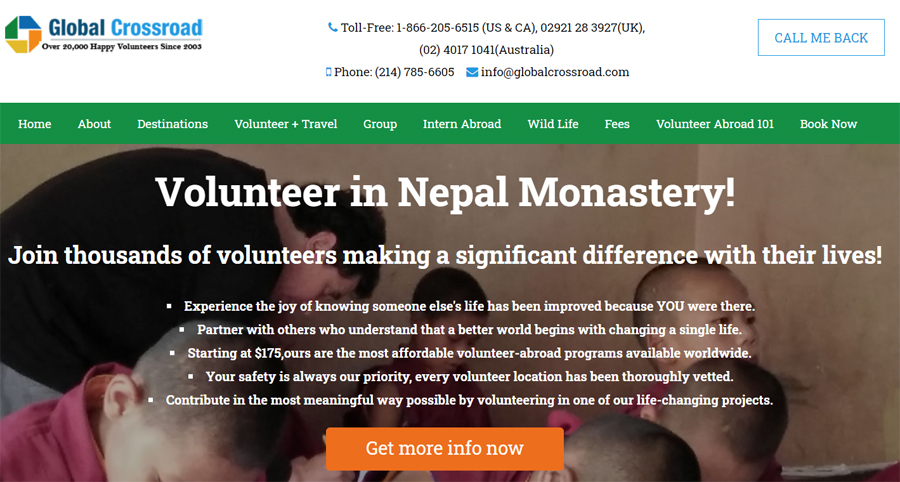 Since 2003, Global Crossroad is a great organization offering enthusiastic volunteers positions to share their skills and abilities with communities in need. Global Crossroad is a best leading provider of low cost volunteer opportunities in 18 countries across the world. With over 18,000 volunteers placed in suitable programs, this is a company you can trust with high value grassroots change for communities.
About Global Crossroad Nepal Monastery Program
Global Crossroad offers a great program in Nepal working with Monks. In this program, you'll volunteer while learning participating and practicing Buddhism in the monastery. Your support and passion will improve English and allow the Monks to communicate outside the boarders. You will be happy and fulfilled knowing that you will help positively change lives for monks as they broaden their perspectives outside the monastery. By teaching and showing your love you will cause a ripple effect, for the future generation of monks to be well educated.
The Fee
Global Crossroad offers a very cheap volunteer in monastery opportunity in Nepal. You will pay a one-time registration fee of $299 together with program fees of $295 for a two-week stay or $535 for four weeks in Nepal. Fees cover your accommodations and meals, a safe airport pick-up, and the 24/7 support of the in-country staff.
Reviews
Global Crossroad is known to very popular because they are affordable with years of experience working in communities around Nepal. Past volunteers have a lot of great things to say about the organization and volunteer Nepal monastery program they offer. Check RCDP reviews closely here!
Why We Selected Global Crossroad:
This provider was selected as the best Nepal monastery volunteering opportunity provider because it has over 15 years of experience in the industry. Many online reviews confirm that Global Crossroad has very diverse, affordable and highly impactful project. Check them out for best experience broad.
Volunteers Initiative Nepal (VIN)
If you are looking for an organization that was started in Nepal for the Nepalese people then you are in the right place. Bhuprendra Ghimire a native Nepalese started Volunteers Initiative Nepal (VIN) in 2005 as a non-profit to work in disadvantaged rural community. Since inception VIN has been mobilizing local and international volunteers in various development sectors including educational programs, trainings and counseling that significantly contribute to enhance the livelihoods of poor in Nepal. They have 10 programs across the country.
About Volunteers Initiative Nepal English at Buddhist Monastery Nunnery Program
VIN's great program offers a unique opportunity to gain insight into Buddhist culture and practice. This project is a great way for international volunteers to learn about Buddhist culture and have a platform to teach English to Buddhist monks or nuns. You will help provide basic conversational English to monks and nuns, who range from children to adults, in our partner institutions.
The Fee
Over the years VIN has been consistent and affordable. Volunteering in Nepal monastery work programs start as low as $705 for a four-week stay. You'll also pay $114 for one-time registration fee, which covers ongoing support from staff, marketing costs, information packets, administrative costs, and program orientation support.
Reviews
Go Overseas has rated VIN at 9.2/10 making VIN land a spot as a best volunteer Nepal monastery provider. Past volunteers mostly that the programs are affordable and allowing them a lot of time to travel in rural Nepal. Read all 15 reviews here:
Why We Selected Volunteers Initiative Nepal:
As best company VIN fit our selection because they not only work for the community they are part of it. They also have a variety of rural monasteries to choose from in Nepal. VIN does not only offer safe program but also one of the most affordable in Nepal.
Go Eco

As a best provider, Go Eco is a leading eco-tourism company with a varied selection of affordable and reputable volunteer projects abroad. Started in 2005 by Jonathan Gilben and Jonathan Tal, after bonding over their appetite for travel and adventure, Go Eco has grown to offer over 150 programs in developing countries across the world. Every year they continue to send over 1,000 volunteers to participate in projects around the world!
About Go Eco Volunteer Teaching English in Buddhist Monasteries in Nepal
Go Eco offers the best Buddhist monastery program. In this program, you can teach English and math to Buddhist monks of all ages at the monasteries! This program is most suitable for those especially interested in Buddhist culture and religion. In addition you can help teach the children about your own culture and learn about theirs while helping them practice their English speaking skills.
The Fee
Program fee is $ 1,500 for a four-week stay, no registration fee or two-week program is available with Go Eco. Fees cover airport pick-up, orientation, accommodation and meals program supervision, in-country 24/7 volunteer support and administration costs.
Reviews
Reviews of past volunteers are very impressive. They confirm very fulfilled and satisfied volunteers. With a 9.8/10 rating on Go Abroad, Go Eco is very trusted. Most loved they transparency and personalized teaching experience. Check out more Go Eco reviews to choose the best volunteer Nepal monastery providers.
Why We Selected Go Eco:
This organization was selected to this list of 9 best volunteer in Nepal monastery because it is very affordable with flexible and safe programs. Since the program is quite cheap it may be limited in Kathmandu however you will have a lot of free time to travel around the country.
IFRE Volunteer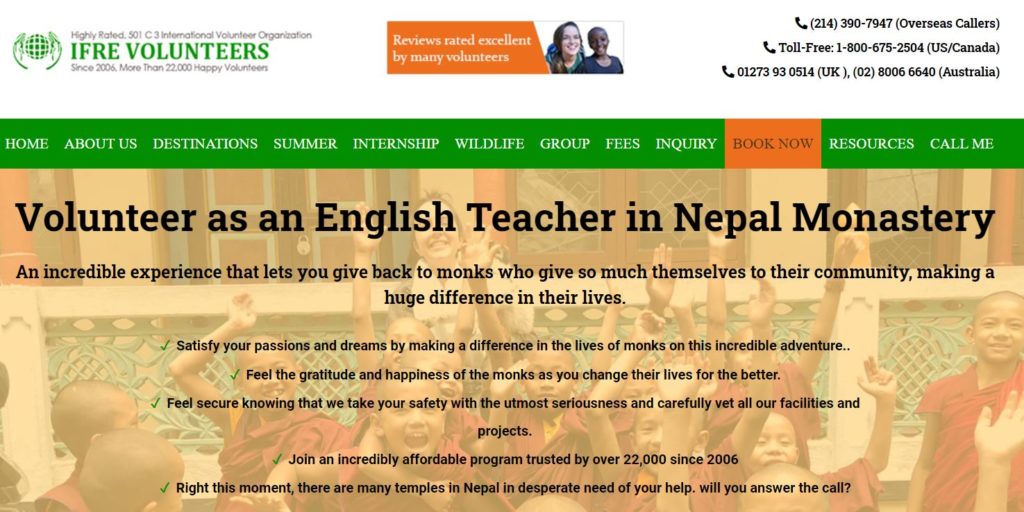 As a best provider, IFRE Volunteer is a US registered non-profit founded in 2006. This provider stands out from the crowd in the field of volunteer organizations, because they combine a strong focus on creating and facilitating programs, which primarily benefit impoverished communities. Since inception IFRE has hosted over 22,000 volunteers in 200 programs across 18 countries worldwide.
About IFRE Monastery Program
IFRE's great and unique program is located in Kathmandu where monks live and devote their lives to Buddhism. When you join IFRE's Buddhist monastery program in Nepal, you teach the monks English and help them spread their important teachings to a modern and changing world. This will make a huge difference in both the lives of the monks and of those that come to them to learn the message of Buddhism.
The Fee
To register for teaching in monastery in Nepal program, you'll pay $299. A two-week stay at the project is $295 while a four-week stay is $535. It is one of the most affordable providers in Nepal. The fees cover food and accommodation, airport pickup, airport pickup, orientation and in-country support, certificate of completion and fundraising ideas and letter.
Reviews
As a best provider in Nepal, IFRE offers the best teaching in monastery opportunities. Previous volunteers have corroborated with amazing and positive reviews. IFRE is very popular and has been rated at 9.1/10 on Abroad Reviews. Read all 400 incredible here:
Why We Selected IFRE:
IFRE is a best provider because they offer affordable prices for volunteer Nepal monastery. They also have a great and safe program that is simple and flexible for young and first-time volunteers. We also love that IFRE is reputable with very professional local staff based by the online reviews.
Friends Of Asia
Founded in 2007, Friends for Asia worked with hundreds of volunteers, from more than 18 different nationalities, in projects and internship programs across Bali, Thailand, Nepal and Vietnam. Established by Todd Cikraji, an experienced teacher and Peace Corps Volunteer Friends of Asia, works with local communities to overcome challenges, and provide volunteers with the experience of contributing to those communities as a valued participant.
About Friends Of Asia Teaching Monks Volunteering Project In Nepal
Friends Of Asia unique and rare volunteer program is the best in Nepal. In this program, you'll teach English. The age of students ranges from 5 to 20 years old, with class division from nursery to class 10. It gives you an opportunity to teach at every level and use a variety of teaching styles. It is a very flexible program, where you are often left to responsibly for plan lessons, conduct workshops, and organize games and other activities.
The Fee
Friends Of Asia has cost efficient prices for volunteer experience in a Buddhist monastery Nepal program. There is no registration fee required but you'll pay $799 for a two-week stay or $997 for four week. The fee covers for food, airport pickup accommodation and all cultural activities, transportation and local support.
Reviews
Alumni volunteers have praised the organization and said they have flexible, fulfilling and affordable project. There numerous positive reviews including comments like "I experience monks culture first hand" "Had enough free time to travel and experience Nepalese culture." See all the decorated comments here!
Why We Selected Friends Of Asia:
The best thing about Friends of Asia was that they are very affordable with a high value flexible volunteer Nepal monastery program. Additionally they have years of experience in Nepal and work directly with local poor Nepalese communities. The program is also diverse you can choose to work in a monastery in Kathmandu or in the rural Nepalese community.
RCDP International

RCDP is a best provider started in 1998 and is based in Colorado, US. A registered non-profit it has one of the most experienced with affordable and reliable volunteer abroad programs in the world. They have hosted over 18,000 volunteers in 200 programs across 18 countries in the world. Every year they continue to send over 1,000 volunteers to support poor communities worldwide.
About RCDP Teaching English To Buddhist Monks In Nepal
RCDP best program is located in Kathmandu and offers you a wonderful opportunity to learn Vajrayana form of Buddhism and witness colorful rituals and prayers. In this program you'll work in the monastery where you will teach English to the Monks. During the teaching, you are encouraged to converse with monks to improve their speech and also teach them about grammar rules and try to increase their vocabulary. Remember to be respectful to the monks at all times.
The Fee
While offering monastery program, RCDP has made an effort to make it possible for anyone to afford to volunteer abroad. For two weeks, all-inclusive program fees start at $295 with a registration fee of $279. The cheapest provider in the Nepal,
Reviews
This provider is recognized in the volunteer industry as the best, and previous volunteers have left decorated reviews on multiple review websites. Volunteers mostly loved that RCDP offers a meticulously designed and safe volunteering in Nepal monastery program. With about 96 reviews online the rating averages at 94 percent.
Why We Selected RCDP:
This provider is best because they not only offer a safe and affordable monastery program but also they have over 20 years of experience in the industry. Additionally RCDP is a non-profit working entirely with local community and reinvesting 80% of your program fee in the project without compromising your volunteer experience.
Conclusion
Now you've had the chance to read the top 9 affordable volunteer Nepal monastery program providers you can feel confident about choosing the organization that suits you best. If you are reading this and planning to volunteer in Nepal, let us know which company you choose, and if this guide was useful to you.