Have you always wanted to visit Nepal and see it in a unique way, along its beautiful whitewater streams? Do you want to experience the thrill of rafting in Nepal?
Nepal carries the reputation of being one of the best places to raft in the world. This adrenaline filled journey takes you through Nepal's steep mountain whitewater streams. You will be camping in a subtropical climate on sandy beaches, adding value to your adventurous rafting experience in Nepal.
When you search for companies that provide rafting opportunities in Nepal, you will find a myriad of options varying in terms of price, duration, quality, experience, and reputation. This makes choosing the best company an overwhelming task.
That's why we're here to help. At TravellersQuest, we don't want to see you choosing a poorly-rated company to organize your rafting holiday in Nepal. We want to see you join a reputable and safe company that will help organize a successful and memorable rafting trip in Nepal.
So, we did the hard work for you. We spent hundreds of hours researching and finding the best rafting companies in Nepal.
Here we present an unbiased selection of the 10 best rafting companies in Nepal.
Table of Contents
| Providers | Package | Reviews |
| --- | --- | --- |
| Nepal Hiking Team | Bhote Koshi Rafting – 1 day | TripAdvisor-1,339 reviews |
| Discovery World Trekking | Trishuli River Rafting – 2 Days | TripAdvisor-906 reviews |
| Nepal Social Treks and Expedition | Trishuli River Rafting – 2 Days | TripAdvisor-476 reviews |
| Paddle Nepal | Kaligandaki River Rafting– 3 Days | TripAdvisor-369 reviews |
| Index Adventure | Bhote Koshi River Rafting -2 Days | TripAdvisor-308 reviews |
| Incredible Treks | Rafting in Trishuli- 1 Day | TripAdvisor- 318 reviews |
| Himalayan Gateway Trek | Sunkoshi River Rafting – 10 days | TripAdvisor-150 reviews |
| Info Nepal Treks and Expedition | Bhote Koshi River Rafting – 6 days | TripAdvisor-220 reviews |
| Nepal Intrepid Treks and Expedition | Trishuli River Rafting – 1 day | TripAdvisor-112 reviews |
| Himalayan Joy Adventure | Bhote Koshi River Rafting – 2 days | TripAdvisor-120 reviews |
Table update Sept 7, 2023
Nepal Hiking Team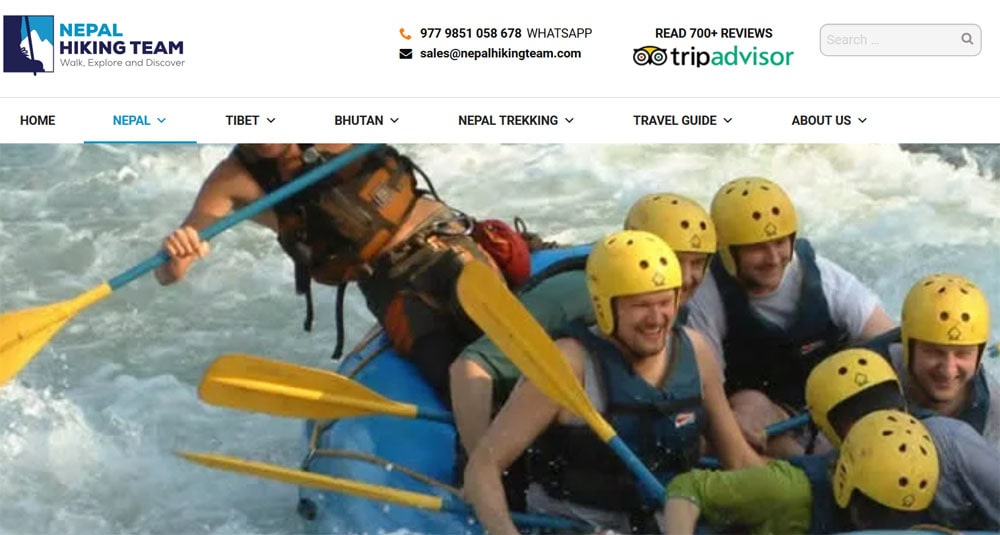 Nepal Hiking Team, founded in 2009, is a premier provider of rafting trips based in Nepal. They specialize in offering a diverse range of travel and tourism services covering Nepal, Bhutan, and Tibet. With a dedicated and highly skilled team, they take pride in being your ideal travel partner. Their reputation as one of Nepal's leading travel companies is built on their passionate team, commitment to responsible and ethical tourism practices, and their unwavering focus on safety, knowledge, and extensive experience.
Nepal Hiking Team presents a wide array of tour packages and the flexibility to tailor itineraries to your preferences. They also offer discounts, round-the-clock customer service, and expert advice. With an impressive track record of serving over 50 thousands satisfied clients, they have consistently earned Trip Advisor's Certificate of Excellence from.
Popular Rafting in Nepal Packages
River Sunkoshi is one of the finest rivers and ranks among the top ten rafting rivers in the world. Sunkoshi flows from the snow-capped mountains. Sunkoshi River is a challenge and unpredictable as it has its own moods. Serene and tranquil one moment and then turbulent the next.
The rapids of the river vary from grade 3 to 5, so it will be a thrilling experience. You will encounter various rapids, including High Anxiety, Meat Grinder, Jaws, and the Big Dipper. This thrilling white water rafting trip in Nepal will take you to the lush valleys, tall mountains, dense forests, and traditional villages. It will be an enriching experience, taking you close to the nature, wildlife, and culture of Nepal. 
The thrill of paddling between the deepest gorges in the world can only be experienced in the Kali Gandaki River. While rafting in the Kali Gandaki River, you will enjoy the scenic beauty of the Annapurna range and Mount Dhaulagiri. River Kali Gandaki boasts class 3 and 4 rapids and is quite technical. Prior rafting and swimming experience are highly recommended for this journey.
Nepal Hiking Team Review
Nepal Hiking Team has garnered a remarkable reputation as a top rafting trip operating agency in Nepal, with 1,339 reviews showcasing their excellence. An overwhelming 1,328 of these reviews rate them as excellent, with an additional 9 noting them as very good.
This exceptional track record solidifies their position as the top choice among 1,996 competitors. Their consistent achievement of the Travelers' Choice Award in 2023 and the Certificate of Excellence from 2012 to 2022 underscores their commitment to providing outstanding service, earning them a prestigious 5-star rating from satisfied travelers.
I have been with Nepal Hiking Team before and they have been consistently excellent! Clear, informative, timely communication which invokes confidence. Excellent value for cost. Kelly O
Read all reviews of Nepal Hiking Team on TripAdvisor.
Discovery World Trekking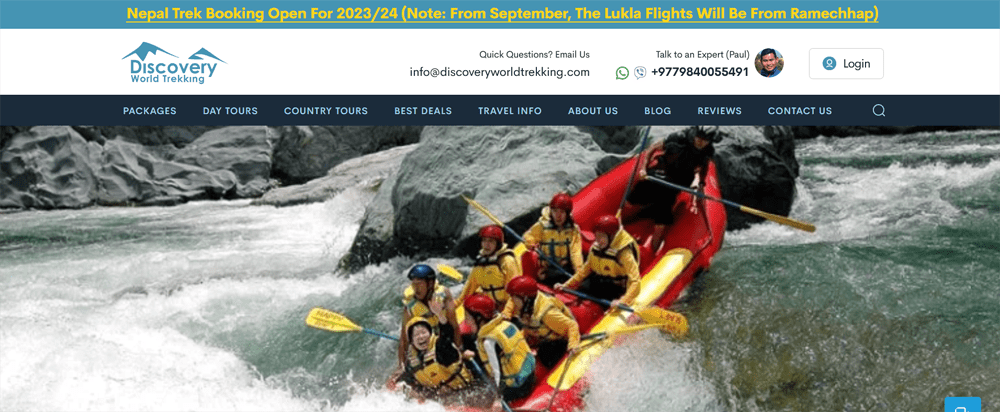 Established in the year 2000, Discovery World Trekking stands out as a premier trekking and rafting company in Nepal. Their impressive track record includes the receipt of numerous Trip Advisor's Certificate of Excellence Awards. Regarded as one of the most seasoned travel companies in Nepal, they epitomize the spirit of adventure sports, including the thrilling world of rafting.
The company's mission is to provide life-changing journeys through exceptional hospitality. With over eleven years of service and more than 50 thousand clients served, they have consistently received Tripadvisor's Certificate of Excellence for eleven consecutive years.
Popular Rafting in Nepal Packages
Discovery World Trekking's two-day Trishuli Adventure Rafting package provides you with a variety of rafting styles to choose from. You have the option to select from different rafting experiences like monkey rapid, surprise, upset, snail's nose, cotton pony, Malekhu rapid, ladies delight, and more.
The great thing about the Trishuli River Rafting tour is that it caters to all preferences. You can opt for thrilling rafting through challenging rapids, or you can enjoy a smoother and more peaceful ride. You even have the flexibility to choose both experiences simultaneously, encountering rapids and calm waters along the way.
Bhote Koshi River Rafting, organized by Discovery World Trekking, is an exciting two-day adventure for those seeking whitewater thrills. This river, a branch of the Sun Koshi River originating in Tibet, is easily accessible from Kathmandu and Pokhara. The rafting journey takes you through stunning gorges amidst mountain valleys, springs, and hills, providing a dramatic and adventurous experience. The river's challenging rapids with big bounces make it a thrilling ride.
On the first day, you'll drive from Kathmandu to the rafting starting point, receive safety instructions, and then embark on a 3-4 hour rafting adventure covering around 16 kilometers. You'll camp at Sukete Village. On the second day, you'll continue rafting from Sukete Village to Lamoshanghu for 3-4 hours before driving back to Kathmandu. It's a fast-flowing river that guarantees an exhilarating experience. After enjoying the breathtaking natural views, you can also plan additional treks or trips as per your preferences.
Discovery World Trekking Reviews  
Discovery World Trekking boasts a stellar reputation with a top-rated position backed by 904 reviews, all of which carry a perfect 5-star rating. Their consistent excellence has been recognized by Tripadvisor, which has honored them with Certificates of Excellence for a remarkable ten consecutive years. Additionally, they have achieved multiple Tripadvisor Travelers' Choice Awards, further solidifying their standing as a top-tier trekking and expedition company.
Excellent guides and porters who were very knowledgeable and professional. The accommodations and foods were excellent. Matthew H
Read all reviews of Discovery World Trekking on TripAdvisor.
Nepal Social Treks and Expedition

Nepal Social Treks and Expedition, established in 2006, is a renowned provider of rafting trips in Nepal. Their expertise extends to offering meticulously planned and cost-effective tours not only within Nepal but also to neighboring regions such as Tibet, India, and Bhutan.
With a dedicated workforce of more than thirty professionals and an in-house fleet of transportation, the company's primary focus revolves around providing travelers with distinctive and enjoyable journeys. While they may not assert themselves as the absolute best, their achievements are rooted in forging strong connections with their guests and an unwavering commitment to crafting memorable travel experiences. This customer-centric approach has resulted in a multitude of satisfied and loyal returning clients.
Popular Rafting in Nepal Packages
Experience a thrilling two-day Trishuli River Rafting adventure with Nepal Social Treks and Expedition. The Trishuli River, renowned for its excellent rapids, originates in the majestic Himalayas and winds its way through Nepal's southern plains. This river journey treats you to breathtaking scenery, featuring impressive gorges, captivating rock formations, quaint villages, a variety of native and migratory bird species, and exhilarating rapids.
What makes it even more appealing is its convenient accessibility from both Kathmandu and Pokhara. This is the perfect introduction to rafting, offering the flexibility to embark on a 1 to 3-day excursion. Additionally, you can seamlessly combine this rafting experience with an extended trip to explore the wonders of Chitwan and Pokhara.
Nepal Social Treks and Expedition Reviews
Nepal Social Treks and Expedition holds a prominent position as a respected rafting company in Nepal, boasting a remarkable 476 reviews. This outstanding reputation has propelled them to the #5 ranking among 242 choices for boat tours and water sports. Their noteworthy achievement of the Travelers' Choice recognition in 2023 underscores their dedication to delivering enjoyable and memorable experiences for their customers.
Great trip and well organised. Going in june was a little tough with the weather but guide planned it out nicely. Chris W
Read all reviews of Nepal Social Treks and Expedition on TripAdvisor.
Paddle Nepal
The Paddle Nepal team is driven by a profound love for river activities and is dedicated to showcasing the beauty of Nepal to visitors. Combining their extensive global experience, genuine enthusiasm, and valuable local knowledge, they curate exceptional adventures in Nepal, including whitewater rafting, kayaking, and canyoning.
Situated in Pokhara, nestled near the majestic Annapurna Mountains, they enjoy a strategic location for easy access to Nepal's most stunning lakes, rivers, and canyons. Their expeditions are designed to cater to a wide range of preferences, offering experiences that range from leisurely to thrilling, with trip durations that vary from half a day to 12 days.
Popular Rafting in Nepal Packages
Embark on an exciting 3-day Kaligandaki River Rafting expedition with Paddle Nepal, where the thrill of adventure meets the beauty of nature. This journey is packed with a wide range of captivating experiences, making it well-deserving of its title as the "best all-round river in Nepal." Along your route, you'll be treated to a stunning mix of majestic mountains, charming villages, ancient monasteries and temples, lush jungles, diverse wildlife, iconic suspension bridges, breathtaking gorges, and much more.
Prepare for an adrenaline-pumping experience as you conquer thrilling, large, and bouncy rapids with exhilarating wave trains. You'll also have the chance to enjoy the tranquility of remote beach camping, adding a touch of wilderness to your adventure. Named after "Kali," the goddess of destruction, the Kaligandaki River holds a significant place in Nepal's rich religious heritage.
The Marshyangdi River, a thrilling 2-day adventure offered by Paddle Nepal, promises an unforgettable whitewater experience packed with excitement. This expedition is highlighted by its steep, challenging, and relentless rapids that keep your adrenaline pumping throughout.
This spectacular whitewater journey shares some of the most exhilarating rapids globally while providing awe-inspiring vistas of the Himalayan Mountains. Over the course of two days, you'll conquer intense, continuous, and crystal-clear whitewater rapids, making it no surprise that this is one of the most sought-after trips. However, be prepared for a challenging adventure that demands 100% commitment from both the crew and the guide—definitely not for the faint-hearted!
Paddle Nepal Reviews
Paddle Nepal has achieved an impressive 369 reviews and currently ranks at #7 among 88 choices for boat tours and water sports. Their dedication to excellence is further underscored by their receipt of the prestigious TripAdvisor Travelers' Choice award in 2023. A heartwarming review from a family who recently embarked on a 2-day Lower Seti rafting journey with their young children, ages 6 and 9, showcases the remarkable adventure that Paddle Nepal provides. This serves as a testament to their commitment to delivering enjoyable and family-friendly experiences to their valued customers.
The most amazing adventure for the whole family! We did 2 days Lower Seti rafting (overnight camping) with our 6- and 9-year olds and it was just perfect…Minja
Read all reviews of Paddle Nepal on TripAdvisor.
Incredible Treks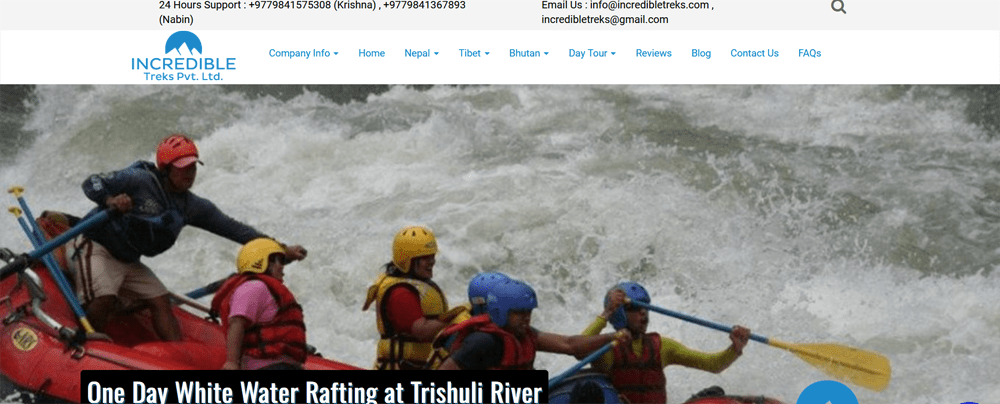 Incredible Treks, with over two decades of expertise in the rafting industry in Nepal, has solidified its reputation as one of the top River Rafting companies in the country. They extend their operations to Bhutan, India and Tibet, showcasing their extensive regional presence. In addition to rafting, the company provides a diverse range of adventure activities, including trekking, hiking, mountaineering, jungle safaris, sightseeing tours, and much more, making them a comprehensive adventure service provider.
Popular Rafting in Nepal Packages
Trishuli River is a fantastic place for rafting in Nepal. This one-day Trishuli rafting adventure promises excitement, stunning scenery, beautiful landscapes, and a sense of accomplishment. Rafting here gives you a genuine taste of whitewater rafting.
The level of adventure you'll experience depends on the time of year. If you're a hardcore rafting enthusiast seeking a thrilling ride, June to August is the recommended period. On the other hand, if you're enthusiastic about rafting but prefer a less intense experience, the rest of the year (excluding June to August) is more suitable for you.
Incredible Treks Reviews
Incredible Treks boasts an impressive track record with 319 reviews, all contributing to an outstanding 5.0 rating. Among these reviews, 318 are marked as excellent, reflecting their exceptional service quality. Additionally, one review rates them as very good. This remarkable performance has earned them the #2 spot out of 241 options in the category of Boat Tours & Water Sports. Their consistent excellence is underscored by the prestigious Travelers' Choice recognition for the year 2023.

Definitely worth it! We are a group of 6 people. Incredible Trek Tour arranged 1 guide and 3 porters for us. The guide, Pramod, took care of everyone in the group well. Paan S
Read reviews Incredible Treks on TripAdvisor.
Index Adventure
Index Adventure is a dedicated Nepali-owned rafting tour operator with a rich history spanning over two decades. Their passionate team strives to go above and beyond to provide you with an unforgettable rafting experience in Nepal. In addition to rafting, their services encompass a wide array of trekking options, adventure sports, and exploration of renowned routes like Annapurna, Everest, and Langtang regions, extending even further into Tibet and Bhutan.
What sets Index Adventure apart is its authentic Nepali heritage, a skilled and professional workforce, a strong focus on safety, a commitment to delivering cost-effective yet top-quality service, family-friendly packages, and a dedication to sustainable travel practices. Their mission goes beyond showcasing the beauty of Nepal; it also involves understanding and fulfilling the unique goals of individual travelers.
Popular Rafting in Nepal Packages
Discover the thrill of Bhote Koshi River on a 2-day rafting expedition with Index Adventure. This shorter yet exhilarating route offers exciting rapids, surrounded by scenic fields and hills along the riverbanks. Rafting is possible year-round, with varying water levels and rapids' intensity depending on the season.
The adventure begins with a drive to Lamosangu, the starting point, followed by a thrilling rafting experience and camping by the river. On the second day, the journey continues to Dolalghat, concluding with a return to Kathmandu. It's a high-octane river adventure packed with excitement and natural beauty.
Index Adventure Reviews
Index Adventure is a top pick for water activities, including boat tours and rafting in Nepal. Their impressive reputation is supported by 308 reviews, earning them the impressive #4 spot out of 242 comparable options, highlighting the satisfaction of numerous customers. Additionally, they've been honored with TripAdvisor's 2023 Traveler's Choice award, further cementing their status as a preferred choice.
Index Adventure is the one you can depend on very easily. They provide best service with a manageable price. The owner is very friendly. They customise the trip for you as per your need and budget… Mehabuba Y
Read all reviews of Index Adventure on TripAdvisor.
Himalayan Gateway Trek

Himalayan Gateway Trek is a reputable private adventure travel company, holding official approval from the Nepal Ministry of Tourism. They also proudly belong to esteemed organizations like the Trekking Agents Association of Nepal (TAAN) and the Nepal Mountaineering Association (NMA).
Drawing on a decade of experience, they are headquartered in Nepal and specialize in a wide range of outdoor activities, including rafting, trekking, tours, and thrilling Himalayan adventures. Their team is characterized by its wealth of experience, unwavering dedication, and a commitment to values such as sincerity, professionalism, and kindness.
Popular Rafting in Nepal Packages
Embark on a 10-day Sunkoshi River Rafting expedition with Himalayan Gateway Trekking, a journey that promises thrilling whitewater rafting experiences. As you navigate the tumultuous waters of the Sunkoshi River, prepare for an adrenaline-packed adventure that combines the excitement of challenging rapids with the beauty of Nepal's natural landscapes.
Throughout these 10 days, you'll encounter the power and beauty of the Sunkoshi River, forging unforgettable memories amidst its rapids and scenic surroundings. Whether you're a seasoned rafter or a newcomer seeking an extended river adventure, this trip with Himalayan Gateway Trekking promises an immersive and exhilarating experience.
Himalayan Gateway Trek Reviews
Himalayan Gateway Trek has amassed an impressive 150 reviews and currently ranks at #6 among the 242 available options for boat tours and water sports. Their exceptional service quality has earned them the coveted TripAdvisor Travelers' Choice Award in 2023. Recognized as a leading rafting trip operator in Nepal, they receive accolades for their outstanding trip management and a team of highly experienced staff. For those contemplating a journey to Nepal, Himalayan Gateway Trek comes highly recommended as a top agency to ensure an extraordinary and memorable experience.
Excellence management for the trip, more expereience staffs, if you want to come to Nepal for trekking, this is the most agency I advice. Teerut P
Read all reviews of Himalaya Gateway Trek on TripAdvisor.
Info Nepal Treks and Expedition
Info Nepal Treks and Expedition (INTE) is one of the leading Nepal white water rafting trip operators. The Kathmandu-based trek and expedition company was established in 2016. The team members have more than 15 years of experience working in the tourism sector. INTE organizes activities, like trekking, hiking, river rafting, bungee jumping, paragliding, peak climbing, cultural tours, excursions, jungle safari, mountain flights, and other activities.
Popular Rafting in Nepal Packages
Bhote Koshi is listed as one of the best rivers for rafting in Nepal. If you are a beginner and want to experience the thrill of rafting, then Bhote Koshi River rafting is best for you. Rafting the Bhote Koshi River is intense and challenging. You will experience one rapid after another while soaking up mesmerizing views of the villages around you. The river suits rafters and kayakers of all levels.
You will start the 6-day trip rafting in the Bhote Koshi River by sightseeing in Kathmandu. Rafters will visit UNESCO World Heritage sites, including Pashupatinath, Boudhanath, Swayambhunath, and Basantapur Durbar square. The next day you will drive to Lamosanghu. On day 4, you will be rafting. The following day, you will return to Kathmandu to explore the city before leaving for your next destination.
Trishuli River is a popular destination for river rafting in Nepal. It's easily accessible from Kathmandu and covers a distance of 38-kilometers. Your journey will begin from Chauradi and end at a resort. The river reaches up to class 3 or 3+ in autumn and 3 to 4+ in spring. While rafting the Trishuli River, you will experience rapids, like S-bend, Ladies Delight, Teendevi, Snail's nose, Malekhu Monkey, Surprise, Upset, and Monsoon.
 On this trip, you will get to enjoy local music, dance, and food. Before the trip begins you will be sightseeing UNESCO's World Heritage sites in Kathmandu. This includes Swayambhunath, Boudhanath, Pashupatinath, and Basantapur Durbar Square.
Info Nepal Treks and Expedition Reviews
Info Nepal Treks and Expedition has gained substantial recognition with 220 reviews, securing a remarkable #3 ranking among 241 options in the category of Boat Tours & Water Sports. This strong position underscores their reputation for providing exceptional water-based experiences in Nepal, making them a top choice for those seeking memorable adventures on the water.
We joined Info Nepal Treks and EXpedition for the Trishuli river rafting and it was very nice. We had a very nice experience and a rafting guide. He is very welcoming to us very carefully us. We will definitely recommend it to our friends." –Hari D
Read all reviews of Info Nepal Treks on Trip Advisor!
Nepal Intrepid Treks and Expedition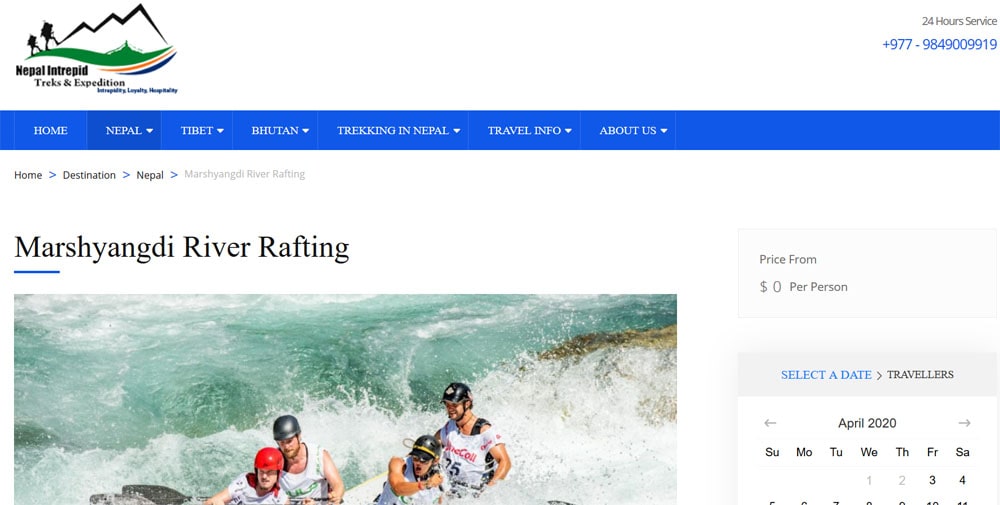 Nepal Intrepid Treks and Expedition (NITE) was established in February 2016. NITE  team members have years of experience in the tourism and trekking industry. They take pride in their range of diverse packages, fast booking system, and strong support team of experienced government certified guides and porters. They accommodate both individuals and groups and offer tailor-made and flexible itineraries.
Popular Rafting in Nepal Packages
The 1-day Trishuli River Rafting trip in Nepal is a thrilling experience. The Trishuli River originates from the Tibetan Autonomous Region of China and consists of melted snow from Mountains, like Ganesh and Langtang. Rafting this amazing river of Nepal will bring joy both to novice and avid rafters. The wonderful mixture of thrilling rapids, impressive gorges, and an easier section will keep you engaged. Rapids like Surprise, Cotton Pony, Monsoon, Teendevi, Snail's nose, Highway, and S-bend will add to your excitement.
You will drive to the starting point and after a briefing on safety, you will start to raft. After 2 to 3 hours of rafting there will be a lunch break and then the second phase of rafting. Within two hours or so you will reach the endpoint of the one-day white water rafting trip in the Trishuli River of Nepal. You will be driven back to Kathmandu.
Nepal Intrepid Treks and Expedition Reviews
Nepal Intrepid Treks and Expedition has earned exceptional praise with 112 reviews, all reflecting a perfect 5.0 rating, highlighting their outstanding service quality. Their impressive performance has secured them the #7 ranking among 241 options in the category of Boat Tours & Water Sports. Read reviews of Nepal Intrepid Treks on Trip Advisor.
Himalayan Joy Adventure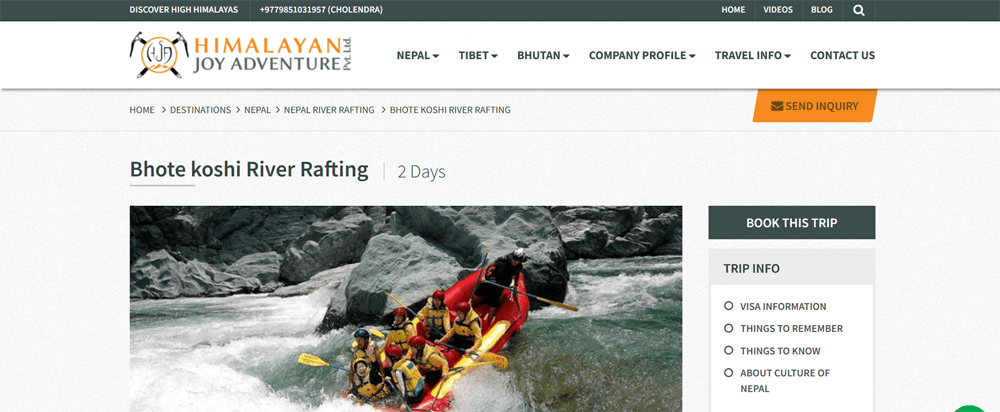 Himalayan Joy Adventure was established in the year 2011 and consists of enthusiastic experts who have decades of experience in organizing treks, peak climbing, tours, and other packages. Before establishing the company, the team worked as assistant cooks, guides, porters, and team leaders, which enriched their experience. They provide services in Nepal, Bhutan, and Tibet.
Popular Rafting in Nepal Packages
Bhote Koshi is known as the river from Tibet and offers one of the best short rafting adventures in the world. River rafting in Nepal is apt for those who wish to have a thrilling and intense water sports experience in a short span of time. It is the steepest river rafting opportunity.
Over the 2 day trip, you will be challenged by this non-stop mountainous river. The rapids of classes 4 to 5 will take you past the picturesque views and villages.
Trishuli is a famous river for rafting due to its accessibility from Kathmandu and Pokhara. If you want to extend your Nepal rafting trip, then it is possible to raft until Chitwan National Park.
The river consists of melted snow from Mount Ganesh and Langtang. The stunning views of the valley, gorges, and exciting rapids add excitement to your trip. You will get a chance to experience Nepal's landscapes and cultural heritage. The river has a combination of high flow, continuous rapids, and pleasant calm water. 
Himalayan Joy Adventure Review
Himalayan Joy Adventure stands out with an excellent reputation, boasting 123 reviews, with an overwhelming 120 rating them as excellent and 3 as very good. This impressive performance has earned them the #10 ranking among 241 options in the category of Boat Tours & Water Sports.
"Our trip with Himalayan Joy Adventure at the kind, professional guide of Cholendra to Nepal was absolutely wonderful. A joy indeed. I traveled with my kids and we had a great experience with many happy memories. Highly recommended." -Josef L
Read all reviews of Himalayan Joy Adventure on Trip Advisor.
Best Trekking Tours in Nepal
Nepal offers some of the best trekking routes in the world. This is the reason every year thousands of trekkers from across the globe come to Nepal to enjoy trekking in the Himalayas. Some of the most popular treks and their best operators in Nepal are:
Best Adventure Activities in Nepal
Every year, thousands of tourists from around the world visit Nepal due to its charismatic culture, wildlife, mountains, hills, forests, etc. Thus, despite being small in size, Nepal is invincible for top class thrill activities. Here are some of the most popular adventures available in Nepal. You can enjoy Mountain Biking in the Hills and fly over the breathtaking Himalayas via Helicopter Tours.
Best Tours in Nepal
Nepal is also a country of magnificent ancient temples, shrines, gompas, landmarks, national parks, ancient cities and much more. You can enjoy Historical Tour, Wildlife and  Jungle Safaris, Pilgrimage and spiritual Tour and Kailash Tour.
Volunteer Travel
Nepal is a beautiful country to spend your vacation in. However, the majority of Nepalese citizens are living under the line of poverty. Therefore, giving back to the needy communities in Nepal while also exploring this amazing country is an ideal way to make your trip once in a lifetime. No matter what experience and passion you have, Nepal volunteer programs can accommodate you. You can volunteer in Nepal in different projects like teaching, childcare, monastery, medical and more.
Top Things to do in Nepal
If you have decided to travel to Nepal or are already in the country, knowing about the most popular things to do will certainly provide some great insight into your trip. Learn about hundreds of amazing things to do you should not miss out in Nepal.
FAQs
Which rivers of Nepal are suitable for rafting?
There are several rivers in Nepal that offer thrilling rafting experience for both pro and beginner paddlers. Some of the best rivers for rafting in Nepal are Trishuli River, Sunkoshi River, Seti River, Kaligandaki River, and Bhoteskoshi River. Rafting in Nepal is indeed the best and most adventurous way to experience amazing riverside sceneries, captivating valleys, bird species and woods. You can either raft for a single day or can join multiday rafting trip in Nepali river as per your needs and time frame.
How much it cost for rafting in Nepal?
Rafting in Nepali river is the most inexpensive yet the best adventure activity you will experience in Nepal. Nepali rivers offer from one day to multiday rafting trips, affecting the rafting in Nepal cost. Usually, a one-day rafting trip in Trishuli River costs anywhere between USD 25 to USD 50 depending on your group size, raft season and required rafting materials
Why the rivers of Nepal are famous in the world for rafting?
Most of the rivers in Nepal are directly originated from the Himalayas and have fast pace, vast river basins, deep gorges and provide extremely picturesque views along the way. Therefore, the rivers in Nepal are famous for the best white water rafting experience in the world. Amongst all, Sunkoshi, Bhotekoshi, Seti, Kaligandaki, etc. are the best rivers to gain thrilling rafting experience in Nepal.
Is river rafting in Nepal safe?
Yes, rafting is a safe and the most enjoyable adventure activity in Nepal. There are many rivers in Nepal where you can experience a safe and exciting rafting tour from single day to 10 days. However, you need to take necessary precautions and follow the rafting safety tips to avoid the risks while rafting. Wearing a life jacket correctly, carrying the essential stuffs, wearing the helmet, and following the guides instructions etc. are the keys for a safe and sound rafting experience in Nepal.
Which season is best for rafting in Nepal?
The ideal seasons for rafting in Nepal are typically from September to early December and from March to June. During these periods, you can enjoy rafting in mild weather conditions, and the water temperatures are not overly cold, creating a more comfortable and enjoyable experience.
What is the age limit for rafting in Nepal?
The minimum age requirement for rafting in Nepal is generally around 5 years old. However, it's important to note that specific age restrictions can vary based on factors such as the time of year, water flow conditions, as well as the individual child's size, strength, adventure readiness, and swimming ability.
What is the difficulty scale for rafting?
In river rafting, Class 1 and 2 represent gentle float trips suitable for beginners. Class 3 is considered a typical entry level, ideal for novice rafters. Class 4 signifies intermediate to advanced rapids, offering a thrilling experience for adventure enthusiasts. Finally, Class 5 is categorized as advanced and is recommended exclusively for experienced rafters who are well-prepared for challenging and demanding conditions on the river.
Conclusion
The purpose of this article is to bring you a step closer to your dream of rafting in Nepal. We compiled the 10 best rafting companies in Nepal to save you time, energy, money and to help you find the best rafting company for you.