Have you always dreamed of understanding the religion of the Nepali people better? Are you thinking about embarking on a religious and spiritual tour in Nepal? Are you searching for the best religious and spiritual tour companies in Nepal?
Venturing on a spiritual tour in Nepal is really a great way to visit several ancient temples, monasteries, pagodas, stupas, gumbas, and many other sacred places. You'll get to experience spiritual thoughts, hundreds of deeply rooted beliefs, and the vibrant Nepalese cultures and traditions.
However, when you search for the best religious and spiritual tour in Nepal, you are bound to get thousands of results. Selecting the best from these numerous companies can be a burden for anyone. How can you be certain to make the right choice?
At TravellersQuest, we don't want to see you choosing a poorly-rated company to organize your tour in Nepal. We want to see you joining a reputable and safe company that will give you a memorable experience.
So, we did the hard work for you. We spent hundreds of hours researching and finding the best companies. Here we present an unbiased selection of the 10 best religious and spiritual tour operators in Nepal.
Table of Contents
| Providers | Package | Reviews |
| --- | --- | --- |
| Nepal Eco Adventure | Lumbini Sightseeing Tour 3 Days | Trip Advisor–1,716 reviews |
| Ace The Himalaya | Nepal Heritage Tour 10 Days | Trip Advisor – 1,812 reviews |
| Himalayan Glacier | Nepal Temples & Pagodas Tour 5 days | Trip Advisor – 537 Reviews |
| Nepal Hiking Team | Kathmandu and Lumbini Tours | Trip Advisor- 1,336 reviews |
| Ethical Trekking Nepal | Pashupati and Mukti Nath Darshan 6 days | Trip Advisor- 665 reviews |
| Alpine Ramble Treks | Gosaikunda Helicopter Tour | Trip Advisor- 630 reviews |
| Nepal Mountain Adventure | Maratika Cave Tour (Halesi Mahadev) 6 Days | Trip Advisor- 493 reviews |
| ODEA Services | Heritage Tour In Kathmandu City 1 Day | Trip Advisor – 433 Reviews |
| Mountain Monarch | Lumbini Pilgrimage Tour 6 Days | Trip Advisor – 594 Reviews |
| Pariwar Holidays | Mount KailashYatra 15 days | Trip Advisor –760 Reviews |
Table update August 29, 2023
Nepal Eco Adventure
Nepal Eco Adventure is a leading tour company based in Thamel, Nepal, offering a wide range of tours and treks. Their services span across Nepal, India, Tibet, and Bhutan. With years of experience in the industry, the company provides various activities including trekking, rafting, peak climbing, city tours, ticket booking, and Jungle Safari. Notably, they also offer rewarding spiritual tour packages in Nepal. The company's excellence is recognized by its multiple Certificate of Excellence and Traveller's Choice Award from Trip Advisor.
Popular Religious and Spiritual Tour in Nepal
Explore the peaceful beauty of Lumbini in this 3-day tour. Lumbini is where Prince Siddhartha, known as Lord Buddha, was born. It's an important place for Buddhists, and even Buddha himself mentioned its significance. You can visit the exact spot where Buddha was born and feel the calmness for meditation.
During the trip, on Day 1, you'll fly to Bhairawa and then drive to Lumbini. Day 2 is all about visiting the religious and historical places in Kapilavastu. Finally, on Day 3, you'll see Devdaha-Ramgram before flying back to Kathmandu. This journey lets you experience the peacefulness of Lumbini and its deep connection to Buddhist history.
Experience the extraordinary Kailash Mansarovar Trekking from Simikot, a unique journey by Nepal Eco Adventure. This trek allows you to explore the stunning Mount Kailash and the serene Mansarovar Lake on foot. The adventure also unveils the hidden valley of Humla in western Nepal.
Your adventure begins at Kathmandu Airport, where you'll be welcomed and taken to your hotel. On Day 2, you'll fly to Simikot and trek to Dharapuri.
You'll explore beautiful places like Kermi, Yalbang Gompa, Tumkot, and Thado Dhunga, enjoying the local culture and landscapes. Day 7 involves crossing Nara La Pass, going down to Hilsa, and after the border, you'll reach Purang. You'll visit the special Manasarovar Lake and drive to Darchen. The exciting parts are Days 11 and 12, with a challenging trek to Derapuk and crossing the high Dolma La pass at 5800 meters. After that, you'll drive to Prayang and return to Kathmandu on the Green Highway via Nyalam and Zhangmu. Day 16 marks the end with an airport drop.
Other religious and spiritual Nepal tour packages offered by the company are:
Nepal Eco Adventure Reviews
Nepal Eco Adventure is one of the highest reviewed and highly rated spiritual tour operators in Nepal. The company has received several amazing reviews on various websites. Most travelers praise for Nepal Eco Adventure's low-cost yet high-quality services.
I can definitely go with my highest appreciation. recommend Nepal Eco-adventure – Chris K
You can all the reviews of Nepal Eco Adventure on Trip Advisor.
Ace The Himalaya
Ace the Himalaya is a leading adventure company offering diverse outdoor experiences in Nepal, Bhutan, and Tibet. Founded in 2006 by Prem K Khatry, the company focuses on trekking, biking, peak climbing, rafting, safaris, and cultural tours. Their unique itineraries and commitment to customer satisfaction set them apart. As a Nepali-owned business, they provide cost-effective Nepal spiritual tour packages and have global representatives. From hidden accommodations to renowned destinations, Ace offers a range of activities for all types of travelers, including large groups and voluntourism. Their passion for the Himalayas drives them to share their world with enthusiastic adventurers.
Popular Religious and Spiritual Tour in Nepal
Discover Nepal's rich heritage on a 10-day tour with Ace the Himalaya. Explore UNESCO World Heritage Sites in Kathmandu, experience Newari culture, visit the birthplace of Lord Buddha in Lumbini, and enjoy the stunning views from Nagarkot and Sarangkot.
Engage in wildlife activities in Chitwan National Park and explore charming towns like Tansen and Palpa. The journey starts in Kathmandu, followed by sightseeing in Bhaktapur and a drive to Nagarkot. Experience jungle activities in Chitwan, explore Lumbini, visit Pokhara, and return to Kathmandu for shopping and departure.
When you visit Kailash Mansarovar, you will sense ultimate spirituality. This trip will help you attain inner peace, solitude, and salvation for yourself. Kailash Mansarovar is one of the best spiritual places across the globe.
Hindus, Buddhists, Janis, and Bons consider Kailash Mansarovaras the center of the physical and metaphysical universe. According to Hindu mythology, Kailash is the home of Lord Shiva and Mansarovar is connected to Lord Brahma. On the other hand, for Buddhists, Mansarovar is an earthly portrayal of the cosmic Mandala of Wheel of Life.
Other Popular Nepal religious tour packages offered by this company are:
Ace The Himalaya Reviews
Ace the Himalaya is one of the highest-reviewed religious and spiritual travel operators in Nepal. The reviews suggest that Ace the Himalaya is the best-quality tour company in Nepal. With hundreds of excellent reviews, Ace the Himalaya is a highly recommended company by different reviewing websites.
"Amazing Experience! Dipesh was a fantastic guide!" – William Z
Read all reviews of Ace The Himalaya on TripAdvisor.
Himalayan Glacier
Himalayan Glacier is a top adventure and travel company known for creating unique trips tailored to your preferences. They offer a variety of experiences from Nepal spiritual tours to extreme Himalayan adventures.
What's special about Himalayan Glacier is that they customize trips for all kinds of travelers, with experts guiding you from start to finish. They've received awards like the Certificate of Excellence from Trip Advisor and recognition as a top trekking agency. Whether you're into adventure or culture, Himalayan Glacier can design an unforgettable journey just for you.
Popular Religious and Spiritual Tour in Nepal
This five-day spiritual tour package in Nepal offers a grand visit to various serene religious places in Nepal. In this tour, you will get to visit various famous temples of Nepal where you will experience spirituality. Firstly, you will visit Kathmandu, the city of temples. You will get to understand the religious standpoint of these legendary places and attain spirituality.
You will also get a chance to get out of the valley and visit world-renowned Lumbini, the birthplace of Buddha. There are about 100 temples, monasteries, stupas, and pagodas in Lumbini. Apart from this, you will get to experience other Hindu and Buddhist Pilgrimage tours all over Nepal.
The Kailash Tour via Simikot offers a remarkable journey to the sacred Mt. Kailash, combining trekking in Nepal's remote west with a Tibet adventure. Starting in Kathmandu, you rest and prepare before flying to Nepalgunj. From there, you follow ancient pilgrimage paths and trade routes, trekking into Tibet.
Your Tibet exploration begins at the Garuda valley, considered the birthplace of Tibetan civilization during Bon religion times. You then circle Mt. Kailash and explore Mansarovar Lake, both with immense natural and religious significance. This journey concludes in Lhasa, the heart of Tibetan culture.
Other popular packages offered by this company:
Himalayan Glacier Reviews
Himalayan Glacier is one of the highest-reviewed religious tour operators in Nepal. Past clients of the company praise its helpful and knowledgeable staff.
"Himalayan Glacier is the BEST trekking company in Nepal!" – Yurtboy, Oregon
Read all reviews of Himalayan Glacier on Trip Advisor.
Nepal Hiking Team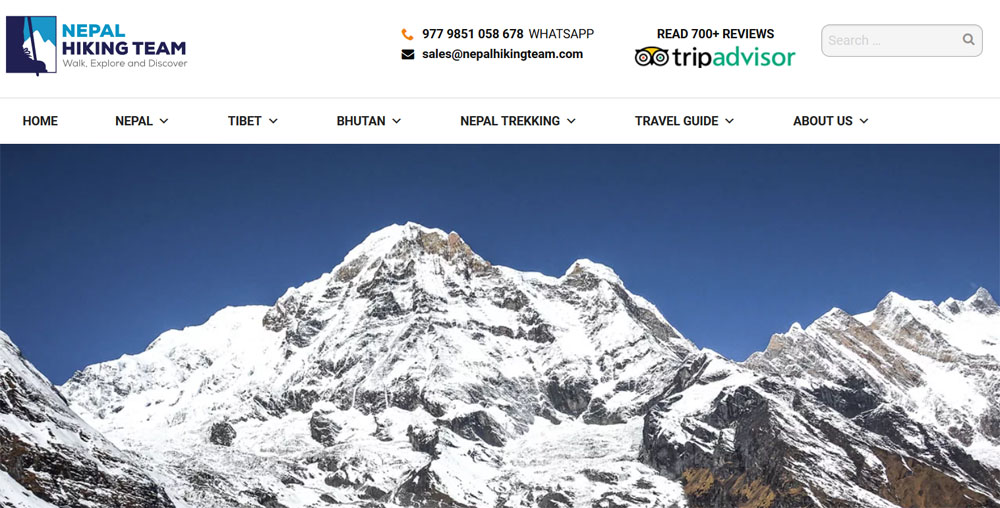 Nepal Hiking Team, established in 2009, is a respected travel agency based in Nepal. The company is renowned for its top-quality adventure treks, cultural and spiritual trips across Nepal. With a dedicated and hardworking team, they've earned a reputation for dependability and trustworthiness.
Over the past decade, they've assisted numerous travelers in realizing their vacation dreams, offering a range of thoughtfully designed trip packages. Their commitment to delivering excellent experiences in Nepal's breathtaking landscapes is evident in their passionate approach and reputable services.
Popular Religious and Spiritual Tour in Nepal
Experience the captivating blend of culture, history, and spirituality with Nepal Hiking Team's Kathmandu and Lumbini Tours. Immerse yourself in the cultural tapestry of Nepal as you explore UNESCO world heritage sites in Kathmandu and admire the intricate architecture of temples and monasteries. Engage warmly with the locals known for their hospitality, indulge in delicious Nepalese cuisine, and take in breathtaking landscapes during a scenic flight from Kathmandu to Bhairahawa.
The pinnacle of this journey is a visit to Lumbini, the revered birthplace of Buddha and offering insights into Nepal's rich history through temple visits, museums, and cultural centers. This tour offers an educational and mesmerizing cultural and spiritual perspective of Nepal, making it an opportunity not to be missed for those seeking a unique and immersive travel experience.
Experience the Bhairav Kunda Trek offered by Nepal Hiking Team, leading to the revered Bhairav Kunda Lake in Langtang, Nepal. The lake holds spiritual significance, attracting visitors during full moons, while also offering stunning mountain views.
Traverse through pristine forests and traditional villages, immersing in local culture. The journey starts with a Kathmandu sightseeing tour and includes gentle trails, the picturesque lake, and an authentic village experience. This trek combines spirituality and nature's beauty in a lesser-explored region of Nepal, promising a unique adventure.
Other popular Nepal tours offered by the company are:
Kathmandu, Pokhara and Nepal Tour
Kathmandu tour with Nagarkot hike
Nepal Hiking Team Reviews
Nepal Hiking Team is one of the most highly reviewed spiritual and religious tour operators in Nepal. It has 1336 reviews on Trip Advisor. Almost all of the reviews reflect the satisfaction of many clients who praise the high quality of the services offered by the Nepal Hiking Team:
I have been with Nepal Hiking Team before and they have been consistently excellent! Clear, informative, timely communication which invokes confidence. Excellent value for cost. Kelly O
Read all reviews of Nepal Hiking Team on Trip Advisor.
Ethical Trekking Nepal
Ethical Trekking Nepal distinguishes itself through its emphasis on travel expertise and experience. Their team comprises knowledgeable professionals who take pride in their dedication. Noteworthy aspects that set them apart include convenient booking, skilled guides, fully customized packages, flexible rescheduling, competitive pricing, and 24/7 customer support. As a premier adventure and spiritual tour operating agency in Nepal, they provide diverse experiences in Nepal for various traveler types.
Popular Religious and Spiritual Tour in Nepal
Experience the profound spirituality of Nepal through Ethical Trekking Nepal's 6-day Pashupati and Mukti Nath Darshan tour. This pilgrimage journey leads you to the revered sites of Pashupatinath and Mukti Nath, offering a deeply meaningful and soul-enriching experience.
Immerse yourself in the cultural and religious significance of these sacred places, connecting with their spiritual essence. From the bustling energy of Pashupatinath to the serene tranquility of Mukti Nath, this 6-day tour provides a unique opportunity to explore Nepal's spiritual heart and connect with its rich heritage.
Ethical Trekking Nepal Reviews
Ethical Trekking, holding the impressive #3 rank among Mount Everest trek operators, has garnered outstanding accolades for its services. With a remarkable collection of over 600 5-star ratings and excellent reviews on TripAdvisor, Ethical Trekking unquestionably stands as a reliable and premier choice for anyone seeking to join spiritual tours in Nepal.
We are two travellers from Spain who spent our 2 week honeymoon in Nepal. Krishna and his team organised most of our time there and recommended the best tours and trekking for us, given our time and preference. Joan Sentis
Read all reviews of Ethical Trekking Nepal on TripAdvisor.
Alpine Ramble Treks
Nestled in Nepal, Alpine Ramble Treks is a top Nepal based adventure travel company offering amazing trips in the Himalayas. They care a lot about quality, safety, and eco-friendly travel, earning a trustworthy reputation. Started by experienced guides, their goal is to share the Himalayas' beauty with the world.
They create special plans for each traveler, whether you're new or a pro. They've even earned various awards for their amazing services and are ranked 6th among Nepal's tour companies. Joining a spiritual tour in Nepal with them isn't just a trip, it's a memory you'll never forget.
Popular Religious and Spiritual Tour in Nepal
Discover the Gosaikunda Heli Tour by Alpine Ramble Treks, a fantastic journey in three parts. First, a one-hour helicopter ride from Kathmandu takes you to the captivating Gosaikunda Lake at 4,380 meters high. The flight shows you hills, mountains, and villages before you reach this mesmerizing lake.
Arriving at the lake, enjoy a warm drink and snacks while taking in the amazing views. You have around 20-30 minutes to explore this magical place, do a puja at the lake and temples, and capture lots of photos. Then, take a scenic flight back to Kathmandu, seeing impressive mountains up close. Once back, a representative will help you get to your hotel. This tour lets you enjoy the Himalayas' beauty, visit lakes and sacred spots, see local life, and experience a short, picturesque helicopter ride
If you're seeking a brief and enjoyable tour near Kathmandu, look no further—Alpine Ramble offers a fantastic 1 Night and 2 Days Kalinchowk private and group tour. With daily departures from Kathmandu at budget-friendly prices, this tour is perfect for both local and international travelers.
This quick yet delightful journey grants you a close-up view of Langtang, Gauri Shankar, Gurkarpo Ri, Dorje Lakpa, and more Himalayan ranges. Kalinchowk, known as a pilgrimage site, houses the Bhagawati temple at an altitude of 3825 meters. Starting from the vibrant city of Kathmandu, which is just 147 km away, this trip offers the convenience of both cultural exploration and mountain beauty.
Other popular Nepal tours offered by the company are:
Kathmandu Chisapani Nagarkot Hiking
Kathmandu valley sightseeing tour
Alpine Ramble Treks Reviews
Alpine Ramble has garnered a renowned reputation for their exceptional services, showcased by an impressive count of 630 excellent reviews on TripAdvisor. This remarkable achievement firmly situates the company as a leader in the field of Mount Everest trekking in Nepal.
The trip was truly a once in a lifetime experience. From the beginning of the planning I was perfectly supported by alpine Ramble. Livia
Read all reviews of Alpine Ramble Treks on TripAdvisor.
Nepal Mountain Adventure
Established in 2002 and based in Pokhara, Nepal Mountain Adventure shines as a highly regarded religious tour operating agencies in Nepal. Their aim is to provide secure and delightful journeys, catering to the special needs and interests of all types of travelers.
Their highly skilled and experienced guides are pro in arranging treks, tours, climbing ventures, adventure pursuits, safaris, and other experiences. Every fragment of your vacation is scrupulously structured and carried out to ensure a smooth and memorable escapade. Allow Nepal Mountain Adventure to be your dependable companion in curating unforgettable adventure travel in Nepal, leaving indelible memories and a deep admiration for the world.
Popular Religious and Spiritual Tour in Nepal
Discover the spiritual journey to Halesi Mahadev Temple, a revered site for both Hindus and Buddhists, located in Nepal's Khotang District. Nestled atop a hill, this remarkable temple resides within a captivating natural cave, exhibiting unique dimensions—a circular form with a 193 ft diameter and an underground cavern with a 223 ft perimeter. Intriguingly, the temple rests 67 feet below the earth's surface.
Embarking from Kathmandu, Nepal's vibrant heart, the expedition unfolds across Dhulikhel, Nepalthok, Khurkot, Ghurmi, Okhaldhunga, Jayaram Ghat, and culminates at Halesi. The journey encompasses three days, excluding Kathmandu exploration.
Nepal Mountain Adventure Reviews
With an impressive score of 5.0 from 497 reviews, Nepal Mountain Adventure proudly claims the fifth spot among 1,980 attractions on TripAdvisor. Their dedication to excellence shines through the esteemed Travelers' Choice Award of 2023. Among the feedback, a notable 493 ratings are marked as outstanding, with an extra 2 labeled as highly satisfactory.
Very kind and professional staff, everything was as planned and to my liking. The guide was amazing and got refund for the days i didn't use. Ori R
Read all reviews of Nepal Mountain Adventure on TripAdvisor.
ODEA Services
ODEA Services is a pioneering tour operator in Nepal renowned for crafting exceptional experiences in the Himalayas. Their focus is on personalized treks and tours that capture the essence of adventure holidays. Committed to quality and affordability, they offer comprehensive travel solutions for both business, leisure and spiritual or religious travelers to Nepal.
ODEA's expertise extends globally, ensuring unforgettable journeys with competitive rates, exclusive perks, and enduring memories. With friendly and sincere guidance, they aim to provide top-notch service every step of the way.
Popular Religious and Spiritual Tour in Nepal
Experience a one-day Heritage Tour in Kathmandu City, unveiling UNESCO heritage sites and the cultural charm of Nepal. The Kathmandu Valley, nestled among mountains, encompasses Kathmandu, Bhaktapur, and Patan, each brimming with historical and cultural treasures. This tour provides insights into their heritage, culture, and local life, while also allowing you to explore vibrant markets like Thamel Bazar.
You'll explore iconic sites like SwoyambhuNath Stupa with its panoramic views, the serene Boudhanath Stupa, the historic Patan Durbar Square with its temples and museum, and the revered Pashupatinath Temple along the Bagmati River.
In Hindu mythology, Mount Kailash is believed to be the dwelling place of Lord Shiva, the god of transformation, alongside his earthly incarnation and wife, Parvati. This sacred mountain, considered the spiritual center of the world, holds deep significance as a destination for souls. Similarly, Lake Mansarovar, renowned as one of Nepal's top pilgrimage sites, symbolizes purity and draws pilgrims from various faiths, including Hinduism and Buddhism. Bathing in its waters is believed to absolve sins for a lifetime.
This Nepal amazing Nepal and Tibet spiritual tour offers an unforgettable experience, embracing serenity and spirituality in the surrounding ambiance. The pristine beauty and tranquility of these revered sites leave an indelible mark on all who visit.
ODEA Services Reviews
ODEA Services is a pioneer religious tour operators in Nepal. The company has garnered excellent reviews on different websites. Most of the reviews praise the agency's quality programs and courteous staff. Read all reviews of ODEA Services on Trip Advisor.
Mountain Monarch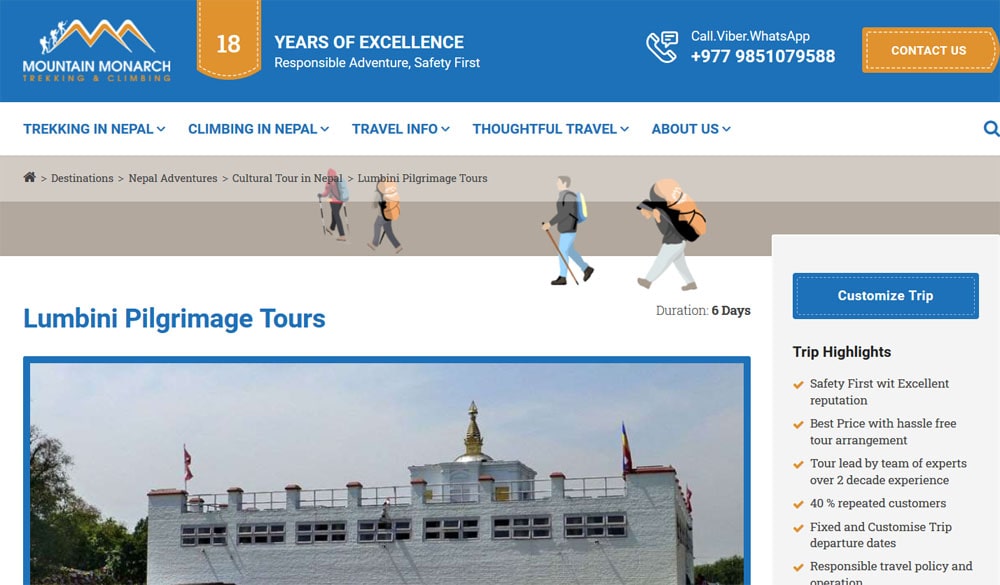 Mountain Monarch  is a Kathmandu-based tour and trekking company that designs exclusive packages for the trip to the Himalayas in Nepal and Tibet. One of the best religious tour companies in Nepal, Mountain Monarch has won multiple Certificate of Excellence and Traveller's Choice Award from Trip Advisor.
Popular Religious and Spiritual Tour in Nepal
Join a life-enriching Buddhist Cultural Tour in Nepal with Mountain Monarch. This exclusive pilgrimage journey takes you to Lumbini, the birthplace of Buddha. Discover key sites like the World Peace Pagoda for scenic views, Lumbini Crane Sanctuary with rare Sarus Cranes, Tilaurakot's historic city, and the serene Lumbini Garden. Observe the first epigraphic evidence of Buddha's life history at The Ashoka Pillar, and visit The Mayadevi Temple honoring Buddha's mother.
Experience the spiritual significance of Puskarni, the sacred bathing pool. The tour also includes exploring Buddhist Stupas and monasteries in Kathmandu Valley, enhancing the allure of your Lumbini pilgrimage. This comprehensive week-long pilgrimage tour offers a serene journey into the heart of Nepal's Buddhist heritage.
Join Mountain monarch's extraordinary Kailash Tour that encompasses Lhasa, Tibet's Shangri-La, Mount Kailash, and Lake Manasarovar. This spiritual odyssey unveils the revered Mount Kailash, a sacred site for multiple faiths, and the serene Lake Manasarovar. It caters to devoted pilgrims and adventure enthusiasts alike, offering both spiritual fulfillment and a remarkable experience.
Exploring architectural marvels in Lhasa, such as the Potala palace and Barkhor square, prepares you for the pilgrimage to Mount Kailash. Amidst Buddhist monasteries, the Jokhang temple, and serene monk debates, this journey becomes a unique blend of spirituality and adventure.
Other Popular packages offered by the company are:
Mountain Monarch: Reviews
Mountain Monarch is among the highest-rated and reputed Nepal religious and spiritual trip operators. Mountain Monarch has garnered all praises from past clients by the virtue of its quality services. Most of the past travelers praise its affordable services and recommend interested individuals to join one of its tour packages.
MM was very professional, well organized and the assembled team made the trip relaxing and enjoyable. I would highly recommend Mountain Monarch to anyone making plans for a trek in Nepal. – Sayook, North Carolina
Read all the reviews of Mountain Monarch on TripAdvisor.
Pariwar Holidays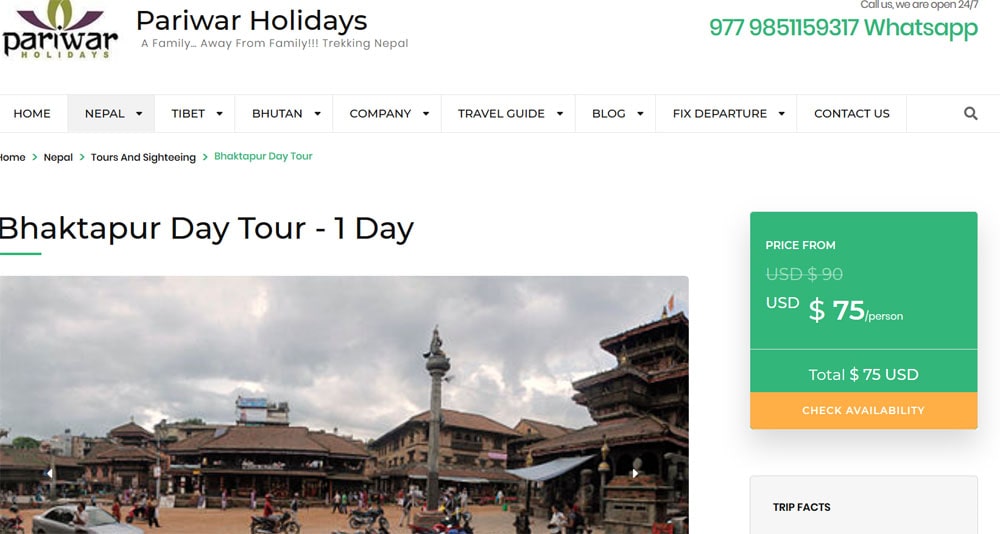 Located in Thamel, Pariwar Holidays is one of the leading tour companies in Nepal. The company's name Pariwar Holidays translates to Family Holidays. As the name suggests, the company operates various suitable packages for families as well as solo or group travelers. Pariwar Holidays specialize in spiritual tours in Nepal, multi-day tours, day-tours, historical and heritage tours, and other outdoor activities.
Popular Religious and Spiritual Tour in Nepal
Join Pariwar Holiday's 11-day journey through Kathmandu, Nagarkot, Chitwan, Lumbini and Pokhara. The tour unfolds with your arrival in Kathmandu, followed by exploration of the city's attractions. From there, head to the serene hill station of Nagarkot, and then to Chitwan for a wildlife experience.
Enjoy more of Chitwan's offerings before continuing to the birthplace of Buddha, Lumbini. Immerse in Lumbini's spiritual ambiance and proceed to the scenic Pokhara. Explore Pokhara's natural beauty and finally return to Kathmandu, concluding the journey with departure from the city.
Join the Mount Kailash Yatra for a profound journey through Shangri-La's architectural wonders and the awe-inspiring beauty of the Himalayas. Trek through breathtaking landscapes, immerse in Lake Mansarovar's sacred waters, and experience the spiritual significance of Dolma La pass.
Your 15-day journey begins in Kathmandu, followed by sightseeing and preparation for the trek. Travel through various destinations, including Nyalam, Saga, Paryang, and Mansarovar. Embark on the Kailash Circuit Trek, passing Diraphuk and Zuthulphuk via Dolma La, a transformational experience. Experience the tranquility of Lake Mansarovar before returning to Paryang and continuing the journey through Saga, Nylam, and Kathmandu.
Other popular packages offered by the company are:
Pariwar Holidays Reviews
Pariwar Holidays is one of the most reputed tour companies in Nepal. As a very highly rated tour company, Pariwar Holidays has excellent reviews on various reviewing websites. Past travelers appreciate the agency's erudite and courteous staff.
The trip was extremely well organized by Mr.Giri who answered emails very promptly about the trek beforehand – ADL 1503, Qatar
Read all reviews of Pariwar Holidays on Trip Advisor.
Best Trekking Tours in Nepal Himalayas
Nepal offers several thrilling long and short trekking opportunities in the foothills of the mighty Himalayas. Some of the most popular treks in Nepal are Everest trekking, Everest Base camp trek, Annapurna base camp, Annapurna circuit, Langtang trekking, Makalu base camp and Manaslu Trekking. There are several local trekking companies in Nepal who operates these treks.
Best Adventure Activities in Nepal
You can enjoy many types of amazing adventures in Nepal such as white-water farting, Bungee Jumping, Zip Lining, Mountain biking in the hills, river rafting, paragliding, and so on.
Best Tour Packages in Nepal
Apart from trekking, there are several other mesmerizing tour opportunities in Nepal. You can explore and experience the Nepalese cultures, traditions, nature, wildlife, spirituality, vibrant cities, Mount Kailash and Heli tours with some of the best rated tours and travel companies in Nepal.
Volunteer Travel in Nepal
Do you want to help disadvantaged children and communities while also exploring the beauty of Nepal? If so, there are ample opportunities to make a difference in the life of destitute Nepalese. You can take part in volunteer in Nepal programs like volunteer teaching English, orphanage volunteer program, medical volunteer program and monastery teaching volunteer program.
Top Things to do in Nepal
There are several amazing things to do in Nepal you should not miss out while traveling in Nepal. Knowing about highlights of the Pokhara city, Best of Lumbini, what to do in Chitwan and cool things to do in Kathmandu makes your trip amazing.
Conclusion
Nepal truly is a religious and spiritual country with unity in diversity. There is a long list of religious places in Nepal. People from all walks of life visit Nepal to explore spirituality.