The 10 [Best Cheap] Nepal Orphanage and Children Volunteer Providers 2023
10 Best Cheap Nepal Orphanage and Children Volunteer Providers 2023
Are you planning to volunteer with underprivileged children in Nepal, but unsure which provider to select? Now, you no longer have to waste time searching the internet and filling out dozens of contact forms. Simply fill out ONE form, we'll send it off to multiple providers and they'll contact YOU! You'll be able to compare rates and find the lowest cost program for the most affordable trip abroad.
Get Your Free Quotes NOW
Travellers Quest is committed to helping you take a decision to volunteer abroad with confidence. We don't have a bias to ANY of the organizations featured here. Our best list is created after careful examination of prices, reviews, and organization reputation. You are free to select any organization with no obligation.
Have you ever dreamed of visiting Nepal? Does the idea of helping vulnerable, disadvantaged children spark your interest? Are you looking for the best volunteer orphanage experience in Nepal?
So, you've decided to volunteer in a Nepal orphanage. As you begin looking into available options, you'll find hundreds of companies offering a variety programs at different prices. It's easy to feel defeated before you even begin. How will you assess the array of choices? What criteria will you use for your evaluation? It will quickly become clear that it is all too easy to choose an unreliable company, potentially wasting money, ruining your experience, and even putting your personal safety at risk.
We can help. At TravellersQuest, our researchers surveyed hundreds of organizations offering volunteer orphanage or children programs in Nepal, including online reviews. We evaluated each based on standing in the industry, professionalism, affordability, and safety, and chose the 10 best.
It is our sincere belief that, when you choose one of these companies, you'll have a highly rewarding and safe experience when you volunteer in an orphanage in Nepal.
If you are interested to get more information from any of these best providers, do not waste your time contacting each provider! simply fill out ONE form, Get FREE quotes & info from multiple providers so you can compare and save. This is a FREE service feel free with no obligation to select an organization that interests you.
table updated: April, 2022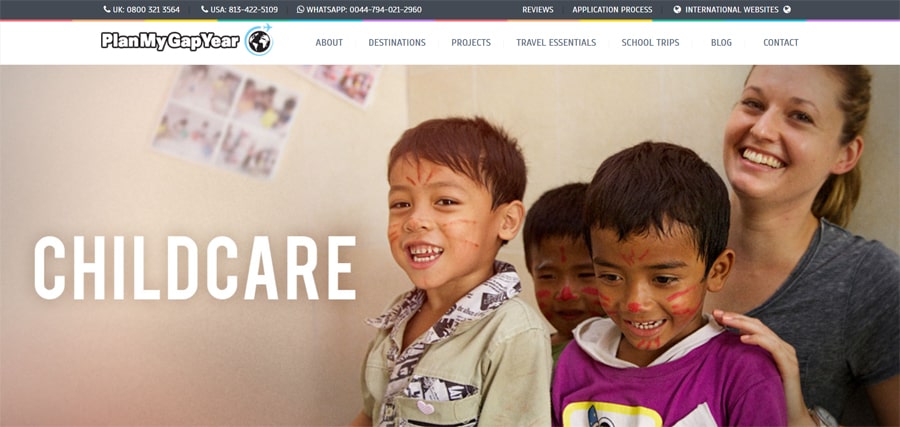 Known for its reliability and affordability, as well as ongoing staff project inspection and improvement, Plan My Gap Year (PMGY) has been in business for more than 10 years. This constant vetting means participants are paired with programs matching their interests and skills and ensures participant safety. Local teams provide constant participant support, ensuring a positive volunteer experience.
Nepal is one of the world's poorest countries with high levels of poverty and childhood malnutrition. PMGY child care volunteer programs in Nepal assist children without parents (either they've lost their parents or parents cannot afford to take care of them) aged 5 to 16 years. Volunteers live in the project's children's home with 8 to 16 children, and support the home mother with meal preparation, help around the home, homework assistance, English teaching, and organizing activities for the children.
PMGY Nepal child care volunteering Program fees include a $169.86 registration fee, along with $285 for a two-week stay or $399 for four weeks. Fees cover accommodations, meals, 24-hour airport pickup and private transport, in-country orientation, and 24-hour in-country support. These children have no income, so the fees are also used to financially help the projects, as well as supporting the childcare centers.
With many enthusiastic online reviews―participant comments include "the best thing I've ever done" "amazing," "'wish I could've stayed longer"―PMGY is surely an organization you ought to check out in your volunteer-abroad project research.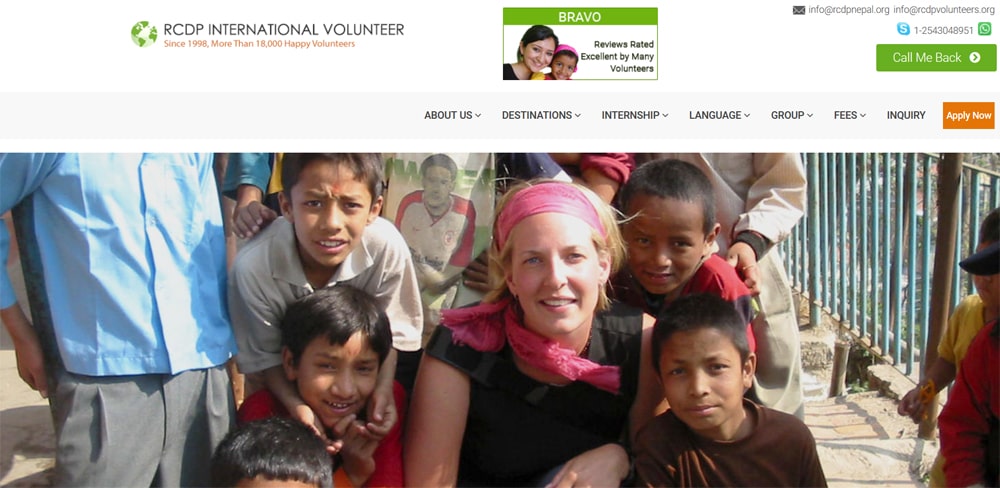 Founded in 1998, RCDP International (RCDP) is known for its moderate prices and reliability. The company was the first to establish volunteer programs in Nepal. With more than 200 programs in 20 countries across Africa, Asia, and Latin America, the company focuses on establishing sustainable community development efforts in extremely impoverished communities. The company also prides itself on unparalleled in-country support from experienced staff, ensuring a safe, meaningful volunteer experience.
When you participate in RCDP's volunteer in Nepal orphanage projects, you'll work in one of three lovely locations including an orphanage in Lalitpur while assisting children who are desperately in need. Daily activities include teaching English, organizing creative activities, instilling basic hygiene skills, healthy eating, and caring for the children so they feel love and positive regard. If you choose, you can also help raise funds to support these vital programs.
The Nepal orphanage volunteering Program fees include an initial registration fee of $279, while the two-week program fee is $200 and the four-week fee is $400. The fees pay for your housing and meals, airport pickup and transfer, program orientation, in-country support, project personalization, pre-departure information, certificate of completion, fundraising ideas and letter, and a discount for returning volunteers. They also support the local staff and community programs in which you will work.
Past volunteers rave about the compelling spirit of the Nepali children, in spite of the difficult hand life has dealt them. Glowing reviews of RCDP programs include comments like "something very special" and "surpassed all my expectations." As the original company to establish children's programs in Nepal, RCDP deserves a close look at your volunteer-abroad research.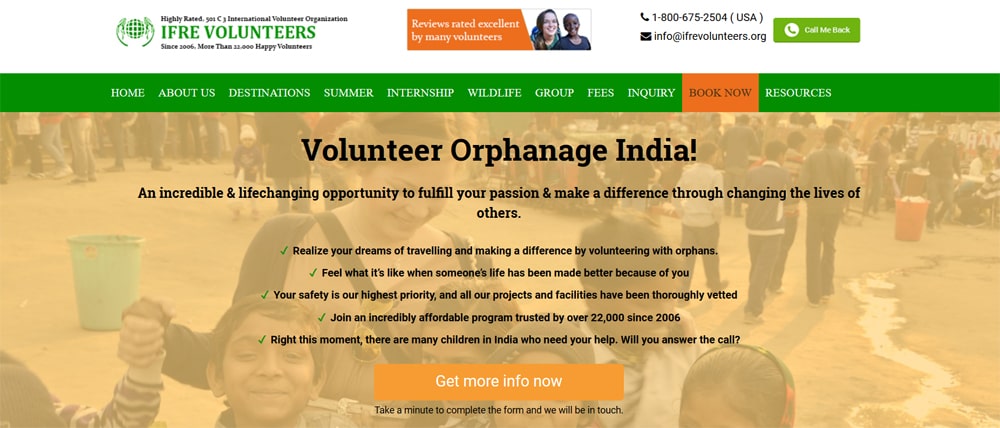 IFRE Volunteers (IFRE) offers extremely affordable volunteer orphanage programs in Nepal without sacrificing a high level of quality, safety, and service. A registered 501(c)3 non-profit based in Dallas, Texas, IFRE has been offering transformative, meaningful experiences to thousands of volunteers since 2006. Distinct from other providers, IFRE focuses on an intimate, grassroots approach to its programs. With a broad focus on healthcare, education, female empowerment, community outreach, and sustainability efforts, IFRE operates each of its volunteer-abroad programs within a network of experienced, reliable local community members.
IFRE works with more than eight local orphanages including child adoption centers throughout Nepal, supporting their activities with volunteers and donations. When you volunteer in a Nepal orphanage, you'll teach English in the orphanage or local schools, provide daily life-skill support with physical and dental hygiene and dressing, organize creative activities and games, teach basic nutrition, organize sports, and help with homework while monitoring academic progress. You will also assist in preparing and serving meals, maintaining the orphanage garden, performing administrative duties, and supporting day trips.
To join the orphanage volunteer program in Nepal, there is an initial registration fee of $279, while the two-week program fee is $200 and the four-week program is $400. The fees pay for your housing and meals, airport pickup and transfer, program orientation, in-country support, project personalization, pre-departure information, certificate of completion, fundraising ideas and letter, and a discount for returning volunteers.
Garnering stellar online reviews, including comments such as "proactive and helpful" "incredible experience" and "children at the orphanage were a true delight," past participants praise IFRE's unrivaled in-country support, outstanding experiences, and local community culture. The provider is also distinguished by its educated, attentive, energetic staff.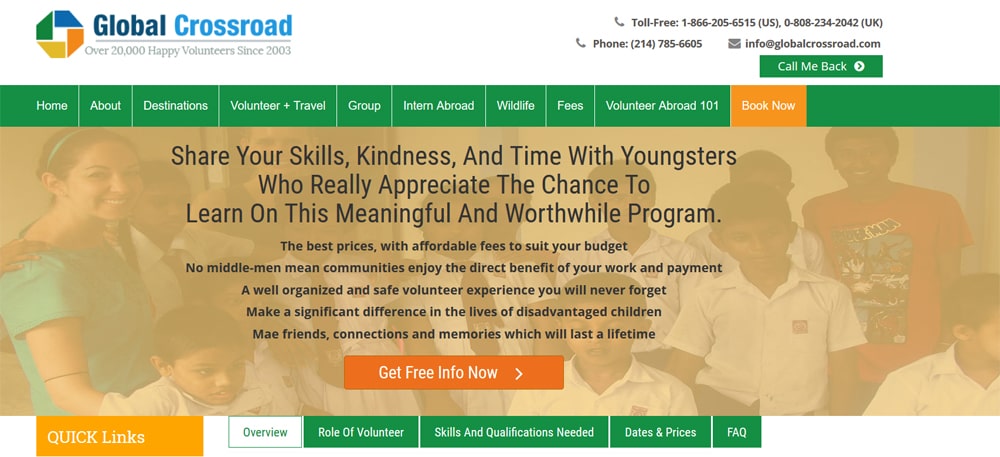 Considered a leading volunteer-abroad organization, Global Crossroad (GC) has been running affordable, highly-rated Nepal orphanage volunteering programs since 2003. Their strong commitment to personalized projects, international adventure, cross-cultural learning, freedom of exploration, and relentlessly attentive staff has enabled this company to grow at an exponential rate. Covering 18 countries across Asia, Latin America, and Africa, GC even offers a unique "learning and earning" option enabling volunteers to teach English while earning a salary. GC prides itself on outstanding in-country support from experienced staff, ensuring your volunteer experience will be meaningful, safe, and fun.
Nepal is rapidly evolving, and many families are forced to leave their impoverished villages in a desperate attempt to find work in Nepal's cities. These mass exoduses toward urban areas have left many children without families, deprived of any education, and working as child labor in restaurants, hotels, and factories. These disadvantaged children need attention, love, care, and the opportunity for an education. The GC Nepal orphanage volunteering program is an enriching, life-changing experience for volunteers, while they make an enormous positive impact on the lives of these children.
Program fees include an initial registration fee of $299, with a two-week program fee of $200 and a four-week fee of $400. The fees pay for your housing and meals, airport pickup and transfer, program orientation, in-country support, project personalization, pre-departure information, certificate of completion, fundraising ideas and letter, and a discount for returning volunteers.
Exceptional online reviews of this provider include statements like "truly unforgettable" "highly recommended" "life-changing" "reasonably priced." Volunteer reviews also point out how welcoming the students were and how lifelong relationships were cultivated in just a few weeks. As one volunteer put it, if you want an "amazing and incredibly well-organized" experience, be sure to check out Global Crossroads for your volunteer in the Nepal orphanage program.
VIN is a non-profit organization based in Kathmandu that's been working with marginalized rural communities in Nepal for more than 15 years and supports volunteer orphanage programs in Nepal. They have a developmental, or "pillar" approach to empowering these communities: Education, health and the environment, and economic and basic infrastructure development. These pillars are supported by six community programs in women's empowerment, children's development, youth empowerment, public health and medical care, environmental conservation, and disaster response and relief. This integrated approach has helped promote equality, economic well-being, and basic human rights in the area.
VIN's Children's Development Program is a primary activity in their integrated approach and is supported by a full-time staff, along with volunteers. The program aims to provide access to education, life-skill development, and health services. There are four programs in which volunteers are needed: Child Care: Orphanage Home, Child Care: Early Childhood Education, Children's Life Skills Facilitation, and Working for Street Children. The project range enables volunteers with different strengths and interests to contribute according to their abilities. VIN will assist you in choosing a project that meets your needs and ensures you will be sure you've made a difference. This provider seeks caring individuals to volunteer in their Nepal orphanages and support street children.
Program fees include a $113.56 registration fee, along with $437.21 for a two-week program stay or $630.27 for four weeks. Fees cover transportation, program introduction and orientation, food and accommodations, and administrative costs.
Great reviews of this provider include statements like "incredibly well organized" "kids' smiles warm up my heart" "staff was amazing." Several reviewers said they wish they could have stayed longer and loved their host families. Another said she would surely volunteer again with this organization should she have the opportunity to return. Be sure to check out VIN in your research about orphanage volunteering in Nepal.
Cross-Continental (CC) sets itself apart in the volunteer-abroad realm by striving to make international volunteer experiences universally accessible. They offer volunteer-abroad, intern-abroad, cultural adventure, language immersion, and gap-year programs including orphanage volunteering programs in Nepal. CC also offers programs in community development, healthcare, HIV education and support, micro-financing, teaching, photography, and environmental conservation programs. Dedicated to providing high-quality service to their volunteers, they strive to customize programs to your needs and provide affordable options.
A recent volunteer chose to be placed in a Kathmandu orphanage and worked with a group of young kids in training, aged 6-13. This volunteer helped the children learn how to speak, read, and write English. She organized activities, like martial arts classes and movies, for the children to enjoy in their free time. During her stay, she also taught the children about basic hygiene and nutrition and offered clerical assistance when needed. Her greatest reward was seeing the children's progress while she was there.
CC orphanage volunteer in Nepal Program fees includes a $290 registration fee, along with $350 for a two-week program stay or $580 for four weeks. Fees cover airport welcome, program orientation, accommodations and meals, work placement, local support hotline; cultural/recreational activities are provided by most hosts.
Positive online reviews about this organization include statements such as "rewarding" "affordable fees" and "everything was awesome." If you're looking for an organization that is flexible in accommodating your needs, as well as being affordable, check out Cross-Continental.
Founded in 2007, IVHQ is one of the largest in the industry and now offers volunteer-abroad opportunities in more than 40 program destinations worldwide across Africa, Asia, North America, Latin America, Europe, the Caribbean, and the Pacific.
The company strives to provide affordable experiences that are legitimate, of high quality, and safe. The IVHQ's mission is to provide affordable experiences while ensuring volunteers are making a meaningful difference in the communities in which they work. They want to increase global awareness and cultural understanding through the skills volunteers take into their projects and the experiences and lessons learned they take home with them.
The IVHQ child care volunteer in Nepal project in Kathmandu operates in several locations around the city, and volunteer duties vary by location. Generally, they include caring for children, teaching, assisting with homework, and organizing activities like painting, singing, and sports. If they desire, volunteers in these placements may also help with the construction and maintenance of the project buildings. Another possibility involves working with disabled children and young adults in a special needs school in the city. There are also placements teaching English (and some math, science, and social studies) in local schools, and another in childcare in the tourist city of Pokhara.
Program fees include a $299 registration fee, along with $360 for a two-week stay, and $580 for four weeks. Fees cover 24/7 in-country support, airport pickup, program orientation and training, a comprehensive volunteer guide, volunteer placement, accommodations and meals, and discounts on language lessons.
Past IVHQ volunteers praise the welcoming culture of the orphanages and care centers, along with the inspiring attitudes of the children, despite their impoverishment. Reviews include comments like "magical experience" "laughter has no language barrier" and "definitely recommend to anyone." With its international reach, strong reviews, and ethical approach to overseas volunteering, IVHQ should surely be on your list to explore in finding a position as a child care volunteer in Nepal.

Love Volunteers (LV) was founded in 2009 by brother-and-sister team Julian and Kelly. Dismayed by the high fees charged by volunteer-abroad providers, and committed to providing economical and transparent volunteer opportunities, they formed their own organization.
Ten years later, LV offers programs in Europe, the Middle East, Central, and South America, the Caribbean, Africa, Asia, and Australasia including child care volunteering program in Nepal . The company states that 90 percent of program fees go to local host organizations. All programs are continuously inspected for positive impact, social responsibility, and safety.
In Nepal, LV runs a childcare volunteer project in the city of Pokhara. The goal is to provide care and education to children and youth, offering them care, attention, and companionship. Volunteers are involved in teaching English skills, helping with homework, organizing activities, helping with morning and evening routines, and assisting around the care center. The goal is to improve the children's prospects for the future and help break the cycle of poverty.
Child care volunteering in Nepal Program fees includes a $299 registration fee, along with $539 for a two-week program stay or $769 for four weeks. Fees cover airport pickup, orientation and safety training, accommodations, meals, 24/7 local support, project placement, and onsite supervision.
Impressive online reviews of this provider include "right project for me" "the best experience of my life" "it was epic." With its small management team and commitment to ethical practices, LV deserves a look as you research volunteering abroad in Nepal.
A non-profit, 501 c(3) organization based in the US, A Broader View Volunteers (ABV) was founded in 2007 by Sarah and Oliver Ehlers. They started their company in an effort to offset the expensive volunteer-abroad options available and to offer a more affordable way to volunteer in orphanages in Nepal and elsewhere. Since its inception, ABV has raised more than $3.5 million for local communities worldwide and hosts more than 245 programs in 25 countries in South and Central America, Asia, and Africa.
Extreme poverty has destroyed many Nepali families, forcing parents to migrate to cities in search of work, sometimes abandoning their children. These conditions create an ongoing need for volunteers in Nepal orphanages, a need that rises every year. The ABV orphanage in Kathmandu provides a home to about 11 children aged 5 to 16 years. Volunteers help the children with basic nutrition and hygiene, homework and study assistance, and organizing educational and creative activities. They may also help in meal preparation, administrative tasks, and home upkeep.
when you join an orphanage volunteering experience in Nepal, ABV doesn't charge a registration fee; the two-week program is $1030, and the four-week stay is $1310. Fees cover accommodations and food, airport picks up and drop off in-country orientation, and 24/7 support from local and US staff.
Positive online reviews of this provider include statements like "a humbling and rewarding experience" "glad I went to Nepal" "humbling." For a "meaningful … life-changing experience overseas," make sure to check out ABV as you explore volunteering in a Nepal orphanage.
Based in the UK, with offices around the world, GVI was founded in 1998 by two young men who questioned whether international travelers volunteering in local communities were actually contributing to those communities' development. The organization's focus is developing global leadership skills in young people while enabling them to positively affect the communities and environment in which they work. More than two decades after its inception, GVI runs 21 programs in 13 countries. Their projects are run by their own staff and local services undergo a rigorous audit process.
The GVI Nepal children volunteer project involves education initiatives in Pokhara to support early childhood development and improve learning for students in a local primary school. The project focuses on improving literacy, along with social interaction and teamwork, while also helping the children improve their conversational English with the goal of improving future education and employment opportunities. The organization is serious about protecting children: They have a Child and Vulnerable Adult Protection Policy, which means program participants are required to complete background checks, and they support the global ChildSafe movement.
There is no registration fee to join the children volunteer program in Nepal; a two-week stay is priced at $1645, and a four-week stay is $2153. Fees cover 24-hour emergency phone support; 24-hour in-country support; a two-day orientation, including an introduction to the Nepali language and culture; accommodations and meals; access to alumni services and discounts; airport pickup; and all necessary project equipment and materials.
GVI is a bit more expensive than other programs; however, their deep commitment to operating ethically and sustainably, especially in children's and orphanage volunteer programs, along with unmatched training and support, means you get what you pay for with this organization. Excellent online reviews include comments like "a priceless experience" "felt supported and safe" "most incredible thing I have ever done." If you want a high-quality, responsibly operated volunteer experience in Nepal, be sure to look at GVI.
FAQs
How many orphans are there in Nepal?
There are about one million orphans in Nepal who live in governmental and privately organized orphanage and childcare centers. The main causes of the high number of orphans in Nepal is due to a decade long civil war, death of parents, poverty, re-marriage of parents and more. Some of the care centers lack adequate care givers, funding and other resources, thus Many NGOs and INGOs have been running Nepal orphanage volunteer program to fill this gap.
How can I open an orphanage in Nepal?
To run orphanage/childcare center in Nepal, first you need to fulfill legal requirements asked by the government of Nepal. The legal requirements include paperwork, an earthquake resistance house, house must be nearby school, hospital and police station, the house must have basic facilities like running water, comfy bathrooms and rooms, sufficient care givers, etc. Hundreds of volunteers from every corner of the world come to volunteer in orphanage in Nepal and share their love and passion.
What country has most orphans?
There are orphans and orphanages in almost every country in the world. However, India holds the largest number of orphans, over 20 million. Most of the orphans take shelter in governmental and private orphanages and care centers.
Apart from Childcare volunteering, there are many other types of opportunities to volunteer in Nepal. You can participate in English teaching program, medical volunteer opportunity, Buddhist Monastery volunteer program and many more.
Nepal is wonderland and offers several mesmerizing tours, trekking, adventures and other activities. Check out some of the most famous treks in Nepal such as Everest, Annapurna base camp, Annapurna circuit, Annapurna Sanctuary, Langtang , Makalu and Manaslu. Even if you are bounded by the time, you can complete these in a short period of time with best ranked trek companies in Nepal.
If trekking is not your passion, exploring this amazing country could be the best thing to do. Participate in life-enriching tour programs like arts and crafts, spiritual and religious, mountain flight, wildlife and nature with top-rated travel operators in Nepal. Also, adventure lovers can enjoy many types of adventure activities such as rafting tours, bungee jumping, paragliding, rock climbing, mountain biking tours and so on.
If you are wondering about the cool and top places to visit in Nepal read these articles that explain the highlights of the Kathmandu city, best places to explore in Pokhara, top places to worship in Lumbini and Chitwan's best tourist hubs.
Conclusion
This article summarizes the best cheap orphanage and childcare volunteer opportunities available in Nepal. If you are seeking to volunteer in an orphanage in Nepal, feel free to contact any of the providers spotlighted. Also, read our articles on the best affordable volunteer providers in India, Sirlanka, Thailand, Ghana, Uganda, Cambodia, Kenya, Tanzania, Peru, Guatemala, South Africa, and Ecuador.

Aleksander is a writer who specializes in travel and technology. Originally educated as a software engineer, he now travels the world as a digital nomad writing content for organizations and publications. On his spare time, Aleksander likes to travel, listen to history podcasts, binge Netflix and read Sci-Fi and Fantasy.