101 Best Things to Do in Nepal 2023
If you want to know about the best things to do in Nepal because you are planning to visit this beautiful country, we have come up with a list to help you!
Nepal, widely known as the land of adventures, is described as heaven on earth by many travelers. Nepal is a landlocked country; its area is not as large as its neighbors, the giant superpowers India and China. However, there are many fun things to do in Nepal.
Nepal is a Himalayan land of spiritual enlightenment, trekking adventures, picturesque beauty, vibrant colors, culinary tastes, cultural diversity, temples, monasteries, a tranquil environment, and more. On top of that, Nepal is home to 10 world heritage sites. This country never fails to astonish when it comes to tourism and adventure.
Here are the 101 top things to do in Nepal, whether you are visiting, working, or living in this country.
Table of Contents
Visit Boudhanath Stupa
Address: Kathmandu 44600
Photo Credit: Jonas Meister from Pixabay
With an existence traced back to 600 AD, Boudhanath Stupa is considered one of the oldest stupa in the world. No other stupas are able to match Boudhnath in terms of purity and grace.
The monument is an architectural craft with a whitewashed dome and the golden eyes of the Buddha, which glare back at you. It is considered one of the holiest pilgrimages for Buddhists. The great history, tales, architectural influences, and holiness attached to the place make Boudhanath Stupa one of the best places to visit in Nepal.
Visit Swayambhunath Stupa
Address: 44620 Swayambhu
Swayambhunath is an extrusive monument from an architectural and religious viewpoint. Perched at a hilltop in Kathmandu Valley, Swayambhu boasts a magnificent view of the valley along with the breathtakingly beautiful four golden eyes of Buddha. These eyes look in cardinal directions and they are believed to be the custodian of the valley.
Surrounded by thousands of prayer flags fluttering above the stupa, Swayambhu also has a number of other smaller stupas around the main one. Visiting this religious site is one of the best things to do in Nepal is feeling and rejoicing the spiritual, holy, and picturesque ambiance of Swayambhu.
Visit Lumbini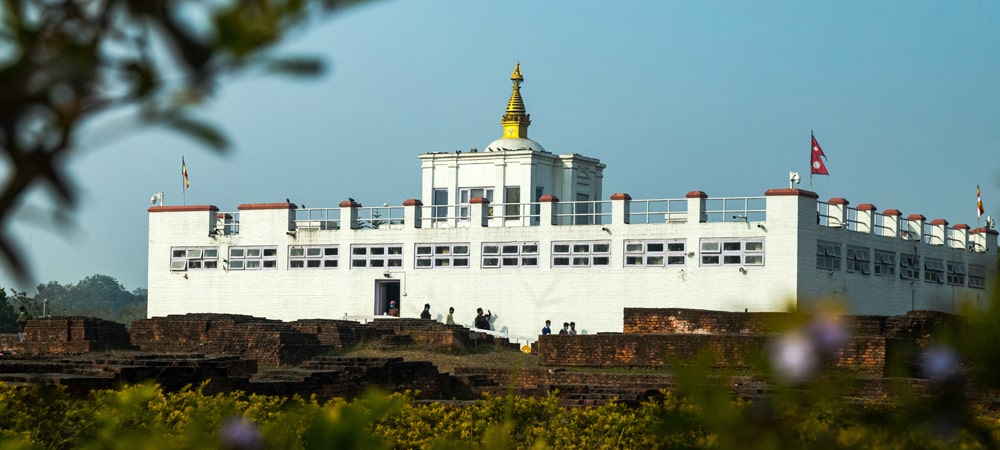 Photo Credit: unsplash
Address: Lumbini
Lumbini, a suburban area in the mid-terai of Nepal, bordering India to its south, is the birthplace of Gautam Buddha, founder of the belief of Buddhism. In all sagacity, Lumbini is a pilgrimage site for millions of people across the globe. Lumbini is also regarded as a holy destination by the Hindus.
Lumbini boasts a number of special and inimitable architectural establishments, temples, stupas, and monasteries. However, Maya Devi Temple which marks the exact birth spot of the divine Buddha is the holiest of them all.
Everest Base Camp Trekking
Upon arrival in Nepal, Everest Base Camp Trekking is one thing that you don't want to miss. Located approximately at 30000ft, Everest Base Camp Trek is an antidote to gratifying the thrill and enthusiasm of oneself. Everest Base Camp has become a reachable destination for individuals from all realms thanks to the facility improvements available today. Everest Base Camp Trekking stalwartly features one of the cool things to do in Nepal with family.
Trekking to Everest Base Camp allows you to experience an exhilarating sense of proficiency, contrasting cultures, the beauty of the Himalayas, and the splendid view of the top of Everest.
Gosaikunda Tour
Address: Gosaikunda 45000
Gosaikunda, located in the Langtang region, Langtang National Park at an altitude of 14370ft, is an alpine freshwater lake. Considered a holy and sacred lake of Hinduism, Gosaikunda is one of the most desired escapades in Nepal. The enticing view of the mountain and the lake provides you with inner contentment and a moment worth cherishing.
Gosaikunda is a lake complex that is comprised of about 100 lakes of varying sizes. The lake freezes in winter and melts with the homecoming of the summer. Gosaikunda remains one of the best places to visit in Nepal to explore your inner self and get a sense of nirvana.
Kailash and Mansarovar Tour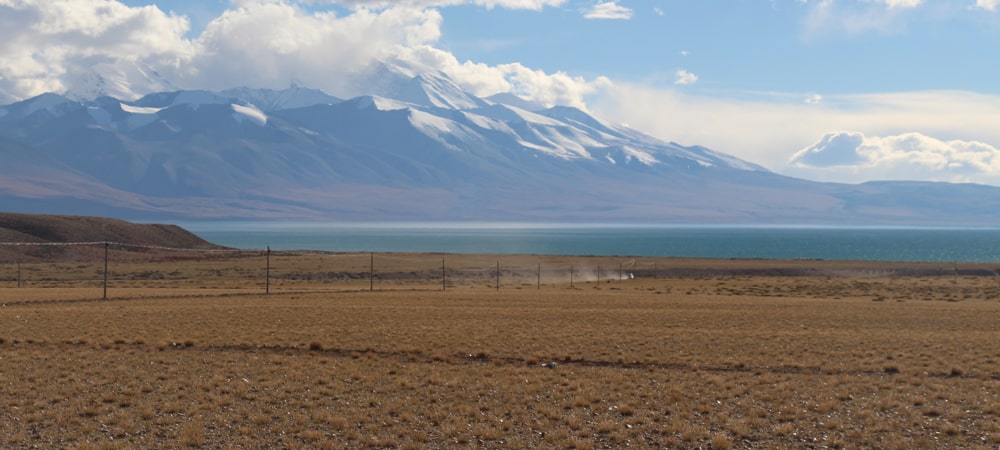 Photo Credit: unsplash
Address: Burang, Ngari, Tibet
Lake Mansarovar, situated at bottom of Mt. Kailash in Tibet and bordering Nepal, is one of the holiest pilgrimages for Hinduism. According to Hindu mythology, it is believed that Lord Shiva, the transformer of the universe, resided in the cape of Mt. Kailash. Mt. Kailash and Lake Mansarovar are venerated by Buddhists, Jains, and Bons as well.
The serenity and pristine beauty of these pious sites cannot be missed by visitors. If you seek salvation for yourself, Kailash and Mansarovar should be the top pick for your list. Touring Kailash and Mansarovar is one of the fun things to do in Nepal if you consider yourself a true wanderer.
Bungee Jumping
Address: Listikot 45301
Bungee jumping is an adventurous sport filled with ecstasy and thrill. Bhote Koshi is the longest natural free fall in the world. If you are looking for an adrenaline rush and if you are willing to experience this extreme sport, then bungee jumping is most definitely among the best things to do in Nepal.
Bungee jump gives you a feeling of triumph and euphoria. Bungee jumping from one of the highest natural jumps in the world is our most exhilarating, heart-pumping, and rousing activity from our 101 top things to do.
Rafting In Trishuli
Address: Charundi 45100 and other locations too
Rafting is also an adventurous sport. You will forever remember the feeling of the rushing water combined with the thrill flowing through your veins. The unexpected rapids of the water create a sense of frisson in your body. Rafting is not as extreme as bungee jumping; hence, it is appropriate for adventure enthusiasts as well as for those who prefer less extreme experiences.
There are locations in Trishuli where you can find white water splashing onto the huge rocks and you can also find calming green water reflecting the vegetation of the high hills. Rafting in Trishuli provides a realm of fantasy for everyone. Undoubtedly, rafting in Trishuli is one of the most fun activities you can do with your family in Nepal.
Annapurna Base Camp Trek
Address: Ghandruk 33700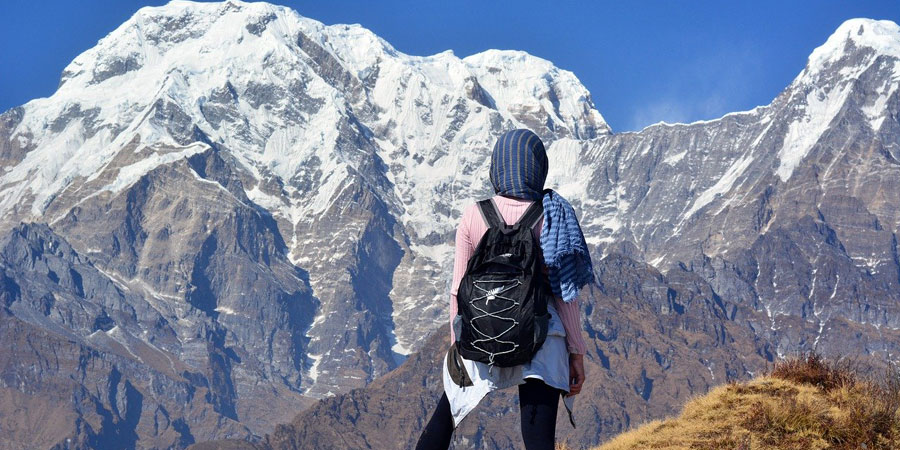 Photo Credit: travelphotographer from Pixabay
When it comes to trekking, Annapurna Base Camp is one of the most sought-after treks in the whole world. Popularly referred to as ABC, Annapurna Base Camp is essentially a sinuous trek to the base camp of Annapurna, which is at an altitude of 13,500ft. The trek trail goes through flanking terraced rice paddies and verdant Rhododendron forests. You also get the view of Annapurna throughout the journey. The ABC trek takes about two weeks by foot and it is a real treat for those who love trekking and camping for days.
Upon arrival on the base camp, trekkers get to witness the snow-capped Annapurna, Machhapuchhre, Dhaulagiri, and Himchuli along with the other Himalayas of that range. These magnificent quaint views are a real treat for the eyes. If you love trekking then trekking Annapurna is one of the best things to do in Nepal.
Visit Janakpur
Address: Janakpur
Best known as Pilgrimage for the Hindus, Janakpur is the birthplace of Sita, a Hindu Goddess. Janakpur, formerly known as Mithila, is mentioned in the Hindu Epic Ramayana, marking it not only as the birthplace of Sita but also as the location where she married Lord Ram.
Janakpur is home to awe-inspiring architectures and temples which were built hundreds of years ago. Janaki Mandir is the prime attraction for the tourists in the area along with the passionately colorful paintings, art, and unique linguistics and culture of Janakpur. Janakpur is an ancient town with a religious atmosphere and visiting this religious place with the best travel agency in Nepal is one the best things to do in Nepal.
Visit Pashupatinath Temple
Photo Credit: unsplash
Address: Pashupatinath Marg 44621, Kathmandu 44600
Standing on the banks of the sacred Bagmati River and located amidst various other temples and bustling markets, Pashupatinath, Lord Shiva's temple, is the most important Hindu Temple in Nepal. With copious legends linked to its origin, this temple remains one of the few existing cultural heritage sites in the world.
Going to the Aarti ritual in the evening is one of the most gratifying things to do in Nepal. Pashupatinath is alluring to people from all walks of life. It is recommended as a hub of religious, cultural, spiritual, and hippie beliefs. Pashupatinath is a powerhouse of spiritual energy because of the shrines, lingam (statue of Lord Shiva made up of stone), a giant statue of Nandi (a bull believed to be the caravan of Lord Shiva), devotees chanting mantras, the smell of the incense and other offerings to Lord Shiva. If you are seeking salvation, then visiting Pashupatinath is the top thing to do in Nepal – Kathmandu.
Muktinath Temple
Address: Muktinath 33100
Perched on a bed of high mountains, Muktinath temple is one of the major holy and divine spots in Nepal. Situated at 12180ft, Muktinath is a holy place for both Hindus and Buddhists. In Muktinath, you can find liberation, and salvation, and Moksha.
Muktinath is an astoundingly beautiful place with a benign temperature in the summer and snowfall in the winter. It has 108 Dharas (naturally flowing water from taps), obstinately shining flame, and a shrine of Shiva. This temple is influenced by Buddhist as well as Tibetan architecture. Visiting Muktinath allows you to experience a unique blend of adventure and holiness, which places Muktinath Temple among the best places to visit in Nepal.
Muktinath Trek
Address: Dhami 33100
As a trekking trail passing through miraculously unruffled villages, stirring waterfalls, verdant jungles, and stark landscapes, Muktinath Trek could be an unforgettable experience for you. The trek of Muktinath is regarded as one of the best treks in Nepal that will grant you an opportunity of mixing up with the locals and their cultures.
The view of the deepest gorge in the world, the Kali Gandaki Gorge, and other exquisite landscapes and sights of the Himalayas will bestow upon you an experience that you cherish for a lifetime.
Bara Gaon
Address: Lower Mustang
The stunning Bara Gaon, located in the lower Mustang, is a collection of 12 villages, including Kagbeni and Marpha. Kagbeni and other regions have monasteries that are believed to be about 1000 years old. Marpha is an astonishingly beautiful village with lovely fields and houses which are mostly whitewashed.
The best thing about Bara Gaon is that it has 12 villages and all of them are equally beautiful. It is a great location for an expedition. Bara Gaon has truly earned its place in the list of best places to visit in Nepal.
Annapurna Circuit Trek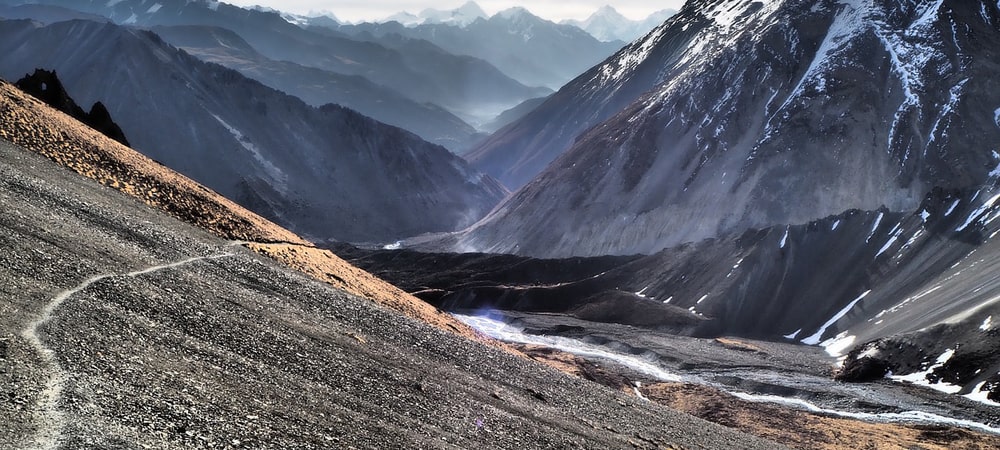 Photo Credit: pixabay
Address: Tanki Manang 33500
The exhilarating trek trails and ample variety of scenic beauty, blossoming fields, tall mountains, and biological and cultural diversities of the region make trekkers fall in love with this place. Standing tall, Annapurna passes through Muktinath and Kagbeni.
Annapurna Circuit Trek is an epitome of exhilarating experiences, which makes the place a perfect destination for adventure lovers. If you are passionate about trekking and hiking, then Annapurna Circuit Trek most definitely falls in your trekking list, and doing this trek with the best trek operator is indeed the best thing to do.
Visit Phewa Lake
Address: Lake Side, Pokhara 33700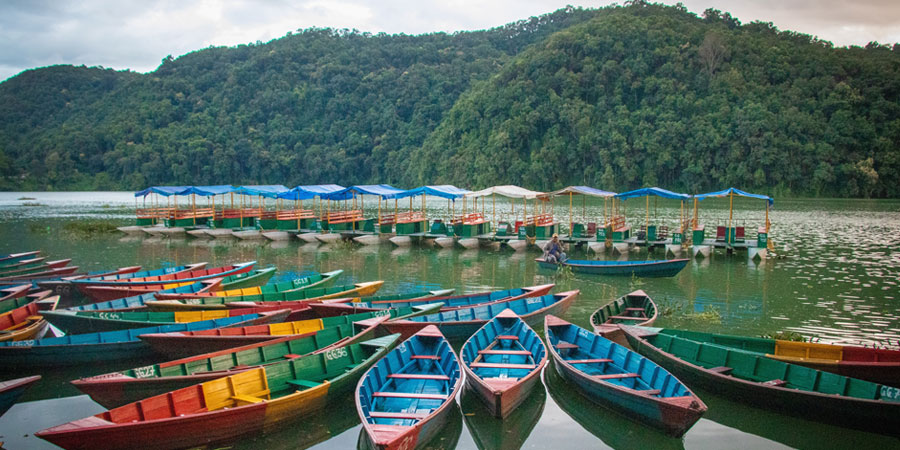 Photo Credit: titas gurung on Unsplash
Situated in Pokhara Valley, Phewa Lake, which is a freshwater lake, is the second-largest and the most visited Lake of Nepal. Extremely popular for its beauty, Phewa has an island-like land that holds Barahi Temple, making Phewa even more stunning.
The magnificent nightlife, shopping, melting pot of culinary tastes, and the mixture of locals and tourists on the streets make Phew even more irresistible. The lake reflects images of the mountains Annapurna, Dhaulagiri, and Machhapuchhre in its waters. Normally referred to as Lake Side, Phewa Lake is one of the best places to visit in Nepal.
Skydiving Over Everest
Address: Khumjung 56000
The sky is the limit and skydiving above Everest is probably the closest you will get to feel like you're flying. When in Nepal, you should try to experience everything that the country has to offer. Jumping off a chopper from an altitude of 23000ft is not something that can be done anywhere.
This perfect blend of adventurous serenity and thrilling sensation will leave you with an experience etched in your mind. If you want to capture the fascinating view of the picturesque Everest and feel the adrenaline rush in your body without having to climb it, then this is certainly one of the best things to do in Nepal.
Go Kayaking in Seti River
Address: Lower Seti
Everyone experiences an urge of getting out of the mundane and do something refreshing every once in a while. The wilderness in the vicinity of Seti is incumbent for true adventure. Experience a flabbergasting and intimate relationship with the hard splashing waters of Seti by Kayaking.
Riverside camping and vigorous kayaking will be your sheer escape from the humdrum life and your chance to end up in the warm arms of Mother Nature. The endless variety of natural beauty in Nepal gives you inner peace and kayaking provides a platform to experience that connection to nature.
Go Paragliding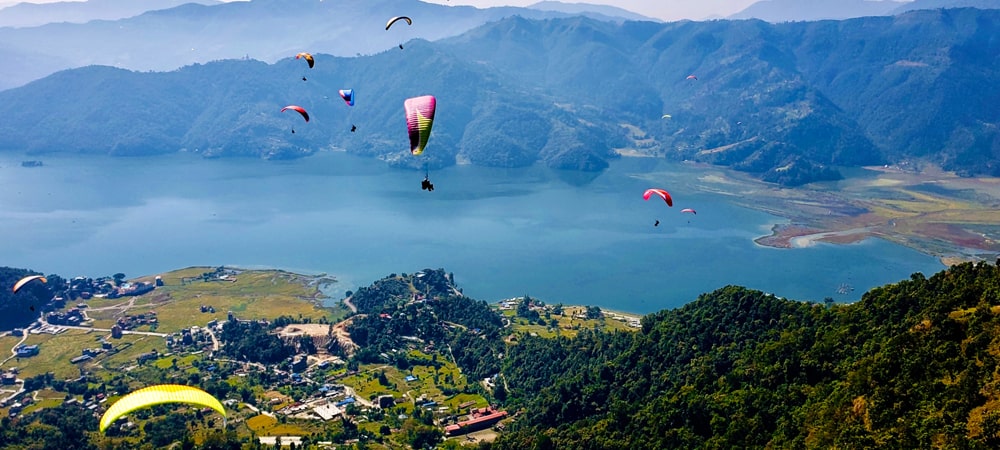 Photo Credit: unspalsh
Address: Sarangkot, Pokhara 33700
Do you have an urge of flying free like a bird and witness the beauty of nature from above? If you do, then paragliding in Pokhara is an adventurous activity you should try. There are several places for paragliding in Nepal, but Pokhara is the best.
The scenic and awe-inspiring beauty of Pokhara is best enjoyed from above. Paragliding gives you a whole new experience to remember for the rest of your life. Floating in the air along with birds is the most exciting thing to do and paragliding in Pokhara it is your way to achieve this.
Go Para Motoring
Address: Pokhara 33700
Paramotoring is similar to paragliding but the main difference is that you do not have to glide it; instead, it runs on a motor and has a pilot as well. Paramotoring helps you wander around the sky for a longer period and also helps to cover a greater area. Paramotoring is amongst the top things to do in Nepal if you feel like ruling the sky. Paramotors take you beyond the clouds in a world of heavenly experiences.
Zip Fly
Address: Sarangkot, Pokhara 33700
If you want to live a thrilling experience then Zip Fly is most probably amongst the top adventurous game in Nepal for you. Zip Fly in Sarangkot, located uphill west of Pokhara valley, is the world's longest zip fly line. It is steep, fast, and very much pertinent for adventure-loving people.
Once you are on, you can set back and plunge into the breathtakingly beautiful views of nature. Established at an altitude of 5200ft, the jaw-dropping ride will leave you awestruck and thrilled to your bones.
Canyon Swing at Bhote Koshi
Address: Listikot 45301
The canyon swing at Bhote Koshi, the world's highest giant swing, hooks you up with gravity-defying and adrenaline-pumped adventure. Have you ever wondered what it's like being Tarzan? Canyon Swing at Bhote Koshi grants you an opportunity to experience the beauty of the gorge like Tarzan. A jump from a 530ft suspension bridge and here and forth of your body tied to ropes will hit you up with a quintessence of adrenaline rush through your body. If you are craving adventure, then Canyon Swing is one of the top things to do in Nepal with family.
Go Boating in Phewa Lake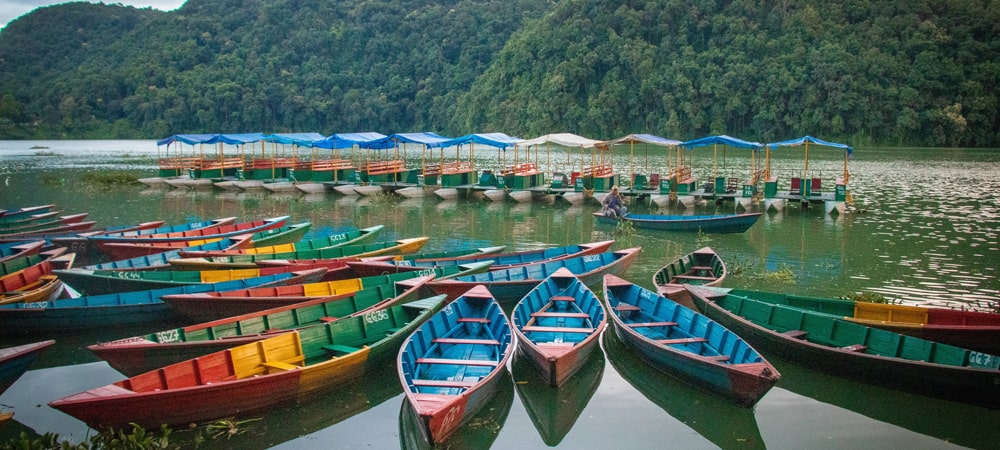 Photo Credit: unsplash
Address: Lake Side, Pokhara 33700
Phewa Lake is famous for boating. You can rent boats on your own or hire a boating expert for guidance as per your requirement. There are various kinds of boats available for visitors at Phewa. Simple boats are the most used for sightseeing purposes. However, tourists prefer going alone canoeing and on stand-up paddleboarding.
Still and calm, Phewa is a bustling island in the middle. The security of the area is outstandingly efficient and the lifeguards are always alert. Boating in Phewa isn't something you want to miss while in Nepal. Those who do not know how to operate a manual boat will be in the right place to learn in Phewa.
Rock Climbing
Address: Khumjung 56000
Rock climbing is an adventurous activity for people who want to explore their own breakpoint. Khumbu and Nagarjuna, Nepal, is the place where you can satisfy your hunger for edgier experiences.
Rock climbing is an inspirational activity for the self. It is definitely in high regard on our list to experience this adventure in Nepal. Khumbu and Nagarjuna have established themselves as famous destinations for rock climbing.
Hot Air Balloon glide over Everest
Gliding in a hot air balloon over Everest is probably the most adventurous thing to do in Nepal. However, people capable and willing to pay the amount will have a great eye-feast as they watch the snow-capped Everest from above.
Are you wondering what is it like to look upon Everest from a height greater than Everest itself? Well, gliding over Everest in a hot air balloon can perfectly answer that question. An escapade to the height beyond Everest is certainly among the top experience you want to enjoy in Nepal
Kathmandu Durbar Square/Hanuman Dhoka
Address: Kathmandu 44600
Photo Credit: Shaouraav Shreshtha on Unsplash
Declared as a World Heritage Site by UNESCO and built across a gigantic five-acre area, Hanuman Dhoka gets its name from the statue of Lord Hanuman (the monkey God) footing at the foyer (Dhoka in Nepali) of Durbar Square. Kathmandu Durbar Square comprises royal palaces and temples which were built by Malla kings and Shah Kings who had later dethroned Mallas by conquering them. The temples and the palaces are of inimitable architecture, which is a treat for anyone out there.
If you are looking for some antique and matchless palaces, temples, and architecture, then Kathmandu Durbar Square is certainly amongst the best thing to do in Nepal – Kathmandu.
Patan Durbar Square
Address: Lalitpur 44700
The Durbar Square exhibits extraordinary monuments from the glory days of the Malla Dynasty. The rulers of Patan, the Mallas, had a thriving architecture and art that added grandeur to the Durbar Square, which dates from the 13th to the 18th century. Located in the heart of the city, Patan Durbar Square was once the palace for the kings. Newari-Hindu architecture, which escalated to its pinnacle in the Malla era, can be observed in the temples like Krishna Mandir and many more.
The Patan Durbar square is an enthralling concoction of palaces, arty courtyards, and elegant pagoda temples, and a museum that showcases the ancient Malla Dynasty and the history of the durbar square. Seeing the magnificent Durbar Square is an unmissable activity on our list.
Bhaktapur Durbar Square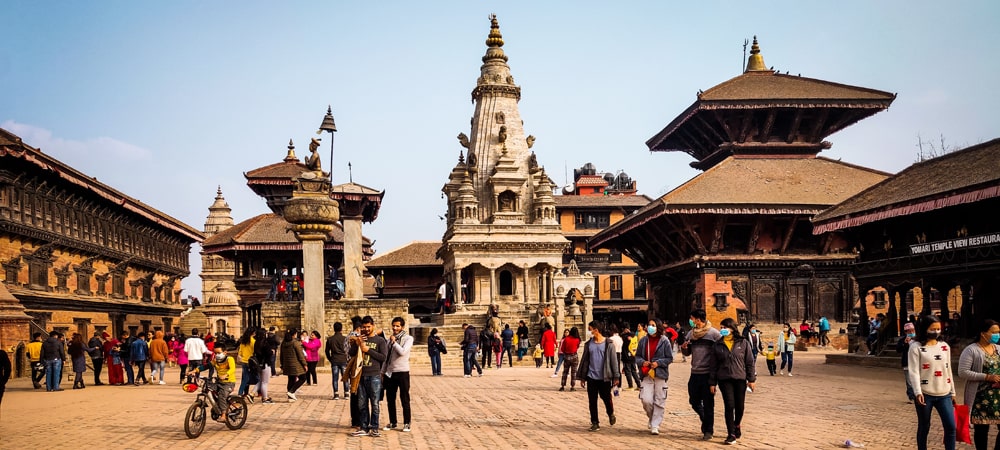 Photo Credit: unsplash
Address: Bhaktapur 44800
Bhaktapur Durbar Square is an elegant durbar that has a palace with 55 windows, a large open space facing south, and a golden gate that is a masterpiece. In front of the palace, there are numerous temples and architectural showpieces, like the statue of King Bhupatindra mounted on a colossal pillar, the Lion gate, the art gallery, and Batsala Devi Temple.
The wood carvings in every prance, gateway, tympana, and window look to structure a well-orchestrated opus. Bhaktapur Durbar square is the most peaceful of all the other durbar squares. It has easily earned its spot as one of the 101 best places to visit in Nepal.
Sagarmatha National Park
Address: Sagarmatha National Park
Sagarmatha National Park is an exceptionally stunning area with remarkable mountains and deep valleys subjugated by Everest. Along with its major attributes, there are also several rare species of leopard and panda, alpine vegetation, and other flora and fauna.
The Sherpas in the area and their distinctive culture add further reasons to visit the Park. Encircling the significantly majestic snow-capped peaks of the Himalayas, as well as the wildlife, vegetation, and indigenous natural resources, the park is the epitome of natural beauty. This is why it makes it to our list as one of the most famous places to visit in Nepal.
Chitwan National Park
Photo Credit: unsplash
Address: Subarnapur 44200
Are you interested in wildlife safari and in exploring the boondocks of national parks? If you are, Chitwan National Park is one of the best places you should visit in Nepal. The meaning of Chitwan is 'the heart of the jungle'. Here, you will be amazed to see the animals that you had never seen in real life. The one-horned rhino is only found in Nepal and Chitwan National Park is this animal's main habitat. Nepal is home to thousands of species of birds and many of them can be found only at this park.
The absolute quietness in the area and the dense jungle make spotting wild animals much easier. The types of accommodation available in the region vary from luxury cottages to homestays and all kinds of lodging.
Narayanhiti Palace
Address: Kathmandu 44600
Nepal used to be a monarchy not so long ago. The monarchy ended about a decade ago when the people's movement kicked in. The modern palace of the Shah Dynasty was Narayanhiti royal palace.
The palace is the showcase of the most recent history and insights of the Shah Dynasty. If you are fascinated by royalty and interested in the lifestyles of the royals, then visiting Narayanhiti certainly widens your knowledge level. The palace is maintained in the same way that it was before.
National Art Gallery
Address: Bhaktapur Durbar Square, Bhaktapur 44800
Situated in the periphery of Bhaktapur Durbar Square, the National Art Gallery needs recognition as a major tourist destination of Nepal.
The museum has successfully preserved and showcased the traditional Newari cultures along with the remains of the palaces and its valuables. The traditional paintings, precious paubhas, manuscripts dating back centuries, stone art, among others, are the major attractions of the National Art Gallery. The stone architectures and the paintings are historic vintages of various kinds and this makes the National Art Gallery one of the top things to do in Nepal – Kathmandu.
Address: Kathmandu 44600
Visitors are not limited to going sightseeing and trekking all the time they are in Nepal. You might get tired of visiting tourist spots. To break the monotony of the routine and to relax, you can also enjoy pubs, clubs, casinos, discos, nightclubs, and Nepali music. There are areas in Kathmandu which are known for providing these kinds of facilities. Kathmandu is a metro city and anything about any metro is most probably happening in Kathmandu.
Address: Kulekhani Road, Chandragiri 44600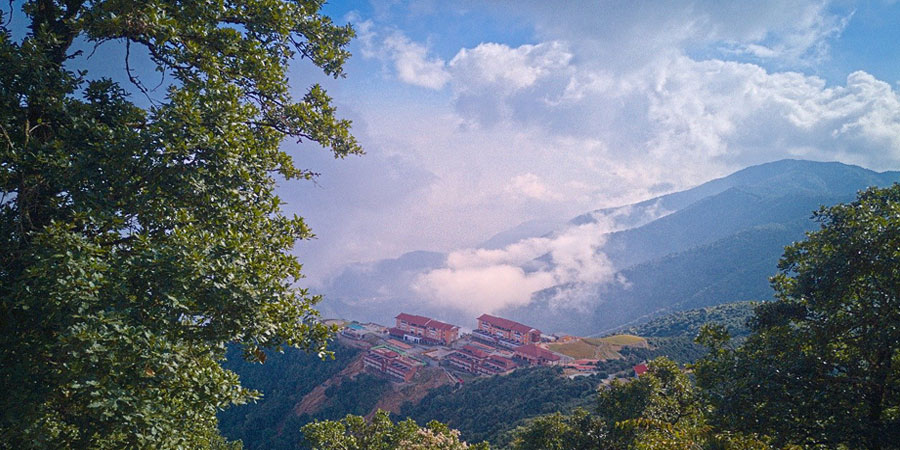 Photo Credit: Corey Ryan Hanson from Pixabay
Situated at 8300ft, Chandragiri is a hill station with soaring peaks. From here, you can the whole Kathmandu Valley, which is covered in a blossoming green layer of flora, making it a great and immaculate landscape. Chandragiri not only boasts this scenic beauty; there is also an amusement park, the Bhaleshwor Mahadev Temple, a botanical garden, a view tower, and hotels.
The best part about visiting Chandragiri is that you get to take a ride in a cable car. The panoramic views of the stunning Himalayan ranges from Annapurna to Everest can be cherished from the top of the hill. A cable car ride to an amazingly beautiful location should be on everyone's wish list of fun activities.
Visit Nagarkot
Address: Nagarkot 44812
Legendary for the astounding sunrise view through the Himalayas, Nagarkot is located about 30km east of Kathmandu. As one of the most scenic spots, Nagarkot offers a view of Everest and other snow-topped Himalayas, as well a panoramic view of the valley. Admired for its natural beauty and elegance, Nagarkot is a famous bight destination for visitors from within the country and from all around the world.
A Kaleidoscope of a variety of beautiful flowers set against the milieu of the snow-capped Himalayas isn't a view that you would want to miss. This is nature's gift to mankind and to enjoy it you will have to include it in your list of famous things to do in Nepal with family.
Daman
Address: Daman 44100
Are you looking forward to viewing the spectacular grandeur of the world's highest peaks from Mt. Dhaulagiri to Everest? If you are, then there is no better location than Daman. If are not, then Daman certainly has more to offer than just the heavenly view of the Himalayas. With one of the world's largest and oldest botanical gardens holding a wide range of Rhododendron, Daman also offers a fascinating scenic beauty, the wilderness of nature, and the cultural melting pot of the inhabitants.
Daman has a tower with a telescope to view the area and cherish its beauty of. Covered with snow in the winter, Daman is away from the daily hustle and bustle of life. However, it still provides visitors with good accommodation, food, and shelter. Daman is certainly one of our suggestions as one of the top places to visit in Nepal.
Bandipur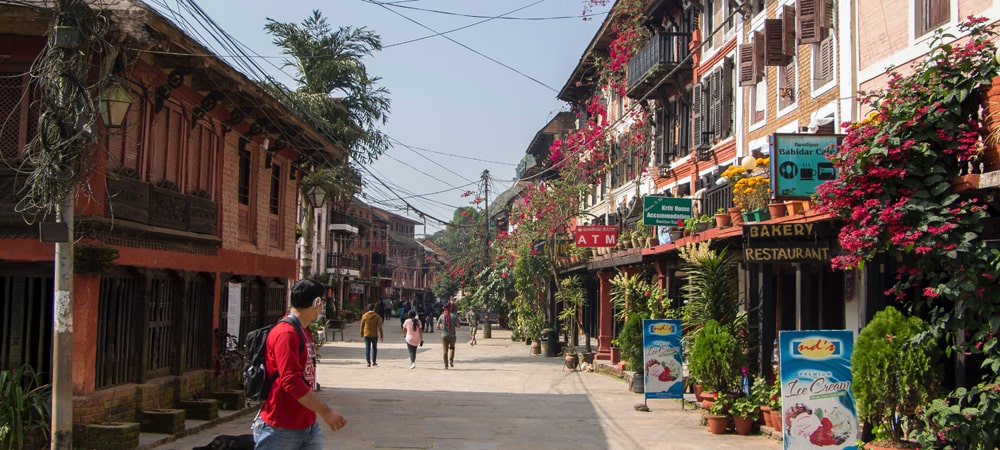 Photo Credit: unsplash
Address: Bandipur 33904
Bandipur, located between the capital city and Pokhara, is a picturesque town that has maintained its century-old appeal to this date. The benign temperature, splendid caves, unblemished landscapes, mixed architecture, and unbelievably scenic beauty makes Bandipur a tourist's delight.
Bandipur is also a stop for adventure sports like rock climbing, paragliding, rafting, caving, and hiking. Some places to explore in Bandipur are Raniban, Teendhara, Ramkot village, orchid trail, Bandipur bazaar, Khadgadevi temple, Bindabasini Temple, and Mahalaxmi temple.
Explore Siddha Gufa
Address: Bimalnagar, Bandipur 33904
Lined in stalactites and stalagmites, Siddha Gufa is believed to be the largest cave in the Himalayan region. With a depth of about 1400ft and a height of 160ft, Siddha Gufa is a beautiful creation of nature in the hills of Nepal.
It is also a trekking route from Bandipur and back to Bandipur. Siddha Gufa is an easy trek and can be completed in about half an hour. Exploring the deep and shallow cave is for sure one of the most fun things to do in Nepal.
Pathivara Temple Trek
Address: Pathivara, Taplejung 57500
Pathivara Temple, located in the most northeastern district Taplejung (which borders India to its south and China to its north), is situated at an altitude of 12500ft. Pathivara can be reached by foot. You can follow a trekking trail into the high hills of Taplejung for about five to seven hours from Sano Phedi, which is accessible through motorable roads. Pathivara is a religious site as well.
When you finally reach the top of Pathivara Temple, a sense of tranquility and serenity can be felt in the ambient air which gives you the inner satisfaction of accomplishment and achievement. The panoramic view of mountains such as Kanchenjunga, Manaslu, and Gauri Shankar is totally mesmerizing from the top.
Bardia National Park
Address: Bardia 21800
Bardia National Park, established in 1988 is a protected national park located in Bardiya district. It is a Tiger conservation unit and home to a number of rhinoceros, crocodiles, alligators, gharials, and deer.
It also features majestic animals and captivating sights. However, it is best not to visit the national park in the monsoon season because of the overflow of the Babai River, which has bisected the national park. Apart from the monsoon, you can mark Bardia National Park as one of the best places to visit in Nepal.
Exploring Kathmandu on a Bike
Address: Kathmandu 44600
Kathmandu valley is a combination of three districts: Kathmandu, Bhaktapur, and Lalitpur. This makes the valley a vast area and its geographical aspect doesn't allow four-wheelers to move around places. A motorbike tour is a more feasible option.
The raw Kathmandu, its people, and its streets can be explored in less time using motorbikes. These motorbikes can be rented from rental shops around the city. Exploring the city on a motorbike certainly gives you thrilling experiences.
Elephant Polo
Address: Meghauli 44207
Chances are that you might have already seen Polo, but the Elephant polo in Nepal isn't like anything you have seen before. You can participate in local Elephant Polo tournaments and or sit back and enjoy the game. The World Elephant Polo Tournament is held in Nepal.
Elephant Polo attracts thousands of tourists from all around the world. Whether you enjoy the game by playing it or by watching it, it is certainly one of the best things to do in Nepal.
Namche Bazaar
Address: Namche 56000
Photo Credit: Alok Timsina from Pixabay
Namche, the not-so-urban yet renowned and beautiful town in the Khumbu region, is famed for a good number of things, most of which are associated with tourism and the Sherpa. Namche is known as the gateway to Everest and the other Himalayas.
It is replete with cafés and lodges, which are mainly targeted at the tourists in the area. With such close propinquity to Everest, Namche is also the place to acclimatize before starting the trek to the Everest Base Camp. Namche has established itself as one of the top places to visit in Nepal.
Devi's Fall
Address: Pokhara 33700
Named after the woman who lost her life when she fell into the pit where waterfalls down into an underground tunnel of about 100ft deep and 500ft long, Devi' Fall is a major tourist attraction located in Pokhara. The water of the falls comes from the reservoir of Phewa Lake.
Near the fall, there is a cave called Gupteshwor Mahadev Gufa, which is regarded to be a sacred cave. Here, Hindu devotees appear to pay their homage to the Legend of Shiva. Devi's Falls is one of the best places to visit in Nepal during the monsoon.
Explore Pokhara on Motor Bike
Pokhara valley is a vast place to explore. It is filled with magnificent tourist attractions, scenic beauty, caves, culinary variety, cultural deviations, and hilly roads and streets. A motorbike ride is the perfect means to enjoy everything that Pokhara has to offer.
If you are looking to cover the joyous and beautiful Pokhara in a short period of time, then motorbike riding in the valley is one of the most fun activities you can do in Pokhara.
Begnas Lake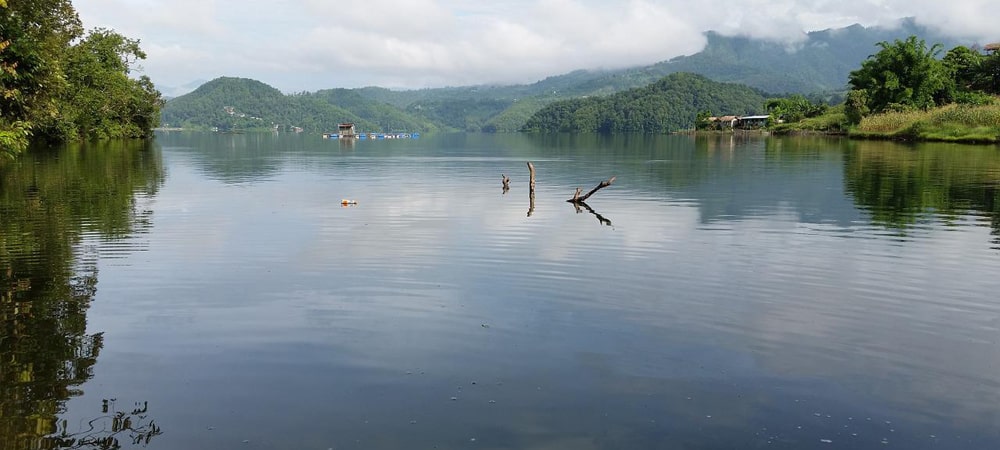 Photo Credit: pixabay
Address: Lekhnath 33700
Begnas Lake, covered by hills and verdant forest, is one of the coolest places to visit in Nepal. At this Lake, you can even swim if you are a good swimmer, which is something that you cannot do at other lakes due to heavy security systems.
Begnas Lake is a sanctum of peace and calmness. Here, you can find different facilities for accommodations too. If you can, you must spend some time here.
Address: Pokhara 33700
Exploring the dark cave-filled bats is a cool and adventurous thing to do. Naturally formed caves such as this are not abundant in urban areas. You do not have to go on an expedition to find such caves. Nepal has a lot to offer, and exploring the Bat Cave is one of the cool things to do in Nepal.
Address: Kathmandu 44600
If you are in pursuit of inner peace and salvation, monasteries are some of the best places to go. The serenity that these monasteries offer will help you make peace with the disturbances within.
With the beautiful statues and architecture of the monasteries, the Kapan monastery is a place for sightseeing as well as for meditation. You are sure to feel positive vibrations in here. Exploring and meditating in these monasteries at Kapan is life long-lasting experience for you.
Address: Dhankuta 56800
Dhankuta, a district in the eastern hilly region of Nepal, is home to many waterfalls, weather diversity, and hill stations. Bhedetar is a hill station in Dhankuta where you can experience several weather conditions in the span of a day. Within 24 hours, Bhedetar can get cold, rainy, and hot, which makes it a really magical place to be. Namaste Jharna (waterfall) and other hill stations in Hile are near Bhedetar. Dhankuta is indeed one of the best places to visit in Nepal.
Mountain Bike ride in Pokhara
Address: 33700
Are you passionate enough about road adventures? Here in Pokhara, you get to push your biking boundaries and acquire an enlivening experience riding through the trails of the hills and the mountains like never before. The memories that you gain from mountain biking will be with you for a lifetime. Mountain bike riding in Pokhara valley provide you with amazing life experiences.
Heli Skiing at Kanchenjunga
Address: Kanchenjunga, Taplejung
The beautiful white snow-clad mountain is one of the best places in Nepal that offers heliskiing. The 3rd highest mountain peak will surely tempt you to slide down its slopes and experience the thrill. All the necessary ski gear and instructors will be available for you.
If you are looking forward to skiing or trekking, then you must visit Kanchenjunga, the world's third-highest peak, as it is one of the top places to visit in Nepal.
Khumbu Glacier
Address: Khumjung 56000
Located in northeastern Nepal, between Everest and Lhotse ridge, Khumbu Glacier is a place that you don't want to miss. You will feel a thrill just by being in the region.
Dangerous yet interesting, Khumbu Glacier is not a place for skiing but for sightseeing. The most attention-grabbing thing at the glacier is the Khumbu icefall.
Hunting in Dhorpatan Hunting Reserve
Address: Dhorpatan 22000
Among many wildlife reserves and National Parks, Dhorpatan Hunting Reserve is the only reserve where hunting is allowed. Whether you are looking for hunting experience or you are a skilled hunter, this is the best place for you. Hunting of certain rare species is banned.
However, this place offers a program of trophy hunting of animals like the Blue Sheep and the Himalayan Tahr.
Heli-Skiing at Annapurna
Address: Narchyang 33200
Annapurna is the most famous spot for heli-skiing. In fact, the number of tourists in the Annapurna region is higher than in any other mountainous region. Heli-skiing in different mountains isn't the same. Though the activity is similar, the thrill that each mountain has to offer is different altogether.
Visit the Casinos
Address: Kathmandu 44600
The casinos in Nepal (most of them are located in Kathmandu) are some of the most sophisticated places in the country. These casinos are mostly in service for tourists visiting Nepal. In the casinos of Nepal, you can meet people from almost all countries.
If you love casinos and gaming, Nepal is a great place to be. The Nepali Casino provisions restrict the involvement of Nepali players, which enables a safe environment for the tourists. Casinos are among the best places in Nepal and they are thought of as some of the most interesting things to do in Nepal at night.
Thamel
Address: Kathmandu 44600
Thamel is a haven for tourists visiting Nepal. Located in Kathmandu, Thamel is a popular destination and most tourists stay in this area. This is a commercial location of Kathmandu located within walking distance of central Kathmandu.
Some of the things that can be observed here in Thamel all day and night are hotels, lodges, cafes, restaurants, antique shops, traditional Nepali items shops, money exchange places, culinary variety, bustling market, fascinating streets, tourists, and a clean environment. Do not miss out on being in Thamel, one of the cool places to visit in Nepal which has various things thing to do in Nepal – Kathmandu.
Botanical gardens
Address: Lalitpur, 44709
Located in the Godavari, away from the crowded and bustling streets of Kathmandu city, yet situated inside the valley, the botanical garden is a quiet and peaceful place that can be ideal for walks and picnics.
Different botanical species can be observed here. On Fridays and Saturdays, it is crowded with school kids. Except for these two days, the garden is really quiet and peaceful. Visit botanical gardens if you want to see new species of plants and herbs which may not exist in your country.
Address: Kathmandu 44600
With some of the most out-of-the-ordinary and fascinating treasures on display, Chhauni is a sprawling museum located near Swayambhunath. When you are on tour to Swayambhu, do not miss the opportunity to be here.
Juddha Art Gallery, situated in the museum compound is home to many astonishing metal, terracotta, and stone statues of Hindu deities. The museum also has traditional Nepali clothing paintings, leather cannons from the Nepal-Tibet war, and manuscripts of what Buddha had to offer dating back centuries. Chhauni museum should be marked as one of the best places to visit in Nepal.
Manaslu Circuit Trek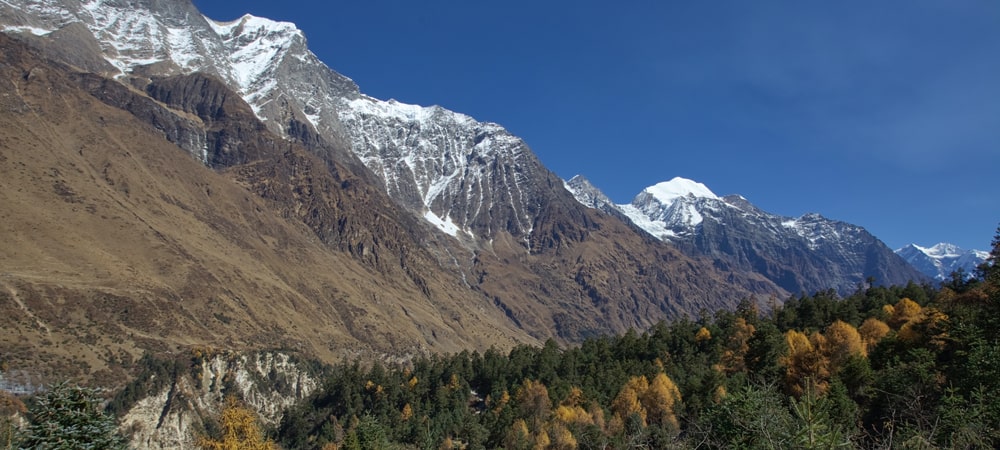 Photo Credit: unsplash
Address: Dharapani, Manang 33500
The circuit trek of Manaslu, the eighth highest mountain in the world, offers you the closest scrutiny of mountainous splendor, glacial ridges, and landscapes. Manaslu, also referred to as the killer mountain of Nepal, is a difficult trek to go on. However, the circuit trek of Manaslu isn't as hard as the name "Killer Mountain" suggests.
The trek trails through narrow and rugged terrain, rivers, streams, and waterfalls, which adds to the beauty of the trek. Manaslu is a difficult yet achievable trek. And thus, it is the reason you must go there.
Langtang National Park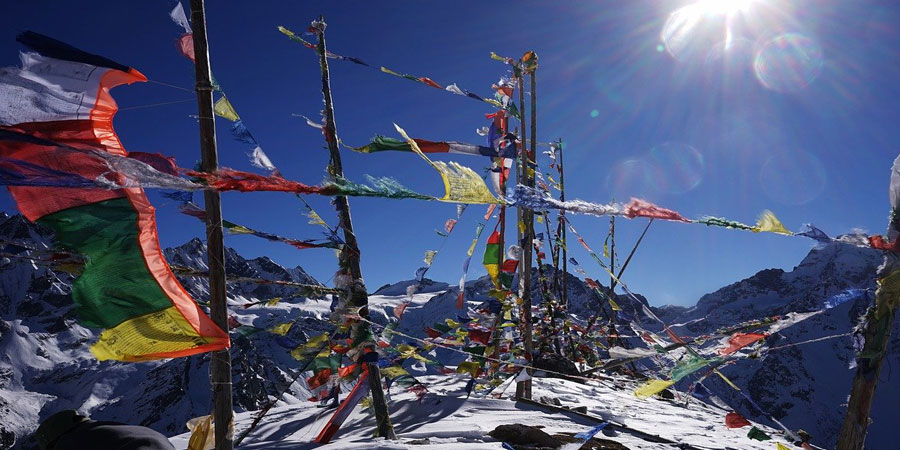 Photo Credit: owlracer0 from Pixabay
The first Himalayan National park of Nepal, Langtang National Park, offers you the chance to have a tryst with the wild and experience the joys of nature. The strikingly beautiful park has borders, Tibet, to the north and follows the Bhote Koshi and Trishuli Rivers.
The park ascends through the pastures at the alpine meadows. Here you will find stupendous mountain views. The local tea houses and the friendly locals can help you through the course of your trek into the incredibly rich flora and fauna of the park.
Kumari House
Address: Kathmandu 44600
According to Newari-Hindu belief, Kumari is a living Goddess. Kumari is a young girl believed to be able to answer the queries of devotees through her expressions. The brick building located in Durbar Square has quite an intriguing architecture. It is the home of Kumari, the living goddess worshipped as the reincarnation of Goddess Durga.
It is quite fascinating to see how people from the Newari and other locations worship a living child as God. The Kumaris are changed after they have hit puberty and another girl child succeeds the throne as Kumari. It is as hard to believe as it is fascinating.
Helambu Trek
Address: Helambu, Rasuwa 45000
Helambu, one of the best places to visit in Nepal, is spectacular for going on treks and expeditions. If you are set to embark on an adventure, then Helambu trek is just the correct place for you.
Apart from trekking, Helambu is famous for its saccharine apples and ingenious and arty Buddhist pilgrimage sites. The trekking trail for Helambu starts from Sundarijal, which is a dam and a hydroelectric station. Passing through different beautiful villages and hill stations, you will reach your destination. Taking this awe-inspiring journey to a stunning destination, and it is one of the coolest things to do in Nepal.
Rara Lake
Address: Mugu 21100
Situated at an altitude of 9800ft in the northwestern region of the Himalayas in Mugu and Humla Districts, Rara Lake is the largest Lake of Nepal. The stupendously mesmerizing Rara is a picturesque view in the lap of the Himalayas. Rara is simply heaven on earth.
You should trek through the wilderness of the jungles and the Himalayas to get to Rara. However, if you wish not to trek, you can always take a direct flight to Talca airport. The pristine environment that surrounds Rara with hills all makes it one of the best places in Nepal for camping.
Tilicho Lake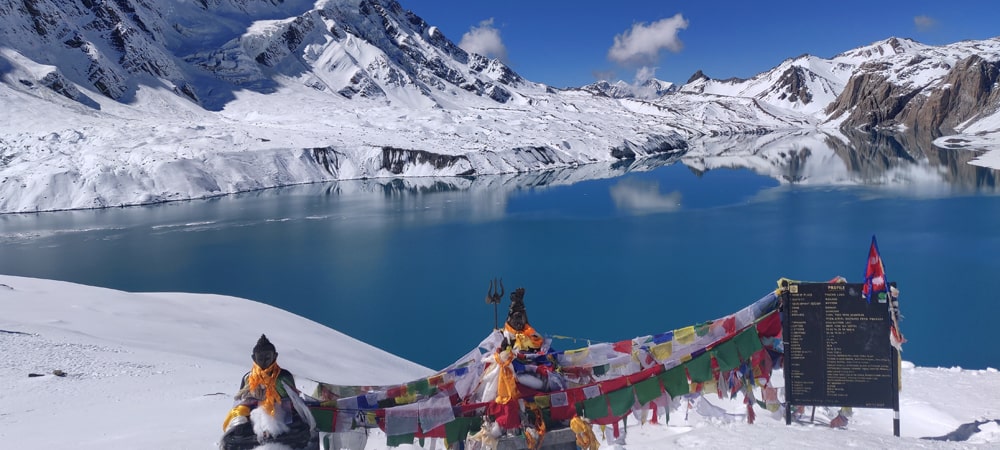 Photo Credit: unsplash
Address: Annapurna, Manang 33500
Situated at an altitude of 16200ft in the Himalayan region of Manang district, Tilicho is the highest altitude lake in the world. Surrounded by snow-capped mountains such as Khangsar, Muktinath Peak, Nilgiri, and Tilicho, Tilicho Lake offers a picturesque landscape of frozen as well as melted water. This is one of the most famous trekking destination for trekkers.
Passing through the thriving subtropical forests over moraine, through the alpines, along scorched cliffs, and over the Thorong La Pass, the Tilicho trek is a challenging but memorable experience. In addition, there are other easy routes to get to the blissful Tilicho Lake.
Shey Phoksundo Lake
Address: Dolpa 21400
Situated at an altitude of 11800ft in the Himalayan region of the Dolpa district, Shey Phoksundo is an alpine freshwater lake and the deepest lake in Nepal. The unsurpassable splendor, unscathed natural variety of the area, and the lake make this one of the best places to visit in Nepal.
Each of these lakes in the Himalayas has a different treat to offer to the visitors. The eye fixation that is garnered from the tour of Shey Phoksundo will be one to savor for life.
Gokyo Lakes
Address: Gokyo, Khumjung 56000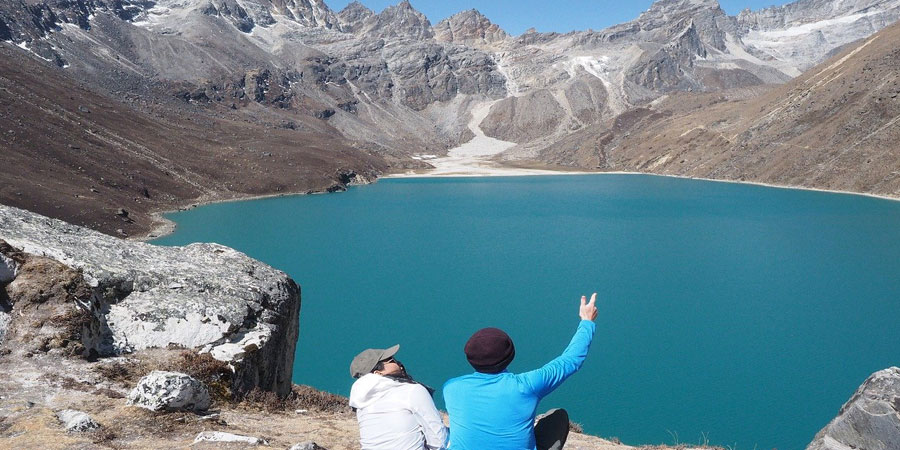 Photo Credit: scottinthailand from Pixabay
As one of the highest lakes of the world, standing tall at an altitude of 18000ft above sea level, Gokyo is a freshwater lake comprising of six lakes collectively known as the Ramsar site. The lake has a high religious significance for the Hindus and the Buddhists.
In broad daylight, the snow-capped mountains surrounding the lake and the bluish and greenish water reflecting the sunlight form an amazing view which is an absolute glee for anyone. Gokyo can be visited when on a trek to Everest Base Camp. Gokyo is one of the top places to visit in Nepal.
Tengboche Monastery
Address: Tengboche, Khumjung 56000
Rooted in the backdrop of the Mt. Ama Dablam, Tengboche Monastery is one of the most famous monasteries in Nepal which lies in the Khumbu region. October is probably the best month to visit Tengboche because of the colorful Mani Rimdu festival, a zenith of Buddhist merriment with devout gatherings, songs, dances, and enactment of their Legends. However, Tengboche remains beautiful throughout the year.
People from all walks of life are welcomed to participate in the festival. Mountains and hills covered with red rhododendron, pines, and azaleas surround the beautiful monastery, making it one of the best places to visit in Nepal.
Tsho Rolpa
Address: Rolwaling Valley, Dolakha 45500
Located in Rolwaling Valley at an altitude of 15000ft, Tsho Rolpa is one of the biggest glacial lakes in Nepal. Tsho Rolpa offers a majestic view of the magnificent mountains such as Everest, Gaurishankar, Langtang, and also the astonishing Tama Koshi River. Also known as Chho Rolpa, is a popular tourist destination.
Enjoy Holi
Address: Kathmandu 44600
Holi, the festival of colors, is indubitably the most fun-packed and unruly Hindu festival which brings pristine ecstasy and mirth, music and boogie, and obviously, lots of colors. Holi marks the start of the spring season and it glorifies good harvest and the fertility of lands. Similar to all Hindu festivals, Holi is inevitably associated with mythological tales.
Filled with positive vibrations and vigor in the air, the entire ambient is joyful and fun-filled. People leave behind all of their burdens to enjoy this festival to the fullest. With special sweets drinks and beautiful colors on every energetic face, participating in Holi provides you life unforgettable experiences.
Celebrate Dashain/Dusshera with the Locals
Address: Nepal
Dashain is a festival associated with the legends of Lord Ram and Goddess Durga. These festivals mark the triumph of good over evil. Lasting for a fortnight, each day of the festival has a significant meaning. Most of the days of the month are a national holiday and this is the month when families and relatives gather under the same roof. Dashain is marked as the biggest and longest Hindu Festival in Nepal.
The whole nation is filled with a divine and tranquil yet boisterous environment. Religious songs, statues made from mud, temples filled with devotees in the morning, the enchantment of prayers, and the amazing smell of flowers and incense sticks make celebrating Dashain one of the most interesting things to do in Nepal – Kathmandu during the month of September-October.
Celebrate Deepawali/Tihar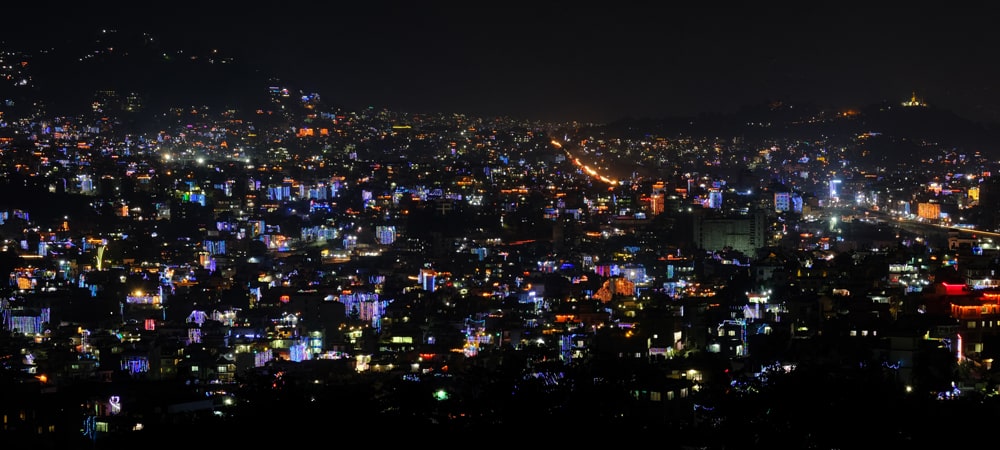 Photo Credit: unsplash
Address: Kathmandu 44600
Deepawali is the festival of lights that marks the return of the legend of Lord Rama to his hometown after 14 years which he had spent in the woods along with his brother and wife.
Taking place in the same month as Dashain, Deepawali is an irresistible festival in which you can observe bustling markets, homes, and buildings decorated with lights, a variety of sweets, music and dance, traditional attires, culinary variety, and people participating in Bhailo and Deusi (a tradition of singing at people's doorsteps asking for the food). Taking part in this festival is fun in Nepal during the month of October-November.
Explore the street food
Address: Nepal
Nepal is famous for its street food. In the streets of Nepal, you can find Chatpate, samosa, paani puri, aalu nimki, mo:mo, chow mien, sweets, pakodas, syabhale, laphing, hakuchoila, senla mu, swanpuka, bhuttan, mainh, and many others.
Different streets in Nepal are famous for different types of street food. Exploring and tasting new flavors is one of the new experiences you want to try while you are in Nepal.
Explore the sweets and local dishes
Address: Nepal
Nepal is a rich country in terms of its culinary taste and variety. The sweets and the local dishes of Nepal are somewhat similar to some Indian Dishes.
Some of the specialties of Nepal are the Juju Dhau, also known as the king of Yoghurts, sweets made from milk products, daal bhat thaali, mango, apples from Jumla and Mustang, Tharu dishes, Newari dishes, different varieties of mutton, chicken, and buff, local beverages, and more.
Rara National Park
Address: Rara 21106
Located in the Himalayas of far western Nepal, Rara National park is the smallest yet one of the most beautiful national parks in Nepal.
Surrounded by blue pines, black juniper, Himalayan spruce, rhododendron, and Himalayan cypress, Rara is astonishingly beautiful. It is home to Rara Lake and a species of snow trout that exist only in this national park. An important staging point for the migratory birds, Rara National Park is among the famous places to visit in Nepal.
Attend the fair in Lumbini at Buddha Jayanti
Address: Mayadevi 32914
Buddha Jayanti/Purnima marks the birthday of Gautam Buddha, on whose beliefs Buddhism was founded. A grand fair and procession is organized by the Lumbini Area Development Committee and devotees from all over the world gather to pay homage and revere the Legend of Buddha.
The large number of devotees coming to the vast area of Lumbini creates a melting pot of culture and tradition. On the day of Buddha Jayanti, Lumbini is one of the best places to visit with your near and dear ones.
Gorkha Durbar
Address: Gorkha Bazaar 34000
Gorkha Durbar has everything to do with the existence of Nepal as a country, as it marks the birthplace of Prithvi Narayan Shah, who unified different territories into a single one, Nepal, by being victorious in almost all of his battles. Built-in the 16th century, Gorkha Durbar was the palace of the Shah dynasty before they moved to Narayanhiti, the capital of modern Nepal.
With immaculate architecture, Gorkha Durbar has hundreds of stairs to reach the main palace. Gorkha is probably the most eminent part of Nepali History. Visiting Gorkha Durbar, and Gorkha, in general, is one of the best things to do in Nepal.
Raani Mahal
Address: Bougha Gumha 32500
Celebrated as a symbol of love, Raani Mahal (queen palace) was built by the king of Palpa (today a district in mid-Nepal) for his beloved queen as an outing and solitary place. Built on the banks of Kaligandaki River, Raani Mahal is also known as Taj Mahal of Nepal.
The place is an easy trek from Tansen, a town in Palpa. If you are visiting with your partner, then this is most probably one of the best places to visit in Nepal.
National Museum of Nepal
Address: Kathmandu, 44600
Are you a hardcore history buff? If you are, then this place is most certainly for you, as it will help you to visualize the older Nepal. There is a lot of information pertaining to Buddha and Buddhism and culture in general, as well as a varied historic art collection.
This museum has meticulously wrapped the absolute history of Nepal under a roof. Located in Kathmandu, the National Museum is one of the best things to do in Nepal – Kathmandu.
Address: Bhimdatta 10400
Shuklaphanta has been upgraded from a wildlife reserve to National Park. It is named after the astounding open grassland. Located in far western Terai, the park is home to Asia's largest swamp deer population, and to tigers, crocodiles, rhinos, migratory birds, and wild elephants.
If you adore the wilderness of nature, then this Park is one of the top places to visit in Nepal.
Participate in Paddy Cultivation
Address: Nepal
Rice is the most grown food in Nepal. Locals and farmers participate in the event of paddy cultivation in the month of June, on the day of Asadh 15 (a Nepali calendar date that most probably falls in the last ten days of June).
You can immerse yourself in the local music, cuisine (especially the one called Dahi chiura), and in the playful and muddy environment. This is one of the fun and cool things to do in Nepal.
Taste Tongba
Address: Taplejung 57500
Tongba is an exclusive drink of the Himalayas in eastern Nepal and of the places bordering the area, like Tibet and some parts of India. Tongba can be simply described as a hot beer, but it is more than that. Served in a fabulous bamboo goblet carved from a fully grown plant, laid atop a saucer, and embellished with a straw, Tongba must be the only alcoholic drink that is not sipped but sucked through a straw.
The stuffing, inexplicably, looks like a solid mass of gloomy grains until the goblet is filled with warm water and the Tongba emerges as a yellowish, cloudy swivel of fluid. Taste Tongba, as it is one of the interesting things to do in Nepal.
Experience the taste of Mad Honey
Address: Talo Chipla, Lamjung 33600
Famously known as the honey hunters, the Gurungs of the Annapurna region are popular for hunting the Mad Honey. This honey is used as a sweetener and as a placid painkiller to dull down aches and to alter the mood for recreational purposes. The honey, which is exported to different countries, is also used as medicine for arthritis and to enhance fertility.
Experiencing the wilderness of the area is one of the best things to do in Nepal, as it will provide you with a sensation of being on a blissful journey.
Sanga
Address: Chittapol, Bhaktapur 44800
Renowned for being home to the tallest statue of Lord Shiva in the whole world, Sanga is a religious as well as sight-seeing spot. Located near the Kathmandu Valley, Sanga is half an hour away from Kathmandu City heading towards Banepa through Bhaktapur. The view of the area from the top of the temple is fascinating in every aspect. Sanga is one of the best places to visit in Nepal because of the serene environment, the architectural wonders of the statue, and the view that the place has to offer.
Dhulikhel
Address: Dhulikhel 45200
Dhulikhel offers the edge of the ridges from which you can view peaks such as Langtang in the west. Dhulikhel is also a town lined up with temples and village squares.
From luxury hotels to homestay in huts, Dhulikhel has all kinds of accommodation to offer to visitors. Panauti also is a famous destination within minutes from Dhulikhel by car. Dhulikhel is definitely one of the best famous things to do in Nepal with family.
Taudaha Lake
Address: Kirtipur 44600
Photo Credit: Shaouraav Shreshtha on Unsplash
Also referred to as Nagdaha Lake, Taudaha means 'snake' and 'lake'. You can explore the periphery of Kathmandu Valley and enjoy the splendor of Taudaha Lake. Located in the outskirts of Kathmandu city, Taudaha is a small yet captivating lake with residential buildings and hotel businesses in its surroundings.
The name actually comes from Buddhist mythology in which Manjushree, a mythical character, had cut the hill to drain the water of this lake, shaping Kathmandu Valley into a residential space, which is why the lake is so small now. This is the lake where the Serpent King lived and was left homeless after Manjushree drained the Lake. Therefore, the legend of Manjushree and the Lake is something that makes this place one of the best places to visit in Nepal.
Pony Trek Expedition
Address: Muktinath/ Pokhara
If horse riding fascinates you, then the coolest thing for you to do is going for a pony trek. Riding a horse with a cool breeze blowing in your face is an absolute delight for anyone. You can go for the ride even if you are inexperienced in horse riding, as there are locals who help you out.
The best routes for pony trek are Pokhara to Begnas Lake and Pokhara to Sarangkot. In addition, in the Jomsom/Muktinath area, every route is appropriate for a pony trek. Pony trek is undeniably one of the most fun things to do in Nepal.
'Highway' To Dhampus
Address: Dhampus 33700
The journey to Dhampus is more of a trek. The word 'highway' is just a metaphor for a quick path to the lap of Mother Nature. Dhampus trek offers you some incredible nature pleasantries that are bound to leave you speechless. The trek starts from a beautiful village, Ghandruk, or from a river camp that is in the nearby region.
This trek is not difficult, but it is a fruitful journey; thus, the metaphor of the Highway to Dhampus is right. As one of the top things to do in Nepal with family, Dhampus will help you to engage in a nature rendezvous that will instantly capture your heart.
Tamang Heritage Trail
Address: Gatlang 45000
With picturesque views, terraced fields, and other scenic beauty, Tamang heritage trial will take you on a journey in a tranquil and serene environment where you will encounter several peaceful valleys.
If you are new to trekking or have health issues preventing you from taking part in expeditions with higher difficulty levels, then most certainly this easy trek is one of the best things to do in Nepal.
Address: Kathmandu 44600
Thamel is probably visited by every tourist going to Nepal. While walking around Thamel, you will encounter this place which looks like Boudhnath but is intriguing in its own way. Kathesimbhu is surrounded by other small stupas and temples and it is a holy place for Buddhists and Hindus. The best part of visiting this place is that you do not have to pay for it like other major temples, stupas, and monasteries.
Meditation
Address: Mayadevi, 32900
Apart from its natural beauty and trekking paths, Nepal is famous for its spirituality. There are several centers for meditation and yoga in Nepal. The best of them is Lumbini. The greatest season to experience the impact of spirituality and meditation in Lumbini is after October, which is when the climate is benign; summer, on the other hand, is not bearable for many people.
The courses and training provided at these places help you to achieve self-realization and to understand the world in a way that had not crossed your thoughts before. Being in such places meditating and learning about your inner self and the world is one of the best experiences you want to have while you are in Nepal.
Nepal is a hub for natural and scenic beauty. Professional photographers and filmmakers have been visiting Nepal more frequently these days. Capturing the splendor and the picturesque view is a hobby for many and a profession for a few.
With movies from Hollywood and Bollywood being filmed here, filmmaking and photography are some of the popular activities you can do in Nepal.
Shopping
Shopping is a very enjoyable thing to do when you are in a foreign land. In Nepal, you can buy fascinating things. Some of the options to shop for in this foreign land are souvenirs, clothes, and antiques. You can shop items that are only found in Nepal and that will become memories of the tour.
Changu Narayan Temple
Address: Changu Narayan
Listed as a World Heritage Site by UNESCO, Changu Narayan temple holds genuine and mesmerizing works of art, architecture, and sculptures. The well-curated museum in the temple periphery, which features hundreds of exhibits of the traditional Bhaktapur and the medieval period when the Lichchhavis ruled the area, embodies history through its collection. This majestic and historic temple from the Lichchhavi period is indubitably among the most famous thing to do in Nepal – Kathmandu.
Khaptad National Park
Address: Khaptad National Park,10800
Khaptad National Park is one of the least visited National parks in Nepal because of its lack of popularity in the tourist industry. However, despite this fact, Khaptad National Park is one of the best places to visit in Nepal.
The park is home to many herbal and other flora species, as well as to some fauna. You can view interesting spots, like Khaptad Lake, and get a magnificent view of Mt. Api and Mt. Saipal. Located in the far western region of Nepal, Khaptad is a destination for short hikes where you can feel rejuvenated.
Koshi Tappu Wild Life Reserve
Address: Bhairahawa, 56713
Established in 1976, Koshi Tappu, a Ramsar site, and wildlife reserve is home to about 300 species of birds and wildlife such as arna, deer, nilgai, mugger crocodile, and river dolphin. This wetland is also famous for bird watching. Located in the plains of Terai, the easily accessible Koshi Tappu wildlife reserve is one of the top places to visit in Nepal.
Address: Kathmandu 44600
Photo Credit: Shirish Suwal on Unsplash
This eight-day Jatra is one of the most spectacular festivals in Nepal. The chariot of the living Goddess, Kumari, is taken out in a convoy through the main streets of Kathmandu. Thousands of people start the Jatra by erecting a tall pole made from a pine tree at Hanuman Dhoka.
Lakhay, masked dancers in special attire, perform dances all around the area, which makes watching the view of the Durbar Square one of the best things to do in Nepal during Indra Jatra.
Parsa Wildlife Reserve
Address: Parsa 44202
The Parsa wildlife reserve, which is currently waiting to be promoted to National Park, is located in the low lands of Terai. It is home to about 300 species of birds and wild animals such as sambar, hogs, deer, chital, monkeys, langurs, striped hyenas, ratels, jungle cats, and palm civets. There are some rare species of wildlife and birds that are only found in Nepal. These qualities of the Parsa wildlife reserve make it one of the best places to visit in Nepal.
Dharan
Address: Dharan 56700
Located in the eastern region of the Chure Hills, Dharan is a beautiful city that has many sight-seeing spots to offer. The benign temperature, positive vibe, interesting lifestyle, and cultural diversity make the city very alluring.
The major attractions for rubbernecking that make Dharan one of the most famous places in Nepal to visit with your family are Pindeshwori Mandir (temple), Budha Subba Mandir, Shiv Jatta (natural waterfall), Dantakaali Mandir, and Vijaypur Hills.
Participate in Bisket Jatra
Address: Bhaktapur 44800
Celebrated by the Newari community, Bisket Jatra can be defined as the valley's most boisterous Jatra or festival in general. Thousands of people gather on a bowed street to pull two gigantic wooden chariots in different directions. 'Jatra' literally means a group of people coming down the street to celebrate.
Filled with energy, the vibe of the city on the day of Bisket Jatra is on a whole other level. Participating in Bisket Jatra is one of the best things to do in Nepal.
Live with the locals
Address: Nepal
Nepal is a fascinating country with great cultural and geographic diversity. You can stay in various places in different communities and have the experience to cherish for a lifetime. You can arrange to stay in the areas and communities that interest you the most to learn more about them.
Living with local people is one of the most popular things to do in Nepal – Kathmandu. Homestays will help you to connect with the community in a way that cannot be done just by wandering around.
Participate in Ghode Jatra
Address: Kathmandu 44600
Ghode means 'horses', and Ghode Jatra is a parade of horses on the streets of Kathmandu. You will be delighted as you watch skillful demonstrations of gymnastics, karate, judo, tae kwon do, and valiant demonstrations of rescues. The sight and sound of the galloping horses marching to the tunes played by the army band will be a treat as well.
Participating in such a ceremony is most certainly one of the most fun activities. The ceremony also sees the presence of the prime minister and the president of the country.
Volunteering in Nepal
Participating in a rewarding volunteer program in Nepal can be a life-changing experience. The volunteer programs in Nepal welcomes volunteers from all walks of life and they can contribute to teaching project, childcare project, monastery teaching project and medical project.
By joining, you will gain hands-on work experience, learn the Nepali language, immerse in local culture, and most importantly make a real meaningful difference in the life of disadvantaged children and communities.
FAQs