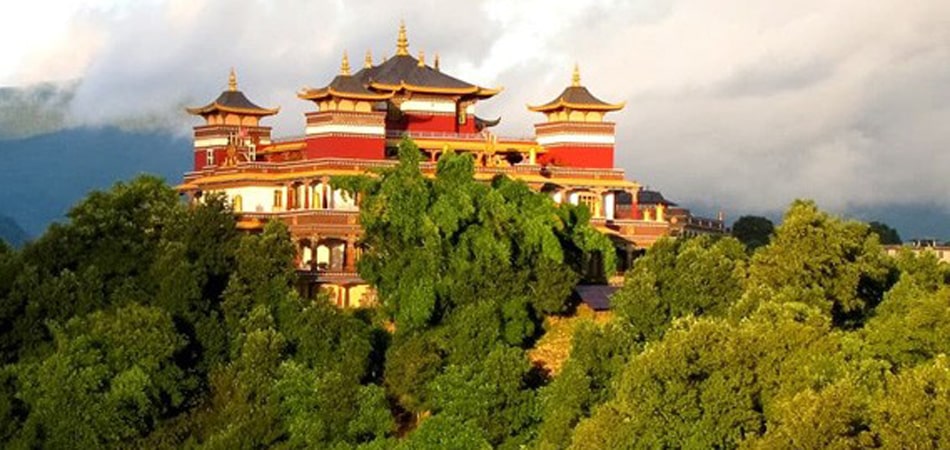 Image Credit :https://www.nepal-travel-guide.com/great-monasteries-in-nepal/
Are you interested in traveling to Nepal? Do you want to visit sacred Nepalese monasteries? Do you want to learn in detail about the sacred Buddhist monasteries in Nepal? You have come to the right place. Keep on reading this article to learn in detail about the most sacred monasteries in Nepal, types of monasteries, monastery locations and much more.
Nepal is a secular Himalayan country. Buddhism is the most followed religion in Nepal after Hinduism. The birthplace of Lord Gautam Buddha, Nepal, has a rich Buddhist history and numerous significant monasteries scattered throughout the country.
These monasteries of Nepal are renowned worldwide as places of worship and a center of architecture, art and spiritual learning. Also, they have been serving as a repository of ancient Buddhist traditions, knowledge, and practices for generations. So, the monasteries of Nepal have been a center of attraction for tourists, devotees and travelers from all over the world.
The Nepalese monasteries are constructed in a unique style. They reflect the diverse architectural and cultural influence of the region. Many of these holy monasteries are situated in the Himalayan region, such as Thubchen Gompa in the Mustang region, Tengboche Monastery in the Khumbu region and Shey Gompa in the Dolpo region.
These monasteries offer you a glimpse of the culture and traditions of Buddhism. During your visit to these sacred sites, you will experience a tranquil atmosphere for self-reflection, meditation and contemplation.
Types of Monasteries in Nepal
Image Credit :https://visitsnepal.com/product/lumbini-monastic-site/
Nepal is home to several types of monasteries, each serving a unique purpose with a unique tradition and characteristics. From elaborate Gumbas to Small Viharas, each of these Nepalese monasteries play an essential role in the preservation and passing of the rich and diverse Buddhist heritage in Nepal. Here is a detailed overview of the several types of monasteries in Nepal:
Vihara is a monastery that associates itself with the Theravada Buddhist tradition. These monasteries are more elaborative in decoration and architectural design. Vihara is a sanctuary for people devoted to the Buddhist path. 
Gumba: Gumba or also known as Gompa, features intricate artwork and elaborate architecture. They are often located in remote areas away from the urban and city areas. These monasteries serve as cultural and spiritual centers for devotees to retreat, contemplate, and follow religious teaching.
Stupa: Stupas serve as a shrine for worship according to Buddhist tradition. A stupa is a hemispherical structure that contains relics and the remains of Buddhist nuns and monks. They are generally used for meditation and ritual practices such as pradakshina and circumambulation.
Chaitya: A Chaitya is a type of Monastery that commonly refers to a sanctuary, shrine, prayer hall or temple. In the Buddhist religion, the term is commonly associated with a space with a stupa and a high roof featuring a rounded profile. Buddhist devotees use the place for cultural activities, worship and social gatherings.
Famous Monasteries in Nepal
As a testament to the teachings of Lord Gautam Buddha, numerous shrines and monasteries have been built over the centuries in Nepal. Travelers who visit these monasteries experience a sense of religious and spiritual awakening. The Monasteries of Nepal also act as a perfect site for travelers to experience the quiet and peaceful surroundings. Some of the significant monasteries in Nepal are:
Boudhanath Stupa: The Boudhanath Stupa is Nepalese monastery is a revered religious site, which is located in Kathmandu city of Nepal. The Stupa is also referred to as Khāsti Chityā or Boudha Stupa and is one of the Largest Stupas in the world. Further, the iconic UNESCO World Heritage Site is believed to be built during the 14th century.
The Stupa stands over 36 meters tall, is crowned with a gold spire at the top and is surrounded by prayer flags. It is regarded as a bustling hub for spiritual activity. Numerous visitors and pilgrims visit the Stupa every day and walk around in a clockwise direction while chanting mantras and spinning prayer wheels.
Swayambhunath Stupa: Commonly referred to as the Monkey Temple, the Stupa is a famous religious site located on a hilltop in the Kathmandu valley. The iconic structure is also a UNESCO World Heritage Site and is believed to have been built over 2000 years ago.
Like most Nepal's monasteries, the Stupa is surrounded by smaller temples and shrines dedicated to pilgrimage and spiritual activity. At the same time, the complex of the Stupa features a small museum showcasing the respective site's architecture and history. In terms of architecture, the white dome of the Stupa is decorated with painted eyes, representing Lord Buddha's all-seeing nature.
Travelers can make their way to the Stupa by climbing the 365 steps with panoramic views of Kathmandu city and the surrounding mountains. For an immersive experience, you can visit the Stupa during festivals like Buddha Jayanti and Losar to participate in rituals and prayers and seek blessings.
Namobuddha Monastery: The sacred Buddhist site is located in the Kavrepalanchok district of Nepal. The Monastery is situated on a hilltop offering magnificent views of the surrounding landscapes and mountain range.
The history of the Namobuddha Monastery dates back to ancient times. It is believed that Lord Gautam Buddha, in one of his previous lives, came to Namobuddha and saw a starving tigress and her cubs. In his compassion, Gautam Buddha offered his body to feed the tigress and her cubs. The act of kindness by Lord Buddha is considered to be a symbol of compassion and sacrifice in Buddhist culture.
The particular Nepalese Monastery was founded in the early 20th century by Khenchen Thrangu Rinpoche, a prominent Tibetan Buddhist teacher. Ever since the Namo Buddha monastery has been a center for travelers and devotees. The meditation rooms and player hall are some significant highlights of the Monastery. During your visit, you can engage in meditation and spiritual retreat programs to immerse yourself in Buddhist practices and teachings.
Kapan Monastery: The Monastery is situated on the northern outskirts of Kathmandu. The monastery is renowned for its stunning views and tranquil surroundings. It was built in 1969 and currently houses more than 300 nuns and monks who practice and study the teaching of Buddhism in its traditional form.
Kapan Monastery is regarded as one of the important monasteries in Nepal, as it hosts the annual Chenrezig initiation ceremony. The event attracts devotees and Buddhist practitioners from all around the world. The seven-day ceremony includes meditation, teaching and initiation of the Chenrezig practices.
The Monastery is adorned with sculptures, colorful murals, and prayer flags. You can admire sacred relics and intricate artworks by exploring the meditation halls, shrines and temples surrounding the Monastery. During your visit, you can indulge in meditation courses and retreats to practice mindfulness and its significant benefits.
Tengboche Monastery: It is one of the renowned monasteries of Nepal. The Monastery is located in the Tengboche village in the Khumbu region. Tengboche monastery, also known as Dawa Choling Gompa, sits at an altitude of 3 867 meters and is the largest Monastery in the Himalayan region of Nepal.
The pristine Monastery was established in 1916 and is regarded as an iconic symbol of the culture and tradition of the Sherpa people. The Monastery is famous for the Mani Rimdu festival, which happens annually and attracts thousands of travelers annually. Tourists from around the world visit to witness the celebration of the Buddhist faith, including rituals, performances, and meditation practices.
It is also famous for its stunning architecture, intricate artwork and breathtaking mountain views. You can admire the prayer hall, Buddha Statue and Mani wall, decorated with thousands of prayer stones. This Monastery is a popular destination for trekkers in the Everest region.
Shechen Monastery: The Tibetan Buddhist Monastery is located in Bouda, Kathmandu, Nepal. It was founded by Dilgo Khyentse Rinpoche in 1980 and is a center for Buddhist study and practices in the area. In terms of traditional influence, the spiritual practices, artwork, and architecture are based on the Nyingma tradition of Tibetan Buddhism.
The Monastery houses numerous collections of scrolls, manuscripts, and ancient texts. You can explore and spend your time in the monastery library, prayer, and meditation hall. We encourage you to participate in various spiritual practices throughout the year. One of the most significant events at the Monastery is the Shenchen Monlam prayer festival.
The main aim of the article is to provide you with a valuable insight on the Monasteries of Nepal. To make your travel experience convenient in Nepal, we highly recommend you the best trekking companies in Nepal and top rated Nepalese travel agencies. Their excellent quality and service will make your travel experience in Nepal a memorable one.
Monastery Etiquette for Visitors
Visiting one of the monasteries in Nepal is an enriching experience. Like any sacred site, you need to observe certain etiquette. This helps in showing respect for the culture and tradition practiced within the Monastery. Observing this etiquette allows you to create positive and memorable experiences for yourself. To make it easier for you, we have listed some essential guidelines you must follow while visiting the Monastery.
Remove your shoes: You must remove your shoes before entering a monastery or other place of worship. You can keep your shoes and foot garments on a shoe rack. Besides, you can ask for guidance regarding the placement of your foot wears for safety.
Dress modestly: You must dress modestly while entering a place of worship like a monastery. This means you must not wear revealing clothes and should dress up formally.
Ask for permission: Most of the monasteries of Nepal do not allow photography within their premises. So, make sure you ask for permission before taking pictures of the nuns and monks to show a sign of respect.
Keep your voice down: A monastery is a place for contemplation and meditation. So, keep your voice down and avoid laughing or talking in loud voices near prayer and meditation halls. Besides, consider turning off or keeping your mobile phones on silent mode to avoid disturbing the prayers and meditation of the nuns and monks.
Avoid physical contact with your feet: Touching someone or anything is considered disrespectful. You must apologize if you touch someone by accident with your feet.
Go with the flow: While exploring sacred sites like Stupas and monasteries, you must walk in a clockwise direction. If you want to experience the practices and prayers, ask for guidance; the local people and monks will be glad to help you.
Do not disturb the monks or nuns: The nuns and monks in Nepalese monasteries are often engaged in spiritual meditation and practices. So, avoid any disturbances like taking photographs, talking loudly and standing too close to them.
Benefits of Visiting Monasteries in Nepal
Visiting one of these monasteries in Nepal offers you a range of benefits, such as spiritual growth, cultural immersion, and exposure to art and architecture. These are some of the aspects of the monasteries of Nepal worth a visit, providing you with a unique understanding and experience of cultural and personal growth. To provide you with a brief overview, here are some of the benefits of visiting monasteries of Nepal:
Peaceful and calming environment: These monasteries are surrounded by forests and mountains, offering a serene environment. The atmosphere gives you a sense of peace, helping you forget stress and negativity.
Cultural and spiritual immersion: Nepal is a fusion of different religions and beliefs; visiting a Buddhist monastery will help you gain insight into the region's traditions, spiritual practices and culture. You will also experience the unique blend of Nepali and Tibetan traditions and culture.
Exposure to art and architecture: These monasteries are known for their intricate and beautiful architecture, including sacred objects, colorful murals and carvings. You can appreciate the beauty and aesthetic of the monasteries and understand the spiritual and cultural significance of these works of art.
Opportunities for meditation and self-reflection: During your visit to monasteries, you will have the opportunity to learn spiritual practices and mindfulness. Consequently, it will help you develop a sense of clarity of mind and self-awareness.
Contribution to local communities: Many of these monasteries are involved in community development, social welfare projects, healthcare and environmental conservation activities. So, visiting and contributing to the Monastery will provide an opportunity to learn and support these initiatives dedicated to the local community's well-being.
Monastic Festivals and Celebrations
The monastic festivals and celebrations are a crucial part of Nepalese culture as they reflect the monastic communities' spiritual practices and traditions. During these celebrations and festivals, nuns, monks and visitors celebrate the diversity and richness of their faith and engage in religious practices to honor their spiritual heritage.
The monastic festivals are often associated with the teaching of Lord Buddha and involve the recitation of mantras, prayers and the practice of meditation. Some of the important monastic and Buddhist festivals celebrated in the Monasteries in Nepal are:
Losar- The Tibetan New Year.
Buddha Jayanti- The celebration of the Buddha's birth, enlightenment, and death.
Chotrul Duchen- A festival commemorating the Buddha's miracles.
Mani Rimdu – A Sherpa festival celebrated in Tengboche Monastery.
FAQs
Can I stay in a monastery in Nepal?
Though most of the monasteries do not allow visitors to stay in a monastery, some monasteries can give you the chance to stay. While staying in the monastery, you can learn and observe the daily life of the monks and nuns.
How do I get to Tengboche Monastery?
You can start your journey to Tengboche Monastery from Lukla. The classic journey to Tengboche monastery usually takes around 4 days from Lukla.
Which is the highest monasteries in Nepal?
Tengboche monastery, situated at an altitude of 3,867 metres (12,687 ft) is the highest monastery in Nepal.