Has it been a dream of yours to explore all that Uruguay has to offer? Would it interest you to know about the top rated Uruguay tour operators? Do you want to discover the highest rated and safest tour companies to help you on your trip?
While you are on vacation in Uruguay, your time may be spent tasting the famous wine that the country is most known for. You may also end up exploring the beautiful valleys, beaches, and mountain ranges that the country offers. There is also the famous Casapueblo. an all-white building overlooking the ocean. Regardless of where you decide to spend your time while exploring and making memories in a Uruguay tour, it will be the perfect opportunity to see a beautiful country and create lasting memories.
When choosing to participate in a tour with a Uruguay tour agency, you will need to conduct many hours of research and it is likely that you do not have the time to do this. We would hate for you to have to invest so much time into the different options to choose from so we have done the legwork for you. You can find this perfect guide to the best 10 tour companies in Uruguay. Our primary goal is to ensure that your time spent in Uruguay is filled with happiness and no regrets while you explore the country with a trusted tour company.
It is our strong opinion that if the correct research into tour providers is not done, you run the risk of ruining your entire vacation and investing thousands of dollars into a measly and lackluster experience. Your money and time should be respected and with the help of this guide, you can be sure to make the right choice. Due to these concerns, we have researched for countless hours and put together the perfect guide over the top 10 best Uruguay tour agencies available.
Here is an unbiased list of the Top 10 most reputable Uruguay tour operators.
Providers
Package
Reviews
Free Walking Tour
CYCLO BIKING TOUR
Private Tour
Trip Advisor -574 reviews
Master Turismo
Walking Tour
Montevideo City Tour
Trip Advisor – 578 reviews
The Wine Experience
Punta del Este
CRUISE TOURS
Trip Advisor – 326 reviews
Top Private Tours
Montevideo Private City Tour
Montevideo Wine Tour + Flight Tour
Trip Advisor – 185 reviews
Montevideo City Tour
City Tour Montevideo
Wineries and Vineyards
Trip Advisor- 322 reviews
Borravino Wine Tours
Uruguay, 3 days of Tannat
Colonia Wine Tour
Trip Advisor – 92 reviews
Bike Tours Uruguay
LONGER TOURS
THEMATIC TOURS
Trip Advisor – 98 reviews
VIP Transfers
Punta del Este Tour
Colonial Tour
Trip Advisor – 127 reviews
Montevideo Jewish Tours
Colonial City Tour
PUNTA DEL ESTE
Trip Advisor – 71 reviews
Excellence Turismo
Boat trip to Punta del Este
Helicopter Ride
Trip Advisor -76 reviews
Table update March 21, 2022
Free Walking Tour

Company's location and type: Montevideo, Local Tour Operator
Awards, Certification: 2016/17/18/19 certificate of Excellence By TripAdvisor.
Reviews: 574 reviews on TripAdvisor 96% rated very good and excellent
About Company
Free Walking Tours is Uruguay's very first tour company to provide free walking tours and they want you to join in on the educational fun. Through touring with Free Walking Tours, you will learn many things about the history of Uruguay as well as Montevideo and the culture within the country. They have been awarded the certificate of excellence by TripAdvisor for 4 years in a row and are one of the Uruguay tour operators.
Packages
Free Walking Tours has many years of service in the tourism industry and has a wide selection of fun tours for any type of tourist. You can find the perfect tour program to fit your needs.
The Uruguay biking tour is a great tour option for those interested in taking on a guided bike ride through the city. This mode of tourism allows you to see many parts of the city in a small amount of time. You have the option of doing a Private walking Tour and it is a great choice if you would like a personalized and truly authentic tour experience while in Uruguay. The Colonia Tour takes you into the heart of Portuguese culture and you will be visiting many historical sites that tell the story of Uruguay and how the local culture came to be. If you are a nature lover and would like to be immersed in the beautiful views that Uruguay offers, join in on the Nature Experience tour in Uruguay and see the real Uruguay.
Reviews on Free Walking Tours
One of the best reasons to go with Free Walking tours is their stellar reviews on tripadvisor. They have earned a 4.5-star review out of 574 reviews by past clients. Here is a comment from a past client about their experience:
"Despite the small group at the 3 pm tour, Rodrigo kept us engaged and entertained with interesting stories and history about both Montevideo and Uruguay as a whole…- Bronaughy
Master Tourismo

Company's location and type: Montevideo, Local Tour Operator
Awards, Certification: 5-star review on TripAdvisor
Reviews: 578 reviews on TripAdvisor 99% rated very good and excellent
About Company
Master Tourismo was created from the desire to provide the most excellent service possible to tourists coming from around the world. In order to maintain this desire for excellence, Master Tourismo has carefully selected the best possible team of professional guides and experienced workers for Uruguay tour operators. The company has also been awarded TripAdvisor's Certificate of Excellence in Montevideo tours, and they continue to look towards building a better tour company.
Packages
Master Tourismo is not short on package choices! You can find yourself on a beach getaway or a fun exploration of Montevideo.
Master Tourismo offers a Walking Tour in Uruguay that is perfect for any type of tourist. The tour will take you on a historically educational journey around the quaint city of Montevideo. The Montevideo city tour is a bit different as it will showcase the newer areas of the city as well as a chance to go inside the soccer stadium. His Uruguay tour package also allows you to see the neighborhoods and suburbs where Uruguayans live. Punta del Este is one of the most popular tourist destinations in all of Uruguay for its stunning beaches and good vibes. You will explore the city and commercial center and have lunch. You also have the option to tour the Colonia del Sacramento and learn about its ancient history and how the location has affected the history of Uruguay.
Reviews on Master Tourismo
Master Tourismo has garnered many positive reviews on Tripadvisor. This Uruguay tour company also ranks #1 out of 44 in food and drink companies within Montevideo! See this review from a past client:
"I always love to take a tour when we arrive somewhere new. Of course, perfect weather is always preferred, but on this tour on this day it was rainy…" – James
The Wine Experience
Company's location and type: Montevideo, Local Tour Operator
Awards, Certification: 2 out of 44 in food and Drink Montevideo
Reviews: 326 reviews on Trip Advisor 98% rated very good and excellent
About
The Wine Experience is the best Uruguay tour operator that provides you with an unmatched adventure into the history and culture of Uruguay. As you may know, Uruguay is world-famous for its wind and this is your chance to explore the vineyard and learn about the entire process. Even if you don't drink wine, this is a great chance to see the Best of Montevideo and the heart of the Canelones wine region with Great Architecture, Beautiful Scenery & the Opportunity to meet the Owners of the vineyards as well as the folks who make the great wine you will be sampling.
Packages
In their Punta del Este, Uruguay tour, you will be taken to a massive 20-hectare winery and spend the day exploring the grounds while speaking with winemakers and sampling their creations. The Montevideo, Ecuador wine tour is an extremely private tour that will cater to you for the entire process. You will begin by having a driver pick you up at your location of residence and drive you to a beautiful vineyard. After the vineyard, you will be taken to a handpicked venue in Montevideo with a special menu just for you. Enjoy a fabulous meal with a bottle of wine picked from the vineyard you have just toured.
Reviews on The Wine Experience
This tour company in Uruguay has received hundreds of great reviews. They proudly hold a 5-star rating on TripAdvisor with over 300 reviews. They have a long track record of being one of the best wine tour providers in Uruguay. Tripadvisor ranks them #2 out of 44 other tour operators in the area. See the positive review below:
"We had an excellent day visiting Pizzorno vineyard with our guide Federico! He began by telling us about the city as we started towards the vineyard…- hd1352
Top Private Tours
Company's location and type: Montevideo, Travel Agency
Year of establishment: 2001
Awards, Certification: #4 of 48 Outdoor Activities in Montevideo
Reviews: 280 reviews on TripAdvisor with 95% rated very good or excellent
About
Top Private tours have been a top Uruguay tour operator for many years. Since 2001, they have been providing some of the best tours available, especially in Uruguay. They have very strong attention to detail and each client is very important to them. From the moment you choose a tour with Top Private tours, you will begin receiving an unforgettable tourist experience in Uruguay.
Packages
Top Private Tours offers the best tour programs in Montevideo and has plenty of options to choose from.
The Montevideo, Urugway Private City Tour is an intimate way to get to know the city of Montevideo. You will explore the Old City and see its rich architecture and eat lunch at a delicious restaurant. Montevideo Wine Tour + Flight Tour is a once-in-a-lifetime combination of luxury and fun. Visit a vineyard in the morning and finish the day flying over the sunset in a helicopter while sipping on wine. You could also participate in the Punta del Este City Tour + Sea Lions Is a magnificent opportunity to see one of the best tourist cities in the country and view Sea Lions up close! You also have the great option of joining in on the Punta del Este Wine Tour, Bodega Garzon, and taste fine wines while learning about a massive vineyard that serves millions of customers each year.
Reviews on Top Private Tours
As the #4 rated Tour Company in Montevideo, Top Private Tours is a company that has been around for a long time and has proven itself as a great Uruguay tour operator. We encourage you to take a tour with them. Read this review on tripadvisor left by a past tourist:
"Really enjoyed the penguins, can get up very close. However, getting there was a whole other story. For 2 hours on rutted bumpy farmland (no road) The range rover would have been comfortable, except the back seat was VERY tight…" – Cynthia
Montevideo City Tour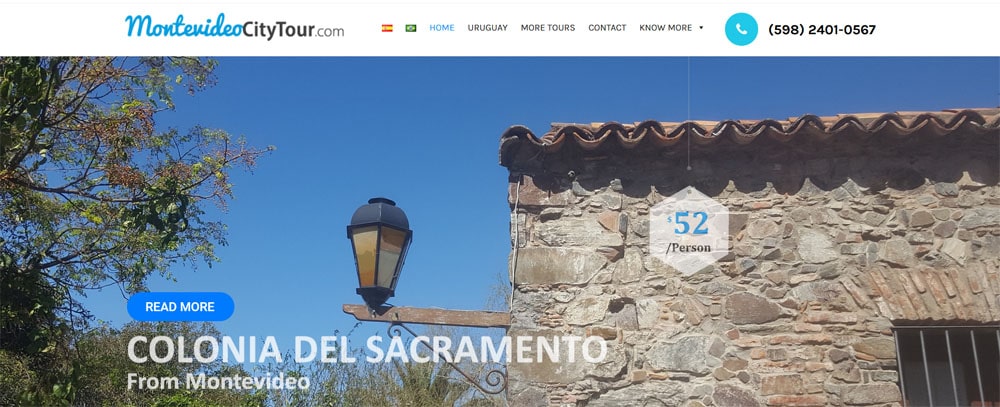 Company's location and type: Montevideo, Local Tour Operator
Year of establishment: 1995
Awards, Certification: #6 out of 48 outdoor activities in Montevideo
Reviews: 322 reviews on Trip Advisor 95% rated very good and excellent
About
Montevideo City Tour has been in operation for over 25 years and has dedicated itself to improving its clients tour experiences each and every day. They have catered to thousands of happy visitors and can proudly say that they offer some of the best tours in Uruguay. Montevideo city is able to offer the highest quality tour guides with many years of experience and a company outfitted with state-of-the-art vehicles and technology. You can discover and enjoy all of Uruguay side-by-side with MontevideoCityTour. It is easy, safe, and convenient.
Packages
You can join a City Tour of Montevideo, Uruguay, and spend the day with yourself or a group, exploring Plaza Independencia, the Old City, El Prado, the Legislative Palace, Tres Cruces, the Battle Park, and the Rambla of Montevideo. Another fantastic tour option is the Wineries and Vineyards tour package in Uruguay where you can spend the entire day hopping from vineyard to vineyard, enjoying wine every wobbly step of the way. As stated previously, Punta del Este is a fantastic location to spend your vacation time, and touring the city with Montevideo City Tours will be an unforgettable experience.
Reviews on Montevideo City Tours
They have 322 reviews on Trip advisor and a 4-star rating, making them the #6 Uruguay tour operator out of 48. They have given great tours to clients for over 25 years and you can see proof of this by reviews such as this one:
"Stopped in while on South American tour and got to visit with my cousin who lives there now and got a tour of the city from him. Very interesting" – Gread
Borravino Wine Tours
Company's location and type: Colonia del Sacramento, Local Tour Operator
Awards, Certification: 2014/2016/2017 certificate of Excellence By trip Advisor.
Reviews: 92 reviews on TripAdvisor 99% rated very good and excellent
About
You will always feel welcomed with Borravino Wine Tours. This Wine tour company offers the best boutique wine experiences in all of Argentina and Paraguay. The company was created by very proud South Americans and they are excited to share with you their carefully crafted wine tours that explore Mendoza and little-known Uruguay. You will experience culture, character, and history. Expect a top-notch tour in one of the best Uruguay tour agencies.
Packages
You can have an immersive cultural experience with the Colonia Wine Tour in Uruguay. In this tour, you will visit two wineries in one day and your time will be spent learning about the inner workings of the vineyards while sampling some delicious wine. Your next package option is the Montevideo, Uruguay Wine Tour. The goal of the tour is to visit a single winery and spend a lot of time face to face with the winemakers, staff, and owners of the winery and vineyard. This is the best option if you are interested in a day trip and the time will be made to fit your schedule.
Reviews on Borravino Wine Tours
Borravino Wine Tours is a seasoned company that has earned the certificate of Excellence By Trip Advisor in 2014/2016/2017. They are also the #1 ranked Food & Drink in Colonia del Sacramento. Borravino Wine Tours is one of the top Uruguay tour operators and here is a review that the company received recently on tripadvisor:
"This was a wonderful way to spend a day from Buenos Aires (quick ferry ride). We walked around Colonia, learned some of the histories, had lunch and enjoyed a private wine tasting in the oldest winery in the area…!" – Jenn H
Bike Tours Uruguay
Company's location and type: Montevideo, Local Tour Operator
Year of establishment: 2010
Awards, Certification: 2011 – 2015 Hall Frame certificate of Excellence by Tripp Advisor.
Reviews: 98 reviews on TripAdvisor 99% rated very good and excellent
About
Bike Tours Uruguay has been providing some of the highest quality Uruguay bike tours since 2010. Choosing a tour package with Bike tours will give you a trilingual tour guide that will educate you on everything there is to know within Montevideo. They will speak Spanish, Portuguese, and English. You will also get water, aluminum bikes, reflective vests for your safety included in the tour as well as Italian helmets with UV protection. A tour with them is truly an unforgettable experience of combining bike riding, nature, and cultural immersion.
Packages
Bike Tours Uruguay has exactly the active tour you are looking for. If you want to cruise around and learn about a beautiful city with the help of an experienced guide, look no further.
For the more adventurous and fit riders, you can go on the Longer Tours option in Uruguay. The local guide will stay by your side and take you on a journey of discovery along the southeast coast of Uruguay. You will experience unique and authentic moments and have an amazing time combining sports and culture into one. Another great tour package in Uruguay is the Thematic option. The tour takes place in 4 different museums so you will learn many things about the history of Uruguay. If you were already planning on visiting Punta Del Este, you could join a bike tour and cycle around the quaint and tranquil island.
Reviews of Bike Tours Uruguay
Bike Tours of Uruguay are ranked #7 of 48 Outdoor Uruguay tour operators and have many reviews commenting on their great attention to detail and amazing customer service. On tripadvisor, they have a 4.5-star score. Look at this positive review:
"We arrived in Montevideo by cruise liner and were met at the port gate by Marcelo. We cycled at a leisurely pace around all the attractions in Montevideo. It is a fairly flat city and the trip is very enjoyable. Would recommend." – Sandy J
VIP Transfers

Company's location and type: Montevideo, Travel Agency
Awards, Certification: #1 of 41 Transportation in Montevideo
Reviews: 127 reviews on Tripadvisor 100% rated very good and excellent
About
VIP Transfers was created to give the highest quality service while giving visitors the maximum level of safety, comfort, and customer service. They want you to focus on having a great time and nothing else. You should not only be enjoying the places you visit, but also the company of VIP transfers. They aim to please and will cater to your needs as a client. As a 5 star company, VIP Transfers is a top Uruguay tour operator.
Packages
The Punta del Este Tour is a great way to invest your time in Uruguay. You will learn about the history of the city and spend time relaxing on the beach and eating some of the best food in the country. Another tour package is the Colonial Tour in Uruguay. This tour lasts 6 hours and your time will be spent in museums and walking along cobblestone paths, learning about the history of where you are. VIP Transfers has created one of the most authentic Montevideo City Tour out of everyone on the list and can provide a great tour of the best locations in Montevideo. For the drink connoisseurs, you can join in on the fun with the Uruguay Wine Tasting tour. You will be taken to multiple locations across Montevideo to taste different wines.
Reviews on VIP Transfers
As a company rated 5 stars on tripadvisor, they easily are one of the top tour providers in Uruguay and deserve your business. You can read what one person said about their tour:
"My mum and I visited Montevideo on a day trip from Buenos Aires in August. We were surprised to find out this transfer service also includes guiding. They are also very caring as wifi and free drinks are provided on the van.." – Yu Hin
Montevideo Jewish Tours

Company's location and type: Montevideo, Local Tour Operator
Year of establishment: 2007
Awards, Certification: #10 of 95 Tours in Montevideo Sightseeing Tours
Reviews: 5-star rating and 71 reviews on TripAdvisor
About
Montevideo Jewish Tours was created by a woman who is also an English teacher. She has a lot of family history connected to Uruguay and Judaism is a large part of who she is and who she represents. She invites you to explore her city and see the secrets that are held within the streets, the beautiful architecture, and the colorful history behind each road. As a company that is over 15 years old with a 5-star rating on trip advisor, touring in Uruguay with Jewish tours is a good bet on a great time.
Packages
You can find yourself indulging in many fun activities in Uruguay and spending quality time exploring a beautiful foreign country with a tour package from Montevideo Jewish Tours.
During the Uruguay Colonial City Tour, you will be seeing the famous neighborhoods, squares, hotels, nice restaurants, and old Portuguese-style houses. You will also explore other historical sites and museums. Joining the Punta Del Este tour with Jewish Tours will have a professional guide bringing you to all of the best spots in the city. You will explore the beaches, neighborhoods, and more. The Highlights of Montevideo and Wine Trail tour Uruguay is the perfect option if you would like to see the best parts of the city and also participate in a fabulous wine tour. They also have an alternative City Tour where you visit the beaches and learn about the history of the immigrants who shaped Uruguay into what it is today.
Reviews on Montevideo Jewish Tours
Tripadvisor has given this Uruguay tour operator the certificate of excellence and they also proudly carry a 5-star rating on their page. Their reviews speak for themselves. You can see what a past client has said on tripadvisor:
"My husband and I very much enjoyed Fanny Margolis' tour especially Learning about the evolution of different sectors of Jews in this South American city. – Bocawriter
Excellence Tourismo
Company's location and type: Montevideo, Tour Company
Year of establishment: 2010
Awards, Certification: 5-star rating on TripAdvisor
Reviews: 76 reviews ranked 99% rated great or excellent
About
Being in business for over 10 years gives Excellence Turismo an advantage when it comes to experience in the tourism industry. They show their hard-earned expertise in the well-designed tour packages available to you. This Uruguay tour operator's attention to detail and customer service will give you the perfect tourist trip to Uruguay. They offer the chance at completing all of your dreams in an authentic and personalized tour experience. Go on a bike tour, wine tour, city tour, and more with Excellence Turismo.
Packages
You can find yourself in between islands while on a Boat trip to Punta del Este. Island hop and enjoy food and drinks while soaking up the sun on a private boat tour. One excliiterating package option with Excellence Turismo is a high-flying helicopter Ride tour in Urugway. Go above the clouds and see Uruguay in an incredible and unforgettable way! Another fun option to get you going and active is a Bike Tour package in Urugway. Explore the city of Montevideo by bicycle and get a chance to see much more than on a walking tour. The City Tour package in Uruguay is a highly researched and curated tour that brings you to many different locations while still providing you with a highly educational and entertaining experience. Your guides are professional and knowledgeable.
Reviews on Excellence Turismo
Excellence Turismo has earned a solid 5-star rating on tripadvisor and they have also been in operation for over 10 years. 100% of people have reviewed them as being great or excellent. You are in good hands and fun-filled Uruguay tours are yours to experience. Here is a recent review left on their TripAdvisor page:
"We used Excellence Turismo to pick us up at the airport and then take us on a tour. Brigit was very interesting and friendly and had a wealth of knowledge…- SBF2
In Conclusion
This top 10 list has been compiled with the intention of educating and assisting you in your search for the best Uruguay tour operators. If you would like to make a trip to Uruguay and immerse yourself in the culture through tour experiences, please use this list to help you in your search.
Once you return from Uruguay, we would be thrilled to hear back about your journey. If you have gone on a tour with one of these companies in the past, send us a message and let us know how it went!
Honorable Mention
Related Links