Image Credit :https://www.altitudehimalaya.com/blog/where-is-mount-everest-located
Are you planning to visit Nepal? Thinking to venturing in an adventurous Everest trekking expedition? Are you looking for the information about backpacks you need for your trekking tour? Your search ends here! Read this article to learn everything in detail about what items you should pack for your trek, what are the best brands, how much does it cost, where you can buy and much more.
The trekking journey to Everest is one of the most loved expeditions amongst adventure enthusiasts. The journey gives you an amazing opportunity to witness the incredible beauty of the white dazzling Himalayas. Not only that, trekking to the Everest region is a great way to delve directly into the rich culture and history of the Sherpa people, who call this amazing region home.
Getting in touch with some of the most iconic peaks like Lhotse, Ama Dablam, and the Superman of all, Mount Everest, throughout the journey is just mesmerizing. The thrill of walking through diverse landscapes right from lush green forests to high-altitude deserts, and swift-flowing rivers is just unmatchable.
However, the challenges of this remarkable journey are as evident as its beauty. The rewarding and unforgettable experiences these expeditions offer is not for any faint-hearted person. You need to be physically and mentally prepared beforehand along with proper preparation and equipment.
Thus, a backpack is an essential piece of gear for anyone willing to go on an Everest expedition. Everest backpacks are prepared specially to transport all the equipment required for a successful trek and climb. Therefore, these backpacks can withstand extreme weather and the mountainous terrain of the Himalayas.
Choosing the perfect gear is crucial to make sure you remain comfortable during the excursion. You should consider factors like size, capacity, comfort, durability, and more for picking up the perfect backpack. The major importance of picking up the right pack is because it helps distribute the load equally throughout the body.
Moreover, a perfect backpack can reduce the pain and discomfort of the body. To make it more functional, the right backpack can have components like, a breathable back panel, hydration system, rain cover, multiple pockets, compression straps, and so on. A quality backpack is an excellent purchase for outdoor lovers because it's not only helpful for one Everest expedition but last many years. However, a crucial fact to not miss is to research to fit the best backpack for your requirement and budget.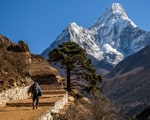 Get Free Quotes, Compare and Save on Your Ultimate Nepal Trekking Experience
Effortlessly connect with multiple Nepal trek providers to find the perfect adventure at the best price.
Things to Know Before You Purchase Backpack for Everest Trekking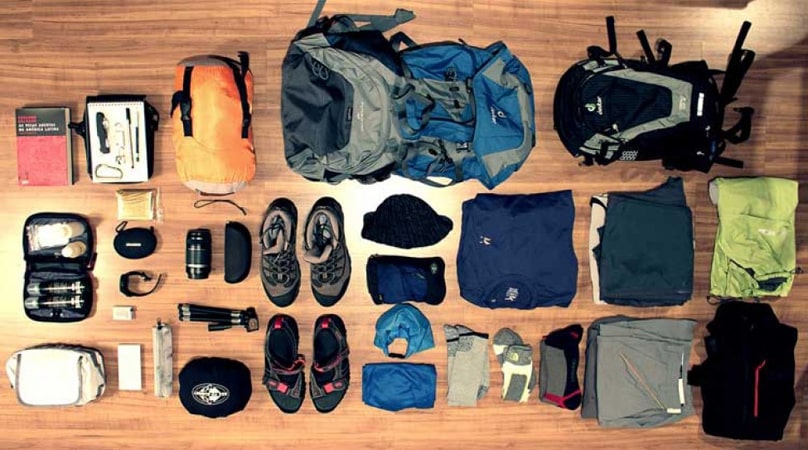 Image Credit : https://highlandexpeditions.com/equipment-checklist-for-everest-base-camp-trek/
The difficulty level of Everest expedition is sure unmeasurable. Uncomfortable backpacks will only add more discomfort to your once in a lifetime journey. The backpack is the only thing by your side helping you carry all the necessities right from your food to medical supplies. Therefore, the right investment made for your backpack is certainly going to make a vast difference in the comfort of your Everest trekking journey. Here are a few things you should not miss while selecting a backpack for your Everest journey:
Research well about backpack sizes and capacity: The duration, season of trekking, and location of your trekking journey will make you think about what you should carry. Therefore you should prepare and research well about the sizes and capacity the backpacks can hold and is comfortable for you as well.
Type of trek: The type of trek you are undergoing also adds value to choosing the perfect backpack. Whether you are looking for a bag up to Everest base camp or the summit, select appropriately.
Durability: Seek out some backpacks that are made of sturdy material and can endure rugged terrain and difficult weather. These need to be durable as the equipment you carry can be fragile.
Comfort and Price: The backpack you are going to select for your journey should not only be comfortable but fit your budget. Buy a good quality backpack without compromising the money. Additionally, make sure these have adjustable straps and hip belts to distribute the load evenly.
Brand reputation: Look for branded Everest backpacks based on the reviews they have got. Also, try the backpack with the weight you are planning to carry which can help you make a confirmed decision.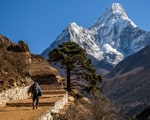 Get Free Quotes, Compare and Save on Your Ultimate Nepal Trekking Experience
Effortlessly connect with multiple Nepal trek providers to find the perfect adventure at the best price.
What is the Ideal Backpack for Everest Trekking?
Selecting a perfect backpack for trekking is surely a daunting task. Carrying a backpack all day long is very tiring while you have to walk steep terrains. Thus, it should only have the essentialities required for your trekking. An ideal backpack is not only comfortable but also adjustable. It feels light on your back and can carry everything important for your expedition.
There are several crucial elements to take into account when choosing the best backpack for yourself. First the size of a backpack. It will directly depend upon the duration of your expedition and your personal preferences. For the Everest base camp elevation, a backpack of 50-60 liters is more than enough. Another thing to look for is backpack fit because it should be comfortable while carrying for long periods. Additionally, a backpack should have padded, body-conforming back panels and adjustable handles. The ideal backpack for Everest trekking is the one that is well-designed with enough space to carry all of your essentials without weighing you down.
Best Features to Look in an Everest Backpack
Choosing a backpack can be different for different people based on their needs and requirements. However, there are a few features that everyone looking for cozy backpacks should look for:
Rain Cover: The temperature on Everest is just unpredictable. Thus, every backpack you buy should have an inbuilt rain cover to keep the gears dry.
Hip Belt and Elastic Strap: A hip belt is considered comfortable to adjust the bad accordingly. Similarly, one with an elastic strap can help attach additional items inside.
Multiple Compartments: A bag with multiple compartments is best to organize the items you carry more specifically.
Top pocket: For keeping emergency items that needed quick access, top pockets are generally essential in a backpack used for Everest trekking.
Sleeping bag compartment: A sleeping bag is another feature needed in a backpack. It's usually at the bottom to provide your body more comfortable and can be used to carry winter jackets as well.
Want to experience the thrill and beauty of Everest with expert guidance but unsure where to find them? Read our article Best trekking companies in Nepal to ease your search for a reputable operator.
Water Resisting Material: The Everest backpack should be made of material that's waterproof. It helps keep essentials safe even during rain.
Side Compartments: Side compartments in a backpack can be used to carry materials like tissue paper, maps, wet wipes, etc.
Compression strap: These straps are helpful to stabilize the load added inside bags. The backpack with adjustable compression straps allowing the load to be more protective is considered perfect.
Water bottle compartments: Trekking to higher altitudes of Mt. Everest require your body to stay hydrated in order to reduce altitude sickness.
Gear loops: These are attached in different locations and are used to carry additional items during your trip. For instance: binoculars, trekking poles, torches, etc.
Haul handle: A must-have and is seen in almost all backpacks is a haul handle. It allows the bag to be picked up quickly and is placed at the top of the bag.
Sternum Strap: Sternum straps should be durable enough to avoid the slippage of the bag.
Breathable back panel: A back panel with ventilation allowing air circulation should be chosen while looking for backpacks. It reduces sweating while climbing difficult terrains.
Hip belt pockets: Another important pocket to have in a perfect backpack are hip belt pockets. Attached to the side of hip belts, these are usually used for carrying permits for Everest, sunglasses, or cell phones.
Load lifter strap: A load lifter strap is one of the most essential features of a backpack used for Everest trekking. These help in managing the load and makes you carry the bag easily. Make sure you mandatorily look for these while buying your backpack.
Everest Backpack Accessories: Essential Items to Carry
Trekking challenges in the Everest region of Nepal are widespread. Thus, you should be packing all such items that help you protect yourself from avoidable challenges. Additionally, you should be careful enough to pack light and essential items making a difference in terms of weight and safety. Here is a list of a few items you should carry during your trekking to the Everest region:
First Aid Kids: No matter where you are traveling, a first aid kid is always essential. Always bring some medicines that can help lower your symptoms of altitude sickness. Make sure you carry all the medicines that you are advised to take regularly.
Trekking poles: While ascending and descending along tough landscapes, the trekking poles are really helpful. Make sure you do not miss these.
Water bottles: Trekking to higher altitudes makes you lose energy frequently making your mouth go dry. Thus, you should focus on keeping yourself hydrated enough to sustain proper health.
Sunglasses, sunscreens, and lip balms: The UV radiation at higher altitudes is strong. Similarly, the cold dry air makes your lips and mouth wilt. Thus, you should protect your skin as well as your body. Sunglasses, suncream, and lip balms are considered very ideal for high-altitude trekking.
Warm clothes: Rather than packing bulky layers, make sure you fit some layers that can keep you warm and are light to carry. Woolen hats and gloves along with some down jackets and thermals are mandatory.
Portable oxygen system: If you are thinking to travel above 8000 meters, known as the Rainbow Valley, bring supplementary oxygen. The air is very thin up there and it's difficult for people to breathe. Also, for people with severe altitude sickness and breathing shortness portable oxygen systems are helpful at lower altitudes as well.
High altitude sleeping bags: If you are going on an EBC trekking, you might not require carrying any such items as the teahouses you stay in provide you with these. However, in all other cases bring high-altitude sleeping bags because the temperature can drop to significantly low values.
Best Backpack Brands for Everest
Moving to the market without enough information about Everest backpack brands will leave you confused. There are a lot of options and varied quality along with a different price tag for each of the bags. Thus, you should identically figure out what you are actually looking for in a backpack. Although there are many brands available in the market, let's discuss a few here:
The North-face
A well-known brand in the market best known for its quality products is North-face. These produce a wide range of outdoor products including backpacks used for trekking. Known for their durability, lightweight, and comfort, the North-face backpacks offer excellent value for the price paid. The North Face backpacks are usually priced in the midrange and have features like padded straps and back panels. These backpacks are one of the best-selling bags in the world and are comfortable to wear for even longer periods.
Embark on a journey of a lifetime during your vacations in Nepal. Trek through some of the stunning mountain routes of Nepal, including Annapurna circuit, Annapurna base camp, Makalu and Manaslu circuit.
Osprey Backpack
Another well-known manufacturer famous for producing a variety of Everest-suitable backpacks is the Osprey brand. These backpacks are perfect for you if you are looking for something comfortable, supporting, and have long-lasting sturdiness. With features like adjustable straps, a ventilation system, and waterproof fabrics, Osprey is known to provide good quality products at mid-range prices.
Deuter Brand
A German brand known for producing high-quality Everest backpacks is Deuter. These lightweight and long-lasting backpacks are available with adjustable harnesses and waterproof features.
Black Diamond:
Another well-known brand among climbers and mountaineers is Black Diamond. It is infamously popular for producing high-quality backpacks build to withstand the rigors of climbing. Best known for their durability, backpacks use materials like Cordura and Kevlar. Although these backpacks are a bit high priced but are sure a one-time investment due to their high quality.
Arc'teryx:
Another popular brand that can be added to the list is Arc'teryx. The backpacks from Arc'teryx are known for their high-quality long-lasting products but are slightly expensive. Prepared from tough materials like ripstop nylon and Gore-Tex, these backpacks are renowned for enduring harsh weather conditions.
Despite the brands we have suggested, it's all up to you which backpack will fit your need, choice, and budget. If you are in Nepal looking for some best backpacks, make sure you visit the Thamel area. Do not forget to bring an experienced person that can help you choose the best backpacks at affordable ranges. Additionally, do not hesitate to invest in some branded backpacks as they go long way if you love traveling and can come in handy multiple times.
FAQs for Everest Backpack
Can you wash an Everest backpack?
Yes, an Everest backpack can be easily washed and cleaned depending on what material it is made of. You need to follow the care label instructions it has to avoid damaging the material.
What size backpack do I need for EBC?
A 55-65 liter backpack is considered ideal for Everest Base Camp trekking. Additionally, to avoid packing large amounts of essentials, you can book an easy helicopter ride to EBC and enjoy the ariel view.
Are Everest bags waterproof?
It completely depends on what type of bag you are buying. Waterproof bags with other necessary features are easily available in the market.