Image Credit : https://www.globaladventurechallenges.com/journal/mind-blowing-facts-about-mount-everest
Are you searching for amazing facts about Mount Everest? Are you interested in discovering the world's tallest mountain and its amazing facts and features? Do you want to share these mesmerizing facts about Mount Everest to your children? Keep on reading this article to learn some of the most fascinating information about the tallest mountain in the world, Mt. Everest. We have covered things right from the death zone of Everest, to the permits you require for the Everest expedition.
Mount Everest-the tallest peak in the world takes you through a mesmerizing journey of Nepal's awe-aspiring nature and dynamic cultures. It is situated in the Himalayas between Nepal and Tibet covered up by drop-dead alluring mountain vistas.
Mt. Everest holds a special place in the hearts of all nature lovers and adventure fanatics. Standing tall with a height of 8848 meters, Mount Everest is not only a true wonder of mother-nature but sure is a magnificent display on the Earth.
The enthralling beauty of Everest enchants a large number of climbers every year to evident the charm. The Mt. Everest expedition offers you the unique culture of the Sherpa people, glaciers, and rafting rivers of Nepal that are unmatched anywhere else in the world.
Here we will take a look into some interesting facts for kids who are willing to learn more about Everest and the surprising facts related to it.
Experience the thrill of the Himalayas with some best trekking companies in Nepal. Book one today.
16 Amazing Facts About Mount Everest for Kids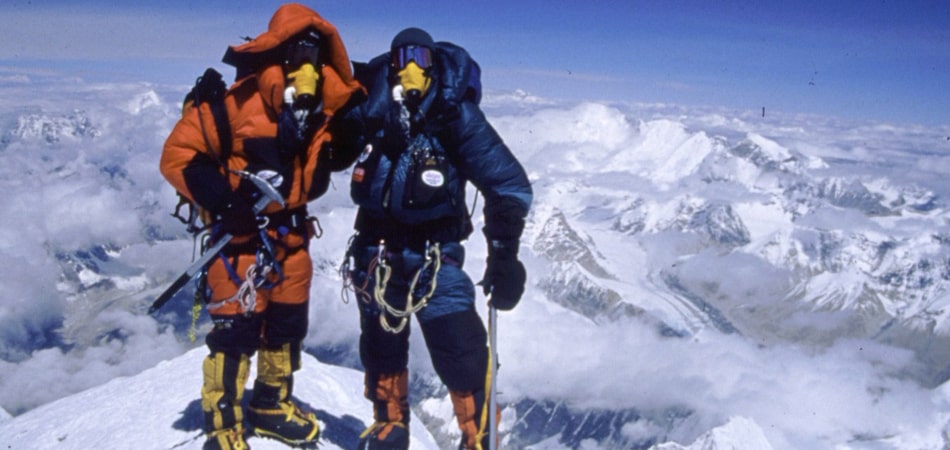 Image Credit : https://www.nepalsanctuarytreks.com/tag/mount-everest-facts-for-kids/
Everest is sure a mysterious art of nature. It certainly captivates the heart of people from all walks of life for decades. It has been a dream destination for a huge number of people despite their age. There is always something new to learn about Everest no matter you are a seasoned mountaineer, an inquisitive student, or a person seeking to educate your child. We will delve into some intriguing and unexpected wonders of this amazing mountain, so be ready to feel amazed whether you are a kid, a teenager, or an adult.
The height of Mount Everest is now changed to 8848.86 meters (29031.7 ft) from 8848 meters.
The new height of Mount Everest is now increased to 8848.86 meters. It was previously reported to be 8848 meters. However, after the survey done jointly by Nepal and China, the long-term debate about the exact height of Everest has come to an end. The new acme of Everest was announced through a program attended by Nepalese Foreign Minister Pradeep Gyawali and his Chinese counterpart Wang Yi.
The trip to Everest is not as easy as it sounds and is very costly. It can cost around $30,000 to $1,60,000
Cost of trekking in Nepal varies on the season you are trekking, location, porter fees, permit costs, and many more. Similarly, climbing Everest is not as fascinating as it sounds. It is very costly too. Right from paying for all the permits to actually paying for climbing the highest peak in the world, it's expensive. Most people plan their trip on their own while many go through experienced mountain expedition operators in Nepal. Whatever the way of preparation, the price of climbing Everest costs around $30,000 to $1,60,000. Averaging the figures, the average costs might take up to around $45,000.
The youngest and oldest people to climb Everest are 13 and 80 years old respectively.
Third, on the list of Mount Everest facts for kids is about the youngest and the oldest human reaching the summit of Everest. Jordon Romero, a 13-year-old American boy set records about climbing the Everest at just the age of 13. Identically, a Japanese mountaineer, Yuichiro Miura, despite having heart issues made a history of bravery climbing Everest at the age of 80.
Mount Everest has a zone named as Death Zone
The extreme climatic conditions, difficult trekking routes, and lack of oxygen due to the high elevation of Everest make it tough for climbers. Thus, every year large number of trekkers lose their lives in hopes of reaching the top. The area above 8000 meters is considered the death zone of Everest. It is because the air up there is thinner and it's almost impossible to survive without supplemental oxygen. This is why, a huge number of travelers die. The death zone of Everest is also known as Rainbow Valley as the colorful clothes of dead bodies shine like the Rainbow from far.
The first person to climb Everest did it in 1952 while the first woman did the Everest expedition 22 years later.
The first persons to be on the Everest summit was non-other than Sir Edmund Hillary from New Zealand and his Sherpa guide from Nepal Tenzing Norga Sherpa. They successfully climbed Everest on May 29, 1953. 22 years later, Junko Tabei, a Japanese mountaineer, author, and teacher became the first lady to set records as the first-ever woman to land on the Everest summit successfully. She set this amazing record in assistance with her Sherpa guide Ang Tsering in 1975.
The highest peak in the world is known for having different names like Everest, Sagarmatha or Chomolungma.
Another fascinating point on the list of Mount Everest facts for kids is its different names. Mount Everest isn't the only name for Everest. In Tibetan culture, it is known as Chomolungma which refers to Goddess Mother of the World. Similarly, Nepali people often call it Sagarmatha which has different meanings but the most commonly referred meaning is Goddess of the Sky. Additionally, Mount Everest was initially named after the Surveyor General of India, George Everest.
The temperature of Everest reaches as low as -59˚C.
Climbing Everest is one of the most incredible journeys you can ever go on. However many challenges are awaiting you along the trails. One of them is the extreme temperature of the summit itself. It's very much freezing up there and the temperature at the summit can reach as low as -59˚C regardless of the season of trekking.
You need to prove to the Nepal Government that you are capable of climbing Everest to get a permit.
Another point to be covered for Mount Everest facts for kids is about permits. Getting a permit is not very simple. Climbing an altitude of 8848 meters is sure no joke. Thus, you need to prove a variety of things before being proved that you are capable enough to safely come out of your Everest endeavor. You need to take numerous training and should have climbed a mountain taller than 6500 meters height before getting a permit to Everest. Additionally, you also need to prove that you are physically and mentally completely fit for this adventure.
Around 800 people try to climb Mount Everest each year.
Most people across the globe dream to be at the summit of Worlds highest mountain but not everyone can pursue this goal. Every year the number of people going on an expedition to Everest ranges differently but on average around 800 people per year give it a go.
The highest glacier of Mount Everest has lost around 2000 years of ice in just 3 decades.
The highest glacier on Mount Everest namely the South Col Glacier is said to have lost the ice which took around 2000 years to form in a course of three decades. It is all due to climate change and is making the travel to Everest even more challenging.
Climbing Mount Everest takes a long time. Some trips can either be as long as 60 days.
Another astonishing fact about Mount Everest for kids is the time it takes to climb Everest. The extreme weather and altitude of Everest make climbing require extensive planning and equipment. You got to be warm and have gears like ice axes, ropes, crampons, etc. Having effective preparation means you can survive the challenges your trips throw at you. The expeditions to Everest are thus lengthy and some trips can take around 60 or more days to complete.
Travellers ascending Everest must have an experienced guide and insurance
A solo trip to Mount Everest is very risky. You need to carry an experienced guide or plan a trip using trip operators. Hiring a local Sherpa guide is fine too. It not only helps you survive a better living but at the same time can help you blend in the new culture well. Similarly, anyone planning an expedition of Mount Everest must also require emergency insurance. It is because despite being extremely careful accidents might happen and thus insurance covers most of your costs.
Despite the harsh Temperature of Everest, few species like the Himalayan Jumping Spider Survive well
The tallest mountain in the world is said to have very unbearable and uncomfortable temperatures making it tough for most creatures to survive. However, few Mount Everest animals like Himalayan Jumping spiders can live through it all year round. It's smaller than a centimeter in size and lives along rocky landscapes.
Sherpas haven't always explored the mountains, they believed that mountains were home to their gods.
Sherpa people didn't begin Mount Everest adventures until the 20th century. For them, the mountains were home to their gods. Although their beliefs might have altered over time, most Sherpas still perform rituals up there to bless people taking part in this amazing journey.
Mount Everest is known as the tallest Mountain in the world only after 1856.
This is an another surprising facts about Mt. Everest for kids. The existence of Mount Everest was unknown for many years. Even the Sherpas were unaware of the fact that the place where they live has one of the tallest mountains in the world. Only after the 19th century, Everest gained any notoriety outside of Asia. Only in 1856, a group of British surveyors made the first measurement of Mount Everest's height and declared it to be the tallest mountain. Slowly expeditions to Everest began after the 1920s and people came to learn about Everest.
You need a permit to climb Mount Everest
The challenges of trekking to the Everest region are huge. Thus, it is almost impossible for anyone to climb Everest. You need a valid permit provided by the Nepal government through a licensed trekking agency to set out on this adventurous journey.
Want to discover stunning landscapes and immerse in the beauty of snow-cladded mountains on your next vacation to Nepal but do not have enough time to spare? Look out for some short treks with the help of short trek operators in Nepal.
FAQs on Mount Everest Facts for Kids
What is Mount Everest?
Mount Everest is a peak in the Himalayan range.
Where is Mount Everest located?
Mount Everest is the highest peak in the Himalayas located between Nepal and Tibet, an autonomous region of China.
How tall is Mount Everest?
Mount Everest, the tallest peak in the world is said to have a height of 8848.86 meters(29031.7 feet). The height was set by a 2020 survey done by joint efforts of China and Nepal.
What is the climate like on Mount Everest?
The climate of Everest is very hostile due to which very few living beings survive up there. The warmest average daytime temperature is only(-19˚C) on the summit. The temperature can get as low as -76˚C.
What kind of animals lives on Mount Everest?
Very few species of animals who have the ability to adapt to the changing climatic conditions can survive on Everest. It includes snow leopard, red panda, Himalayan Tahr, Himalayan bear, Himalayan goral, etc.
How do people climb Mount Everest?
Climbers need months of preparation to ascend Everest. You need a lot of visas and permits along with collecting proper gear and supplies. Reach the Everest Base Camp and acclimatize properly, then start moving upwards by passing through a succession of high camps. A final push from base camps to the top is done before descending back. You can also book a flite ride to Everest Base Camp to enjoy the view if you want to avoid the hassle of continuous trekking for days.
What are some famous Mount Everest climbers?
Tenzing Norgay and Edmund Hillary, Mark Inglis, Junko Tabei, Kami Rita Sherpa, Reinhold Messner, Erik Weihenmayer, etc are some common names who have made it to the Everest summit.
What dangers do climbers face on Mount Everest?
Climbers face several potential risks while summiting Everest. It can be altitude sickness, cold weather, and lack of oxygen can be some severe difficulties you might face. Additionally, other related risks can damage the skin due to strong UV radiation, overcrowding falls/injuries, avalanches, etc.
How has Mount Everest changed over time?
The height of Mount Everest keeps changing over time. It is due to the movement of tectonic plates that can push it upwards while the earthquake can bring it down.
Is Mount Everest man-made or natural?
Everest is said to be made naturally when the Indian and Eurasian tectonic plates collided and generated upward force. The forces pushed up the rocks forming the highest mountain on Earth.
Who named Mount Everest?
The British initially referred to Everest as XV until Andrew Waugh, the surveyor General of India, proposed it be named after his predecessor, Sir George Everest.