Are you fantasizing about a trip to Norway, a stunning destination that has become so popular lately? Are you wondering where to find the best tours in Norway? Are you looking for an affordable, safe, and professional Norway tour operator to plan your trip?
Norway is the land of creeks, picturesque fishing villages, the Northern Lights, the Vikings, trolls, the midnight sun, and scenic drives and hikes. As one of the most affluent cities in Europe, Norway offers great quality facilities, including the best public transport options for travelers. You can arrive in Oslo, take a train to Bergen, then head down to Stavanger or explore Geirangerfjord in the North. The country has remarkable attractions that will make your trip memorable, from the glaciers, mountains, waterfalls, sublime power, fjords, and national parks. You will not miss a highlight to enjoy in the country.
While traveling to Norway is a delightful experience to be appreciated, it can get problematic when you start finding the best Norway tour operators. You will find hundreds of tour companies offering similar tour packages to Norway and claiming to be the best on the internet. You should be cautious to only spend your money with a reputable and professional tour company to deliver the best trip to Norway.
We are here to help you make the best decision. TravellersQuest would hate to see you spend your hard-earned money on the wrong tour company in Norway and potentially ruin your entire vacation. Therefore, we have spent thousands of hours researching and analyzing the top highly rated Norway tour agencies for you. They are all listed right here, in the article below. Read and choose wisely from this list of top 10 tour providers in Norway.
Providers
Package
Reviews
OffTrack Experience
Ski & sail Svalbard glaciers – 8 days
Musher for a week – 7 days
Trip Advisor – 137 reviews
Wandering Owl
Night Photography Workshop
5 Nights Senja Tromsø Guided Hiking Tour
Trip Advisor – 1666 reviews
Greenlander
Northern Lights in Small group in Tromso
Private northern Lights Tour
Trip Advisor – 720 reviews
Better Moments
Arctic Hiking Tours
Walrus safari
Trip Advisor – 647 reviews
Norway Mountain Guides
Fjord hiking
Island Hiking
Trip Advisor – 100 reviews
Fjord Tours
The original Norway in a nutshell
Hiking & Local Food
Trip Advisor – 2162 reviews
FjordSafari
Private Heritage Safari
Private Aurlandsfjord Fjordsafari
Trip Advisor – 1054 reviews
Geiranger Fjordservice AS
Exclusive Fjord Sightseeing in Geiranger
Helicopter sightseeing
Trip Advisor – 369 reviews
Chasing Lights
Northern Lights Minibus Chase
Fjord & Wildlife Cruise
Trip Advisor – 2794 reviews
Enjoy the Arctic
Northern Lights
Ice Fishing
Trip Advisor – 787 reviews
Table update Oct 12, 2021
OffTrack
Company's location and type: Tromso Local Tour Operator
Awards, Certification: Ranked #6 Trip Advisor Certificate of Excellence 2020
Reviews: 137 reviews on Trip Advisor 97 % rated professional and excellent
About Company
Based in the raw wilderness of Northern Norway, OffTrack is a leading tour agency in Norway with a passion for mountains and oceans. With over 25 years of experience, the company delivers tailor-made adventures for small groups to the Arctic. Their mission is to inspire, excite, and engage you leaving you feeling richer with new friends and experiences. Besides, OffTrack is committed to making a low impact on the environment to ensure a positive and meaningful experience while promoting sustainable tourism practices.
Packages
You will have a variety of Norway tour packages, and no matter what your interests are, OffTrack has numerous options for you.
Join in on a week of Ski and Sail Svalbard Glaciers between the fjords and mountains with a comfortable and strong steel sailboat perfect for all kinds of excursions in the archipelago. On the Hike and Sail Svalbard, you will discover the archipelago on a sailboat during summer to see the arctic wildlife, including the reindeers, sea birds, and whales. During the Musher Week tour of Norway, you will venture outside with the Alaskan Huskies for a chance to see the Northern Lights and an opportunity to live the traditional lifestyle.
Reviews
OffTrack is ranked #6 of 120 Outdoor Activities in Tromso, making it one of the best Norway tour operators that deliver outstanding and professional tours. On Trip Advisor, the company has over 130 reviews with five-star rating feedback. Here is a glowing review left by a traveler:
"Definitely an unforgettable experience. Delphine took incredibly good care of us and the dogs even more. Would do it again without hesitation and can only recommend it to everyone! "- Lisa A: March 2021
Wondering Owl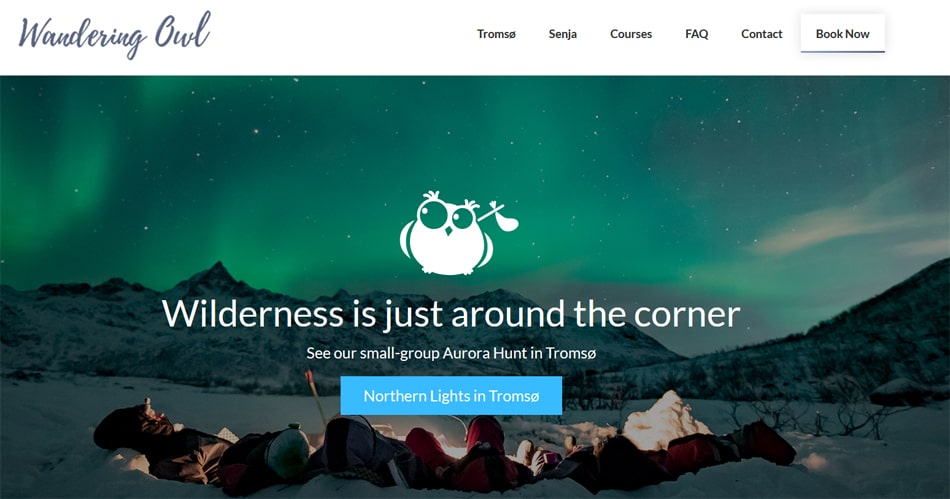 Company's location and type: Tromso Local Tour Operator
Awards, Certification: Ranked #5 Trip Advisor
Reviews: 1,666 reviews on Trip Advisor
About Company
Wandering Owl is a leading Arctic-based tourism company with a limited impact travel approach offering all-inclusive small group excursions all year long. With professional guides who are also trained photographers, they deliver memorable encounters in the wilderness. Wandering Owl offers quality experiences with unmatched attention to detail, rightfully earning its position as a top Norway tour company. Launched in 2014 by a group of three friends who saw an opportunity, they have developed and evolved to be known as Owls.
Packages
Get on one of Wandering Owl's mind-blowing tours of Norway and have a memorable and authentic holiday abroad.
Bring your camera and join Wandering Owl and learn about Night Photography. On this tour, you will capture sharp images of the Northern Lights while improving your skills during the photography workshop. The company's popular Norway Senja Tromso 5-day Guided Tour includes hiking adventures in the snow and photography workshops. The Northern Lights are extremely elusive. You will be on the Aurora hunt and Arctic landscapes tour around Tromso Island on the Winter Wonders Tour.
Reviews
Wandering Owl has earned many glowing and raving feedback on Trip Advisor over their quality and professional tours. They are ranked #5 of 120 outdoor tours in Tromso. This best Norway tour operator has nearly 1,700 reviews, and you can read about how well they execute their trips here:
"This tour we took 6 hours after doing the Northern Lights in Tromsø. My two adult children and I had a great time and saw a lot of amazing landscapes. The guide was helpful and took pictures of us as a group and sent us some pictures of the trip." – Lori C; April 2020
Greenlander
Company's location and type: Tromso Local Tour Operator
Awards, Certification: Ranked #1 Trip Advisor
Reviews: 730 reviews on Trip Advisor 99 % rated outstanding and excellent
About Company
Greenlander is a reputable and one of the well-disposed Norway tour operators that deliver high-quality outdoor adventures in Tromso. You can experience many landscape Arctic tour packages with this Norway tour company. They operate their expeditions under close administration from highly trained and professional photographers, PADI divers, and guides that will keep you safe and give you an unforgettable time abroad.
Packages
Create lasting memories by choosing any one of the many Norway tours offered by Greenlander.
Their Northern Lights Tour has a 98% success rate and offers excellent adventure with modern equipment and traditional homemade food. This tour is environmentally sustainable and is conducted by seasoned and professional guides. On this newly launched Kingfisher River Tour Norway, you will explore the Vaana River with an experienced PADI guide under small rapids, beautiful wildlife, and scenic landscapes. The Private Northern Lights tour is perfect for romantic couples, families with kids, and people who want to have 100% guide's attention. The excursion is private, and the guide will take you professional portrait photos with his DSLR full-frame camera for a night to remember forever.
Reviews
This Norway adventure tour has years of experience providing guided private and group expeditions. On Trip Advisor, the company boasts a 99% client satisfaction rate with 730 reviews rating them outstanding or excellent. Greenlander earned the #1 of 120 outdoor tours in Tromso. Here is a review from a past client:
"Thanks a lot, to Markus, who is the guide of this amazing company. We went over the frozen lake in the middle of the Tromso's Island and saw the lights, and he took absolutely perfect photos of me and the Northern Lights." – Cihas S: March 2021
Better Moments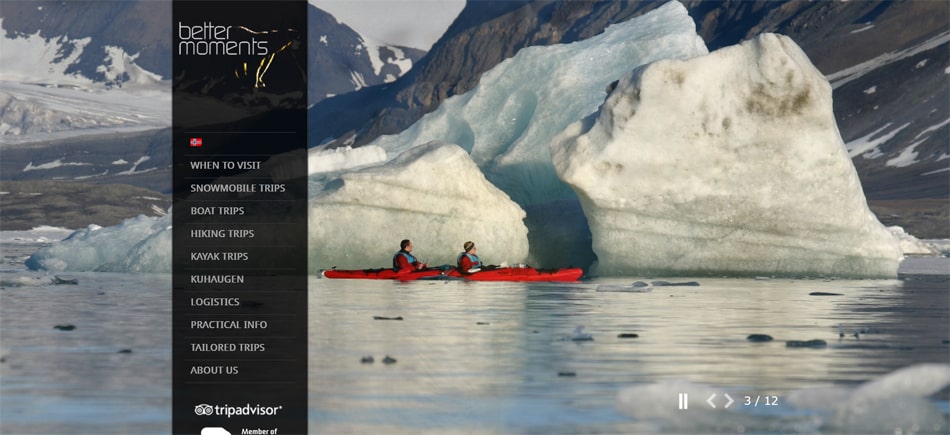 Company's location and type: Tromso Local Tour Operator
Awards, Certification: Ranked #1 Trip Advisor
Reviews: 730 reviews on Trip Advisor 99 % rated exceptional and great
About Company
Better Moments is a top-rated Norway tour operator with years of experience delivering adventures in Svalbard. Working with different companies in the country, the company provides top-notch tour packages and tourism-related services. With brand new equipment, Better Moments has six snowmobiles for winter trips and a new boat. They have experienced and friendly guides who are ready and passionate about showing you the city. Join this tour company for an unforgettable dream vacation in Norway.
Packages
Better Moments has many options for tours of Norway that focus on delivering top-quality tours. You can join one of their predesigned tours or customize one that you are interested in.
You can join the 2-day Hiking Trip in Norway and explore the stunning Arctic landscapes surrounding the Isfjord and a hike along the coast and up into the valleys beside breathtaking views. Svalbard's wildlife is unique and charming, and the Walrus is a fascinating animal in the Arctic. During summer, the Walrus love to sunbathe on the beach, allowing you to see them up close and candid. On the Icebreaker Tour you will see an active glacier and explore one of Svalbard's most spectacular natural areas in sturdy double kayaks.
Reviews
This provider is ranked #2 of 14 Norway kayak tours and has earned 650 reviews on Trip Advisor, with 99% of them providing positive and glowing feedback. You can read an experience by a former tour tourist:
"Fantastic evening trip to the bird mountain Alkehornet with Better moments and the guide Virgil. Good standard in the boat, lovely soup in a thermos, and a very dedicated and knowledgeable guide. Highly recommend this evening trip in the midnight sun to everyone!" -June Marie: June 2021
Norway Mountain Guides
Company's location and type: Bergen Local Tour Operator
Awards, Certification: Ranked #1 Trip Advisor
Reviews: 100 reviews on Trip Advisor
About Company
Norway Mountain Guides is one of the best Norway tour operators that specialize in hiking, ski, and snowshoe tours. They offer tours all year, and in winter, they also have ski courses in Bergen. The tour guides are locals who know a lot about the Norwegian way of life, history, and culture. In addition to long experience with outdoor life in the mountains, the company is fully registered by the Norway Mountain Association Board. Norway Mountain Guides will warmly welcome you, and they are passionate about showing the hidden gems in the country.
Packages
Experience the beauty of Norway differently with Norway Mountain Guides travel tour Norway packages.
If you want to experience Fjords Hiking in Bergen, join this expedition for a real sea-to-summit feel with spectacular views and landscape. Island Hiking Tour in Norway combines mountains and sea views for the most leisurely hike in Bergen. Join the legendary Bergen Classic and walk from the Vidden Plateau to Mt Floyen for the most glorious Norwegian outdoor experience.
Reviews
Norway Mountain Guides is a highly rated Norway tour operator with unique, safe, and affordable tour packages in the Bergen area. They have a 5-star rating out of 100 reviews and have received glowing and positive feedback from past travelers. Read a review recently left on Trip Advisor:
"Very friendly and knowledgeable! We felt very safe the whole trip and even learned about Norwegian culture. The hike went by very quickly and was a ton of fun!" – Julia: March 2021
Fjord Tours
Company's location and type: Bergen Local Tour Operator
Awards, Certification: Ranked #7 Trip Advisor
Reviews: 2,162 reviews on Trip Advisor 99 % rated professional and great
About Company
Fjord Tours is an award-winning best fjord tours Norway that offering a large selection of tourism activities and trips with environmentally-friendly transportation. Founded and run by professional travel experts, the company engages in continuous specialized research to craft top-notch itineraries and tour packages. Join Fjord Tours for your one-stop-shop needs while touring Norway.
Packages
In Norway, Fjord Tours has several great fjord tours Bergen Norway packages.
On this Original Norway in a Nutshell Tour, you will discover the scenic Flam Railway, Bergen Railway, and Aurlandsfjord, the narrow and dramatic UNESCO-protected fjord on a bus trip through the gorgeous panorama of Western Norway. Western Norway offers a magnificent landscape for an outstanding Hiking and Food Tour experience which can be an excellent opportunity to learn the culture and interact with the locals.
Reviews
Fjord Tours is one of the most recognized Norway tour operators on Trip Advisor, with glowing and outstanding reviews. The reviews show that the past tourist satisfaction rate is excellent. With nearly 2,200 reviews on Trip Advisor the company is ranked no #7 out of 95 tours in Bergen. Consider treading this positive review:
"We only had two full days on a short trip to Bergen in January 2020 and spent one on the round-trip Norway in a Nutshell tour organized by Fjord Tours. The booking process was simple, the instructions and ticketing comprehensive, and the timing smooth. We experienced the fjords on a well-appointed electric ferry and enjoyed the Flam railway. To have booked all the connections we would have been possible but undesirable." – William C: Jan 2020
Fjord Safari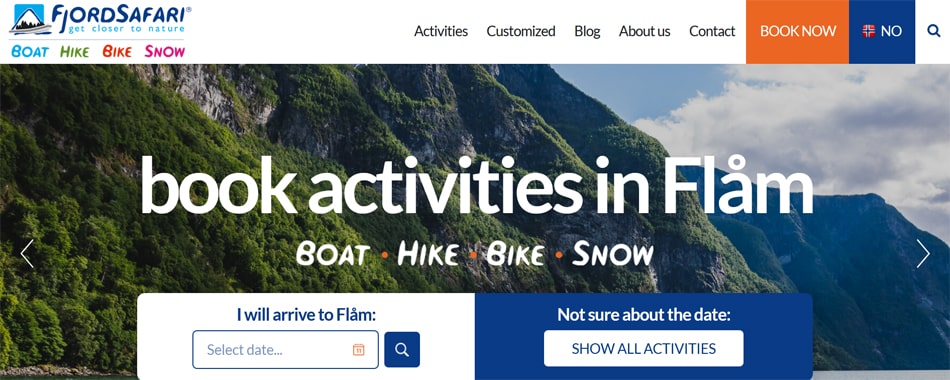 Company's location and type: Bergen Local Tour Operator
Awards, Certification: Ranked #7 Trip Advisor Certificate of Excellence 2020
Reviews: 2,162 reviews on Trip Advisor
About Company
FjordSafari was founded in 2003 and is a family business started by Rune and May Lene. With a passion for the fjord landscape, they are passionate about sharing the culture and nature the same way as the locals. With a team of dedicated guides and staff, this Norway tour operator delivers unique tours of Norway and its heritage with you. Besides, they have tailor-made ultimate adventures where you can combine safari, biking, or hiking. In collaboration with local food suppliers, FjordSafari curates the best quality experiences for a memorable trip in Norway.
Packages
You can entrust FjordSafari with your hard-earned money and book one of their unforgettable Norway tour packages.
The Private Fjord Safari is a boat experience of the entire UNESCO-listed Aurlandsfjord and Naeroyfjord on a RIB boat for about two hours. Take a Private Aurlandsfjord Safari through the entrance of Naeroyfjord for a stunning view with a professional and knowledgeable guide telling you stories, tales, and history of the area. During the Brekkefossen Waterfall Hike, you will have a magnificent view of the fjord and the valley. The hike starts from Flåm on an asphalt road to the valley along the Flam River.
Reviews
FjordSafari is ranked #1 nature Norway tour operator. With more than 1,055 reviews, the company is proudly rated with five stars on Trip Advisor. They also received a certificate of Excellence in 2020 from Trip Advisor. Here is a lovely review from a past traveler.
"We were lucky enough to be able to book the 2.5-hour safari in the afternoon. The attention to detail for keeping us all warm whilst enjoying the boat safari was amazing. Eric was a fantastic guide, imparting a wealth of knowledge. We enjoy the cheese tasting for our stop at Undredal. What a great 2.5 hours. Thanks to all the great team." – Me G: Mar 2020
Geiranger Fjordservice AS

Company's location and type: Geiranger, Local Tour Operator
Awards, Certification: Ranked #2 Trip Advisor
Reviews: 369 reviews on Trip Advisor 97 % rated outstanding and excellent
About Company
Geiranger Fjordservice AS is a limited tour company in Norway founded by local professionals and is based in Geiranger. Through close cooperation with the locals, the company's goals are to make Norway the best travel destination in Europe. They specialize in bicycles and car rentals, including transport, guiding, and hotel bookings. Geiranger Fjordservice AS has a goal to give every single traveler a memorable Norway vacation experience.
Packages
Get in the scenic and stunning nature of Geiranger and feel safe and confident to choose the best Norway tours.
Just like the locals, join the Fjord Cruise connecting the coastal town of Ålesund and the gorgeous UNESCO Geirangerfjord on a brand-new Catamaran. Besides, you can try the Bike and Hiking Trip in Norway and combine an electric bike ride to Flydal with a trip to the magnificent Storsæterfossen waterfall. The Geiranger Nature Park will get your adrenaline flowing with activities such as ziplines, Via Ferrata, and a rappelling course, all set in the middle of the world heritage forest.
Reviews
Geiranger Fjordservice AS is one of the leading tour agencies in Norway with many rave reviews. The reviews show that the client satisfaction rate is exceptionally high. With 369 reviews made on Trip Advisor, 97% of the travelers say the company guides are professional with excellent customer service. See the positive review below:
"We took this tour last summer with our 2 daughters aged 7 and 10. We loved getting up close to the waterfalls and zipping along the fjord in the boat! Amazing experience and everyone was very kind and helpful from beginning to end. Worth the cost!" – Karen L: May 2020
Chasing Lights

Company's location and type: Tromso, Local Tour Operator
Awards, Certification: Ranked #4 Trip Advisor
Reviews: 2,794 reviews on Trip Advisor
About Company
Chasing Lights is a local Norway tour operator established to help travelers discover the beauty of Tromso authentically whilst learning its history, landscapes, and cultural distinctiveness. The founders realized that Norway had a fantastic prospect for exploration and created unique tours to fit every tourist's needs. With friendly and knowledgeable guides, Chasing Lights is one of the best signature tours in Norway.
Packages
Norway has so much to offer, and with Chasing Lights, you can feel safe and confident with an experienced team and highly rated guided tours in Norway.
Join the Northern Lights Trip and maximize your possibilities of viewing the Earth's most marvelous light show from outer space, the Aurora Borealis. Do not miss out on this Silent Whale Watching Tour Norway where the majestic Humpback and Killer Whales come to feed on the herring-rich fjords in Tromso during winter. The tour offers a unique perspective on the feeding frenzy as you enjoy local pastries and coffee in the outstanding Arctic morning light, sailing past snow-covered sceneries. The Arctic Wildlife is rich in the Tromso Fjords, where you can see the whales, porpoise, and sea eagles.
Reviews
On Trip Advisor, Chasing Lights is rated #4 of 120 outdoor Norway tour operators and has accumulated a 5-star rating with over 2,790 reviews! The company delivers exceptional customer service, and past travelers have nothing but great things to say about them. Reading this review from Trip Advisor:
"Amazing service and experience!!! Everything good… The guys did a great job… And we were so lucky!!!" – Centralsquarecr: Dec 2020
Enjoy the Arctic

Company's location and type: Tromso, Local Tour Operator
Awards, Certification: Ranked #9 Trip Advisor Certificate of Excellence 2020
Reviews: 787 reviews on Trip Advisor 98 % rated outstanding and excellent
About Company
As the name suggests, Enjoy the Arctic is exceptional at providing high-quality, genuine, and affordable experiences in Tromso. An award-winning tour company in Norway, the company has been delivering adventure tours packages in Norway since 2013. You can be at peace knowing that they are tour experts that will keep you safe while assuring you a memorable lifetime experience.
Package
You can experience the magic by exploring the Northern Hemisphere with Enjoy the Arctic's incredible Norway-guided tour packages.
This Northern Lights Tour is all about hunting the famous and sometimes elusive phenomenon, with an expert guide, mainly taking the off-the-beaten-path. When in Norway, do as the Norwegian by going out Ice Fishing to catch yourself a fish. There are many opportunities to catch cod, trout, coalfish, etc. Finally, you can visit the beautiful Norwegian Fjords in the stunning Arctic landscapes with a small group and an experienced photographer who will also be your guide.
Reviews
According to Trip Advisor, Enjoy the Arctic is one of the leading Norway tour operators with many exceptional reviews. The reviews show that the company's past customers are thrilled with a satisfaction rate of 98%, out of the total of 787 reviews on Trip Advisor. Read the affirmative review here:
"We had gone to Tromsø precisely to see the Northern Lights and thanks to "Enjoy the Arctic" we fully fulfilled our dream. A night to remember for a lifetime. Highly recommended." – Sebastian C: Jan 2019
Conclusion
We hope that this top 10 list of Norway tour agencies offers you all you need to make a reasonable decision for your future explorations in Norway. If you do decide to you would like to tour abroad to Norway and all of its stunning and unique experiences while immersing yourself in the unique culture, TravellersQuest encourages you to use this list as your reference to find highly rated tours in Norway.
Once you arrive home from Norway, we would be happy to hear about your adventures in the country. If you have gone on a trip with any of these companies in the past, please send us a message and let us know how it went!
Honorable Mention
Related Links