Are you thinking about taking a vacation to Austria? Do you want to find the best tours in Austria? Are you looking for a professional and safe Austria tour operator to help you plan your holiday in Austria?
Located in Central Europe, Austria has always been entrenched in tumultuous historical events and aristocratic maneuvers. The country is embedded in the mountainous Alpine range, boasting plenty of picturesque sites of stunning nature. Austria offers enchanting and dreamy landscapes, stunning architecture, and picture-perfect meadows and grasslands, which best defines what has made the country a tourist hotspot. From small medieval beautiful villages to great cities, best operas, and profligate desserts and drinks, Austria has the perfect ingredients to elate your tour experience.
While vacationing in Austria is an awe-inspiring experience to be remembered for a lifetime, finding the best Austria tour operators is a complex process. Certainly, you will get hundreds of results from different companies, all claiming to have the best tour packages. However, some are not sincere. So how do you know which one is the best company to choose? Selecting an unsuitable tour company in Austria could have horrific consequences on your Austria holiday.
To save your time, TravellersQuest has done the footwork for you. We spent many hours researching and analyzing to find the safest, most professional, and affordable tour companies in Austria for you.
Keep reading to learn about the best Austria tour packages with the top highly rated Austria tour agencies.
Providers
Package
Reviews
Wolfy's Adventures
Wine Tour
Virtual Classic Food Tour
Trip Advisor – 139 reviews
Hotrod Tour Wien
Vespa Tour
Daylight Tour
Trip Advisor – 357 reviews
Panorama Tours
Original Sound Of Tour
Hallstatt Tour – Tour 6
Trip Advisor – 4,606 reviews
Salzburg Private Tours
Salzburg HighLights
Salzburg City Tour
Trip Advisor – 52 reviews
Secret Vienna Tours
Schönbrunn Highlights Tour
The dark Side Of Vienna
Trip Advisor – 243 reviews
Discover Vienna Tour
Wine Tasting Tour
Small Private Vienna Walking Tour
Trip Advisor – 228 reviews
Bob's Special Tours
Bavarian Mountain Tour
Sound of Music Tour
Trip Advisor – 540 reviews
Private Guide Peter Heuritsch
Art & Museums Tour
Vienna Surrounding Tour
Trip Advisor – 107 reviews
Edelweiss Tours
Eagle Nest Tours
Salburg Exculsive Tour
Trip Advisor – 128 reviews
White Alligator Tours
Small Group Day Trip to Hallstatt
Private Day Trip to Salzburg
Trip Advisor – 185 reviews
Table update Oct 10, 2021
Wolfy's Adventures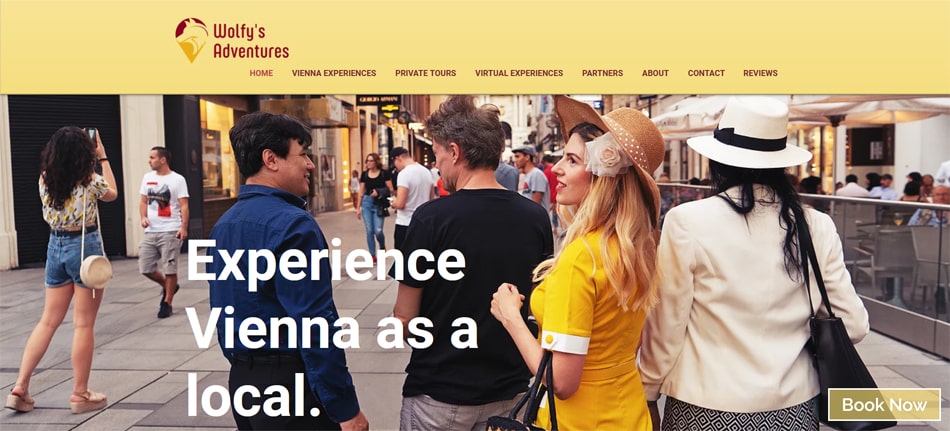 Company's location and type: Vienna, Local Tour Operator
Awards, Certification: Ranked #5 Trip Advisor
Reviews: 139 reviews on Trip Advisor 92 % rated great and outstanding
About Company
Wolfy Adventures is a leading Austria tour operator founded by tourism professionals who are confident and knowledgeable to provide you with a memorable tour experience that is totally different from any vacation you have ever taken. Their mission is to have happy and satisfied customers while ensuring you are safe and protecting the environment.
Packages
Wolfy Adventures offers a variety of tour packages in Austria that you will thoroughly enjoy and indulge in.
The vineyards of Vienna grow on beautiful slopes surrounded by gorgeous hills. You will thoroughly enjoy this Wine Country Tour as you go on wine tasting on an elaborate excursion, discovering where the grapes are grown and how the wine is produced. Travel through the Virtual Classical Music Tour in Vienna with professional opera singers Daniel and Vera to understand more about this popular music genre. In the night, take the Austria Vienna Night Tour and enjoy local wines, curated Viennese cocktails, street food, and Austrian aperitifs for an evening to remember.
Reviews
Wolfy Adventures is one of the best tour companies in Austria that has garnered glowing and outstanding reviews. The reviews show that the company's client satisfaction rate is extremely high, with a total of 139 reviews on Trip Advisor. Over 92% of past travelers say that the services are professional and well organized. Read the comment below:
"Took part in this tour this morning and had a fabulous time. It was just the right amount of walking, sightseeing, and enjoying local treats. The group I was in was only four people and the tour guide personalized the tour for each of us. I was not familiar with Urban Adventures previously but will very definitely use them again in the future." – Candace50: Dec 2019
Hotrod Tour Wien
Company's location and type: Vienna, Local Tour Operator
Awards, Certification: Ranked #1 Trip Advisor
Reviews: 357 reviews on Trip Advisor
About Company
Hotrod Tour Wien is a leading Austria tour operator founded by young travel enthusiasts offering Hotrod tours that guarantee a vacation that exceeds your expectations. The company has professional and friendly staff with the experience to design a trip that fit your interest and budget. Their mission is to provide high-quality excursions while ensuring you are safe and happy. Hotrod Tour Wien is a local Austrian company that quickly raised through the industry to earn the number one spot on Trip Advisor.
Packages
Hotrod Tour Vienna mainly focuses on delivering immersive Austria package tours, and you can join one of them for a memorable vacation.
You will experience the beautiful Wienerwald Route with a Vespa during this tour. Together with a guide, you will start from the 1st district to the 19th district through the Exelberg and Salmannsdorf t seeing all the beautiful corners and woods. The company's classic Daylight Tour takes you to the most important sights of Vienna. Out of the city, take the Vienna, Austria Woods Tour for a day of fun and speed through the Exelberg to the forests surrounding the city.
Reviews
This tour operator in Vienna, Austria, provides amazing and unique high-quality opportunities, and they are ranked #1 of 134 tours in Vienna. They have also been rated fives-stars with over 355 reviews on Trip Advisor. Read this review left by a past tourist:
"Kirstin and Deniz both made our trip around Kahlenberg a lot of fun. Sadly Deniz' car broke down, but we finished the trip regardless. Thanks" – Richard S: July 2020
Panorama Tours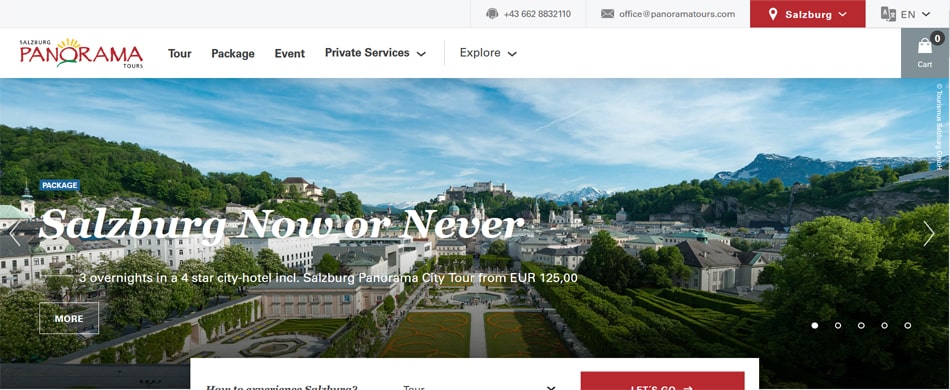 Company's location and type: Salzburg, Local Tour Operator
Awards, Certification: Ranked #8 Trip Advisor Certificate of Excellence 2020
Reviews: 4,606 reviews on Trip Advisor 89 % rated good and professional guides
About Company
Salzburg Panorama Tours is an award-winning Austria tour operator with over 60 years of experience and renowned great quality excursions in Salzburg. The company partners with the Austria Congress and is dedicated to ensuring fulfilling tour services and excellent customer service. With a team of local and professional guides, Salzburg Panorama Tours has earned the certificate of excellence by TripAdvisor for many years in a row.
Packages
You have many tours to Austria that will match your interests. No matter what you are looking for, Salzburg Panorama Tours has numerous opportunities for you to select from.
Tour the picturesque Salzburg, a World Heritage City, and discover the beautiful countryside landscapes of where the legendary Sound of Music movie was filmed. The company's popular Hallstatt Tour takes you to the charming village located between the lake and the slopes of Dachstein Massif dating back to the Neolithic Age. The guided Austria Salzburg Walking Tour treats you to the beautiful highlights in the city, including Mozart's birthplace, Mirabelle Palace, and the Residenz Palace.
Reviews
As one of the best Austria tour operators, Salzburg Panorama Tours is proudly the most reviewed operator in the country, and each day they get positive feedback from past customers. With 4,614 reviews on Trip Advisor, the company Tours has been rated five stars. You can see a glowing review below:
"The best tour I took throughout my three months in Europe! I normally avoid "touristy" experiences, but this was perfect. It's not cliche or childish but celebrates the natural beauty of Austria as well as The Sound of Music. My guide (David) was helpful and incredibly knowledgeable about the movie, the Von Trapp family, and Salzburg in general. Can't recommend this trip enough!" – Eden Z: July 2021
Salzburg Private Tours
Company's location and type: Salzburg, Local Tour Operator
Awards, Certification: Ranked #8 Trip Advisor
Reviews: 52 reviews on Trip Advisor
About Company
Salzburg Private Tours has been organizing tours to Austria since 2003. Their company goal is to show tourists the authentic beauty of Salzburg and its gorgeous landscapes. As a small private company, they are passionate about personalized services, outstanding customer services, and tailor-made tours. The company also organizes transport with a luxury minivan or a coach, ticket bookings for cultural events, and local cultural tours.
Packages
Book a trip to Salzburg, Austria tour with Salzburg Private Tours, and have a memorable, authentic experience abroad.
Experience the beauty of Salzburg, the World Heritage city. On this Salzburg City Tour, you will visit the Mirabelle gardens, walk through the historic old town, and discover the Salzburg Cathedral, the Old Residence of the Prince-Archbishops, and the Fortress Hohensalzburg. On the half-Day Hallstatt Tour Austria, you will go to see Emerald Green Fuschlsee and take pictures from the magnificent St Gilgen viewpoint, the birthplace of Mozart's mother. Finally, explore the stunning Bavarian Alps with panoramic views from Hitler´s historic mountain retreat house, the Eagle´s Nest.
Reviews
Salzburg Private Tours is one of the best tour operators in Austria with outstanding reviews. With nearly 60 reviews on Trip Advisor, the company's customers are thrilled with the services offered by the company. Over 95% of the company's customers said it was either great or outstanding, and there are even multiple repeat tourists. Read a glowing review here:
"Do not miss this experience it is incredible…. the ice formations are so big. The tour is full of information. Worth going out of your way to include this". – Venessa B: Oct 2019
Secret Vienna Tours
Company's location and type: Vienna, Local Tour Operator
Year of establishment: 2017
Awards, Certification: Ranked #9 Trip Advisor
Reviews: 358 reviews on Trip Advisor 98 % rated very good and excellent
About Company
For about five years, Secret Vienna has been sharing the beauty of Austria with international and local tourists. What started as a travel Vienna blog turned out to be one of the top Austria tour operators, with over 16,000 steady followers. The company creates reliable experiences for you to enjoy and strive to dig deeper and craft unique packages that other companies do not offer. With Secret Vienna, you will feel confident knowing that you will have a fulfilling tour abroad with a reputable and affordable provider.
Packages
If you are looking to find the best Austria tours package, look no further, Secret Vienna Tours designs the best experience for all types of tourists to choose from.
Your tour to Vienna would be incomplete without visiting the glorious Schönbrunn Palace. It is your one-stop shop to explore the Emperors, Princes, and Princesses of the monarchy and the Habsburg Family. The Dark Side of Vienna is heard in baffling tales of the city's past and the intimate mysterious stories that reigned the city over hundred years ago. Join in and enjoy the Salzburg Culinary and Delights in the fresh market, bakeries, bars, and streets.
Reviews
Secret Vienna Tours has received a lot of positive attention on Trip Advisor over the short period they have been in business. The company is ranked #8 of 359 tours in Vienna with glowing feedback on its customer service. With over 240 reviews, read about how well they execute their Vienna tours Austria:
"Very informative walking tour about the women of Vienna. I learned a lot! Even though it was a cold day, our tour guide kept us out of the wind where possible and made it worth staying to the end!" – Karin R: Sep 2020
Discover Vienna Tour
Company's location and type: Vienna, Local Tour Operator
Awards, Certification: Ranked #14 Trip Advisor
Reviews: 228 reviews on Trip Advisor
About Company
Since 2003, Discover Vienna Tour has been providing affordable, fun, and exciting Austria-guided tours in the Wachau region. Founded by Adam Goss, a professional cyclist, the company offers private and group for individuals and families. They have been mentioned in New York Times and listed as Tourist Choice on Lonely Planet. If you are looking for an extraordinary travel experience with the best tour company in Austria, then Discover Vienna Tour got your back.
Packages
Make your vacation outstanding by joining the highly-rated Austria tour packages with Discover Vienna Tour, and enjoy the country authentically.
Started in 2003, the Wine Tasting Bike Tour is a unique expedition to see churches and museums while discovering the wines produced in the Wachau Valley. This popular all-inclusive Private Walking Tour of Vienna offers a complete overview of the historic Old Town, the Hofburg Imperial Palace, the Habsburg family Palace. Join in on the Vienna Segway Tour for an entertaining and exclusive tour cruising effortlessly through stunning parks and around historic buildings while learning fascinating stories with a professional guide.
Reviews
This Austria tour operator is ranked #5 of 190 tours in Austria and has earned 228 reviews on TripAdvisor, with 99% of them providing outstanding feedback. You can read about a great experience by a former tourist here:
"Despite a cold rainy day, we thoroughly enjoyed our bike along the Wachau Valley. The biking was easy along the relatively flat river valley. There were great fall colors, a convivial group, and a knowledgeable friendly guide. Lunch for 11 euros was a tasty treat. Giovanni knew the local history and a lot about the wines. Good value and a highlight of our trip. I would do this tour again." – Cameron M: Oct 2018
Bob's Special Tours

Company's location and type: Salzburg, Local Tour Operator
Awards, Certification: Ranked #10 Trip Advisor
Reviews: 540 reviews on Trip Advisor
About Company
Bob Special Tours is a privately owned tour company in Austria specializing in personalized and custom-made trips to small groups, families, and individuals. Their goal is to offer the best professional support and customer service. In addition, their guides are professional, friendly, and well knowledgeable to execute the best expeditions in the country. Bob Special Tours also promises a relaxing, enjoyable, and safe experience where you will feel fulfilled and happy.
Packages
Bob Special Tours offers a mixture of fun, unique and exclusive Austria bike tours packages.
The Bavarian Mountains Tour will take you to the fantastic landscape of Salzburg through the glorious views while learning the history, traditions, and local lifestyles. The special Sound of Music Tour is an expedition to the Palace of Leopold Kron, the home of Vonn Trapp, where the movie was filmed in 1965. The trip also includes a walk through the church of Mondsee. If you love adventure, then this Ziplining Tour is designed just for you. The Mega Zipline is 850 meters long and is operated by tour experts.
Reviews
Bob Special Tours is one of the best Austria tour operators, with glowing and raving reviews on Trip Advisor. With more than 540 great reviews, this company has earned more than a 93% satisfaction rate. You can check a review left by a happy vacationer below:
"We loved the sound of the music tour. It was the perfect choice for us. It was a beautiful personal tour and much like being driven around the local area by a friend. Lots of great information not just about the sound of music but also all the surrounding area. The tour includes a drive through the lakes district which was unexpected. I highly recommend this tour for those traveling with companions who may not be so interested in the sound of music. Great value." – Paul F: Dec 2019
Private Guide Peter Heuritsch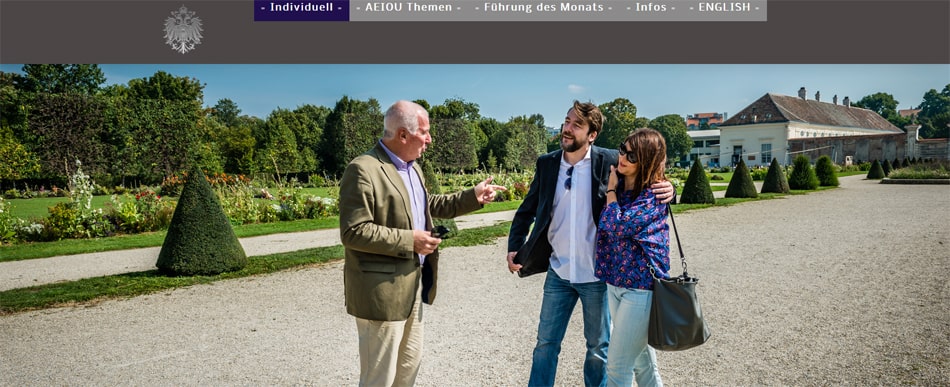 Company's location and type: Vienna, Local Tour Operator
Awards, Certification: Ranked #3 Trip Advisor
Reviews: 103 reviews on Trip Advisor 99 % rated very good and excellent
About Company
Private Guide by Peter Heuritsch is an Austrian tour operator founded by Peter, a law graduate with 25 years of experience in arts and culture and entrepreneurship. Peter is fully certified by the Vienna tourism board as a cultural mediator and ambassador. Besides, the company is keen to offer exclusive, immersive, and adventurous tour experiences in Austria. Private Guide by Peter Heuritsch delivers tours in multiple foreign languages, including English, Spanish, Italian, Russian, and French.
Packages
Private Guide by Peter Heuritsch offers many fascinating and unique Austria tour packages for you to choose from and get immersed.
If you are looking to visit the world-famous symbol of the Holy Roman Empire and the Imperial Crown from the 10th century, then join in on their Art and Museum Tour. The Wachau Valley is a picturesque landscape formed by the Danube River located in the Melk and Krems. You can experience these wonders by going on the company's Vienna Surroundings Tour to learn more about the Wachau Cultural Landscape.
Reviews
Private Guide by Peter Heuritsch is one of the leading tour agencies in Austria that has garnered many amazing reviews. The company's 103 reviews, about 99% of their clients consider them to be friendly and professional. Read this positive review on Trip Advisor:
"We had a great time with Peter. He made us discover the city and its history very clearly, and with a touch of humor! Thanks again to him for his visit and his advice, we highly recommend him!" – Tom R: May 2021
Edelweiss Tours

Company's location and type: Salzburg, Local Tour Operator
Awards, Certification: Ranked #5 Trip Advisor Certificate of Excellence 2018/2019
Reviews: 128 reviews on Trip Advisor
About Company
Edelweiss Tours is a multi-award-winning and one of the top Austria tour operators sightseeing tours in minivans. They specialize in organizing small group tours around Salzburg for half and full-day trips so that you can experience the local people and the culture and learn about their landscapes and lifestyles. Edelweiss Tours has comfy, airconditioned, and new minivans with experienced guides who help craft affordable and impactful itineraries.
Packages
If you are looking for an adventure of your life with a safe and affordable Austria tour, then consider booking with Edelweiss Tours.
Commissioned by Hitler, Eagle's Nest was part of the Obersalzberg military complex and Third Reich. It sits on top of Mountain Kalkstein and is an architectural masterpiece. You can join the Austria Lakes and Mountains Tour to the Lake Districts just a few minutes from Salzburg and see the scenic Northern Alps filled with small beautiful medieval villages. With a small group, you can take a Minivan to learn about the appealing Christmas Markets in Salzkammergut, a picturesque part of Austria.
Reviews
This tour company in Austria has a long track record of exceptional, unique tours, proven by over 120 positive reviews left by past travelers on Trip Advisor. Edelweiss Tours is ranked #5 out of 83 tours in Salzburg. Read a review left by a past holidaymaker:
"We used Edelweiss Tours for transfers and day tours in Austria and Bavaria. The communication was very efficient, and they have given us many good ideas about interesting places and day trips. This was particularly useful because we have never been to Austria before. Everything was tailor-made and very well organized." – Natalia S: Feb 2020
White Alligator Tours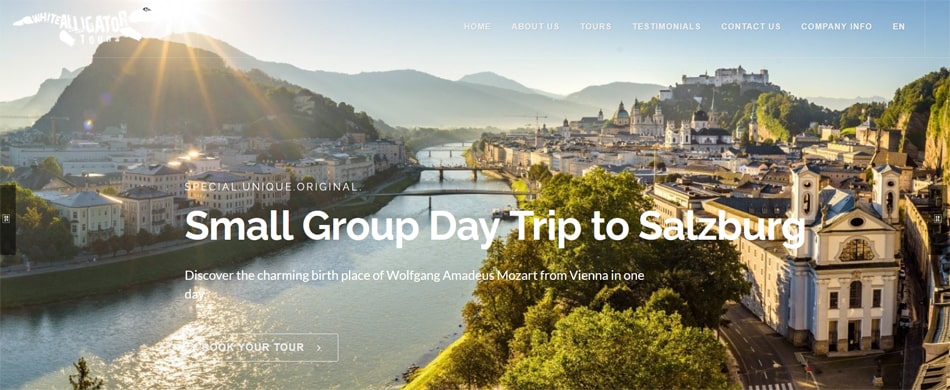 Company's location and type: Vienna, Local Tour Operator
Awards, Certification: Ranked #10 Trip Advisor
Reviews: 105 reviews on Trip Advisor 97 % rated outstanding and professional
About Company
White Alligator Tours is a reputable, highly-rated Austria tour operator based in Vienna. The company was founded by Peter Csekö, a tourism professional with over 10 years of experience in high-quality customized day trips across Eastern and Central Europe. The mission of White Alligator Tours is to give you a deeper view of the emerging touristic hotspots of Austria for a memorable vacation trip. The company is committed to the highest quality of customer service, and they have well-trained drivers and guides with extensive professional experience.
Packages
With White Alligator Tours, you will have many tours package in Austria to explore as an individual, group, or family for a fulfilling trip abroad.
Join in on the Private Day Trip and discover the world-famous Lake Regions and the Wolfgang Amadeus where Mozart was born. Choose to enjoy the countryside by joining the Austria Salzburg and Hallstatt Day Tour for a unique Alpine experience. In a small group, take the company's popular tour to Cesky Krumlov and learn about the Middle Age History dating back to the 1300s.
Reviews
White Alligator Tours is an incredible Austria tour operator with many outstanding and glowing reviews. Out of the 436 reviews on Trip Advisor, over 97% of the company's past clients said their tour packages were fun, well-executed, and had excellent customer service. See below:
"Fantastic trip and fantastic hosts! Well worth the price and the time spent getting to the beautiful village of Hallstatt was great. Thank you again, guys. We loved the trip and would recommend it to anyone." – Brandan D: Aug 2020
Conclusion
We hope that this list of top 10 Austria tour operators provides you with all you need to make the best decision for your travels plans in the gorgeous landscapes of Austria. If you choose to vacation in Austria for a memorable trip while immersing yourself in the unique culture and lifestyle, feel free to use this list as your reference when you do your research.
Once you return home from Austria, we would be happy to hear back about your tour of Austria. If you have used any of these tour operators in the past, please leave a comment below and let us know more about your tour experience.
Honorable Mention
Related Links