Would you like to travel and explore Laos? Do you want to have the experience of a lifetime with a safe and affordable tour companies in Laos?
The beautiful country of Laos is a great tour destination if you love the jungle and mountains. Otherwise known as Laos people democratic republic, this country is very cheap and offers many fun activities and exciting adventures. They have an interesting and diverse culture that is heavily influenced by Buddhism and is a mix of Burmese, Thai, and Cambodian. While travelling in Laos, you can get involved in tours that will take you to massive waterfalls, ancient temples, and local restaurants that you will love.
Searching through the hundreds of awesome tour providers available in Laos can be exhausting and sometimes complicated and we want to help! With all of the different options, you can understand how they will greatly vary in quality, price, and experience. Giving your hard earned money to a Laos tour agency without having the proper information can lead to you over paying and stranded as a tourist in Laos.
The following article can be used to gain all of the information you need to make a decision about who to trust to help you explore Laos like a local. We have compared prices, read hundreds of reviews, and have worked hard to uncover the best options.
Here is an unbiased list of the Top 10 most reputable tour operators in Laos.
Providers
Package
Reviews
Elephant Village
Sanctuary & Resort
Half Day Elephant Experience
2 Day Mahout Exp with 1 Overnight
Trip Advisor – 1,850 reviews

Tiger Trail Travel
E—Mountain Bike Adventure
Street Food and Biking Tour
Trip Advisor – 643 reviews

White Elephant Adventures
3 Day Scenic Biking,
Trekking, and Kayaking
3 Day Trekking Homestay to
Remote Hmong and Khmu Villages
Trip Advisor – 486 reviews
Shompoo Cruise
HOUAY XAY and LUANG PRABANG
Pak Ou/Sunset Experience
Trip Advisor – 369 reviews
Vang Vieng Tours
Camping
Cycling and Kayaking
TripAdvisor – 277 reviews
Discovering Laos
Trekking – 1 DAY
Cycling TOUR – 1 day
Trip Advisor – 273 reviews
ORLA Tours
Exclusive Mekong cruise
Bountai Loop, scooter tour
Trip Advisor – 236 reviews
Laos Group Tours
Vientiane City Tour – Halfday
Laos Highlight Tour Package 7D/6N
Trip Advisor – 210 reviews
Banana Boat Tours
Vientiane City Tour – Halfday
CULINARY WORKSHOPS
Trip Advisor – 116 reviews
Indochina Odyssey Tours
10-Day In-Depth Laos Tour
6-Day Laos Impression
Trip Advisor – 105reviews
Table update Jan 13, 2021
Elephant Village Sanctuary & Resort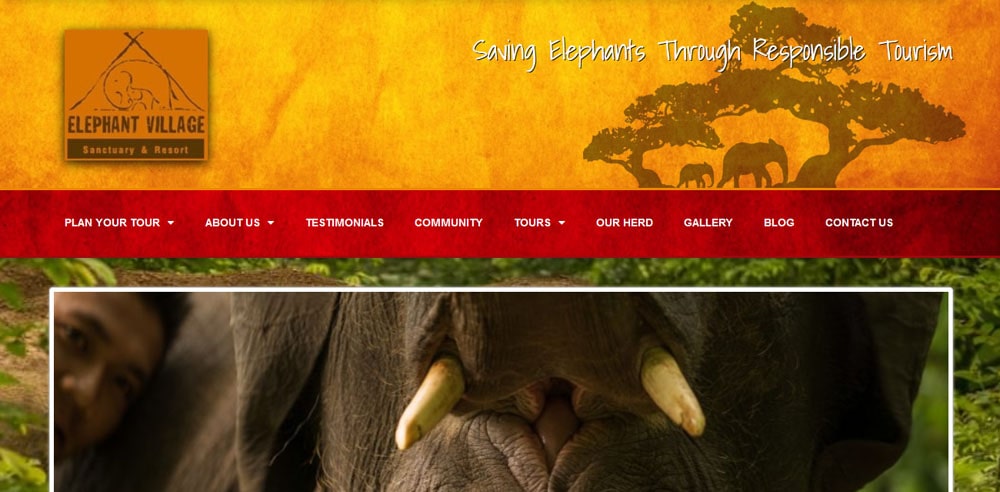 Company's location and type: Luang Prabang, Laos, Local Tour Operator
Year of establishment: 2001
Awards, Certification: 2012 -2016 certificate of Excellence by TripAdvisor.
Reviews: 2279 reviews on Trip Advisor 95% rated very good and excellent
About Company
Elephant Village is owned and operated by passionate caretakers native to Laos. They have a primary focus on saving elephants, community education, and nature conservation. At the sanctuary, there are currently 14 elephants, two of which are babies. Their duties are to care for the elephants to the best of their abilities. You can help care for these intelligent creatures while enjoying the Elephant Village Sanctuary and resort!
Packages
If you are interested in the conservation of elephants and would like to help out while getting an awesome hands-on experience, you can join in on one of Elephant Village Sanctuary's amazing Laos tours. The half day elephant experience is a great chance to enjoy the jungles in luxury. You can swim, eat, and have the chance to bath with elephants! Another longer option is the full day experience which adds in more opportunities to see the elephants, additional meals, and a trekking portion.
For an overnight tour, you can join the 2 day Mahout experience tour in Laos and take a boat to a waterfall, eat dinner at the elephant camp restaurant, and enjoy a relaxing night at the elephant lodge. You can also take a day tour to the famous Tad Sae Waterfall for pictures and a nice swim in beautiful waters.
Reviews on Elephant Village Sanctuary & Resort
This top tour company in Laos has over 1850 reviews on TripAdvisor and 95% have them rated as good or excellent in service. They have served thousands of happy tourists and are #8 out of 60 in Laos. Here you can see what someone else has said about going on a tour with Elephant Village Sanctuary & Resort:
"Having ridden an elephant in the past to my shame, I wanted to see somewhere that did not allow that anymore. – Shambolin
Tiger Trail Travel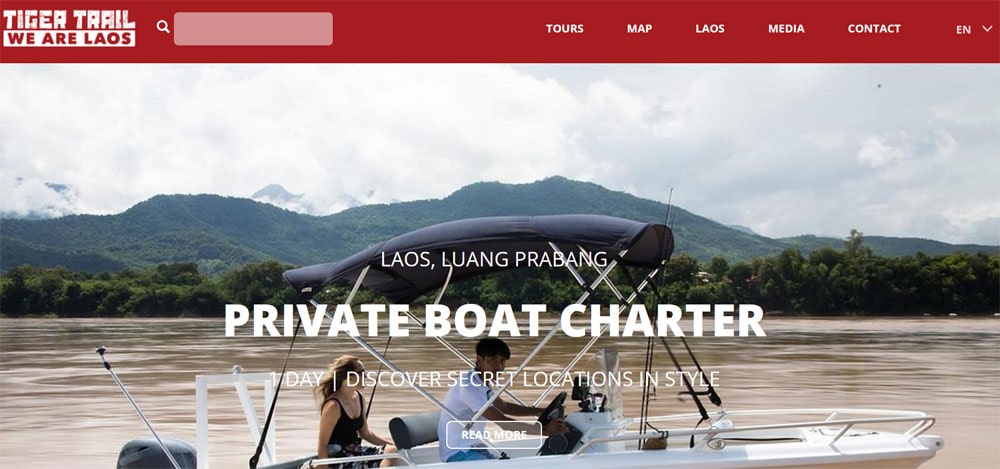 Company's location and type: Luang Prabang, Laos, Local Tour Operator
Year of establishment: 2000
Awards, Certification: Tripadvisor certificate of excellence
Reviews: 644 reviews and 4.5 stars on TripAdvisor
About Company
Tiger Trail Travel tours were established in 2000 and for the last 20 years, they have provided high-quality and immersive short trip tours around Laos. They consider themselves to be one of the top tour providers in all of the country and with their extensive experience, you can comfortably invest in a tour with this professional provider.
Packages
Your trip to Laos will only be improved if you decide to join one of Tiger Trail's exciting tour opportunities. You can spend the day riding a mountain bike through a beautiful jungle followed by a colonial-style lunch and more in the Laos Mountain Bike Tour Adventure. For the foodies out there, you can join the delicious street food and biking tour. The White Elephant Motorbike tour is an incredible journey through mountain villages across the entire country. In the Everything Under the Sun Tour, you can kayak, ride bikes, see elephants, hike, and visit hill tribe homestays all in one tour.
Reviews on Tiger Trail Travel
This top tour company in Laos has been offering tour programs for 20 years and in this time, they have honed in on customer service and top-quality tours. They have great reviews on tripadvisor and are rated with 4.5 stars! See this review from a past client:
"Really nice experience. If you want to bike without asking you too many questions (like food, drinks, where to sleep, resolving mechanical problems with your bike…) -Adelie
White Elephant Adventures
Company's location and type: Laos, Local Tour Operator
Year of establishment: 2010
Awards, Certification: Ranked 3 out of 33 Boat Tours
Reviews: 491 reviews on Trip Advisor 95% rated very good and excellent
About the company
For over 10 years White Elephant Adventures has been providing fun and educational tours around Laos. The company is organized by local Laotians, British, and Canadian enthusiastic people ready to give you an unbeatable experience during your travels in Laos. They offer professional small group tours ranging from 2-10 people and will also accept larger groups.
Packages
Laos is covered in dense jungle and with White Elephant Adventures you can truly experience nature in the country. They have a 1 day Kuang-Si Waterfall and wildlife Laos tour where you can spend the morning and afternoon scouring the jungle and swimming in waterfalls and pools. If you are feeling extra adventurous, you can tour for three days and ride bikes, trek the jungle, and kayak through blue waters.
In the 3 day Trekking Homestay tour, you can see extremely remote villages and swim in jungle rivers with absolutely fantastic views. Another trekking tour is the Kayak to tad se waterfall option. On this tour, you also have the chance to ride a kilometer-long Zipline through the jungle canopy!
Reviews on White Elephant Adventures
This tour company in Laos has a great reputation of providing affordable, high-quality tours through the most remote areas of Laos and they have been rated 4.5 stars with 95% of clients reviewing them as great or excellent. You can read about how well they provide for their clients on tripadvisor:
"I had a perfect day out hiking through the countryside to the Kuang Si Waterfalls. Alex and his team provided everything from start to finish. Starting off with a short drive through little hamlets to our starting point. -Siegfried
Shompoo Cruise
Company's location and type: Laos Local Tour Operator
Year of establishment: 2011
Awards, Certification: Certificate of Excellence by Tripadvisor.
Reviews: 99% of 370 reviews rated them Good or Excellent on TripAdvisor
About the company
Shompoo cruise is a tour company in Laos and has been in operation since 2011. Since their creation, this tour provider has been providing a few great river cruises that take you all the way through the country. You can enjoy the country in a different way while touring with a highly rated provider.
Packages
If you are interested in going on a tour in Laos but want to have an experience in comfort and luxury, river cruise tours with Shampoo are a safe bet. The Houay Xay to Luang Prabang tour will take you through those villages by water and you will see many beautiful views on the way.
The Pak Ou Sunset experience tour will stop to allow you to explore the famous Pak Ou Caves and on your return, you can relax with snacks and the sunset. You have the option of joining the 4 day Nam Kat tour where you will stay in a luxury resort, enjoy a river cruise, visit the caves, and enjoy experiencing multiple villages. The 3 day wildlife Sanctuary experience in Laos will have you visiting elephants, enjoying massages, and authentic foods native to Laos.
Reviews on Shompoo Cruise
The shampoo has very specific tour types that they stick to and because of this, they have perfected the Laos river cruise tour. They are ranked #2 out of 33 boat tour operators in Laos and have a 5-star rating with 370 reviews on tripadvisor.
"Mandy was delightful…articulate, perfect English, Cantonese, and Mandarin, very knowledgeable, entertaining, engaging, pleasant, and encouraging in every regard. – rcamblin
Vang Vieng Tours

Company's location and type: Laos, Local Tour Operator
Awards, Certification: certificate of Excellence By Tripadvisor
Reviews: Rated 4.5 with 278 reviews on TripAdvisor
About the company
This Vang Vieng tour company in Laos offers a wide selection of great tour opportunities. They pride themselves in being friendly and honest in their business practices and they have a full range of group and customizable tours. They are also the only tour company in all of Laos that is able to provide hot air balloon tours!
Packages
If you are ready to get involved in nature and have an exciting tour adventure in Laos, then joining a tour with Vang Vieng is right for you. Consider their Camping tour where you will visit a rural village by climbing a mountain followed by a descent into a valley and exploration of caves.
In the cycling and kayaking tour in Laos, you will be doing a wide range of physical activities so bring your energy and prepare for a day full of excitement! You can join the Kayaking, mountain, and trekking tour to get a full range of fun and popular tours that Vang Vieng is famous for. A good option to get your adrenaline going is the Zip Line and Blue lagoon tour. Kayak for two hours in beautiful waters and end the day with a canopy zipline.
Reviews on Vang Vieng Tours
Out of 26 outdoor companies in Laos, Vang Vieng ranks number 3. This professional tour agency in Laos also has 278 reviews and people love them on tripadvisor. They have a proven track record of high-quality tours at an affordable rate. You can read about a great experience by a former client:
"Fantastic time from the time we were picked up at our hotel to being dropped off afterward. Friendly and efficient… – Gailbowen
Discovering Laos
Company's location and type: Luang Namtha, Laos, Local Tour Operator
Year of establishment: 2010
Awards, Certification: 2019 certificate of Excellence by Trip Advisor.
Reviews: 5-star rating out of 274 reviews on Tripadvisor.
About the company
This tour company in Laos operating in the heart of Nam Ha NPA has been providing specialized multi-day private tours since 2010. Discovering Laos prides itself on being an ethical and eco-conscious tour operator and they work with rural villages to provide them with a better income while giving tourists like you an unforgettable experience. The guides for Discovering Laos speak great English and are highly trained to deliver great service.
Packages
Laos is filled with fun and exciting things to get involved in and touring with Discovering Laos is the perfect way to travel like a local. You can join their 1 day trekking tour and enjoy a leisurely hike that is suitable for all levels of adventurers. The Laos cycling tour is a fun day filled with riding bikes through Luang Namtha Valley.
This also includes a cultural tour! Kayaking and Rafting is also a great option and you can spend the day discovering the gorgeous Namtha River. For guests who would like an easy-going trip in comfort, you should look into the minivan tour. This allows you to see many things in a very short period of time to give you a better tour experience in Laos.
Reviews on Discovering Laos
Out of the 274 reviews they have on Tripadvisor, this tour operator has a 99% approval rating from past clients. This tour company in Laos is also ranked number three out of all 14 tours available in Luang Namtha, Laos. Discovering Laos has also earned the certificate of excellence on tripadvisor. You can read a review recently left on their page:
"I went on the 1-day trek that was 4-5 hours of walking and had a great time! I loved that it was not too much walking so we had plenty of time for lunch and visiting villages. – Felli 995
Orla Tours
Company's location and type: Laos, Local Tour Operator
Year of establishment: 2010
Awards, Certification: 2012 – 2019 Tripadvisor Certificate of Excellence.
Reviews: 236 reviews on Tripadvisor 99% rated very good and excellent
About the company
Orla Tours is a well-organized tour operator in Laos offering tailor-made adventures in Laos. They are determined to provide the best Laos adventure tours while keeping a high level of respect for Laos customs and culture. This tour provider has everything from must-see attractions to some of the most remote and unscathed areas for you to explore.
Packages
Creating a tailor-made adventure with Orla tours is simple and they make it easy. One of their great tour options is the exclusive Mekong cruise that will take you on a private boat through the Mekong river with food and beautiful views included. The Remote tribes tour is a great opportunity to experience the mainly unseen areas of Laos while benefiting the locals.
A bike tour in Laos on the Bountai loop is also available and this is a chance to experience local Laos life and also get to go off-roading on motorcycles in the mountains. The Bike'n hike tour is a combination of a river cruise, biking tour, and a hiking experience all in one. You will also be camping if you decide on this adventurous tour.
Reviews of Orla Tours
Orla tours have years of experience and over the course of their existence, they have served thousands of highly satisfied customers with affordable tours that create lasting memories. With a 5 star rating and 236 great reviews on tripadvisor, this tour company in Laos also ranks #2 out of 60 tour operators in Luang Prabang. See this great review left by a past client of theirs:
"Very good trip of 10 days in the north of Laos to meet the people leaving in the mountains. Thanks to our Guide Phasouk…- Adventure146831
Laos Group Tours
Company's location and type: Laos, Tour Operator
Awards, Certification: #7 of 60 Outdoor Activities in Luang Prabang
Reviews: 4.5 stars and 211 reviews on Tripadvisor
About the company
As one of the leading tour operators in Laos, Group Tours provides some of the most affordable and immersive tour programs in the country. They pride themselves in offering low prices with extra high quality so that you can save money and have a memorable time in Laos. They offer an array of great tours and you can rest assured that this tour operator is experienced and trustworthy.
Packages
With so many great tours available through Laos Group Tours, it is hard to pick just one! The Vientiane City Tour is a half-day experience that will take you to the highlight points in Vientiane city while seeing the sights and eating local food. The Loas Highlight Tour package is the perfect choice if you would like to see all of the main attractions around Luang Prabang during the 7 days, 6-night event. For the more adventurous tourists, there is the biking and kayaking tour in Vang Vieng that includes cycling to local markets and exploring rural villages. There is also a 3 day Jungle Tour that is best suited for experienced hikers. You can see waterfalls, visit remote tribal villages, and explore the beautiful Laos jungles.
Reviews on Laos Group Tours
When you visit this Laos Tour agency page on tripadvisor, you can see that this company has been very well received by past clients. They have 211 great ratings and promise to provide you with an unforgettable tour experience in Laos. You can also read what other customers had to say:
"Recommend this tour to anyone for a lovely sunset cruise, it was peaceful and we particularly liked the releasing a fish back to the mekong for another chance in life…." – Gokma
Banana Boat Tours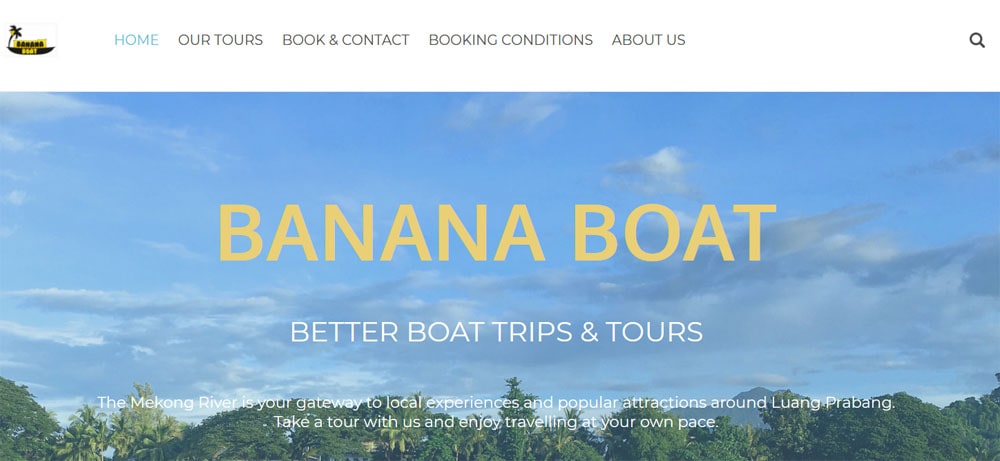 Company's location and type: Luang Prabang, Local Tour Operator
Year of establishment: 2012
Awards, Certification: 2019 certificate of Excellence by Trip Advisor.
Reviews: 4.5-star rating and 116 reviews on TripAdvisor
About the company
The Banana Boat tour company in Laos out of Luang Prabang has been in operation since 2012. From the time they first began offering great tours in Luang Prabang, they have been set on giving clients a high quality and high-value experience for a great price. One of their main selling points is that you can schedule the tour to be at your own pace so you never feel rushed and you can have a natural experience.
Packages
Get excited to learn about a few of the amazing tours offered by Banana Boat! The Mekong Boat Tours Laos is a wide selection of boat cruises and you can pick from many different activities. Cave exploration, pottery, waterfalls, and temples are all possibilities. There are two culinary workshops that you can also get involved in and you can either learn how to make rice noodles or join an authentic Heaun Chan Cooking Class​​.
If you would like an extended tour, there are overnight tour package in Laos where you can either explore Nam Ou or have an incredible village artisan experience. In Laos, there is a paper village and with Banana boat tours you can experience the papermaking workshop which involves decorating paper through natural ingredients.
Reviews on Banana Boat Tours
Banana Boat Tours is a well-respected tour company in Laos around the Luang Prabang area and on TripAdvisor, they have earned a 4.5-star rating out of 116 reviews. They have also earned the certificate of excellence in 2019 with tripadvisor. You can see the high praise from past clients here:
"I led a group of 13 students over to Laos and Emi put together a wonderful itinerary that included a unique homestay at Ban Leu homestay in Ban Nyanyang." – Jennifer
Indochina Odyssey Tours
Company's location and type: Luang Prabang, Laos, Local Tour Operator
Year of establishment: 2005
Awards, Certification: 2012 – 2019 TripAdvisor Certificate of Excellence.
Reviews: 124 reviews on TripAdvisor with 5-star rating
About the company
Each year, Indochina Odyssey Tours organizes and perfectly executes over 15000 client tours in the Luang Prabang area of Laos. They have been offering high-grade tours since 2005 and are continually trying to improve the quality of service offered. They give flexibility in their tours, their guides are extremely knowledgeable, and their drivers are very experienced. Planning a tour with Indochina is a safe bet for a great adventure in Laos.
Packages
You have many great Laos tour package options with Indochina Odyssey and here are just a few great examples: The 10 day in depth Laos tour will be filled with sightseeing, a boat ride, remote village encounters, and visits to temples and other ancient sights. Indochina also has the 7-Day Timeless Laos with Vang Vieng Adventure where you can see Buddha Park, visit the beautiful Nam Ngum Lake, and explore caves!
You will also be provided meals and travel during your tour. Find yourself climbing on top of Mount Phousi or exploring the night market in the essential Luang Prabang Tour. Another part of this option is your chance to visit with the local children. The 6 day Laos impression tour is a fun-filled week of sightseeing within Luang Prabang as well as Vientiane. You can also watch morning Alms giving rituals and explore the Pak Ou cave.
Reviews on Indochina Odyssey
Indochina Odyssey is a tour company in Laos that takes pride in the service they offer. They have zero negative reviews on Tripadvisor and maintain a 5-star rating with 105 reviews. This tour provider in Laos has also earned the tripadvisor Certificate of Excellence from 2012-2019! You can see what someone has said about the company here:
"From the moment I contacted Odyssey Tours (Mandy) I was given individual attention to make sure the tour met my needs and what I had in mind. They offered the appropriate advice and recommendations. – Colonel Q
In Conclusion
We hope that this top 10 Laos tour agencies list provides you with the information you need to make an educated decision for your future travels to the country. If you would like to travel abroad to visit Laos and immerse yourself in the local culture by joining an immersive tour, we encourage you to utilize this list to help you in your search.
Once you arrive home from Laos, we would be thrilled to hear back about your journey. If you have gone on a tour with one of these companies in the past, send us a message and let us know how it went!
Honorable mention
Related Links