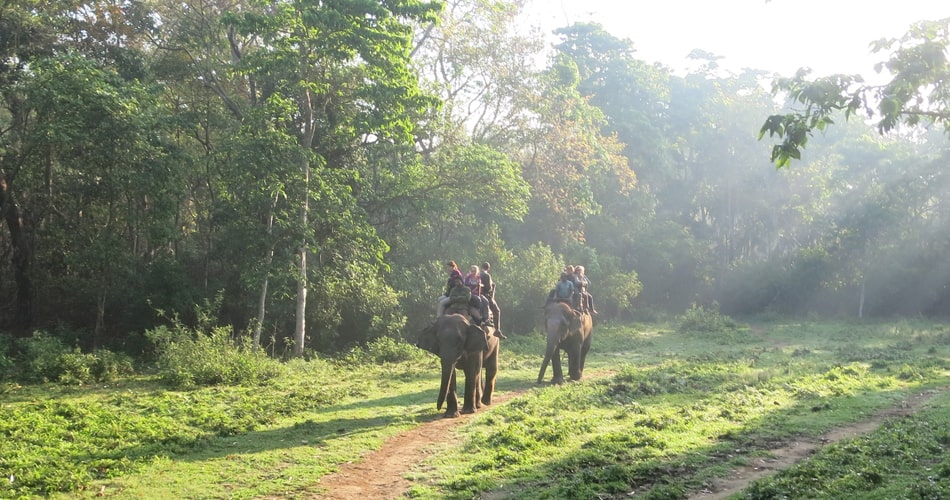 Image Credit: https://unsplash.com/photos/SU_T2l4hZEQ
Are you planning a trip to Nepal? Do you want to understand why Chitwan, Nepal, is the best travel destination in Nepal? This article provides detailed information regarding the top attractions and things to do in Chitwan. We have also enlisted details on how to get to Chitwan, the best time to travel, food, accommodations and many other important information to make your Chitwan travel comfortable and convenient.
Among popular destinations in Nepal, Chitwan is one of the best places where you can experience exotic vegetation and landscapes and even witness the endangered animals of Nepal. Chitwan lies in the southern part of Nepal and is renowned for being one of the top tourist destinations. Thousands of tourists worldwide travel to Chitwan to witness Nepal's diverse wildlife, stunning natural beauty and rich cultural heritage.
The district is also home to the famous Chitwan National park, which has been enlisted as a UNESCO World Heritage Site since 1984. As a result, it has been a popular destination for outdoor activities such as jungle hikes and wildlife safaris.
Further, Chitwan is home to numerous ethnic communities with unique traditions and cultures. So, during your trip to Chitwan, Nepal, you will have the opportunity to experience traditional music, food, cultural ceremonies and festivals. Its rich cultural heritage, abundant natural beauty and endless opportunities make it one of the top travel destinations in Nepal.
Chitwan National Park
During your trip to Chitwan, Nepal, visiting the Chitwan National Park is a perfect way to witness southern Nepal's culture and wildlife. The Park is located on the river bank of Narayani and Rapti. It is renowned among travelers for its ecological biodiversity and as one of the best conservation areas in Nepal.
This gives you a once-in-a-lifetime opportunity to witness endangered species like the gharial crocodile, Bengal tiger and one-horned rhino. The UNESCO World Heritage site is also a perfect destination for you to commence bird-watching, as more than 550 species of birds live in the Park.
Further, the Park is also a perfect getaway if you are looking for adventure activity. Chitwan offers you and your family several fun activities. It includes a jeep safari, elephant safari, jungle walks, and canoe rides. All of these exotic highlights are engaging and exciting for all age groups.
Top Ten Things To Do In Chitwan Nepal
Chitwan of Nepal is a perfect destination for both nature lovers and adventure seekers alike. There are various places to explore and activities to do in Chitwan.
So to help you plan a perfect trip, we have compiled the list of top ten things to do in Chitwan. From visiting ancient temples, to visiting the local culture and Chitwan National Park, there is an opportunity to explore for everyone.
Jungle Safari by Jeep
An experienced naturalist will guide your safari to answer your questions during the trip. The naturalist will be knowledgeable regarding the Park's plants, animals and history. So, you will have the opportunity to learn as you explore the deep jungles of the Chitwan National Park.
During the trip, you will have the chance to encounter species such as spotted deer, barking deer, leopards, and even exotic animals like the Bengal tiger and one-horned rhinoceros.
Elephant Jungle Walks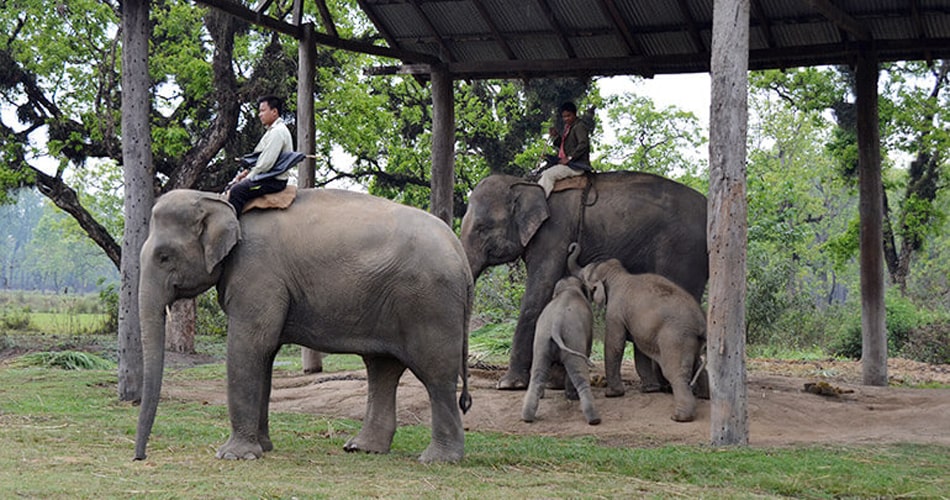 Image Credit: https://www.rhinolandchitwan.com/elephant-breeding-center.php
Like Jeep Safari, you will explore the jungle with the help of an elephant. This is one of the reliable and safe methods for a safe encounter with wild animals, as you will be in the protection of the mighty elephant. Also, it is a unique opportunity to get close to the elephant and witness their behavior and how they interact with other wildlife.
Bird Watching
Chitwan is renowned as one of the world's best bird-watching sanctuaries. During your bird-watching expedition, an expert naturalist will help you identify different species of birds in their aquatic, farmland, grassland, and forest habitats. Also, with the help of the naturalist, you will even learn to recognize the alarm calls and whistles of some of the birds.
River Safari by Wooden Canoe
Located beside the Narayani and Rapti rivers, the Park offers you and your family an opportunity to explore the jungle using a boat. On this exotic ride, you can spot birdlife, gharial crocodiles, and marsh crocodiles. Stop along the banks of the river and take a walk with the help of a guide and explore the forest surrounding the rivers.
Visit Bish Hajari Taal
Apart from exploring the unique wildlife of Chitwan, Nepal you can also visit the Bish Hajari Taal, a peaceful and beautiful lake. Besides, it is also regarded as a top place for bird watchers. Several species of birds migrate to the lake for suitable habitats. The lake is also home to crocodiles and even rhinos.
Tharu Culture And Programs
The Tharu people have lived in the region for several decades and are prominent inhabitants. During your visit to the Tharu village, you will witness colorful culture, traditions and cultures. Enjoy a relaxing evening in the village enjoying traditional Tharu cultural music and dance.
Elephant River Walk and Bathing
After a long trip, end your tiresome day with a short village walk and rest by the river banks. The elements cool down in the water after completing a jungle safari. Watch the elephants entertain themselves while they play in the river. Enjoy the relaxing view with your family as the sun goes down.
Crocodile Breeding Center
Visiting the crocodile Breeding Center is another popular activity in Chitwan of Nepal. During the trip, you will also witness several endangered amphibian species and reptiles, such as Gharial and Mugger. You and your family will be delighted to watch the process of crocodiles hatching from the eggs.
Chitwan Chepang Hill Trail
The Chitwan Chepang Hill Trail offers a combination of natural sightseeing and cultural experience in Chitwan. One of the highlights of the trek is the immediate insight it provides into the Chepang and other communities of the mid-hilly region of Nepal. It is an opportunity for you to visit the homes of the local community people and enjoy authentic traditional meals. The trek begins at Hugdi between Krishna Bhir and Mugling and ends in Shaktikhor.
Pilgrimage Tours
Chitwan, Nepal also offers you holy pilgrimage sites to explore. One such religious site is the Devghat, located near the Gandaki river's banks. Further, you can also visit Bikram Baba Temple on the river banks of Rapti. Lying on the bank of the Narayani river, Shiva and Harihar mandir are also worth a visit.
How To Get to Chitwan Nepal
Chitwan offers you a unique opportunity to experience unparalleled adventure. The destination is perfect for wildlife enthusiasts and nature lovers. With its sprawling grassland, tranquil rivers and dense forests, Chitwan is not to be missed by any travelers visiting Nepal.
But you might have questions about how you might get there? Whether you are a frequent visitor, or it might be your first time traveling to Nepal, the information we have gathered will help you travel to and explore Chitwan, Nepal.
By Flight
Air travel is one of the convenient means to travel to Chitwan. You can book a flight to Bharatpur Domestic Airport from Kathmandu. Bharatpur is the primary gateway to explore Chitwan.  The flight usually takes around 30 minutes. During your flight you will be amazed by beautiful aerial views of the dramatic green hills and stunning valleys.
By Tourist Bus
Another option is to take a tourist bus, a convenient and cheap way to reach Chitwan from Kathmandu. Numerous bus services offer direct trips from Kathmandu to Chitwan. The comfortable bus ride usually takes around 7 hours to complete.
By Private Car/Taxi
Lastly, an alternative to the tourist bus is booking a private car or taxi to Chitwan. The trip usually takes around 5-6 hours to complete. It is a scenic drive as you travel along the Prithvi highway, enjoying beautiful views of villages, rivers and greens. If you travel solo to Nepal, you can share the ride with other fellow travelers to make it more affordable.
Best Time To Visit Chitwan Nepal
Chitwan is a beautiful region in Nepal, which is known for its lush jungles and diverse wildlife. It is one of the top destinations in Nepal to witness exotic species of flora and fauna in Nepal.
If you are traveling to Chitwan, you must plan your trip according to your preference and needs. It will significantly enhance your trip as the experience of your travel and activities will depend on the time of your travel.
In general, the month from October to March is regarded as the ideal season to travel Chitwan. This falls during the winter season in Nepal. During this time of the year, the temperature ranges from 10 to 20 degree celsius. The weather is dry an pleasant making it the perfect time to explore the region and indulge in activities such as jungle safar, bird watching and canoeing.
The weather is hot and humid during the month from April to June in Chitwan. The temperature rises to 40 degrees Celsius during the day. So, due to the extreme heat waves, this time is considered to be not ideal for outdoor activities. Regardless, nature enthusiasts still travel to Chitwan even during the season of summer as animals gather around water sources, making it easier to spot them.
On the other hand, Chitwan experiences heavy rainfall from July to September. We do not recommend traveling this time as the rainfall leads to flooding and landslides. Regardless, the forest will bloom with lush green vegetation, and the rivers and waterfalls flow with full might, making it a sight to behold.
How Long Should I Stay In Chitwan?
The duration of your stay generally depends on the activities you undertake and the interest you may have. During your stay, if you want to explore the Chitwan National Park, we recommend you stay three days to experience the best of what Chitwan, Nepal, has to offer.
Whereas, if you have a short time, you can still enjoy a day trip in Chitwan. You can visit the elephant breeding center or a jungle safari. Regardless of how long you stay, the opportunities in Chitwan are to be noticed. Besides, to experience Chitwan's unique cultural and natural heritage, we advise you to stay longer.
What To Pack To Visit Chitwan
Suppose you are planning a trip to Chitwan, Nepal. You must pack appropriate gear and clothing to undertake activities and protect yourself against weather conditions. Some of the essential items you must include in your backpack during the trip are as follows:
Comfortable and lightweight clothing: Chitwan has a humid and warm climate, mainly throughout the year. So, we recommend you pack breathable and lightweight clothes such as linen or cotton pants and shirts. If you go for outdoor expeditions, shoes, t-shirts, and shorts are good options.
Sun protection-To protect yourself from the sun, it is essential to pack sunglasses, sunscreen cream, hats or caps.
Insect repellent: The riverways and ditches inside the jungle are the perfect habitats for mosquitoes. Protect yourself from mosquito and other insect bites with insect repellents.
Rain gear: If you are visiting during the monsoon season, pack a rain jacket, and umbrella to stay dry during sudden rain showers.
Water bottle: To tackle Chitwan's dry and humid climate, we advise you to stay hydrated. Pack a refillable water bottle to avoid buying additional water bottles to reduce plastic waste.
Binoculars and camera: To spot several species of wildlife in Chitwan, remember to pack gadgets such as a camera and binoculars to witness and capture the region's stunning landscapes.
Torch/flashlight: It is recommended to carry a flashlight or torch; it will help you navigate during night jeep safari and excursions.
Personal medication: We advise you to carry prescribed medication and a first aid kit if you have a medical condition.
Accommodation in Chitwan,  Nepal
Chitwan, Nepal offers a range of accommodation options to suit your budget, needs and preferences. From luxury resorts to budget-friendly guesthouses, you have plenty of options.
Many of these accommodation establishments are near the Chitwan National Park, offering easy access to outdoor activities and excursions. These include jungle resorts, homestays and even eco-lodges.
They offer an authentic and unique experience, allowing you to immerse yourself in the local culture, tradition and way of life. The eco-lodges in Chitwan are built using environment-friendly materials and do not leave a negative environmental footprint. So, if you want to support the initiative, you can stay in such accommodations in Chitwan, Nepal.
Whereas, if you are looking for the best hospitality and services, we recommend staying in jungle resorts. They provide luxury amenities and facilities such as spa treatments, swimming pools and fine dining.
On the other hand, homestays are budget friendly and a convenient way to experience the culture and tradition. It is also an immense opportunity to stay with local community people, learn about their culture and enjoy home-cooked meals.
Some of the best accommodations you can choose from in Chitwan, Nepal, are as follows:
Jungle Wildlife Camp
Chitwan Tiger Camp Resort
Siraichuli Hotel
Hotel Peacock- A Family-Running Hotel
Green Park Resort Chitwan
Food in Chitwan Nepal
Although Chitwan Nepal is a hub with modern facilities and infrastructures, many parts of the region are rural. Several parts of Chitwan are covered with dense vegetation and forests. So, during your visit to Chitwan, you will directly interact with communities living in these rural parts for generations. This is also an excellent opportunity for you to experience the traditional taste of their cuisine. To make it easier for you, we have narrowed down the choices and have listed the top three dishes you must try during your visit to Chitwan.
Ghonghi, the delicacy of snail
One of the dishes you must try is the Ghongi, which is renowned as a delicacy of Tharu cuisine. The snail species is known as escargot in France and is usually served with ground linseed soup. You can enjoy the dish by sucking the meat from the snail shells. It is available in most of the marketplaces in Terai.
Taas
This is one of the great snacks paired with drinks in Chitwan, Nepal. It consists of spicy mutton meat, beaten rice and other side dishes. Chitwan is renowned for being the hub for serving delicious Taas. So, during your visit, remember to try the Taas with your friends and family.
Nepali Thali set
Nepali Thali set is one of the popular dishes in Nepal. It consists of side dishes such as fried potato, roasted soya bean, soups, rice, lentils, chicken, roasted wild boar, seasonal fresh leaves, vegetables and pickles. For dessert, you will have thick yogurt mixed with cinnamon powder and dry nuts. We highly recommend you to try the Nepali Thali Set as it makes you relish authentic traditional meals of Chitwan as you get to taste the variety of dishes.
To make the most of your trip, booking the best Nepali travel agency is recommended. They are known for their sustainable tourism practices and knowledgeable guides. The agency will be responsible for enhancing and making the best out of your authentic travel experiences.
While in Nepal, we highly recommend you go trekking as well. Some popular routes are the Manaslu trek and the Annapurna circuit trek. To enhance your travel experience, we recommend you the best Nepali Trekking Companies. These trekking agencies have a wealth of knowledge and experience about the local terrain, culture, and customs, making them well-equipped to guide you through the trekking trails safely and responsibly.
FAQ
What is Chitwan Nepal famous for?
Chitwan, Nepal, is famous for adventure activities like jungle safari, elephant rides, canoeing, and bird watching.
How long is Chitwan from Kathmandu?
The distance between Kathmandu and Chitwan is approximately 146 kilometers by road. Traveling from Kathmandu to Chitwan takes around 5-6 hours by bus or private vehicle.
Is one day enough for Chitwan?
While it is possible to visit Chitwan National Park in one day, there may be more time to experience all the Park fully has to offer. To fully appreciate the natural beauty of the Park and its diverse wildlife, it is recommended to spend at least 2-3 days in Chitwan.
Which month is best to visit Chitwan, Nepal?
The month of October to March is considered to be the peak season for to travel Chitwan. During this time, the weather is mostly clear, dry, and pleasant, making it ideal for wildlife viewing and outdoor activities like jungle safaris, bird watching, and canoeing.