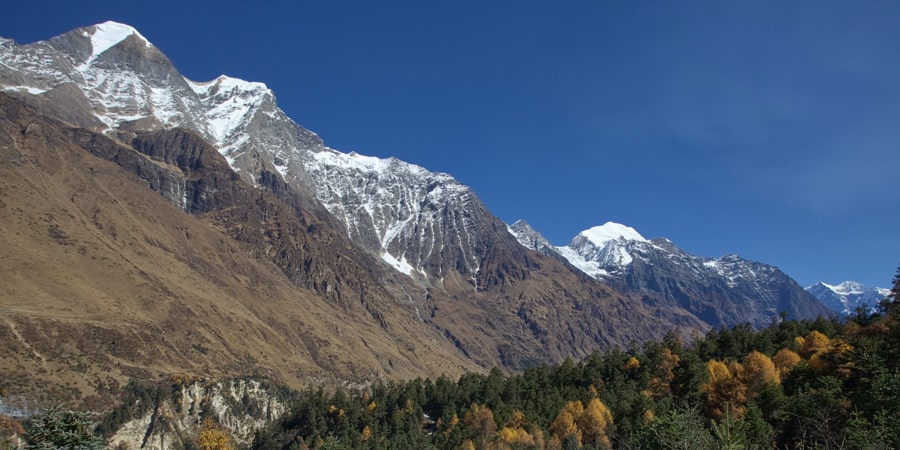 The Manaslu Trek opened in 1992, enriches your experiences with its captivating natural essence, exclusiveness, and untouched beauty. Gaining popularity recently as one of the best treks in Nepal, it takes you around the Manaslu Conservation Area and leads to a breathtaking view of the eighth highest mountain in the world.
The Manaslu Circuit Trek is a stunning 11- day to 24 – day journey which treks around Mount Manaslu, starting from Soti Khola to ending in Besisahar. You will travel 160 km from Kathmandu to reach SotiKhola for this trek.
This Trek features epic scenery, and takes you through a relatively off-the-beaten remote path to the beautiful landscapes, fierce white water river falls, and dense forests of Manaslu mountain (8,156m/26,758ft.
You will gain insight into local people and their ancient culture and a 5100m (17,000-ft.) Himalayan pass crossing.
This article unfolds each and everything in detail that the enthusiast trekkers need to know about trekking in Manaslu Nepal.
What are the Major Highlights of the Trek?
Scenic drive from Kathmandu to Arughat and Beshisahar to Kathmandu: With an exciting and thrilling view of hills, forests, and rivers, your Manaslu trek seems short.
Unique cultural blends of Tibetan and Nepalese people: Despite the cultural differences between these groups, anyone can be curious to understand their co-existence in harmony.
Exotic Budhi Gandaki River valley: Moorlands of this river gives a glimpse of nature's gift.
A traffic-free trekking trail: Trekkers enjoy the site as it's less crowdy. There can be enough places to stay and sufficient food to eat around the Manaslu trek.
Fantastic views of Mt. Manaslu, Mt. Himchuli, Mt. Ganesh, and others: The scene of almighty Mt. Manaslu along with other snowcapped mountains pays you unsurpassed happiness.
Larkya La passes (5153m/16901ft) crossing: This is the most exciting and challenging point during your trek, and also the highest point in the trekking circuit.
Unexplored and unspoiled nature and culture: Remoteness of the place and culture makes this Manaslu circuit trek stands out.
Where is Manaslu Trek Located?
The trek is located 64 km east of Annapurna in the Gorkha District of Nepal. It takes place in a sub-tropical Himalayan foothill to a dried Trans-Himalaya high meadow bordering Nepal and Tibet.
The real trek occurs in Manaslu region though it starts driving from Kathmandu on Prithvi Highway that follows the Trishuli River. When you reach Soti Khola via Arughat, your real trek in the Manaslu circuit begins.
On this trek, you will pass many places such as Sotikhola, Machhakhola, Jagat, Philim, Deng, Ghap, Lho, Samagaon, Samdo, Dharmasala, Bhimtang, Dharapani, Besisahar etc. Beginning from Sotikhola to ending at Besisahar, this encircles Manaslu. Thus, it reckons as Manaslu circuit trek or Manaslu trek.
From Arughat to Larkhe La Pass the area covers six climatic zones. The tropical zone varies from 1,000 to 2,000mtrs, temperate zone 2,000 to 3,000mtrs, sub-alpine zone 3,000 to 4,000mtrs, alpine zone 4,000 to 5,000 meters and arctic zone more than 4500mtrs.
You cross Larkya La Pass (5,160m), the highest point of this trek Manaslu circuit. Views of the snowcapped peaks of the Manaslu region, the glory of Mt. Manaslu (8,156m), Ganesh Himal and the Langtang region are lifetime memories. This trek also leads you to have fascinating views of Shringi Himal (7,187m), Ganesh Himal (7,319m), and Himal Chuli (7,893m).
Manaslu Nepal Trek covers a huge trek distance. You will have various options to alter the itinerary based on your interests.
TravellersQuest's Ultimate Guide to Manaslu Trek
The Manaslu trek is an off-the-beaten-path trail in the Himalayas of Nepal. The route leads you up and around the incredible scenery of the base of Mount Manaslu. Located in the Manaslu region, you can encounter the unique blends of both Nepalese and Tibetan cultures.
This trekking region unfolds a spectacular landscape and diverse geography. Trail in this region with beautiful scenarios captivates all, and the site is surrounded by mesmerizing snow-capped mountains from all directions.
The circuit route in Manaslu Nepal takes around 14-24 days to complete which depends on your itinerary. Complete the trek in time, demands tough physical fitness.
Chapter 1: Manaslu Trek Routes and Maps– This trekking route lies in the west-central part of Nepal in the Gorkha district bordering to Tibet. This very geography gives you an amazing blend of Buddhist and Hindu cultures. This trekking route begins from Kathmandu and connects Arughat Bazar and the trail takes you to one of the most remote and adventurous sites.
Chapter 2: Best Time to Trek Manaslu Circuit– The best time for the Manaslu circuit trek Nepal is Spring and Autumn. The great time of autumn is from mid-October until mid-December. While mid-March until the first week of June is the perfect time for spring.
Chapter 3: Choosing the best Manaslu Trek Operator– You should join the best company for a safe trek to Manaslu. There are hundreds of travel agencies and tour operators in the country. Choosing a local and experienced one is a treasure for you.
Chapter 4: Manaslu Trek Cost– The trek cost of Manaslu depends on how long you plan to stay in the region. The longer your itinerary is, the more you'll have to spend. It can cost you around US$1,000 to US$1,200 based on the facilities preferred.
Chapter 5: Manaslu Circuit Trek Visa and Permit– You require to have your valid passport and visa along with an area-specific permit. These Nepal trek permits can include Manaslu Restricted Area Permit (MRAP), Manaslu Conservation Area Permit (MCAP), and Annapurna Conservation Area Permit (ACAP).
Chapter 6: Manaslu Trek Packing List– The list of trekking packs for Manaslu should include the right clothes, gear, and equipment. You should be able to adjust the list to the weather conditions you will trek in. Make sure your adjusted list should make your backpacks as light as you can.
Chapter 7: Manaslu Trek Accommodation and Food– Manaslu circuit trekking region is a remote and restricted area. You do not get such luxury accommodation and varieties of food items during this trek. Therefore, you use ordinary accommodation at lodges or teahouses run by the local people.
Chapter 8: Manaslu Trek Ground Transportation– Ground transportation for this trek starts in Kathmandu. You will take a drive on the main highway either taking a private vehicle or a local bus to the Arughat bazaar. From Arughat to Soti Khola, it's dirt and rough road, so trekkers are recommended to take road adjustable vehicles. The mud and dirt tracks follow the Budhi Gandaki River upstream to Soti-Khola.
Chapter 9: Manaslu Circuit Internet and Telephone Network– You will find the telephone services in almost all teahouses in most of the places during the trek. Also, you can use an NTC sim card on your own cellphone.
Chapter 10: Manaslu Circuit Trek Guides and Porters– Manaslu region in Nepal borders Tibet. A licensed trekking guide is mandatory for trekking around because of the restriction. Professional guides are experienced, qualified, and have a vast knowledge of culture and traditions. They also know very well about possible side trips in this trekking circuit.
Chapter 11: Manaslu Circuit Trek Difficulty and Safety– Trekking in Manaslu is one of the challenging treks in Nepal that takes you through the remote villages of the Himalayan region. This trek is a moderately difficult trek. You need to have enough preparation and physical strength to complete this trek.
FAQs
Why Manaslu is called Killer Mountain?
Ans: Mt. Manaslu is called killer mountain because more than 60 people have lost their lives while attempting to summit during the Manaslu trek. Its treacherous slopes and proneness to avalanches are the major factors for the incident.
16 people died in the Fall of 1972 from a major avalanche and 11 died in 2012 also from an avalanche.
Is Manaslu difficult to climb?
Ans: Manaslu is a serious high-altitude mountain where more than 60 climbers have died. No mountains with a height above 8000 meters are considered as easy.
What is the meaning of Manaslu?
Ans: Manaslu means "mountain of the spirit" which is derived from the Sanskrit word manasa, meaning "intellect" or "soul". you need to understand the true meaning of life and the superiority of nature objectively when climbing Manaslu during the Manaslu circuit trek in Nepal.
What is the height of Manaslu?
Ans: The height of Manaslu is 8,163 m from the sea level which is the eighth highest mountain in the world.
How long does it take to climb Manaslu?
Ans: It takes 6 weeks to climb including a trek up to the 4,400-meter Manaslu Base Camp. You will allot 23 days just for the climbing time.
How much does it cost to climb Manaslu?
Ans: Climbing Manaslu Mountain costs around USD 11,500 including all the service costs. The cost covers all the transportation, meals, services to Base Camp and High Camp, expedition equipment, and high-standard tents at the Manaslu Base Camp trek. You need to pay an extra USD 2500 for the climbing sherpa.
If you just looking for the Manaslu mountaineering royalty, it is US $1800 in Spring, US $900 in Autumn, and US $450 in Winter/Monsoon.
How many camps does Manaslu have?
Ans: There are four high camps above the base camp. You can summit Manaslu through the North-West ridge by placing the camps.
What is the easiest 8000m peak to climb?
Ans: Cho Oyu is the easiest of the fourteen 8,000m peaks which is the sixth highest mountain in the world. It is 219 km away in distance from the Manaslu circuit trek.
How many people climb Manaslu?
Ans: Over 2,000 people have climbed Manaslu since it was first climbed in 1956.
When was Manaslu first climbed?
Ans: It was first climbed in 1956.