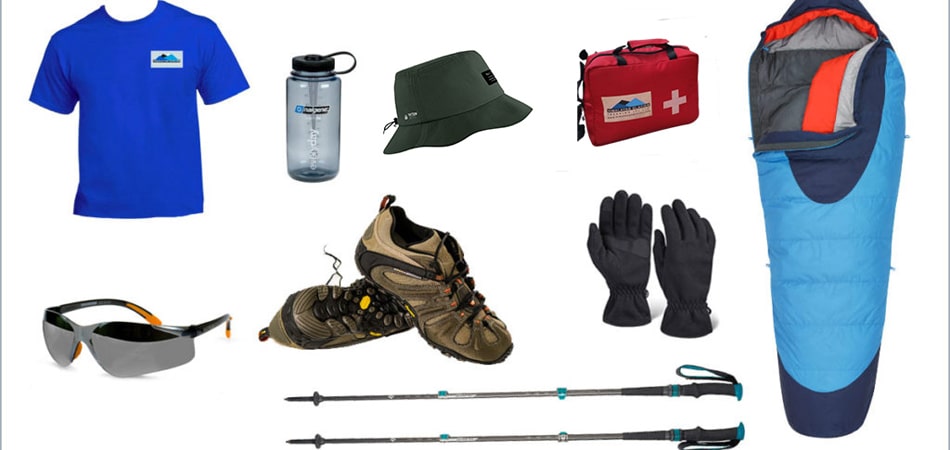 Image Credit: https://www.himalayanglacier.com/manaslu-trek-packing-list/
The Manaslu trekking route takes you to approximately 5210m altitude from 710m. As the altitude increases, there will be a change in temperature, pressure, and oxygen level. Overcoming this challenging trek, require a moderate level of fitness and prior preparation.
Light and wise packing is suggested for your successful journey. Important trekking equipment and gears on the way give you great relief.
Selecting the right clothes and other gears and equipment according to the weather and climate eases you to overcome the Manaslu trek difficulty. Right trekking items are essential to avoid unnecessary complications. You have to manage your packing according to the hotter temperatures at lower altitudes and colder temperatures at higher altitudes.
Here is a recommended packing list of items that you will need in your trek. The list will help you to be safe and make your journey easier and fun.
Travel Clothing during the Manaslu Circuit
Insulated Jacket
Waterproof and windproof Jacket (breathable)
Down Jacket
Thermal tops
Trekking shirts
Trekking trousers or pants
Hiking shorts
Lightweight thermal trousers
Breathable underwears
Rain gears
Lightweight gloves (inner thermal gloves and outer windproof and waterproof gloves)
Bandana or head scarf
Warm woolen hat
Sun Hat
Buff, Balaclava or Neck band
Headlamp with extra batteries and bulbs
Sunglasses with UV protection
Prescription sunglasses (if required)
Hiking socks
Woolen socks
Hiking boots with spare laces
Hiking sandals
Cotton socks (optional)
Gaiters
Quick-drying towel
Toothbrush and toothpaste
Soap
Deodorants
Nail clippers
Face and body moisturizer
Sunscreen cream
Lip balm
Foot powder
Female hygiene products
Anti-bacterial hand wash
Small mirror
Personal Hygiene
Wet wipes (baby wipes)
Tissue /toilet roll
Trekking poles
Sleeping bag
Backpack
Small daypack for carrying your valuables
Personal first-aid kit (simple and light)
Important medicines such as aspirin, anti-diarrhea pills, Anti-headache pills, cough and cold medicine, anti-altitude sickness pills, Stomach antibiotic
Water purification liquid or tablet
Earplugs
Extra pair of prescription glasses or contact lens
Repair tape, Sewing-repair kit
Lighter or matchbox
Digital camera with extra batteries and memory cards for Manaslu trek scenic pictures
Water bottles (2 litres)
Binoculars (optional)
Plastic bags
Other Extra Equipment to Make Your Manaslu Circuit Trek Great
Book for reading
Trekking trail map
Pod
Travel game for leisure activities (chess, backgammon, scrabble, playing cards)
Binoculars
Plug adapter
Lightweight pillow case
Personal Documents and Items to Trek Manaslu Circuit Nepal
Passport with at least 6-month validity along with a valid visa
Photocopies of passport
4 – 8 extra passport-size photographs (required for the local SIM card purchase or trekking trails permits)
Airline tickets
Visa form (easily obtained at Kathmandu airport)
Any other valid ID in case you lose your passport
Proof of insurance
At least $200 to $300 cash
FAQs
What do you need to pack for Mount Manalsu?
Ans: You need to pack necessary trekking clothes, equipment, medical kits, and documents.
Do you need a sleeping bag to trek Manaslu?
Ans: Yes, you need a sleeping bag to trek the Manaslu Nepal circuit. Though the tea houses provide you with a blanket, it may not be enough for you at high altitudes.
Do you bring your own tent to the Manaslu expedition?
Ans: Your trekking agency will arrange a tent and other necessary equipment for the Manaslu expedition. So don't be bothered carrying extra weight.
If you are looking for information regarding the routes of the Manaslu trek read Routes and Maps of the Trek chapter.  Best Manaslu Trek Time   chapter explain in detail about the best time to trek in Manaslu region. If you are wondering how to choose the best trek operator, find detailed information from this How to Choose the best Manaslu Trek Operator chapter.
The cost chapter Cost of Manaslu Trek explains all types of cost and fees of Manaslu trek. If you need information regarding the visa and permit of Manaslu trek read Visa and Permit for Manaslu Trek chapter.  Learn in detail about the food and lodging during trekking Manaslu in the Accommodation and Food chapter. If you want information about Manaslu trek ground transportation read the chapter Ground Transportation during.
In other chapters of this Manaslu Trekking guide, we have explained in detail of  Internet and Telephone Facility in the Manaslu region, how and where to find the Trek Guides and Porters and how much dangerous and safe is Manaslu Trek.