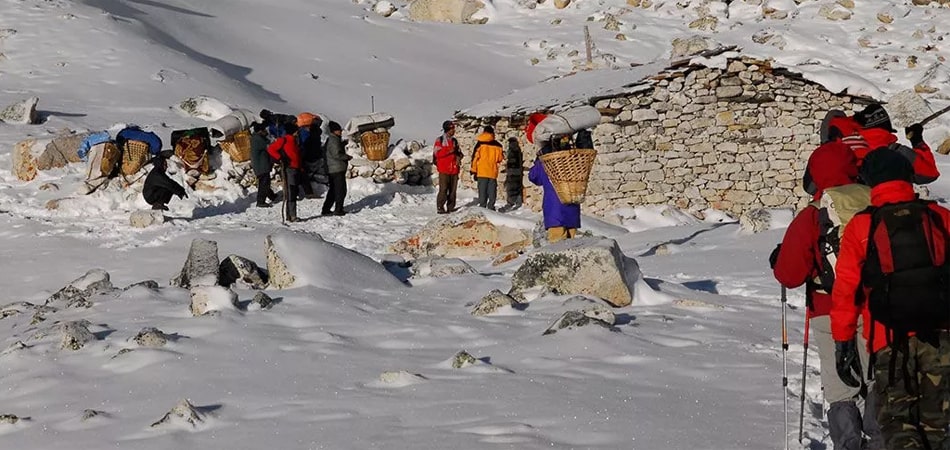 Image Credit: https://excitingnepal.com/manaslu-trek-difficulty/
With the natural setting embellished by towering mountains, large lakes, serene waterfalls, and lush greenery, Manaslu is a visual sensation.
Manaslu circuit trek Nepal looks like a true oasis with sweeping landscapes, lustrous meadows, and roaring rivers. Although underrated due to its inaccessibility and remoteness, the mountain is one of the finest with snowy ridge, ice cliffs, and seracs.
Perked in the Mansiri Himal in west-central Nepal, Manaslu is approx. 74 miles away from Kathmandu. Its trail scrambling right from Machha Khola is rough, taking lots of twists and turns which is pretty hard.
As this is considered one of the toughest hikes in Nepal, it's off-the-beaten-path and has poor access. The trails are rugged and extend miles which add further pressure on the hiker.
Trekkers really have to go through a lot of pain and trouble, just to reach the circuit beginners have to come physically prepared. Some of the prime Manaslu trek difficulties are listed below:
Trek Distance
The trek distance in this region can be intimidating for any hikers who haven't trekked earlier or come without any training. Provided that the track is stretched more than 177 km from Kathmandu, it becomes tough to keep the same rhythm from start to finish.
Trails of Manaslu make the trekkers walk 5-6 hours on average each day which is too much to ask. Most of the section walks a steep and rough path filled with rocks that need more time to wrap up.
Even on a normal day, climbers will have to trek anywhere from 15 to 20 km which is nerve-wracking and strenuous Manaslu trek distance difficulty.
As the path travels through remote places and hillsides it requires a lot of physical strength. Thus, you'll have to give enough time to finish walking the trail otherwise you'll never get to the destination.
Weather is a decisive factor to make or break your trek. Wind storms, heavy snowfall, and blazing heat often put a hindrance on the expedition. In this scenario, you need to depend on the Manaslu circuit trek weather for your better trekking experience.
Winters normally put severe weather with icy-cold nights which are nasty and unendurable. Although the days are warm and humid, temperatures in the morning are minus degrees celsius which is quite hard to resist.
So, make sure to put up warm clothes if you're traveling the region in January or even during fall.
The lodges and guest houses are often closed during winter at Manaslu due to heavy snowfall. Hence, if you don't spend a night without a roof, make early reservations for the accommodation.
Following bad weather conditions and icy trails, the Larkya La pass in the Manaslu circuit is shut down in winter. Hence, you need to be cautious about it otherwise you'll be stuck in the region.
The summer season may be hot and warm, providing a cozy atmosphere for the excursion. However, as with the start of the monsoon, the trail becomes slippery with continuous rainfall moistening the soil.
During monsoon, trails here remain drenched all day long which makes them murky and difficult to traverse. Autumn is arguably the perfect time for the trek as the weather is mild and pleasant right around the time.
The colorful autumnal leaves, cool breeze, and warm climate make the season perfect to traverse in the neighborhood of Manaslu trek Nepal.
With its lovely weather and spectacular setting, spring is just as well as autumn for the Manaslu hike. It serves trekkers with calm and moderately good weather followed by a mesmerizing view of the bright forest.
Altitude Sickness
Altitude Sickness becomes a thing when you're trekking as high as Manaslu which sits atop 4,860 meters. As the trail climbs height, the air becomes thinner and thinner, causing difficulty in breathing. It also witnesses a tremendous change in the temperature which affects the body hardest.
The trails of the Manaslu circuit trek affect different people differently. Some people are more susceptible to altitude so they start feeling the suffocation much earlier. Whereas, the pro hikers who have previous experience in climbing shows are likely to suffer less when exposed to high elevation.
Acute mountain sickness often occurs when you scramble at high altitudes too fast and too much. The sudden drop in the barometric pressure impacts the body by putting more pressure on the joints.
Although it's fun traversing Manaslu, you need to be really careful about the altitude gained and pay careful attention even to the minor symptoms. These indications normally start from 6-48 hours after you gain the height and can turn to become fatal.
Early symptoms of altitude sickness in the Manaslu trek include headache, dizziness, insomnia, and loss of appetite. If the syndromes are not cured on time or ignored, trekkers can suffer from hypoxemia and fatigue.
Accommodation
Accommodation is another deep concern of hikers trekking Manaslu in the prime season. Given the favorable weather and pleasant climatic condition, most people visit Manaslu during the rush hour which creates havoc.
However, even if you managed to get the dwelling, it doesn't meet the standard of high-end. The most common accommodations available in the Manaslu Nepal circuit region are tea houses and lodges. They are primarily run by local people and are equipped with basic facilities.
No royal treatment is given to any trekkers with amenities being just rudimentary. Based on the price range, most tea houses provide rooms from single to double, both with and without en suite.
Since they cost as little as US$2 to US$5, don't look for any swanky items as it'll only cause you disappointment. The only facilities you'll get is a cozy room with a single wooden bed and a pillow. Some places around the Manaslu circuit trek may also offer you a warm bed sheet and blanket with a hot shower but that's exceptional.
Autumn and spring usually see a radical number of travelers flocking to the region. It's the primary reason why there is an endless traffic jam on the way to Manaslu during the season. While trekking during the month, you've to pre-book rooms otherwise it's hard to get a place to stay overnight.
Finding the rooms at the last minute is not just exhausting but impossible so it's always better to make advance reservations. Usage of electricity to charge items like a phone, battery, and camera cost extra dollars all other times.
Physical Challenges
Manaslu trek is both physically and mentally challenging with steep trails, huge rocks, and cliffs. The trails are tough right from the beginning with many ups and downs. Whoever is hiking Manaslu, has to get their head on straight and keep cool throughout the excursion.
Since it's a long-distance hike, you must give yourself enough time for preparation before hitting the actual trail. Physical stamina is a must to beat the craggy track of Manaslu so if you're a novice, start with easy but efficacious physical exercise.
Jogging and cycling are extremely beneficial in increasing endurance power with no stress. Follow an intense fitness regimen along with a strict diet to keep yourself healthy and avoid sickness.
Food and Drinks
Unlike other popular hikes in Nepal, the Manaslu trek circuit is the least trekked by travelers due to its accessibility and long-drawn trails. Most of its tracks are unpaved with steep climbs over hills, crags, and boulders.
Due to the inhospitable environment, it's tremendously hard to freight the supplies in the region which is why you don't get too many items for food. In fact, the most frequently served food in the region is typical Nepali food, rice, vegetables, pulses, and pickles.
Over the years, locals have become considerate towards the guest as they have started providing a range of items including some western and Asian cuisines.
You can get yourself some appetizing dishes like stir-fried noodles, soft flatbreads, hot soup, and muesli but they cost a bit high.
Finding the Right Guide and Porter
Another Manaslu trek difficulty is getting the right guide and porter who can ease your trip. This is something not to worry about for the hikers who are doing the trip through the tour operator.
But if you're trekking solo, it's a formidable challenge to find a good guide who knows the trail pretty much.
It's even better if your guide is bilingual and can speak English fluently as it'll be more feasible for you to interact with. Traveling alone with all the heavy loads and baggage on the trail of Manaslu is nearly impossible.
Therefore, to lose weight and finish the trip more comfortably, it's always wise to hire a porter.
Each porter in the region helps a trekker with about 10-15 kg weight. If the weight exceeds the limit, you'll be charged an additional amount. Otherwise, you can also negotiate with your fellow trekker and get the luggage carried throughout this Manaslu circuit trail.
You can call locals for help to find a porter and guide who can navigate you throughout the journey and give good company. Meanwhile, if you're planning to do the trek alone then we would recommend not doing so as it's too risky.
Long Duration in a Remote Place
No matter how much in a rush you are, the Manaslu circuit trek of Nepal cannot be done in less than two weeks. Its trails are long-winded through some of the primordial villages in the region which look nothing but spectacular.
However, it's really hard to travel to these hamlets as they are far off. You'll have to walk along the sloppy trails, through the forest, and over the mountains to just arrive at the destination.
Most of the paths are continuous uphill which takes hours to complete even if trekked at a steady pace.
The path walks a lot of places that are isolated with no signs of human settlement. This makes the trip a lot difficult as you have no place to stop by and get a meal instantly and wait for a considerable time.
Maintain your pace. Walk-in a comfortable way
Stay hydrated and get neutered
Avoid smoking and alcoholic drinks
Check the climatic conditions and atmosphere before starting the trek
Acclimatize properly in needed
Always inform your trekking leader if anything gets wrong
Pre-booking accommodation is always wise
Carry insect repellants and water purifier
Pack properly
Remain physically, mentally, and emotionally determined
FAQs
How difficult is the Manaslu trek?
Ans: This is a moderately difficult trek.
How crowded is the Manaslu base camp?
Ans: Due to fall being the best time to trek the Manaslu region, it is also the most crowded time.
Is Manalsu trek safe?
Ans: Trekking in Manaslu after the 2015 earthquake is quite safe and ready to be embarked.
How hard is trekking in Nepal?
Ans: The treks in Nepal range from moderate to difficult which is up to 4,500 m. Not all the treks around this range are difficult and the majorly of the treks are classified as Moderate like the Annapurna Circuit.
Conclusion
Manaslu circuit trek Nepal is the most popular trekking destination, captivating trekkers with its unexplored natural beauty. This trekking site, located in the remote area of the Himalayas, is considered a haven for adventure seekers and avid trekkers.
This guide gives you in-depth insight regarding detailed features and complete requirements. It extensively covers trekking trails to trekkers' needs. Available food, accommodation, other services, resources, necessary permit, and documentation are minutely discussed.
If you are looking for information regarding the routes of Manaslu trek read Routes and Maps of the Trek chapter.  Best Manaslu Trek Time   chapter explain in detail about the best time to trek in Manaslu region. If you are wondering how to choose the best trek operator, find detail information from this How to Choose the best Manaslu Trek Operator chapter.
The cost chapter Cost of Manaslu Trek explains all types of cost and fees of Manaslu trek. If you need information regarding visa and permit of Manaslu trek read Visa and Permit for Manaslu Trek chapter. The packing list chapter explains the main items to Packing for Manaslu trekking.  Learn in detail about the food and lodging during trekking Manaslu in the Accommodation and Food chapter.
If you want information about Manaslu trek ground transportation read the chapter Ground Transportation during. In other chapters of this Manaslu Trekking guide, we have explained in detail of  Internet and Telephone Facility in the Manaslu region and how and where to find the Trek Guides and Porters.