Image Credit: https://www.everesttrekkingroutes.com/manaslu-circuit-trek-accommodation/
Since Manaslu site trekking is a remote and restricted area trekking, you do not get such luxurious accommodation on this trail. Manaslu circuit Nepal trek accommodation is fairly basic in terms of service but very convenient.
Your accommodations will be at lodges or teahouses. These teahouses have a common place for dining and relaxing. You can stay warm around the fire at night. These teahouses and lodges are run by the local people.
Dharmasala, where you have to spend one night at a classical traveler's rests like an old inn. It provides an opportunity to experience true rural accommodation in the Manaslu region.
So, for trekking the Manaslu Circuit in Nepal, you need to pack up a reliable and warm sleeping bag. You will get the menu where we stay and certain items of food are mentioned in it.
Food costs between USD 3-8 depending on where and what you eat.
Accommodation is not a big issue to trek in Manaslu as it is less crowded. However, you cannot expect luxurious hotels and lodges.
You get accommodation either in tea houses or in simple lodges, but you don't need to spend overnights in a tent except in Dharmsala.
Many tea houses were damaged in 2015 by a devastating earthquake, but most of them are now repaired and renovated, and it is safe to stay in. Most of the rooms are on a twin-sharing basis, and usually charges $6-$8 USD per night.
If you want a single room to rent, then you should pay full price.
Details about Teahouse Accommodation and Food in Manaslu Trek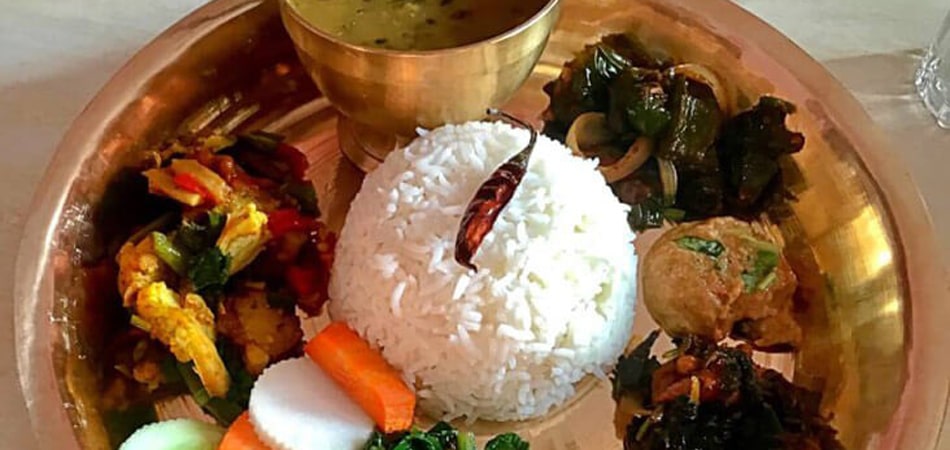 Image Credit : https://www.alpineramble.com/blog/manaslu-trek-all-you-need-to-know
Soti Khola
After you arrive in Kathmandu, your next stop will be in Soti Khola. If you leave early in the morning, you can skip Sotikhola and stay in Maccha Khola. There are five guesthouses in the Soti Khola:
ABC Guest House
Fulbari Guest House
Green Valley Guest House
Tsum Valley Guest House
Satkar Guest House
All these teahouses of Manaslu circuit site offer basic facilities to the trekkers with food and rooms. In addition, they also provide Wifi services and Phones for communication.
Maccha Khola
On the second day of your trekking, you will be at Machha Khola after a 6 to 7 hours walk from Soti Khola. You will have the option of four different teahouses in this place. They are:
Tsum Valley Guest House
Larkey Guest House
Everest Guest House
Hilltop Guest House
These teahouses around Manaslu trek provide food and accommodation along with Wifi, phone service, and a hot Shower. But, you have to pay extra for this service.
Jagat
After 7 hours of a trek from Maccha Khola, you will reach Jagat on the third day of your trek. There are four guesthouses that provide wifi and satellite phone facilities in Jagat. They are:
Jagat Guest House
Himalayan Tourist Guest House
Manaslu Santi Guest House
Rubii Nala Guest House
The restricted permit for Tsum valley Manaslu trek starts from Jagat. There is a check post where you need to show your permit and register it.
The restricted region of the Manaslu starts from this place. You will have to show your permits at a checkpoint on your way to Deng.
There are three guesthouses in Deng. They are:
Windy Valley Guest House
Shangrila Cottage
New Manaslu Guest House.
These teahouses in this Manaslu trekking region have Wifi facilities but they do not offer hot showers.
From Deng you head to Namrung. After 6 to 7 hours of trek, you will stay at the teahouses in Namrung which offer hot showers and Wifi services. Here is the list of teahouses:
Namrung Thakali Guest House
Namrung Guest House
Nubri Four Season Resort
Lho
There are four tea houses in Lho during your Manaslu circuit route. They offer you access to the sky phones, wifi, and a hot shower. They are:
Majestic Manaslu
Tashi Dalek Guest House
Namaste Guest House
Lama Guest House
Sama Gaun
You will trek for 4 hours to reach Sama Gaun, a small settlement at an altitude of 3530 meters. At the height of 3530 meters, there are 7 guest houses in Sama Gaun during the Manaslu trek in Nepal. They are:
Mount Manaslu Guest House
Tashi Dalek Guest House
Sama Gaun Guest House
Peace Heaven Guest House
Norling Guest House
Nobri Valley Guest House
Gurung Cottage Guest House
These guesthouses provide you with good accommodation with hot showers, Wifi, and satellite phones.
Samdo
After a four hours trek from Sama Gaun, you reach Samdo in your trek to Manaslu Nepal. This is a small settlement village. You can find three guest houses limited to Wifi service only. They are:
Yak Hotel
Tibetan Twin Hotel
Jambala Guest House
Dharmasala
The last stop before crossing Larke La Pass is Dharmasala which is also known as Larke Phedi during the Manaslu circuit. There are only two guest houses at Dharmasala namely:
Jambala Guest House
Larkey Guest House
These basic teahouses have no Wifi or hot showers. You will have a great experience with the authentic remote Himalayan lifestyle in this place.
Bimthang
As you cross the Larke La Pass from Dharmasala, you will enter Bimthang. Several teahouses around this Manaslu circuit region offer services like hot showers and Wifi. These teahouses are:
Mountain Poker Cottage
Ganga Manaslu
Sushma Guest House
Himalayan Guest House
Apple Garden
Dharapani
Dharapani is your last stop at the Manaslu Nepal trek before you return to Kathmandu. At this place, you will have good accommodation and food but it depends on your affordability. You can also find rooms with attached toilets, hot water services, Wifi, and phone services.
FAQs
Can you stay overnight at Manaslu Base Camp?
Ans: You can stay overnight at Manaslu Base Camp setting up the high camp tent. However, you can stay in teahouses which offer basic accommodation and food.
What food is available during the Manaslu trek?
Ans: You will have three meals a day, all provided by these tea houses. This includes varieties of options such as Dal Bhat, potatoes, vegetables, pasta, noodles, cereals, eggs, rice, soup, etc.
What types of accommodations are available during the Manalsu trek?
Ans: You will find tea houses with rooms that are simple and comfortable usually with two beds with mattresses blankets and pillows.
They are simply away from luxury products and modern devices. Some will have an en-suite bathroom but most have shared bathrooms with the squat toilet in mountain areas.
If you are looking for information regarding the routes of the Manaslu trek read Routes and Maps of the Trek chapter.  Best Manaslu Trek Time   chapter explain in detail about the best time to trek in Manaslu region. If you are wondering how to choose the best trek operator, find detailed information from this How to Choose the best Manaslu Trek Operator chapter.
The cost chapter Cost of Manaslu Trek explains all types of costs and fees of Manaslu trek. If you need information regarding visa and permit of Manaslu trek read Visa and Permit for Manaslu Trek chapter. The packing list chapter explains the main items to Packing for Manaslu trekking.  If you want information about Manaslu trek ground transportation read the chapter Ground Transportation during.
In other chapters of this Manaslu Trekking guide, we have explained in detail of  Internet and Telephone Facility in the Manaslu region, how and where to find the Trek Guides and Porters and how much dangerous and safe is Manaslu Trek.