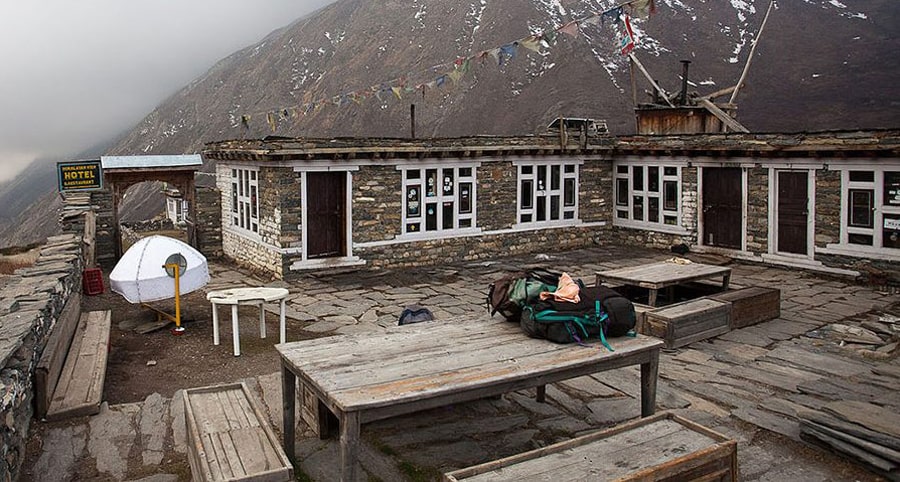 Image Credit :https://basecampadventure.com/nepal-tea-house-trekking-packing-list/
Do you have plans to trek in Nepal for your next vacation and are curious about accommodations available during your journey? If so, you may be interested in learning more about Nepal teahouses. These accommodations are often found along popular trekking routes in Nepal and offer travelers a unique and authentic experience. If you want to learn more about Nepal teahouses and the treks that offer them, continue reading.
Trek in Nepal is commonly called the "teahouse" trek, meaning you must spend the night at a lodge with basic facilities. Almost all of the trek routes in Nepal are teahouse treks, enabling travelers with a minimum amount of gear.
If you are still wondering what a teahouse is, it generally refers to large, well-built lodges made with wood and bamboo. These Nepalese teahouses differ throughout the various regions of Nepal; in some places, they are made up of stones and wood.
Most of these teahouses are built to cater to the needs of trekkers. But, in some remote regions of Nepal, they are family homes of the local people. So, the teahouses are considered a relatively cheap and affordable option for food and accommodation while trekking in Nepal. Generally, your teahouse trek begins with a hot breakfast in the morning. Your guide will accompany you until you reach the final destination of the particular day.
Some of the famous teahouse treks in Nepal lie in Annapurna, Sagarmatha and Langtang regions. It is an excellent opportunity for you to connect with the local people and immerse yourself in their rich cultures and traditions.
History and Evolution of Nepal Teahouse
The teahouse trekking is an incredible experience for you to witness Nepal's stunning mountains and landscapes. Its history roots back to ages when Jimmy Roberts organized the first trek in Nepal in 1964. During those days, the trek would be supported by camping expedition teams. So, the expedition team used to set up camp for shelter and food throughout the trip.
Shortly after, numerous tourists from all around the world came to Nepal via the Hippie trail. Most of them spent their time on Freaks Street in Kathmandu. Some of these travelers started trek in the hills and mountains and stayed at the local people's houses. As a result, the number of trekkers increased in the upcoming years, which led to the development of teahouses in the villages of Nepal across the country. By the late 1980s, several lodges and teahouse networks were built on popular trekking routes in Nepal.
Nepal Teahouse: Dining Hall and Kitchen
The dining area in most of the teahouses in Nepal is communal, which means you will dine with other travelers in the same room. It is an excellent way to introduce yourself and get to know fellow trekkers. The dining hall mostly features a chamber for burning wood and cooking food, which also helps keep the tea House warm at night.
Additionally, the dining room is a perfect place for travelers to spend their nights when the rooms are filled during peak seasons. Most of the dining halls in Nepal teahouse offer breathtaking views of the morning sunrise and the evening sun set. In most halls, there is no designated seating arrangement, you are free to sit on the benches and chairs and move them as per your preference.
During peak season, the dining hall is crowded with people, and it is common for travelers to share tables. In most Nepalese teahouses, you can stay until 9:30 in the evening. It is the time when the dining hall is closed for food and gathering.
Most Nepal teahouses feature a space designated for cooking, mainly adjacent to the dining room. The owner of the teahouses is responsible for preparing meals for guests. Besides, the guides and porters sometimes join in to help the owners prepare and serve food if the teahouse is crowded.
Nepal Teahouses: Restrooms and Showers
Bathrooms are pretty basic in teahouses in Nepal. We recommend you prepare yourself to adapt to the lifestyle of the mountain regions of Nepal. Most Nepalese teahouses feature a squat toilet; you must clean yourself with clean water. So, consider bringing wet wipes and hand sanitizers to make yourself comfortable.
Besides, some teahouses in popular trek routes, such as the Annapurna circuit trek, feature western-style bathrooms. However, the facility is not widely available, and you might have to share a common bathroom with other travelers in higher altitudes. Also, you can request a hot shower for an extra fee.
The restrooms and showers in most hiking routes like Annapurna Base Camp Trek, Mardi Himal Trek, and Everest Base Camp trek have improved in recent years. Some teahouses in these routes are considered luxurious, providing enhanced amenities accommodation facilities in comparison to other routes.
Nepal Teahouse: Rooms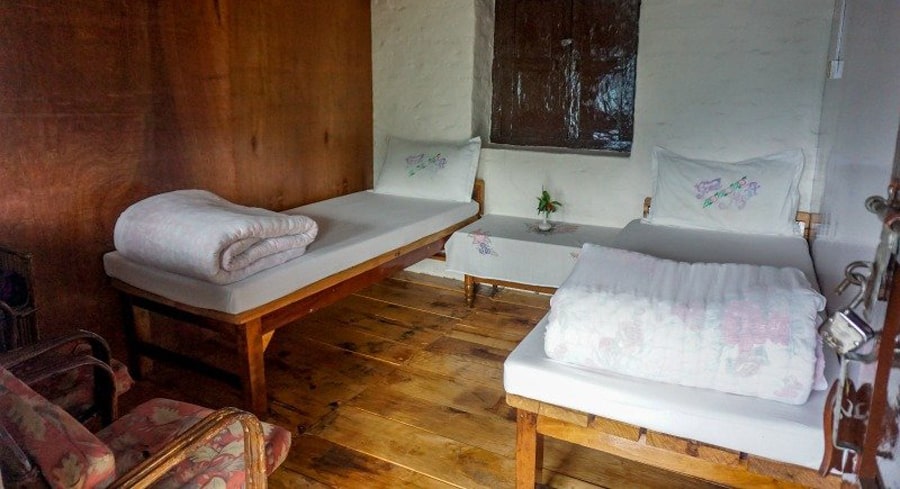 Image Credit : https://traveldiarynepal.com/tea-houses-treks-in-nepal-tea-house-nepal/
The Nepal teahouse rooms are simple and feature two or three beds. The pillows are firm, and the mattresses are usually thin. You will be provided with a blanket to keep yourself warm at night. But we advise you to bring a sleeping bag as the temperature can drop significantly.
Expect these rooms to be clean upon your arrival. Also, you can get a room with an attached bathroom if you are willing to pay an extra fee. Besides, if you are concerned about the cleanliness of the room, you can bring a bed liner, which you can purchase from markets in Pokhara or Kathmandu.
On the other hand, the walls in Nepal teahouses are pretty thin. So, consider bringing a pair of earplugs with you. For a better travel experience, you can pre-book a room with windows that offer beautiful views of the Himalayas.
Regarding pricing, the rooms range from $5 (NRS. 600) to $10 (NRS. 1200) per night. During the low season in Nepal, the prices of the rooms are comparatively low. Further, some teahouses might even offer rooms for free if you purchase meals during your stay.
Nepal Teahouse Trek: Wi-Fi and Electricity
Nepal teahouses use solar panels for electricity. It is considered a clean and sustainable energy source for the local community. During your stay in these teahouses, you can charge your mobile devices at a moderate cost of around $1-$2. However, there can be a power outage if the weather has been cloudy for a few days.
So, it is wise to pack an additional solar panel charger or batteries for your camera. Nonetheless, local hydropower electricity has been promoted in numerous remote regions of Nepal. Thus, most of the Nepalese teahouses only partially depend on solar energy.
Wi-Fi services are also available in the teahouses of Nepal. Travelers can enjoy reliable connections in the dining hall area. To enjoy the service, you must pay a small fee. Besides, do not expect the internet speed to be fast, as the connection might be slower in higher altitude regions of Nepal.
Nepal Tea House: Food and Beverages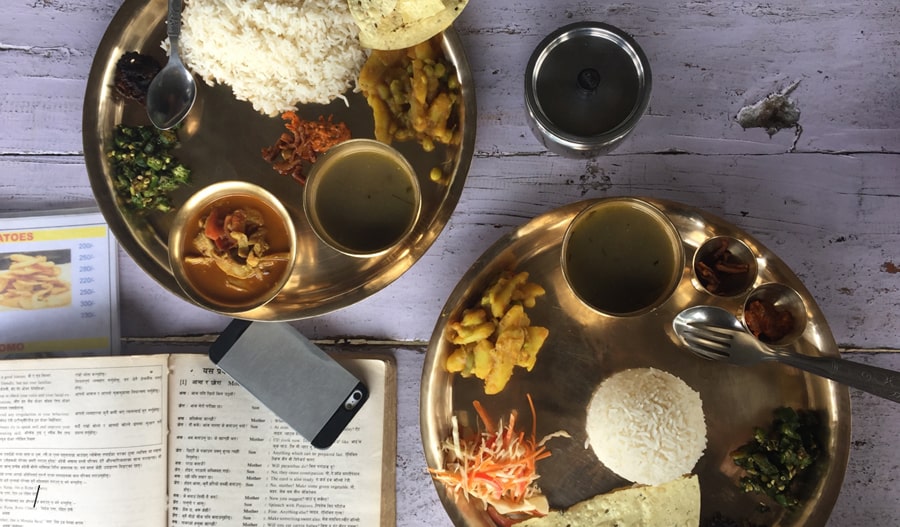 Image Credit :https://intonepaltreks.com/tea-house-accommodation-in-the-nepal-himalaya/
Meals in Nepal teahouses are often cooked over firewood in the kitchen. Travelers like you can enjoy delicious Nepali dishes like dal bhat and momos during your stay. Also, you can choose from a wide range of Western Style dishes as well.
The burgers, Pasta and Pizza, served in these Nepalese teahouses may not be similar to restaurants in Kathmandu and Pokhara. Nonetheless, these dishes are made from locally sourced ingredients and are known to be delicious and nutritious. The menus often comprise dishes including Tibetan, Nepalese and western cuisine.
Breakfast, for example, includes eggs, toast, chapati, pancakes, muesli and Tibetan bread. The toast and Tibetan bread are often served with honey, jams, and Nutella. You can enjoy it with beverages such as coffee, Tea, and hot chocolate.
On the other hand, the menu for dinner and lunch are nearly identical. You can choose from a variety of dishes including pizza, pasta, chowmein, thukpa, and momo. To offer you more insight, here is a list of dishes you can expect in these tea houses:
BREAKFAST:
Eggs
Tea, hot chocolate, coffee, and juice
Toast with jam/butter/honey
Sausage/Bacon/Ham
Hash brown potatoes
Meuslui Porridge, Tibetan bread, Chapati
Pancakes/crepes
LUNCH & DINNER:
Dal Baat
Pasta, noodles, spaghetti, fried rice, chow mein
Momos, pakauda
Chips, Popcorn
Spring rolls
Pizza
Sandwiches & soup
Dessert (chocolate pudding, apple or banana cakes, rice pudding)
Why Teahouse Trekking In Nepal?
Immerse in the culture and lifestyle of the local people: Nepal teahouses allow you to experience the lifestyle, daily chores and tradition of the local families who own and run it.
No Equipment: Travelers do not have to trek with heavy equipment during a tea house trek. In addition, you won't have to carry any camping equipment. You can enjoy the facilities and amenities provided by the teahouses during the trek.
Affordable: Staying at teahouses are comparatively cheaper than camping treks. You won't require additional equipment, supplies, and trekking staff, such as cooks and porters.
Suitable for independent or solo travelers: The teahouse trek in Nepal is suitable for solo travelers and families because it is budget-friendly.
Comfortable: Staying in a teahouse while trekking in Nepal is comfortable as you will have a warm bed to sleep and you can cook home-cooked meals to eat.
Teahouse Trek in Nepal
There are numerous treehouse treks in different regions of Nepal, such as Langtang, Everest, Annapurna and Helambu. These regions are renowned for having a large number of lodges and treehouses. Annapurna Circuit and Ama Dablam Base Camp are famous treks in these regions.
Similarly, Makalu Base Camp and Manaslu Circuit trek are a few examples of the best teahouse treks in Nepal. You can commence short teahouse treks in Pokhara on trails such as the Panchase Bhanjang, Sarangkot, Sikles village and Makalu Base Camp.
Advantages Of Teahouse Trekking in Nepal
Visitors can travel lightweight with less gear and clothes.
Teahouse trekking is also less expensive as compared to camping treks.
You will contribute to the local community and support their families by staying at teahouses.
You will have a wide range of dishes to choose from on the menu provided in teahouses.
Staying at Nepal teahouses is a pleasant experience as you can meet other travelers and share your travel experience with them.
Disadvantages Of Teahouse Trekking
Due to the low cost and ease of the teahouse trekking trails, the teahouse might be busy.
Fewer accommodation choices as teahouse treks feature few lodge networks because of their remote nature.
Some travelers need help to adapt to the basic facilities and amenities offered by Nepal teahouse in remote regions of Nepal.
Difference Between Teahouse and Camping
Teahouse
In Nepalese teahouses, trekkers can stay at comfortable accommodations at a location where they can stay for the rest of the night. These teahouses are built on popular trekking trails, where travelers can enjoy organic and homegrown foods after long hours of trekking. Further, travelers do not need to worry about setting up camp and rest comfortably in warm bedrooms with their sleeping bags.
Camping
Camping is a fantastic way for travelers to experience the nature and natural landscape of the region. A professional guide will choose a perfect location to set up a camp. In addition, he will keep the trekking expedition informed about the weather and the trails during the trip. A potter will help the guide to set up camp and prepare meals for you every night. Besides, it would help to carry your essentials with you as camping is done in remote and isolated areas of Nepal. Also, it is recommended to bring a sleeping bag during camping.
Responsibility in Teahouses
During your stay at a teahouse in Nepal, consider eating food from the establishments, as the owners earn most of their income from selling food. Also, remember that the room charges are nominal, and the menu items have fixed prices.
The prices for the food might seem expensive compared to restaurants in Kathmandu. However, the food and fuel are carried by porters and pack animals as road transports are only available in some places. For example, food and equipment take days to reach from the nearest road at remote lodges in higher altitude regions of Nepal.
Nepal Teahouse: Safety and Security
Travelers must ensure that their possessions are secure and safe. Make sure to leave your valuable items lying around and unattended. We advise you to use a combination lock to keep your bag secure while you share a room with other travelers during your stay in Nepalese teahouses.
Nepal Teahouse: Pre-booking A Room
If you seek to book a trekking package in Nepal, the travel agency will handle your reservations in the teahouses and lodge. The total cost of the package will be exclusive of personal beverages, snacks and meals you consume during your stay.
Besides, consider booking rooms in Nepal teahouses month prior if you want to travel in the peak season. Most lodges and teahouses are overbooked during this time of the year, and most travelers have to sleep in the dining hall. So, it is advised to plan before you venture into the mountain regions of Nepal.
Nepal Teahouse: Additional Equipment You Might Need
During your trek in the mountain regions of Nepal, consider bringing adequate clothing and equipment. Travelers should only carry a few foods as they will be available in teahouses. However, you can bring snacks and chocolates to boost yours during long trek walks.
Moreover, bring your medication during the trek. Although trek guides have a first-aid kit, you should bring your medication to help you recover if you become ill. Besides, if you need more time to buy yourself gear for the trek, you can buy or rent them in cities like Pokhara and Kathmandu.
General Tips For Teahouse Trekking in Nepal
If you have yet to book a room in a Nepal teahouse, you must reach them before 7 pm as most teahouses do not serve a meal in late hours.
During the peak season, some teahouses might run out of blankets. So, bring a bed liner and sleeping bag for extra warmth.
Bring a flashlight with you because some teahouses in higher regions of Nepal have toilets outside the establishment.
Make sure to inquire about multiple teahouses during the peak season to book yourself a room.
Talk with other trekkers and research regarding recommended and reliable teahouses.
Conclusion
When you trek in the magnificent Himalayas of Nepal, staying in a Nepal teahouse is a fantastic way to experience the culture and tradition of the local community. It is a perfect accommodation for travelers to enjoy hearty meals and conversation with the locals and fellow travelers.
So, it has become a popular choice for travelers. Some of the best teahouses in Nepal are located in regions such as Everest and Annapurna. These regions are also renowned for being the best destination for camping.
FAQ
Are there any rules I should follow when staying at a Nepal teahouse?
Yes, when staying at a Nepal teahouse, it's important to respect local customs and traditions
What should I pack when staying at a Nepal teahouse?
When staying at a Nepal teahouse, it's best to pack warm clothes, a sleeping bag, a headlamp, toiletries, and any medication you may need.
Can I stay at a Nepal teahouse if I'm not trekking?
Yes, you can stay at a Nepal teahouse even if you're not trekking.
Do Nepal teahouses provide trekking guides or porters?
Nepal teahouses do not provide trekking guides or porters, but they can help you find one.
Can I bring my own food to a Nepal teahouse?
Yes, you can bring your own food to a Nepal teahouse, but it's not necessary as most teahouses provide meals.