21 Nepalese Dishes [ Updated 2023]| TravellersQuest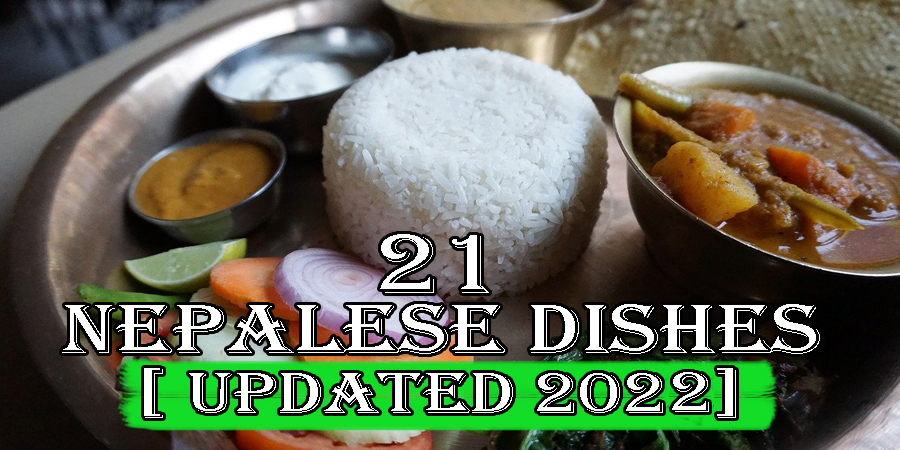 The cultural and geographical diversity of Nepal results in rich gastronomy. Nepalese cuisine is based on ancestral recipes of different ethnic groups that have inhabited this small Asian country for centuries.
Nepal's cuisine is influenced by food production and its varied climate that goes from the subtropical warmth of the extensive plains of the Terai to the icy peaks of its majestic mountains.
Do you want to learn more about the fascinating mountain village foods and culinary traditions that make Nepal so special? In this article we take a look the some of the best dishes of Nepal, covering some of Nepals most well-known dishes like Dal Bhat, Momos, and curry based dishes. We will also explore lesser known recipes like Bara and Pulao. Keep reading to learn more!
Table of Contents
Dal Bhat
Although there are usually differences between one region and another, in almost the whole country the Dal Bhat is consumed. It is one of the most common Nepalese dishes.
Dal Bhat in Nepalis a kind of soup made from lentils that are served with cooked cereal, rice, vegetable curry or tarkari. Usually, the Dal is accompanied by an extremely spicy sauce made from fermented species, of which there are at least 100 varieties.
Usually, it is served in a metallic dish with different compartments, white rice cooked in the center is accompanied by a soup of black lentils, vegetables, and a garnish of meat: fish or vegetables of your choice.
The sauces usually have a slightly sour or bitter touch, creating a concert of somewhat contradictory flavors on the palate that pull together this soup dish.
Momo
Momos in Nepal are another popular cuisine and are typical of the Kathmandu Valley, but known around the world for being a tradition shared with China and Tibet, as well as among other Asian countries.
These are balls or pastries stuffed with meat or vegetables. The dough is prepared with barley flour and water. In some areas, they add yeast to make it fluffier. The most popular fillings are those of pork or lamb minced and seasoned with cilantro, as well as the various vegetarian variants. They are steamed or fried.
For lunch, dinner, or simply starter: this Nepali Momo dish is par excellence. You can get this dish throughout Nepal in street stalls and food houses.
Nepali Tarkari or curry (Veg and Non-Veg)
Tarkari is another typical and best Nepalese dishes. It is consumed throughout the country. Tarkari is nothing more than a vegetable curry that is popular in other countries such as Pakistan and India, while masu is also a curry but with meat and sauce. Usually, chicken, lamb, and pork are used in its preparation. The most common side dish of this dish is rice, of course.
The preparation of this dish can vary from the simplest to the most elaborate and complex. The Nepalis have contributed greatly to the promotion and invention of many new varieties of this dish. Vegetable curries are very popular in many parts of the Indian subcontinent as well.
Dal
Dal is also one of the best Nepali food recipes. Dal is the term used in the Indian Subcontinent for split pulses, dried beans, peas, and lentils. It is also used for many soups prepared from these pulses. There are many different types of recipes to make Dal.
This is a kind of staple food of every Nepali household. Mainly rice served with Dal dish.
In mountainous areas, it is a soup of lentils made with black, red or yellow lentils. It is usually served with rice. The dish is known as "Dal Bhat" is considered the national dish of Nepal, that is, rice and lentil soup.
The soup dish famous in Nepal is usually accompanied by a garnish (usually spicy, but almost always slightly acidic or bitter) of vegetables or meat. The recipes vary depending on the locality, ethnic group, family, etc. Dal usually consists of lentils, tomatoes, onions, chili and ginger accompanied by herbs and various spices such as coriander, garam masala, and turmeric.
Dhido
Dhido is another exotic and popular food of Nepal. It is made by continuously mixing and stirring cornmeal. Other grains may also be used such as buckwheat in boiling water. Because of the ingredients used in its preparation and its energy content, it is considered a healthy meal compared to Dal Bhat.
Dhido's best companion is Gundruk. Many locals prefer to eat it with Gundruk ko Jhol.
Sel Roti
Sel Roti is one of the traditional homemade Nepalese dishes. It is a sweet and ring-shaped rice doughnut/break originating from Nepal.
For the Nepalese, it is a kind of bread made with rice. It is made in very marked parties like the Tihar, the equivalent of the Diwali or Hindu festival of lights. It is sweet, crispy and somewhat special and it is simply a different dish.
Sel Roti is cooked in bulk quantity. It can be stored at room temperature for 20 days. This dish is sent as a special gift to family members and relatives from home. It is also used as Prasad in pooja.
Thukpa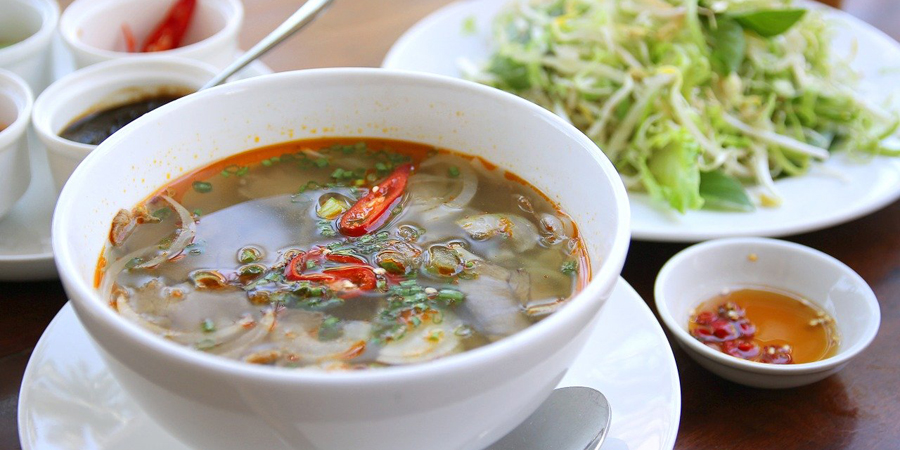 Thukpa is a hot Nepalese noodle soup which is one of the favorite Nepal cuisines.It contains pieces of meat and vegetables. This winter delicacy is popular in Kathmandu and other mountainous regions of Nepal and is a comforting dish. Means "noodles" in Tibetan, Thukpa takes influences from both Tibet and China and is often eaten along with momo.
The carefully seasoned meat broth gives the dish a very pleasant aroma, the meat dressings reflect the fauna of Nepal, and can vary from yak, goat, and lamb to chicken. The dish is particularly popular in Nepal and Tibet, but the Nepalese version is sometimes spicier, making it more popular than its Tibetan counterpart.
Next to momos and rice, Thukpa is another one of the popularNepalese dishes. It is mostly consumed daily. With egg, vegetable or mixed, it is a sure success for those who do not like spicy and want to be satisfied. They are also made from wheat and in many places, they are served with soup which is also called noodles Thukpa.
This dish has become famous in many parts of Nepal and also in Bhutan, Sikkim, Assam, Arunachal Pradesh, Nagaland, and other parts of northeast India.
Sadheko
The Nepalese grapefruit salad is called Sadeko. It is a Nepal dishand widely consumed. The balance of flavors from the exceptional sweetness of citrus fruit and traditional Nepalese flavors make this dish unique.
Yogurt, toasted sesame seeds and mustard oil also played a role in this dish. Many times, this dish is made with grapefruit-like fruits such as oranges.
Yomari
Yomari is the best dish of Nepal.Yomari has a fish shape, but these meatballs are not salty. They are made from rice flour and filled with a sweet filling, which usually contains sesame seeds, molasses, grated coconut or sugar cane.
These steamed treats are considered a delicacy in Nepal and play an important role in religious festivals including the Yomari Punhi festival, which marks the end of the rice harvest.The people of the Kathmandu Valley pay homage to Annapurna, the Goddess of the Grains, for the rice harvest during the full moon.
Bara
Typical of the Kathmandu Valley, bara is a kind of sandwich made with lentil flour that is usually accompanied by meat or egg.Bara is a traditional Newari snack and one of the bestNepalese dishes. It looks like a pancake made of black lentil. Bara snack is hygienic as well as a healthy food.
There are many restaurants and shops in Nepal which are specialized in making this food at the best prices. It is a golden brown and it can also be made by mixing other ingredients like egg and meat which is also called Anda-Bara and Masu-Bara. However, this is a vegetarian dish unless it is mixed with meat or egg.
Pulao
Pulao dish is widely used throughout Nepal and it is made of rice like many other Asian countries. This is a very popular dish of Nepaland favorite for visitors and locals as well.
Rice is the obvious staple food for many Nepalese dishes, as are many other Asian countries. The Pulao fried rice dish is popular with locals and visitors. Vegetable pulao, in particular, can be found throughout Nepal and consists of fried rice with vegetables that have been lightly seasoned with turmeric and cumin.
The accompaniments of this Nepalese rice dish can vary from yogurt to papadams and the subtle flavors that the fragrant rice gives off mean that the dish is a common feature of social events and moments of celebration within the country.
It consists of fried rice with different kinds of vegetables that have been lightly seasoned with cumin and turmeric, and is consumed in social events and times of celebration.
Gundruk
Gundruk is the national dish. It is a fermented from green leafy vegetables and usually served as a main course or as a side dish accompanying another main course.
Gundruk is a good source of minerals, and the pickled vegetables makes it have an acidic flavor. It is usually produced between December and February. The word gundruk means in dry Nepalese colocasia.
Kwati
Kwati is a soup that is made with 9 different types of sprouted beans. This is a traditionaldish of Nepal that is consumed by Nepalese especially at the festival of Gun Punhi.
Kwati is considered a healthy food. It cures coughing and colds and it is one of the best foods for women on their maternity leave. As it is made of many varieties of beans, this recipe is fully loaded with proteins and thus it helps with sick or weak people to regain their energy.
Aalu Dum
Aalu Dum is one of the most delicious and well known Nepalese dishes. This can be consumed as a curryor a snack. It is based on potatoes, usually small, that are first fried and then slowly cooked in a spiced yogurt sauce.
Aalu dum is not the new dish for the people of Nepal. Aalu or Potato is one of the most famous and common vegetables in Nepal. This delicious and spicy dish is made with the boiled potatoes that could be served with everything and anything from rice to chiura to roti or it could also be had alone. Also, the recipe is very fast and easy. It can be consumed in lunch, dinner or snack menus.
Chatamari
It is a special dish of the Newars in the Kathmandu Valley, a special form of "roti" made with rice flour. The chatamari has become very popular dish of Nepal among the other cultures. Chatamari can carry ingredients such as meat, vegetables, eggs or sugar, and is sometimes referred to as the Newari pizza.
Laphing
Laphing is a spicydish made of cold noodle and mung bean flour. This soup is a genius ensemble of garlic, chili paste, soy sauce, necessary spices, and a few herbs.The noodles in this dish have a slippery texture and they are served with the gravy made of soy sauce.
This dish is usually consumed in the summer season. This dish is available at a reasonable price and it is mostly preferred as a light but spicy snack by the young generation.
Taas
This is a Nepali meat dish which is originated in Chitwan of Southern Nepal. While preparing this dish, the boneless lamb slices are marinated in Nepali spices and herbs and slowly cooked in oil in lower heat in a pan which is called tawa.
Taas is a popular dish in Nepal especially in the region of Terai. It is spicy fried mutton, which is served with Bhuja, green salad, and pickles.
Sekuwa
Sekuwa is barbequed spicy meatdishes. It comes popular amongst other nepali snacks list. In the Kathmandu valley, this is the Nepalese version of a barbecue. Meat is roasted in a fire with traditional style wood embers.
Before being roasted, the meat is mixed with natural herbs prepared at home, with spices and other possible ingredients. Sekuwa can be pork, goat, chicken, etc.
This is a very popular dish in Nepal, especially in the east. Tarahara, a small town in the state of Koshi is referred to as the capital of sekuwa in Nepal.
Ghonghi
Ghonghi is a common food still one of the favorite Nepalese dishes.However, the look of this particular dish keeps many away, but it is very popular in the Tharu community. This dish is similar to the French escargot. However, several differences can be easily seen between these two dishes. Generally, this dish is consumed by sucking the snaili from the shell and it is available all over the marketplace in Terai.
Kheer
Kheer is considered as a favorite dish in Nepalese culture. It is cooked in milk with rice and usually eaten as a dessert or a side dish with sel or puri. Kheer is usually prepared during festivals or to celebrate good news like in weddings as well as pooja and on other religious days.
There are many different ways to prepare kheer. The dish is similar to European rice pudding but with the addition of various spices like cloves, fenugreek, and cinnamon.
Khuwa
Khuwa is one of the most well-known sweets in Nepal. Khuwa Barfi is the most common sweet available throughout Nepal. This appetizing pistachio flavored milk cubes have been able to win the hearts of many people who have sweet tooth.
It is a kind of dairy product, originating from the Indian Subcontinent and it is also popular in Pakistan and Bangladesh.
Pustakari
Pustakari is the most favorite sweet dishes of Nepalese culture. It is made from molasses that is cooked with ghee, nuts, dates, coconut, and milk. Pustakari is a Nepali candy that is made by stirring a big pan of mixed sugar, coconut powder, peanut powder into a brown gooey batter.
Nepalese dishes, in general, are healthier than most other South Asian cuisines and depend less on fat use and more on thick vegetables, lean meats, pickled ingredients, and salads.
Conclusion
While Nepal takes heavy influences from its closest geographical partners such as India, China, and Tibet, this mountainous country only opened its borders to strangers in the 1950s. This factor, in addition to transport and trade difficulties in the geographical environment of Nepal, has remained focused on the use of locally grown products.
As you have noticed, Nepalese cuisine combines a range of ingredients, techniques, and characteristics of its neighboring countries with its gastronomic history.
After learning about the best foods of Nepal, you might want to visit Nepal. Nepal greets you with mighty Himalayas, amazing cultures, ancient shrines and landmarks and so on. Find here the best Kathmandu tour operators, Everest base camp trek operators, Nepal tour operators, Annapurna circuit trek operators, Manaslu trekking operators and Nepal trek operators.
Other Related Articles: