Image Credit : https://english.onlinekhabar.com/street-food-kathmandu-beauty-hurdle.html
Are you making plans to travel to Nepal? Are you a foodie and thinking of exploring amazing Nepalese street foods? Would you like to learn what are the best Nepalese street foods you should try during your Nepal vacation? This article provides detail information regarding the best street foods in Nepal. Learn here the best street foods, including their unique variations and flavors.
Traveling is about the journey, destinations, tradition, culture and, most importantly, the food. A travel to a new destination never becomes complete unless you try out the local cuisines and dishes. Nepal is a destination where you can experience the rich traditions and culture, magnificent natural beauty and delicious authentic street cuisines and flavors.
Nepalese cuisine reflects a blend of Tibetan, Indian, and Chinese influences. Apart from exploring the traditional cuisines, you must try the street foods in Nepal during your visit. In recent years, street food has become essential to  Nepalese cuisine. As a result, it is an excellent way to experience the local culture and flavors.
Kathmandu is a central hub for foodies to explore unique street foods and beverages. Due to the fusion of different religions, cultures and ethnicities in the valley, Kathmandu's streets are filled with various flavors. Some of the best street foods of Nepal can be found in Baneshwor, Basantapur, Bouddha, Patan, and Naxal of Kathmandu city.
Fried Street Foods in Nepal
Kachori
Kachori is a fried delicacy that has a crispy outer layer. The inside of a Kachori is filled with onion, masala spices, dal, and garlic. The taste is not too spicy but full of flavors, which makes it a perfect afternoon snack.
Samosa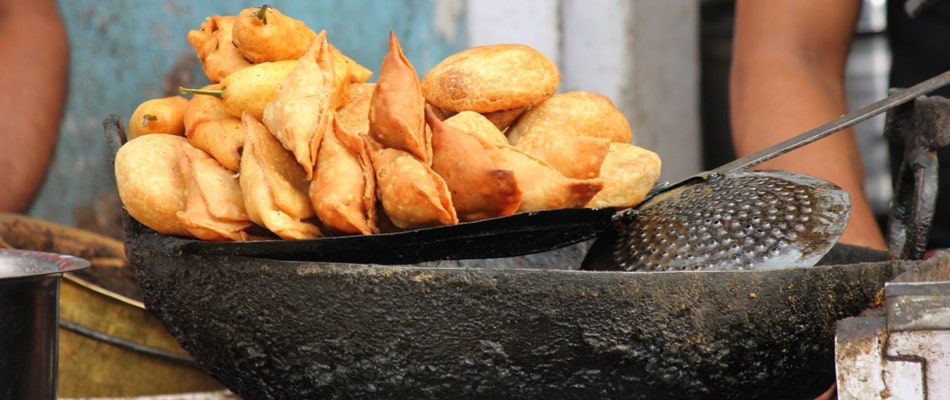 Image Credit : https://english.onlinekhabar.com/samosas-in-nepal.html
You might be familiar with samosa, which is a popular Indian dish. It is a favorite among the locals as you can quickly enjoy a quick bite. Samosas are generally vegetarian, but some eateries in Nepal also offer chicken keema Samoas. The vegetarian Samosas are filled with peas, onions, potato, and spices and are wrapped in dough. They are then fried and served with a variety of spices.
Pakoda
Pakoda is one of the famous street foods of Nepal, which tastes like onion rings. It is a deep-fried patty of vegetables mixed with different ingredients. Pakoda is a trendy snack in Nepal; you can enjoy it in different restaurants in Nepal and even tea houses along popular trek routes such as the Annapurna circuit trek and Manaslu trek.
Sel Roti
Image Credit : https://www.slurrp.com/article/sel-roti-indulge-in-these-nepali-doughnuts-this-winter-1637841864498
Sel roti is yet another exciting street food of Nepal you must try. It is typically consumed during the morning with tea or coffee. You can find them in street stalls near temples around Kathmandu.
Sel roti is made from rice flour mixed with butter and spices to give it a unique flavor. The outer texture is crunchy, whereas the inside is soft. Sel roti is one of the favorite snacks in festivals like Dashain and Tihar. So, while traveling to Nepal during the festival, remember to take advantage of these sweet treats.
Fish Fry
Fish fry can be made from any fish. This particular street food in Nepal is a popular snack in the street stalls of Pokhara. While choosing a place to eat, ensure the fishes are fresh to avoid health issues.
Fish fries are available in a variety of shapes and sizes. The smaller ones are served during special occasions such as Newari Puja in cities like Kathmandu, Bhaktapur and Lalitpur.
Aloo Chop
Aloo chop is a mixture of mashed potatoes and spices, then molded into the shape of a patty and deep fried. It is one of the most famous Nepalese street foods. If you love spicy food, aloo chop will be a treat.
Sweet Street Food in Nepal
Image Credit : https://traveltriangle.com/blog/street-food-in-kathmandu/
Jeri
Jeri is a famous sweet in Nepal. It is made of dough and sugary syrup, then fried in hot oil. Most people describe the taste as if they had tasted deep-dried honey. One of the best places to enjoy Jeri is Tip Top sweets in Nepal, with several across Kathmandu. You can also enjoy the treat in local sweet shops.
Jeri Puri Curry
Jeri Puri is one of the popular variations of Jeri and a popular sweet street food of Nepal. You enjoy it by placing the jeri between two puris. Puri is a thin dough fried to give its soft and puffy texture.
Jeri Puri is usually paired with side dishes like chana aloo curry, a mixture of potato and chickpeas. Chana also is spicy, whereas the Jeri is sweet. As a result, you will have a delicious munch of sweet and spicy flavors.
Jeri Swari
Similar to Jeri Puri, Jeri Swari is yet another variation of the delicious sweet. Unlike Puri, Swari is softer and has a chewy texture. The snack is usually enjoyed with morning tea, but you can enjoy the sweet treat anytime.
Malpua
Malpua has a slightly different texture than other fried snacks like donuts. Malpua is often paired with a warm cup of tea or coffee. The locals love to enjoy the delicacy on rainy days. The snack is known for its sweet taste and distinct texture.
Donut
Donuts are a popular street food of Nepal. Travelers have described the taste of the donut as fried dough or Italian zeppole. Unlike the donuts in countries such as America, most of the donuts in Nepal are plain and do not have any icing or filling on them. However, you can find the ones with creams and filling in bakery shops across cities like Kathmandu and Pokhara.
King Curd
Kind Curd or also referred to as "Juju Dhau," is made from buffalo milk, which gives its unique taste and creamy texture. Traditional king curd is made in a clay pot, giving it a unique flavor.
While making a king curd, no sugar is added, but spices such as cardamom and coconuts are included to create their unique sweetness. One of the best places to enjoy the delicacy is Bhaktapur. The king curd is available in the stalls on streets around attractions like the Bhaktapur Durbar Square.
Lakhamari
Lakhmari is a Newar sweet shared and eaten during special occasions and festivals. It is made from a stiff dough covered in sugar syrup. You can munch through the snack and enjoy its unique flavor. Lakhamari is available in sweet stalls around cities like Kathmandu, Bhaktapur, and Lalitpur.
Yomari
Yomari is one of the popular Newari foods in Nepal. Yomari is usually filled with molasses, made from molasses and ghee. The outer layer is made from rice flour. The delicacy is available in several variations.
If you don't like the taste of molasses, you can enjoy Yomari with custard and even chocolates inside. The delicious treat is available in most of the Newari restaurants in Kathmandu.
Savory Street Food In Nepal
Image Credit : https://blogs.baruch.cuny.edu/ldhyolmo/?p=160
Chatamari
Chatamari is known to be the Newari Style pizza. It is a popular street food available in Kathmandu, Nepal. The outer crust of Chatamari is made from rice flour and is topped with tomatoes, chili, onions, meats and spices. It is a popular snack among locals and travelers alike. You can enjoy chatamari in local Newari shops around Bhaktapur, Lalitpur, and Newari restaurants in Kathmandu.
Choila
Choila is another highly famous Newari dish made from meat of chicken or buffalo mixed with various vegetables and spices. The snack is enjoyed with chiura, beaten rice, and aila "Newari alcohol." Narayan Dai Ko Momo is one of the best places to enjoy choila. You can also find it in major attractions like the Kathmandu Durbar Square.
Chana
Chana is a popular street food of Nepal, a mixture of spices, chickpeas, and chili. It is often paired with puri. It is an excellent option for people who prefer dry, spicy food. Chana is available in almost all of the fast food restaurants in Nepal. It is a cheap and quick snack you can enjoy in a rush.
Chaat
In general, chaat can be described as a samosa crumbled, mixed with different spices and ingredients, and garnished with Curd. It is made from chickpeas, and potatoes and served with a crispy bread crust.
Kati Rolls
Kati rolls are one of the best Nepalese street food that have gained massive popularity in recent years. It is generally a Nepali version of a sandwich wrap. Kati rolls are available in various options, including eggs, chicken, and vegetables. You can find them in street vendors near Bhatbhateni supermarkets and restaurants like Syanko Kati roll.
Sekuwa
Sekuwa is generally barbecue meat. You can choose from various options, such as pork, buff, and chicken. The meats are marinated with special spices and herbs. They are later cooked or grilled over a wood Fire. It is enjoyed with chiura and alcohol. Some of the best places to try sekuwa are the lakeside in Pokhara and street stalls throughout Kathmandu.
Pani Puri
Pani puri is a favorite among the locals in Nepal. It is one of the most popular street foods of Nepal. Pani puri is usually sold in small carts around the streets of Kathmandu. It is a small shell made of crunchy dough, then filled with a mixture of garlic, chili, onion, potato and flavored liquid.
Tip Top restaurant in New Road is one of the best places to enjoy the treat. The establishment is known to make one of the tastiest and fresh pani puri in town. They are known for their hygienic procedure in making and serving their dishes.
Sausage
Sausage is a popular street food of Nepal and the best-selling snack for street vendors. It is a variation of a hotdog, but in Nepal, it is served without the bun but is garnished with unique sauces.
The sausages are usually marinated with spices and grilled. It is a cheap and tasty snack in significant cities around Kathmandu.
Bara
Another popular Newari food on our list is Bara, a popular street food of Nepal. It is available in street stalls and restaurants across Kathmandu. Bara is also commonly referred to as lentil pancake. After a puja ceremony in the Newari community, the dish is served as a sagun(holy food).
Bara has a very mild flavor, and you must dip it into the curry to enjoy the fusion of flavors. You can try Bara at eateries like Honcha and Bhumi in Kathmandu. Other popular restaurants where you can enjoy the treat are Sasha and Lahana in Kirtipur.
Tibetan Street Food In Nepal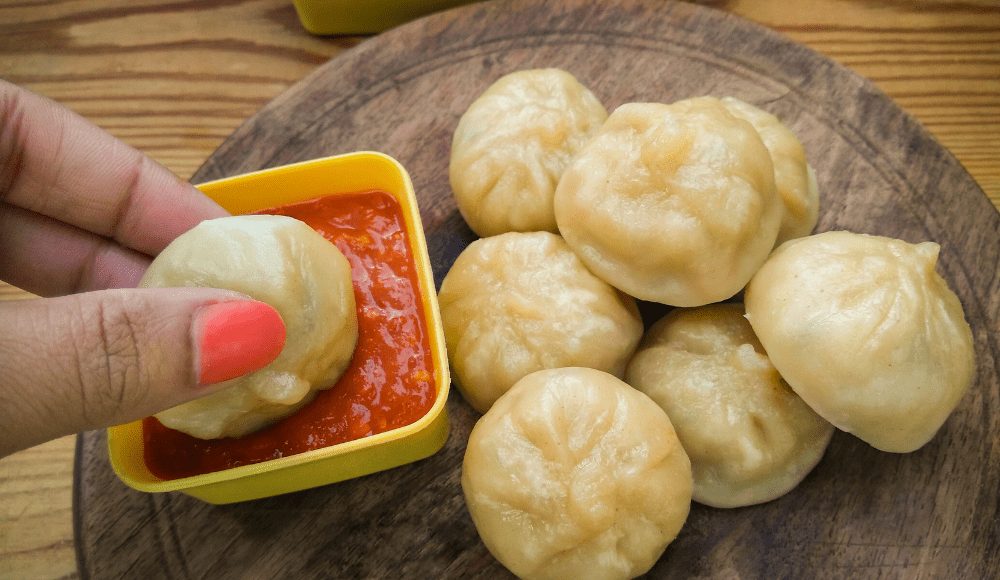 Image Credit : https://www.altitudehimalaya.com/blog/momo-in-nepal
Momo
Momo is arguably the best food you can eat in Nepal. It is available in most cafes, street vendors, restaurants and fast food restaurants in Nepal. Momos in Nepal come in various flavors and fillings, such as buff, chicken, and vegetables.
Laughing
Like Momo, Laphing is a popular street food of Nepal of Tibetan origin. Locals and travelers visit places like Boudhanath Stupa to eat the popular noodle dish. The savory snack is available in both dry and broth soup variations. We recommend you try the garlic soup variation, which has a distinct spicy taste and texture.
Shabhalep
Shabhalep or sha phaley is a Tibetan dish. It is a deep-fried dough filled with minced meat, herbs, and spices. One of the best places in Nepal to enjoy this delicious treat is the Tibetan Refugee Camp in Pokhara. It is located just beside Devil falls. The outlet is called Tibetan Yak. Shabhalep comes in two variations: a buff or a chicken filling.
Drinks To Try
Butter Tea
Butter tea is a favorite beverage for travelers visiting Nepal. It is popular in mountain regions of Nepal. You can enjoy butter tea during your trek at the tea houses across the Nepal trek route. Besides, butter tea is also available in major cities of Nepal. One of the best places to enjoy hot beverages is the Boudhanath Stupa.
The place is heavily influenced by Tibetan culture. As a result, it is an immense opportunity for you to experience the traditional butter tea made from yak milk and yak butter. It is believed that the drink is high in calorie content, provides energy for household chores, and keeps people warm at night in high altitude regions such as Everest.
Lassi
Lassi is a popular beverage in countries like Nepal and India. Street vendors serve some of the best lassi in Nepal in places like Asan and Indra Chowk. It is one of the favorite summer drinks of the locals. Lassi is made from a mixture of yogurt and sweeteners like khuwa, raising, cherries, and almonds. The beverage is available in several variations, such as plain, banana, mango, and chocolate.
Nepali Chiya
Nepali chiya, known as milk tea, is a popular sweet beverage. People in Nepal drink throughout the day despite the weather conditions. It has become a modern-day tradition in Nepal to offer tea to guests. Additionally, people grab a cup of tea, whether catching up with a friend or taking a break during a long road trip.
As a result, tea has become a part of Nepalese daily life. It is served at every food stall and restaurant all across Nepal. Each outlet makes the tea with its twist and different ingredients, but nothing beats the authentic taste of the tea served in the street stalls in Kathmandu.
If you're looking for an authentic travel experience in Nepal, we recommend the best Nepalese travel agencies and trekking companies. They specialize in providing immersive cultural experiences that allow you to explore Nepal's rich heritage, taste its delicious local cuisine, and interact with its friendly people. It will enable you to explore the best local eateries and markets, where you can sample a variety of mouth-watering dishes and learn about their preparation.
FAQs
Can you eat street food in Nepal?
You can eat street food from Nepal. It is widely consumed all over Nepal and is a great means to experience the local flavors.
What are the most popular street foods?
There are several popular street foods from Nepal. Some of the best among them are momo, sel roti, chatamari, samosa, and bara.
What is an example of street food?
An example of street food in Nepal is momo. It is considered to be the staple lunch of the Nepalase people.
How much is street food in Nepal?
The price of the street food from Nepal generally depends on the food and the location. The prices are affordable and fall between the range of Npr 100-200.