Are you looking to travel to Taiwan? Do you know where to find the best and top tour companies in Taiwan? Are you interested in finding a safe, affordable, and highly rated tour company in Taiwan?
Taiwan is a small country with unlimited awe-inspiring attractions, from towering skyscrapers of Taipei to the offshore islands and scenic mountains. Listed as one of the happiest places in East Asia, the country has over a hundred mountain peaks above 3,000 meters, stunning temples, and world-class museums and national parks. Tourists are spoiled for choice because deciding what to do in Taiwan is a tough call with many tourists gems and off-the-beaten tracks.
While exploring Taiwan is a great experience, finding the best tours in Taiwan is difficult and complicated. When you Google tour companies in Taiwan, thousands of results pop up, all claiming to be trustworthy with the best packages. How do you know which one to select? Choosing the wrong Taiwan tour operator could have dreadful consequences that can highly affect your vacation trip.
Do not worry! TravellersQuest is here to help you! We don't want to see you choose the wrong Taiwan tour company that could potentially wreck your dream tour abroad. So, our specialized researchers spent thousands of hours analyzing the cheapest, safest, and highly rated best tour companies for you.
Here are the top 10 tour operators in Taiwan that you can select with no strings attached.
Providers
Package
Reviews
TourMeAway
Old Town Taipei Tour
Taipei Chill Out Tour
Trip Advisor – 1,054 reviews
MyTaiwanTour Travel Services
Ultimate Taipei Day Tour
2-day Lavender Forest Yoga Healing Tour
Trip Advisor – 996 reviews
Eye Travel Taiwan
Taroko Gorge Classic Day Tour
River Tracing Water Fun
Trip Advisor – 590 reviews
Liuqiu Dive
PADI Open Water Diver Course
Experience Diving
Trip Advisor – 639 reviews
YOLO Taiwan
9-seat: Taroko Gorge Tour from Taipei
5-seat: Customized Taipei City Tour
Trip Advisor – 229 reviews
Round Taiwan Round – Taipei Private Tour
Taichung – Taichung – Purple Lavender
Taipei – [Small Group] Jiufen Shared Tour
Trip Advisor – 198 reviews
Taiwan Vista Day Tour
Taroko National Park Private Tour
Taiwan Cycling Tours
Trip Advisor – 353 reviews
MyProGuide
[Chiayi, Taiwan] Meteor Garden Sightseeing Tour
[Taiwan] Walking Tour – Explore Dadaocheng Block in Taipei
Trip Advisor – 197 reviews
CookInn Taiwan
Xiao Long Bao & Beef Noodles
Taiwanese Gourmet Menu
Trip Advisor – 173 reviews
Wow-TAIWAN
Dadaocheng | Nostalgic foods half-day tour
River Runs Through Tea mountains|Shihdin (One Day Tour)
Trip Advisor – 57 reviews
Table update Oct 21, 2021
TourMeAway

Company's location and type: Zhongzheng Local Tour Operator
Awards, Certification: #1 Trip Advisor
Reviews: 1,054 reviews on Trip advisor 99% rated very good and excellent
About Company
TourMeAway is a local Taiwan tour company founded by a group of adventure-seeking, easy-going, and fun-loving enthusiasts looking to share one of the greatest countries in the world. The company provides entertaining and informative free walking tours in Taipei with young and passionate local tour guides. Book an excursion with TourMeAway Tours and enjoy Taipei's way of life, just like the locals.
Packages
TourMeAway offers a variety of Taiwan tour packages that you can enjoy and choose from.
Take the classic Old Town Taipei Tour, which will take you through the old town to the Presidential office, Memorial Park, and Inner-City Market with a professional and knowledgeable guide. Take it easy and keep it cool by taking the Taipei Chill-Out Tour to hang out with the locals in Yong Kang Food Paradise or the Qingtian Teahouses. For a fun night around Taipei, take the Spring Special Pub Crawl and sample local beers, shots, wines, and food.
Reviews
TourMeAway is a leading Taiwan tour company with an overwhelming number of positive reviews. The tour company's reviews on Trip Advisor show that the past client satisfaction rate is excellent, with no negative reviews. Out of 1, 054 reviews, 99% of the customers have said this Taiwan tour is either very good or outstanding. Read a fantastic review below:
"We had Cindy as your guide – a small tour of 7. I have been to Taipei many times for work and tours, but first time joining a walking tour which took me to Daan Park, Yong An streets, local small shops, and finally the beautiful Chang Ka Shek Memorial Hall to see the change of guards. Cindy is really friendly and gave tips on night markets, shopping, and eating. Will certainly try their other tours on my next trip to Taipei." – 5Rfamily: April 2020
My Taiwan Tour Travel Services
Company's location and type: Zhongzheng Local Tour Operator
Awards, Certification: #1 Trip Advisor Certificate of Excellence 2015/2017
Reviews: 996 reviews on Trip advisor 98% rated great and outstanding
About Company
My Taiwan Tours is an award-winning and highly rated tour operator in Taiwan, facilitating travels around the island through a user-friendly website that allows you to craft your full itinerary online. With a dedicated team of young professional experts, the company ensures that every aspect of your journey is planned out with care and safety. My Taiwan Tours Travel is about personal interaction and having a good time while introducing you to the wonders of Taiwan.
Packages
My Taiwan Tours offers a great Taiwan tour package, and you will indeed find the perfect excursion that fits your interest and budget.
When you take the Ultimate Taipei Day Tour, you can explore ancient China, ultra-modern Taipei, and Colonial Taiwan and dine at the world-famous Michelin Din Tai Fung restaurant. On this relaxed Around Taiwan 8 Day Private Tour, you'll experience towering scenic mountains, beautiful valleys, temples, and the stunning Sun Moon Lake. The National Palace Museum is home to more than 700,000 artifacts and art spanning thousands of years of Chinese history.
Reviews
My Taiwan Tours is one of the most recognized Taiwan tour companies on Trip Advisor, with many raving and great reviews. The reviews show a 99% client satisfaction rate with a 5-star rating from 996 reviews. Read the positive review below:
"Taiwan is a small island with lots to see. Many people would be inclined to hire a car and drive themselves, but this is not always a good idea in Taiwan. Taiwan is mountainous, its topography is rarely easy to follow. Therefore, arranging a tour is worth considering. You can consult the friendly people at My Taiwan Tour Travel Services directly or arrange your own itinerary online." – Jeffry B: Nov 2020
Eye Travel Taiwan
Company's location and type: Hualien City, Local Tour Operator
Awards, Certification: #3 Trip Advisor Certificate of Excellence 2016/2019
Reviews: 590 reviews on Trip advisor
About Company
Eye Travel is an award-winning renowned Taiwan tour company with a mission to provide top-quality tour experiences for every traveler, including families, couples, and individuals. The company is led by locally based and English-speaking tour guides who will show you around this stunning country with ease, comfort, and safety. Conservation is another crucial emphasis for Eye Travel, and all your trips will be eco-friendly with great environmental protection opportunities.
Packages
Eye Travel offers a diverse range of Taiwan local tour package. You can also custom-make trips that best fit your interest and budget.
The Taroko Gorge is one of Asia's Seven wonders that comprises the most immense marble gorge in the world. During this tour, you will see splendid marble, crystal clear water, and sedimentary rocks. Taiwan Zhuilu Old Trail Adventure is a hiking trip to Hualien with a breathtaking view of the Taroko Gorge to see the massive marble cliff. While in Hualien, take the River Tracing Fun to see all the streams and rivers while hiking and swimming in crystal clear water.
Reviews
Eye Travel Taiwan is the best Taiwan company tours with many positive and outstanding reviews. The company has won the Certificate of Excellent by Trip Advisor more than three times in a row and has been reviewed by over 500 travelers who rated them highly for excellent customer care. See a positive review here:
"This tour was amazing. Vincent is an expert tour guide, able to deliver gorgeous views while making it more meaningful by explaining the history in an understandable and captivating way. He made us comfortable and ensured that we had fun while learning about the places we visited. We highly recommend." – Hungry: July 2020
Liuqui Dive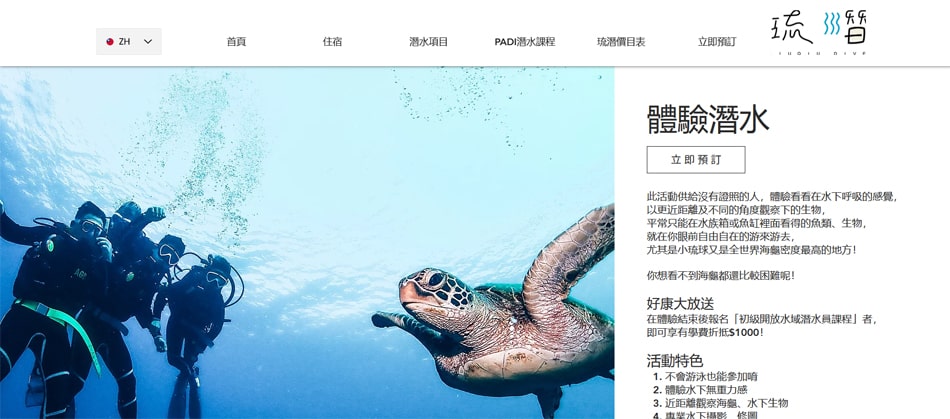 Company's location and type: Pingtung City, Local Tour Operator
Awards, Certification: #1 Trip Advisor
Reviews: 649 reviews on Trip advisor
About Company
Liuqui Dive is one of the top-rated Taiwan tour companies, offering unique and specialized ocean diving and snorkeling tours. The company works with professional PADI experts to ensure a fulfilling and safe experience in the sea. Liuqui Dive has positioned itself as the top 10 best company through reviews on Trip Advisor and outstanding customer service. Book with them now to get a unique great tour experience abroad.
Packages
Liuqui Dive has plenty of top-rated Taiwan island tours. From seeing the ocean learning how to scuba dive, you'll find something you enjoy.
Experience Diving in the ocean and observe all the water wildlife at close range, including sea turtles. If you are looking to be a professional, take a PADI Diving Course to learn the basic knowledge of scuba diving to explore the underwater with a professional instructor.
Reviews
Liuqui Dive is a leading tour operator in Taiwan with many glowing and excellent reviews. The reviews show that past tourists' satisfaction rate is very high. Out of the 649 reviews on Trip Advisor, 99% of the travelers say the company is safe, professional, or affordable. See a nice positive review below:
"My wife and I enjoyed a great PADI open water training session here. The coaches are super professional and passionate about diving. The training was safe and detail oriented. Also, the sea here in liuchiu is awesome for seeing sea turtles and other marine life. 100+ satisfaction! Kudos to coach Ariel, Leila, Orage and Ace." – 377jcc: Mar 2021
YOLO Taiwan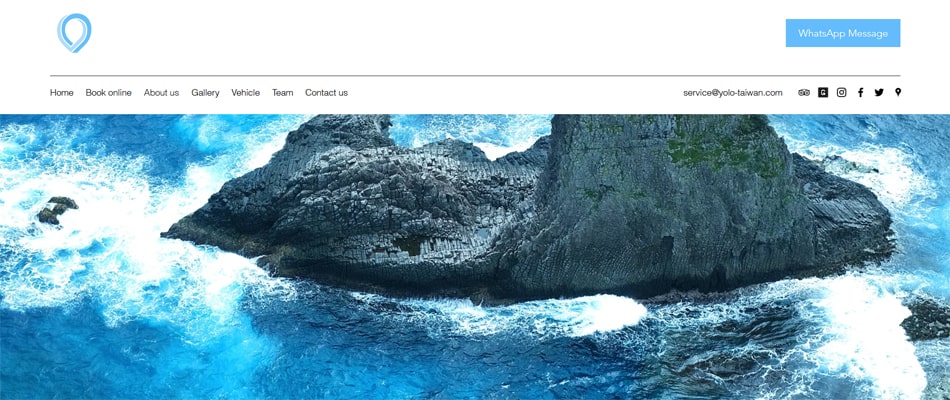 Company's location and type: Dayuan City, Local Tour Operator
Awards, Certification: #1 Trip Advisor
Reviews: 649 reviews on Trip advisor
About Company
YOLO Taiwan is on our top list of Taiwan tour companies because they offer travelers great experiences that are safe, affordable, and unique for lasting memorable memories. The company specializes in hassle-free private custom tours with professional and hospitable English-speaking tour guides. In addition, YOLO Taiwan also delivers private car charter services, hotel bookings, and airport transfers.
Packages
If you are looking for the best Taiwan day tour, then YOLO Taiwan got you covered. They have many tour packages that can be personalized to meet the requirements you are looking for.
Join in the Taroko Gorge Tour to see one of Asia's seven wonders with a professional guide. This tour is flexible and highlights the phenomenal marble walls, crystal water, and forested canyons. You can customize the Taipei City Tour to fit your flexibility and see all the city attractions, including the National Palace Museum and the Lungshan Temple of Manka.
Reviews
As a leading Taiwan tour company, YOLO Taiwan has earned its spot on our top 10 list. The company has a solid 5-star ranking on Trip Advisor, with over 229 people providing esteemed feedback. Here you can read a review left by a past traveler:
"I had a great day! My tour guide Cipher was very friendly and helpful and knew exactly the right places to go, at just the right time to see them, e.g. Avoiding the crowds at the Palace Museum and then later watching the sunset over Taipei city from xiang shan (Elephant Mountain) – Beautiful!" – Ansili: Aug 2020
Round Taiwan Round-Taipei Private Tour
Company's location and type: Xinyi District, Local Tour Operator
Awards, Certification: #2 Trip Advisor
Reviews: 198 reviews on Trip advisor
About Company
Round Taiwan Round focuses on promoting travel experiences starting from the co-planning process with guests to friendly and professional local guides and reliable transportation. This tour to Taiwan specializes in international tourism, ensuring that all tourists get authentic Taiwan experiences. The company is licensed by the Taiwanese Ministry of Tourism as our online travel planning platform. They provide instant quotes, schedules, and bookings in a hassle-free and professional manner for an unforgettable voyage.
Packages
Round Taiwan Round offers a wide selection of Taiwan local tour packages that are exciting and unique.
Visit one of the biggest attractions in Asia, the Taichung Tour, world-famous for the Lavender Cottage, Carton King, and Miyahara. The Jiufen Shared Tour will take you to the prosperous gold mining town where mining was thriving in the 1950s. The Alishan Giant Forest is a tour that will allow you to discover the mountain teas and the scenic beauty of the plantations.
Reviews
This Taiwan tour company has been given great reviews by hundreds of satisfied past clients on Trip Advisor. They proudly rank highly at #2 out of 18 tours in Xinyi and continue to grow and thrive each day. See the positive review below:
"Our driver, Leon, was good and kept the timeline strictly as per schedule. So we didn't miss anything, except the time was a bit too short…hahahaha. The places are tourist highlights one should see while in Taiwan. It's not too far away and the weather was perfect, especially at Yehliu Geopark." – Peijun L: Jan 2020
Taiwan Vista Day Tour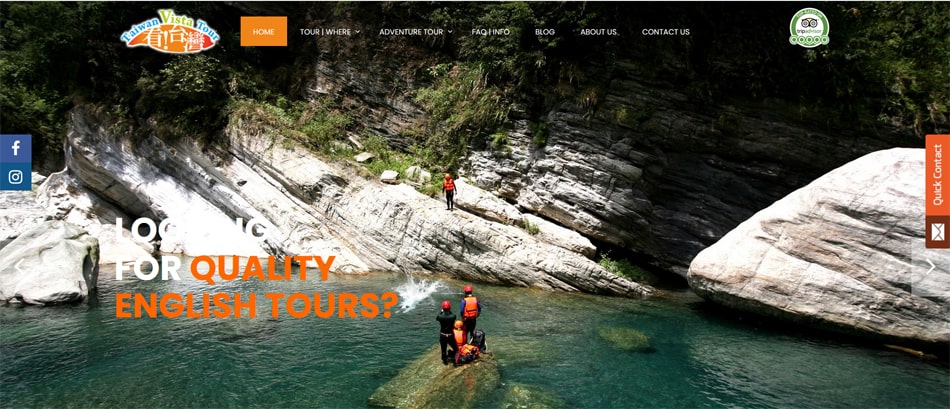 Company's location and type: Hualien, Local Tour Operator
Year of establishment: 2014
Awards, Certification: #5 Trip Advisor
Reviews: 353 reviews on Trip advisor
About Company
Established in 2014, Taiwan Vista Day Tour's goal is to provide quality Taiwan tours with professional and knowledgeable guides. The company is passionate about providing international guests with in-depth experiences to immerse themselves in the local Taiwanese culture and adventures. Taiwan Vista Day Tour's most popular excursions include private guided hiking, cycling, and river tracing.
Packages
You will have an immersive cultural experience with Taiwan Vista Day Tour and a unique Taiwan package tour that you want to be customized.
The Taroko National Park Tour lets you discover the world's deepest marble canyon and leisurely hike on the easier trails with forested canyons and crystal-clear rivers. The Zhuilu Old Trail and Taroko National Park is the perfect tour for travelers with only a day to spend in Hualien. The Hehuan Mountain has breathtaking 360-degree views of the mountain ranges with magnificent sceneries and landscapes if you want to hike.
Reviews
With over 350 great reviews on Trip Advisor, Taiwan Vista Day guarantees a trip of a lifetime. As one of the best tour Taiwan tour companies, the company had provided excellent tours to thousands of happy travelers. You can see the proof with a review such as this one:
"We booked a private day tour with Jeff and loved it! Jeff is really nice, knowledgeable, and professional and speaks really good English. My 7-year-old daughter was along for the tour and had no problem keeping up. The trails were easy but really pretty. We had a great day and would highly recommend this tour." – Heather F: Feb 2020
CookInn Taiwan
Company's location and type: Zhongshan, Local Tour Operator
Awards, Certification: #1 Trip Advisor
Reviews: 175 reviews on Trip advisor
About Company
CookInn Taiwan is an award-winning Taiwan tour company and a cooking school devoted to promoting Taiwanese culinary to international tourists. The company provides Taiwanese cuisine cooking classes, customized cooking events, local market tours, and virtual cooking classes. The chefs are multilingual instructors teaching in English, Japanese, and Mandarin. Established in 2018, CookInn Taiwan has hosted over 8,000 students from 46 countries worldwide.
Packages
Book with CookInn Taiwan and enjoy a great tour package to Taiwan and make memories with one of the best tour agencies in the country.
This enjoyable and rewarding Xiao Long Bao & Beef Noodles Tour includes a visit to the traditional market. The cooking class is fun, and you will eat all the food that you make. The Taiwanese Gourmet Menu class will first take you to the traditional market, then, for three hours, cook historical, traditional, and classic menus. Pineapple pastries are famous in Taiwan and are iconic for souvenirs. On the Taiwanese Good Fortune Pastries Tour, you will have the ultimate baking experience for a memorable baking experience.
Reviews
CookInn Taiwan is one of the best tour Taiwan operators with many rave reviews. The reviews show clients are exceptionally happy with the tour guides and customer service. Of the total of 175 reviews on Trip Advisor, 100% of the past travelers with this company have rated it very good and excellent. See this lovely comment below:
"I would definitely recommend this activity! The teacher is very friendly and approachable and manages to teach everything to make it very easy, achieving delicious results. I went with a group of friends, but I´m sure it is also a great activity to do with kids. We had visited markets before but doing it with a local made the experience even better. And being able to cook the dishes we love to eat was the best! Moreover, they take care of every detail. The school is very nice and charming, and we loved the recipe book. Thank you for such an unforgettable experience!" – Ane: Aug 2021
Wow-Taiwan
Company's location and type: Zhongzheng, Local Tour Operator
Awards, Certification: #2 Trip Advisor
Reviews: 57 reviews on Trip advisor
About Company
Wow Taiwan is a startup Taiwan tour company specializing in unforgettable experiences while connecting with the locals and protecting the environment. The company has been operating for over five years, delivering great experiences by creating customized itineraries for travelers to suit their plans, budgets, and schedules. Besides, Wow Taiwan is fully registered and licensed by the Taiwanese Tourism Board.
Packages
With environmental sustainability in mind, you can feel confident knowing that your Taiwan tour will preserve and improve the nature you explore.
The Dadaocheng Tour will authentically allow you to taste Taiwanese street food, explore the printing experience, and make leather bracelets with professional artisans. During the Half-Day Tour, you will picnic at the Twatutia Harbor and take a stroll in the traditional Weinan bungalows and the gorgeous Baroque buildings. Join the River Runs through Tea Mountains for awe-inspiring handicrafts and tea tasting.
Reviews
Proudly ranked at the #2 spot, this Taiwan tour company offers unique and exceptional tour packages. With nearly 100 stellar reviews on Trip Advisor, Wow Taiwan is undoubtedly one of the best options available in Taiwan. Here is a review that they received recently:
"Our guide Eva was super dynamic and friendly. I met new friends from different countries super nice and kind. The road trip was interesting, and the views were incredible. Came back home exhausted but so happy with my journey. Everything was perfect. I strongly recommend it for people who love sports, nature and meeting new people." – Basma Kms: Mar 2019
Conclusion
This educational article has highlighted the 10 best Taiwan tours that are worth considering. If you are planning to travel to Taiwan and enjoy one of the most stunning countries in East Asia, please use this well-researched list and contact the companies that best suits your interest and needs directly.
We would love to hear about your exciting trip with any of these Taiwan tour companies, or if you have already been to Taiwan with one of these tour providers, then tell us all about your trip abroad.
Related Links